Quote of the day, heard while in the audience for the last few minutes of an enjoyable-but-forgettable set by Tea Leaf Green:
"They all died at 27 full of drugs and insane, so I made a conscious decision to make my role models change."
I was regularly surprised by the plain sincerity and easy common wisdom of the Minnesotans who filled 10KLF. In contrast with the vibrant rowdiness of my more usual Colorado crew at Sonic Bloom Festival, or the strange brew of East Coast urban edginess and Appalachian nature worship that flavored Trinumeral Festival, 10KLF seemed populated by friendly and unassuming Midwesterners, generally more appreciative and unpretentious than I'm used to. (Without knowing much about the Minnesota music scene, perhaps they're not quite as spoiled?)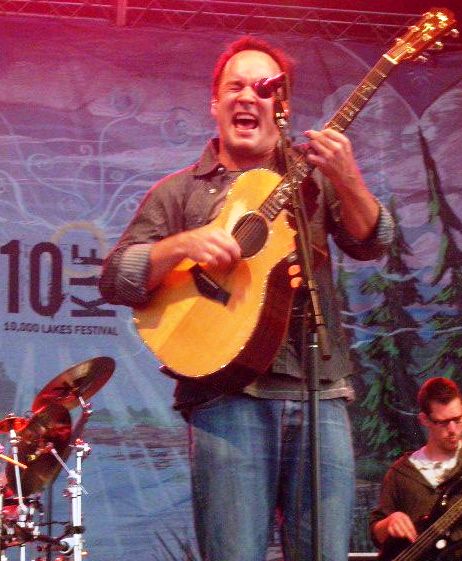 The last day of 10KLF 2009 started with a long slow wait, as thousands of people ignored afternoon acts to down in front at the main stage for Umphrey's McGee and Dave Matthews Band. Huge swaths of the lawn were fenced off even more elaborately than before to reserve a somewhat unbelievable variety of special passes. Bands were hustling to get their last-minute interviews in backstage, where National Fingerstyle Guitar Champion Tim Clark was playing luxurious and intricate acoustic guitar for the lunching VIPs. The Art Barn had finally flourished into a full-bore live creative orgy, spin art and topless body-painting and a line of locals at the nearby ATM to (hopefully) scoop up some of the frighteningly inexpensive artwork. One vendor had a rock climbing wall set up with a fifty-dollar prize for scaling the hardest face.
There were so many things to distract me that I didn't make it to a single concert that day until Umphrey's McGee arrived to rock us all through the early evening. It was my first time seeing this Chicago sextet, who hit hard straight out of the gate with their signature epic power-jams. Lead guitarist Jake Cinninger, on a custom electric so cool I had to edit the schematics for my own fantasized signature instrument, spooled out Olympic riffs so rapidly that frontman Brendan Bayliss was wincing the entire show as if he was racing to keep up. Keyboardist Joel Cummins smiled at the audience regularly through a program on non-stop rock which never quite careened into the more cerebral (and derivative) material which sometimes dominates the live recordings I've heard...overall, not an easy show to dance to but certainly a spectacle for anyone who doesn't mind just gaping slack-jawed at raw technical virtuosity. Eventually, though, I lost interest. Every one of their driving staccato dual guitar jams has the same heroic flavor, and it's easy to see how their brand of prog jam is so divisive among jam lovers. (It must have to do with the brazen urgency stamped on all of the music that comes out of Chicago, the proud and ultra-dynamic presentation.)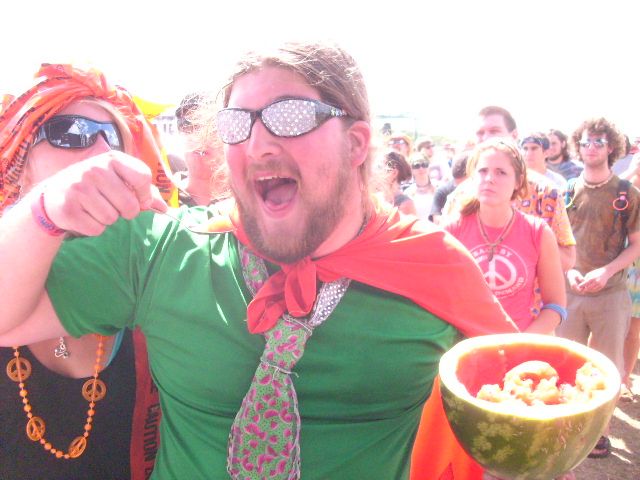 That divisiveness ended up working in the favor of Paper Bird, friends of mine from Colorado whose bandstand re-enactment (complete with the potent stage presence of three lead female vocalists) found a PERFECT time slot against Umphrey's at the Saloon and caught just about everyone who didn't care for prog rock. Which was more people than could fit in the modest venue. Better than anything else they do, Paper Bird knows how to charm a crowd, and it was a treat to watch them win converts with their perfectly-executed formula of quaint familiarity and innocently predatory sex appeal. (Vocalist Esme Patterson, smiling half-bashful into her handheld mic: "We won't get mad at you if you wanna dance...")
Cutting out a few minutes early from Paper Bird, I made it back down to the main stage just in time to soak up the intense anticipation of the huge crowd waiting for Dave Matthews Band. It'd been a while since I'd seen DMB, and the last few shows I had caught were less than inspiring. And of course, since they only recently lost saxophonist and co-founder LeRoi Moore, I was expecting the band to still be sorting out new roles and responsibilities, finding a way to work in replacements Jeff Coffin on sax (of Béla Fleck & The Flecktones) and Rashawn Ross (of Soulive). What I got instead was a far heavier, funkier, more aggressive band (fleshed out in no small part by bringing back Tim Reynolds on legendary electric guitar), with punchy new material and a more playful approach to older songs. Carter Beauford was syncopating many of his standby drum parts for songs like "Ants Marching" and "Two Step," and new songs like "Why I Am" hit much harder than the album recordings. The band also debuted a totally enjoyable cover of "Burning Down The House," and encored with a surprising mash-up of their standard "All Along The Watchtower" tribute with sections of "Stairway To Heaven." And I appreciated how, with a band of that size on stage, each member was able to take a minute or two for a drink without any interruptions in the action. Three hours, no set break, and only a fleeting tease of a pre-encore disappearance testified to the group's notable stamina.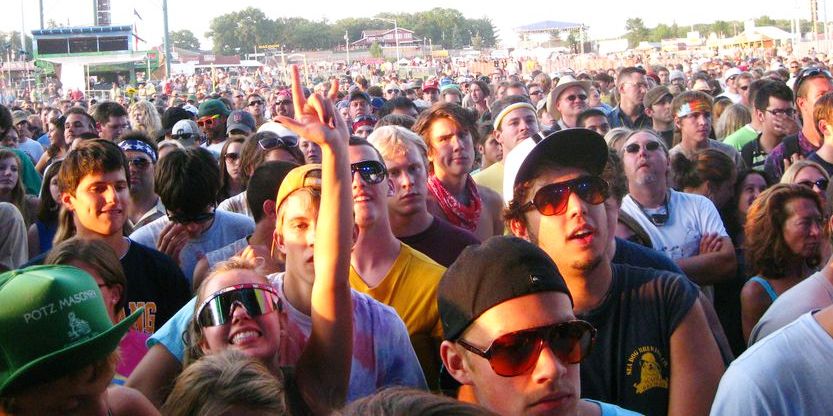 My own stamina didn't hold quite as well, and against my better interests I opted out of catching Sharon Jones & The Dap Kings rock the Field Stage's last set. Instead, I made it back to The Art Barn, where a kind of creative family had developed and I wanted to check in on everyone's work. I highly encourage you to look up all of the artists in attendance that weekend, including Chuck Hues, Tatiana Katara, Ann Marie Misik, Micah Allie, Mitchel Wagner, Sam Staught, Ben Melesky, Shad Challis, Sean Doyle, Frenchy, and Clay Duval. Visual art of all kinds was a major part of 10KLF and it wouldn't have been nearly as beautiful without them.
Getting out of the festival on Sunday morning was surprisingly easy, especially after the five-hour ordeal my friends and I had to endure while escaping the lots at Rothbury. Other than poor sleep the night before from my neighbor's noisy friends (who were ultimately and thankfully removed by security), everything went off without a hitch and we were back in Kansas City in time for my buddies to drag themselves to work on Monday. Many thanks to Grateful Web and Dave Weissman of 10KLF's PR for inviting me out as a correspondent...it's a one-of-a-kind festival with quirky Minnesota charm written all over its grounds, its staff and attendees, and its production, chock full of great music but not so densely scheduled that you'll kill yourself trying to see it all, temperate and accommodatingly small but still big enough to warrant the ticket price. With any luck, I'll be back next year to report on another lovely weekend...