Preparations are underway for the 3rd Annual John Hartford Memorial Festival being held in the hills of southern Indiana at the Official Bean Blossom & Bill Monroe Music Park in beautiful Brown County, May 30–June 1. This is the third of what the festival's creator, John Hotze, and co-promoter, Dan Dillman, hope to see as an event to preserve the legacy and music of the late John Hartford, one of America's most beloved songwriter/performers and musicians.
John Hartford won Grammy awards in three different decades, recorded a catalog of more than 30 albums, and wrote one of the most popular songs of all time, "Gentle On My Mind." He was a regular guest and contributor on the Glen Campbell Good Time Hour and the Smothers Brothers Show. He added music and narration to Ken Burns' landmark Civil War series, and was an integral part of the hugely popular "O Brother, Where Art Thou?" soundtrack and Down From The Mountain concert tour. But that hardly explains John Hartford.
John Hartford was an American original. He was a musician, songwriter, steamboat pilot, author, artist, disc jockey, calligrapher, dancer, folklorist, father, and historian. John Hartford passed away on June 4, 2001, after a long battle with non-Hodgkin's lymphoma.
Lifelong friend, John Hotze, decided to take the plunge into the festival world by putting together a memorial festival to honor the late John Hartford. The first John Hartford Memorial Festival took place on the 10th anniversary of his passing in 2011. John Hartford's immediate family were in attendance, as well as many extended family and longtime friends, and a small group of die-hard Hartford fans and musicians, who came together to remember and celebrate John's life, music, and ideals. The great celebration had a line up to match that included Tim O'Brien, Great American Taxi, The Infamous Stringdusters, Greensky Bluegrass, and of course Jamie Hartford & Friends, along with many other great artists and bands who continue to return to this great festival every year.
Hotze, an avid music lover and entrepreneur from St. Louis, is in his third year now for putting on this event. He says, "The mood I hope to achieve at the Hartford Festival is a party mood; a mood of having lots of fun. I think that's what John would like. He would be all over the campground picking and jamming all night long. I would like to see the jammers get up and dance to the jam-grass and others to get up and flatfoot when some good fiddlin' goes down. I'd like to hear lots of laughter. I never started this venture for money and I would be very happy to let it just sustain itself both to honor John and provide a venue for more performers."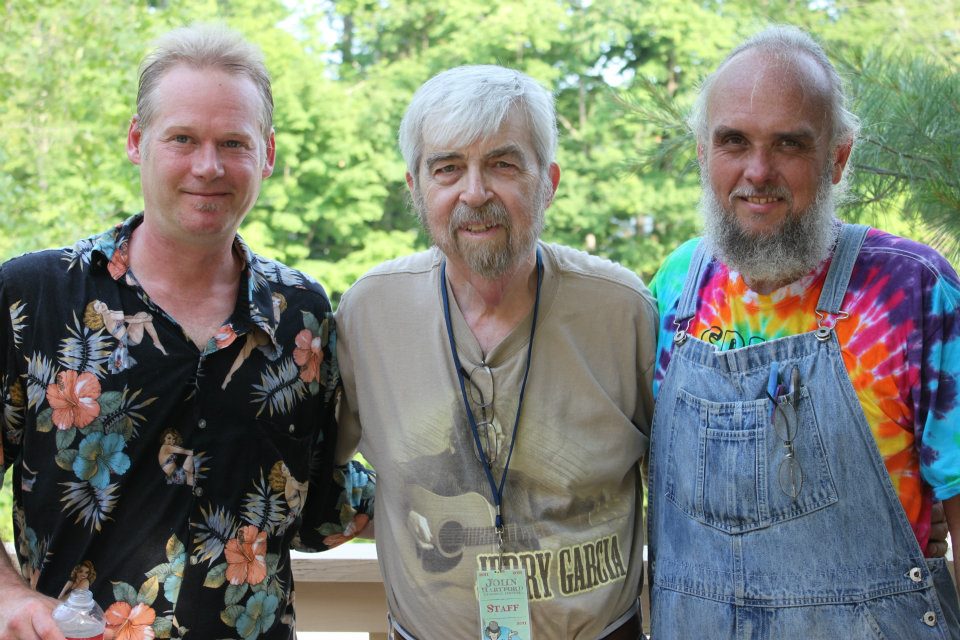 (l-r) John Hartford's son Jamie Hartford, John's long-time friend and event founder John Hotze, and bluegrass legend Larry Perkins
Headliners for this year's festival include Jamie Hartford & Friends, Great American Taxi, Jeff Austin of Yonder Mountain String Band, The Hillbenders, Town Mountain, Mike Compton, Billy Bright & Geoff Union, Larry Keel & Natural Bridge, Rumpke Mountain Boys, and Bawn In The Mash, in addition to other great artists such as Branded Bluegrass featuring Dwight Dillman, park owner and former Bluegrass Boy, along with his son Derek Dillman who performed with Jimmy Martin, and The Henhouse Prowlers, The 23 String Band, Wil Maring & Robert Bowlin, Betse Ellis, Eric Lambert & Friends, and a host of regional and local string bands such as Ryan Spearman & Kelly Wells, The Whipstitch Sallies, Woodstove Flapjacks, The Indiana Boys, Leadfoot, and many, many more.
Hotze went on to say, "My vision is to narrow the scope of the festival to be Hartford centered, that is, book bands & entertainers that have been greatly influenced by John, ones who performed with and were good friends of John, also entertainers that cover John's songs."
This statement is evident by the genre busting line-up featuring bluegrass, old-time string bands, and jam band music as well as singer/songwriters, not to mention the ticket prices. Kids 12 & under are free.
Advance ticket prices:
Single day - $40
Full festival - 3 days $90
Ticket prices at the gate:
Single day - $45
Full festival - 3 day $110
Around a thousand people turned out for the 2012 event. This year, Hotze hopes to see at least a 1,000 and believes around 3,000 would be ideal and set the stage for a self-sustaining festival. The event is family-friendly with a fishing pond and playground area, and is known as "the most laid back, relaxed festival in the country." And the festival is dog friendly. Well-behaved dogs on leashes are welcomed and may be brought to the shows as long as the people around you are comfortable.
Tim O'Brien at the First Annual John Hartford Memorial Festival
There will also be an Old-Time Fiddling Contest and the John Hartford Songwriting Contest with cash prizes and more. Visit the website for the complete line-up, details and tickets at www.johnhartfordmemfest.com.