Honky-tonk jam band Edge of the West has announced the release of their debut self-titled studio album, available on May 7 via Inscrutable Records.
The 12-track album features a compilation of original songs, mostly from the creative mind of front man Jim Lewin, who takes the lead on vocals and guitars. Recorded by East Nashville's Eric McConnell, the album is a reflection of Lewin's unique style, influenced by his 70's L.A. roots, his diverse musical career, vivid sense of humor, and inspired by the many musical universes he's explored.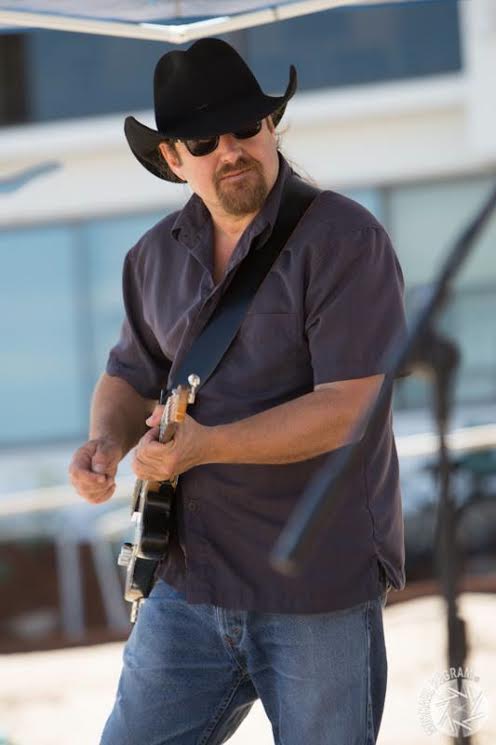 The record is a lot of fun. While the music belies the band's eclectic craftsmanship, the lyrical subject matter ranges from the everyday to the absurd.  With a comic-book irony, the songs address modern problems without taking themselves too seriously. The album's lead track, "Pleiadian," immediately beams you up into another galaxy and sets the album's cosmic, groovy tone, as the hitch-hiking subject begs for an alien abduction to rescue him from the paranoia of nuclear proliferation. This rolls into the catchy, light-hearted original "I'll Get You Yet," and heads West from there for Salinas songwriter Larry Hosford's country lament "Got To Be Lonely By Yourself."
The pace picks up again with the barn-burning "Cocaine And Liquor" (also by Hosford and Steven Griswold) featuring Lewin's signature acoustic and Telecaster picking. Further adventures include originals "Hey Cleopatra," a twisted Hollywood Arabesque with a Tex-Mex feel, and "Spy Love," a secret-agent themed cheatin' song, and the Kafkaesque "Car of Mine." The comic book continues, combining soul-searching Americana, straight-up honky tonk, and pop-rock psychedelia. After dancing a while in space, we find ourselves back on Earth for the closing "Castles," reminding us that in spite of our current dystopia, the power of love never ends.
"I grew up in the druggy pop-culture of L.A. in the 70's, bodysurfing by day and tripping around rock n' roll Hollywood by night with my deviant friends," said Jim Lewin. "But I really respect and value my different musical roots, and these different renegade artists I've been lucky enough to accompany as a working guitarist for decades. I have a solemn reverence for Country music, having played all over the USA with outlaw country artist Lacy J. Dalton, and before that, cutting my teeth playing a thousand little honky tonks in the 80's."
"I especially love the jam band genre," he continued. "My first bands were hippie tribes who played wild parties in the woods. Nowadays the festival scene is thriving and the bands are top-notch. My many years touring with Great American Taxi have kept me connected to that world. I also hold a special love and respect for bluegrass, a rigorous discipline with a wonderful extended family of devotees. Mandolin icon Frank Wakefield mentored me in the style when I was playing with him and it was life-changing," Lewin shared.
"In Americana-land I've learned a lot from folks like Gillian Welch, Todd Snider, Don Was and others I've collaborated with. I have deep ties to all these worlds and their communities of great people. This album is my way of bringing together these various subcultural realms I've explored" he concluded.
Edge of the West hails from the edge of the continent in Santa Cruz, CA. With country roots, rock n' roll attitudes, and jam band ways, this group of accomplished road-dogs are colliding worlds, bringing new, yet familiar sounds together to perform danceable, fun music with a lot of heart and transcendent jams. In addition to Lewin, the current lineup features Bill Laymon, David Tucker, and Jon Dryden; heavyweight players who've worked with Norah Jones, Jefferson Starship, New Riders of the Purple Sage, Maria Muldaur, and more. Live, and on record, this band gets it done.
Get going and learn more at www.edgeofthewest.band.
The track listing for the Edge of the West's new self-titled album:
1) Pleiadian
2) I'll Get You Yet
3) Got To Be Lonely By Yourself
4) Cocaine And Liquor
5) Hey Cleopatra
6) Treasure
7) Angel - Devil
8) Victimless Crimes
9) Looking For You
10) Spy Love
11) Car Of Mine
12) Castles