Opportunity – This is the reason why many of our ancestors came to the United States. When they arrived here, more than likely they came through Ellis Island. Trey Anastasio touched upon this in his set on the final day of the festival, while explaining how his grandfather made this pilgrimage in 1910 from Italy before playing "Drifting." Nicole Atkins also remarked about the beautiful location of this festival with clear views of the Statue of Liberty and the New York City skyline. She said, "Look at the view. It's cool because we're from New Jersey, and we're pointing at Lady Liberty's ass." The festival's name originates from the fact that immigrants who came to Ellis Island would go to the Central Railroad of New Jersey terminal, which is located on Liberty State Park, and then hop upon trains labeled "all points west." Each of the three stages was also named after these trains: Blue Comet, Bullet, and Queen of the Valley. This festival served as an opportunity for many of the performers as well as the future of music festivals in the state of New Jersey. After all, this was the first time in state history that they've allowed alcohol sales in a state park, hence the strict rules about where one can drink and how much. With all of this in mind, the first annual All Points West Festival was a success and a source of a lot of fun for many reasons.
Although I was unable to attend the first day of the festival, the lineup provided the audience a diverse selection of bands to choose from according to their genre preference. Bands like: The Go! Team, Michael Franti & Spearhead, The New Pornographers, Underworld, and Radiohead rocked the main stage as smaller performers such as: Duffy, Andrew Bird, Girl Talk, CSS, and the Pawnshop Roses played the smaller stages. The first day did provide some wind and rain for the crowd, but that also kept festival goers cooler as they danced to the music of the festival openers Pawnshop Roses. The sun did come out by mid day. Radiohead was obviously the big draw as the headliner on the first two days of the festival.
Day 2 – Saturday, Aug. 9th – SOLD OUT
Goldenvoice and AEG Live in conjunction with Liberty Event Management did a wonderful job planning this festival as a non camping commuter event. There was plenty of public transportation to take including the ferry from NYC or one of the numerous trains that ran in from NJ, which is how I came in on my first day. I made it just in time for an act that I've been really anticipating for a while now.
This Jersey shore native was the perfect start to a festival weekend. As I approached the sparsely filled crowd, Atkins was just beginning her set. Her voice is mesmerizing and cannot be compared with anyone else. Her sound is something out of a David Lynch movie or an Andy Warhol painting. It's purely captivating for any music fan. Her set included "Maybe Tonight" and the title track of her album "Neptune City." This was one of the best performances of the day along with Kings of Leon and Radiohead. Atkins also showed her personality many times by calling the audience out for being so mellow. After a few songs she said, "I've never been so close to the Statue of Liberty except for once. I think at a Grateful Dead show in 1995" (possibly referring to the June, Giants Stadium shows in nearby East Rutherford.) Then Atkins played my favorite song of hers, "The Way It Is." Her voice was angelic. She invokes a certain feeling of mystery, intrigue, and inspiration when she sings this song. The popularity of it is deserved. One of the last songs in the set was "Brooklyn's On Fire," where the band asked the crowd for some participation while singing the lyrics. Finally, Nicole introduced "very special" guests to the stage. It was Pork Roll, Eggs, and Cheese. They are the mascots of a local minor league baseball team called the Lakewood Blueclaws. They danced on stage for a song, and then Atkins said, "There are three things that I'm really passionate about: 1.) New Jersey 2.) Pork Roll, Eggs, and Cheese and 3.) Punk Rock. This last song is a Patti Smith song. Then, they played "Pissing in a River."  This set was beautiful!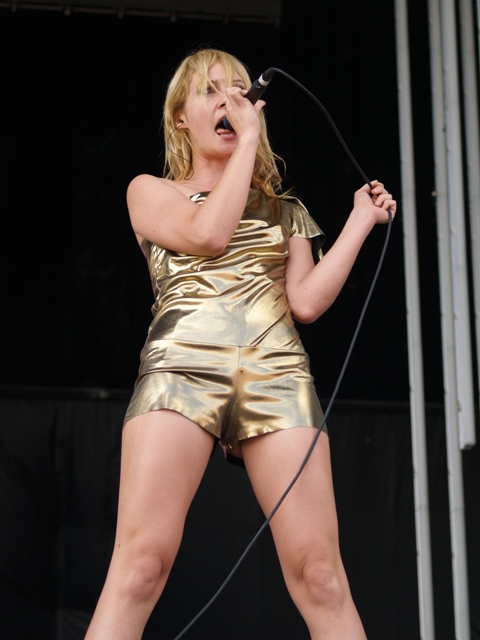 Metric
On the way over to the main stage, I decided to listen to a little of the Felice Brothers. Their country jug band style made them an interesting band to look at. They reminded me a lot of the Avett Brothers. As we waited for Metric to come on stage, my eyes were distracted to a young lady who resembled the Bride played by Uma Thurman in the movie Kill Bill. It was Emily Haines, the lead singer and synth player in Metric. The first song was bewitching. She took the stage like she owned it with grace and bawdiness. The lyrics in this first song were dirty and the beat was facinating. It was suddenly a loud dance party. This Canadian indie band knew how to work the crowd. The audience grew as the band continued to thrash.
I don't even know how or why this band ended up on the main stage. This was an hour of torture. There was one song toward the end of their set, which was so full of noise and dissonance that people in the crowd were moving away from the stage with their hands over their ears. I went to some other blogs to see if it was just me, and people were really angry that this band had a main stage spot while bands like the Roots were on another stage at the same time as Kings of Leon. This set sounded like a really uncreative electronic band that brought nothing new to their music.
I went over to the Black Angels, this psychedelic rock band from Austin, TX who were very peculiar and entertaining. Drummer Stephanie Bailey and lead singer Alex Maas stood out the most to me. They're enthusiasm rang throughout the crowd. The experimental flavor that the rest of the musicians oozed was just what the crowd was looking for during this time slot.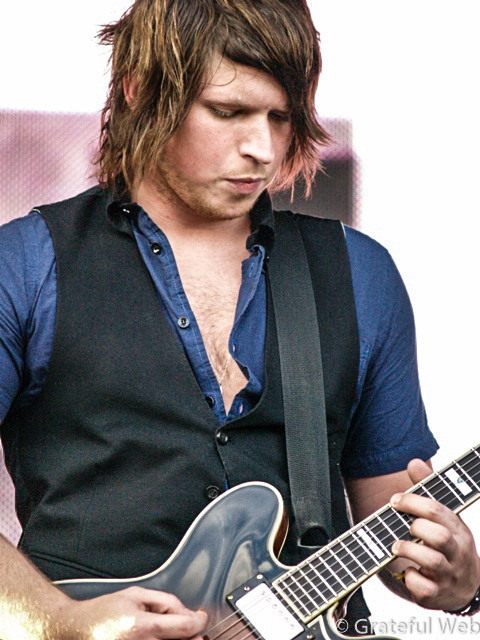 After the Animal Collective the crowd was seeking some rock n' roll, and they got it. Kings of Leon was on their game more than ever. I've seen Kings of Leon twice at festivals (Bonnaroo and Wakarusa), but nothing compared to this performance. The Followill family produced in a big way. For those of you that didn't know, Kings of Leon consists of three brothers and their first cousin, and the continuity was evident in this show. It was old school rock n' roll and the crowd fed off it and ate it up. Jared Followill, the bassist, stood out to me as the most improved force in this band. His bass lines are unique, intricate, and thick. Matthew's lead guitar riffs were impressive as well, although I was craving more solos. I was very impressed by this set from the Kings of Leon, and I look forward to seeing them again soon.
What can I say about this band that hasn't been already said? This was my first time seeing this band that I've been listening to for years. I was excited and ready to experience this and they lived up to every expectation that I had. It was so good that I went and saw them in Camden three days later just to see the same set that I saw in this show. I was telling a friend, while we contemplated why Radiohead needs to play the same set on their tour, that it must be like a giant art project that they put together once, and that's what they show. It is an In Rainbows tour, so one can expect to see all or most of In Rainbows on a nightly basis. The show was like a religious experience. Hearing and feeling Thom Yourke's enthusiasm and vitality is the vehicle toward the place that this band can take their listeners. The light show that they brought in for their performance was captivating. It was unusual, uneven strips of canvas for their lightening engineer to dance across as the aesthetics of Radiohead's music took the audience away. The band did play many surprises from all of their albums except for Pablo Honey.
There were a couple of interesting points to note. First, was after "Bangers and Mash," which was a popular dish of sausage and potatoes for the working class in London, Yorke said, "That was for the depraved, unfortunately they run our country. This next song is a peace and love type thing." Then they went into "Everything In Its Right Place," and the crowd erupted. The other funny comment that Yorke made was about Kings of Leon. He dedicated "Airbag" to Kings of Leon for opening, and he jokingly said, "If we were as good looking as them, we'd be famous."
Setlist:
01. Reckoner
02. 15 Step
03. The National Anthem
04. Kid A
05. All I Need
06. Nude
07. Weird Fishes/Arpeggi
08. Where I End And You Begin
09. The Gloaming
10. Faust Arp
11. No Surprises
12. Jigsaw Falling Into Place
13. The Bends
14. Bangers and Mash
15. Everything In Its Right Place
16. Exit Music
17. Bodysnatchers
Encore 1
18. Pyramid Song
19. Videotape
20. Airbag
21. Fake Plastic Trees
22. There There
Encore 2
23. House of Cards
24. Planet Telex
25. Idioteque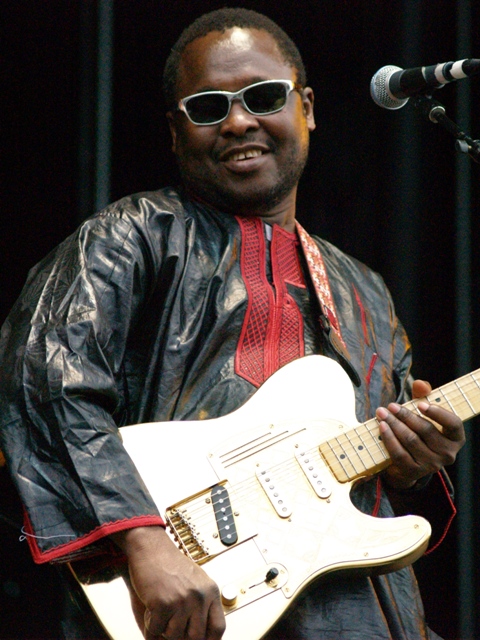 Day 3 – Sunday, Aug. 10th
This was the lineup that I was looking forward to the most. There was much more consistency and quality in this day's lineup then the previous two. Although I tried to get there early because I really wanted to see Amadou & Mariam, they let us in late apparently due to bad weather that was predicted and approaching. The good news was the weather was fine. It just sprinkled a little a few times throughout the day. The other good news for those of us that did go was that the crowd was extremely small today, especially early on.
After a late start, Amadou & Mariam were helped onto the stage. This married, blind couple from Mali has been together for 28 years, and their music is fun, light, funky, and growing all over the world. Their funny demeanor makes the couple so lovable, while their music makes people dance. This was the show that the most people including myself were dancing at throughout the whole festival. There was a sense of understanding and community in the music. One of my favorite vocal performances of Amadou is in a song called "Toubala kono." His high pitched voice coupled with a great guitar solo made this a highlight of the set. "Malgosa" was another song that the crowd really appreciated. If you don't know about Amadou & Mariam, you must check them out. They break through the walls of genre and appeal to almost anyone's musical tastes.
Rodrigo y Gabriella seem to get better and better each time I see them. It is truly hard to picture two acoustic guitar players producing the sound that they resonate. At times, it seems like there is a whole percussion section on stage with them. But her name is Gabriella (Quintero). It is amazing how she can play bass, rhythm guitar, and percussion all at once on one guitar. Her hands fly all around the instrument, which captivates the crowd's undivided attention. Rodrigo (Sanchez) is no slouch himself. His extremely fast finger picking creates a unique sound that can range from flamenco to heavy metal. These two put on a clinic when they perform. This show included a rain shower, which diminished the crowd a bit and the set time a bit, but the show stayed consistently enticing.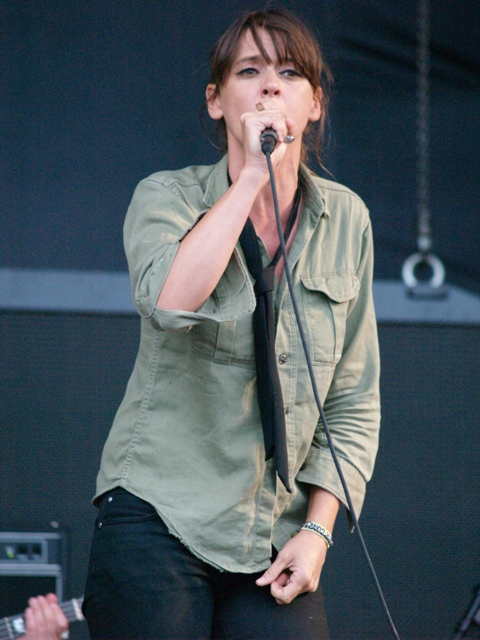 Chan Marshall has gone through a lot in her struggle to where she is now. I first fell in love with her voice many years ago when she wrote the album, What Would the Community Think and Myra Lee in 1996. Marshall's voice is haunting and gorgeous. Her high pitched raspy tones and beautiful music playing made me an instant fan. The first time I saw her live was in Boulder, CO at the bandshell at a very small outdoor festival. She took the stage and started to perform, but before long she had to leave. Her stage fright got the best of her even though the crowd was very encouraging. I felt bad for her because I knew how great of a musician she was.
Although I prefer her music back then, you won't even believe my story if you see her today. She seems happy and confident marching up and down the stage now. She didn't play her usual instruments in this show, but her command of the stage was wonderful. Chan (pronounced "Shawn") Marshall defeated her demons and went back to Memphis to find an old 70's rhythm and blues sound. She hired Al Green's guitarist and song writing partner, Mabon "Teenie" Hodges and other talented musicians, and tied her voice to a large band. The one odd moment in the show came when Marshall took out a piece of paper and read the Spanish lyrics from the paper for one of the songs. It was a little awkward, but Marshall is always herself, and doesn't care what others are thinking.
As the rain finally seemed to clear, the mystery that surrounds the Secret Machines began to swirl with the wind and their music. The Secret Machines sound like no one. Their music is very difficult to explain because of their ambient, yet rockin' reverb sounds that dance across the listener. Thank goodness that co-founder/vocalist/guitarist Brandon Curtis decided to take the band forward when his brother Ben decided to leave the band to focus on his other band, which no one has even heard of. What came out of it was a focused band that had their backs against the wall. They recorded their third album with new guitarist Phil Karnats and their phenomenal drummer Josh Garza, who stood out the most to me on this day in New Jersey. Garza's sound is big! In conjunction with the distortion, Garza is the glue that reminds the band that they're still playing. This set was psychedelic rock that reminded me slightly of Sonic Youth.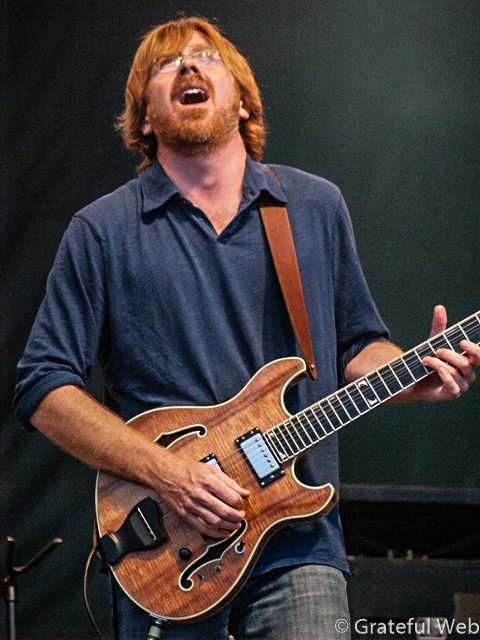 Before Trey went on, I did run over to see a couple of songs from Ben Harper & the Innocent Criminals set. This was the biggest conflict that I had throughout the weekend. Harper and company were as good as ever on the main stage, and actually I can't believe that Jack Johnson headlined instead of Ben Harper or Trey Anastasio. I guess the organizers wanted the crowd to leave in a mellow fashion.
Trey is back! His enormous smiles and crystal clear sound transmits to his loving audience that Trey is on top of his game, sober, and focused. As an enormous fan of his, I couldn't be happier to see him this way. After an amazing show a few days earlier in Brooklyn where Trey played about 7 new songs, I was expecting to hear some of them on this day. Unfortunately, that didn't happen. He did play "Alaska," which was one of his new songs that was co-written with life long musical partner Tom Marshall. But, Trey only had an hour on this night, so I think he might have just played it safe with mind boggling solos in familiar songs. They opened with a deep bassed Tony Markellis "Sand." Then, Trey dedicated "Drifting" to all of the immigrants that floated to Ellis Island into this country. They played "Cayman Review" and "Alaska" right before the mind bending started. The crowd went crazy when they heard the first few notes of "Gotta Jibboo" teased by Trey before the song actually started. Then, of course "Mr. Completely" was tattooed with building crescendos and squealing solos. The closer, "First Tube" was littered with different sounds mixed into the familiar guitar tones that Trey uses. Trey's guitar was intricate, precise, and ripping for these three songs.
The organizers said that the band could play a couple more songs, but they were rushed and uneventful. The first encore was "Heavy Things" and the second was "Tuesday." I've never been a big fan of either song, but the unusual thing about them was that Trey gave both big solos to keyboard player Ray Paczkowski. It was great to see Trey playing music live again!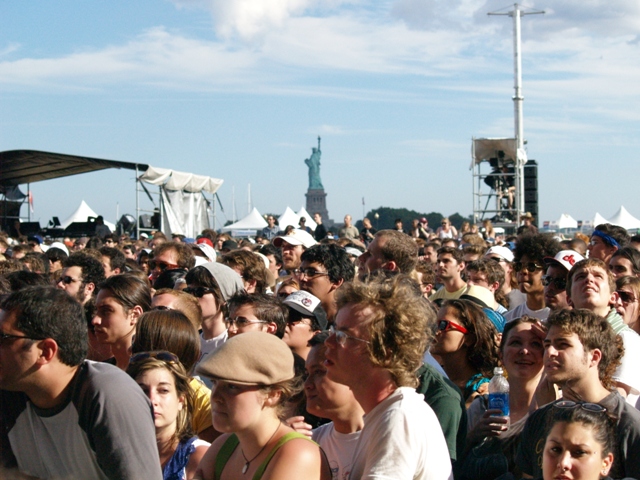 This was a very mellow set of music to calm the crowds before leaving. Many people even left before this set. But, Jack Johnson was simply Jack Johnson on this night. He conversed with the crowd. He pleased the children and parents. He got the girls screaming like the Beatles were on stage. He did what he does…play nice music. Johnson played the crowd pleasing "Flake." Then keyboardist Zack Gild said, "One of our favorite things about festivals is the musicians backstage," and he welcomed up Trey Anastasio to play "Mud Football." Trey added his signature licks to the song, and actually it was the best song of the set. Matt Costa was the next guest that they brought on stage, and that was for the more subtle "Fall Line." Jack Johnson then continued with "Sunshine" and the crowd gracefully made their way to the end of a very successful festival.
All Points West was a lot of fun and with a few improvements (most notably on more liberal drinking rules and smaller lines) this festival will continue to be a success for east coast music lovers. There were a number of art projects that I didn't mention that deserve a lot of credit. The Sonic Forest, which was seen at Bonnaroo, was present, along with a solar pavilion 2, the Do LaB, Bamboo DNA, Spire, and the scratch DJ academy. The two that I saw the most of were A Cavallo, which was a steel, leather, and wood carousel, and Mega Mites, which were huge sculptures made from balloons.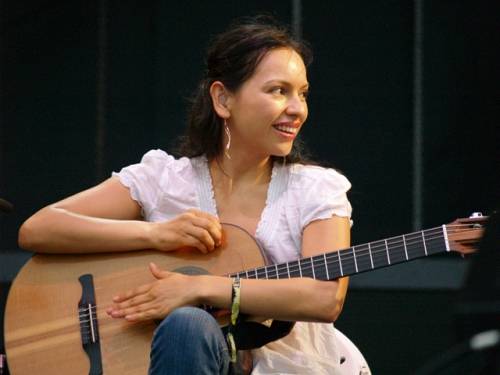 Check out lots more photos from All Points West 2008.