My heart was torn when I read that the John Hartford Memorial Festival would be in Springville, Indiana, not Bean Blossom, IN at the Bill Monroe Music Park. I love my little cabin in the woods at the Bill Monroe Music Park (BMMP). It has served us well for many adventures at the John Hartford Memorial Festival (JHMF). And it was reserved and paid for from June 1-5, 2022. 'My' cabin has beds, an air conditioner, mini fridge, microwave and sleeps four. We know how to set up to suit our tastes and keep dry. The Main Stage and Hippy Hill Stage are each about a football field away, glimpsed through the branches and easy to hear in the comfort of our secluded shade at #4.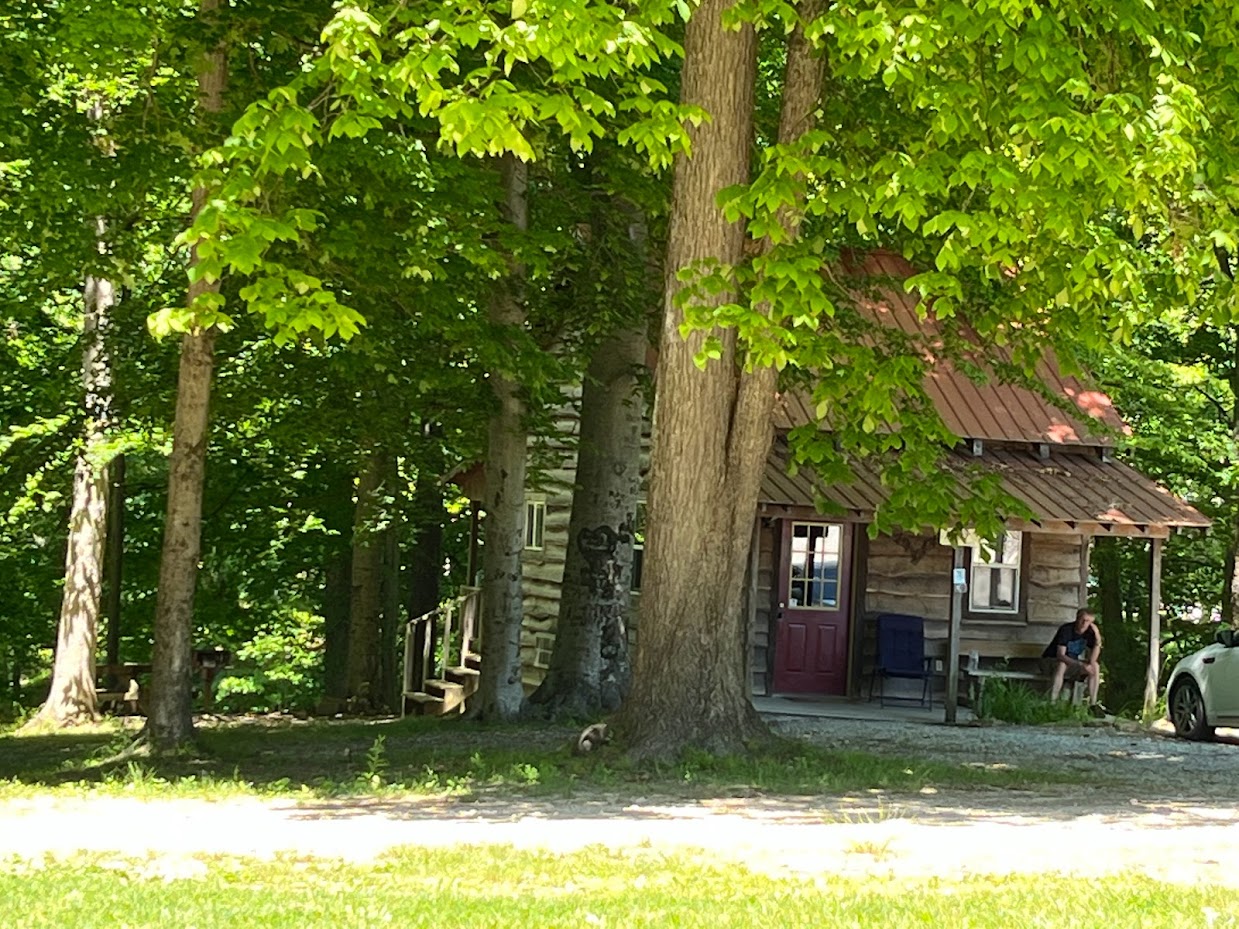 So, compromise; attend the Americana Bean Jam with a day pass, Friday, June 3 to Hartford. We arrived at the music park about 3:00, June 1, and were set-up by 5:30. And then I wandered around the quiet grounds. I was anxious, so few people, no vendors. I missed the pre-show buzz, seeing friends, the Hartford scene in general. High and lonesome was my mood. I felt as if I have to choose between a couple after a bitter divorce. By being at Americana, I felt I was seen as betraying Hartford; way too junior high for my sensibilities. I hoped the magic would happen and all things would work out in both places. I am glad that BMMP worked to pull together music for my weekend at the cabin. No small feat on short order but the chance to play this place speaks to musicians. It's akin to playing the Grand Ol' Opry.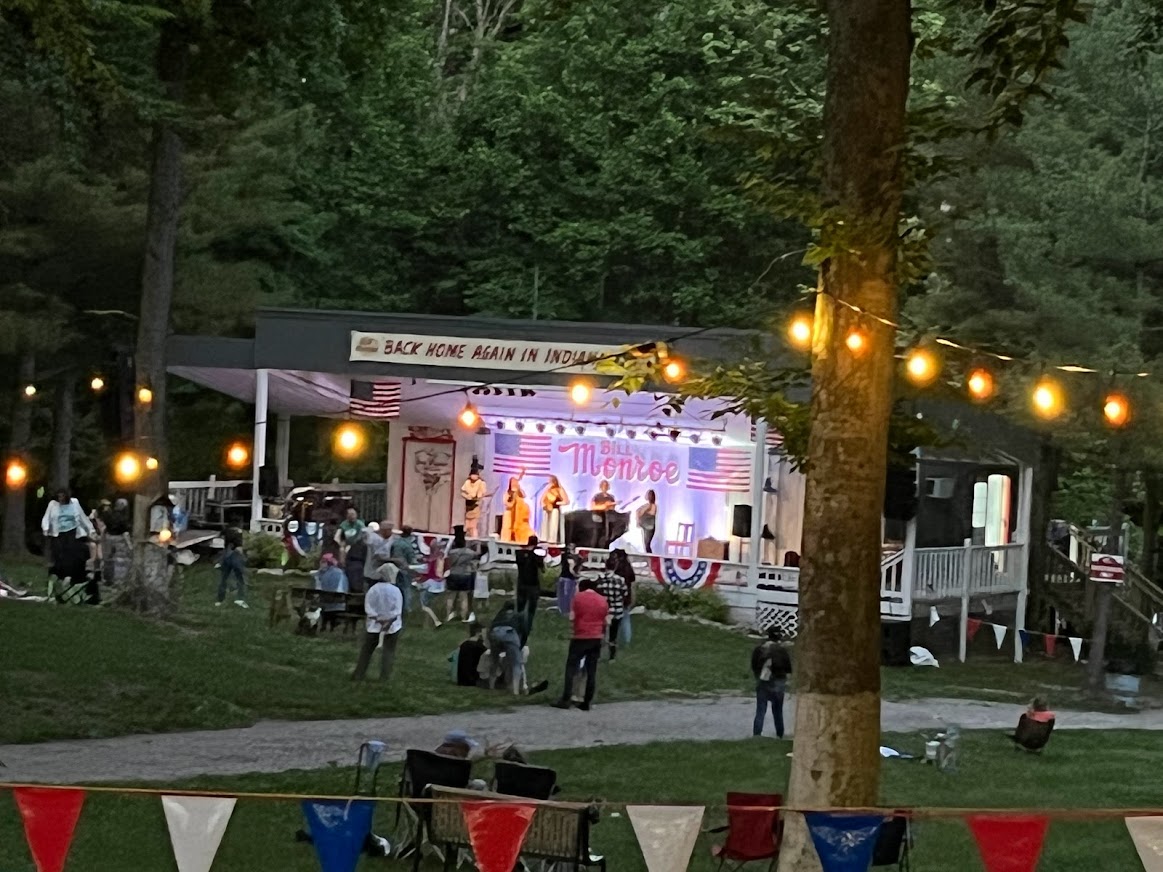 As the sun set, we were treated with amazing skies. The roving thunderstorms were ablaze as they drifted southeast. Things will be fine with such a treat to end the day. But I knew I would miss people. The folks at Cabin 3 and their doings: Andy Strauss (Hunker Down) and his family, the Red Mountain Boys, amazing moments in 2019 with the Sweet Lilies, Vince Herman, and Dan Andree playing the Austin Minor Sympathy. Sharing good food, checking out camp sites, the vendors and finding jams. All things come; all things go.


I love the history at BMMP; the deep roots. Bill Monroe bought the existing music park in 1951 and in 1967 founded the Bill Monroe Bean Blossom Bluegrass Festival, now the world's oldest bluegrass festival, with huge crowds, 10-20 thousand people at times. This bluegrass DNA permeates the air, the soil, and I guess, literally, the muck at the bottom of the pond. It's a place of picking: on porch, in the hot sun, shady groves, around fires, and on stage. The museum on site is great. I love the performers' costumes on display. Dolly Parton's dress stands out for sure, cross my heart.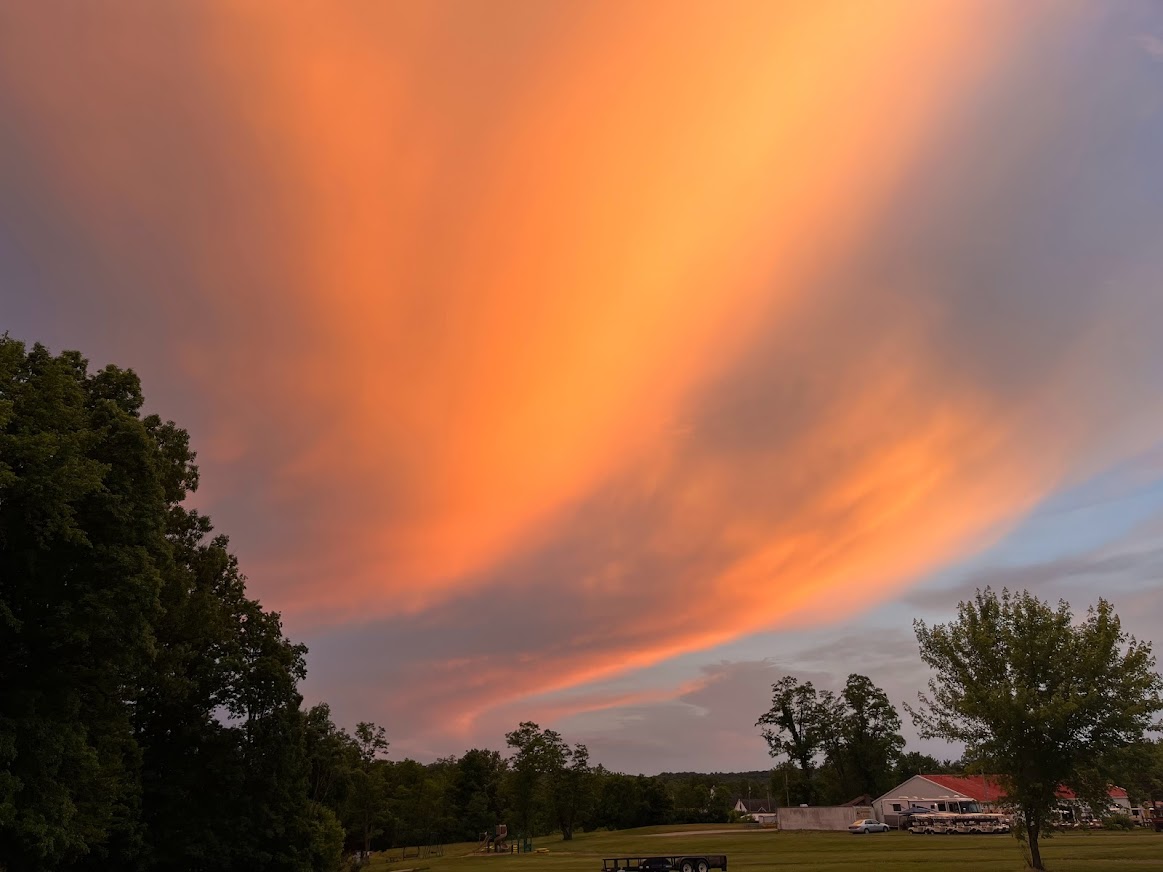 And with it being quieter, the birds and butterflies were plenty active visiting the fire pinks, alum root, milkweed and pussytoes around the cabin. My fiend Patty describes BMMP as biophilic centered; nature is a part of the experience.
Thursday arrived, the opening day of Americana, with a brief morning rain to Dampen Down the Dust (there's an Americana song title for anyone spending time near dirt or gravel roads). We wandered over to the Hippy Hill Stage to hear Jack Richter and Will Kimble. Both of these fine musicians played on the Tribute to Jon Hartford album and Will has won two JHMF songwriter awards. And Kimble is the second generation of Kimble Mandolin makers. Their music explored the best of Americana: Cannonball Adderly, Jimmy Martin, Vassar, Norman Blake and Tony Rice as well as Will's originals delivered in voice as unpretentious as Hartford's. We enjoyed discussing music with them afterwards
Janine Cathchpole: What is Americana?
Jim Richter: A stew of all American musics. It can be folk music, blues music, rock and roll...
Will Kimble: American folk music
JR: American folk music, absolutely.
JC: When I think of Hartford, I think of someone who really, really knew his history of American music at a very deep level. Do you think the younger musicians are really getting that, that are coming up and learning his tunes?
JR: I mean, I think that there are always individuals, that they get into a music because they like the sound of it.  For me, I got into when I was playing bluegrass, I'm really not a bluegrasser, but when I got into bluegrass in the eighties, was in the New Grass Revival in St. Louis.
JC: Oh yeah!
JR: I used them as a way of digging deeper and digging deeper and digging deeper and digging back to Bill Monroe and then the Delmore Brothers and all that. And I think it's the same thing here. I think there are guys like, I'll name drop, not that we know him well, but like Will and I, we knew Billy Strings when Billy Strings was not a thing. And he was just a skater punk kid.  I host a mandolin camp out of Bloomington, Indiana. And he was down there for a couple of years helping out and Don Julin, who he was partners with. Billy knew a bunch of stuff and he was always digging deeper and digging deeper. And his dad was like a big Doc Watson guy and so he knew Doc. And so, when you listen to Billy play the crap that he plays, he knows it at a super deep level. And it's very easy sometimes to look at the young'uns and think, oh, maybe it's superficial or they're jam-grassing or something like that, and they don't have that deep appreciation. I would actually argue that probably a lot of the young musicians at that level, know it. I don't know. Will, your thoughts?
WK: Well, he really knows the Doc Watson. He really does.
JC: Got to love Doc Watson.
JR: He really knows it. I mean, probably better than many, he probably sounds more like Doc more than anybody I've ever heard when he wants to. But it's a good question, and I think there's an interesting story within the story, and that is it's hard to wrap your head around how amazing Hartford is without also understanding how all this other music was a touchstone for him. And you can't you can't get there from Hartford.
WK: Right.
JR: You have to listen to Hartford for to think about what he did. And you have to listen to all the earlier music. I mean, he was a Scruggs fan, that's what he was when he was a kid. He was into all the old times of old-time fiddler, but also tin pan alley.
WK: Right
JC: You hear that in his music.
JR: He did the time. He did the time in the office, writing for the hit machine. He did that, too. So, he's a really deep person. It's really difficult to try to say that you want to emulate him because. I mean, gosh.
JR: His songwriting ability, his archivist sensibility, hearing the stories about his notecards in the back pocket.
WK: Right.
JR: You know, those kinds of things. I mean, it's just, that's a whole 'nother level of human
being.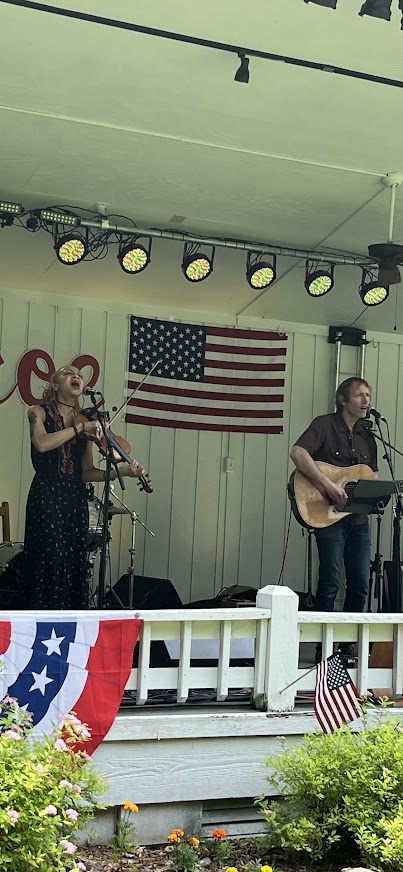 On our way to the Main Stage to hear Anne Harris with Ernie Hendrickson,  I looked down at my left foot and saw a four-leaf clover. We set up our chairs. My husband looked on the ground beside him and found another. Then a Hackberry butterfly landed on my arm; good omens all.
Anne's fiddle playing is hot, soulful and expressive, reflecting her spirit. And good to know of another Chicago area musician to follow. Ernie had played BMMP at a Victor Wooten event about 5 years ago. Awaiting our friend Patty's arrival, we listened to the Banister Band and the start of the Roe Family Singers out of the Twin Cities from comfort of camp. Once she was settled, we went to listen to them. In front of the stage, the path had gone green compared to the packed dirt or mud and straw of previous years. Soon we were dancing barefoot in the plantain patch. Since plantain is used as a poultice for small cuts and abrasions, our bare feet were being soothed as well as abused. They were certainly grimy!
The Roe Family Singers had a little Western flavor to me. Turns out Quillan Roe played with a Western swing band in Iowa. I liked that they also had a social conscious; the phrase, Stand up, Speak Out emblazoned on Roe's banjo. Post show we had good discussion about how the Cares Act helped a lot of musicians survive the past two years.  And he has a story teller appreciation of the music they played. Kim Roe also did fine foot-work on the stomp board. After their show, she led a workshop on clogging, jigging, tap or whatever you want to call a stomping good time. Patty felt for the performers; they deserved bigger audiences but at same time loved the intimacy and conversations with folks. 
Janine Catchpole: What's it like to be here and have it quiet for you? I know you've seen the other way it looks.
Quillan Roe: I think that the Covid has hurt them, it is just hammered our industry.
JC: I've heard it's actually having an uptick here in Brown County, too. We're reading been the papers. So, it's probably good it's as open as it is.
QR: You know, and we're seeing that all over the place. I've actually I talked to them, it's just who I am, I just talked to a lot of the promoters. Not so much like, how did we do, but just how are you doing?
JC: Yeah, I'm worried about these people.
QR: And a lot of them are saying the same thing to the musicians. That made it worse, that the musicians are saying that. We wouldn't have got through it if wasn't for the Cares Act. I was stunned that we got unemployment. When you're self-employed, you don't expect that. All of a sudden, the news is coming to go ahead and start applying for it. So, we did. And at first it was denied. But within two weeks, all of a sudden, there were these questions saying, are you self-employed? How are you self-employed? It was just like regular. For about two years that kept us afloat, which was a Godsend. I think the businesses that were able to apply for the business grant versions of that did okay. But you know, having said that, doing what we do, we know a lot of restaurant owners and small business owners and a lot of small restaurants went out of business, a lot a record shops and stuff like that. So, to get back to your question. I'm just happy it's here, That something's going on at all. Hopefully that this is just a Thursday in the middle of the day. And tonight, there'll be people here and Friday and Saturday it'll be packed. And next time, we gotta come here for a later (performance) date, and play for more people.
JC: How did you get into bluegrass and Americana?
QR: I literally remember the first time I heard bluegrass, that summer I was in Chicago on spring break as a Dead fan. And what is this bluegrass business? I'd never heard that. It's like Jerry Garcia and then Doc and Dawg.
JC: Oh, yeah! All that stuff!
QR: There was so much in the seventies, particularly, there was so much cross-pollination with those guys. I mean, you have these long hair guys playing bluegrass.
JC: And it's right back into Hartford. And they're back to the whole point of why we're all here at some point.
QR: He played with everybody. I mean, before he was 'John Hartford', he was backing up everyone. It's amazing how many people, like straights he played with. It's pretty cool. There's all that and that's kind of what's neat about that the seventies era of bluegrass, because you had these long-haired New York hippies playing with Bill Monroe and these hard traditionalists and making incredible music. So, again, back to the beginning of that question. I don't think of it in terms of genre, of course you have to have genre, but that's what people need, but this genre is huge! If you could call it folk or Americana, you've got so much to grab from. And also, the other thing is, ultimately, I want people to dance.
JC: Thank you! Thank you, from a person that, if I hadn't grown up in a town of 300, I really would have pursued dance hard, but my mom didn't even drive.
QR: It just makes people feel good. The two biggest compliments for live music are people dance with you or they sing along. The applause is awesome. Of course, it's awesome. But the big stuff is if they, - because they're expected to clap, that's like a social contract - But if you get people to dance, if you can get people to sing along, you've made a connection. And that's magic. That's my favorite.
JC: Thank you. From the audience. Yes. Having grown up in Montana my dad was in a country Western band, so I had a lot of knowledge of that (music). But I do hear that Western influence in your music with that Western swing. You said you were in a band. What was the band?
QR: I played in a band. My first professional band was Western Swing/Rockabilly, so I did that. I guess the professional run of the band was probably about six years. And then we broke up, but we kept playing shows every now and then. It's the music that I grew up with. My mom's family Is from southern Iowa by way of Missouri, Kentucky and Tennessee. That music that was always playing at home. My dad had really eclectic tastes. The stuff we listened to the most was Doc Watson and a group out of North Carolina called the Red Clay Ramblers, which is some of my favorites. And the Jim Kweskin Jug Band. The thing that's important about all three of those bands in particular in what we do today, is that none of those people were traditionalists. I mean, you think of Watson as a traditionalist, but in fact, his whole style of playing was totally innovative at the time and he brought in all sorts of stuff. And the Red Clay Ramblers were all over the place and Tim Kweskin Jug Band, you know, it was a jug band, but they covered Chuck Berry.
JC: That had to have been great!
QR: It was fantastic. Kim was actually listening to it yesterday in the van. We actually got to play with Jim twice down in Louisville, Kentucky, which was absolutely amazing. All this music is what you said your friend with, the Grateful Dead magazine, right? People there are definitely people that come to bluegrass festivals. You play that Grateful Dead song, we're like, no, we play that Bill Monroe song. But the point there is that the Dead had the same thing, they were grabbing from all over the place. We're the same way.
JC: So how do you select songs you play and how do you debut songs?
QR: It's learning how to learn it. Learning how to how to edit.
JC: Analyze?
QR: Yeah, absolutely. We played a bar every Monday night. There's no better audience to let you know what's working and what's not working because you're competing with all that noise and all that booze, you know? And as we all know, your passions increase when you're high or stoned or drunk and people will let you know they love it or they'll let you know they hate it or the worst, they'll be indifferent.
JC: Indifference sucks.
QR: If it's really good, but you've got to pay attention. So, we do these songs, and we debut new songs all the time. Some of them are our own stuff and some other people's. Usually we give a new song 3 to 4 weeks and just see how people are reacting to it. We were doing Neil Diamond's Girl, You'll be a Woman Soon. We did that for three weeks in a row and every time we did it, no applause. We'd get done and people were like, no applause. So, the fourth week I said, all right, I noticed the last three weeks no one is applauding this song. We're gonna do it one more time and we'll see what happens. And we got done and it was just, (blows raspberry) you know. It was out of the set list and I haven't played in four years.
JC: Did you learn to clog?
QR: No, I learned to swing dance. Yes, I learned to swing two-step, because we had a band in town that played every Wednesday night. And before they would play, they'd do free lessons. And then that's how I learned. And then it was never as many men as women. So, you always had somebody to dance with. And the women were just happy to dance. And I guess I looked eager enough because I had a lot of people teach me and I was like, yes!  I want to be good at this. The funny thing is, Kim, when Kim and I met, she's a good dancer, obviously. But after we got married, she went back to school and she had to take a gym credit. And so, she took swing dance or ballroom dance. And so now, still today, whenever we dance, she tries to back-lead all the time, like one of us has to decide who's leading this, you know? Well, I don't care, but it can't be both of us.
JC: Sometimes, with Floyd and I, my husband, it's a conversation.
QR: (Laughter) Over who's leading?
JC: Sometimes.
Breaking for food, eating rhubarb pie first because it's festival, we listened to next few bands from camp as we worked our way backwards through our meal. Things were as laid back as they possibly could be. Ryan Shupe and the Rubber Band entertained and got the folks dancing and having a great time. Shupe did a spot-on Kermit the Frog singing Rainbow Connection leading into a proper country-boy rocking banjo tune.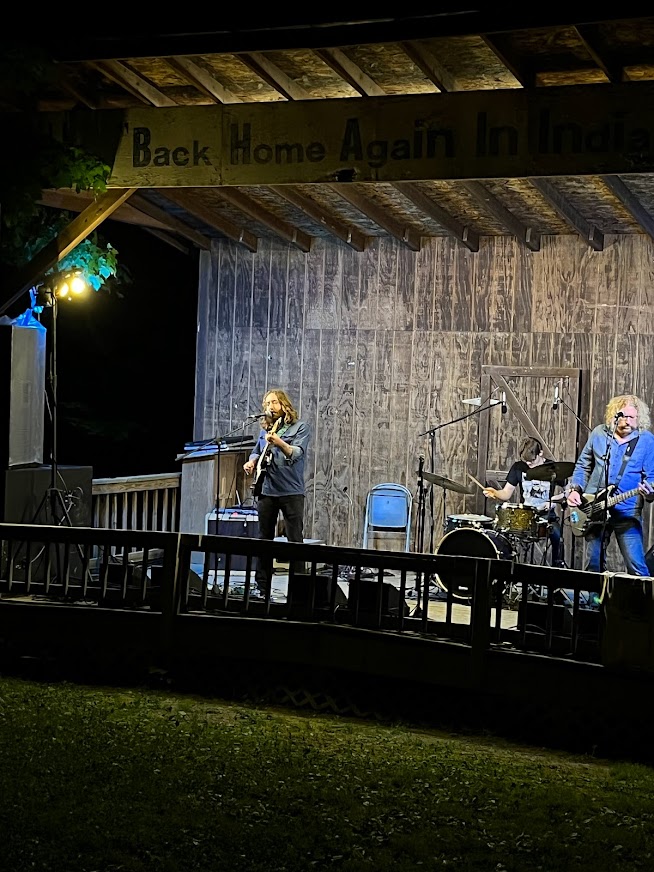 The last act of the night was Nick Dittmeier and the Sawdusters. This three-piece band reminded me of the Bottle Rockets and the alt-country/roots rock leading back to the Bakersfield sound, Americana for sure. I'm glad to see they can be found in playing in Illinois. The drummer was a machine and a show himself.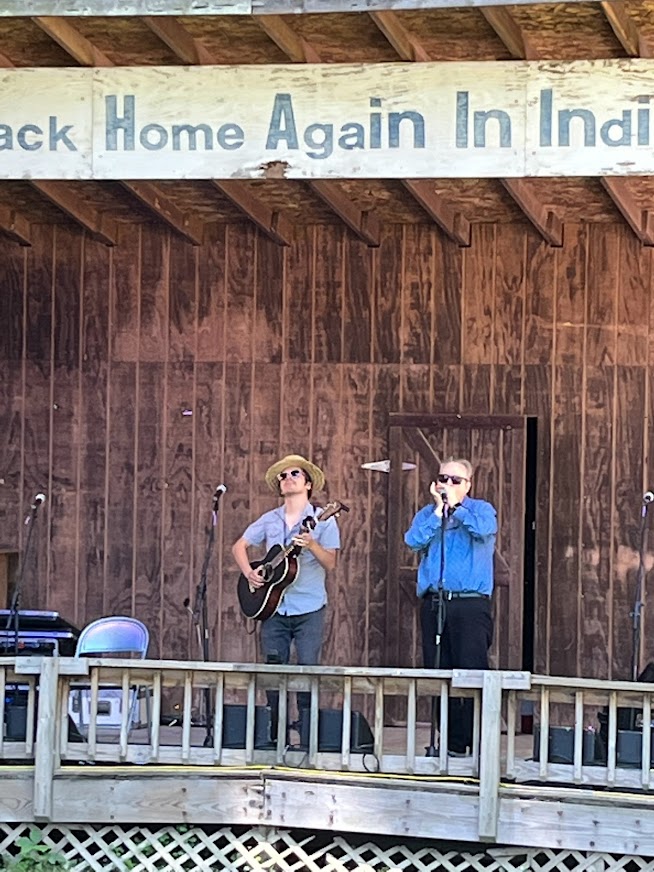 Friday, we enjoyed the Jack Whittle Duo on the Hippy Hill Stage. Whittle played a great set of front porch blues for a sunny day, sipping cold drinks. Doc added blues harmonica as they through Whittle's originals and song covers like Tulsa Time, and Hey, Hey, Good Lookin'. We discussed Americana and the emphasis it puts on song writing.
JW: Janine, nice to meet you.
JC: I mean, you talked a little bit about what is Americana when you were on stage. And this is an Americana music festival. What does that mean to you, Americana?
JW: Oh, genres, I think, are kind of silly anyway. I really do think they're kind of silly. They're the marketing tool.
JC: Well, sure, they have to put it into a category.
JW: You have to describe something to someone. It's a hard to describe music. So, Americana to me, is a combination of a lot of rootsy musics, rootsy American obviously. But the music tends to be more country and folk, from what I heard. But there's definitely a blues element.
JC: Well, that was part of the scene. Country blues is a thing.
JW: All right, cool. I love it!
JC: You can't hear Hank Williams without hearing it. I grew up in Montana. Dad played country music. Hank Williams was huge out there, but he was still singing blues.
JW: I agree. When I play a (mimics a shuffle beat), it's a shuffle. It's a little different in Chicago, but still the same.
JC: it's a shuffle. Yeah. So that's the fun part anyway. Yeah. Roots music, I think. I agree. Anything else you want to say about it?
JW: Americana, I like it and I'm glad it's getting, it just seems over the last ten years it's getting a lot of recognition.
JC: I think it's like proper back or front porch music. I mean, it is the root music of the people. Anybody can get guitars or a banjo and play it; it doesn't have to be a huge production.
JW: There is a lot a lot of focus on songwriting which is also awesome because I write.
JC: I admired your songs.
JW: I appreciate it. Some of the other roots genres that I do love are sometimes stuck doing the same repertoire, over and over, which is good. It's educational.
JC: Okay, but what particular branches are you would you put in that category?
JW: Genre wise?
JC: Yes, with roots music?
JW: Blues tends to be a lot of people doing a lot of covers and which is great, but sometimes not as much focus on original music. Okay. And sometimes, you're in Nashville on a trip and see country acts, it's just country acts. If you see some country band playing there, it's often is a cover band. There's nothing wrong with. I guess we could find it entertaining. But it's cool the Americana scene kind of focuses more on songwriting in my experience.
Then it was time to get over to Springville and JHMF. We knew we wanted to find friends, vendors and hear Chicago Famer and The Sweet Lilies. Living on festival time, an hour drive and wending our way from front gate to parking area, a distance long enough to impress any Montana rancher, we found Chicago Farmer as he finished his set. I finally got to see Luna in person and her devoted humans. We had time to scope out the vendor area. Patty had shopping to do and we said howdy to the folks with the Gypsy Wagon. They missed their shady spot at BMMP. We worked our way up the see the Hartford Stage and some of Wolfpen Branch.
Winding our way to find The Sweet Lilies and the Boogie Stage, we found the Griffin camp and got a wonderful Amy hug. Any time with Jon, Amy, their family and friends means festival. Then we spied Vinyl Phil. He was hot, but in the uncomfortable way, not too hot for Laura from Aurora but we missed her. Then Mr. High Ho Gems, Mr. Steam Powered Preservation Society, Jeff Mankin himself shows! We all traveled 275 miles to see each other when we live 30-160 miles apart. Festival makes us silly.
We hiked down (then up) Hummel Hill to the Boogie Stage. This hill dwarfed any hill at BMMP. Some classes of vehicles cannot use that road, especially if the underlying clay is wet. Tracking down the stage we found seats and settled in. I was told the band was exploring some new sounds since the 2019 Hartford. Members of Chain Station joined The Sweet Lilies. Covers of Can't Touch This, and The Vampin the Middle showed a lot of range. And the players were having a blast as well as the dancers in the high-heat time of the day; lots of energy. But personally, we missed the amazing melodic harmonies of 2019. Given heat, dust and an hour back to Beanblossom, we left after this set.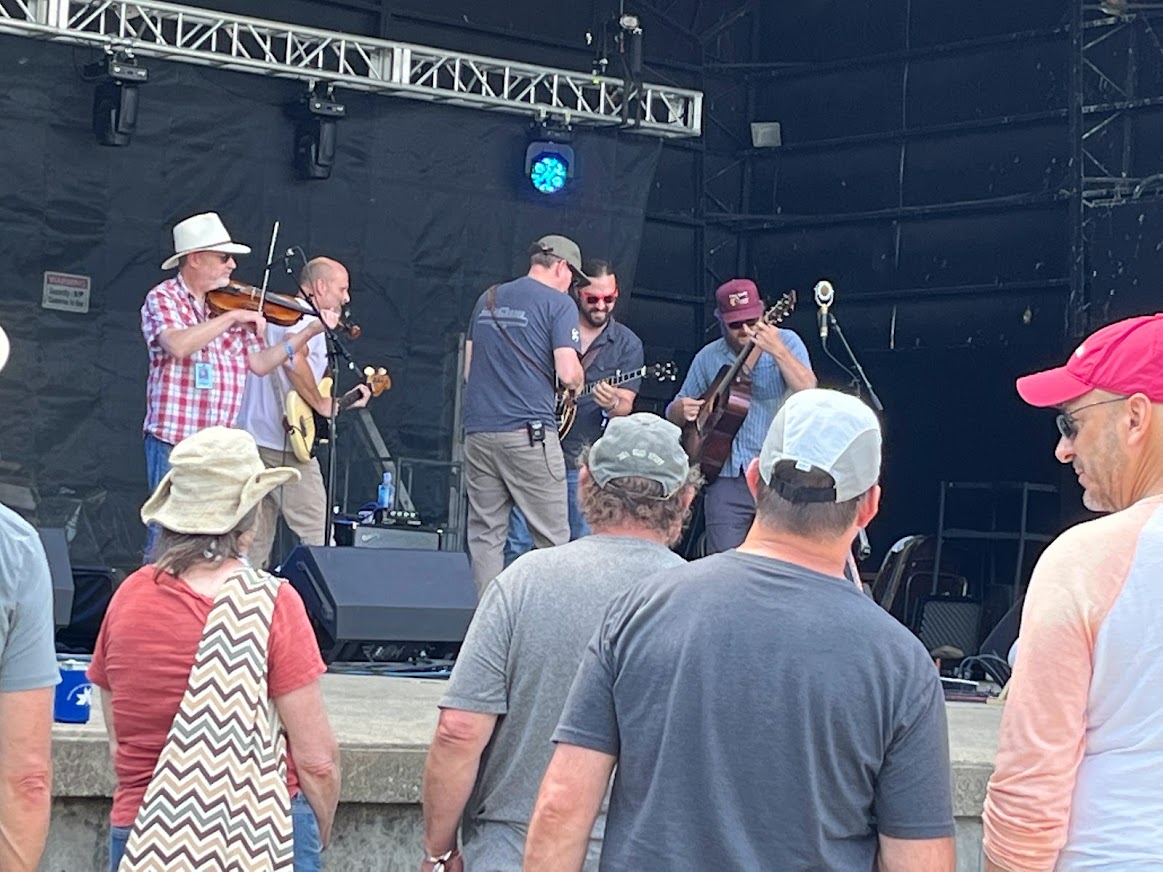 Back in time to hear some of the Jon Stickley Duo from the cabin as we ate spaghetti squash topped with chili, shredded cabbage, cheese and ripe avocado slices. After being properly refreshed we headed over to hear Della Mae, an all-woman bluegrass band. The bass player is up for a CMA award. They were so glad they could squeeze Americana Bean into their schedule for chance to play on that stage in that place. And we got the harmony fix we were craving and missed at Hartford.
Since we had to leave on Saturday, we only got to catch a couple of acts on that day. John Ford opened the day with blues including Muddy Water's Train to Chicago; Charlie Patton's Pony Blues and originals. Solid one-man show at the Hippy Hill Stage. (Video 4) This site was so named when in the 1970s all the long-hair folks excited by bluegrass began to attend the Bill Monroe Bluegrass Festival and they needed to put these people somewhere, so a new camping area and stage was created.
On the Main Stage, Cruz Contreras has credentials and stories. At 15 he was invited by Hartford to a picking party with the likes of Earl Scruggs, Marty Stuart and others. At one point, sulking alone over some damage to his new guitar borrowed by someone, Bill Monroe walked in and told him the name of a song, the key and to keep up as best he could. Cruz, his banjo picker, Matt and fiddler Billy put out a lot of pleasing sound.
My husband and I danced in the pavilion. Good dance music deserves a level dance floor. I wish we could have stayed. The Kody Norris Show is a hot bluegrass act and I guess his costumes are part of the show with new ones to be revealed on the Bill Monroe stage. Veronica Lewis promised hot boogie-woogie and blues. Hogslop Sting Band would have been a bluegrass party throw down. Drat! So many bands I haven't heard!
We finished the last bit of packing and stopped in at the Music Park store for some ice and to let them know we plan on reserving the cabin for next year, 2023. It's about location, location, location and a cabin. We didn't find the Lawrence County Recreational Park as inviting or comfortable as the Bill Monroe Music Park. We'll see if Americana Bean Jamboree Festival will grow as we watched the JHMF grow over the years. I'm glad traces of Hartford can be found at Bean. I think Hartford will find its feet again. It was a bit like a stirred-up ant colony or a flock of golf carts trying to leave all at once from one stage to the next. A couple of years under their belt at Springville will make things smoother, easier. People will know where their villages are and the lay of the land. Or they may find another better venue. I know deeply how much fun the people and performers at Hartford are and missed seeing them. I am glad I can find many of them at other events.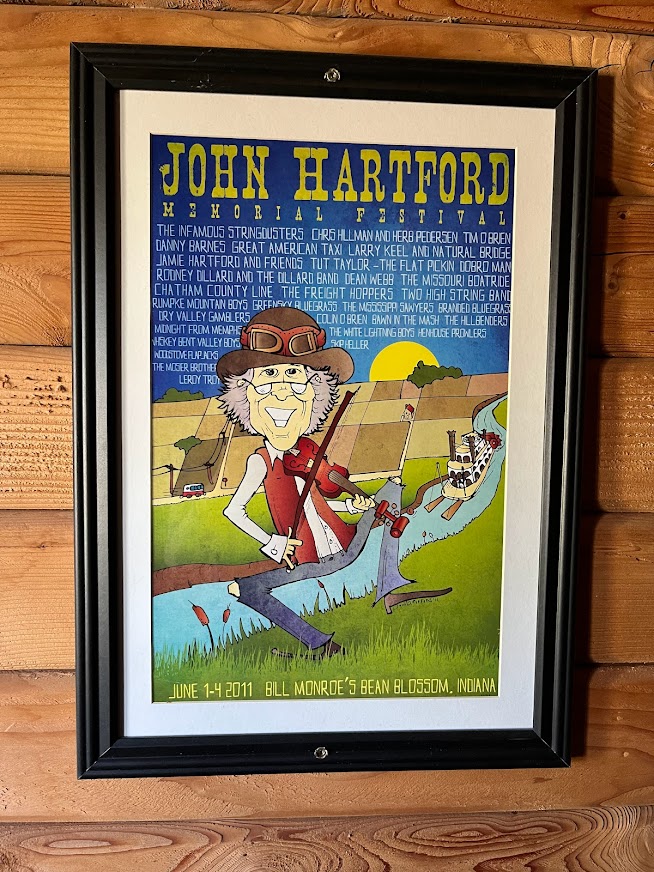 One of the true festival-going experiences is seeing how things evolve over the years. Sometimes, like in any relationship, one moves on to bigger challenges, new places and that's okay. Others stay behind with enough music mycelium running deep to bring new things to picking size. I have faith in both festivals to live long and prosper without feeling a need to take sides. Let there be songs to fill the air.