Saturday started out with the residual natural high that one could only experience from live music that had lifted spirits the night before.  Walking into Zilker park you could hear different sounds floating around from all different directions.  The Very Best was belting out reggae tunes while Grace Potter and the Nocturnals were keeping things a little bit more rock n' roll at the other end of the park.  Right in the middle was the marvelous Lissie.  Having stumbled upon her EP "Why You Runnin" late last year and becoming immediately hooked, I was there to see this amazing singer-songwriter whom I share a common thread with—Quad Cities, born and raised.  Fresh off the summer release of her debut album 'Catching A Tiger', she performed one of my favorite 45-minute sets of the weekend.  She was joined on stage by Eric Sullivan on guitar and Lewis Keller on bass and drums.  Lissie brought her down-to-earth sound, bare feet, and golden locks to which the crowd absolutely adored her.  She played an amazing rendition of "Little Lovin" and her set had more heart and soul than Huey Lewis and The News.  I can honestly say that I can't wait to see what this girl does next.
As I started to head to the other side of the park, I stumbled across the duo that is Basia Bulat.  A brother and sister duo from Canada, Basia and Bobby played a quirky folksy set that was enjoyable and memorable.  Note to self, purchase albums.  It was a nice break in the shade before I made my way to the Honda Stage.  As I nestled in up front, I made friends with a former Austin-ite Judi and her dear friend Merrie.  Both were eagerly anticipating the arrival of Pete Yorn.  I stayed long enough to snap a few pictures and catch a couple songs (he mostly played new tunes) before moseying on over to catch Bear in Heaven.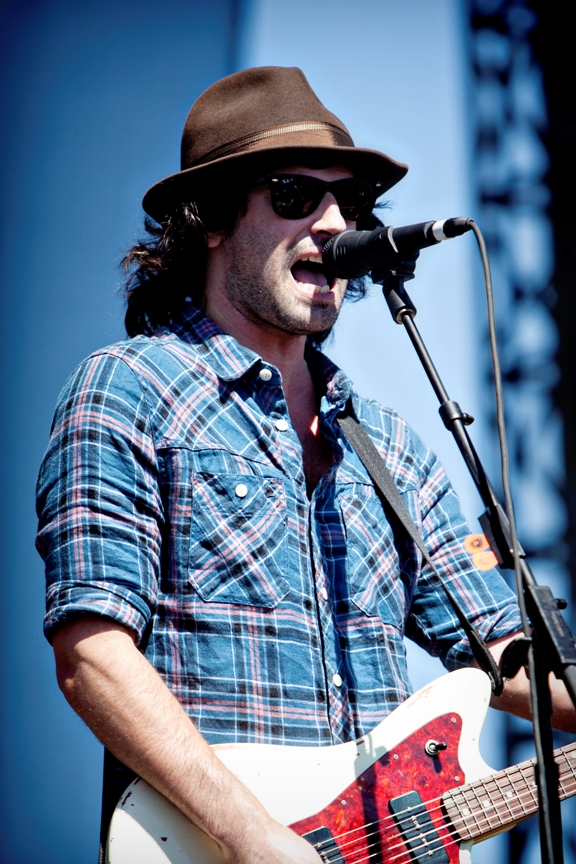 I hadn't heard of Bear in Heaven before seeing them on the bill for ACL.  After hearing a few sample tracks, they become one of my most anticipated bands to see at the festival.  The Brooklyn based crew did not disappoint.  Their execution of the steady and subdued electro-minimal 'You Do You' and swelling hooks of 'Lovesick Teenagers' and 'Ultimate Satisfaction' was flawless and physically carried off in a manner just as reserved and precise.  Vocalist Jon Philpot's presence, both stoic and slight of movement, added to the delicacy and tension of their performance.  Everything seemed to be hanging from a thread and a simple melody.  The nice thing about festivals of this size is that there will always be a band or two you've never really listened to that leave you wanting more.  Bear in Heaven was one and Two Door Cinema Club was another.
There had been a buzz surrounding Two Door Cinema Club since before the festival started, but the crowd that showed up at the Austin Ventures Stage was mostly gathered to see Monsters of Folk play later far exceeded my (and the band's) expectations. Their quick paced electro-rock backdrop and Alex Trimble's light, falsetto prone vocals proved enough to convince the mostly unfamiliar audience member to dance and sing along to 'Something Good Can Come' and 'I Can Talk' from their recent album Tourist History.  On the other side of the park, Memphis based band Lucero took to the AMD Stage. Lucero has a sound that is rooted in an eclectic mix of country, rock, and punk.  It's the type of music that makes you just want to grab a bottle of Jack Daniels and go have a damn good time!  As their southern rock soaked set began to wind down, the crowd started to pack in for the upcoming set of Broken Bells while Mayer Hawthorne & The County were setting up over at the Austin Ventures Stage.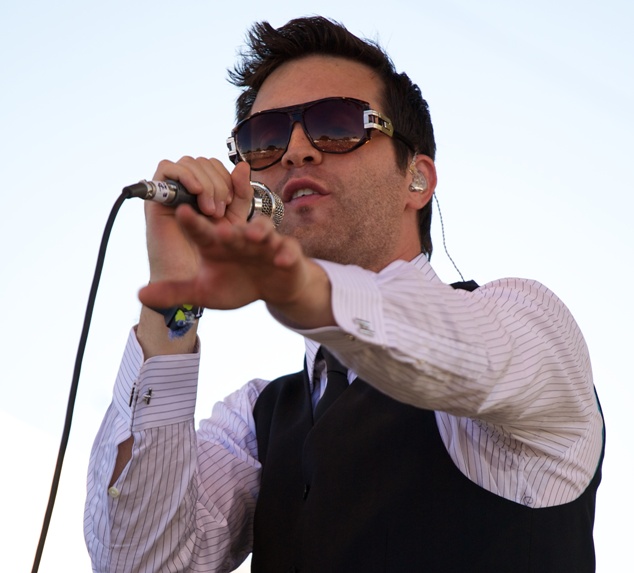 As expected the audience didn't trim one bit as a pair of vintage signs (4 foot light-filled metal M and H) were positioned center stage, announcing Mayer Hawthorne & the County's arrival.  The still massive audience had to have been more than the band anticipated, but if so they didn't let on once.  He took the crowd as his own with a confidence matching the 60's era R&B figures he embodies, transported to present day and made subtly modern.  With the "get up out of your seats and make love, people!" vibe, vests and thin ties, they put the perfect face to audience favorite tracks like 'Just Ain't Gonna Work Out' and 'I Wish It Would Rain'.  Mayer's performance was full of energy and persona, just the thing for a now sun-baked mass that was in jeopardy of wilting.  His crisp falsetto set against the County's tight, jumping rhythm section was exactly what the midday gathering was asking for.  As their set came to a close there was a small dispersion of those trying to get out and catch Broken Bells back on the AMD Stage.
Broken Bells is a double act comprised of the musical mastermind that is Brian Burton also know as Danger Mouse and lead guitar/haunting vocalist for The Shins, James Mercer.  This set was by and far one of the main reasons a number of people flocked to ACL this year.  "I wouldn't have camped out for over an hour and a half to see any other band," said David Weiser of Austin, TX.  And as they took the stage, James and Brian (with a full band in tow) started off the set playing the appropriately named 'October' off of their self-titled album.  Notably, they also played 'Insane Lullaby' off of Danger Mouse's album Dark Night of the Soul, which is a rare treat as it is said to be a tribute to Sparklehorse's front man who passed away earlier this year.  The rest of their set was a collaboration of hits off of their current release such as 'Ghost Inside' and 'High Road', as well as a few new tracks and a cover of The Black Keys 'Everlasting Light'.  You would be hard-pressed to find a nay-saying critic after their performance at ACL and it appears that they have made strides in Austin since their mixed review set from SXSW earlier this year.  I'm personally excited to see what comes next from this collaboration and fingers are crossed that maybe a few Shins songs will be snuck into future live shows (wink, wink)!
From one corner of the park to the other, you would be excused for thinking that the unchanging mass of people left standing at the Austin Ventures stage following Mayer Hawthorne were enduring all in anticipation of Monster of Folk's set, but in a surprise I heard 'Local Natives' echoed by fans through the remainder for ACL.  There were a few thousand more voices added to the already stacked trio of vocalists pulling off the band's trademark pervasive harmonies.  During a break, the band's keyboardist (and one of those voices) thanked the audience for appearing to sing the lyrics to every song off the band's album Gorilla Manor released in just February of this year.  The audience's enthusiasm was infectious, fueled by a high-energy cast, tight rhythmic cadence and powerful vocal performances.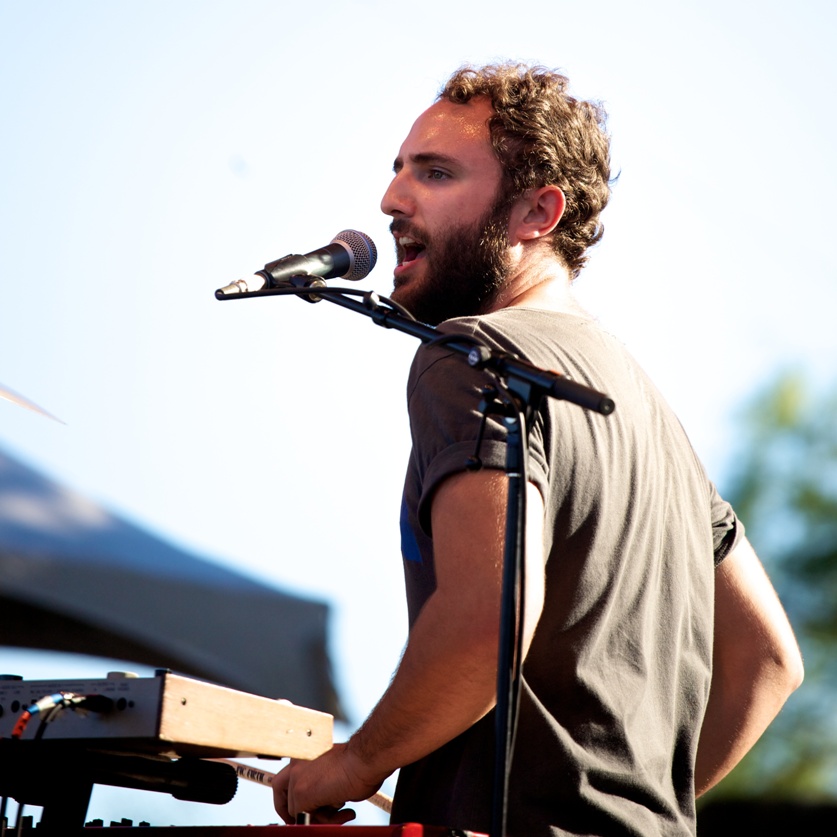 As the Local Natives wrapped up their set, the anticipation and reverence for Monsters of Folk grew increasingly explicit as the band's gear was sound checked.  This was another one of those moments for which many people bought their ACL tickets and endured both sweat and sunburn to see.  No one seemed to recognize the drummer, which is how he got away with setting up his own drums.  The others would have set off a riot had they taken the stage in any less organized fashion as they later did, in a grand surge.  In part the set was to be a farewell wave to fans as this was their first and last performance together for quite some time. The Monsters of Folk may be taking a break from each other to focus on their origin efforts, but you couldn't tell it by watching their performance. As they moved through Monster originals such as 'Say Please' and 'Dear God (Sincerely M.O.F)' as well as their respective Bright Eyes, My Morning Jacket and M. Ward catalogues, it was clear they were nothing, if not a cohesive whole, adopting every song entirely and exploding it on stage with the swagger that these men and very few others can convincingly pull off.  The crowd that had staked their ground earlier in the day was now fully flanked by a thousand or so more set up in chairs and watching from blankets that stretched all the way to the other side of the park.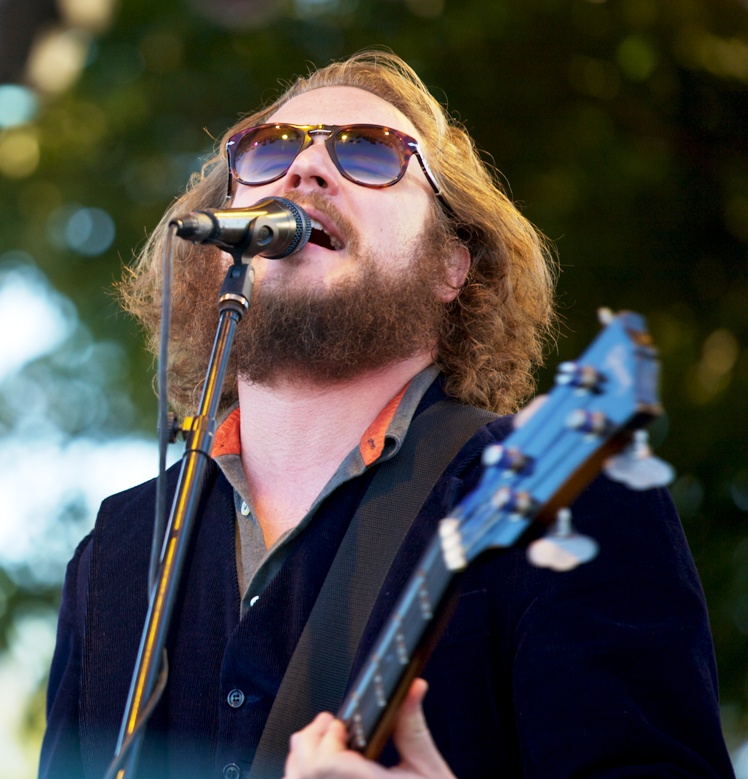 On the west side of Zilker Park, there were no blankets to be had.  Everyone and their brother had packed in for the gypsy-punk band, Gogol Bordello.  Anyone who has had the opportunity to see this band perform live knows that their studio albums do them absolutely no justice.  You cannot capture on an album the energy that the crowd feeds into their on-stage performance.  I've had the pleasure of seeing this band on more than one occasion and have never been left disappointed. Gogol Bordello's music offers refuge to misfits and rebels alike.  As Eugene Hutz and his intercontinental menagerie took to the stage, it was clear that the crowd was eager to let the dancing, moshing, and all out mayhem commence.  They played a great mix of old and new. "Tribal Connection" and "Wanderlust King" from 2007's Super Taranta!, "Start Wearing Purple" off of Gypsy Punks: Underdog World Strike, as well as "My Companjera" off of their newest release Trans-Continental Hustle.  Hutz's raspy old-world voice, politically charged and globally minded lyrics, and the backing of the most energetic band I've ever seen (including the newest additions- "Tommy T" on bass and Pedro Erazo lending vocals and percussion), made for one hell of a 60-minute set.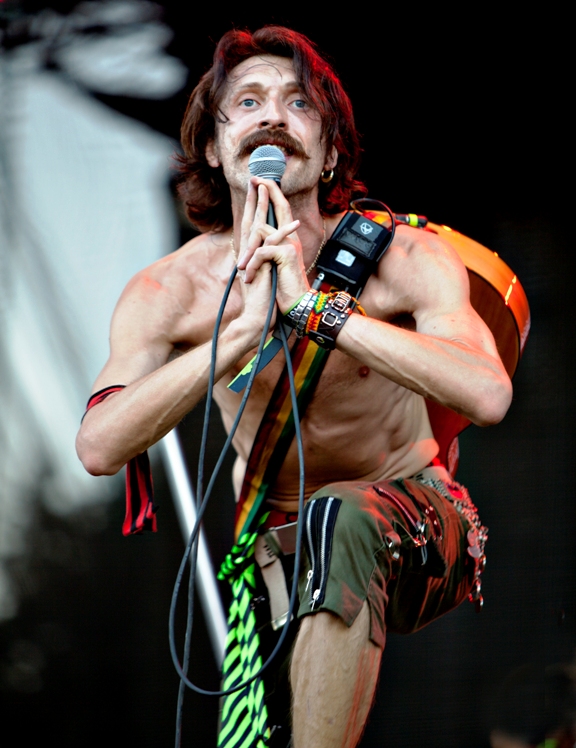 "Who is Dead-Mau-five?"  I heard this question a multitude of times over the weekend and always offered up the proper pronunciation to confused festival-goers. It's "dead mouse" and his real name is Joel Zimmerman.  A Canadian electro-progressive-house DJ most prominently known by the giant mouse costume on his head, Deadmau5's set didn't exactly go off without a hitch.  Blowing the stage power on the first beat, followed by a bout of silence, he brought the music back on, only to blow the power right before the climax of his opener.  Deadmau5 recovered and continued on as if nothing had happened.  Playing on top of something that resembled a Rubick's cube on it's side (or left over pieces of the Daft Punk pyramid) he offered quite the visually stunning light show that anyone (sober or not) could appreciate.  Lights were actually quite the key component to a lot of the late night sets.  The lights from Muse could be seen from clear across the park, a smattering of colors pulsating against the black sky. 
Opposite to their set was M.I.A. and she ironically chose to play most of her set silhouetted against an electronic backdrop that spewed graphics as if we were transported back to 1992.  Rocking clothes that looked like they were purchased from a Milli Vanilli garage sale, M.I.A. and her bump n' grind back-up dancers started the night with "Galang" off of her 2005 album, Arular.  Her vocals were so drowned out that myself and those around me could barely make out what she was singing, but tried to go along with it anyways.  Had it not been for her distinctive music, I would not have had a clue as to what songs she was performing.  To her credit she came out and tried a spot of crowd-surfing and involving fans by pointing the mic at them in order to impose some sort of sing-a-long, but it just didn't come together as her or anyone else had hoped.  With the exception of "Paper Planes", the crowd just bobbed along as she went on with the remainder of her set (even though she ended it earlier than scheduled).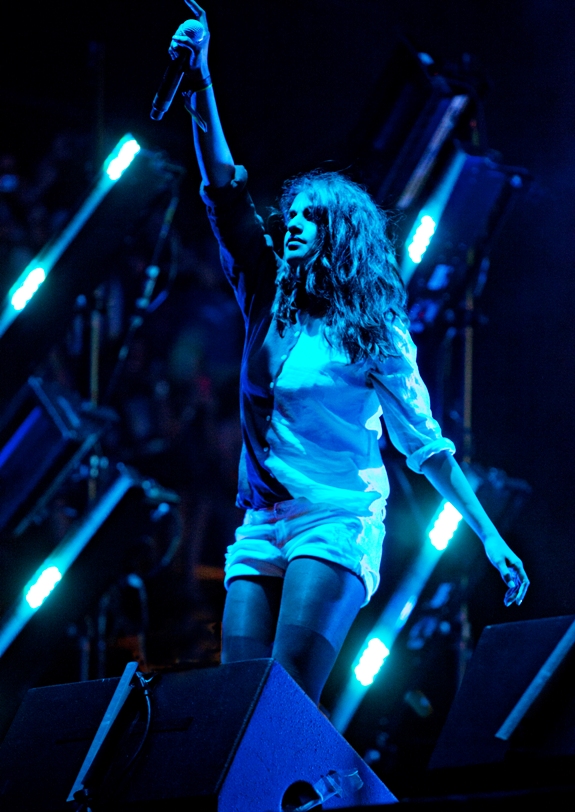 As I was exiting the park and Saturday had come to a close, the M.I.A. show was met with mixed reviews.  Some enjoyed the music and others hadn't a clue what had just happened.  Next time I'd suggest bringing an iPod and headphones just in case… if anything, at least you'd have one hell of a time rocking out to your personal playlist while interpreting what was being played out on the stage in front of you.
Be sure to check out photos from Austin City Limits. 
Stay tuned for our Part III coverage of Austin City Limits.   Here is Part I in case you missed it.