The last day of a festival is always bittersweet.  You get excited for the festival headliner but also deep down you wish you could replay the weekend over and over again and perhaps catch some of those bands, that due to scheduling conflicts, you painstakingly missed in the days before. After arriving with the masses to Zilker Park, I immediate sought refuge in the shade, as the Texas sun was rather relentless this Sunday morning.  The plan was to be front row for the Flaming Lips, come hell or high water, so I headed towards the west side of the park to start my day off with what was to be a charming set from Devendra Banhart and The Grogs.
I had only ever heard a few songs by the Houston-born singer-songwriter before and while talking to a group of extremely giddy 19-20-somethings (who stood there professing their love and devotion for this band), I felt I had landed in the right place.  Devendra took to the stage with an airy presence as he playfully cavorted from stage left to stage right. He sang a set of whimsical tunes while being backed by his band, The Grogs, as they graced the audience with a vintage meets psychedelic sound.  Their set was solid and they played a few recognizable favorites such as "Lover" (which was part of the "Nick and Norah's Infinite Playlist" soundtrack), "I Feel Just Like A Child", and "Shabop Shalom".  What happened next was the experience of a lifetime for one lucky fella as Mr. Banhart invited anyone with a song to play to come up on stage and sing to the masses while the band took a short break.  Several tried to fight their way over the gates in order to relish this amazing opportunity, but only one succeeded, Shane Bill.  Devendra handed over his guitar and after Shane took a look at the gathering of people in front of him, he was most likely thinking to himself "holy shit".  He managed to play a very raw rendition of "Jack the Kid" to a crowd that was just as excited as he was and shared quite the "I love you man" embrace with Devendra before rejoining his friends in the crowd.  You would have been hard-pressed to find someone who didn't leave that show on a high note.  Devendra Banhart and The Grogs definitely laid a great foundation for the rest of Sunday, now it was up to Yeasayer to keep the energy going, and keep it going they did.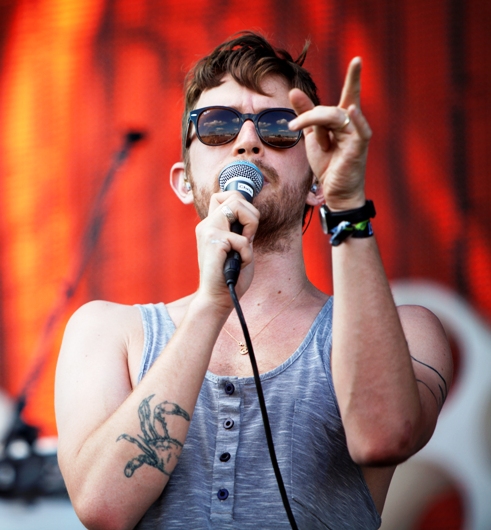 Based out of Brooklyn, New York, Yeasayer has been a staple on the festival circuit since their appearance at 2007's SXSW.  Back in Austin off the winter release of their album Odd Blood, the boys joined by their mascot of sorts (the strange blob-like creature from their music video) for a fantastic rendition of the song "Madder Red".  Nearly everyone around me was moving to the music, as it's nearly impossible to not shake your ass to this band!  Chris Keating and Anand Wilder's shared vocals were hauntingly spot on as they regaled us with "O.N.E.", "Tightrope", "Ambling Alp", and even "Mondegreen".  On nearly every song, bassist and backing vocalist Ira Wolf Tuton, helped to round things out and produced some killer rich harmonies with the others.  As their set drew to a close and the crowd dissipated every so slightly (most likely those heading to catch Rebelution or Edward Sharpe and the Magnetic Zeros) I couldn't shake the image that perhaps lead singer Chris Keating was a much hipper reincarnation of "Duckie" from the classic John Hughes movie, Pretty in Pink.  Conceivable, yes?  Perhaps the dehydration was getting to me after all.
When camping out at a stage all day in order to catch that ONE band, in between sets you will be lucky if you can catch the sounds from stages nearby.  Thankfully before The Flaming Lips set started, I was able to take a breather and focus my attention to the sweet sounds wafting in from the Honda Stage.  There is just something about a lazy Sunday afternoon spent outdoors and reggae music.  They most definitely go hand in hand.  Rebelution is a California based reggae group that has been gaining notoriety ever since their 2007 release of "Courage to Grow".  They were one of two reggae groups that played at ACL this year and helped to keep things "green".  Oh the sweet smell that traveled from their direction… hippie bliss.  Notably upbeat, extremely catchy, and nothing short of enjoyable, the band played songs such as "Safe and Sound", "Green to Black", and the appropriately titled "So High" to name a few.  Definitely a band worth checking out, especially if your days of youth include blazin' to mixes of Bob Marley and Sublime. Oh, memories.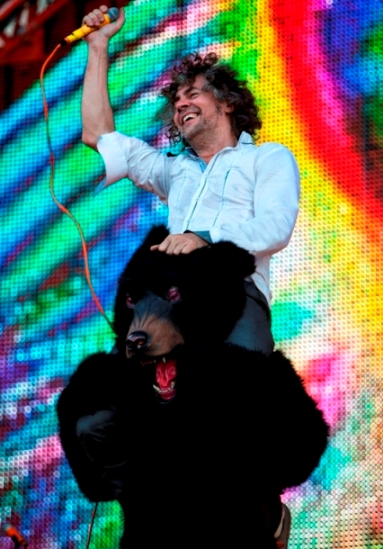 If you weren't too stoned after Rebelution, there were plenty of party favors floating around prior to the Wayne Coyne and crew extravaganza.  Sober or not, a Flaming Lips show should be experienced by everyone at some point in their life.  I might be slightly biased as I've been a longtime fan.  Most girls I knew while growing up were swooning over Boyz II Men when I was the one listening to the "Transmissions From the Satellite Heart" album plotting my escape from the norm.  At any rate, my love for Wayne Coyne was rekindled as he came out and did his sound check.  That hair!  That smile!  Double-swoon.  I soon noticed I was not alone and found a fellow fan, Jessica, who was as giddy as I.  The next hour was bound to be magical.  He approached the audience to ask for their cooperation so that he would be able to complete a crowd surfing journey in his iconic bubble.  As his crew prepared for his official entrance, concert goers that were plucked from the audience prior to the set were now donning these orange "yo-gabba-gabba-ish" outfits and dancing about.  I did recognize a couple that were wearing homemade robot masks whom allowed me to photograph them a couple hours earlier.  They waved. I waved back, secretly wanting to be in their shoes.  One thing about Lips shows is that there is never lack of color, creativity, nor confetti.  The show started with a giant orange video screen playing this psychedelic video of a woman and her pulsating vagina.  Don't believe me?  YouTube it.  One by one, each band member emerged from the screen/said vagina and took their place on stage to a roar of applause.  Then came Wayne, bubble and all.  With a much-needed boost from the photographers in the pit, he was hoisted into a welcoming sea of fans to "The Fear".  After what seemed like an eternity he finally made his way back towards me.  I am proud to say I touched the bubble.
Back on stage, confetti soared, balloons were thrown and an all out rainbow of beautifully orchestrated chaos ensued.  "She Don't Use Jelly" brought back flashbacks of that "90210" episode in which they appeared.  "I Can Be a Frog" required a bit of audience participation, but was fun nonetheless.  Even though I was secretly hoping to hear a song earlier catalog "Jesus Shootin' Heroin", I was overall pleased with what was one mind-blowing hour.  Where else would you see someone ride a bear* onstage? *person in bear costume.  Winding down with "Do You Realize?", the crowd slowly started to part and I made a break for it.  Final goal for the night, get somewhat close for The Eagles.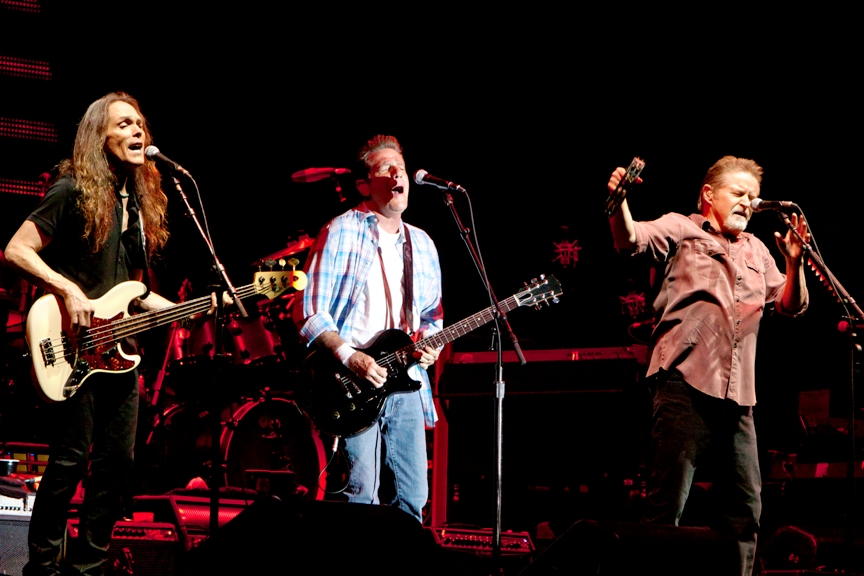 Before The Eagles were supposed to go on, there were still sets being played on various stages throughout the park.  The National was on at the Honda Stage, Cage The Elephant at the Austin Ventures Stage, Norah Jones at ZYNC and Richard Thompson on Clear 4G.  I had my own personal soundtrack for strategically maneuvering through the crowds to the Budweiser Stage across Zilker.  It was obviously that a lot of people were camped out for The Eagles, and clearly it was a highlight for the 50+ crowd that was in attendance.  This was going to be a show for both indie/hipster daughters and aging/rocker fathers.  Oh, how music bonds us all.  I was lucky enough to get within approximately 75 people (deep) of the stage.  This was an accomplishment considering the sheer amount of those around me.  Surrounded by people taller than me making it beyond difficult to see anything on the stage (and I'm 5'10" on a good day mind you) all it took was that first note and those recognizable harmonies of "Seven Bridges Road" to ease my sunburned and sweat tarnished body and mind, I was instantly overjoyed.  I grew up listening to bands like The Eagles.  This show was nostalgia at it's finest.  Even though many thought that The Eagles were a poor choice for closing ACL, they proved that for a group of old guys and guitars that they still had it.  Not only did they play favorites such as "Witchy Woman", "Hotel California", and "Life In The Fast Lane", but they also delved into both Joe Walsh and Don Henley's respected solo albums as well.  A personal highlight was getting to hear Walsh's "Life's Been Good".  Cracking a few age jokes, and showcasing their talent, The Eagles brought the weekend to a soothing close with an Encore of "Take It Easy" and "Desperado".  For the skeptics who had doubted their appearance, Glenn Frey, Joe Walsh, Don Henley, and Timothy Schmitt proved that they deserved their spot in Austin City Limits history.  Until next year, kids.