It took 26 months for the second "annual" BeachLife Festival to transpire, September 10-12, but the Covid-19-includes delay only strengthened the shindig's vision and spirit to deliver a celebratory tip of the cap to the Los Angeles South Bay seaside's musical and lifestyle identity. The weekend's music exemplified many genres, but there was a decidedly distinct number of post-punk rock and alt-pop bands who first blazed their ways to glory in the late '80s/early '90s. And for many bands, these were their first performances in more than a year thanks to the coronavirus. It is important to note that, all attendees were individually screened and wrist-banded following checks for Covid vaccinations or recent negative Covid tests.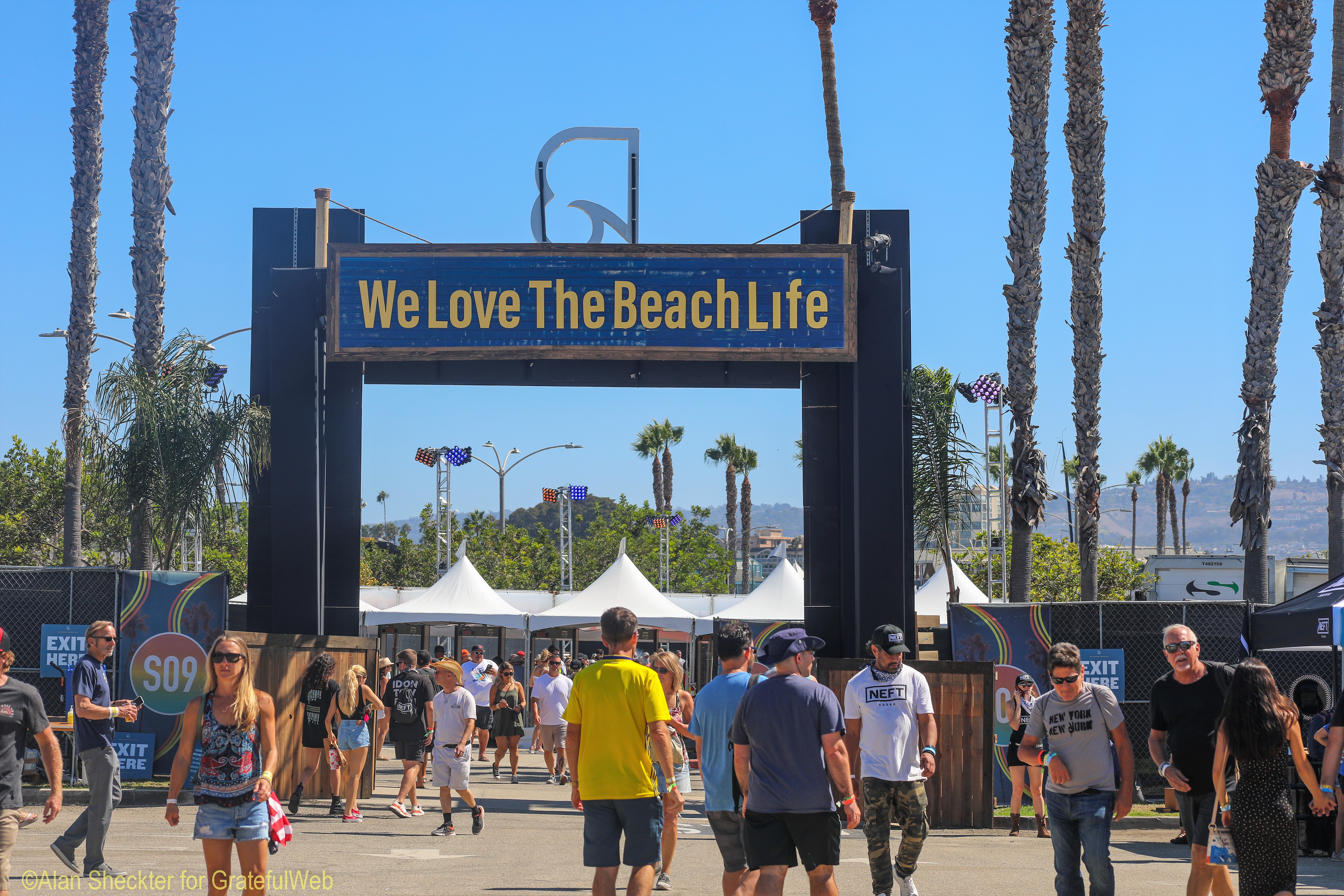 Each day's headliners – Jane's Addiction, Counting Crows, and Ziggy and Stephen Marley – offered passionate capstone performances on their day's proceedings, with such major acts including Portugal. The Man, Ben Harper, Cage the Elephant, Larkin Poe, Thievery Corporation, and Men at Work also delivering captivating performances as well, leaving considerable marks in the sand.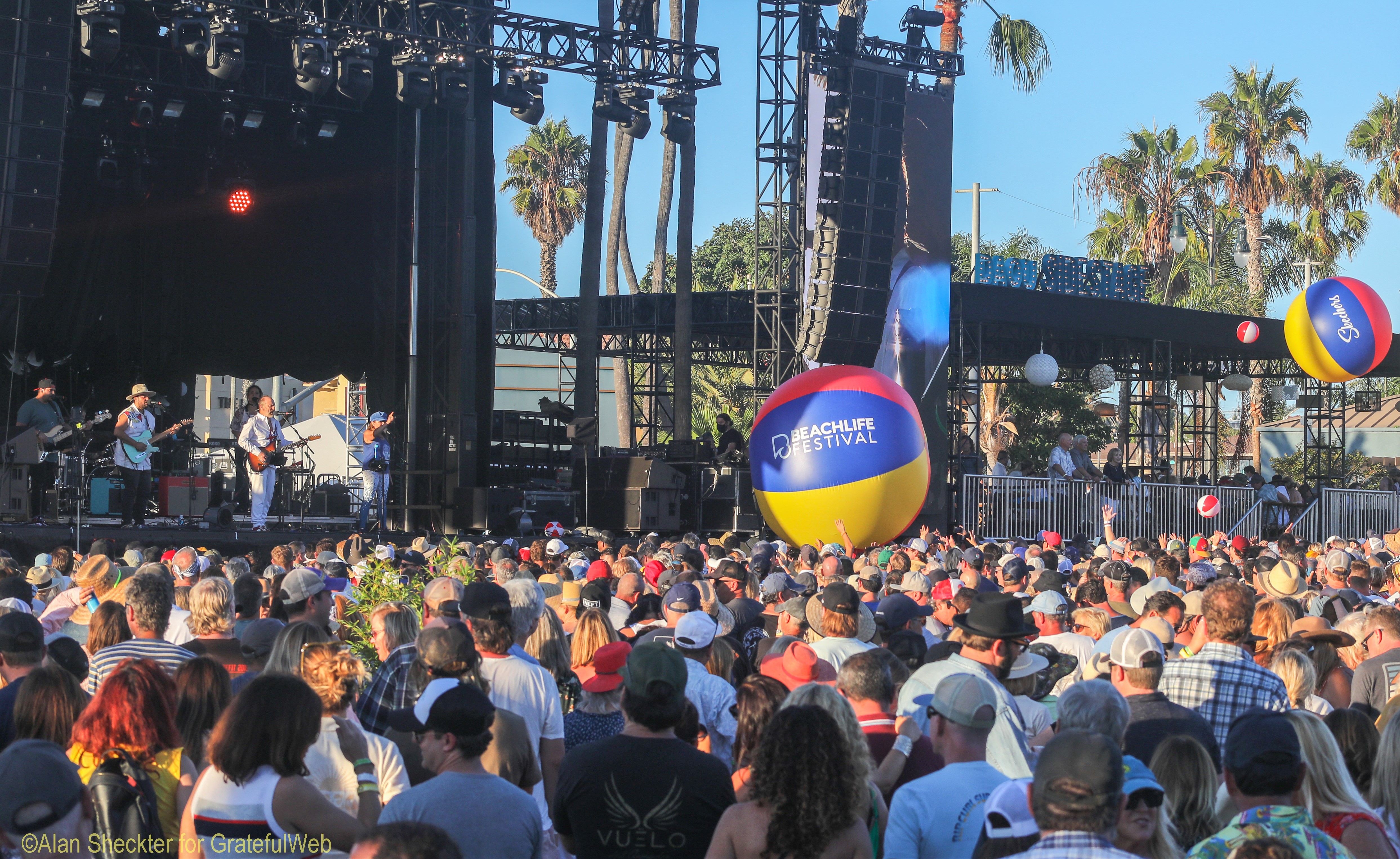 Long gone are the Woodie station wagons seen in photos and film when the Beach Boys (first hit, "Surfin' Safari" in 1962) and Jan & Dean (first hit, "Surf City," 1963) entered the scene. It was then, when the surf culture exploded both locally and nationally that Southern California was a crucial flash point for the fun-in-the-ocean-sun atmosphere in which surfers thrived.
"I remember living a very simple childhood: no phones, outside-till-dark mentality, skateboards being our ticket to the outside world, where we'd hang on the beach from morning till evening and return home with sunburns," BeachLife Festival Cofounder Allen Sanford reflected in a letter appearing in a special edition of Salt Magazine. "There is no doubt we were not as advanced, intelligent, and worldly as children are today, but it seems like life was simpler back then, and that is the foundation of values upon which BeachLife Festival has been guided. The South Bay was a very special place then, and remains a special place today."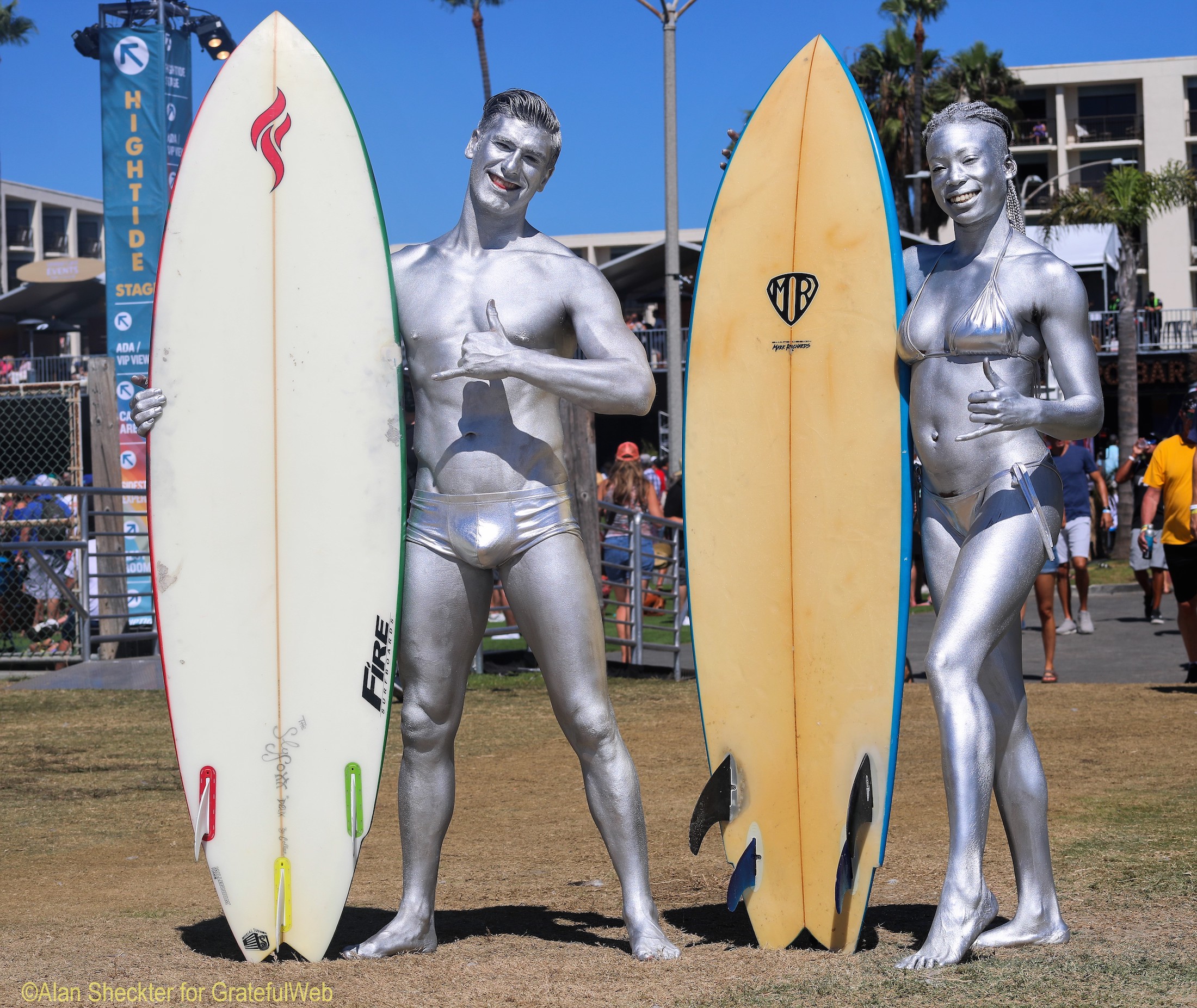 The weekend's festivities spotlighted a diverse range of performance genres, and all had one thing in common (in addition to the fact that most are, or were, based in the South Bay), to celebrate within a jukebox of live music and sun/sand/breezes of the seaside/surfside that has endured, and thrived.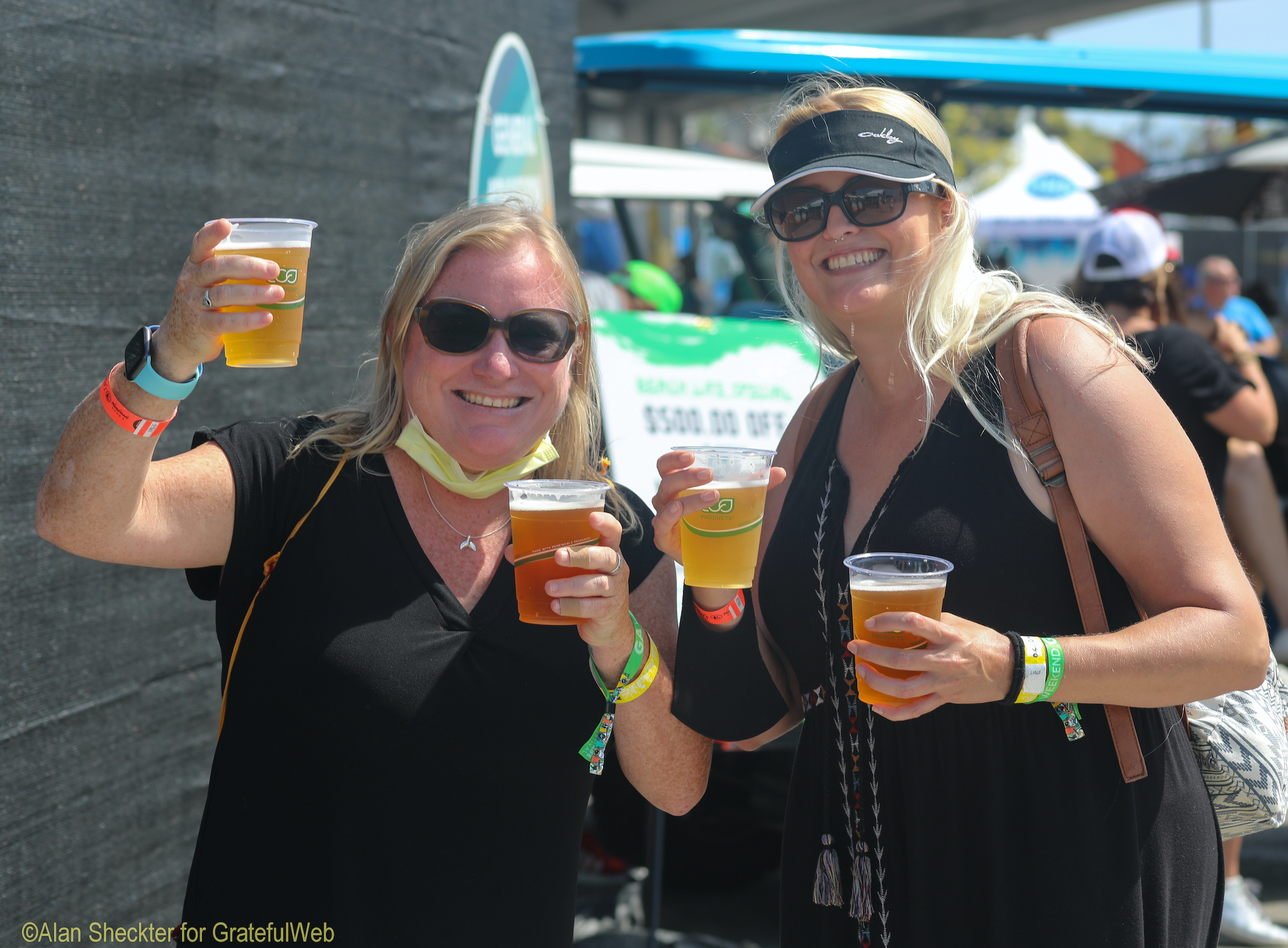 The festival setting was tucked inside a piece of beachfront acreage along Redondo Beach's Seaside Lagoon, and was nicely landscaped and styled for the fest. Music was switched-up timefully on the two main stages, for which music alternated; when one band finished at one stage, the band on the other stage would start up immediately. Along with the natural, deep-sand expanses at the Lowtide Stage, the cool, grass surface in and around the Hightide Stage, and the third, more intimate Riptide Stage, the festival site gave credence to what an old friend once told me about best experiencing a festival: "When everyone goes right, go left."  That is, when thousands of people go one way, to watch and listen to, say, Larkin Poe, one could wander the other way and enjoy the rest of BeachLife acreage, dotted with art, sideshows, and plenty of food and drink choices made for a comfortable, trendy, and decidedly South Bay experience. A fourth, Speakeasy Stage that was located inside of an open-air Jack Daniel's lounge and dedicated to stripped-down acoustic sets from local rockers, surfers and skaters, added to the options.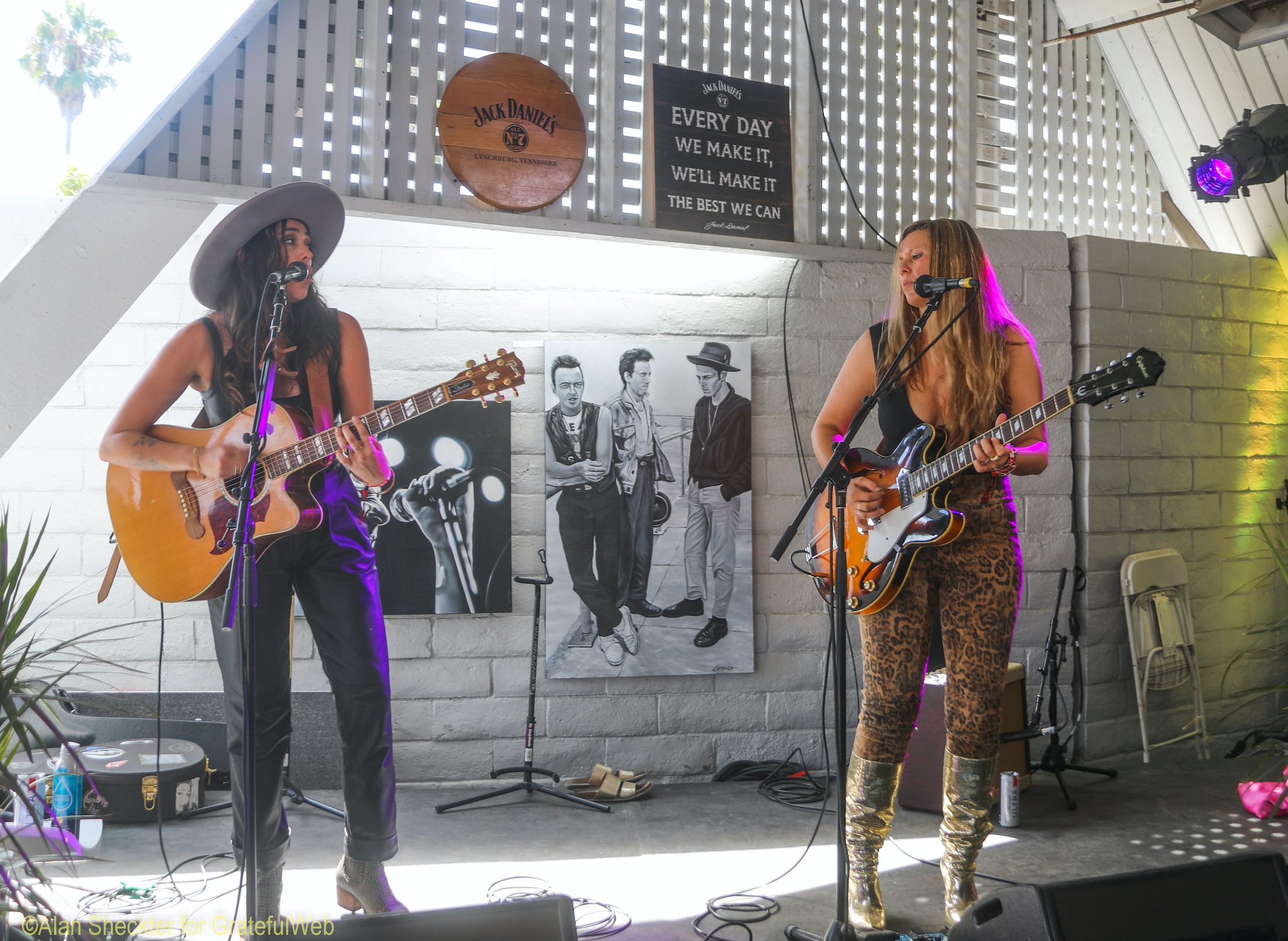 Here is a bit about the headliners, each of whom delivered 90-minute performances:
Janes Addiction: Led by Los Angeles-based, band leader and surf enthusiast Perry Farrell, who in addition to founding Jane's Addiction in 1987, is credited for conceptualizing and creating Lollapalooza (when it toured the country annually rather than how it is presently presented, as a single-weekend event in Chicago). On this night, delivering a pulsating, grunge rock performance bathed in a sea of flashing lights, stage smoke, and theatrics, the band was reportedly playing their first Southern California gig in four years. Fronting the band alongside legendary lead guitarist Dave Navarro, the band opened with "Up the Beach," and their set included "Just Because," "Been Caught Stealing," "Ocean Size," Mountain Song," and "Stop!"  The final pair of songs were "Whores," during which onstage delirium ensued as two women swung over the stage on hanging meat hooks, and closing number, "Jane Says," with Navarro playing acoustic and seated.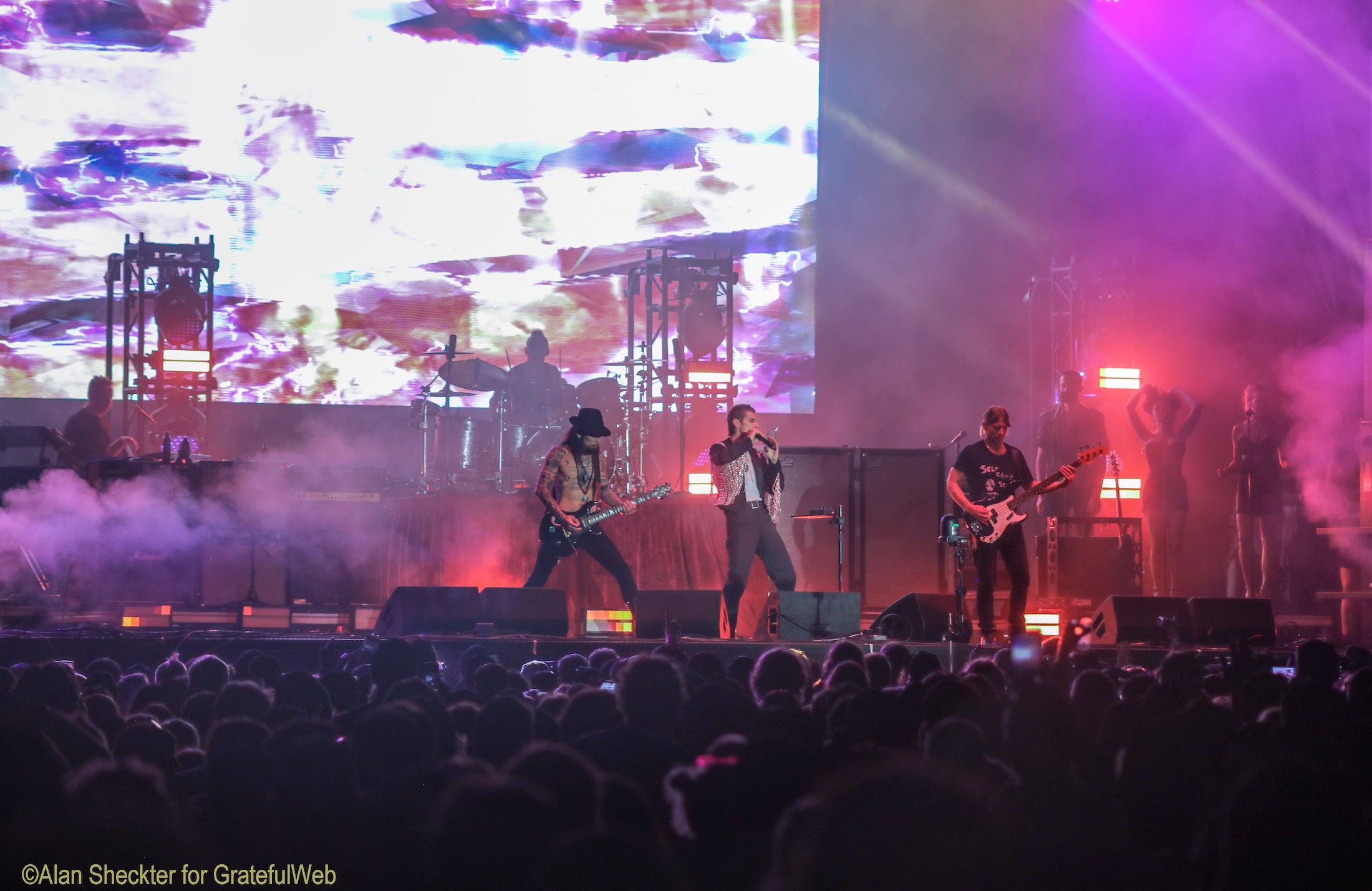 Josh Muzzy and his partner Leslie traveled from Durango, Colo., to attend BeachLife, and they were front and center at the railing for his favorite, Jane's Addiction. "I've been a fan of Jane's since the early 90's," he said. "My first show was in Vegas, front row and somehow <got> invited in the limo with them to the Hard Rock Cafe hotel and partied all night." Regarding Friday's show, "They rocked it as they do on a next-level performance," Muzzy said. "They were spot on and brought the old-school rock/punk to the people, which is now somewhat lost from that era."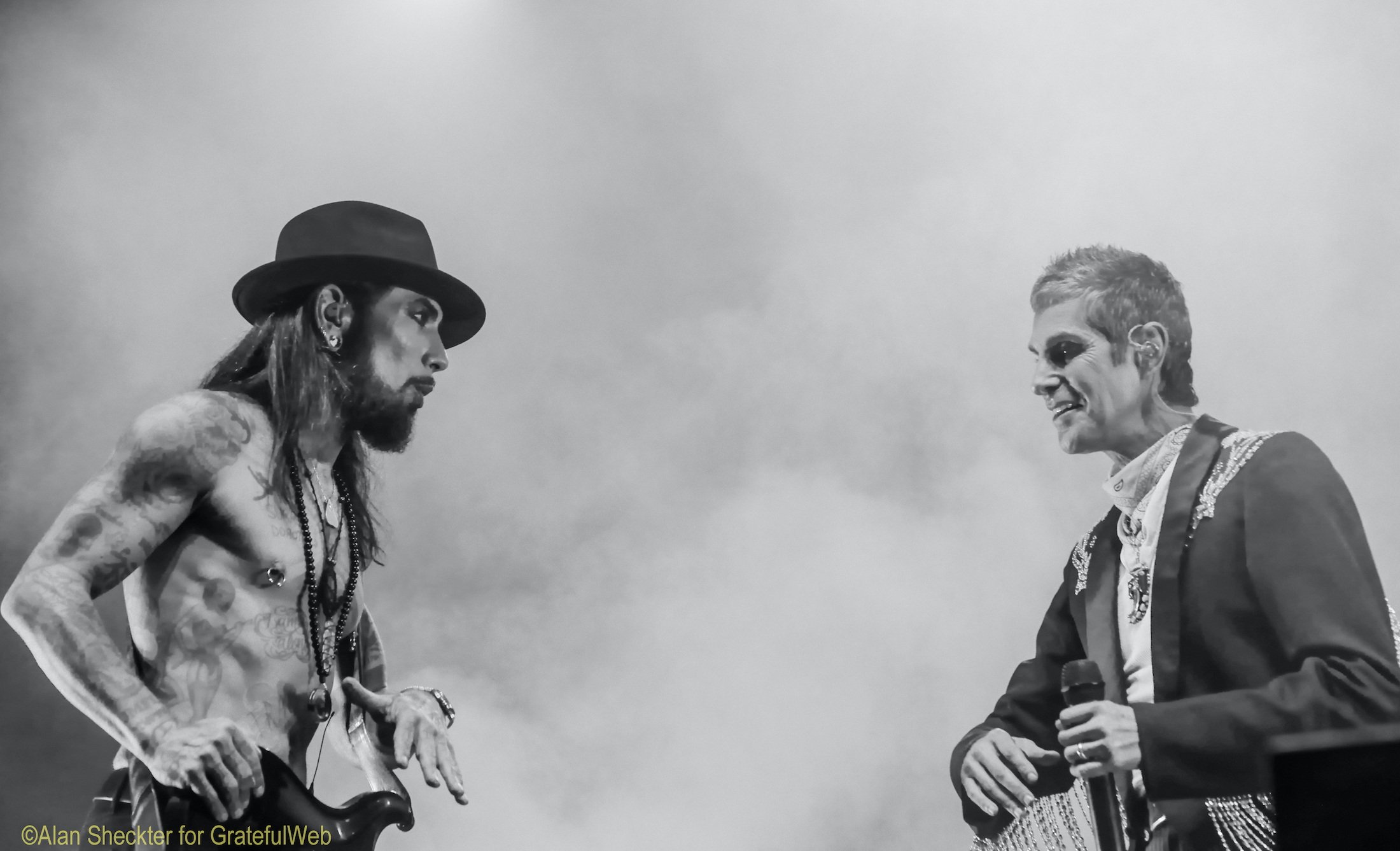 Adam Duritz, sporting short-cropped hair and a new vinyl LP ("Butter Miracle, Suite One"), led the seven-piece Counting Crows through a crowd-pleasing headlining set on Saturday. Duritz started off with a passionate, heartfelt readthrough of "Round Here" and a bouncy version of "Mr. Jones," their monster hit from their 1993 debut, "August and Everything After." They also performed "Omaha" and closed with "Rain King," both of which appeared on first album, and the latter turned into a sing-along. In addition to a few selections from the new album, including "Elevator Boots," the band also offered nice, low-fi, mid-set rendition of the Grateful Dead's "Friend of the Devil."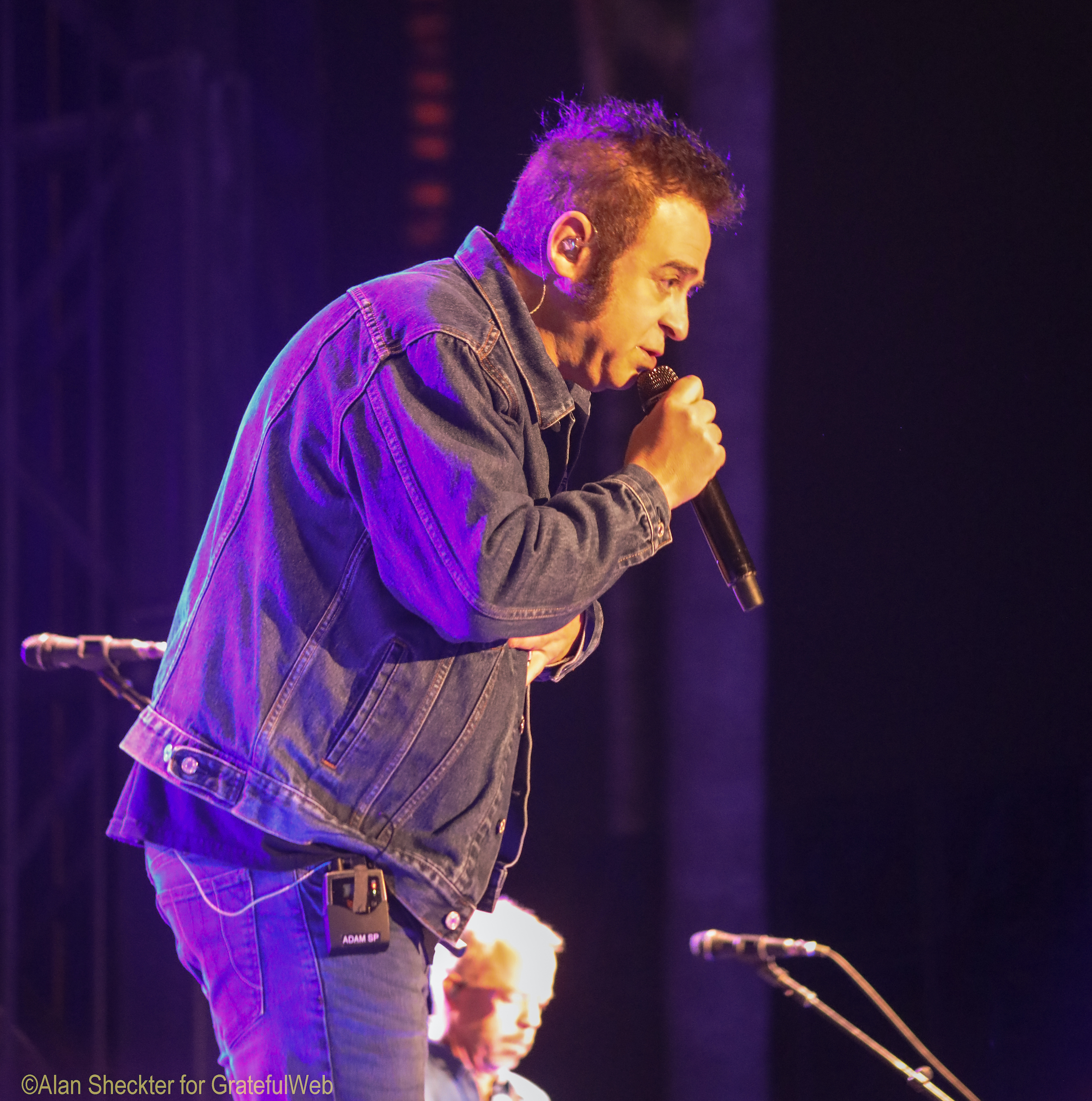 As Sunday headliners, Ziggy and Stephen Marley led an impressive band through a legacy set of Bob Marley & the Wailers songs, many of which have been forever cemented into music lovers' consciousness via Bob Marley's and the Wailers "Legend" compilation. Selections performed from that record included  "Jamming," "Three Little Birds," "Stir it Up," "No Woman, No Cry," "Get Up, Stand Up," "I Shot the Sheriff," and "Is This Love." The brothers, Stephen on guitar and djembe, and Ziggy on guitar, mostly traded off on lead vocal duties. They were backed by three backing vocalists, as well as keyboards, drums, bass, and guitars. They closed their set, and the festival, with the 1977 hit, "Exodus."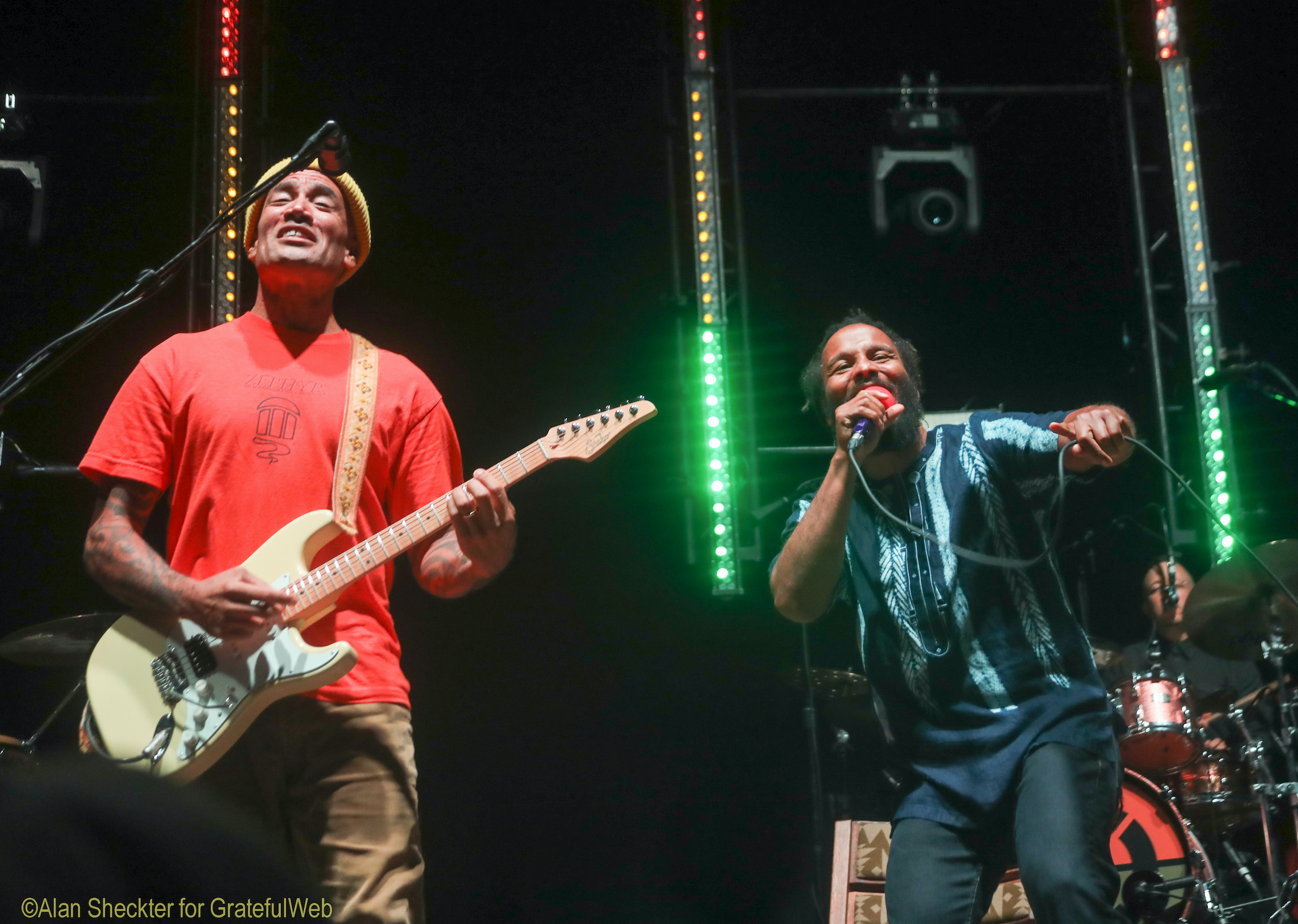 Also, on Friday:
Cage the Elephant, performed a 75-minute set on the Lowtide Stage immediately prior to Jane's Addiction, and brought and maintained a peak level of alt/indie-rock energy to the highest level. Front man Matt Shultz was at his slithery, dark and mysterious, unconventional best, tossing himself about and shredding vocals while also changing (and shedding) pieces of clothing. The band, featuring older brother Brad Shultz on guitar, have drawn comparisons to The Pixies on some songs, and on this night there were moments that were suggestive of Beck and Violent Femmes. Their set included opener "Broken Boy," as well as such notables as "Ain't No Rest for the Wicked," "Shake Me Down (Even on a Cloudy Day)," "Cigarette Daydreams," "Ready to Let Go," "Social Cues, and closer, "Teeth."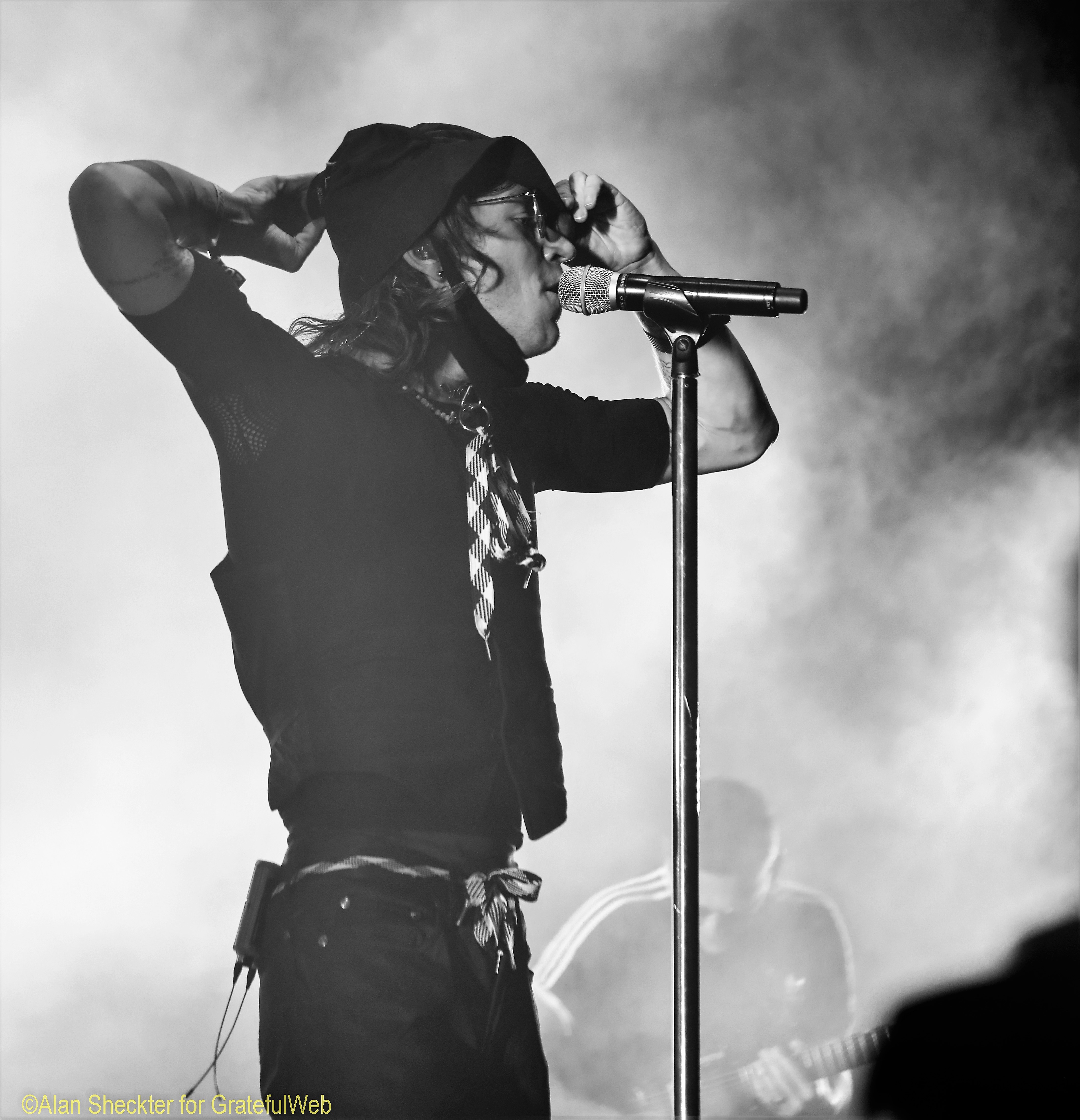 Larkin Poe's raucous road-house rock performance was a major bright spot in Friday's proceedings. Front women and power-sisters Rebecca (Fender Stratocaster lead guitar and vocals) and Megan (1940s Rickenbacker lap steel, vocals) Lovell painted the stage with rousing blues-infused rock songs and jams while their infectious and obvious joy while performing spread throughout the oceanside venue. Veterans of Garrison Keillor's A Prairie Home Companion and the Grand Old Opry, Larkin Poe's fiery set included opener "Keep Diggin'," as well as "Summertime Sunset," "Holy Ghost Fire," "Trouble in Mind," "Beach Blonde Bottle Blues," "Wanted Woman / AC/DC," and Robert Johnson's "Come On in My Kitchen." Larkin Poe's "Paint the Roses (Live in Concert)" project, recently recorded in Miami with the Nu Deco Ensemble, has just been released.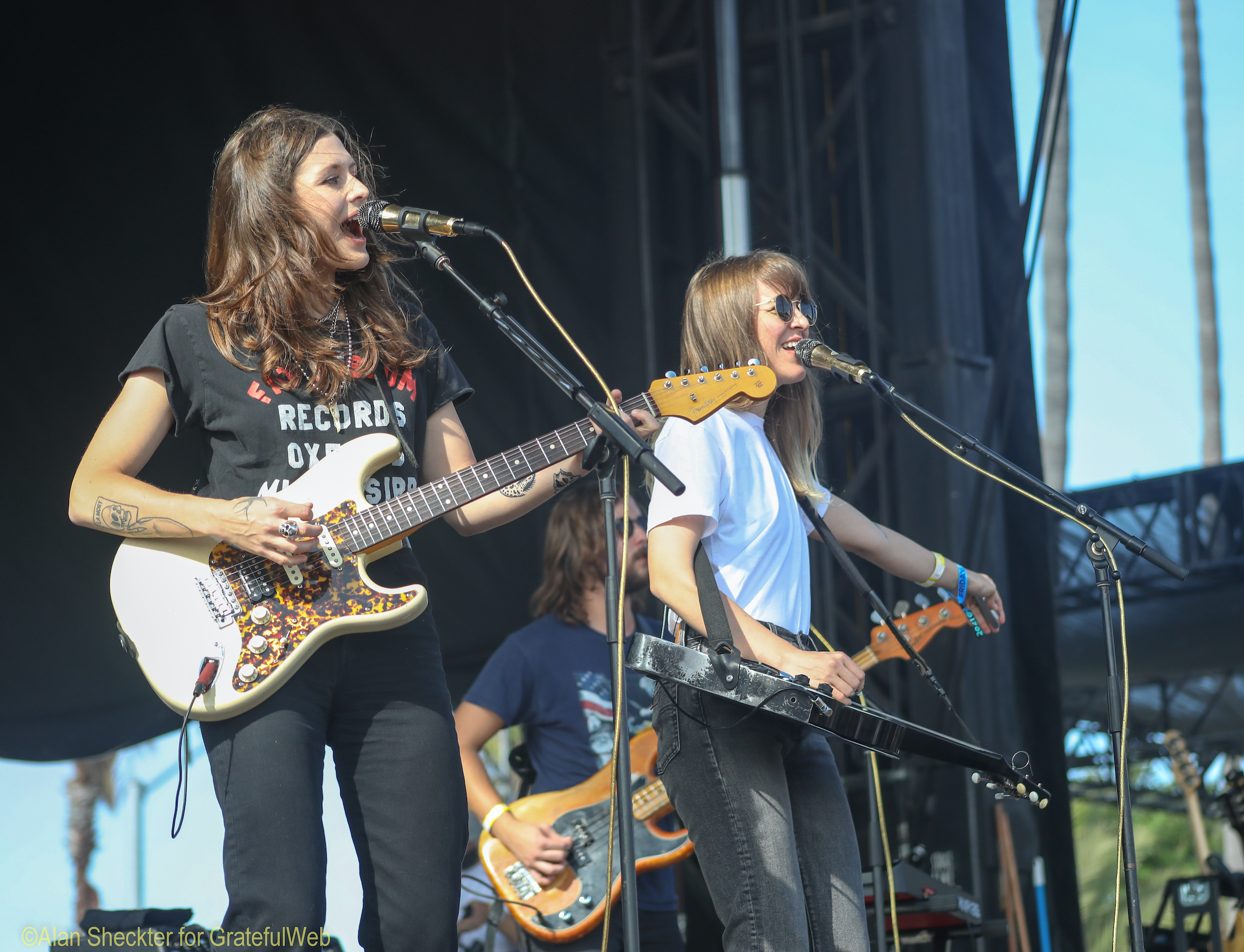 The Silversun Pickups on Friday afternoon delivered a fine, high-octane set of a dozen alt/post-punk-rock originals. Based in Los Angeles, the 21-year-old band, featuring married couple Brian Aubert (lead vocals, guitar), and Nikki Monninger (bass, backup vocals), offered such selections as opener, "Well Thought Out Twinkles," "The Pit," "The Royal We," and "Nightlight." Rolling Stone writer Evan Serpick perhaps put it best when he wrote that, "Well Thought Out Twinkles," is "a surge of guitar squalls and male-female vocals that sounds like what might have happened if the Smashing Pumpkins had driven their ice cream cart out West."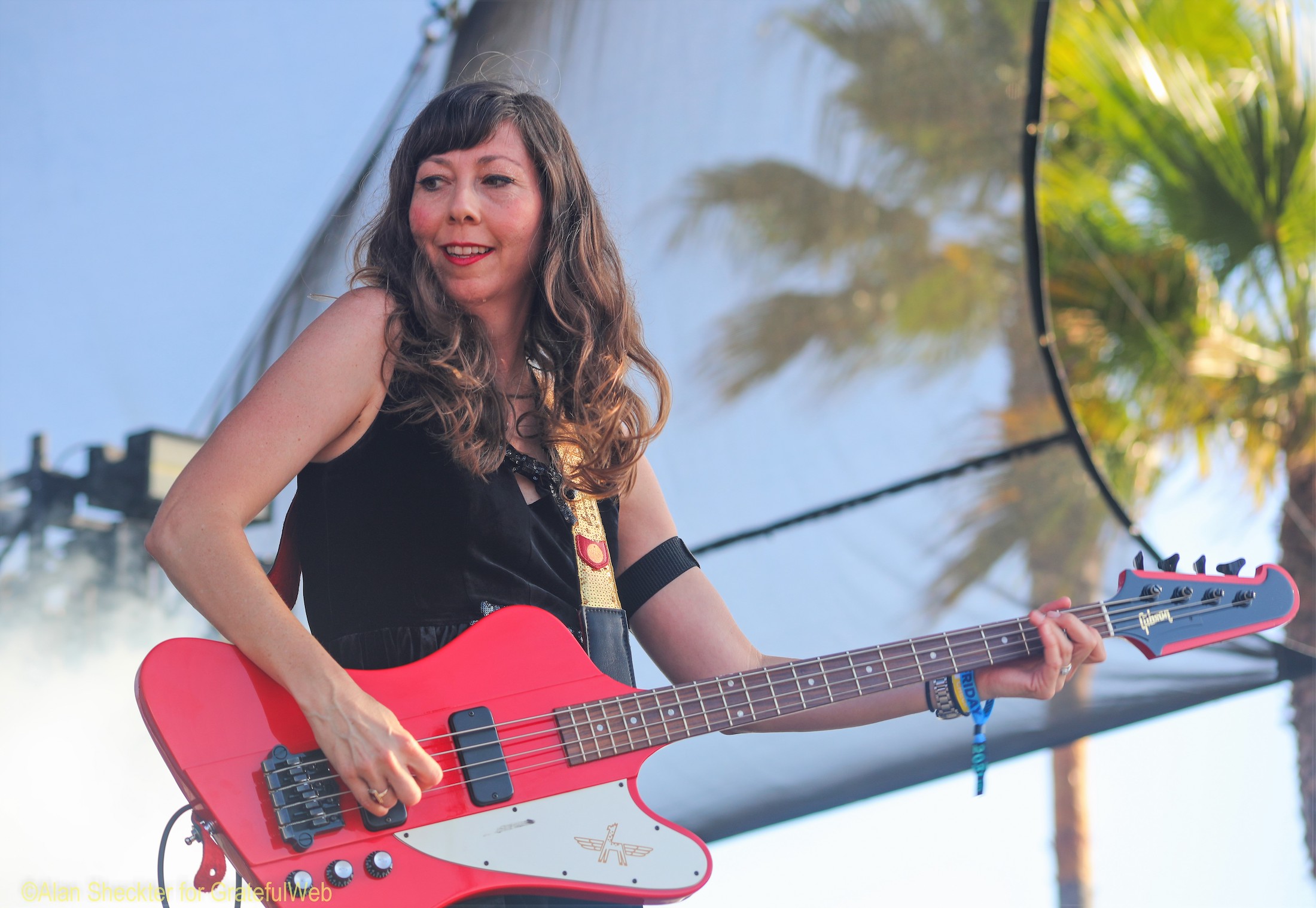 Monique Powell and her fiery persona, voice, red hair, and a little tambourine, led Save Ferris on a high-steppin' ska-punk wave of sound early in the day on Friday. Formed in mid-'90s, the band, led by the fabulous Powell, guitarist Justin Linn, and a band that included a trumpeter and trombonist, have been active for the past eight years following an extended hiatus. "Ska is important more now than ever," Powell told the crowd early on. "Fuck it; let's dance and have some fun. You have me for 45 more minutes. Let's forget all about that <news> shit." Their set ended with a cover of the unforgettable '80s radio staple, "Come on Eileen."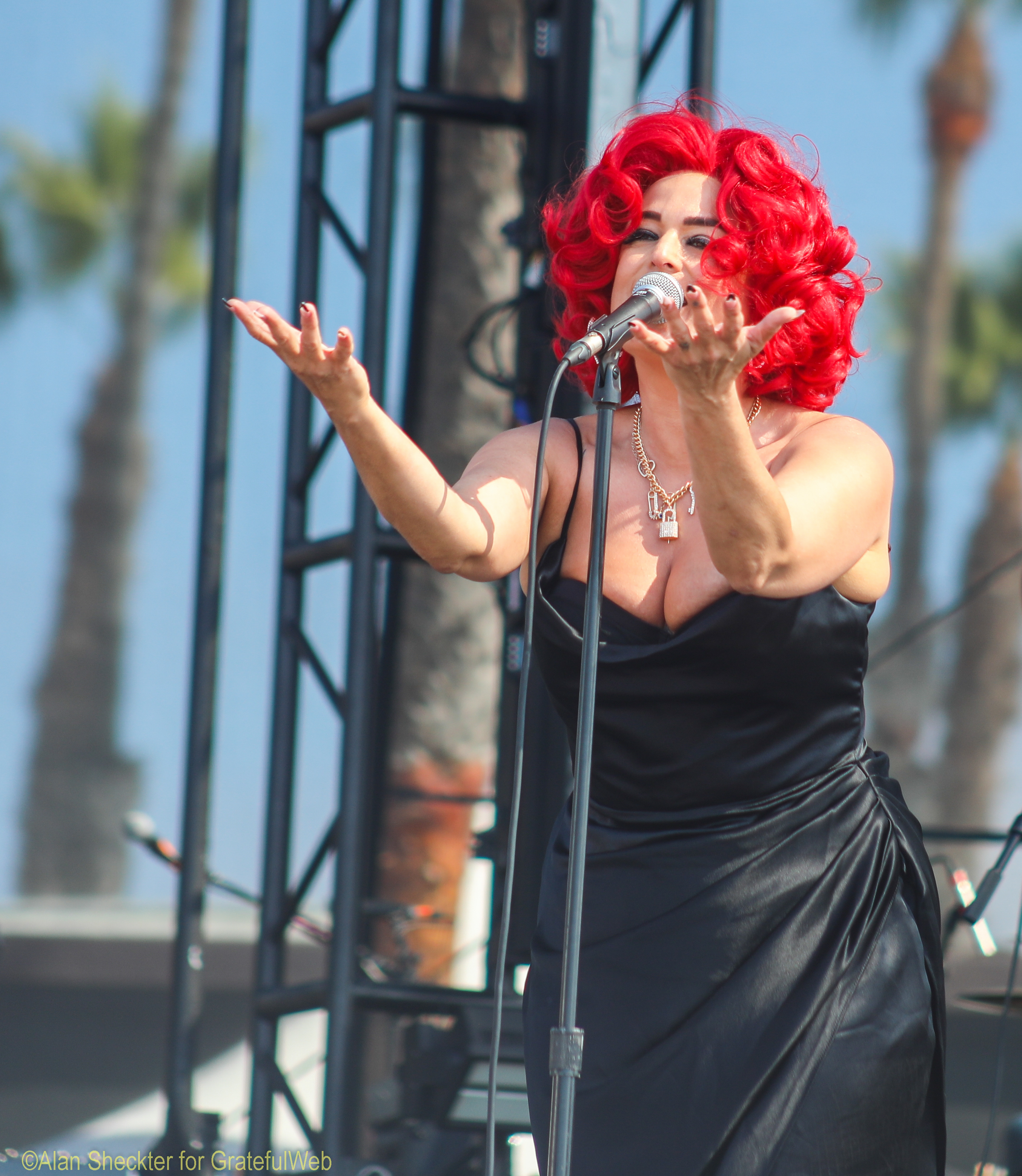 The Revivalists funky, rock 'n' poppy jammy performance on Friday featuring and eight pieces band of players that included guitar, bass, saxophone, pedal steel, keyboard and dual percussionists, as well as front man/lead vocalist David Shaw. Their set included "All My Friends," "Change," and closing selection, "Wish I Knew You." Their printed setlist also included "When I'm With You," "Oh No," "You Said it All," "You and I," "Criminal," "It Was a Sin," "Next to You," "Got Love," "Celebration," and "Catching Fireflies."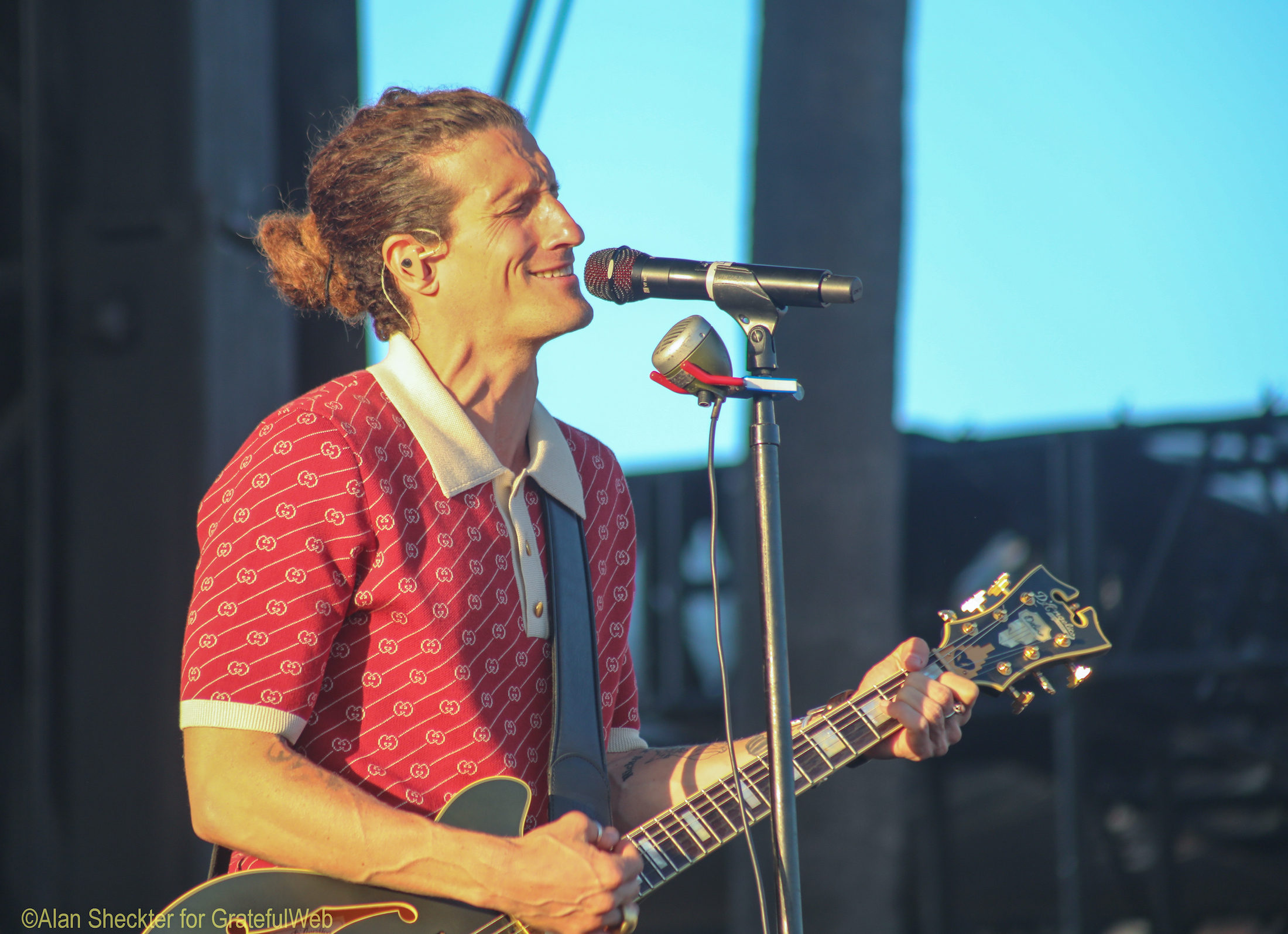 Quite under the radar, judging by the smallish crowd gathered at the smallish Riptide Stage, Paris Jackson, yes THAT Paris Jackson, fronted a particularly non-Michael-esque alt-rock band while the Silversun Pickups were firing up the multitudes on one of the main stages. Jackson's backing band was strong and rocking as they ran through some selections from her solo debut album, "Wilted," which was released in late 2020. Jackson, now 23, was a little tentative on vocals at times, but got comfortable and delivered her own songs, in an evocative and captivating style. Her measured, fairly low-key, non-spectacle stage presence was refreshing. The set included "Another Spring," which is the final cut on "Wilted," and the onstage setlist included other selections from the album, including "Undone" and "Dead Sea," as well as the ballad  "Adagio," which was recorded with Manchester Orchestra and released in June 2021.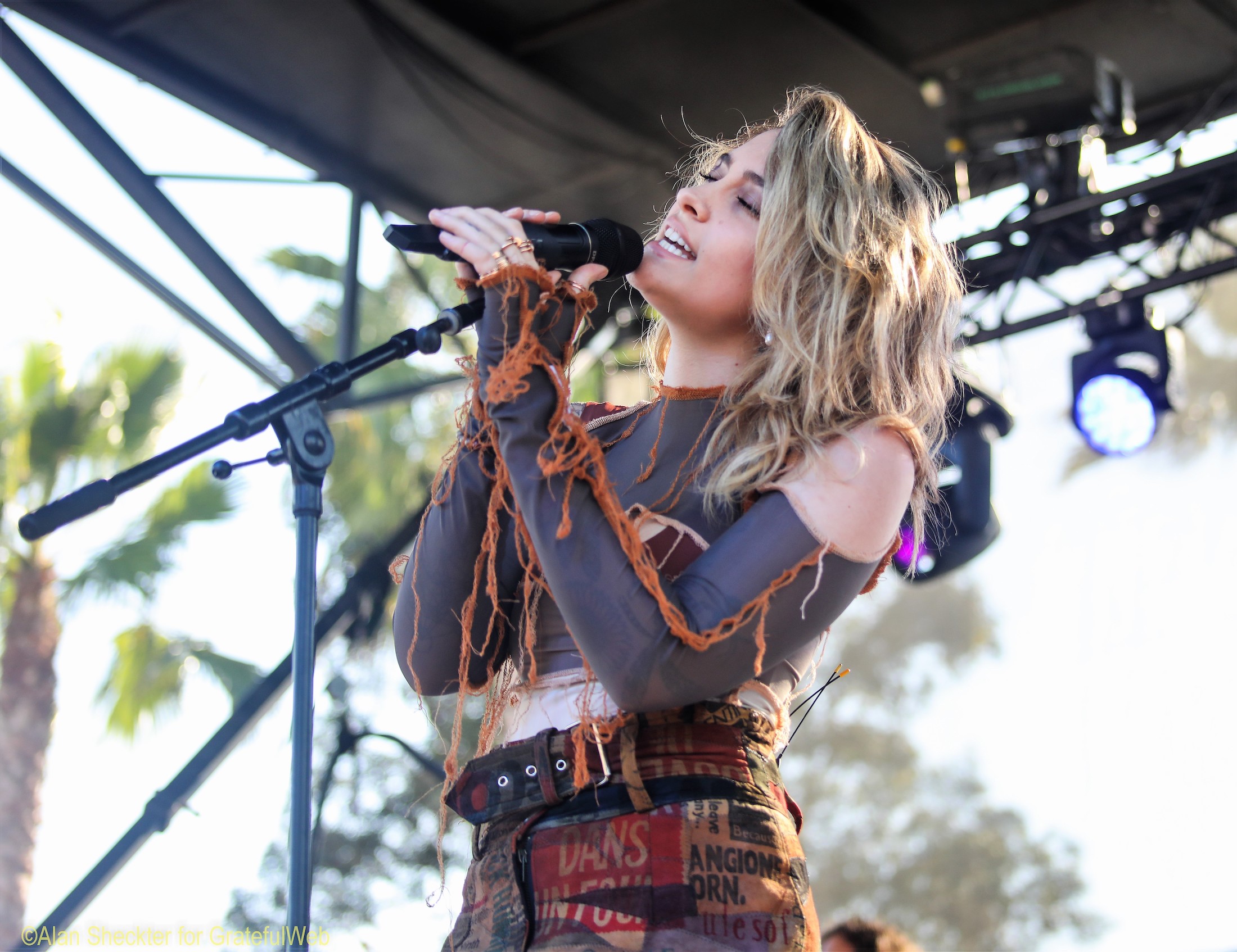 Also, on Saturday:
As the penultimate band before Counting Crows'closing set, Los Angeles-based Fitz and the Tantrums, led by Michael "Fitz" Fitzpatrick and Noelle "Boss Lady" Scaggs,  took the helm for 75 minutes on the Lowtide Stage. In addition to delivering the actual soul-influenced alt-pop music coming from the stage, Fitz spent a lot of energy acting out and striking poses to virtually every lyric in each song, and the band also made it an ongoing effort to wave their arms overhead in order to have the crowd to the same. And the crowd ate it up.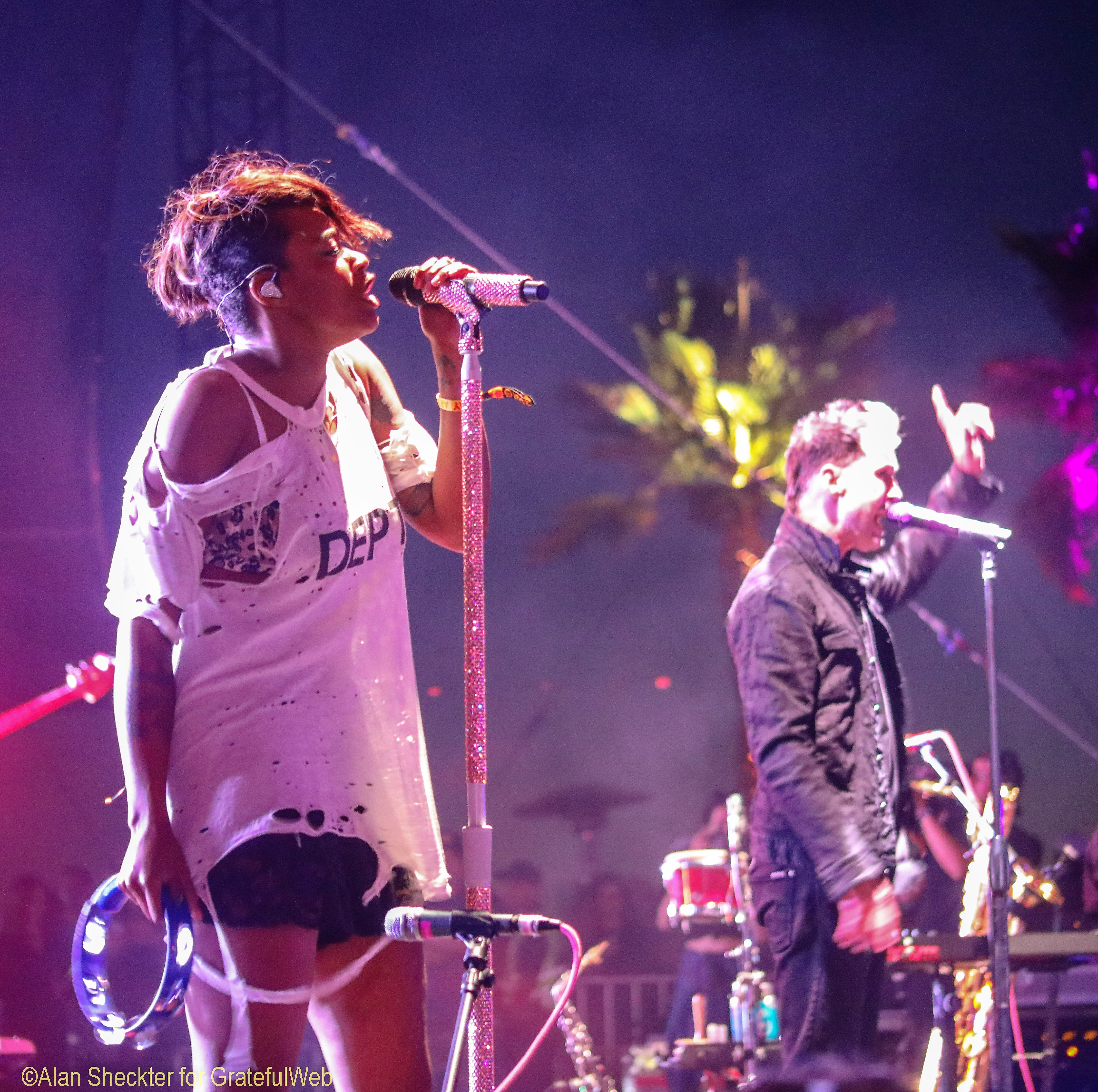 Men at Work, led by Colin Hay, along with band frontwoman and wife, Cecilia Noël, delivered a popular and appealing collection of tunes early Saturday evening. The Australian band ruled the pop world for just three years, but their catalog of clever hits remain close to the public's collective hearts 40 years later. The band, highlighting Hay's still-strong vocals, opened with "Touching the Untouchables" and ran through all the hits, including the closing sequence of "Overkill," "Down Under," and "Be Good Johnny," as well as "Who Can it Be Now?" "It's a Mistake," and "Dr. Heckyll & Mr. Jive."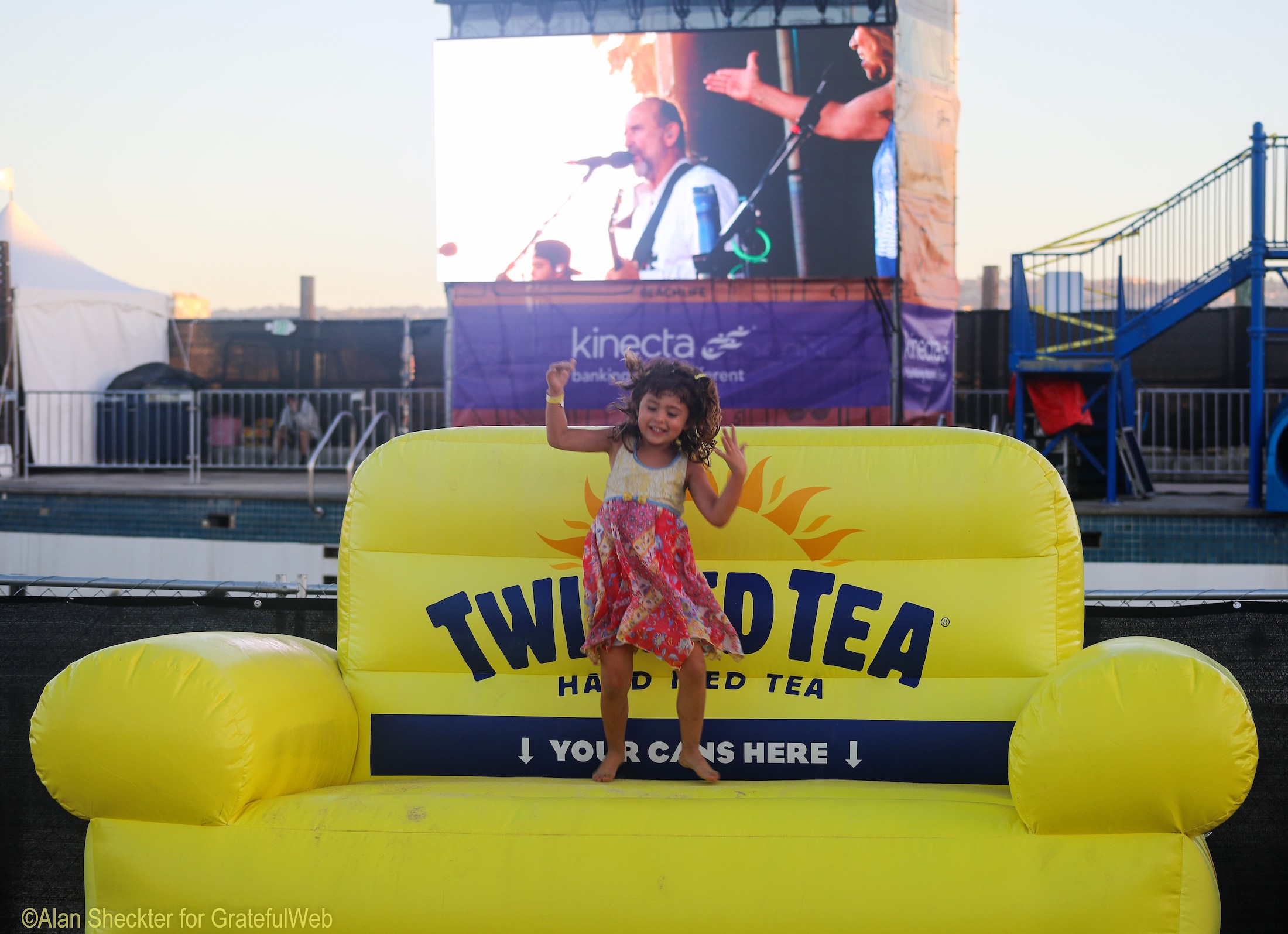 The Wallflowers, also performed on Saturday, with singer/songwriter Jakob Dylan overseeing the band through a pleasing set of tunes including selections that made heavy rotation on FM radio in the mid-late '90s: "Three Marlenas," "6th Avenue Heartache," and closing number, "The Difference." The band also performed songs from their new "Exit Wounds," their first release in nine years, including twangy ballad "Roots and Wings," as well as "I Hear the Ocean (When I Wanna Hear Trains)," and rocker "Who's That Man Walking 'Round My Garden." The Wallflowers also delivered a passionate version of Tom Petty's "The Waiting."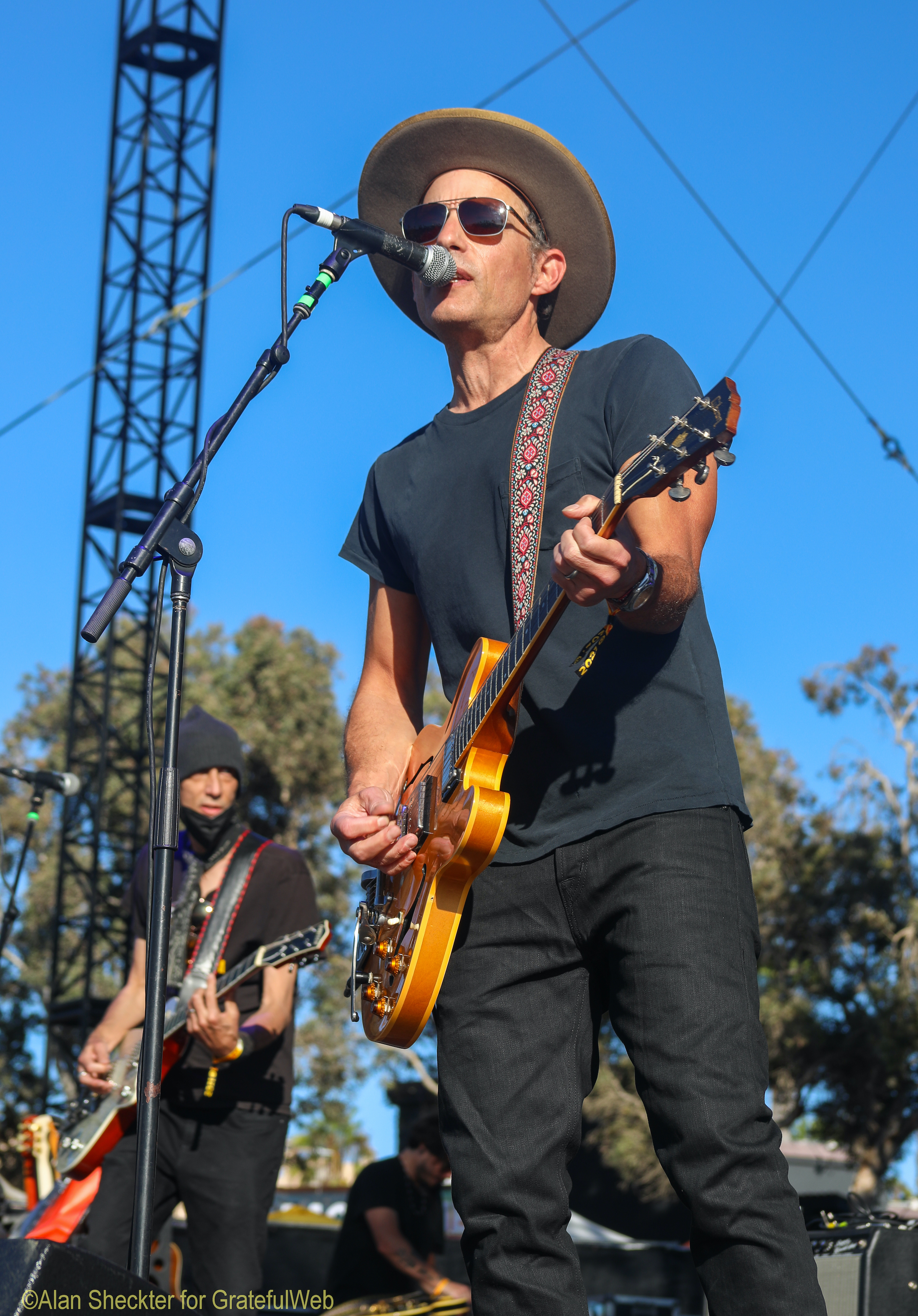 Country-popster CAM, who grew up in nearby Huntington Beach, performed Saturday afternoon on the Hightide Stage and presented an hourlong set of tunes including her 2015 pensive hit ballad, "Burning House," as well as a vocally charged version of The Cranberries, "Zombie."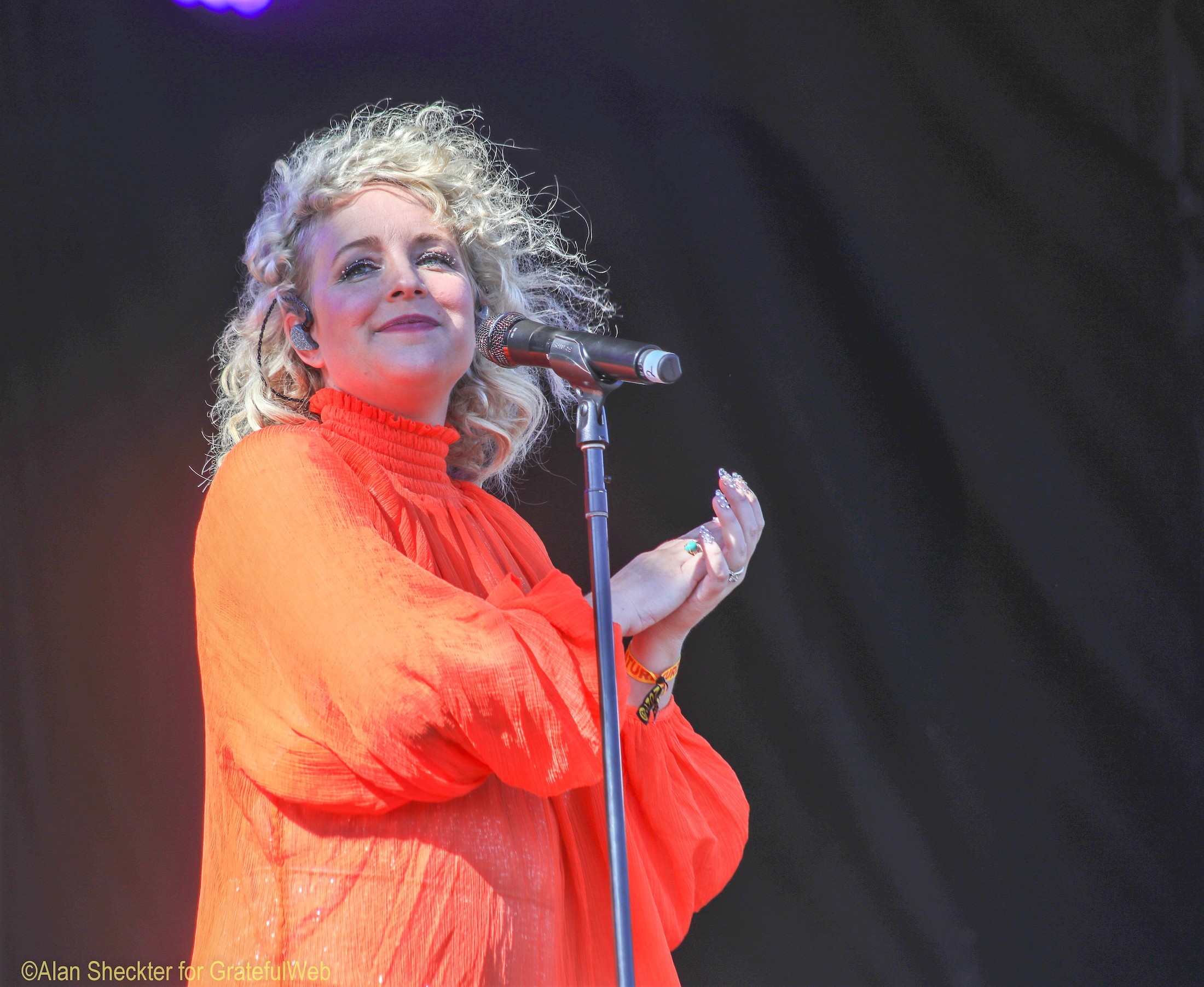 Sugar Ray, which performed at the first BeachLife Fest in 2019 was back and the charismatic Mark McGrath-led band's pop-influenced sounds were perfect for the BeachLife vibe. McGrath regaled Hightide Stage audience with a set that included '90's faves, "Someday," "Every Morning," and "Fly."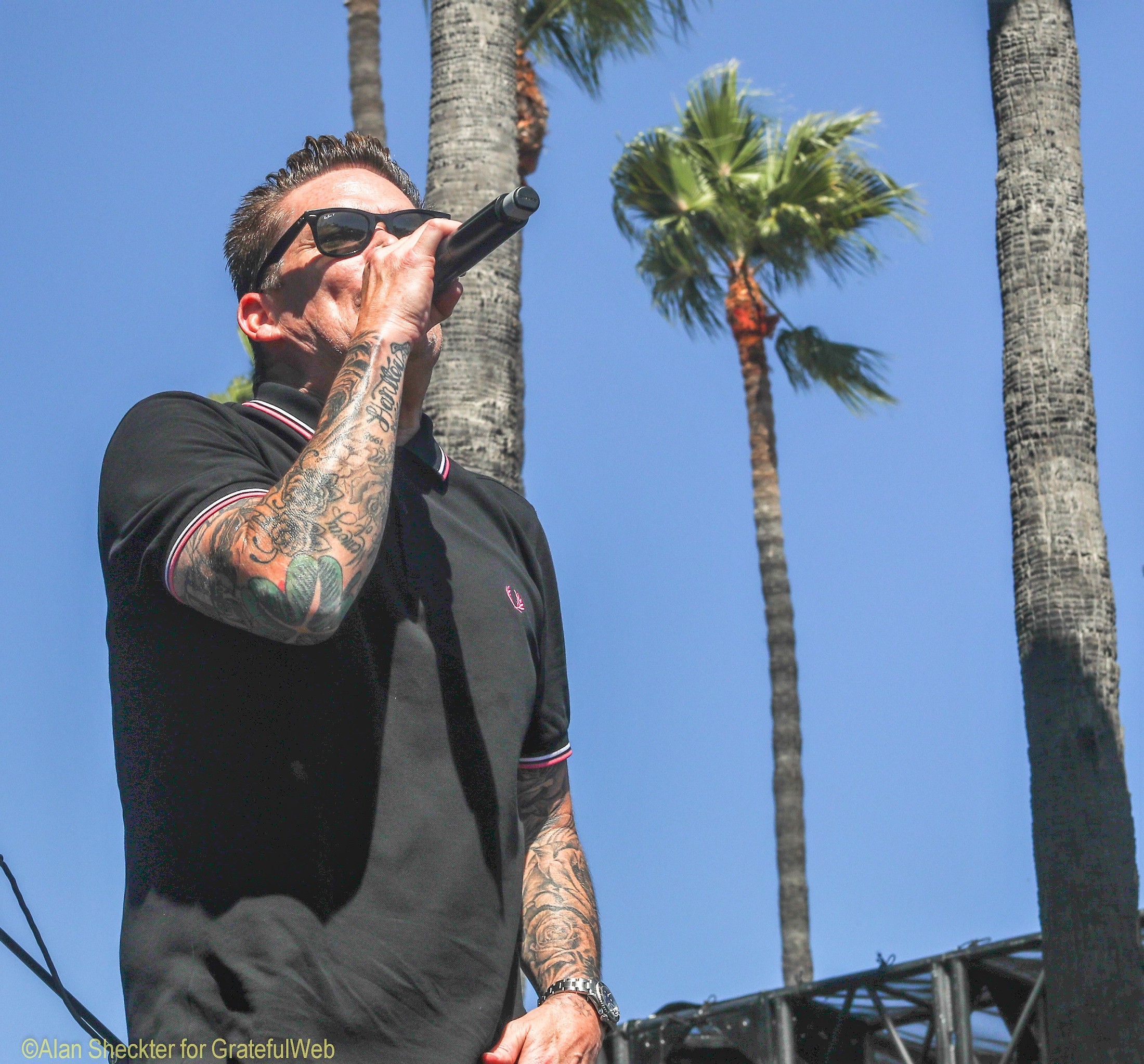 The Mother Hips, a venerable Northern California rock/soul/Bakersfield sound band, also played on Saturday afternoon. Led by Tim Bluhm and Greg Loiacono as they've been for more than 30 years since they formed a garage band as long-haired Chico State University undergrads, the five-piece started off with a blazing, fuzzed-out version of "Smoke." While on the subject of "fuzzed out," the band also dished out "White Falcon Fuzz," as well as "Third Floor Story," "Del Mar Station," "Time-Sick Son of a Grizzly Bear," and "Esmerelda." Saxophonist Scheila Gonzales, who had performed with the band in the past and is currently touring with BeachLife band Men at Work, joined The Mother Hips for a song. They also performed the appealing J.J. Cale-evocative shuffle, "Sunset Blues," which be the opening track of their forthcoming album, "Glowing Lantern."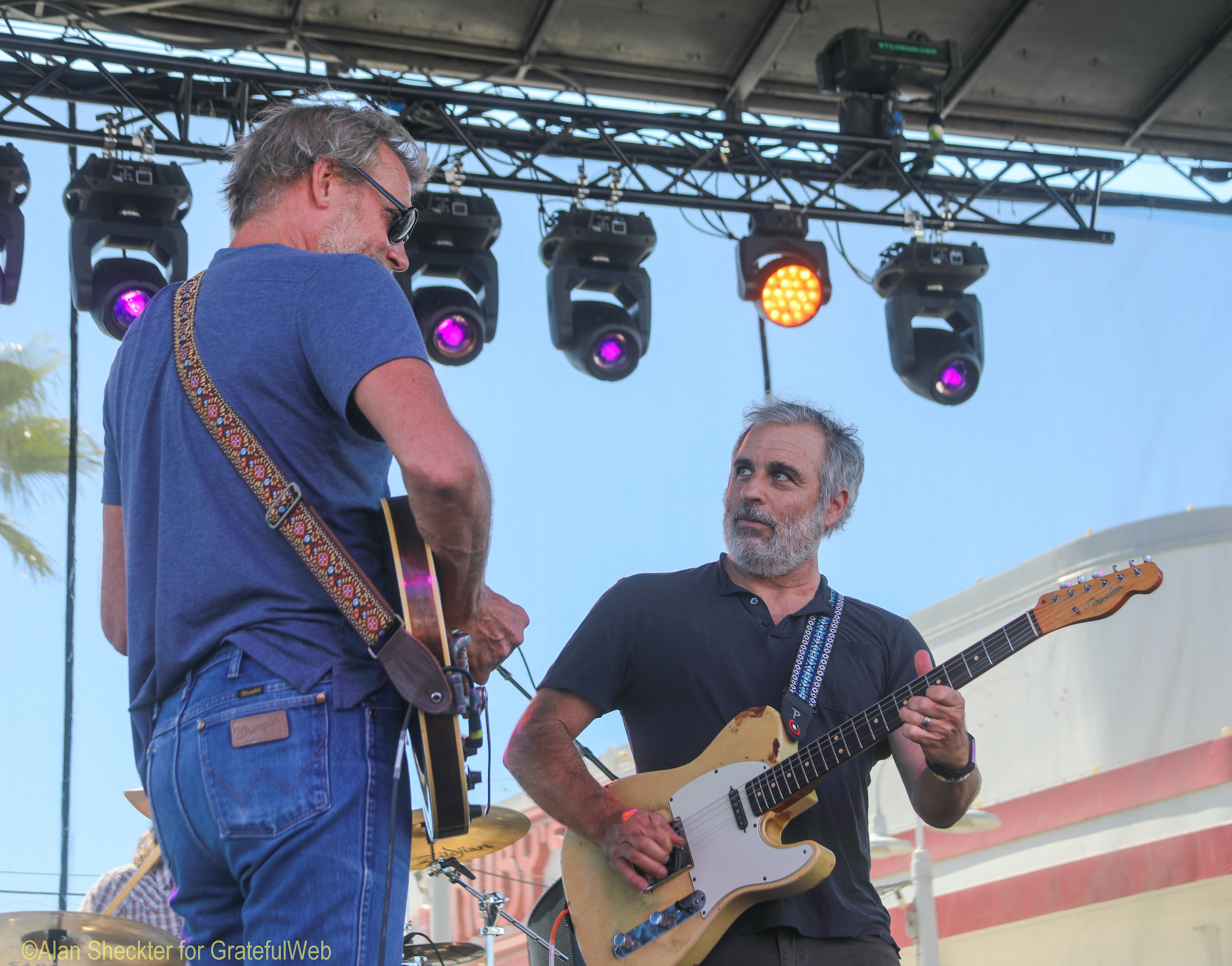 The Aquadolls, a fiery, unabashed all-female trio, carried the torch for punk-pop with a thrashing, in-your-face set, brought by Melissa Brooks, with Jackie Proctor on drums and Keilah Nina on bass (Proctor and Nina switched off on instruments for one song, which was novel and nifty.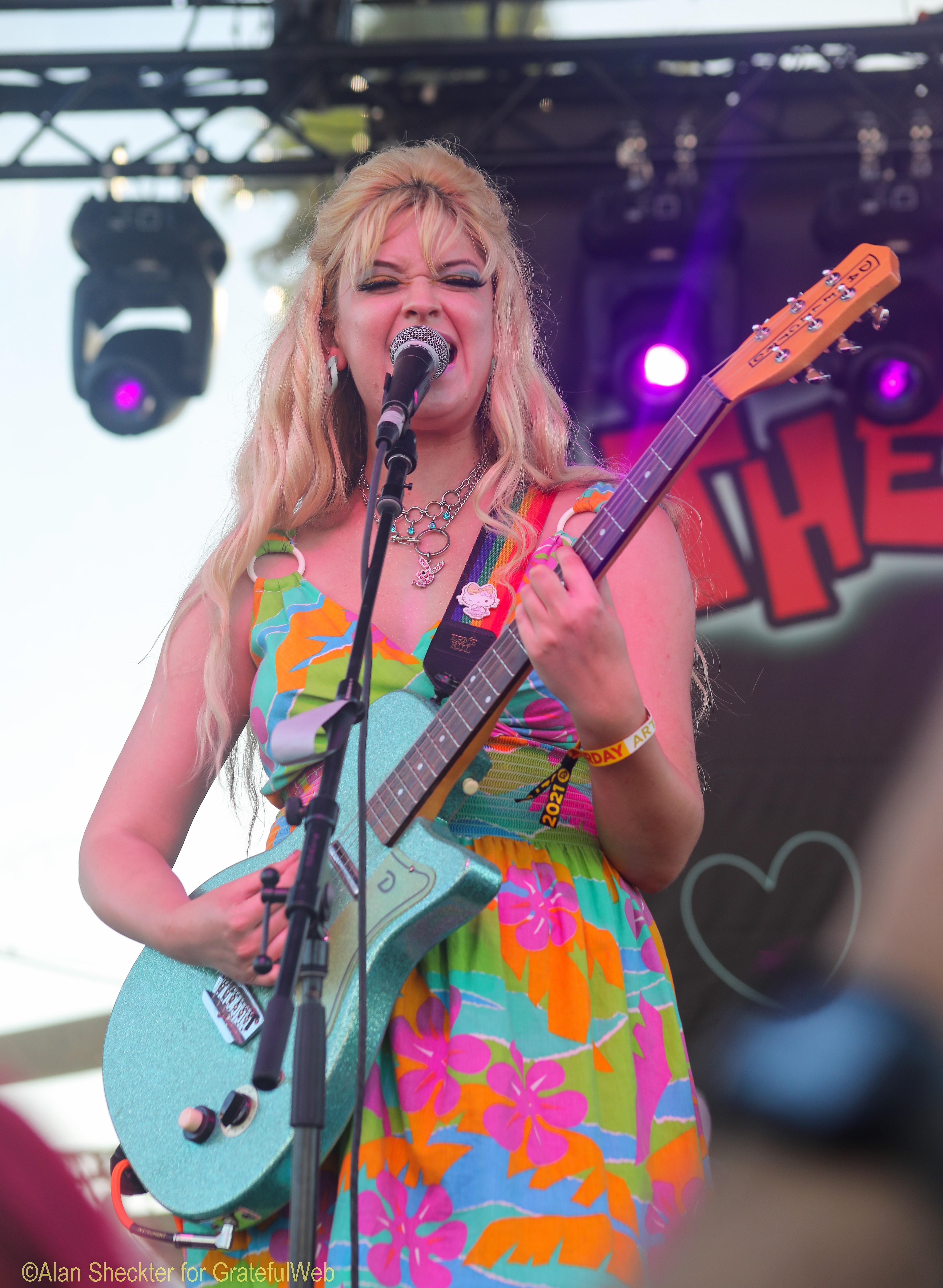 And then there was Sunday.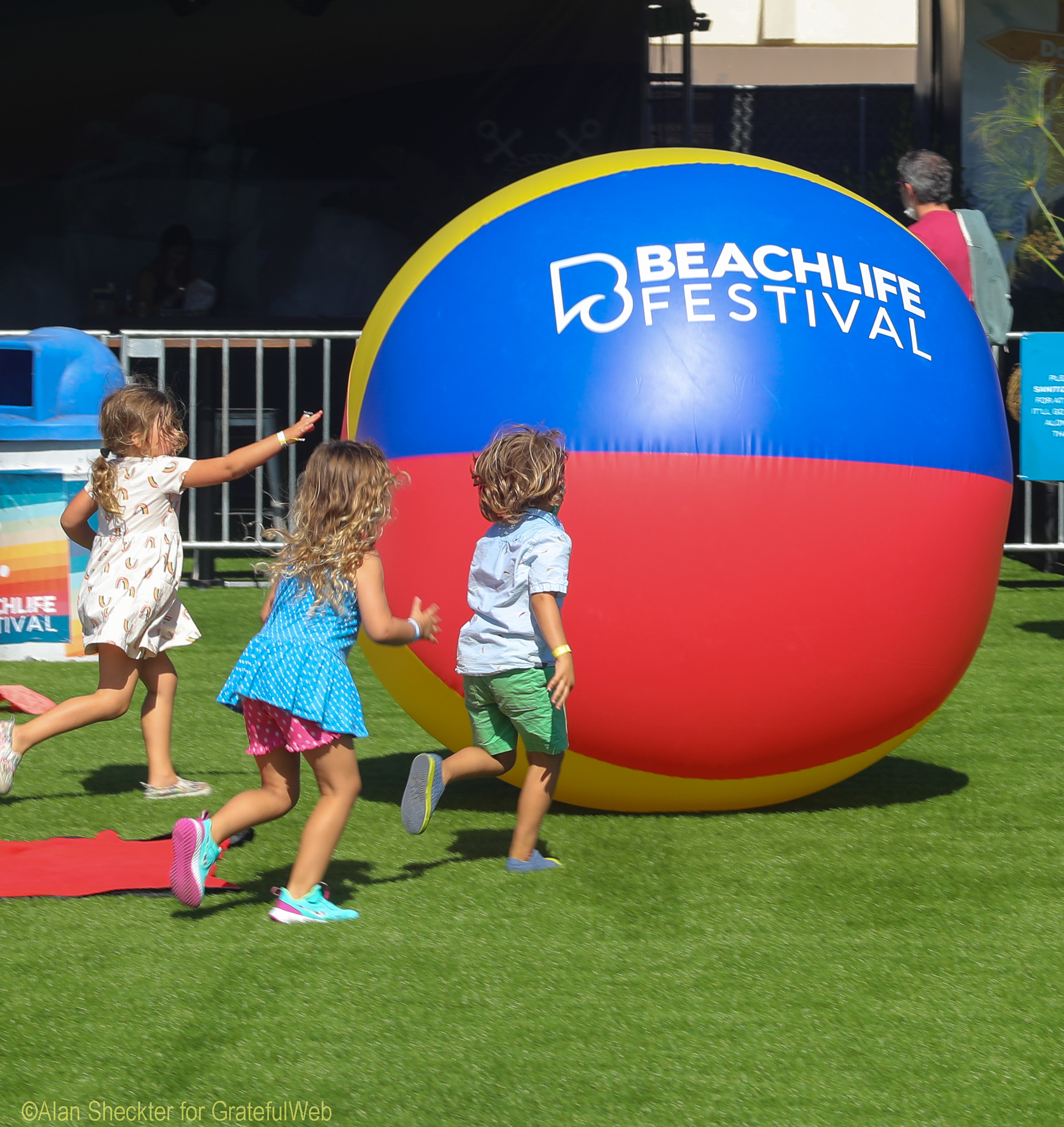 Ben Harper & the Innocent Criminals immediately preceded Ziggy and Stephen Marley's headlining set, with a captivating set of tunes that fused several genres. Harper opened his performance with "Inland Empire," an instrumental slide guitar tune from the band's recent "Winter is for Lovers" album. That immediately led into Leon Mobley's familiar hard-striking djembe-drum intro to the pro-cannabis anthem, "Burn One Down." Harper then introduced a "very special guest, beyond special" and brought out Ziggy Marley to perform and co-vocalize on "Spin It Faster," a single on which the two artists collaborated and released in July. The set carried on with selections such as the popular "Steal My Kisses," "Diamonds on the Inside," and "Faded," and closed with "With My Own Two Hands."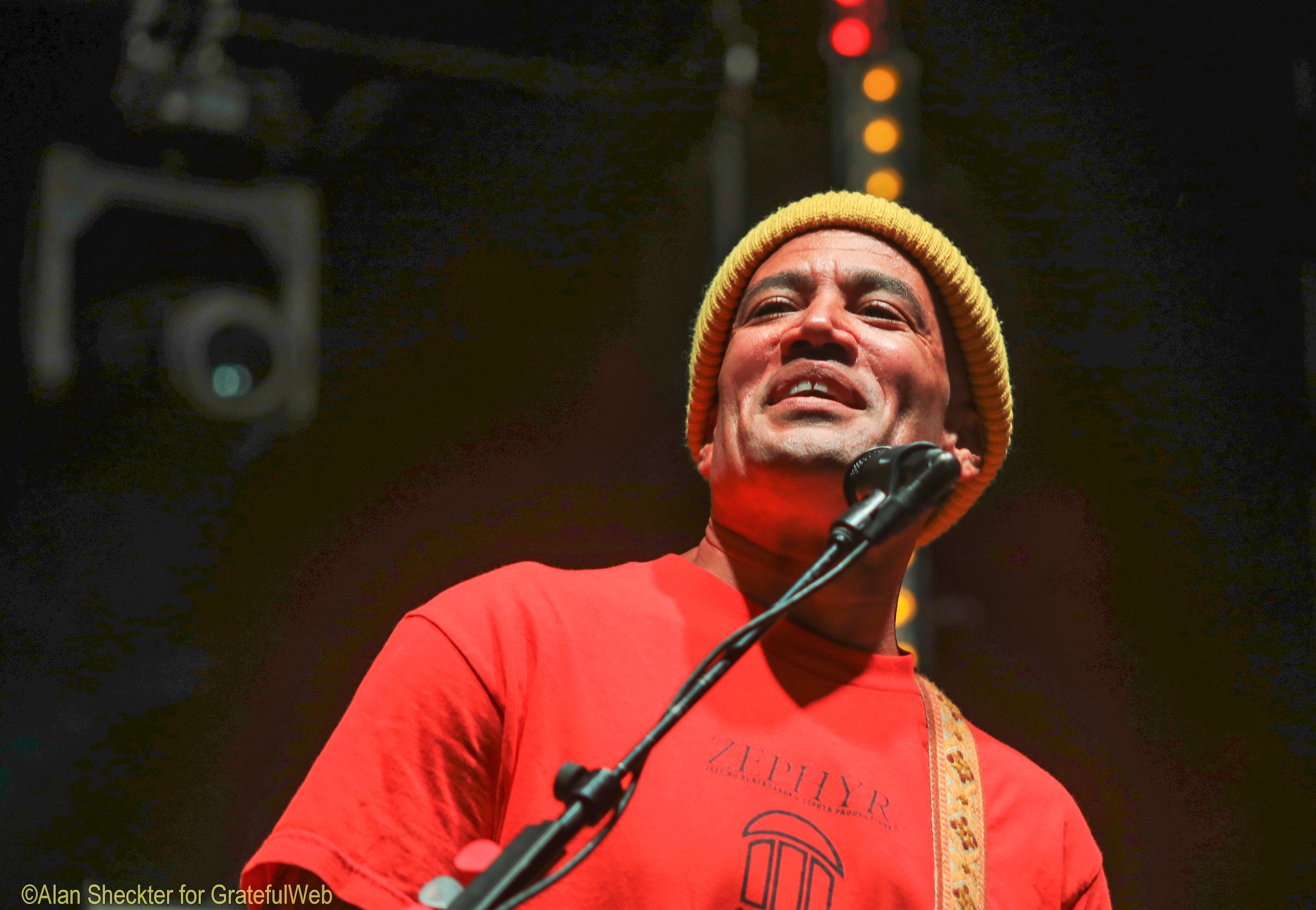 Portugal. The Man brought mega-intensity and excitement to the Hightide Stage earlier Sunday evening. Led by bass player Zach Carothers and lead singer/rhythm guitarist John Gourley, the band is known for its social activism as well as its considerable energy. The band's set went several places, including covers by Metallica (opener "For Whom the Bell Tolls"), Nirvana ("In Bloom"), and The Rolling Stones ("Gimme Shelter"). The set also included "Modern Jesus," "Hip Hop Kids," and "Atomic Man," and the band's closing sequence consisted of its monster hit, "Feel it Still," followed by Pink Floyd's anthemic "Another Brick in the Wall," which segued into "Purple Yellow Red and Blue."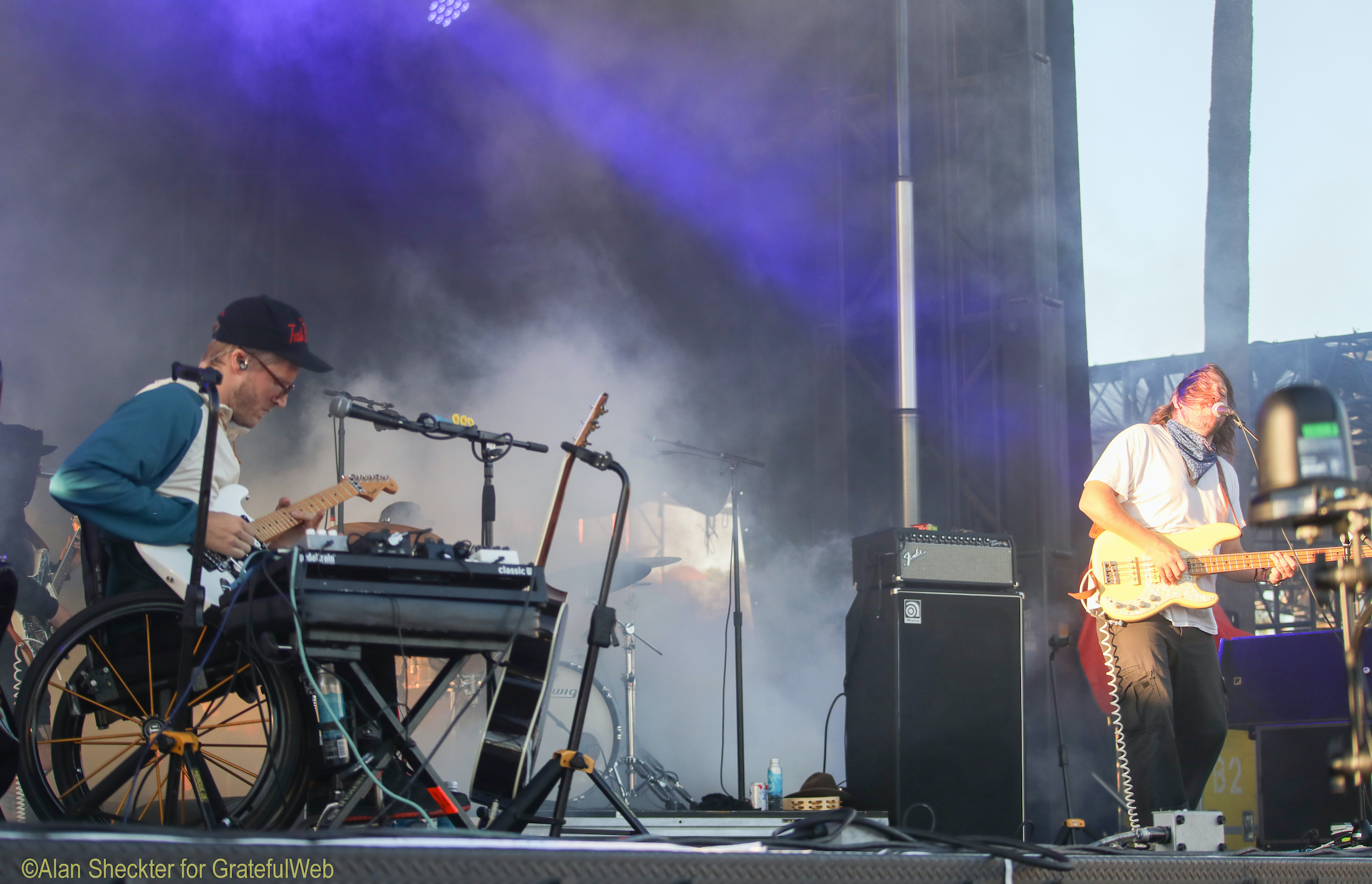 Thievery Corporation, unique specialists in a fusion of dub, trip hop, electronic, and progressive activism, brought the most theatrical and culturally compelling performances to BeachLife. Co-founder Rob Garza (DJ table, vocals) steered the ship from a riser behind the frontline of performers (co-founder Eric Hilton is often not present at live performances). The visually stimulating performance-art ensemble, featuring bass player Ashish "Hash" Vyas stomping along the front of the stage as he played, and bass player guitar/sitar player Rob Myers adding plenty of energy, featured several personalities (Loulou Ghelichkhani, Raquel Jones, Natalia Clavier, Puma, and Mr. Lif), who took turns fronting and vocally leading songs, which included "Lebanese Blonde," "Culture of Fear," "Amerimacka," "Sweet Tides," "Richest Man in Babylon," and closer, "Warning Shots." Jones' long jacket was particularly noteworthy, as emblazoned on the back was, "My body / My choice / My pussy / My rules."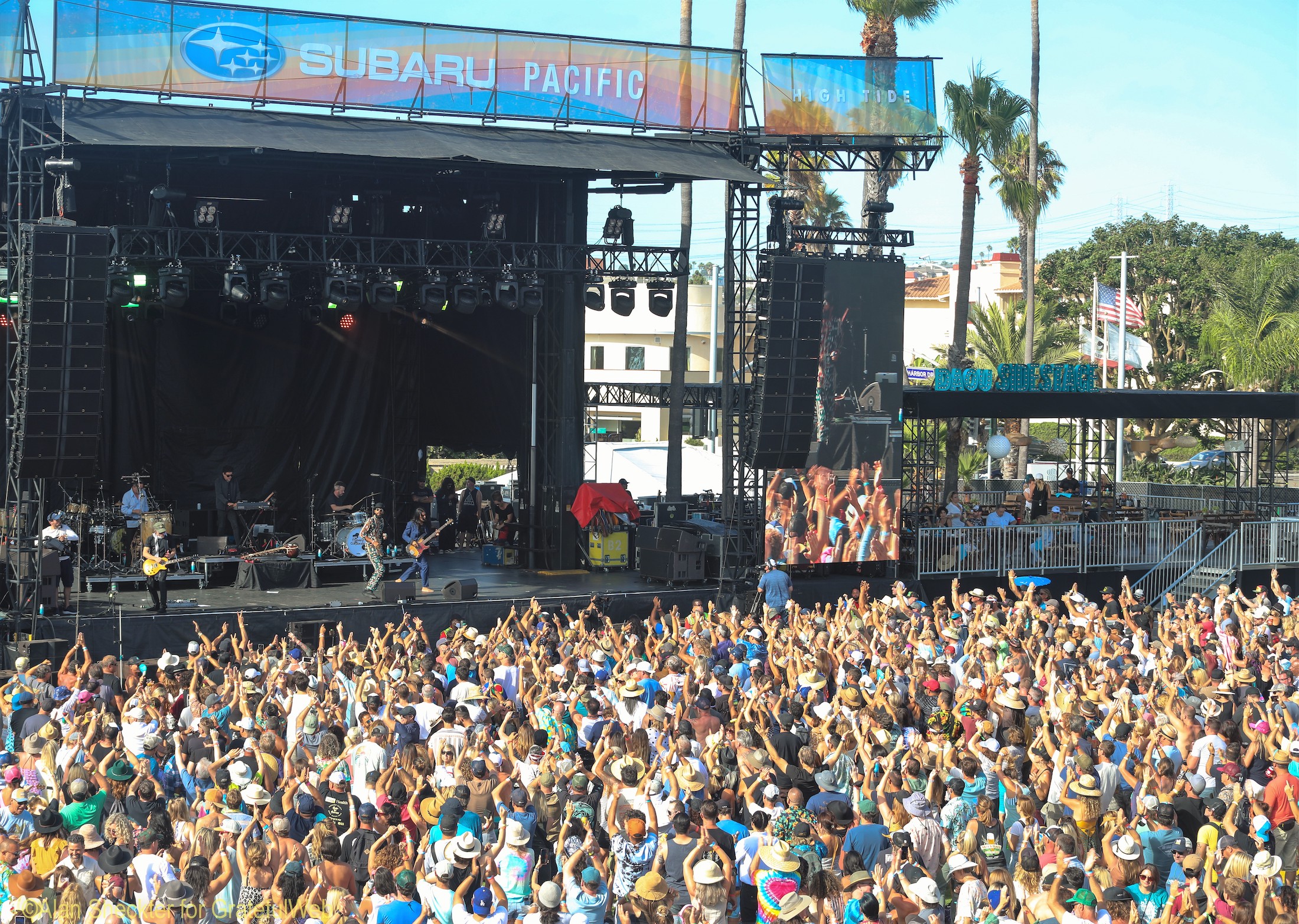 Blues guitar phenom Gary Clark Jr. and his band, which has one foot in the styles of legendary blues-masters' of the past and one right here in 2021, thrilled the crowd with a spirited early evening set of songs and jams that opened with "Bright Lights."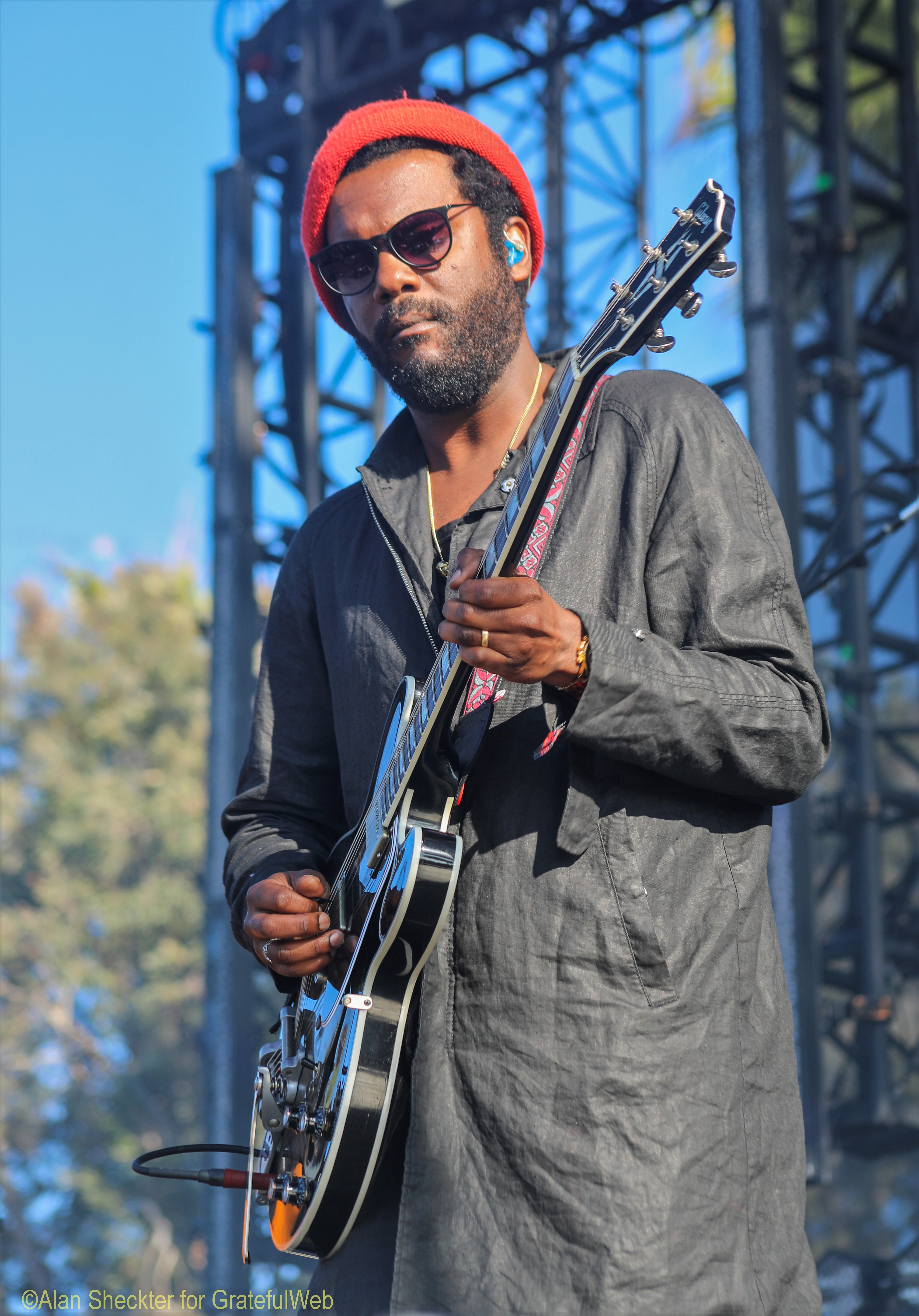 G. Love & Special Sauce performed on the Hightide Stage Sunday afternoon and offered up a set of stimulating alt-hip-hop. Friend and music compatriot Donavon Frankenreiter and Eric Krasno special guested on guitars for the bands finale of the Rolling Stones' "Sympathy for the Devil."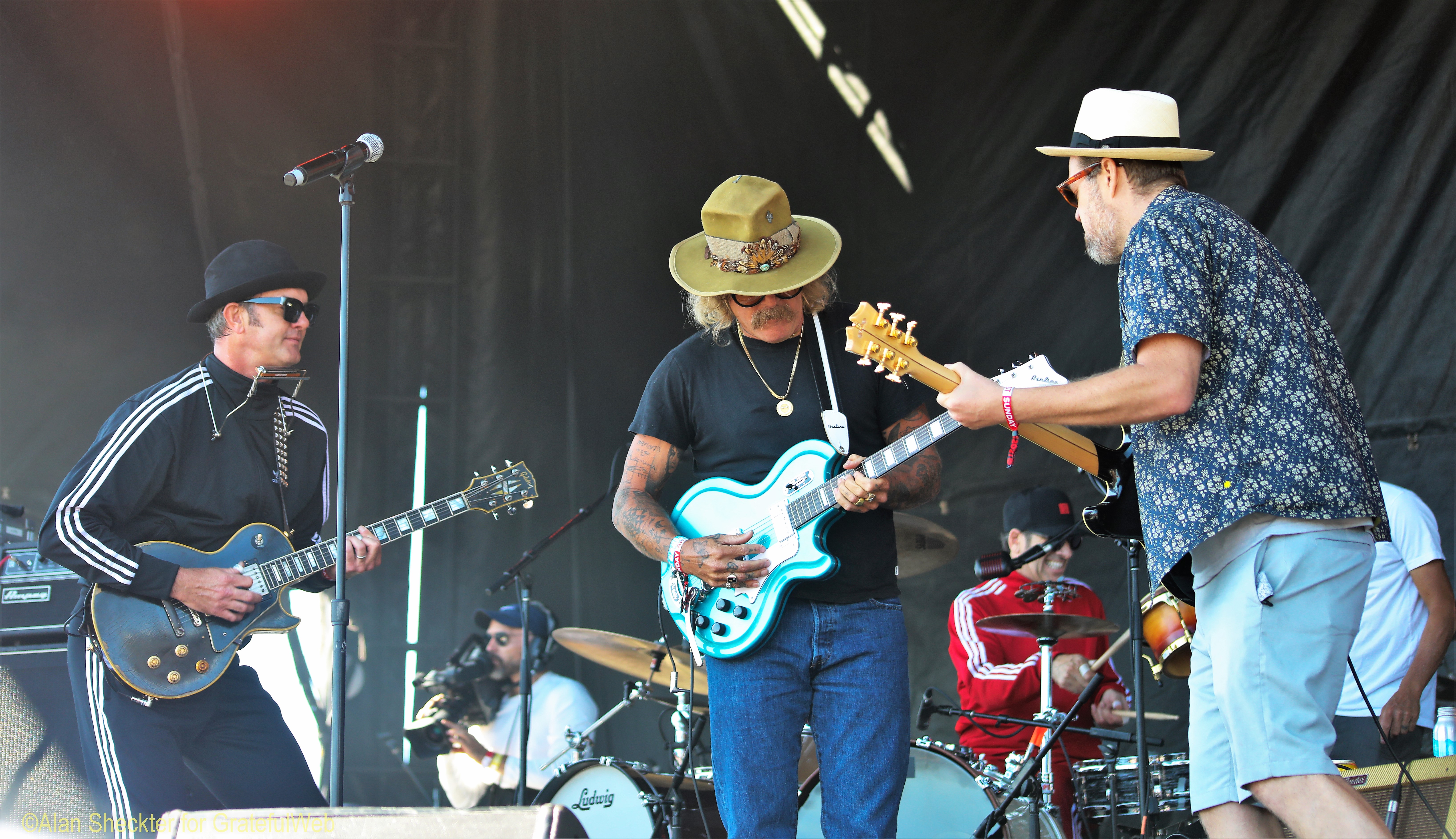 Melvin Seals and JGB, performing as a quartet, brought the most Jerry Garcia/Grateful-Dead-like sounds to the beachfront crowd, playing a psychoactive set early on Sunday. Seals, who began playing keyboards with the Jerry Garcia Band in 1980 and did so until the Grateful Dead patriarch's passing in 1995, has carried the torch ever since.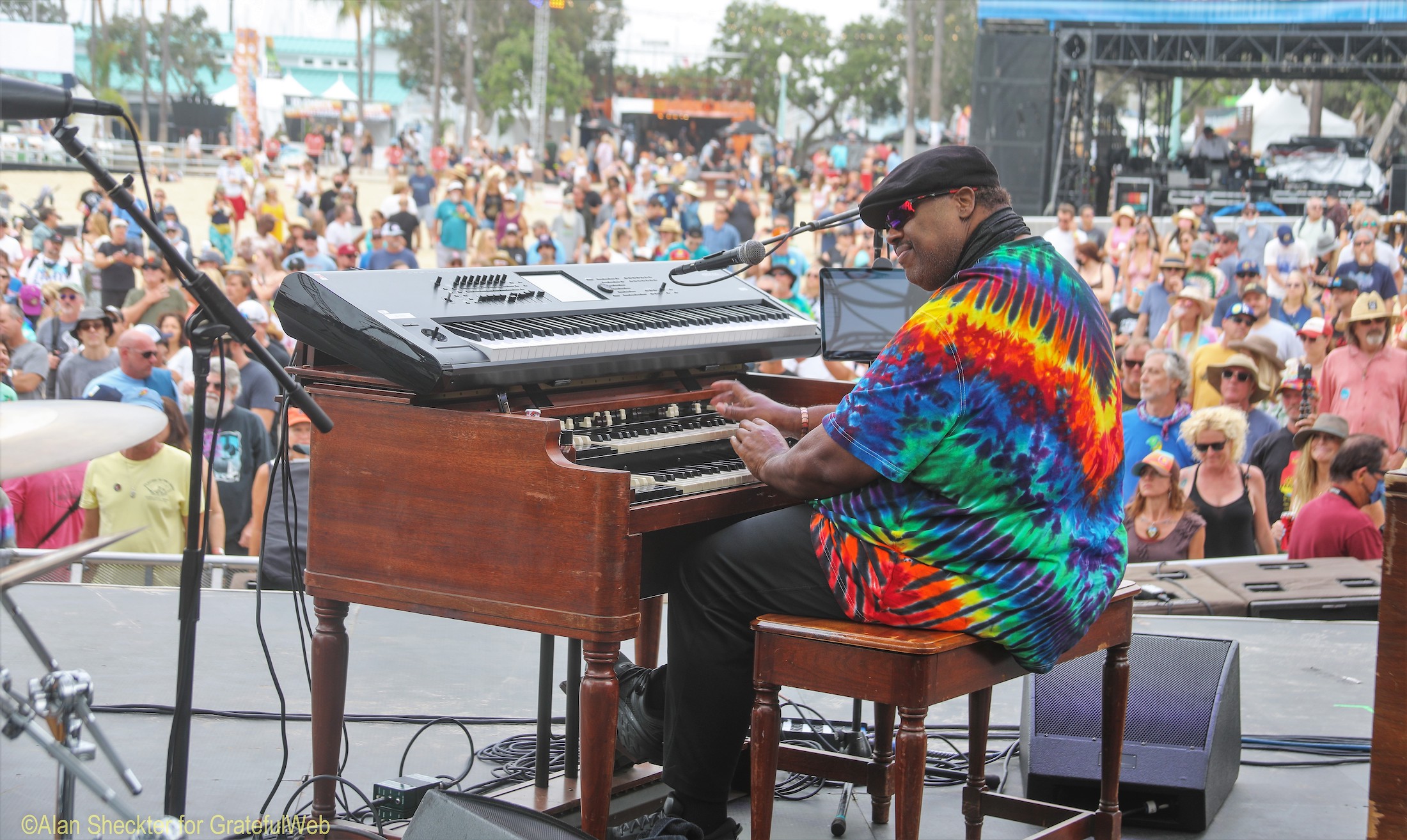 With his twin Leslie amplifiers/speakers pushing out the sound, quite the gathering came 'round to the Lowtide Stage to hear Seals and friends, who included Dark Star Orchestra co-founder and Furthur alumnus John Kadlecik on lead guitar, John-Paul McLean on bass and vocals, and Jeremy Hoening on drums. Their set of eight songs in 70 minutes, which allowed for quite a bit of grooving improv, was true to the Jerry Garcia Band live catalog, though only two, the opener "Cats Under the Stars," and "Deal" were Garcia (and lyricist Robert Hunter) originals. Other selections included "Expressway to Your Heart" (The Soul Survivors"), "And It Stoned Me" (Van Morrison), I Feel Like Dynamite" (King Floyd), "Tore Up Over You,"  (Hank Ballard), "We Be Jammin'", and "Sisters and Brothers" (Charles Johnson).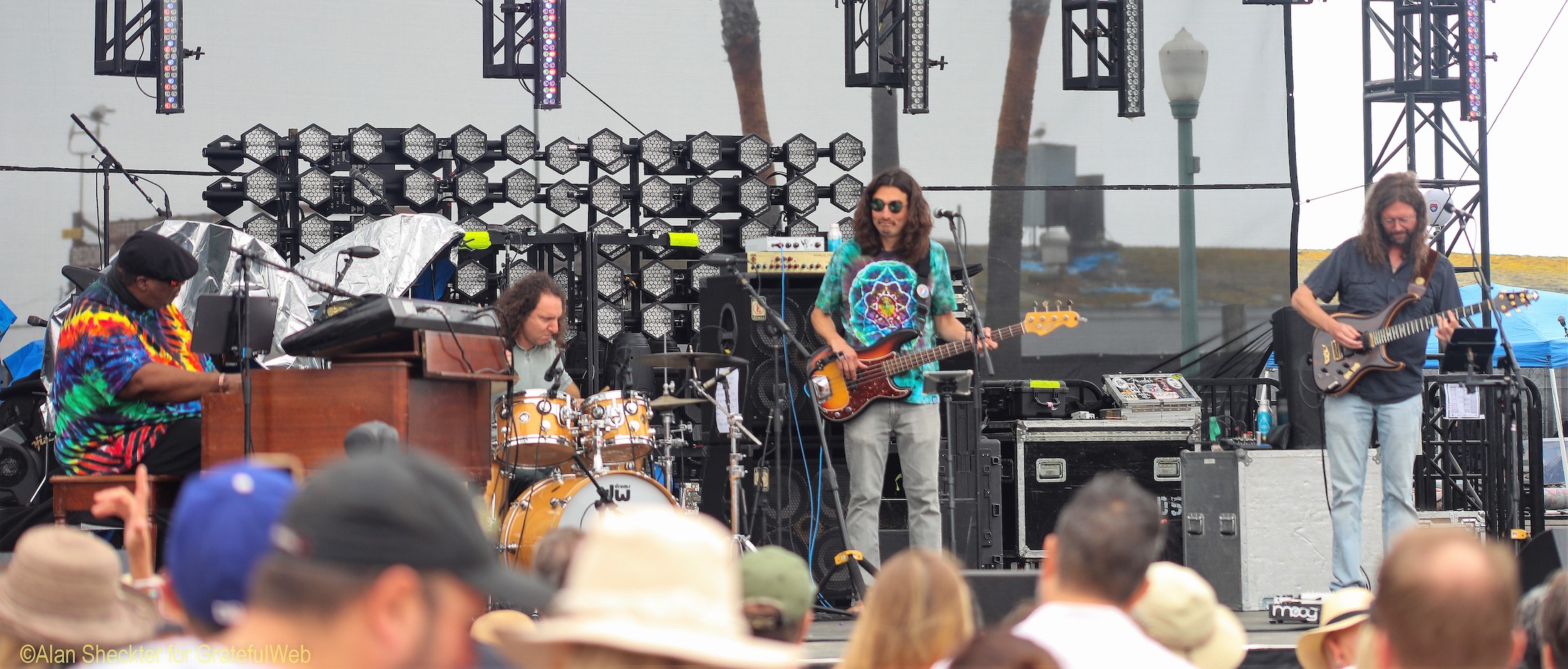 The Los Angeles-based Main Squeeze was one of the bands that performed on the smaller Riptide Stage on Sunday afternoon. Fronted by the charismatic Corey Frye on vocals, the band of five serenaded their audience with a good-vibes mix of rockin' funk and soul.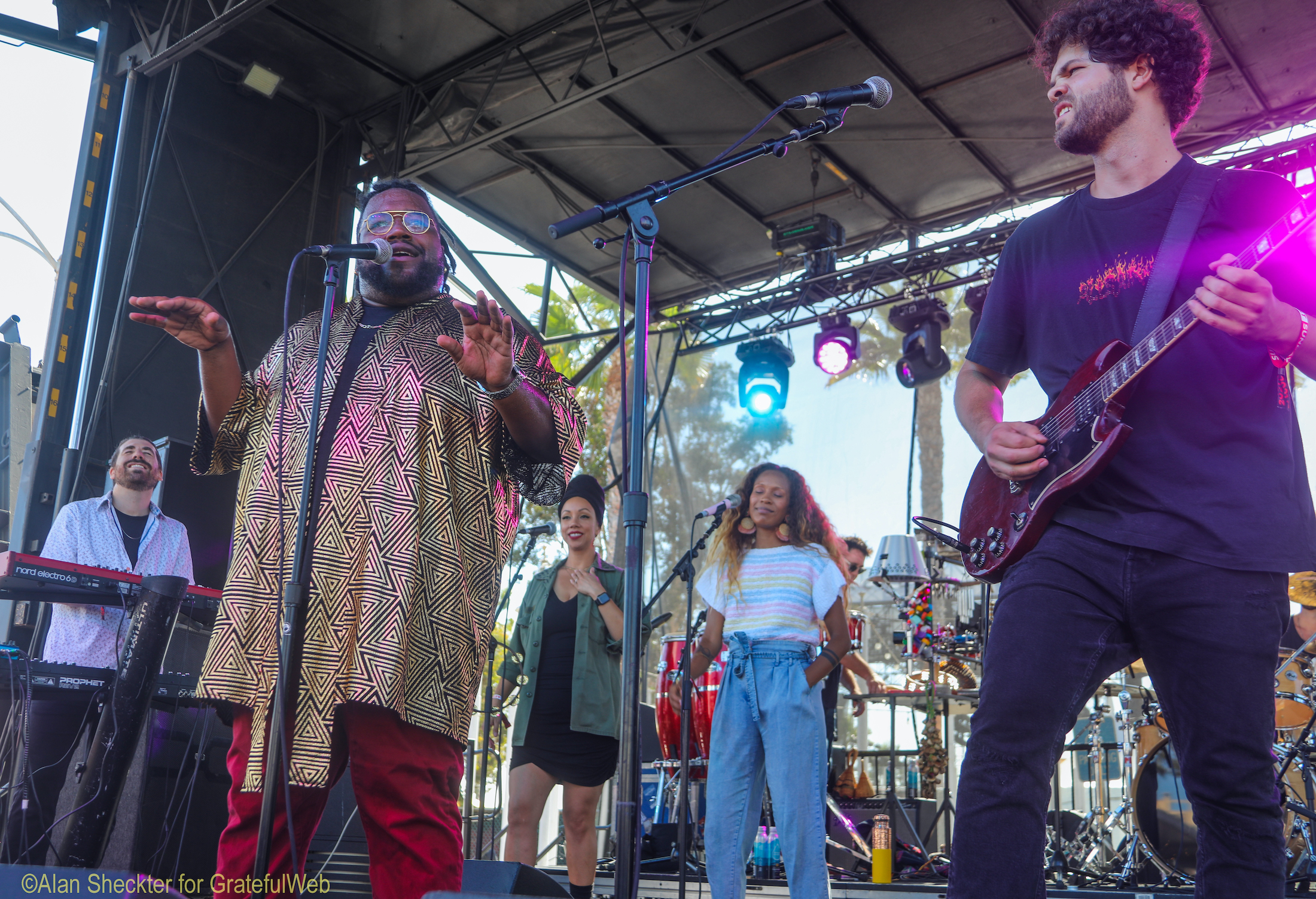 Nicki Bluhm, who in recent years moved from California to Nashville for a fresh start while slightly adjusting her sound to a more alt-country flavor, performed a fine set on the Riptide Stage early Sunday evening that included "The Things I Do to Get Attention" and "It's OK Not to Be OK." Bluhm, a gifted vocalist who has sat in onstage with countless artists, led her Nashville-based band of four, and enlisted the help of guitarist Eric Krasno for a nice version of Jerry Garcia's "Deal," a sign, in addition that she has upcoming shows slated with the Phil Lesh & Friends, that Bluhm keeps current that part of her repertoire and personality.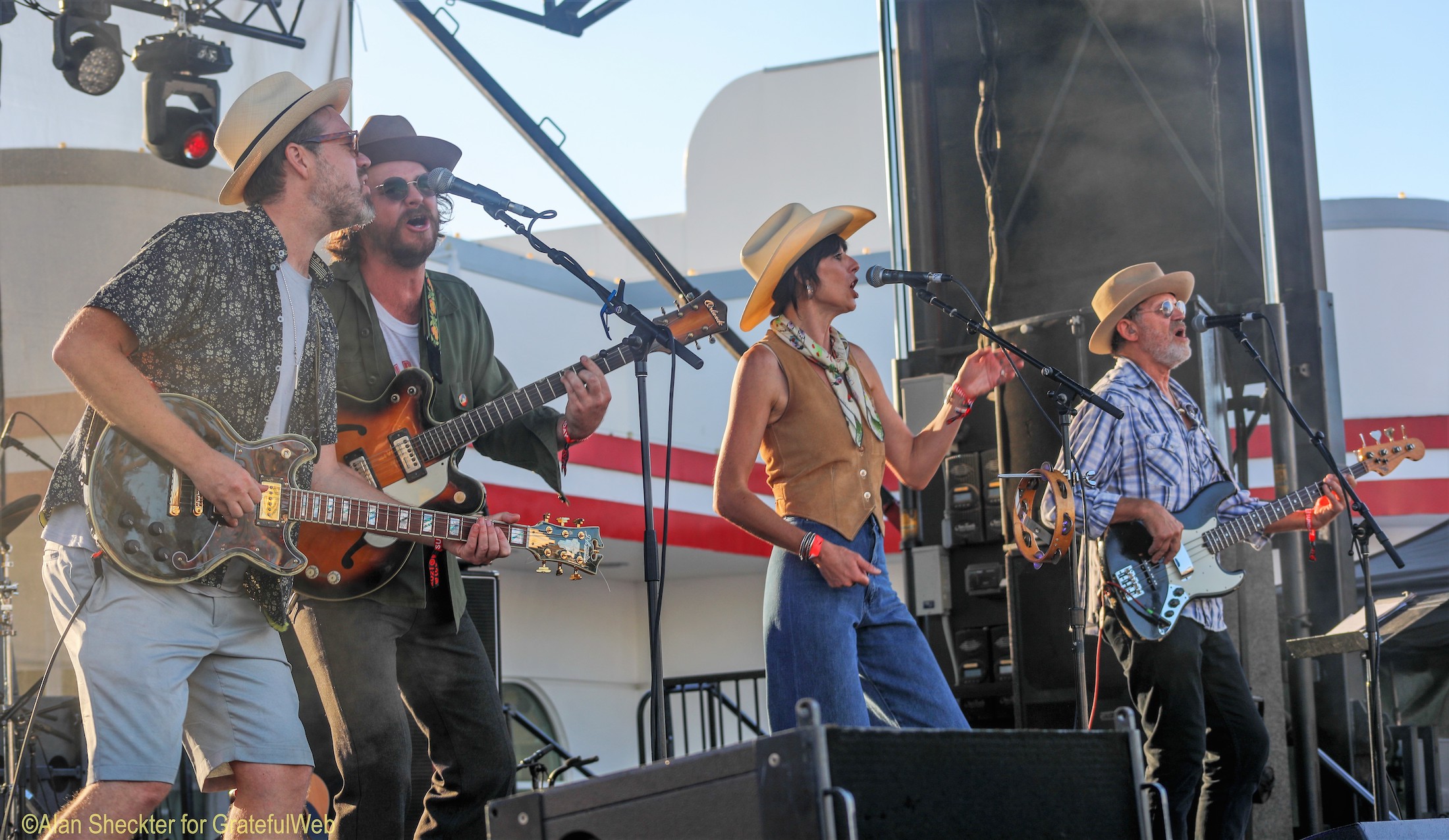 Odds and Ends:
The grassy knoll that created its own avenue, was lined with food, beverage, and informational displays, and which led to the Speakeasy Stage. Tito's vodka, Corona beer, and Herradura tequila offered open air, but covered, with viewing platforms for soaking up the music while soaking up their adult beverages.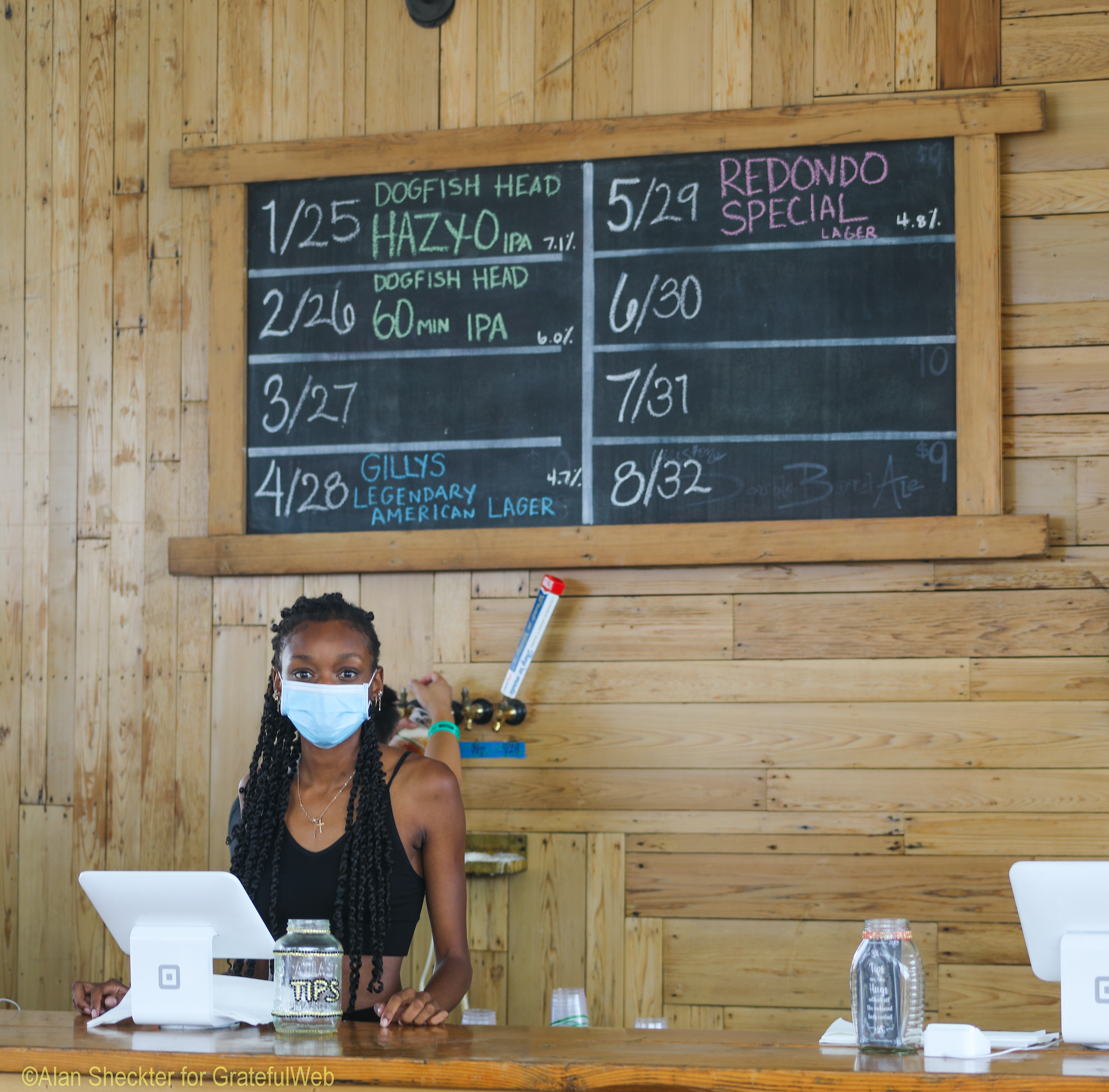 In addition to slaying it onstage with Jane's Addiction, Dave Navarro's presence was also prominent on the grassy-noll avenue for the "Dual Diagnosis" art exhibit that he co-produces with PADHiA, a Los Angeles-based street artist, creative director, and writer. "Dual Diagnosis" occupied a large display along "Dual Diagnosis by Dave Navarro and PADHiA is a thought-provoking project consisting of fine art, street art, impactful installations, apparel, curiosities… and subversive counterculture," according to the display. "The project dispels society's narrow margin of what is considered acceptable, normal, and pretty."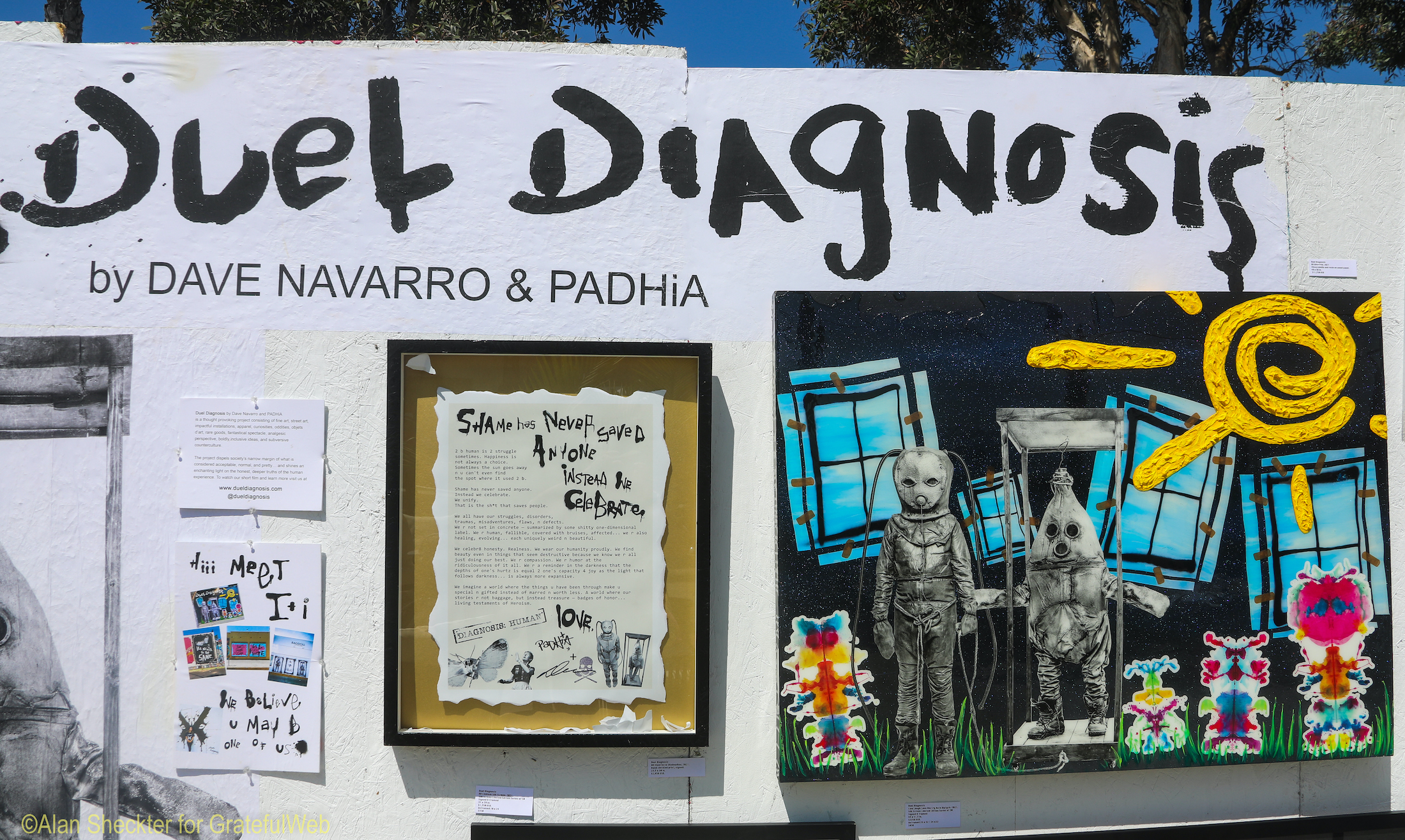 Legendary skateboarder and '80s punk musician Steve Caballero also had a presence nearby, with an art display of paintings, on canvas, and on skateboards, as well as a set on the Speakeasy Stage.