Saturday morning is one of the toughest to motivate for, especially when it is hotter than the previous two days, but with the lineup that was ahead of us, one finds the motivation to get to Centeroo early. After all, this day was a special day in history. It was the 40th Anniversary of the Monterey Pop Festival. What better way to celebrate the first rock n' roll festival, than to enjoy the festivities of the greatest rock n' roll festival. I am not sure if this was something planned by the artists or if it was totally coincidental, which is what I assume, but there was a definite Black Sabbath/Led Zeppelin theme throughout the weekend. Lots of bands covered songs from these two mammoths of rock. Although I was off to a slower start than projected, I still made it for the Slip.
A lot has been said about this band that has transformed their sound and song writing tremendously throughout the years. The Slip has matured into the band that they've always wanted to become. Their music sounds refined, and they have a shine about them that embraces their fans. As I was under the cold water of the checkered mushroom fountain created by the brilliant William Bennett and his team of artistic music lovers, I could hear the beautiful sounds of much of the album Eisenhower. Eisenhower was the album that really brought the Slip back to life last year. Hits like "Children of December," "Even Rats," and "If One of Us Should Fall," were played to the onlookers roaming around near That Tent. Once again, I've noticed that "Children of December" live is so much better than the studio version of that song. The level of improvisation with distortion makes for great soloing, especially at the end that song. During "If One of Us Should Fall" avant rock guitarist Brad Barr fell down and played the end of the song on his back and knees.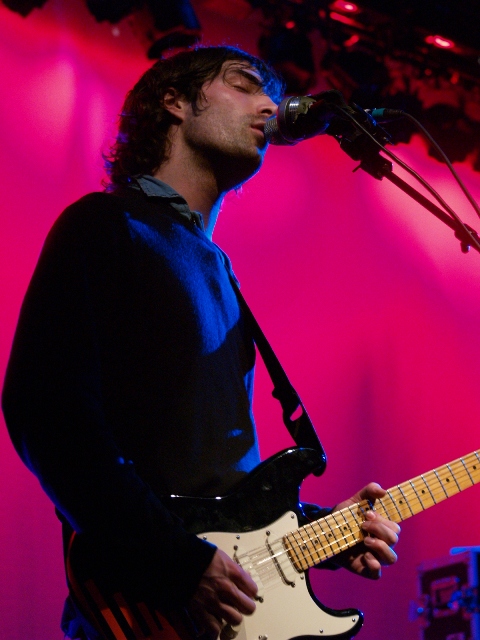 The big surprise of this show was Led Zeppelin's "Heartbreaker" for an encore. They rocked that song in a big way. Following the song, Brad Barr announced that bassist Marc Friedman would be celebrating a birthday in a couple of days, so the whole crowd with the band sang to him. I was very impressed with their talent during this show. I saw them at the end of February at the World Café Live in Philadelphia, but this show was much bigger. They were a great band to see first on a Saturday afternoon. After this I was ready to go, and I hustled off to see the son of one of my heroes named Bob Marley.
Set 1: Long Way To Go, Like a Buddha, Old Man and the Land, Warhead Boogie, Bird in a House, Dance Around Molly - > Dandelion Wine, Head
Railroad Earth's acoustic set at the Sonic Stage went as follows: Elko, Sing For Me, New Lee Highway Blues * - > Fiddlee * w/ David Bromberg on guitar and vocals
Ain't No Cover, Summer in the City, Poor Little Rich Boy, The Flowers, Baby Jesus, Bobbing for Apples, That Time, On the Radio, Sailor Song, Apres Moi, Better, Carbon Monoxide, Fidelity, Your Honor, Love, You're a Whore, Hotel Song, Silly Eye Color Generalizations, Us, Samson, Real Love (Lennon Cover)
What can I say about this amazing spirit? People say that being in his presence is inspirational, I agree. There is a picture in the Bonnaroo Beacon of the schedule of people that would be appearing at the press conference, and under it the caption reads, "Ziggy Marley was much cooler than everyone else." He is the son of Bob Marley, but he is an individual with musical talents and beautiful philosophies. Winner of a 2007 Grammy award for Best Reggae album, his new album is called Love is My Religion, and in a recent interview with Jan Salzman of Reggaemusicreviews.com he elaborated on this principle. "Let's say what religion is," Marley says, explaining the meaning of the album title. "Religion is (an) institutionalized concept of a higher deity, of higher concepts and higher philosophy. I tell people that the true religion of this thing that you're looking for which you call God ... is love."
Ziggy is very fun to watch. He came onto the main stage with a gigantic smile on his face, and the crowd followed suit. Some of the songs that he played during his stimulating set came from his two albums such as "True to Myself" and "Love is My Religion." And others, came from the catalog of his legendary father, such as, "Exodus" and "Roots, Rock, Reggae." No matter what he was performing the crowd loved it. He played a glorious afternoon set which filled listener's spirits for their long day of music.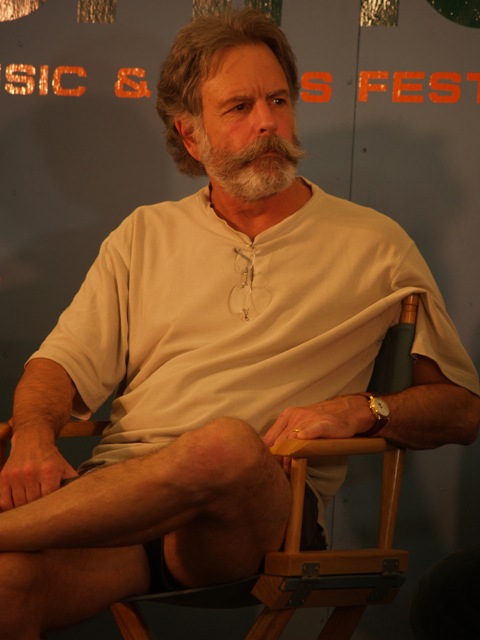 Saturday Press Conference 4pm
Featuring: Chali 2na, Wayne Coyne (Flaming Lips), Britt Daniel (Spoon), Bob Weir, Pete Yorn, Nathan Followill (Kings of Leon)
This press conference was much more peaceful than the first one I reviewed from Friday, but it was interesting because of all of the experience and respect that these musicians had for their scene and fans. There were no haters (David Cross), just intelligent musicians that for some have paved the way for festivals of this magnitude.
As usual, and for good reason, Wayne Coyne led the conversation. I say for good reason because Coyne did the same thing at Wakarusa last year, and his intelligence is out of this world. He has a real good sense of life and how to live it. When he talks he speaks to the people as one of them and not as a pompous musician. He explained the maturation of the large festival and even said he'd attend Bonnaroo even if he was not performing. Coyne expressed that, "You want the fans to have an epic experience in this short lived moment. But, they have to be present for it." That is completely true. As someone who has been to every Bonnaroo but one, I think that the magic is there for one to take in, enjoy, and become inspired in any area of life that one comes from.
Britt Daniel just came off of a plane from Europe and didn't really know how to answer any of the questions because he hasn't really been to the festival yet. On the other hand, someone who has not only been to this festival, but most festivals was Bob Weir. He was given the utmost respect when the questioner said that we owe these festivals to you and your band the Grateful Dead. The press put their pens, cameras, and papers down to give Bobby a round of applause. Weir then expressed how he attended Monterey Pop Festival and Woodstock while hanging out with the crowd. He said that he was slightly saddened because he couldn't really do that now. If he did, he'd be signing a thousand autographs, and wouldn't really be able to enjoy it. But, he'd love to hang out with everyone.
A Million Miles From Yesterday, Patchwork Quilt
Search My Heart, That'll Never Happen No More, More Than My Old Guitar, How Long Blues, There's a Table Sitting In Heaven, Just Because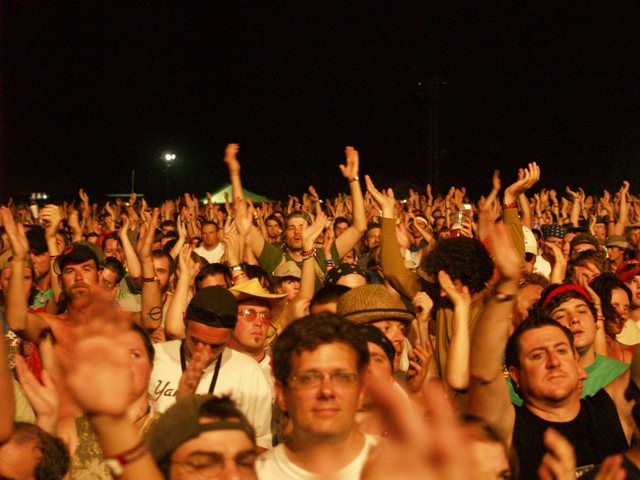 The North Mississippi Allstars (acoustic)
Ragged But Right, Poor Boy, Oxford Town, Shake Em On Down, Freedom Highway, If You's A Viper, Tennessee Blues, Drowning On Dry Land
Stuck Between Stations, Almost Killed Me, Chips Ahoy!, Hot Soft Light, Massive Nights, Party Pit, You Can Make Him Like You, Cattle and the Creepy Things, Multitude of Casualties, Stevie Nix, First Night, Hornets! Hornets!, Your Little Hoodrat Friend, Southtown Girls, What A Resurrection Really Feels Like, Killer Parties
Fortune Teller, Food in the Belly, Messages, Yirra-Curl, Stargaze, Famine *, Come Let Go, Better People, (Unknown Jam), Conceal Me, Iron Man (Jam) #, Let Me Be, The Gift of the Trees, Footprint, (To Let Jam), To Let
The Professor & La Fille Danse, Older Chests, Volcano, Grey Room, Me, My Yoke and I, Elephant, Rootless Tree, Dogs, 9 Crimes, Delicate, Cannonball, Coconut Skins, The Blower's Daughter, Woman Like A Man, Accidental Babies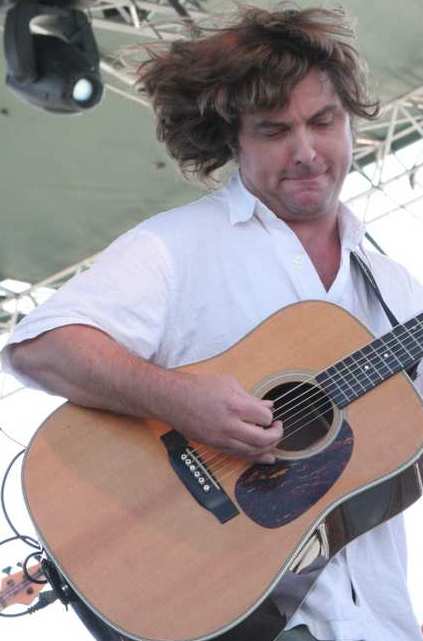 Intro > Killer Waves, (instrumental, possibly Blatant Ripoff), Still Wishing to Course > Pets > We Love You, Groundscore > Freeker By The Speaker, Brown Eyed Women, Casa Queztal, People Watching, Got No Feathers, Time Is Still, Doobie in My Pocket, Life Is, Santeria > Kiwi and The Apricot, Ninja, Play This
I have to preface this review by saying that this was my official last time seeing Ween. I forced myself to go to at least the beginning of this show because of the many people that I respect that love this band. I've seen them three other times and have been bored out of my mind, but I've tried.
This show was no better. First, they came on very late. Meanwhile, I was missing Ben Harper, and I wasn't happy about that to begin with. Then they finally came on and opened with "Exactly Where I'm At," which nearly put me to sleep. Then, they played "Golden Eel," and "Baby Bitch," which angered me immensely. "Baby Bitch" could possibly be the most disrespectful song ever sung. After all, the lyrics do read, "Fuck you, you stinkin' ass ho." Now maybe there is an underlying good reason for singing that nasty song, but at a festival like this, there are much better things to see. Not to mention, Ween hasn't written a new set of music in years. I felt like I was seeing the same band at the same place as I did in years past. I turned to my friend for confirmation, and he agreed and wanted to leave. I convinced him to stay for one more song, which was "Spinal Meningitis." I felt like we should give them some chance, but that was a snoozer as well, so we left to join the rest of our friends at Ben Harper. On the way out, what a surprise, they played "Bananas and Blow."
If I seem bitter I apologize, but this band is definitely not my cup of tea. And this performance at such a big festival was so uneventful. This is their time to shine and attract fans. I wasn't the only one who felt this way. People were leaving in droves. I was off to Ben Harper, which was amazing! Here is the rest of Ween's set list:
Take Me Away, Transdermal Celebration, Even If You Don't, Voodoo Lady, The Party, Buckingham Green, Happy Colored Marbles, Pork Roll Egg & Cheese, Waving My Dick In The Wind, Touch My Tooter, Fiesta, Zoloft, Ocean Man, Johnny On The Spot, Frank, Mollusk, E: Mr. Richard Smoker, Booze Me Up & Get Me High, Fat Lenny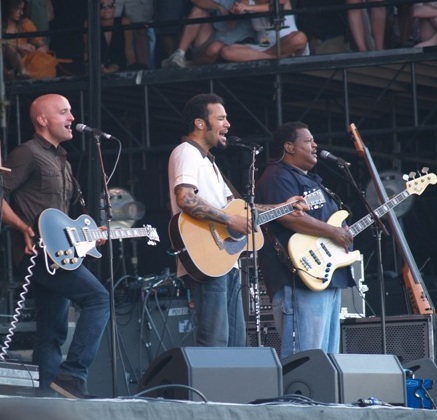 Ben Harper & the Innocent Criminals (Honorable Mention!)
Let's just start off by saying that Ben Harper was one of the MVPs of Bonnaroo 2007. I heard from everyone throughout the weekend. He was so full of soul throughout the SuperJam and his set with the Innocent Criminals. He showed his ability to sing, play guitar, and the pedal steel guitar with such grace and fluidity. Unfortunately, I missed "With My Own Two Hands," "Ground On Down," "Forgiven," "Gold To Me," because I was in transit between stages. Thank goodness a friend burned me the set because it was certainly a highlight. When I did arrive though, I caught a fired up "Please Don't Talk About Murder While I'm Eating." The rise and fall in volume of this song in combination with the ripping guitar makes this a forceful wake up call to any tired fans in the large main stage crowd area. Not to mention the heavy thumping bass of big Juan Nelson. It was a very smooth transition into the soothing melodic vocals of "Diamonds on the Inside." At the end of the song, Harper personally thanked everyone for being there, and said, "I think I can speak from experience, I'd like to invite you to the greatest festival on Earth." He gently played into "Tomorrow is a Long Time" by Bob Dylan and back into "Diamonds on the Inside." It was a beautiful medley!
The percussion from Leon Mobley and Oliver Charles gave away the next classic Harper tune about summer rain and Tennessee. "Steal My Kisses" brought the crowd back to their dancing state. The highlight of the song was the verse that bassist Juan Nelson sang in his deep voice followed by the kisses that he blew to everyone. Nelson then played a scat bass solo to entice the crowd. "Don't Take That Attitude to Your Grave," was the next smooth jam with prophetic sound advice for the world to hear. After "Waiting for You" off of their newest album Both Sides of the Gun, Harper invited his dear friend and partner from the SuperJam, John Paul Jones, bassist of Led Zeppelin up to recount "Dazed and Confused" from the night before. This version wasn't nearly as good or as long as the previous night's version, but none the less, it seemed like a gift for the unfortunate individuals who for whatever ridiculous reason missed it. John Paul Jones played a quick fingered improvised solo mid way through with Juan Nelson going back and forth. Harper got his turn to light up the solo sending the song into a whirlwind faster and faster just like Jimmy Page used to do. Harper sang the final lyrics like he was pleading for his life. His face was squinted, and his voice cracked because of all of the emotion that he put into it. "The Mighty John Paul Jones," Harper voiced as the legend waved off the stage.
The apocalyptic revolutionary "Black Rain" came next. The lyrics of this song are chilling as it basically explains the downfall of our current awful government, and how it will bite them in the butt in the long run. Referencing the abandonment that the government did to New Orleans, and describing how "you don't fight for us, but you expect us to die for you." This song has great lyrics and an equally great bass solo.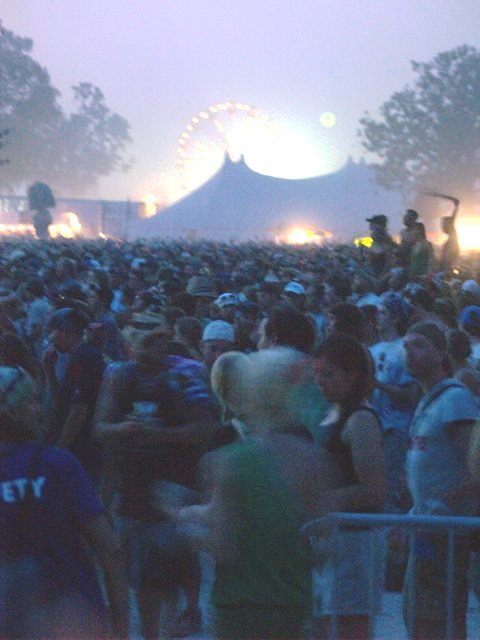 The fan favorite "Burn One Down" was next as a cloud quickly formed throughout the crowd. Harper even said, "That's possible the biggest outdoor cloud of smoke that I have seen in my entire life." Ironically, the next special guest that was introduced was Ziggy Marley for Bob Marley's "Get Up, Stand Up!" Revolution was in the air and the people felt empowered once again. There is a sense that we as Americans have felt helpless in the past 7 years in this country, and at this moment the crowd felt like one. As if we are not crazy for believing in what we believe in. This is the power that people like Marley, Lennon, Dylan, Franti, and even Harper instill in us through their music. Peaceful revolution is powerful, and these guys who took inspiration from Gandhi and Martin Luther King Jr. know how to give power back to the people. The crowd was rockin' with joy, and the last song " Better Way" explained that there must be a better way to do things in this world. Their new album called Lifeline is came out August 28th and should be a good one.
After this amazing set, I quickly got into the line for the front section at the main stage for the Police. This is a new feature offered at Bonnaroo, which helped the maintain order in the front of the stage. One simply waits in line before the show they'd like to be in the front for, and right before the band starts they let the line move into the separated section. We waited in a semi-crushed line for about one hour, and when they let the gate open, it was really close quarters, but once we were in the area, there was plenty of room for everyone. Now we were in about the fifteenth row for the Police. In some venues, that alone would be over a $500 ticket. This is another thing that makes Bonnaroo so great. The price of the festival seems steep at first, but once you add up what you are seeing and doing, it's a great discount.
During Phish tours, my friends and I played this game with the crowd around us. It was a gambling game for dollars. We would try to predict the opener, and everyone would pick a song and contribute a dollar to the pot. Whoever picked the correct song would win the pot. I told my friends about this game, and everyone felt like it was a great idea, so we picked our songs and waited.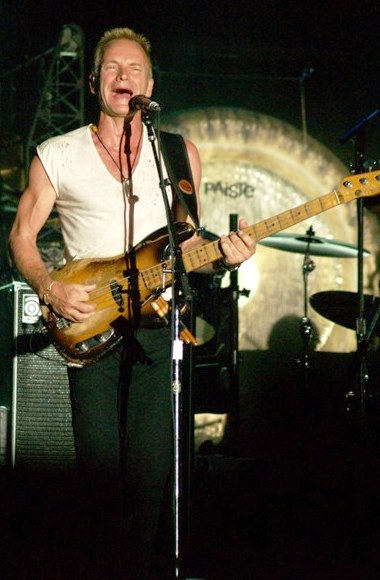 The Police came on, and immediately went into "Message in a Bottle," and my friend and bass player for the Long Island, NY band Captain to Co-Pilot, Brian Cushing took the pot. I have to admit, I was a little star struck when they came on. There has been so much anticipation. After all of the senseless bickering they were together again. Even after the tour started there was some dissention and drum hero and founder Stuart Copeland called Sting (Gordon Sumner) a "petulant pansy" after the first show. But after shaking some rust off the band pulled it all together for their biggest audience of their tour. They came out excited, and that's what the Bonnaroo crowd wanted. Even Sting looked happy to be playing there in his sleeveless white tee-shirt and black pants. Of course, Copeland was bouncing, smiling, and rocking with excitement for he was at home with a scene that has embraced him many times, especially recently with Oysterhead. Andy Summers, dressed in all black played well, but looked confused at times. The powerful scream of "Synchronicity II" was the next song off of the 1983 album Synchronicity that went platinum eight times in the U.S. while topping the charts at number one in the U.S. and the U.K. From there, the rest was history. The band continued to play their chart toppers all night long. They played everything that everyone wanted to hear. There were goose bumps everywhere, and smiles were on the faces of all of the people, young and old. The rest of the set list went as follows:
Walking on the Moon, Driven to Tears, Voices Inside My Head > When the World Is Running Down, Truth Hits Everybody, Every Little Thing She Does Is Magic, Wrapped Around Your Finger, The Bed's Too Big Without You, De Do Do Do De Da Da Da, Walking in Your Footsteps, Can't Stand Losing You, Roxanne, E: King Of Pain, So Lonely, Every Breath You Take, Next to You
The trio that invented the combination of jazz, reggae, and punk for the world to follow in the eighties is back to celebrate their 30th Anniversary, 20 years after their split in the summer of 1986. I think I speak for many others when I say I'm so glad they're back.
Gov't Mule (#2 Best Show of Bonnaroo)
The late night shows on this night were the toughest to decide between. I did my best to get a sampling of everyone, but Gov't Mule pulled me in the longest with the second best performance of the festival. I missed the first few songs of their set because I was watching the alien ship land on the Flaming Lips stage, but I made sure to get over to the veteran MVP of Bonnaroo and hardest working man in the music industry, Warren Haynes' stage quickly.
Unfortunately, because of that, I missed the heavy reggae opener of the Rolling Stones' aka Nanker Phelge "Play With Fire" with special guest #1 Michael Franti. After Warren Haynes sang the lyrics of the song, Franti came out and started free styling lyrics.
Nanker Phelge (aka Nanker/Phelge) was a collective pseudonym used between 1963 and 1965 for several Rolling Stones group compositions. Stones bassist Bill Wyman explained the origins of the name in his 2002 book, Rolling With the Stones.
When the Stones cut "Stoned"—or "Stones," according to early misprinted pressings—as the B-side to "I Wanna Be Your Man," Brian [Jones] suggested crediting it to Nanker/Phelge. The entire band would share writing royalties. Phelge came from Edith Grove flatmate Jimmy Phelge, while a Nanker was a revolting face that band members, Brian in particular, would pull. * From Wikipedia
In detailing how good he felt there. He also mixed in his "Fire, yo, yo, yo, yo" into the song every time he said the word fire the way he does in his new song "Yell Fire." Then he rapped, "I was just out here feelin' so sweet because I just came back from a show with the Police, and I said damn when he got up there and said Rooooxanne, you don't have to put on your red light." The crowd cheered, and he went back into the song so well. After the uplifting opener the Mule went into "Thorazine Shuffle," and Haynes requested everyone at Bonnaroo to do the Thorazine Shuffle. In case you didn't know what the Thorazine Shuffle is I'll tell you. Thorazine was a trade name for a psychiatric drug that was historically overused in mental institutions to keep patients quiet. One of the unfortunate symptoms was a shuffling march and shake when walking, and this was commonly known as the Thorazine Shuffle. On a lighter note, fans can be seen doing this while freaking out to Haynes' ridiculous solo while Matt Abts jumps up and down on the double bass drums. After this Danny Louis took his turn with a jazzy keyboard solo. Warren bellowed a little John the Revelator tease when he said, "Tell me who's that drummin'," and Abts and he went back and forth. I only hope that if the Thorazine Shuffle made a sound, it would be like this song.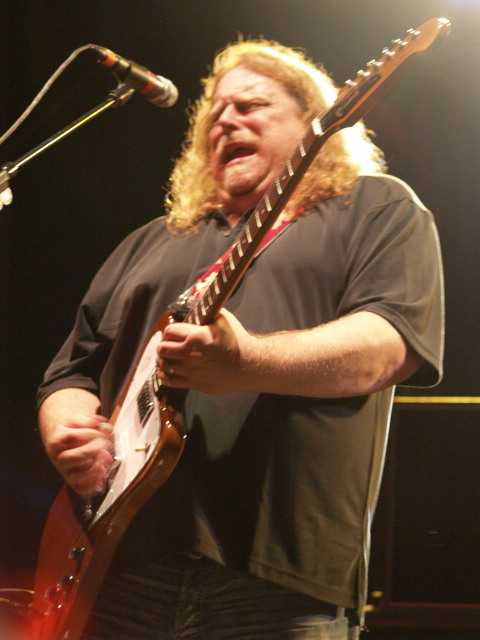 The nostalgic "Banks of the Deep End" and "Million Miles From Yesterday" showcased Haynes' amazing vocal skills that contrast so perfectly with his rough and loud guitar playing. But then the special guests continued as Warren welcomed Bob Weir to the stage for the Grateful Dead's "Sugaree" and "Loser." Haynes and Weir traded verses and guitar licks during both beautiful melodies.
Next came the infamous "Johnny Bratton Jam" that comedian Lewis Black came out for. This was a botched attempt at a joke. Black was supposed to come on stage and stop the band for a few minutes and tell a joke or two. But, as soon as he did it, he got thumped with a flying object from the crowd. He said, "This song has no fuckin' lyrics. How am I supposed to sing the fuckin' song…son of a bitch…not even a tambourine." As soon as he said that the crowd literally heard a splat, and a moan from the crowd. Black was surprised, Haynes was mad. Haynes said, "I thought this was Bonnaroo, man." Black then saved the joke by saying, "I guess I'm the only Jew here. Well guys, it was just a joke. It was only supposed to be 30 seconds long, and whoever that jerk is, he's going to pay for this. Here's the deal, cocksucker. You don't throw shit at people performing onstage. I don't give a fuck if you don't like them. And you know what I should do to punish you, is fucking sing, you fuck. But, I'm a better person than that. You're lucky to be here tonight. You're in the presence of God. Take care you little prick," and he marched off to a loud applause. Mule continued "Johnny Bratton Jam," and the crowd continued to enjoy the show. I guess there will always be idiots who are stupid enough to mess with comedians with microphones. It's a bad idea.
The next song, "Unring the Bell" is a newer song describing the injustices of free governments. Sound familiar? It's great when artists protest what is going on in the world in their own ways. After all, the name of this band is called Gov't Mule. A great lyrical part of this one is when Warren says, "Fake liberty is just another form of hate. Unring the bell before it's too late," obviously referencing our current situation in Iraq . "Unring the Bell" went right into "Drums," which started the Led Zeppelin medley.
Zeppelin's presence was definitely given much deserved respect at this festival. "Drums" went into "Moby Dick," and special guest #3 on the night, John Paul Jones came onto the stage for it. This madness went into the song written because of an annoying groupie that drove Led Zeppelin crazy in the beginning of their career. (Sidenote: Read Hammer of the Gods. It's an amazing book detailing Zeppelin's tumultuous career.)  "Living Loving Maid (She's Just a Woman)" off of Led Zeppelin II was the last song that Jones would play bass on. Haynes reminded the crowd that John Paul Jones also played keyboards in Led Zeppelin, and of course they then played "Since I've Been Loving You." John Paul Jones plays the Hammond organ while using the bass pedals as the bass line. Haynes said after they played the song, that it was one of his favorite songs in the whole world. Then to end Jones' stay with Gov't Mule, they played the first notes of "No Quarter," and the crowd obliged with cheer. Jones' trippy almost dripping introduction started this masterpiece. Historically, this was Jones' time to show his skills with his talented band. He would frequently improvise and throw in classical pieces from Rachmaninoff and Joaquin Rodrigo's Concierto de Aranjuez, which even inspired Miles Davis' Sketches of Spain. At this show however, Haynes' guitar solo is what stole the show.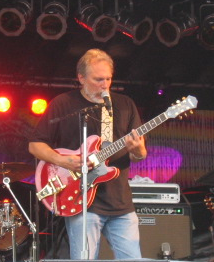 After set break, Gov't Mule came back with even more special guests. They welcomed from Hot Tuna, Jack Casady and Jorma Kaukonen for "Come Back Baby" by the late band called the Players. This song was also used in a romantic scene in the new Transformers movie. Next, they played Reverend Gary Davis' "Death Don't Have No Mercy," which featured horn solos and a bluesy New Orleans feel.
After the jam session, Mule played the new songs "Streamline Woman" and "Brand New Angel." These two songs were heavy and rockin', but then it was right back to the special guests and the blues. Special guest #6 was Luther Dickinson from the North Mississippi Allstars. Haynes said, "It just wouldn't be Bonnaroo without sharing the stage with all of our friends right?" I couldn't have said it any better. This is the essence of Bonnaroo. A thick groove followed by some great guitar work came next for "That's What Love Will Make You Do." The guitars were screaming at full tilt by the end of this jam friendly song. The crowd was very alive even this late at night. Then came the Robert Johnson jam for "32/20 Blues."
Encore #1 featured an explosion of Black Sabbath songs. The first one was "Sweat Leaf," which is an anthem for marijuana smokers worldwide, although the song was named after a message on Geezer Butler's cigarette pack that he got in Ireland . The second Sabbath song was the anti-war anthem called "War Pigs," which was covered a few times throughout the festival.
Encore #2 was the Warren Haynes classic closer, "Soulshine." This song always pleases a crowd, large or small. This is Warren Haynes' trademark, and a festival wouldn't be the same without it. This late night show was an amazing experience, and if you were not there, I highly recommend downloading this show.
This is the first late night show that I went to before seeing most of Gov't Mule. I knew that there would be a phenomenal opening to the Lips show, so I made sure to be there for it. After a long wait, the alien ship finally landed on the stage as the band opened up with "Race for the Prize." Confetti flew, fans screamed, and the excitement that usually comes with a Flaming Lips show took place. The segue song "Tapsmir" was appropriately played next to continue the Led Zeppelin theme for Bonnaroo '07. "Tapsmir" is a play on Zeppelin's song " Kashmir." This was a great transition into one of my favorite Lips song "Fight Test," the song in which the artist formerly known as Cat Stevens gets royalties from because of the similarities in the songs. The show started off good, but it seemed a little bit slow after this. I'm not sure if it was the sound or the extremely large crowd at the Which Stage. "Free Radicals" and "Mountainside" was next with the usual screen antics behind the band. My other favorite songs "Yoshimi Battles the Pink Robots Pt. 1" and Pt. 2 were played one after the other off of The Flaming Lips tenth and best album with the same name. The rest of the set list for the Flaming Lips show was as follows: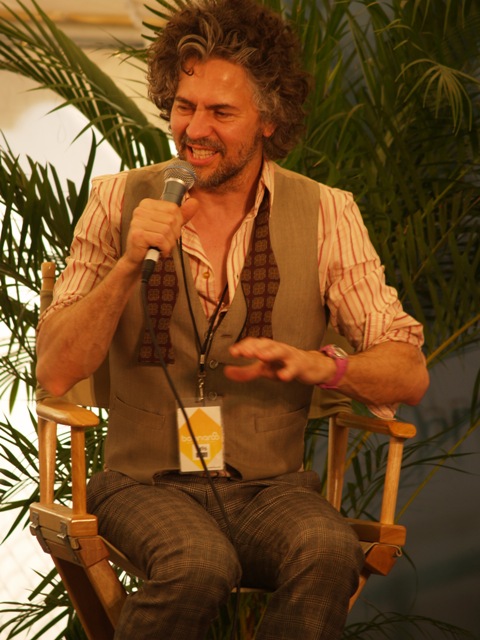 Vein of Stars, The Yeah Yeah Yeah Song, Taps, Waiting for Superman, Pompeii AM Gotterdammerung, She Don't Use Jelly, Do You Realize?!?, The W.A.N.D., What is the Light?, The Observer, Moonlight Mile, Sympathy 3000-21 outro
As sad as I was to miss Galactic who was also playing at the same time, I did get to see two songs of their newest project with the hip hop artists. As the late night continued in the morning, I stopped by to see Sasha & John Digweed spin me into a morning fog.
I have to admit that I didn't know anything about this power DJ duo before this show, but I was pleasantly surprised. They had me dancing well into the morning. I caught my second wind (or fifth wind?) at about 3:00am and danced until the end of their set. These experienced DJs from the UK have been spinning for about 10 years, which explains their tight connection. This was about leaving your inhibitions at other tents and getting down into a different type of trance and dancing the night away.