In the beginning of June of every year, most musicians and music lovers know that the greatest festival of all time takes place in that small town in Tennessee called Manchester that has become famous for this unique and prodigious extravaganza. This was my fifth time out of its six year existence that I have made the pilgrimage to this Mecca for music. It is never without struggle, conflict, or a challenge that one achieves complete bliss or fulfillment. After a flat tire, getting pulled over by the K-9 unit for no reason, and getting lost after walking for several miles to get my ticket and press pass, I finally made it to my camping spot with my friends on Thursday evening. My goal for this festival was to see bands that I don't normally get a chance to see, and to take in as music as possible.
After setting up, we walked down to the new and swanky Somethin' Else Jazz Tent to see the Stanton Moore Trio. We underestimated this shows allure because the tent was full to capacity, and we had to wait for people to leave before we could enter. I heard most of the show from the line, and I figured that we were going to stay for the next show anyway, so we waited. Once the show was over, the crowd emptied and we were the first ones in for the world renowned Lou Donaldson and Dr. Lonnie Smith Quartet.
Lou Donaldson & Dr. Lonnie Smith Quartet
It was extremely comfortable in this air-conditioned tent with table seating and a waitress serving drinks of all kinds. We got a large table, cheers everyone when we got our drinks, and waited for the musicians to grace the stage. The only negative to this tent was that there were no bathrooms.
As the legends of jazz came on, the crowd cheered, and the band began to play, as referenced by Donaldson (alto saxophonist and singer), classic jazz, not to be confused with fusion or confusion. Donaldson has a lot of experience playing bop with the likes of Thelonious Monk, Clark Terry, and Art Blakey.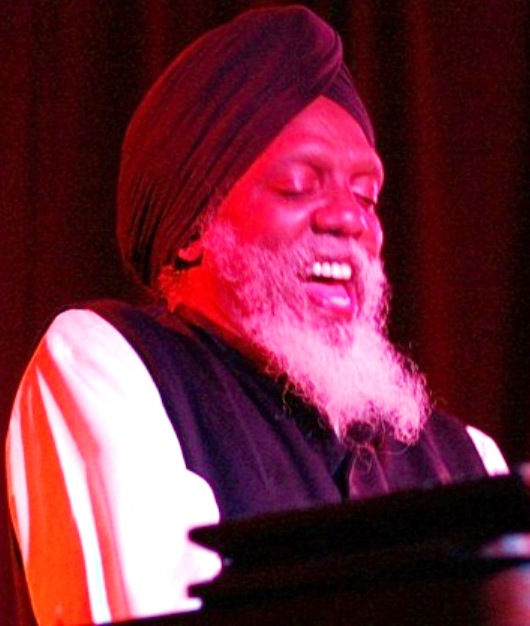 Dr. Lonnie Smith has been known as an authentic Master of the Hammond B3 organ for over fifty years. This is one of the most difficult instruments to master due to the fact that one has to control two keyboards and the bass pedal all at the same time. He does it with softness and ease. He appears on over 70 albums, and on this night, the crowd got to experience a gem of a show.
The band played a lot of their own music while mixing in covers of "What a Wonderful World" and a couple of Charlie Parker songs. They swing with amazing emotion and beat. The most memorable part of this show was Donaldson's funny storytelling songs that included his improvisational lyrics and scat type singing. Overall, it was great to see these two great musicians.
Rodrigo y Gabriella (#5 Best show of Bonnaroo)
Next, it was time to see another powerful duo shine, so it was over to That Tent to see Rodrigo y Gabriella. I've been longing to see them since their show in Philadelphia was canceled due to the stupidity of our government. Because Rodrigo y Gabriella are from Mexico, they had to pass through immigration on their most recent tour of the U.S. First of all, they've toured here before. But, this time our "great" immigration officials decided that Rodrigo has a name that is similar to someone who apparently is on a terrorist list, and they refused the band entrance. They had to cancel a few shows on their most popular visit to the States. Eventually, they got permission to tour, and they rescheduled some of their dates. After they told a little bit about the story on stage, Gabriella said, "Fuck the Visa!" I wasn't going to miss them this time for anything!
Rodrigo y Gabriella are two acoustic guitar players that combine thrash metal with flamenco styles. The result is some of the best sounds that one will ever hear from two guitars. This show was amazing and made #5 in my opinion of the Best of Bonnaroo. You cannot believe the speed in which these two play. Gabriella's hand was strumming, plucking, and slapping all at the same time throughout the show. She played percussion, bass, and rhythm, while Rodrigo played arpeggiated lead, rhythm, and bass switching on and off depending on the song. They reminded me of the world class album Friday Night in San Francisco, DiMeola, McLaughlin, and De Lucia with attitude and a strong Latino influence. This show was so powerful!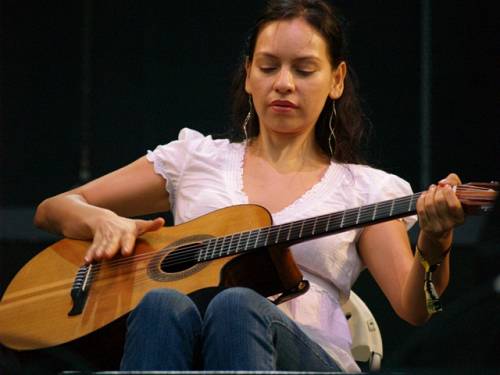 The duo has gotten a lot of attention and press lately because of their unique talent. On this night, they played a lot off of their self titled album, which includes the hits "Tamacun" and "Diablo Rojo". They also played the covers "Stairway to Heaven" by Led Zeppelin and the balled "One" by Metallica, not including all of the Metallica teases throughout the show. Rod and Gab teased lots of Black Sabbath and Slayer, and even covered "Take 5" by Dave Brubeck. The greatest part of the show perhaps was teasing "Voodoo Child" by Jimi Hendrix, and then sneaking into Rage Against the Machine's "Bombtrack." But, that wasn't all. Rodrigo y Gabriella played "Wish You Were Here" by Pink Floyd while the audience sang all of the lyrics. This was the climax of this amazing show. The crowd was buzzing all over the grounds about this talented group all night.
Another band that the crowd was buzzing about on the first night was Clutch. I did get a chance to see a couple of their songs, and they sounded like they were rockin'. There was also crowd surfing going on throughout the crowd. They had an interesting sound, and there was a large crowd experiencing their show.
Friday 6/15
As the hot sun rose and the speckled dust flew throughout the air, fans began to feel the effects of the non idyllic conditions of the hot south. It wasn't the hottest day of the festival, but it sure was dry. Manchester is in the middle of their worst drought in 110 years. Their rainfall is 15 inches below normal, but it was Friday, the first full day, and the weather wasn't going to slow anyone down.
Here to sing about rain and loss in his song "Katrina" was a jaggedly soulful South Carolina blues guitarist and singer, James Blood Ulmer. Ulmer has a deep musical history that goes back to Art Blakey just like Lou Donaldson. But, he has worked extensively with another Bonnaroo 2007 musician: Ornette Coleman. In the 1970's, Ulmer was the first electric guitarist to record and tour with Coleman. During this time, Coleman's fusion really benefited from having Ulmer's Zappa sounding style. I got really close to the front during this show and listened to the stories told by his guitar. His guitar sounds like someone talking or eavesdropping into a conversation that Ulmer is having with someone else. This is the perfect afternoon set of music.
Although I didn't see this show I feel the need to report about its significance. They were the first band to bring up a special guest. Not only was it a special guest, but it was the Artist in Residence, the legendary bassist from Led Zeppelin, John Paul Jones. Jones produced the all female band's third album called Waterloo, Tennessee. He sat in on a few acoustic songs and played mandolin on Bob Dylan's "Wallflower" and King Wilkie's "The Last Goodbye." I wish I would have seen this one, but this sort of thing is expected at Bonnaroo.
Brazilian Girls (Most Unexpected Great Show Award!)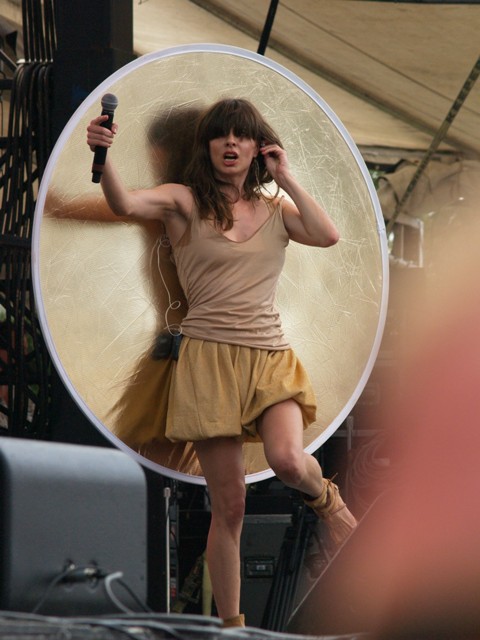 I knew who the Brazilian Girls were going into this show, but what I didn't realize was what a great live show they put on. It was as sexy, raunchy, and HOT as a show could possibly be. First, I'd like to say that the Brazilian girls are not from Brazil, and there is only one girl in the band named Sabina Sciubba who exudes sensationalism. She is the lead singer and front woman with style. She is artistic on stage and sings in five different languages (English, German, French, Italian, and Spanish) often at the same time in a song or even a sentence. For this show, she was wearing a gigantic circle on her back with high boots and a tantalizing smile. Toward the end of the show she yelled out to the crowd, "Who wants pussy?" The crowd responded as you can imagine. Then she yelled, "Who has pussy?" Most of their big fans knew that they were going to play their song entitled "Pussy," from an older album called Homme. The chorus of this song boasts, "Pussy, pussy, pussy, marijuana." Bonnaroo loves this tomfoolery. In addition, their bass player, Jesse Murphy, who has played in John Scofield's funk band was thumping the bass in this large venue. Their music genre is hard to describe because of its complexity. But, if I had to I'd say that they were experimental electronic, kind of like Bjork. All in all, this band is amazing. I cannot wait to see them when they come back from Europe at a venue all by themselves.
Set 1: Omnichord > Swung From The Gutters, Monica > In Sarah, Mencken, Christ and Beethoven There Were Women and Men, Unknown > Dot/Eyes, It's All Around You, Crest, Eros, Magnet Pulls Through, Blackjack, Five Too Many, Glass Museum, Salt The Skies, E: Seneca, I Set My Face to the Hillside
Press Conference #1
Attending Members: Lily Allen, Nathan Willett (Cold War Kids), Warren Haynes, Richard Thompson, David Cross (comedian), and ?uestlove (The Roots)
This was the first press conference for musicians at the festival. It was really wonderful to see all of this talent all on a stage to answer questions about life, music, festivals, and whatever else came to mind. The indie pop success Lily Allen started the conversation by saying, "I am flattered by people who see her set instead of the others." But then later she made a reference about avoiding comparisons to other pop stars like…then she wisely stopped. This was interesting because David Cross earlier said that he was a fan of indie music, and he hates noodling and doesn't really like "hippie bands." But, don't fear, Warren Haynes came to the rescue and proceeded to tell him off by making him look really dumb. Haynes said, "Well jam bands have been around for a number of years. If you say you don't like jam bands, then you're saying you don't like jazz, blues, rock or any music that improvises. Jam band is an odd classification. It requires being open-minded. We are considered a jam band, but we are heavier. We're like the red headed step child of the jam band scene." Haynes also made a comment later when Lily Allen almost revealed who people unfortunately compare her to. While the host pried her to name names, Haynes said, "Ask David Cross, he doesn't have any problem sellin' people out." Then, the panel laughed.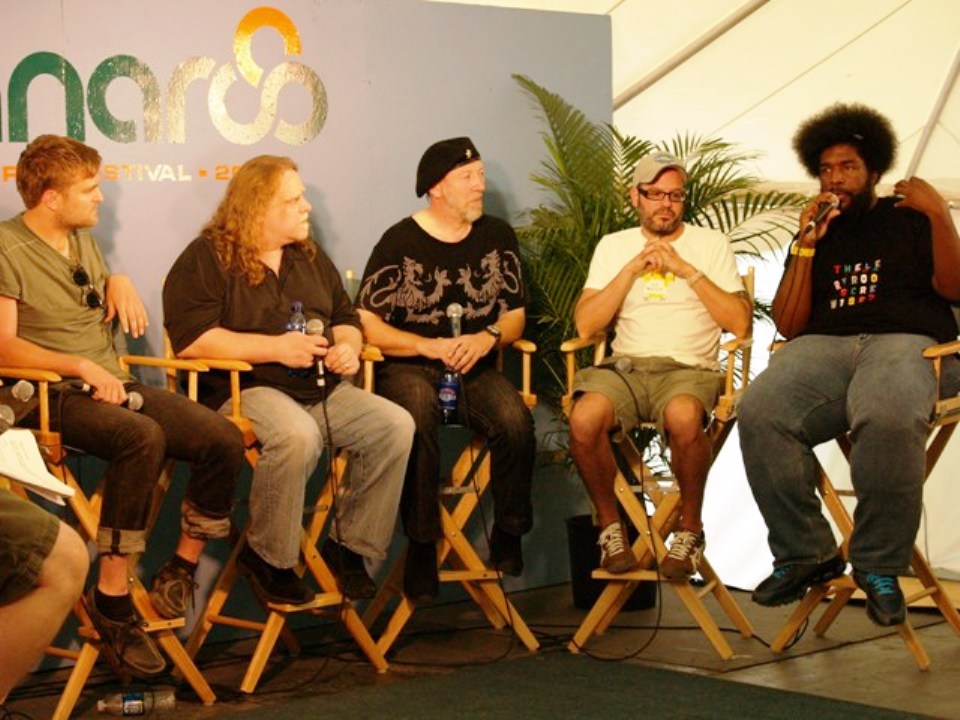 ?uestlove, the extraordinary drummer from The Roots, came a little late to the show, but was welcomed warmly by the panel and the press. First, I have to say that I saw ?uestlove play the SuperJam in 2005 with Herbie Hancock, his guitarist Lionel Loueke, and the great session bassist Pino Palladino, who has played with the Who (post Entwhistle), Clapton and J.J. Cale, John Mayer, and Simon and Garfunkel. ?uestlove was super impressive in one of the best jam sessions that I have ever seen. This year he was playing with John Paul Jones and Ben Harper. When asked about this collaboration, he said, "I haven't slept yet because of how nervous I am about playin' with these legends." When the host asked him if he liked hippies, he said, "Yeah, I love hippies. Hippies pay my bills." Everyone got a big laugh out of that. Finally, the Philadelphia native was asked what he was most excited about, and he said, "Honestly, I would do anything to see the Police up close. I wanted to make sure to play this year so that I could ensure myself a spot for the Police. I even have a photo pass for their show."
This is really the first show that conflicts of interest came into play because this show was at the same time as Michael Franti & Spearhead, The Nightwatchman (Tom Morello's new band), Hot Chip, and Gillian Welch. But, I had to see Kings of Leon because not only was their hit song "On Call" in my head for most of the spring, but I was in the mood for straight rock n' roll from the Tennessee locals. These guys are a family, literally. Kings of Leon consist of three brothers and a cousin, and their name comes from their grandfather. They have really taken off in popular opinion within the last few years and for good reason. Their music is good. Lately, they have given some of their songs for Jetta commercials, video games, movie soundtracks (Disturbia and Stuck On You), and even television series such as Entourage. Needless to say, this band can write music. But that's not all, their new album, Because of the Times, debuted at #25 in America and #1 in the U.K. The show was very good. They blended almost every genre of rock into one show. I heard influences of indie rock, post punk rock, garage rock, alternative rock, southern rock, and bluesy rock. The show even survived the only drizzle of the weekend, which included a brief power outage.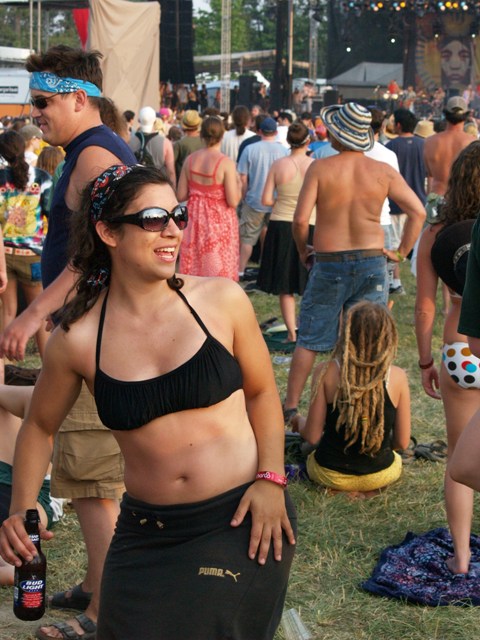 Since I wasn't able to attend the other amazing shows at this time because of the press conference and the Kings of Leon, I decided to add some notes and setlists of the other shows.
Gillian Welch brought up that same special guest that Uncle Earl brought up, John Paul Jones. He joined her and David Rawlings for their popular "Back in Time", and three other songs. We were all alerted by Trey Anastasio in 2005 to make sure to see Welch's set, but no one gave me fair warning this year. She also named John Paul Jones the "King of Rock and Bluegrass." That's quite a title.
Set 1: Orphaned Girl, Elvis Presley Blues, Rock Of Age, ?, I Wanna Sing That Rock And Roll, ?, ? *, Back In Time *, Key To The Kingdom *, Everything Is Free, ?, 1st Lover, ?, ?, Time (the Revelator), ?, ?, I'll Fly Away, Jackson *
* With John Paul Jones Mandolin
Set 1: Time To Go Home, We Don't Stop, Sometimes, Hey Now now, Taxi Radio, People In The Middle, Bob Marley Medley, Sweet Little Lies, East/West, Stay Human, Rock The Nation, San Quentin Story, Nobody Right/Wrong *, High Low, What I Got (w. Sesame St. theme), Hello Bonjour, Yell Fire, I Know I'm Not Alone, Have A Little Faith, Everybody on na move
Set 1: (first new song), Shake A Fist, And I Was A Boy From School, Hold On, (Just Like We) Breakdown, (fourth new song), No Fit State, The Warning, Over And Over, Ready For a Fall (New Song), The Beach Party
I was only able to catch about a half hour of this set, but this show was a party. From the very start the band played an unusual set, complete with covers of Sly and The Family Stone, Chuck D, Cab Calloway, Jaco Pastorius, Bob Dylan's "Masters of War," and Biz Markie's "Just a Friend." The crowd was really into their show it was a hard set to leave during. On the other hand, I have been waiting to see Manu Chao and Radio Bemba Sound System for years.
Manu Chao Radio Bemba Sound System (#4 Best Show)
This was the show that I danced and sweated to the most during the weekend. I think if there was a way to see people dancing without hearing the music, it would appear to be a foot-stompin' bluegrass show. Manu Chao plays completely different to a large live crowd than he does on his studio albums. On the album he captures a groove and flows impeccably, whereas live, it is a high energy ska type pace.
For those of you that don't know Manu Chao, he was born in France to Spanish speaking parents and was involved in the French alternative type music scene. His first band, Mano Negra, which was heavily influenced by the Clash, blossomed in the 1980's, but by the mid-nineties, he started Radio Bemba. He met many diverse musicians in Spain, and finally recorded one of my favorite albums called Clandestino. If you don't already own it, trust me, it is a staple for anyone's collection. Clandestino and his second album Proxima Estacion: Esperanza, which is also very good, were highly successful in Europe. The latter selling 2.5 million copies in France, which is the most in France's history! His anti-establishment and anti-globalization lyrics make him popular with underground scenes everywhere.
On this day, the surprisingly short man with a big voice inspired the Bonnaroo crowd to dance without inhibitions. He played all of his popular music including all of my favorites songs like "Bongo Bong," "Welcome to Tijuana," "Clandestino," and "Desaparecido." The show was big, and many people who have never even heard of Manu Chao flocked to this stage as soon as they heard his music. It was a lot of fun dancing with random other fans so happy to see him finally at Bonnaroo.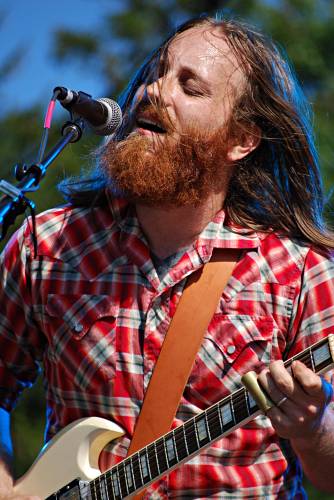 Set 1: Thickfreakness, Girl Is On My Mind, Just Got To Be, The Breaks, Stack Shot Billy, Busted, Everywhere I Go, Set You Free, Your Touch, Your The One, Grown So Ugly, No Trust, Have Love Will Travel, E: ?, Til I Get My Way
Tool (Best Lights of Bonnaroo, by far)
This was the show that I was anxiously awaiting because of all the hype that I was hearing. I have never seen Tool before this show, although I do consider myself a fan of their powerful music.  They came on stage in their unorthodox method where singer Maynard James Keenan and drummer Danny Carey take the back row on an elevated platform, while bassist Justin Chancellor and guitarist Adam Jones stand on the edge of the stage. They use a lot of backlighting so that the focus is taken off of the band and onto the large screens where the artwork of Breckinridge Haggerty (live lights and video designer) is done. The videos are always improvised and are never the same from one show to the next. The shadows are where lead singer Maynard likes to wallow in during his journey of their concerts, and his voice fuels the fire that awakens the band's momentum. Guitarist Adam Jones is responsible for the band's artwork concepts. He also collaborates with the famous artist Alex Grey to create the eerie images that usually grace the screens of their venues. At Bonnaroo, where people like to indulge in psychedelics, this could either be scary or for the strong hearted intensely enlightening. This is not the typical liquid looking light show, but more like the structure of the brain or skeletal dimensions of a fetus or a human cadaver. The screens are slightly scary, but beautiful in their creativeness, and the adventure is kept powerful by the drummer Danny Carey who pounds on the bass drum as hard as anyone. On this night, Carey carried the music. This is most impressive because he is healing from a torn bicep surgery from a wrestling match with his girlfriend's dog. Tool had to cancel a lot of shows on their American tour because of this unfortunate event. But Bonnaroo could not be canceled, and Carey was amazing!
Tool opened with "Jambi," the second song off of their new album 10,000 Days. This story that could be about a rich sultan from Indonesia who lived life to the fullest, started the show off big. "Stinkfist" was next and shows off Maynard's different styles of vocals that continue to amaze crowds. This is just one song that caused unnecessary controversy in the public's eye. MTV actually had the nerve to change its name while playing their video. They changed "Stinkfist" to "Track #1" because of its so called offensive connotations. Crap! The new and bass heavy "The Pot" was next, followed by "46 & 2" off of AEnima. The title of this song refers to an idea by Drunvalo Melchizedek that basically describes what the human body would be like with just two more chromosomes then the normal 46 making a very disharmonious state. Chimpanzees have 48. The lyrics also scream about wishing to change through ones shadow, where Maynard loves to belt out his songs. The Grammy award winning song "Schism" was next. This semi-mellow song led by Chancellor's killer repeated bass lines sent the crowd into a trance. Then, another new song called Rosetta Stoned added a cloud of smoke throughout the large concert area. "The Flood" and "Wings for Marie" called upon laser beam lights that were shot throughout the crowd. I've never seen light like these before in my life. They shot thin laser beams into the sky as far as the eye could see then reflected into the horizon as far as the eye could see. They came in many colors and really had the crowd looking around in amazement.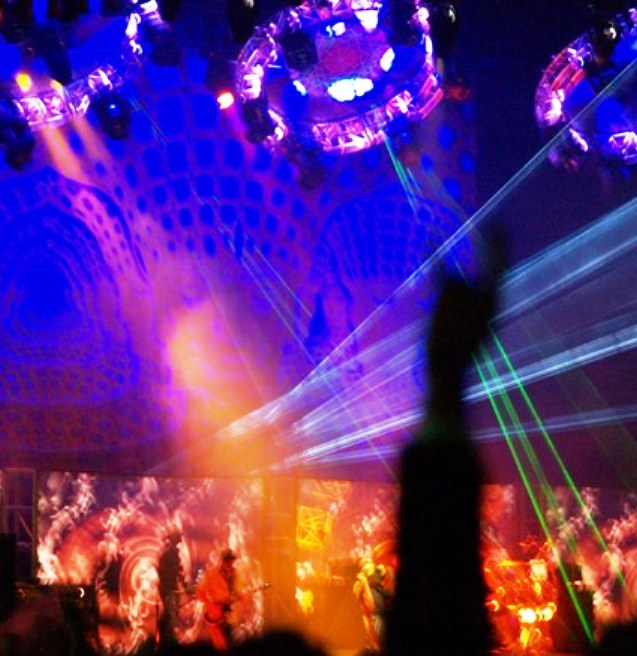 After "10,000 Days," Tool brought a special guest up to the stage. It was the man that introduced Jones and Carey, which later contributed to forming Tool. Introduced as the "Nightwatchman" himself, Tom Morello of Rage Against the Machine and Audioslave. Morello was at Bonnaroo performing with his new band, The Nightwatchman, and when he came on the stage he played his signature style guitar as the crowd went wild. This was the highlight of this show. They played "Lateralus," with Morello and finished with the popular rockers "Vicarious" and "Aenema."
I would like to apologize to the kid who passed out before my mosh pit neighbors' feet at the sound of my scream. It was at that point in the early morning, somewhere between midnight and dawn, when the thick voodoo pierced my soul sacrificing my voice to the hottest, heaviest, dirtiest jam I have witnessed in my short thirty years on this planet. The victim can take solace in the fact that four nights later my voice has yet to return. Yet he was hardly the only person whose knees buckled at the sounds emanating from the stage.
SuperJam (#3 Best Show of Bonnaroo)
*This review is written by my good friend and bass player Reggie Stiteler because of how much he loved this performance. Enjoy!
I would like to apologize to the kid who passed out before my mosh pit neighbors' feet at the sound of my scream. It was at that point in the early morning, somewhere between midnight and dawn, when the thick voodoo pierced my soul sacrificing my voice to the hottest, heaviest, dirtiest jam I have witnessed in my short thirty years on this planet. The victim can take solace in the fact that four nights later my voice has yet to return. Yet he was hardly the only person whose knees buckled at the sounds emanating from the stage.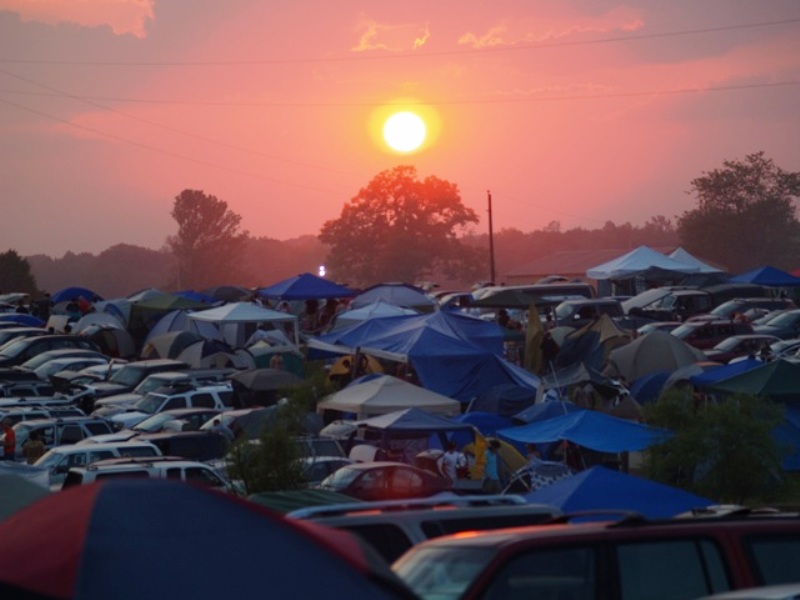 After initially being ignored by American radio, the Delta Blues made a ghostly return at Bonnaroo 2007 not far from its birthplace in the form of one of its original 1960's English torchbearers. "The Mighty" John Paul Jones and his electric bass teamed with two of America's potential legends, lap steel guitarist Ben Harper and drummer Ahmir "?uestlove" Thompson. With no rehearsal and corresponding solely by e-mail before Jones met his new jam buddies for the first time the day of their show, the three-piece leaned heavily on Jones' extensive Led Zeppelin repertoire and only needed to communicate in their well practiced, universal language of the blues.
The size of The Other Tent could not contain the vast interest this one-time-only lineup attracted. Fans and zombies alike frantically swarmed the fields surrounding the fifth largest stage at the festival, blindly stomping on blankets, people, anything in their way. Many views were obstructed and some of the acoustics were muffled in the distance. Lesser men used these excuses to retreat to a more "comfortable" festival locale. Those lucky enough to get a good place to stand were rewarded tenfold and the slow filtering out of the claustrophobic allowed room for the avid fans to squeeze to the front. If one wanted the vibe enough, it was there for the taking.
At the very beginning there was a point when many others were tempted to leave. A young, bald stand-in for Jones caught the die hard off guard, played the beginning notes of an opening tune before the band revealed the joke to the naïve. After Jones finally took his usual place stage right, it was good times…more specifically, Good Times, Bad Times. Lift off.  Jones looked, sounded and moved like the youthful soul whose sly contributions helped establish Led Zeppelin as one of the time's most influential bands.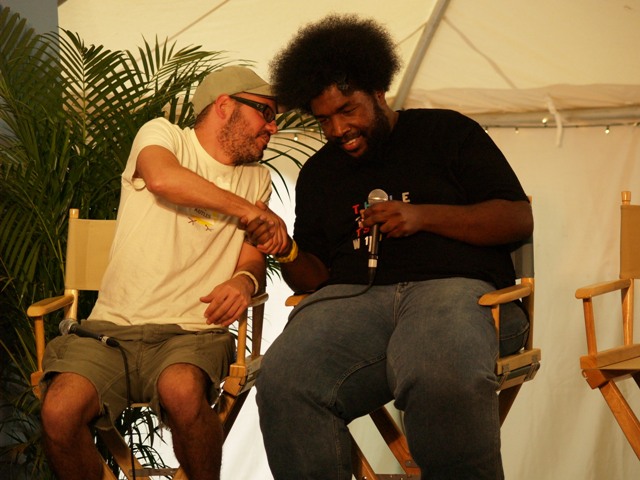 Both Harper with The Innocent Criminals and ?uestlove with The Roots have earned a reputation for writing emotionally charged songs. Given the frustration of two specific issues here in the U.S. it's really no surprise two following selections carried timely, pissed off, yet heartfelt, genuine undertones. Jones punchy bass on Zeppelin's Immigrant Song tease and deep groove of When the Levee Breaks provided the platform for his temporary band mates to vent. Harper's screams carried the tortured spirits of blues past, while ?uestlove hit his drums with the vengeance of the collective oppressed. Playing with a man carrying so much history and tradition brought out notes and beats impossible to rehearse, let alone repeat elsewhere.
By now the band is locked in and the casual spectators off to another show, leaving the most passionate fans and a more confident, loose power trio. Arguably, the most familiar Led Zeppelin bass line followed, introducing the former band's most jam-friendly composition. Looks of amazement covered the sweaty faces of those nestled close to the stage as the Super Jam eased into Dazed and Confused. Those looks of amazement transformed into electricity as Harper did his best Jimmy Page impression translated on his lap steel. What followed next was total disbelief as fans looked around for confirmation that what they were witnessing was really happening. The vibe was the thickest it had been all night now that the band was familiar with each other's musical personalities.  Space was created for each member to take the lead and the others in turn to accent. Not even the musicians on stage knew where things were leading. Fans were dropping like flies under the increased intensity.  It was at this point my voice was muted by powers beyond my control (and the aforementioned kid hit the floor). I happily accept that price in order to numb my body and soul with that ancient vibe passed down and energized from generation to generation to generation. A half hour later the band began a rock star ending that would make The Who jealous. Refusing to let the song end, Jones repeatedly faced ?uestlove and locked eyes to drag out the inevitable. The band took their bows leaving their audience stunned in disbelief.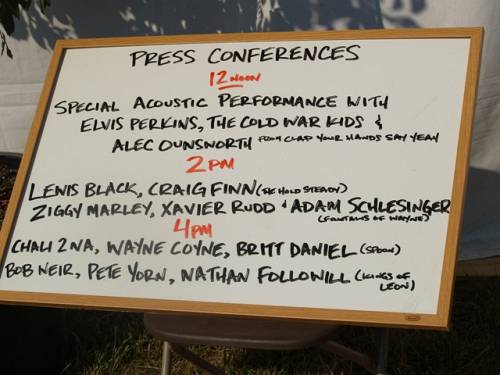 After a brief absence from the stage, the Super Jam returned and the lucky crowd was in for one final treat.  Joined by Captain Kirk, ?uestlove's guitarist in The Roots, the foursome bounced into Stevie Wonder's Superstition for one last taste of raw, sweaty, rock 'n roll voodoo bliss.  Being struck by lightning never felt so ridiculous.
June 20, 2007
I like String Cheese a lot, but I couldn't justify leaving the once in a lifetime SuperJam for anyone unless it was Phish of course. Anyway, by the time I got over to their set, they were still going strong at 3:00am. And the music was very peculiar in a good way for String Cheese. They were weaving in and out of genres like the professionals that they are. This is a defining quality in a band for me. I appreciate bands that can switch types of music like they do. Being that this is supposedly one of their final shows (although they're playing till January), they really let it all out.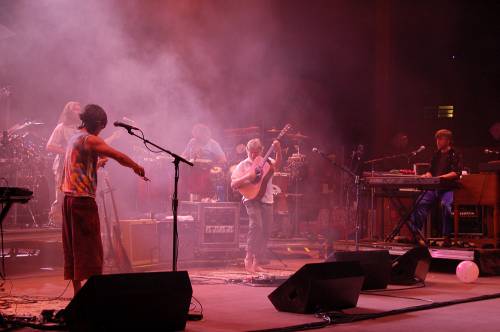 In the second set, fans could have expected Cheese's longtime friend Keller Williams' guest appearance from the first song "Howard." The reason I say this is because he wrote "Howard" with Michael Kang. Williams did come out to jam for "Stayin' Alive" and "Best Feeling." I got there just in time to see them go into "Howard" the second time after "Drums." The crowd was excited to say the least. Even though one could easily see some tired people walking around, this stage was still movin'. They closed the second set with the uplifting "Search," Then, encored with "Farther" and "Way Back Home."
Set 1: Instantly, Aimlessly, Rent, 1103, Abcees, Breathe In, Four Year Puma, The Rabble > Tap In, Be Nice, Evasive/Kamuy, Bigs, Lo Swaga, Orbital, The Unquestionable Supremacy Of Nature, Moon Socket, One A Day, E: Tooth > Open E
This concludes Part 1 of the Roo. Please come back to read the second part coming soon.
* All setlists came from www.setlist.com