The Congress are living the last American adventure.  They've been on the road in support of their debut record, Whatever You Want, for months.  They've been hauling a trailer full of equipment from city to town, looking for a place to spend the night, just trying to make a living.  "Every night we're in a new city.  We don't know anything about the venue.  We don't know anybody."  Says guitarist Scott Lane.  "Or we know everybody.  It's crazy."
"We're just trying to build a life for ourselves." Adds drummer Mark Levy.  "We have a room full of people, we try to make a connection.  Even if we have two people, whatever they want to do. We'll play."
That seems to be the good idea of The Congress - getting people together around music to have a good time.  Lane and Jonathan Meadows, a singer who can sing, knew each other from Richmond before Lane moved to Denver.  "The Congress originally began as a recording idea."  Meadows explains. "We were in different cities.  We'd call a congress to get together and jam."
Eventually Meadows followed Lane to Denver.  They met Levy on the Denver music scene and he joined the band when things didn't work out with his own outfit. That was two years ago.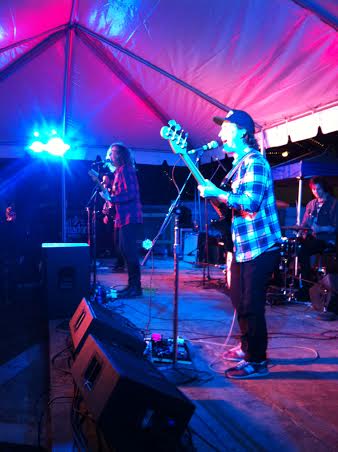 Five months ago, on May 1st, they released their first record - Whatever You Want.  With song titles like "100 Miles" and lyrics like "Keep Virginia in your heart," you get the impression the band misses that city on the James River.
Well, they might.  They did just play two sold out shows to home crowds at The Camel.  But they are not despairing on stage this night.  They are making their Washington D.C. debut at Hill County BBQ, and open with "Distance", off their new record.  It pairs a dance hall riff right out of the 70's with a lyric straight out of Barnes and Noble ("The distance between us, you know it ain't that far.  From Mars to Venus, they're only miles apart.")  Unfortunately, the mostly-full house at Hill County is, for the most part, still sitting down leaning over its pulled pork.
"It's not something we set out to do." Meadows says of the apparent theme of the record. "I'm writing about what I know.  I'm making moves every day. I'm seeing the world through the car window.  If that came out in the lyrics on the record, it was not a conscious choice."
Fair enough. It's exactly how you might feel coming home from work on the bus on a Tuesday night.  If you're tired and want to go home and you write songs, you'd write a song.  You don't have to swim a thousand miles to find the answer.  And Meadows admits, "After this tour, it will be nice to put my feet up in Denver, look at the mountains, and write some new songs."  Who can argue with that plan?
Anyway, time for that later.  As Warren Zevon said, I'll sleep when I'm dead.  Tonight, there's a show to play. "We like and listen to all music, but if you made us put a spotlight on one genre, it's 60's and 70's rock." Levy says.
True to that word, sprinkled in with a healthy dose of music from their new record and their EP, The Congress, the live show includes covers of Fleetwood Mac (with Meadows doing a gorgeous impression of Stevie Nicks), The Grateful Dead, Paul McCartney and Wings, The Band, Neil Young (with Lane turning in a solo that could have come out of the Neil Young archives if it wasn't so much his own) and a show-stopping second set cover of "Killing Me Softly" by Roberta Flack that finally got the two cute blondes at the bar unglued from their stools and onto the dance floor after most of the rest of the crowd had already found their feet.  (Outside for a smoke after the first set, Meadows promised things would get looser.)
If their sound on record jumps from blues, to jazz, to reggae, pays tribute to Paul Simon's Graceland (on the tune "Echoes"), and goes from carnival organ to doo-wop harmony on "Oh Babe"; on stage The Congress is more transparently a confident, straight-ahead blues rock band.  And they can play.  Levy, schooled in the classical style at New England Conservatory in Boston is frenetic, hard to keep up with on the drums.  Meadows grooves inside his bass line, even though he is still learning after the former bassist recently left the band.  And Lane, what to say about his playing?  It's a testament that whatever The Congress aims to be on record, at the core, it's a rock and roll band.
And that's a party.  Early in the set, a friend of the band got onstage to welcome The Congress to D.C..  He called his girlfriend to the stage to say a few words (thought process - what the hell is going on here) but it turned out to be pretense.  He proposed, she said yes, and the band launched into The Dead's "They Love Each Other".  After the third shot of tequila was passed around onstage, Meadows toasted, "Hey, it's a Thursday night.  Happy prenuptials.  Happy Thursday.  Happy life."
On tour in a new city, playing music that makes a connection with the crowd, whatever you want.  It's the last American adventure.