Rising retro rock outfit Coral Moons have announced the August 6th release of their debut album, Fieldcrest, an evocative 9-story telepathy of liberation and salvation produced by Sam Kissirer (Lake Street Dive, Josh Ritter, The Dustbowl Revival).
Coinciding with the album drop is a series of shows in the Northeast including the official launch at Aeronaut Allston (8/6), a stop at Bug Jar in Rochester (8/19), a return to Bowery Electric in NYC (8/20) and a Sunday slot at the Levitate Music and Arts Festival (8/8). Other confirmed acts for the two-day pop-up fest include Billy Strings, Grace Potter, Trevor Hall, The Elevators, and Ripe.
"Coral Moons is play on words for colorful & textured shapes that make up our music. The name sparked from a backpacking trip I did into the depths of the Grand Canyon where I spent a few days at a place called Mooney Falls, one of the most beautiful waterfalls my eyes will probably ever see. My nickname throughout my life was always Coral, a variation of sorts of my first name, Carly. On my hike out of the Grand Canyon, I just kind of knew that the name had left me inspired and I put two and two together. We make jokes that our fan base is called the Moon Beams," shares vocalist/guitarist Carly Kraft, the songwriting force fueling the crescent exposition.
If a quarter-life crisis leaves you flummoxed on a desert highway, just know it's part of the process to get to Osiris.
It began with a flange.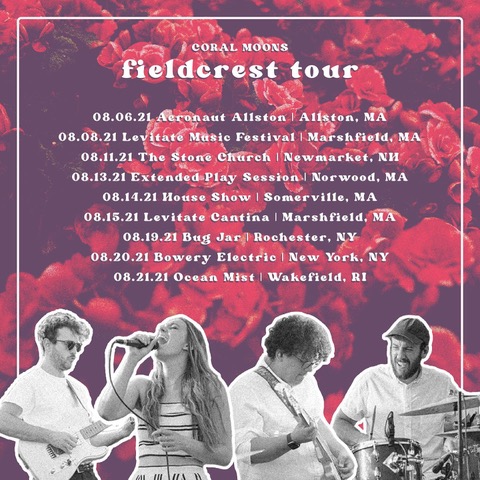 Kraft recollects, "Our story began in a corporate office, actually. I met Manuel Camacho (our bassist) at our day jobs where our boss was looking to incorporate more music in the office and wanted to do some open mics. We started experimenting with 70s rock covers where he would play guitar and I would sing. I always wanted to be in a band growing up but never played any instruments (other than the Oboe in Wind Ensemble and Orchestra) so Manuel taught me some basic chords and soon thereafter I wrote the songs for our first EP."
Coalescing the Coral solar system are guitarist Justin Bartlett and drummer Kevin O'Connell, both of whom had performed in 2018 indie rock/ambient folk project Hope & Things, releasing one EP, an apt open-hearted precursor the unknown road ahead.
Within three months of the release of their debut single' "Fall In Love" in July 2019, Coral Moons rocketed past 50,000 streams while appearing on over 600 playlists worldwide. Local media took note, with Boston's NPR affiliate WGBH featuring the upstart quartet alongside other buzzworthy artists like Clairo, Brittany Howard and Allen Stone.
Their debut EP, Quarter Life Crisis, soon followed, heightening the frenzy as they quickly stormed the music scenes of the Northeast bringing large crowds to sold-out rooms in Boston, NYC and Rochester. Selling out Lizard Lounge (in Boston) three times in 2019, while also opening for nationally touring acts such as Motel Radio, AHI, Ripe, and Brother Moses, Coral Moons were lined up for a 2-night hometown stand in mid 2020 before the pan global submersion happened. Taking the time to dive into writing, they ended the year with the framings of a 9-song album while garnering noms for "Video of the Year" (for "Winnebago") and "Alt/Indie Artist of the Year" for the 2020 Boston Music Awards.
The pause and the periphery, it's all informed their journey.
Influenced and inspired by Alabama Shakes, Tedeschi Trucks, The Eagles, Maggie Rogers, Amy Winehouse, The Allman Brothers, and Lake Street Dive, the band poured themselves into the vast expanse of Fieldcrest, a raw, vibrant mix of rock, jazz, pop, soul, funk and blues, its lapel rings classic without being nostalgic.
"Fieldcrest is defined as a sentimental longing or wistful affection for the past. It's the street I grew up on in Upstate NY and has always held this positive emotional space for me," shares Kraft."
As a further lineage of "Fieldcrest" (also a Marshall Field's department store brand from the early 1900s) and a nod to a seminal transformative era in art and music, a 70s era photo of Kraft's Aunt Melanie adorns the LP's cover. The resemblance is striking.
Equally arresting is the band's intuitive chemistry, each member's personality and influences complementing one another, almost like sonic jenga. "I lean towards female-fronted indie rock bands, like Lucy Dacus, Phoebe Bridgers, Samia and Faye Webster. Justin is really into psychedelic + heavier rock and so he loves Thee Oh Sees, Manchester Orchestra + King Gizzard. Kevin loves a lot of folk and soul - like White Denim, Nick Hakim & Sean Triska (of Lula Wiles). Manuel is probably the most surprising - he's a very prog rock kinda guy - very into Haken," says Kraft.
On paper, it sounds like a mishmash but in practice, it's a masterclass in the best of us. Waves awash in fields of bloom tell us to run like we used to. Rich in depth, as if spiritually sent, the music is cinematic, the mood embodies every phase of the moon. Waxing, waning, gibbous, glowing, full of life, overflowing. Aural sleuths with many a Moog and no need for auto-tune.
Coveted as a mystical elixir, a spiritual trigger to spatially tune the heart chakra to the megahertz of the universe, coral is a symbol of resolute wisdom, happiness and immortality. Bestowing comfort, optimism and peace of mind, it's a door to discovery, a flame blazing the loop, a full moon fever cresting towards universal truth.
Lunar couth in full view, Coral Moons illuminating a city near you.
Carly Kraft - Vocals, Guitar
Justin Bartlett - Guitar, Vocals
Manuel Camacho - Bass, Synth
Kevin O'Connell - Drums, Percussion
Tour dates:
Aug 06 - Boston, MA @ Aeronaut Allston (Zone 3) [Record release show]
Aug 08 - Marshfield, MA @ Levitate Music Fest, Marshfield Fairgrounds (1:30-2:30pm)
Aug 11 - Newmarket, NH @ Stone Church (Dead Archer)
Aug 13 - Norwood, MA @ Extended Play Sessions at Fallout Shelter
Aug 14 - Somerville, MA @ House Show
Aug 15 - Marshfield, MA @ Levitate Backyard Cantina
Aug 19 - Rochester, NY @ Bug Jar
Aug 20 - New York, NY @ Bowery Electric
Aug 21 - Wakefield, RI @ Ocean Mist (w/ Ripe)
Sep 11 - West Stockbridge, MA @ The Foundry
Coral Moons
Fieldcrest
1. I Feel Alive
2. Beach Song
3. Winnebago
4. For you
5. Like We Used To
6. Tell Me To Run
7. Other People
8. Under Control
9. Fieldcrest