Austin's own, The Cuckoos, today release their debut full-length record I Hate Love. The 10 track record includes songs released as singles:  "We Can Take A Trip To Another Day", "Why Don't U Ever Call Me Anymore", "Carpe Diem", and "Lady Boy", along with six previously unreleased songs.
Taking inspiration from many different musical genres, across many decades of music, The Cuckoos have crafted an album that sounds familiar while still being completely original.
Lead singer Kenneth Frost's smooth vocals perfectly mesh with the bands dancey, funky tracks. I Hate Love was produced and mixed in Austin by Chris "Frenchie" Smith (…And You Will Know Us By The Trail Of Dead, The Toadies, Fastball) at the Grammy-nominated producer's studio, The Bubble, and mastered by Gavin Lurssen (Chris Cornell, Frank Zappa, Iggy Pop, Kid Cudi) and Reuben Cohen (Leon Russell, Dweezil Zappa, The Motels)
I Hate Love exclusively premiered on POPMATTERS who said "[The Cuckoos] conjure memories of Bauhaus but with a more succinct, direct approach via numbers such as 'Heartbreak Paradise', 'Lady Boy', and 'I Can't Get Over You'."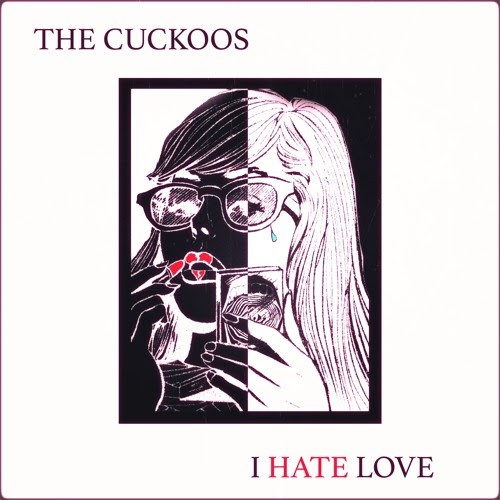 The Cuckoos also appeared on Austin's renowned NPR affiliate, KUTX, yesterday performing two songs and being interviewed by Deidre Gott about the release of I Hate Love.
The Cuckoos will perform an album release show at Cheer Up Charlies in Austin on 1/25/20 followed by an in-store performance at the famous Waterloo Records on 1/30/20 in support of the release.
I Hate Love Track Listing:
Heartbreak Paradise
Lady Boy
We Can Take A Trip To Another Day
Rattle
Carpe Diem*
Why Don't U Ever Call Me Anymore
I Can't Get Over You
When The Pale Moon Comes
I Wanna Hold You
It's A Shame
* Co-written by Cisco De Luna