You might still think this was 1973.  I did for a second, as I watched the tie-dye clad Deadheads trekking through wheat-colored fields, on a pilgrimage to Shoreline Amphitheater in Mountain View on Sunday evening to catch the band now known as The Dead.  I was sitting in my car in the line of traffic, sun setting, windows rolled down, Dead tunes sweetly riding on the breeze, when I was reminded this was a new era.  In front of the Google corporate headquarters, I saw a 40-something Silicon Valley exec in his blue oxford walking through the line of traffic with the classic one finger in the air, looking for one ticket.  Only he also held a big wad of cash in his hand, his finger pointing to the sky.
Yes, this is the new Dead, and though times have changed, the music never stopped.  It's been more than 30 years since I attended my first Dead show, and yet there is a constancy about the scene that is gently comforting.  Amidst the Deadheads in the parking lot, playing frisbee, swinging hoola hoops, offering free peanut butter cups, there is a sweet peacefulness about the scene that I'd nearly forgotten.
As the sun set, and dusk rolled in, I found a spot and spread my blanket on my patch of lawn.  Women laughed and children screamed.  And one of the laughing women spread her blanket next to mine, saying, "Hi, we're your new neighbors," and she settled in with her man and baby.  I had also forgotten about the sense of camaraderie at these shows, and wondered why all of life couldn't be this way.
At 7:30pm, someone took the mic on stage and said, "There are still a lot of people outside.  We're going to wait about 15 minutes.  We're gonna blow out the curfew tonight."  And they did.
As the evening sky dimmed, the band took the stage, and the first rousing chords of Help on the Way were met with a thunderous cheer.  The band now consists of four original members of the Grateful Dead, Bill Kreutzmann and Mickey Hart on drums, Phil Lesh on bass guitar, and Bob Weir on guitar.  New to this iteration of the band, touring as the Dead, are Warren Haynes on lead guitar and Jeff Chimenti on keys.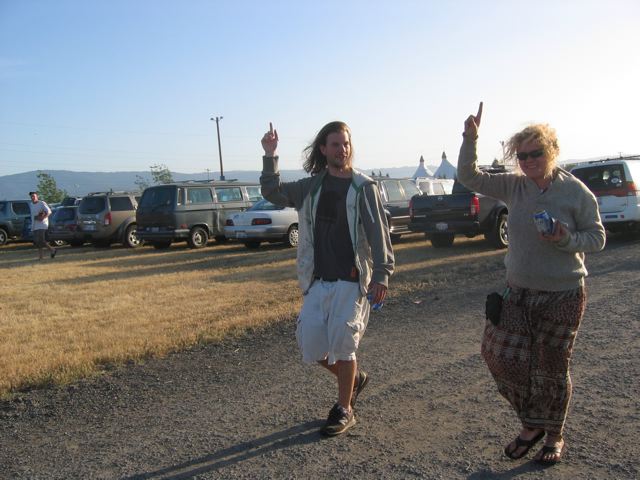 Arguably as tight as ever, the band progressed through a scintillating first set.  Warren Haynes, filling some awfully big shoes left vacant by Jerry Garcia's passing in 1995, has taken on the feel and nuance for the music.  Moving seamlessly into a sweet rendition of Franklin's Tower, Haynes' (who is also touring with the Allman Brothers, by the way) lead solos were lilting, as the crowd swayed and danced, beach balls, and bubbles filling the air, a thin layer of smoke covering like a light blanket on a warm summer eve.
Bob Weir has taken up the lion's share of vocals, and while, yes, this reporter must admit to missing Jerry's soulful inflections, Weir's feel for the music is something like that of a father holding a child.  What may be lacking in the raw bluesy power he once brought, or Jerry's distinctive twang, Weir more than makes up for in his intimate connection with the music, lyrics, and audience.  Most noticeably, the vocal harmonies were as tight and satisfying as ever, with Phil Lesh and Haynes and Chementi chiming in.
Drummers Mickey Hart and Bill Kreutzmann, as always, provided an ample and singularly musical heartbeat for the band, as they moved into a rollicking version of the classic Good Lovin' in which Weir could return his old power singing form.  The percussion was especially gratifying in this number, as the tinny sound of bells were brought into the mix.  Jeff Chimenti on keys brought his distinctly jazzy riffs to the fore, as the band picked up classics Cassidy, Bird Song, and Uncle John's Band.  They took off into a nice long jam during Cassidy, moving easily from staccato riffs into booming mini-climaxes.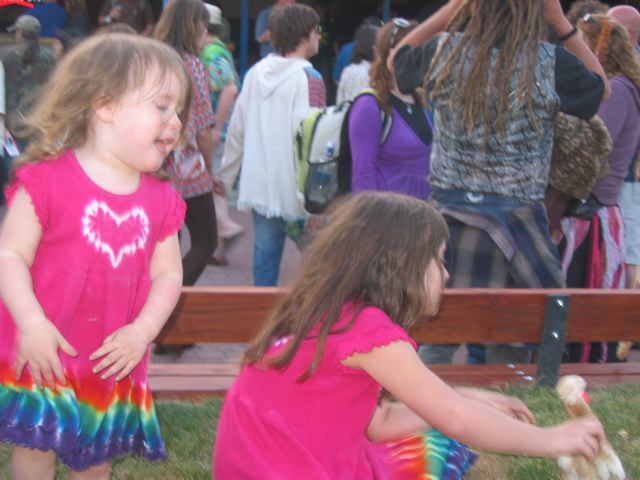 The second set was marked not only by a trademark drum solo, but to everyone's surprise and delight, the appearance of lady flame dancers.  Bill Kreutzmann later told me they were from Hawaii, and the band thought everyone would like them.  He was right.
The evening ended with a jaw dropping encore of St. Stephen and The Eleven.  After all these years, and with all the tumult that is going on in the world, it's heartening to know that you can still go to a Dead show, and experience all the peace and harmony and fun that the scene is still about, uncorrupted by time.   Let your life proceed by its own design.