Amidst a deep, emerald forest on the coast of Michigan's lower peninsula lies an extraordinary musical sanctuary; a ranch turned psychedelic playground which plays host to one of the world's most premier music festivals, a place where thousands of fans from across the country come to experience the one-of-a-kind atmosphere that can only be captured in the deep woods of Rothbury. Now in its fourth year of existence, Electric Forest has created a stunning stimulation of senses inside their famed Sherwood Forest that goes simply unmatched, and alongside a massive musical line-up with headliners including The String Cheese Incident, Umphrey's McGee and STS9, it's safe to say Electric Forest has revolutionized how we perceive music festivals. From live art installations and massive firework productions, to actors of all shapes and sizes along with secret musical sets galore, Electric Forest has continuously set the bar extremely high when it comes to overall production and creativity in a music event of this magnitude, and Electric Forest 2014 was absolutely no exception.
As Thursday morning began to unravel itself to the more than 40,000 eager fans flooding through the gates of Double JJ Ranch, rows of colorfully woven tapestries and flags of different states could be seen being put up by smiling faces ready to conquer the long weekend ahead of them. From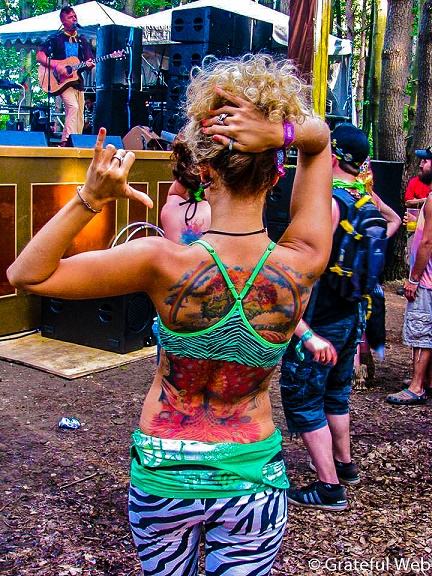 California to New York, fans seemed both excited and relieved with a look of, "We finally made it," drenched upon their already tired faces. The Electric Forest community itself ranges across all genres and styles of music, with fans dressed in anything from a Stealie T-shirt to a bright neon jumpsuit. Old heads and newer fans alike gathered together to explore the different realms and possibilities of music, and Electric Forest made sure to bring a little something for everyone to enjoy over the four-day celebration. Thursday's musical festivities started off at the Ranch Arena with Nashville duo Cherub, an electro-pop duo consisting of Jordan Kelley and Jason Huber who's single "Doses and Mimosas," reached number 43 on Billboard's Rock charts. Their high falsetto choruses and swirling guitar riffs wrap perfectly around the smooth laidback beats, creating a pop-rock chemistry worthy of radio play. Next up came Minneapolis-based reggae trio Jon Wayne and the Pain, who played a particularly grooving set on the Forest stage located in the heart of the Sherwood Forest. Unleashing a furry of reggae-infused dance rhythms to a cool crowd covered by the dense shade of the Sherwood, Jon Wayne and the Pain shook the very roots of both the forest and Reggae music.
Headlining acts for Thursday night included EOTO, an electronic duo made up of the String Cheese Incident's Michael Travis and Jason Hann, as well as The Glitch Mob, an influential and legendary group in the EDM scene out of Los Angeles, California. However one of the major highlights of Thursday night's musical performances came from none other than Umphrey's McGee, who absolutely shook the Sherwood Court with two massive sets featuring a number of new tunes off their latest album release Similar Skin, as well as classic tracks like "JaJunk" and "The Triple W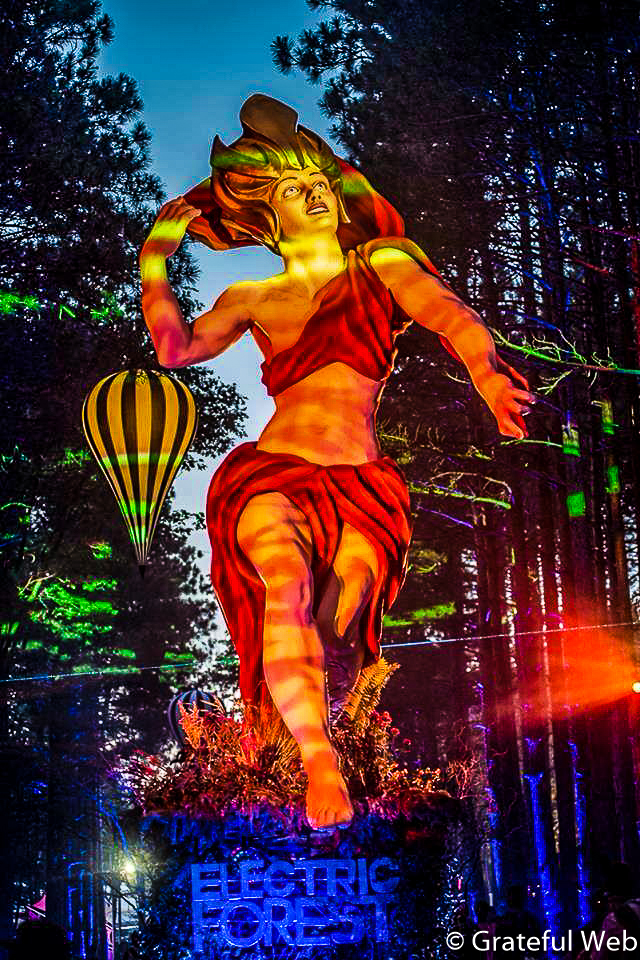 ide." The band led the crowd through a non-stop exploration of metal-induced power rock that got dark and mysterious throughout certain points, while still remaining light and uplifting in all the right ways. Bassist Ryan Stasik and keyboard wizard Joel Cummins stayed locked in on one another, while guitarists Brendan Bayliss and Jake Cinninger trade off reeling solos that felt like the Allman Brothers on speed. The pinnacle of the performance came deep into the second set when Umphrey's dove into "Come As Your Kids," a melodic mash-up of MGMT's "Kids," and Nirvana's "Come as You Are." This beautiful rendition stunned the crowd as Kurt Cobain's lyrics perfectly complemented the indie-electro sounds of MGMT. After both songs chorus's had been addressed, Umphrey's took the jam into a hilariously heavy-hitting version of the 80's hit "You Spin Me Right Round," by Dead of Alive. It was a mash-up that nobody saw coming, one that the band had only performed four times prior to its debut back on Halloween 2011, and it was absolutely the highlight of the night. The beautiful thing about an Umphrey's McGee performance is that it's a journey, one that can change shape, speed and formation at any point in time, very similar to the likes of the Grateful Dead or Phish shows. It is that ever-changing, never-knowing quality that is so essential in creating the cult-like followings that surrounds these bands. The idea that every show will be vastly different from the last, the concept that musically the band knows no boundaries, that is the idea keeps their fans coming back time and time again. Umphrey's McGee has proven over 15 years of relentless touring that they are of that rare star-studded quality, and can consistently bring an explosive and innovative rock n' roll experience night in and night out. You might get 90 minutes of progressive Death Metal, or you might get a high-energy electronic dance party, but one thing is for certain, you never know what's coming with Umphrey's McGee.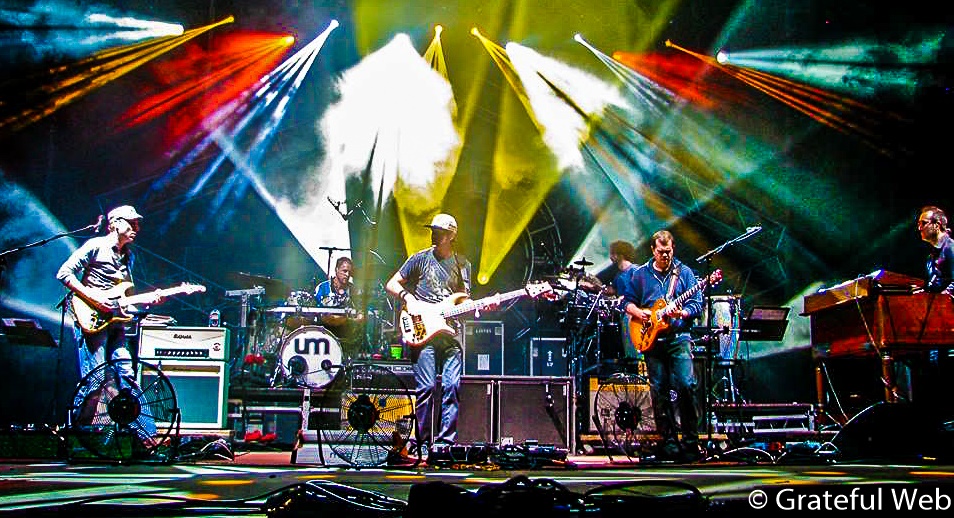 Friday evening may have been the most action packed points of the weekend musically, with a wide range of music being displayed like Anders Osborne, Nahko, Zoogma and Mrs. Lauryn Hill who all kept the audience dancing throughout the hottest points of the afternoon. Ohio based group Papadosio drew an incredibly large audience for their afternoon set and played a particularly soaring set on the Sherwood Court that segued perfectly into the main entrée of the night. The String Cheese Incident, fresh off their performances at Huck Finn Jubilee and Wakarusa, finally took center stage at the Ranch Arena Friday night for their first of many, many performances that weekend at Electric Forest. The first set was a fairly traditional set of SCI, featuring a grooving, "Colliding," opener and a few extended jams later on in the set including a particularly in-depth version of "One Step Closer." Bill Nershi and the rest of the band seemed genuinely excited to be back on stage and playing together in front of such an eclectic audience. Following a quick set break the boys came back on stage to much larger, rowdier and more colorful audience, opening with "Rosie>Bonafied Lovin>Rosie" to massive applause. SCI's track "Rosie," off their newest album Song In My Head features Kyle Hollingsworth on keys doing his best Talking Heads impersonation. Throw in the Chromeo cover of "Bonafied Lovin," in between and you've got a 20-minute fusion of incredible dance-rock. SCI finished out their second set with "Joyful Sound," "Restless Wind," and "Desert Dawn," all going over 10 minutes to finish off night one of their three night performance at Electric Forest.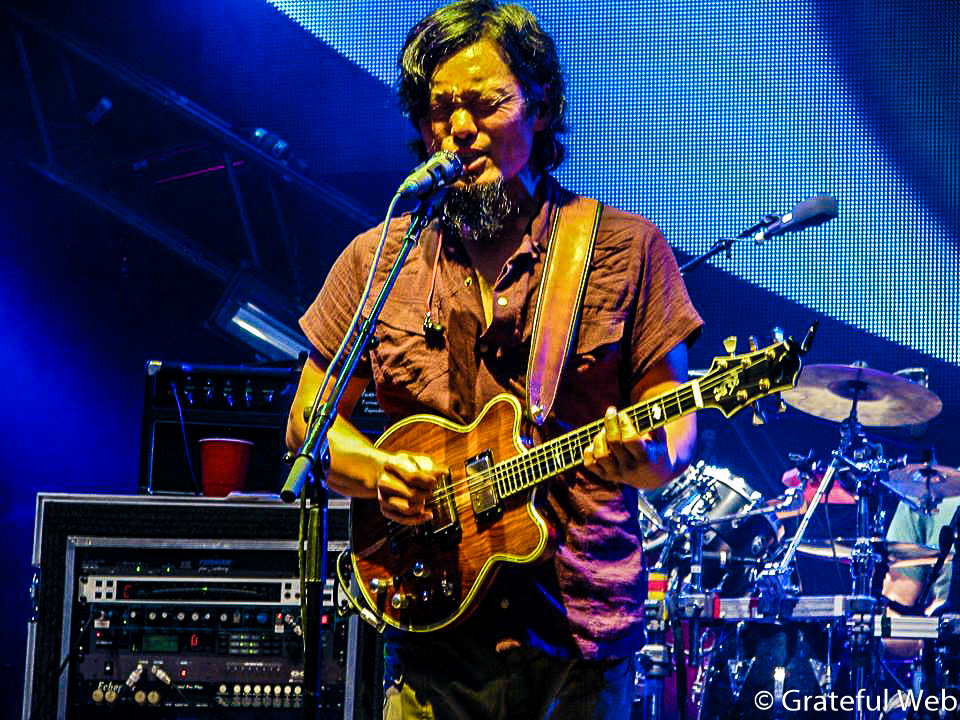 One of the most anticipated performances Friday night was undoubtedly STS9, who's newly acquired bass player Alana Rocklin has been generating plenty of hype after David Murphy's departure from the band earlier this year. STS9's re-vamped style was apparent as soon as the group took the stage opening with "Totem," a remarkable track that has recently surfaced back into the band's repertoire. Nearly every song played by Sound Tribe Friday night was re-worked or altered in some way, showing the band has clearly taken a new direction in their approach to music. Alana Rocklin's presence was also very clear, just take a listen to "Moon Socket," and examine how smoothly she flows through the introduction. She brings a lighter, funkier bass tone that accompanies Hunter Brown's guitar riffs well, and is no-doubt an encouraging sign for Tribe fans everywhere. The band fueled through plenty of STS9 classics like "Inspire Strikes Back," while still leaving room to debut their newest tracks, "New Dawn, New Day," and the incredibly catchy "World Go Round." Both songs have been played at nearly every show so far this summer, which may hint at the idea of a studio album coming out sometime in the near future. STS9 sounded focused, tight and ready to begin a new chapter in their already storied musical history, proving once again why they are still the kings, and queen, of their respected genre.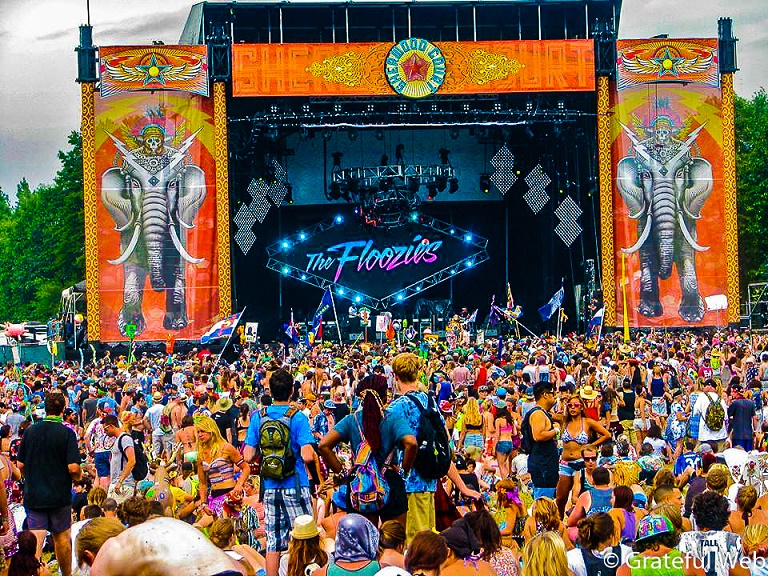 Saturday Afternoon featured producer/guitarist Matt Hill and drummer Mark Hill, better known to the festival scene as the Floozies. A combination of old-school funk and new-school beats, this Lawrence, KS duo has made a huge splash on the circuit lately, rocking every festival from Wakarusa to Summer Camp. The two brothers played in front of an absolutely massive audience Saturday afternoon at the Sherwood Court, flooding Electric Forest with their laidback guitar-driven melodies plastered over banging beats. Sounding like a mixture between a banging Dr. Dre beat and a funk band, the Saturday afternoon Floozies performance was great exposure for a duo that is already on the rise to becoming one of the top festival acts in the country. Meanwhile at the Ranch Arena, Stephen Ragga Marley was stirring up the crowd into reggae frenzy, playing plenty originals and classic songs by his father Mr. Robert Marley. Asking the crowd, "Do you all love reggae music?" Stephen sang to the audience about prejudice, love, and all things jah. There's something about reggae music during the hot afternoon of a music festival that just seems so right, doesn't it?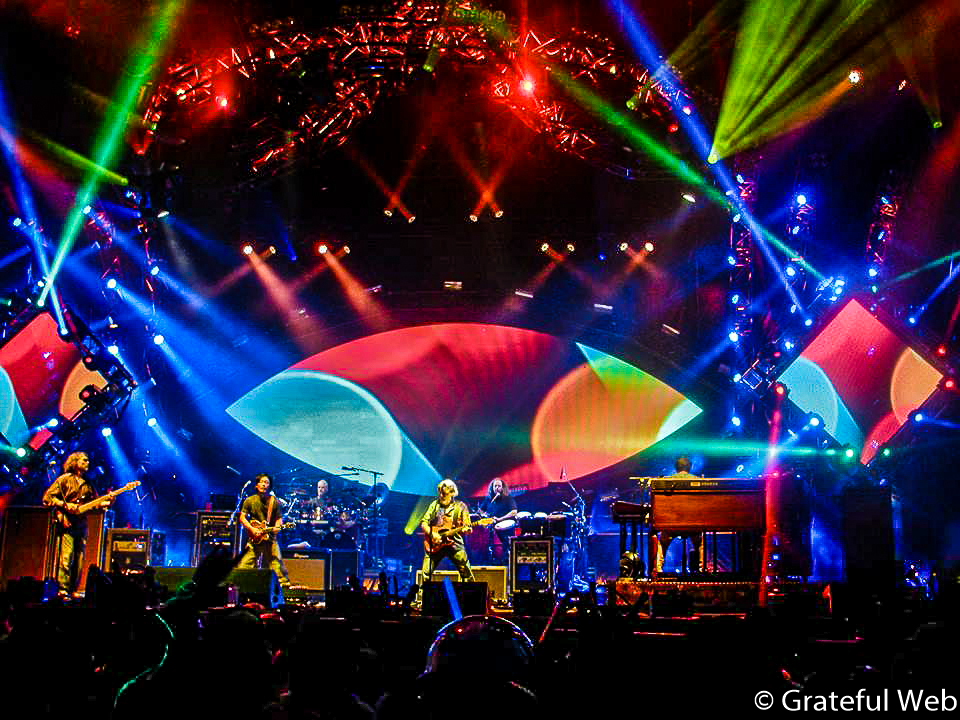 While there were many visually stunning performances throughout the Electric Forest weekend, none could truly contend with that was in store for the Saturday night String Cheese Incident performance. As the second set got underway, SCI dove into a version of "Valley of the Jig," that nobody that weekend would ever forget. As soon as the song began, giant video game-themed cubes dropped from seemingly nowhere accompanied by extremely bright green lasers who's light shimmered and danced heavily off the bouncing cubes. As the Jig jam began to build, a fireworks show began just above the stage to massive applause from the audience. Meanwhile, confetti cannons exploded all around the stage and crowd as fog machines smoked out the entire audience until nothing was visible except for the dancing blasts of light coming from the stage. The sky was absolutely filled with color, the starry night barley visible through the confetti-filled madness. It was truly a special moment as the audience came together and cherished what was taking in front of them, and one of the main reasons why many fans continue to follow The String Cheese Incident relentlessly around the country.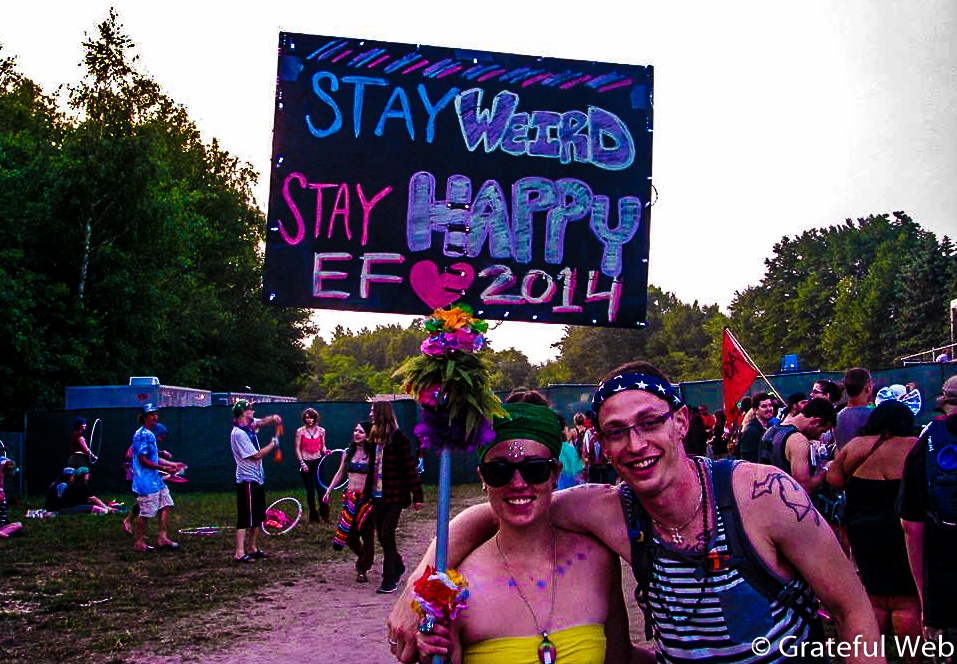 As the sun rose on Sunday afternoon, a varied mixture of melodies could be found on multiple stages throughout Electric Forest including funk band Kung Fu delivering a huge set on the Forest Stage. Chandeliers hanging high over their head, the New York five-piece laid down a solid hour-long set to open up Sunday's festivities. Many fans could be seen relaxing in the hammocks embedded throughout the forest, listening to the different sounds while enjoying some of the great food and drink options from the vendors. In a venue as large as Double JJ Ranch, it can sometimes be difficult to maintain all of your energy for four long days, thus the $5 golf cart rides and hammocks become incredibly useful on the final days of the long weekend. Indianapolis jamtronica group Cosby Sweater, who seems to be rocking multiple shows at nearly every major festival this summer, gave their second official performance of the weekend (third show was unannounced) on Sunday and brought a jaw-dropping performance on the Sherwood Court that included a cover of The New Deal's "Technobeam."
Following the boys from Cosby Sweater was the final String Cheese Incident performance of the weekend, and what a spectacular incident it was. Normally, SCI plays a mid-afternoon Sunday set at Electric Forest that features an abundance of bluegrass and picking tunes. This year however, Cheese's set began at 8:30 p.m. and ran until well past midnight, featuring a mixture of bluegrass, jamtronica and old SCI classics like "Dudley's Kitchen" and "Little Hands." Michael Kang seemed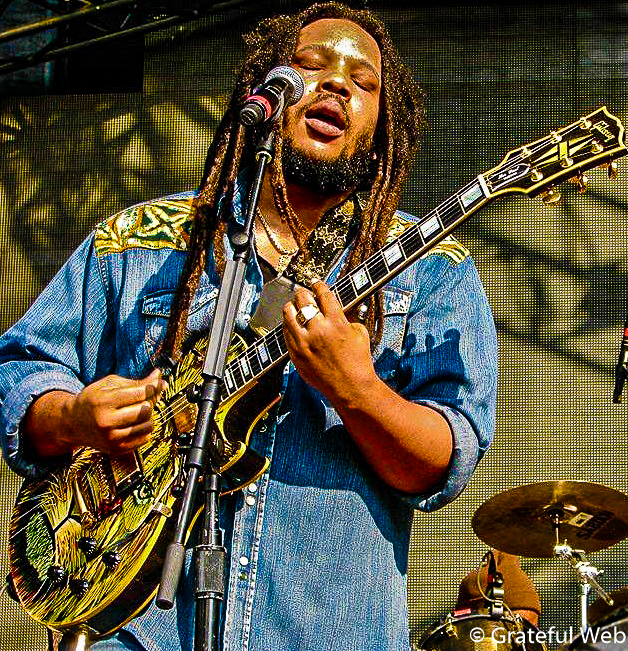 absolutely locked in throughout the entire night, and Nershi seemed to control the audience with his charismatic nature. Sunday night's incident sounded much more like the traditional shows of the late 90's and early 00's, rather than the newer dance sounds of today's SCI. The show ended with a wonderful rendition of "Colorado Bluebird Sky," and after a Nershi-led group hoot and two massive encores including a cover of Talking Heads "Crosseyed and Painless," the band exited the stage to finish their run at Electric Forest.
The weekend had come to a close, and fans could be seen packing up their camping supplies Sunday night getting ready for an early departure the next morning. Severe weather began to roll into Rothbury area around dusk, but that didn't stop artists like Tycho, Cashmere Cat and everyone's favorite re-born 90's star Moby from doing their thing until early Monday morning. Many faithful festival-goers could be found out wandering until the wee hours of the final night, cherishing the last few moments spent in the magical forest. Sounds of fireworks exploding in the distance and the screaming fans brave enough to weather the storm capped the final night of Electric Forest 2014, and in the morning people could be seen with tears in their eyes, hugging their neighbors whom they had grown so close with over the four day weekend. People use the term "family" very loosely these days, but attending Electric Forest was absolutely a team effort. They took 40,000 people from all around the country and turned it into a tight-nit community for four days, and that experience is something many of us will never forget.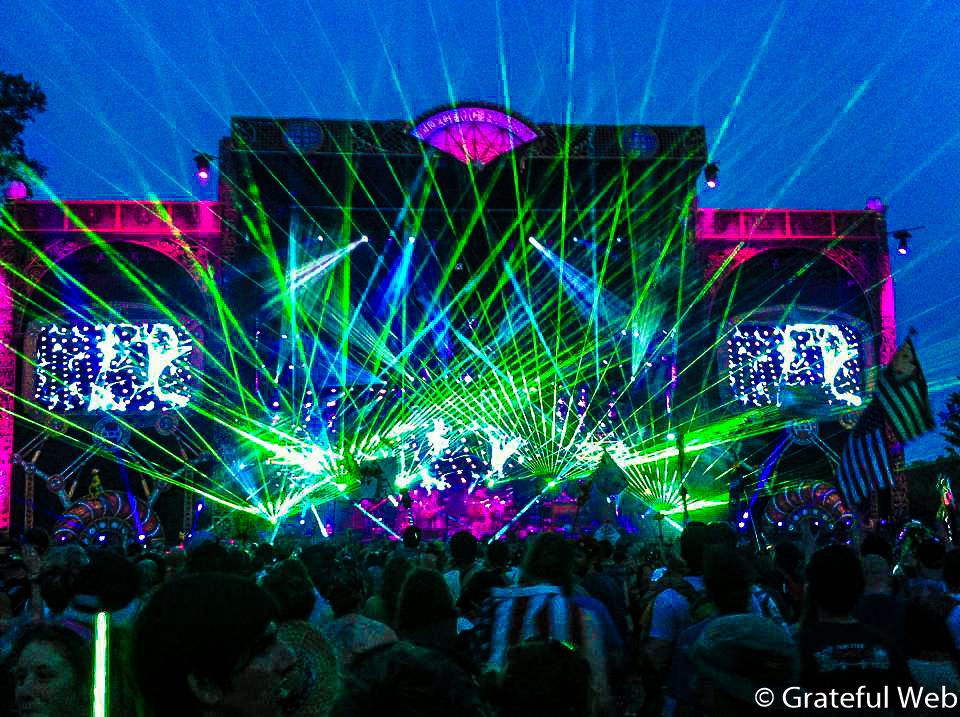 From the five massive stages and incredible Sherwood Forest to the hundreds of unique art installations scattered across the venue, Electric Forest delivers the best in music, art, and environment. Bands like The String Cheese Incident and Umphrey's McGee collide with the best sounds of underground house and electro like Booka Shade, Art Department and the Floozies to create a hybrid breed of music festival. Although there has been speculation about the current status of next year's Electric Forest, festival promoters seemed confident that there would be plenty of EF's in years to come. It's too magnificent of a music festival not to celebrate annually, and here at the Grateful Web we encourage anyone who is skeptical to embrace this wonderful event and make the trip to Rothbury, Michigan for this one-of-a-kind experience.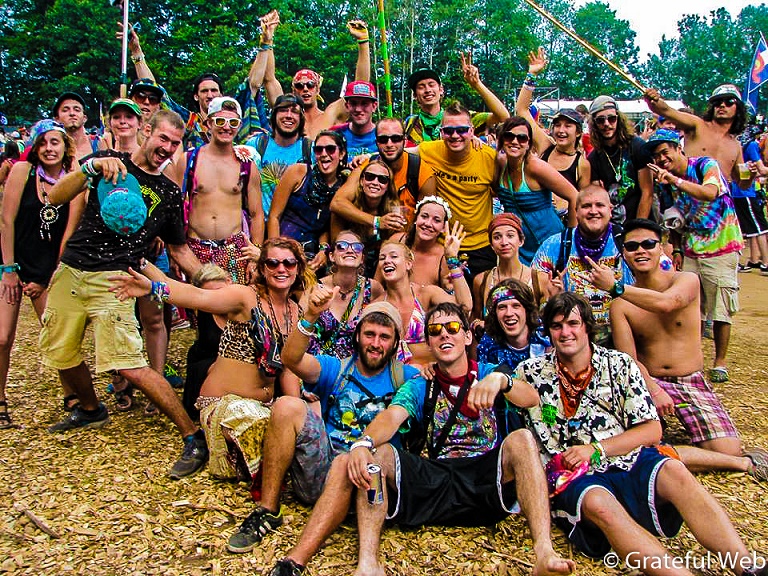 Check out more photos from Electric Forest 2014.