From the lush woodlands, fertile prairies and innumerable lakes emerges Uncroaked, the newest composition from Minnesota-based collective Frogleg. Recorded as a 3-disc live acoustic album at KJ's Hideaway in St. Paul, Minnesota, Frogleg's latest offering puts an elegant twist on their extensive catalog, showcasing a wide array of musical versatility and vocal range. From the opening notes of "First Thunder, First Rain," Frogleg's musical prowess is evident, painting a musical landscape that transports the mind to a café in Paris, a coffee shop in Barcelona, or wherever comfort is found in abundance. Led by guitarist/vocalist Joe Dunn and lead guitarist Demitri Rallis, Uncroaked provides the listener with a continuously evolving soundscape, a vibrant musical countryside filled with wide-ranging instrumentation that takes influence from world and Latin-infused rhythms, infusing them with modern-day jazz drizzled over psychedelic jam. If the Afro-Brazilian roots of samba music met Derek Trucks in a back alley behind Tipitina's in New Orleans, the resulting sound would bear a striking resemblance to Frogleg's unique musical tapestry.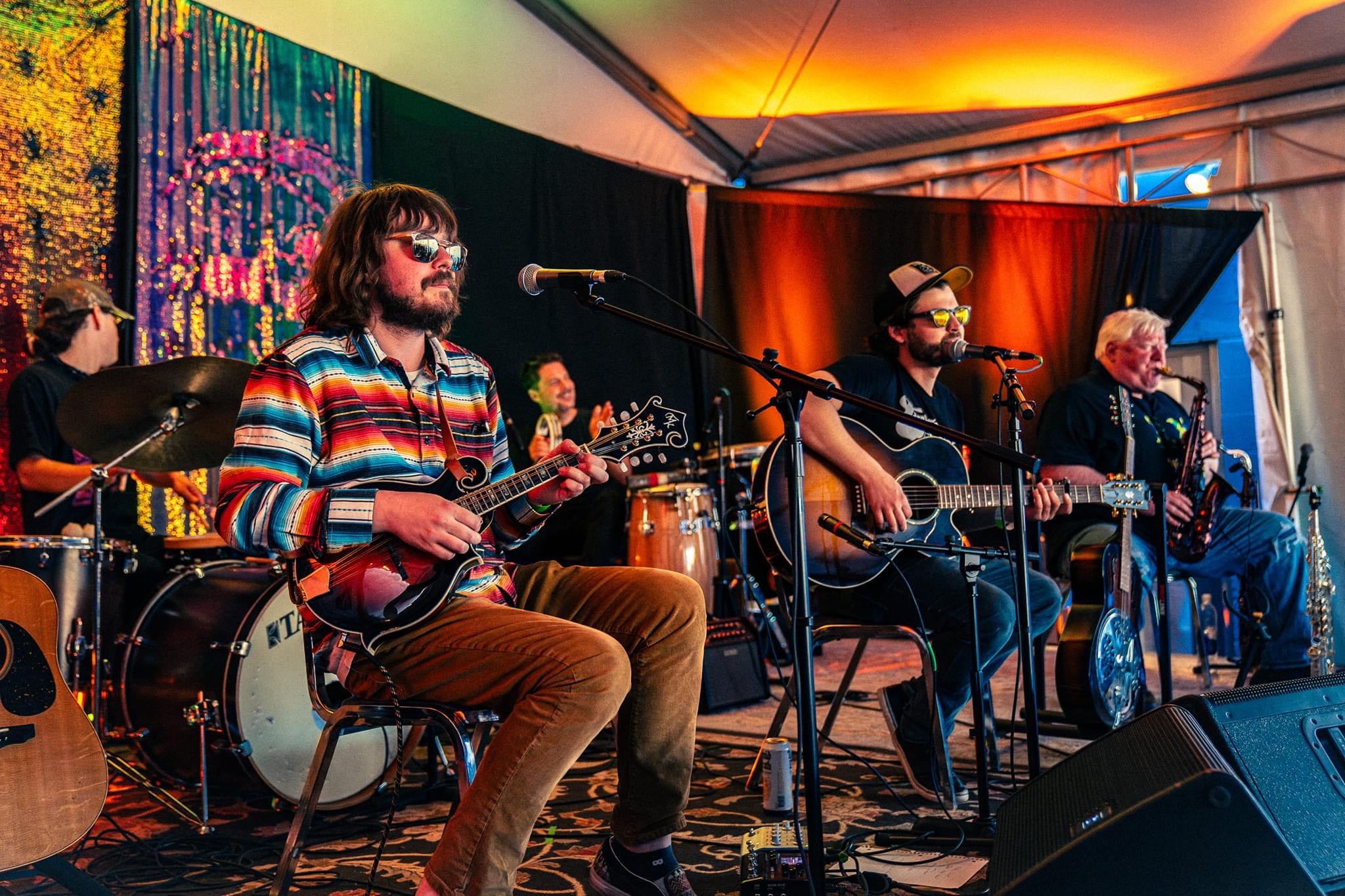 The attention to detail and careful persuasion of Uncroaked is evident from the beginning, as this is no simple grab bag of everyday tunes. Complexity and precision ooze from every note, as bassist James Geisinger, drummer Geoffrey Randall, and auxiliary percussionist Doug Christianson create a rhythmical backbone for the band to paint their picture. Horns, voices, keys, drums, bass, and guitars rise, fall, bob, and weave around each other. The lyrics dive deep, exploring themes of love, loss, and resilience, delivered by singer Joe Dunn's rich and emotive tone. Packed with a heartfelt ballad that highlights the emotional depth of the band's songwriting, Frogleg invites the listener to take a deep breath and savor each moment, reminding us to celebrate all that life gives us. Each singular track is a testament to the dedication to Frogleg's craft, transporting the crowd into a world where the music transcends into the story.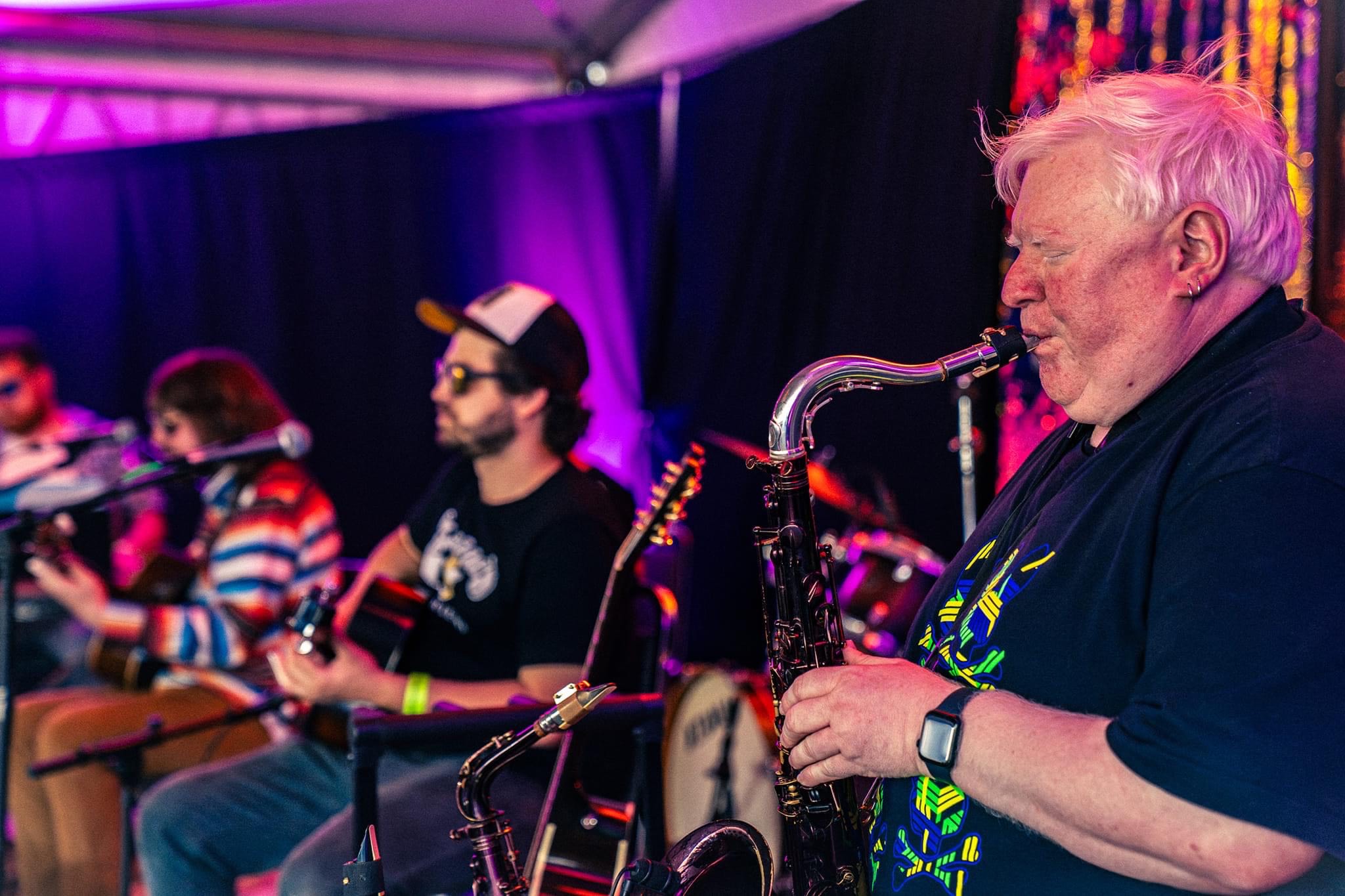 As you delve deeper into the album, the intricate interplay between guitarist Dunn and Rallis shines through on tracks like "Last Glass Fall" and "The Silver Sphere." The two duel back and forth, layering melodies and vocal range while allowing further instrumentation to intermingle. Elements of bluegrass, folk, and Americana twist into memories of the Grateful Dead throughout Uncroaked, with Frogleg nodding to the pioneers of the past while elegantly putting their own spin on modern music. The arrangements are timeless, with infusions of different genres creating an intimate atmosphere that draws you in from the first note. While love may be the focal point of many tunes, there are plenty of songs of celebration as well. "Friends" is a reflection on past relationships and memories shared with the people in our lives, while "Bad River" allows guitarist Demitri Rallis to stretch his vocal ability and showcase his range in a tune dedicated to sweeping mountain landscapes and the flowing rivers of yesterday. Breaking the mold and overall theme of Uncroacked, the instrumental jam following "Strawman" might as well be a B-side track off Zappa's Hot Rats, the way it weaves through a mind-bending journey of sonic interference. There is a bit of something for everyone to find here, and if you don't find it, just listen again. The relationship on Uncroaked between the acoustic guitar, mandolin, piano, saxophone, drums, and dobro is nothing short of mesmerizing and stands as a testament to Frogleg's tight-knit musical chemistry.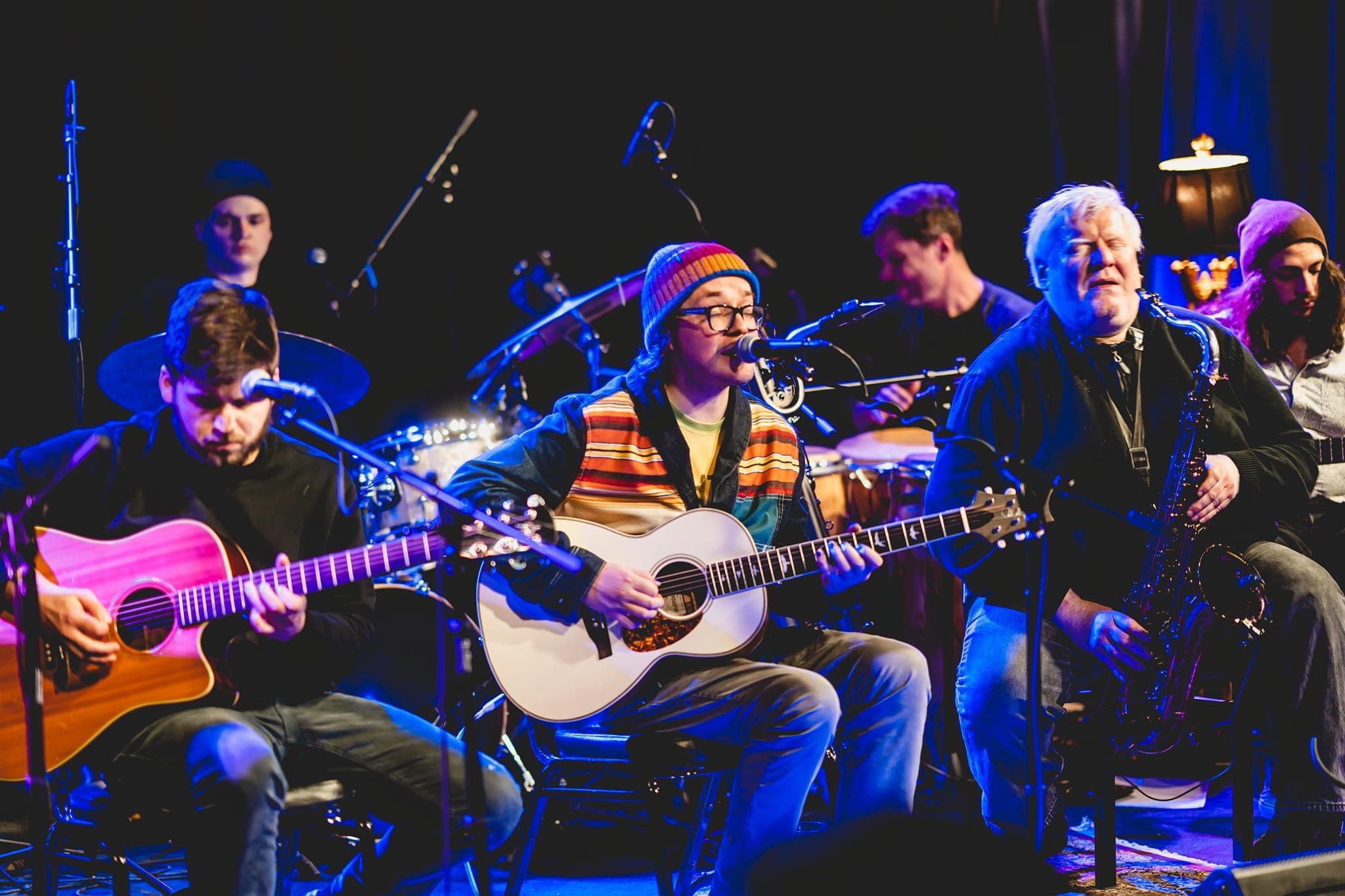 Chances are, if you've seen Frogleg in their natural element on stage, you've grown used to some of these tunes in their electric, live form. This stripped-down acoustic journey is a refreshing change of pace, revealing a whole new facet from this Minneapolis collective. It cannot be overstated how each note is carefully chosen to fit the provided space. With seven musicians on stage, sometimes the sound can become clouded and convoluted, however, Uncroaked perfectly executes this arrangement, allowing space for all members of the band to evolve and expand creatively. With each pause comes space for another member to shine, and with each peak comes a crescendo of musical brilliance. The stripped-down instrumentation allows each musician to shine individually, while still allowing the cohesiveness of the song to expand. The rhythmic foundation of the songs built by percussion allows pianist Kevin Dorsey to dance gracefully across the keys, conjuring melodies intertwined with Dunn and Rallis. Lest we forget Brian "Snowman" Powers, the man behind the saxophone, whose key features on fan favorites "Walls of the Fort" and "Carolina Ron" help bring the tracks to a bubbling boil. Overall, Uncroaked encapsulates the very glisten that is Frogleg, a gentle masterpiece of stripped-down music for the masses.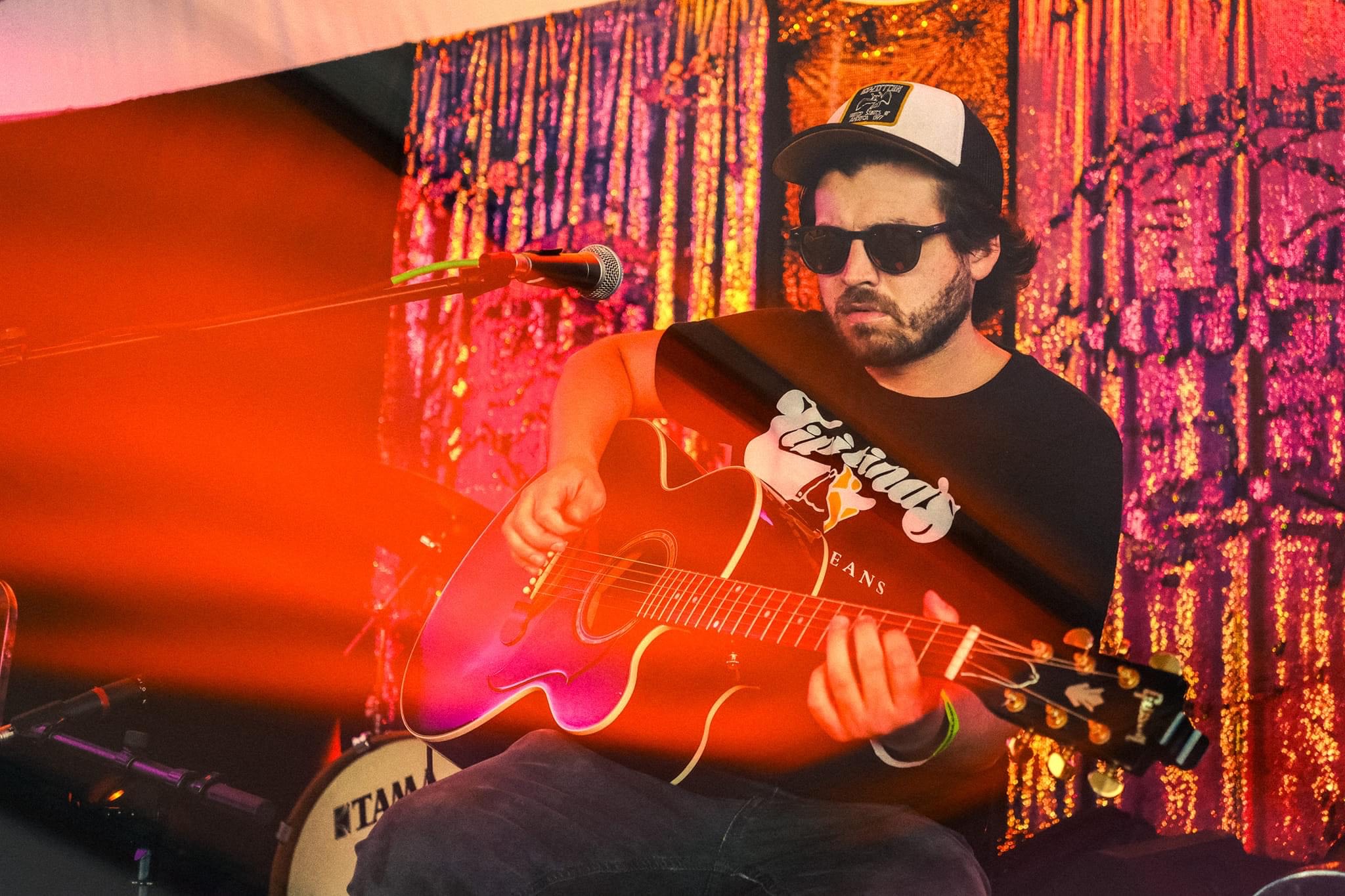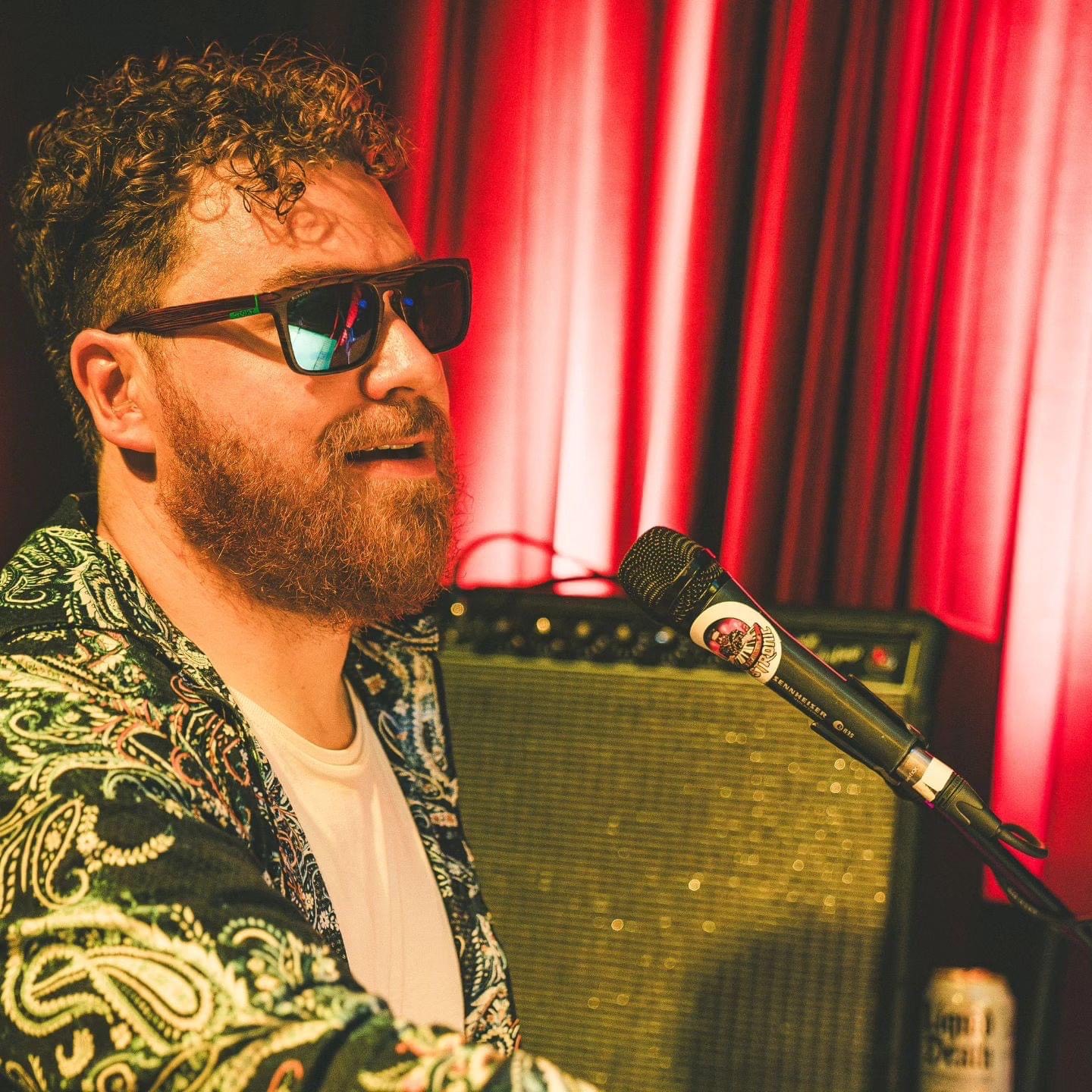 Frogleg might still be the best-kept secret in the music scene today, however, it's only a matter of time before this Minneapolis-based group bursts through to the masses, and when it's all said and done, Uncroaked will be one of the many pillars that got them there. With a beautifully architected acoustic album, Frogleg poured their soul out in front of the sold-out crowd, and that inspirational feeling was reciprocated tenfold. It's an album that will find a special place in the hearts of those who appreciate genuine, soulful music about the human experience. Frogleg has indeed crafted a gem that remains "Uncroaked" and timeless as ever.
Frogleg will be releasing a three-part video series for "Uncroaked" debuting on Nov. 1st, 8th, and 15th.
Frogleg – "Uncroaked"
Joe Dunn – Guitar/Mandolin/Vocals
Demitri Rallis – Guitar/Dobro/Vocals
James Geisinger – Bass
Doug Christianson – Auxiliary Percussion
Geoffrey Randall – Drums/Vocals
Kevin Dorsey – Piano/Vocals
Brian "Snowman" Powers – Saxophone