When I read about the history of the Bazzano sister's in the local Essex, NY paper two weeks ago, I became even more intrigued by the small but powerful Backwoods Pondfest in Peru, NY. Even before our "official" move to the North Country last month, my wife and I had been thinking about attending this year's festival as a way to connect with what our new local music scene has to offer. The line-up looked fun, with RAQ, Assembly of Dust, Ryan Montbleau Band and The Breakfast headlining and being supported by a bevy of regional talent. But this article I read, retelling the short, yet strong history of the original Pondfest, produced by the parents of Liz and Katie Bazzano, which had now evolved into the festival put on by theses ambitious sisters, spoke of where the girls were trying to take what their parents had started. The festival was evolving.  It was an ambitious project, made evident by the fact that Katie, the elder sister, had lost her voice by the time we checked in at 5pm on Friday. But evolution can only by accomplished if you are willing to jump further than someone has jumped before and the girls proved up for the task.
As a teacher, I no longer have the freedom in my schedule that I used to have as an out of work bum, so I was not able to get to the festival in time to catch the first few acts of the day. My apologies to their diehard fans, but the 3 o'clock slot on a Friday afternoon just isn't in my game plan any longer.
The laid back atmosphere of a small festival is a welcome relief from the 12 hour wait to get into the summer extravaganzas (feel free to insert the festival of your choice as a mental image here). Up here in Peru, at the foot of what might just be the largest apple orchard I have ever seen, my wife, my dog and I jumped in the absurdly short line of 3 cars and waited patiently until we were greeted by the raspy, yet joyous Kate Bazzano. Quickly we made the drive into the campground and found a spot with early morning shade and set up camp. All the while, the early slotted bands were playing on the stage about 500 yards away from our tent- and we were near the furthest outreaches of the grounds. There were not a lot of people directing us to designated camping spots. Once you were through the gates, you were on your own. Liberating.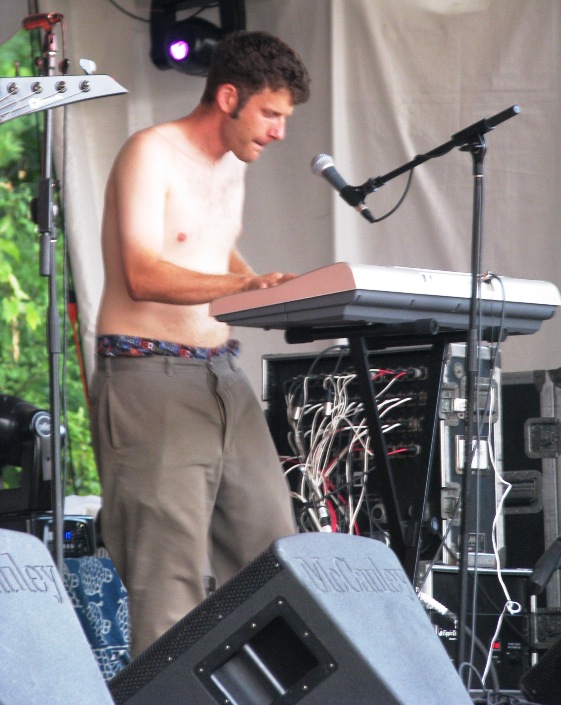 I wanted to get to the stage, so once the air mattresses were blown up, which provided quite the head rush/ legal buzz for both of us, we were off. Shameless Strangers baptized us with our first music of the pond and I have to say that these folks were having as much fun performing for the few early arrivers that were actually in front of the stage as a band playing in front of 60,000 would have had. Do you remember the first band that you or your friends were in? They had so much fun performing in each other's garages, small bars or by campfire light. As a fan of such bands, I used to bob my head frantically, thinking that, no matter what, this band was going to make it. Sure, there are countless bands making the same sound as them, but my friends have 'it'. Remember that? I felt like I had returned to those days when I was listening to Shameless Strangers. They were in it for the fun, the free beer and the free beer. No, that's not a misprint.  Just about every one of their songs contained one or more of the following words; beer, high, chemical dependency, and drugs. They were kickin the door off its hinges unapologetically. What a great start to the weekend. And did I mention the medley of the 4 Non Blondes classic 'What's Going On', emphasizing the "get real high" lyric, and Bobby McFerrin's 'Don't Worry Be Happy'?  The only downside is that a precedent had been set that medleys are cool.
Twiddle was the next band to take the stage and, after an excruciatingly long intro due to the fact that guitarist "Meebs" Savoulidis was unable to get a sound, the loss of inhibition brought on by The Shameless Strangers had been replaced by a feeling of anxiety. "How long is the weekend's stage manage/ emcee ­­­­­­­­­Mike Potashnick going to freestyle rap? Does the crew have any idea what the problem is with this guy's guitar? Should I get a veggie burrito?" Luckily, before I answered yes to this last question, Meebs came busting in sounding, not in tone, but in technical desire, much like a red-headed Vermont guitarist who will remain nameless because too many people want to draw comparisons between every band in Vermont and, um, this other band or its members. We'll just call him T. Anastasio- no Trey A.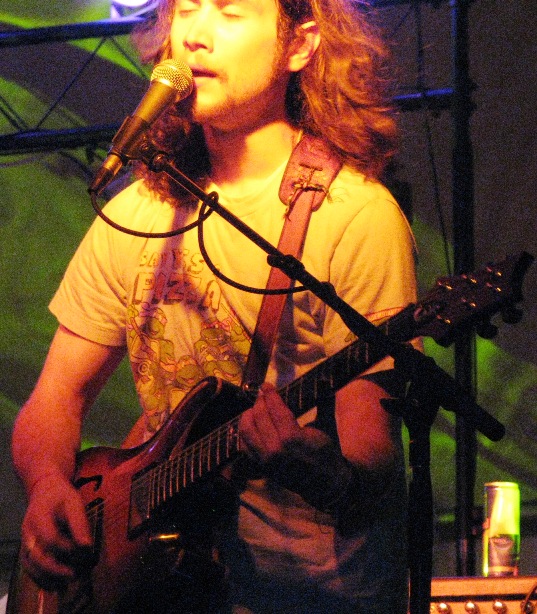 Neither my wife, nor I have ever played Guitar Hero. Yet, she surmised that if we were playing, success at the highest level might sound something like Twiddle's opening tune. Despite the similarities to "The Guitarist Who Shall Not Be Named" in the guitarist's technical prowess, the set's compositions harkened to the sound you may here at a slash metal show. Up and down the scales, finger picking, sharp stops, off beat starts- they were ripping.  These guys have jamming talent and their vocals are strong, but they are at their best when they are showing their orchestrated chops. I see Twiddle going places, and it's not just as another band from Vermont that has elements of another band from Vermont. Twiddle will cast their own shadow.
Back in the day, or at least back in my days, I had the great luck of being on tour with a lesser known band who had an unknown Ryan Montbleau on tour with them, opening shows and selling merchandise. As I relieved him from the latter of these duties when I was around, he immediately befriended me. And from the first time that I heard him put all of his emotion into every foot stomp and guitar slap that came out form underneath of his tattered Red Sox hat, I loved what I heard. Well, its many years later and Ryan has come out form underneath of that hat and he's letting his bowl cut and electric sound go into a new place. You see, it used to be all about the coffee house sound for Ryan. He offered so much for the intelligent listener, because he was conducting an entire orchestra in his head and embodying it through one guitar, one mic, and one solid pair of shoes. But these days, he has left that coffee house style behind. At first, I wasn't such a fan of this evolution. I wanted to be in the know, feeling each change, all of the heart pounding rhythm and constant peaks and valleys in Ryan's range. I thought the band was causing him to wash over these characteristics that were distinctly Ryan. What I didn't know was that, just as all things that change, the final product would take time to finish. But now, I can see the light and the final product, at least at this stage in the evolution of The Ryan Montbleau Band, is nearly complete and, you who are familiar with what Ryan brings to the table may not believe me when I tell you this, their future is arena rock. Of course I am not saying that the RMB has given up on the storytelling, folksy songwriting that have been their bread and butter for years. What I am saying is that they are learning how to play these songs for a bigger crowd. Ryan no longer needs to show his vocal prowess 4 times in a measure. Now, he entices the audience, building towards a belted vocal crescendo, and the band follows suit. Laurence Scudder on viola has developed from the quirky atypical instrument player on the side of the stage into an excellent compliment to Ryan's voice, with fills that play of Ryan's vocals rather than against them. From the beginning of the RMB set, it was evident that a step to the next level was nearly complete.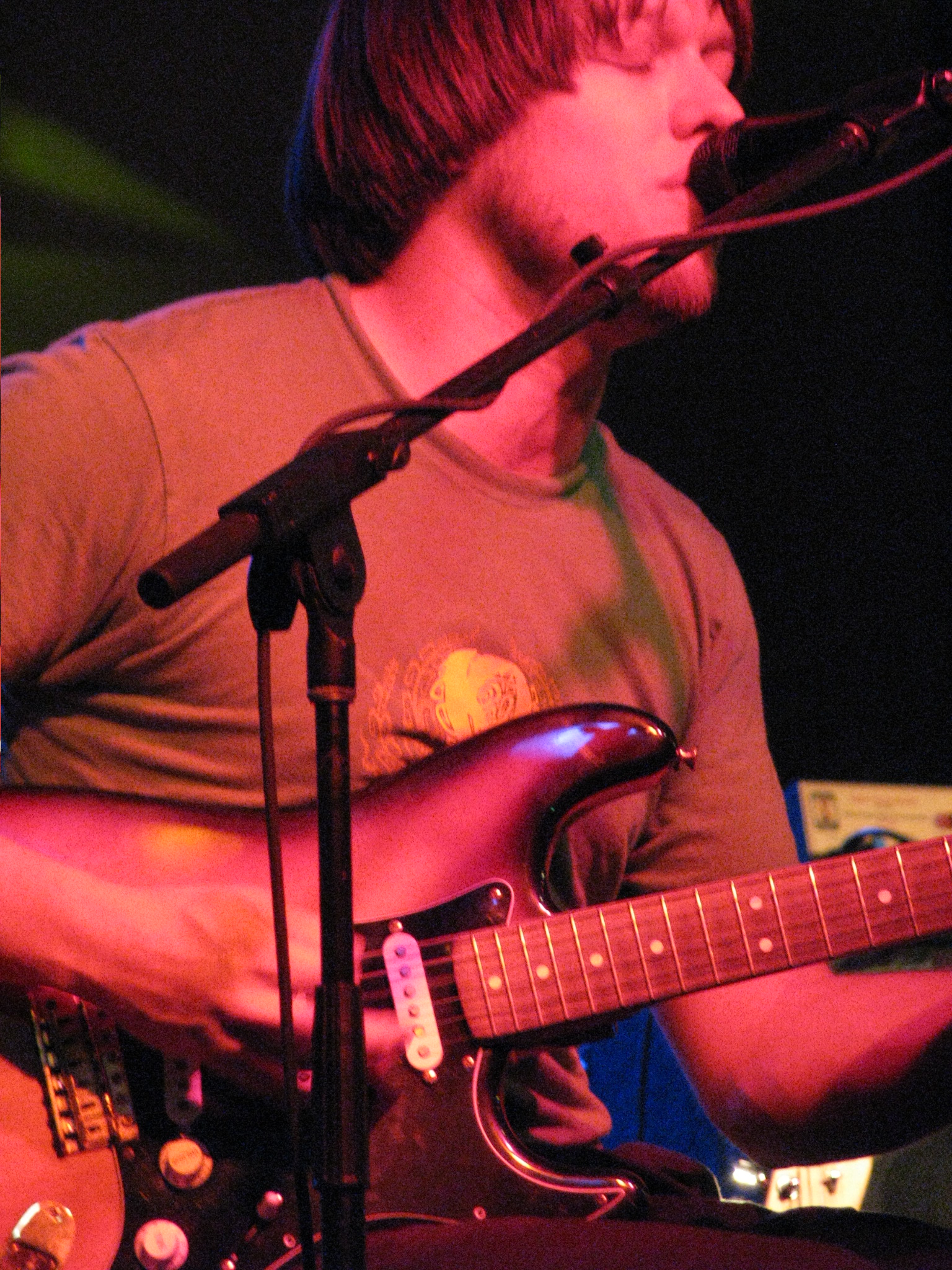 "Backwoods Pondfest, the most descriptive of all festival names" was the quirky way that Ryan greeted the crowd that, by this time, had grown exponentially, and they rocked right out of the gates. But, as a band that is playing to a larger crowd should do, they brought it back down, then back up, then a sit in with Nate Wilson from Assembly of Dust sitting in on keys. They too played their medley, an offbeat version of 'Electric Avenue' with double time choruses and a few bars of the 'Chika Chika' song from Ferris Bueller's Day Off. Don't act like you don't know what song I'm referring too. By the end of the set closer 'Toeing The Line', the entire band was on fire and the crowd's hips were shaking to the funk rhythm provided by Matt Giannaros on bass and a guest drummer, no less! After a short hiatus for RMB in the fall, when Ryan will be opening for Martin Sexton and Ani DiFranco, I hope the rest of you will take the time to see the changes that are happening in The Ryan Montbleau Band.
Assembly of Dust took the stage with the swagger of the polished veterans of the festival. Out of the gates they were sharp and by the time they got to 'Bootleggers Advice', second on their well-manicured set list, they were in the pocket. Throughout the set AOD was reaching back in their repertoire, playing songs like 'Sharecropper'. This chart was infused with the talented backing band that, all those years ago when a few of them were known as Percy Hill, drew serious comparisons to the likes of Steely Dan. The prowess of the band, combined with the seemingly effortless harmonics of lead man Reid Genauer made me realize then and there that I should be paying more attention to what AOD is doing on the road and, more importantly, in the studio.
I want to get back to the beautiful simplicity of this small festival, epitomized by the single stage. I love the variety of 2, 3, 4 or 9 stages, but I hate having to decide between two emerging bands or two staples from my CD collection. But those problems are wiped away when there is only one stage. Furthermore, that day, I was able to see the evolution of a band, right before my eyes. Shameless Strangers epitomized that band that is jut starting, out to have a good time. Twiddle showed the polish and determination of a band on the road, doing whatever they can to stay out there. RMB played the part of the band that had learned form their countless shows and was using those lessons to hone their craft. Lastly, AOD was the finished product- comfortable in the notoriety they had achieved.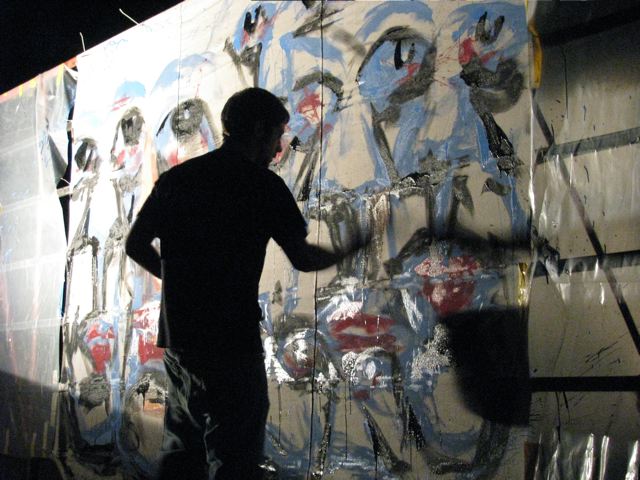 By this point in the night my age was catching up with me and, despite a valiant effort by Lucid, whom, unbeknownst to me at the time, were partial organizers of the festival, I began to slow down. The syncopated lyrics and funky jazz charts sent me off to bed with a good grove and smile on my face.
Day two started with hip-hop at 6. No, the festival organizers were not the torturers. It was coming from the group close by who had the biggest tarp I had ever seen draped over at least three cars and a few tents. I think they might have had a leaky tire under there at one point, but I digress. Loud hip-hop is an east coast festival thing, and it served as a gateway to the right hand side of our country showing its uglier side. There were too many partiers, not enough music lovers; too many hard drugs and too many users; too much litter, not enough recycling, despite a valiant effort by some heads we befriended who had taken on the role of festival recyclers because the hired help wasn't cutting the mustard. Let me say to them: thanks Stanley and Lauren and have a great winter in the desert. We hope to see your harvest of rocks at the spring festivals. But, by Saturday morning, the east coast hippies were in control with their angry pit bulls on short, chain leashes, their me first attitudes and their fitted hats with flat bills.  So once we were completely awake and my wife was thoroughly pissed, we jumped in the car, headed into Plattsburgh for some breakfast and Starbucks, with hopes of making it back to the festival in time for music. Never before has a departure and return to a festival been so easy, and never before have I been to a mall while attending a weekend musical event.
Back by the pond, the festival was in a cool haze. Rain was in the forecast and the sky looked like it could explode at any second. The music started a little late because, the bulk of the people were either still loaded from Friday night or passed out for the same reason. At 11:45 the "good morning" shout came from the stage, but only a handful of people were actually there to respond.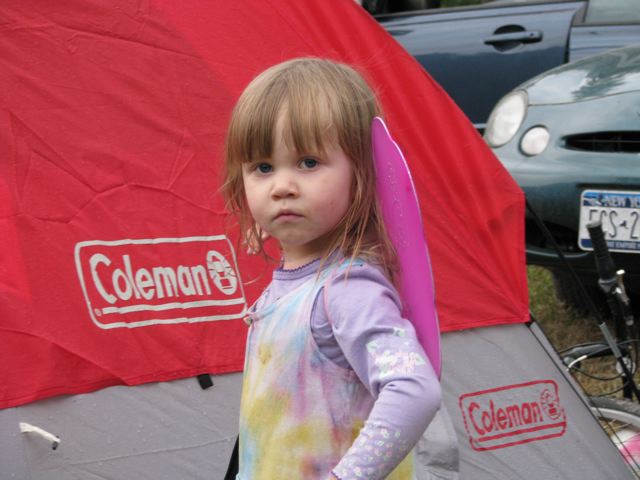 Sabbatical got things under way with their own version of a southern rock revolution. As you may expect from the first band of the day, covers highlighted their set. An 'I Love Rock and Roll/ War Pigs' medley, yes another medley, and straightforward take on Led Zeppelin's 'Rock & Roll' were a good enough start to the day. Besides, my wife and I had moved the car and now we were right across the pond from the stage. We were able to lie on our blanket, play with the dog and hear the music perfectly, all at the same time. Have I mentioned how much I love smaller festivals? Obviously, they lack some things: an ample food selection, an ATM, etc., but it was making up for it allowing me a relaxing time during the afternoon sets. The overcast skies continued to keep the air cool and the breeze was nice.
The Reverend Tor Band recognized that, "hey, there may only be a few dozen people in front of the stage, but there are plenty of people in ear shot. Let's play for those people enjoying the day, no matter where they are." The Rev and I were speaking the same language and I thoroughly enjoyed his band's set. I had a few run-ins with the Rev in my past life, but seeing him older, wiser and seasoned proved to me that the second coming of this holy man would be worth my time in the future. As was the case with Sabbatical, The Reverend Tor Band played mainly covers. A sentimental version of the Dylan's 'It Takes a Lot to Laugh, It Takes a Train To Cry', a Scofield tune, a "Fire on The Mountain/ Smoke 2 Joints' medley (that's 4, for those of you keeping score at home), and a smatter of originals allowed Reverend Tor to showcase his version of mountain gospel. He was a man who had done his soul searching and now that he had broken through, he wanted to share what he had learned, embodied by his lyric, "I guess it's easier to fear than fix your own stuff." There are a lot of reverends in the world of rock and roll. The title carries with it a lot of assumptions. Luckily our pastor that day did not disappoint. Amen.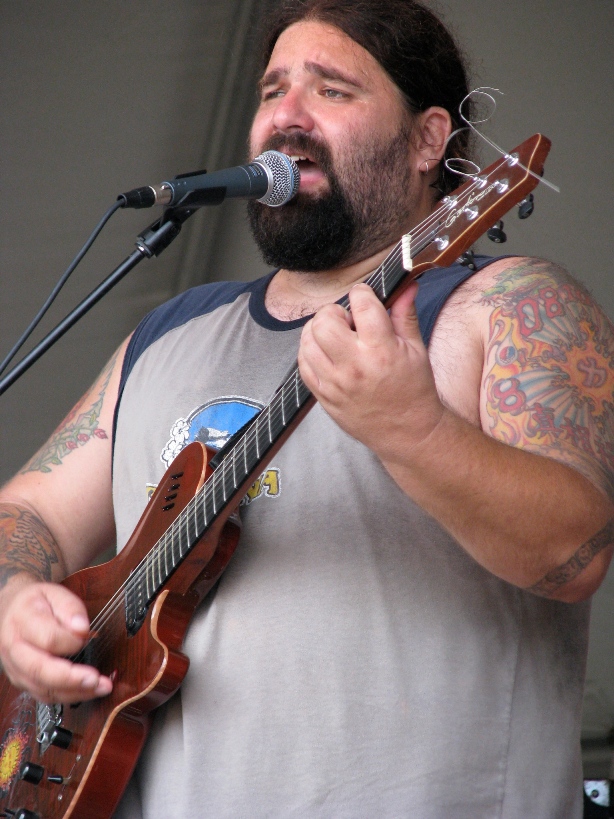 As if the heavens appropriately waited for the Rev's set to end, the skies now opened up and a light sprinkle quickly gained momentum. Still, the day's crowd was growing and, even though the morning had stretched into afternoon, every band felt the need to give the obligatory shout to the campground to get up and come to the stage. For Spiritual Rez, the people finally started to listen.
After Spiritual Rez and another band, who will go unnamed and un-reviewed finished their nearly identical ska-rock sets; the surprise of the day came my way. The Night Crawlers took the stage with very little fanfare- 2 guitars, bass, drums and a female vocalist. But when she opened up her mouth and that sound came out from deep down inside…hallelujah! I had seen the light. Cally, who also sings with Cider House, seems to have been born to sing- as a matter of fact she seems to have been born on a stage judging by her comfort with her vocal range, which starts down in the blue part of your brain and rises up until your world is red. Their songwriting was decent, but this girl could make a reading of the phone book sound good.
Now, there are certain milestones covers; songs you don't expect to hear from another band and when you do, you can't help but smile. When The Night Crawlers launched into 'My Doorbell' by The White Stripes, all I could think was "it's about time." The syncopated vocals are like an extra instrument. I love that song and these guys pulled it off. The entire set exploded like champagne at midnight when Cally and the slide/lap steel guitarist took a swipe at the Aretha Franklin version of 'The Weight' and ripped a note for note replica of the swanky Duane Allman guitar licks. Yes, it was Duane Allman on the original. Look it up. I am not lying when I tell you that, from the moment I heard this girls voice at the beginning of their set, this is the song that I had in my head that I thought would be her masterpiece.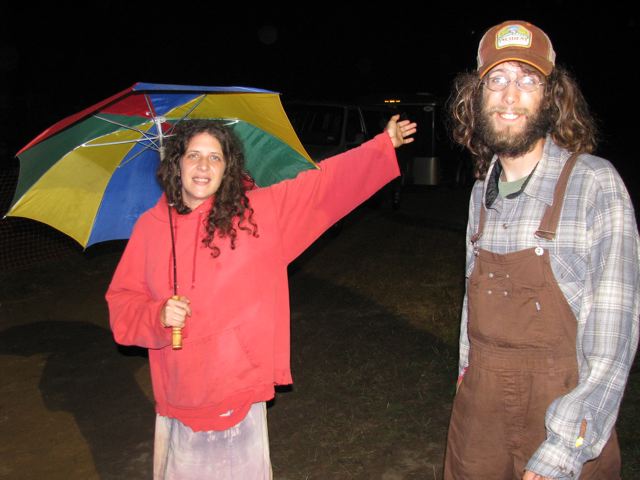 The rain had stopped and the sun had set and, if you were still in front of the stage, you needed some loud music, some psychedelic lights and some intensive jams to keep you going. Sounds like a perfect menu for The Breakfast, and the boys from Connecticut served up a heaping helping. It's been a few years since I have seen The Breakfast. In that time they have gone through a keyboard player and a bassist, with only Tim Palmieri (guitar/vocals) and Adrian Tramontano (drums/ vocals) surviving the purge. But, that's all this band needed to continue to bring it over the years. These guys have the patience to let a psychedelic state occur throughout a set of music, as opposed to the younger bands out there who may force psychadelia on you, whether you want it or not. Tim connects with Adrian in a way that is necessary to create the ebbs and flows of a true jam. It's an inborn sixth sense these two masters share. Late in the set The Breakfast brought out the man with the greatest guitar player name I have ever heard, Chris Michetti (pronounced "machete") and Todd Stoops from RAQ, which was the first call to the bullpen all day. Come on people, festivals are made for sit-ins! Hey, Bazzano sisters, lets improve on that for next year, all right? Again, I digress. When these players came out, one could only expect that smoke would soon rise from the fingers of these true guitar heroes, but a funny thing happened on the way to that solo. The keys stole the spotlight. Stoops along with Breakfast keyboardist Matt Oestreicher played on one rig and melted faces. It can only be compared to an all-star game in the late 1980's when all the fans expected Magic and Larry to shine, but they were upstaged by a dunking duel between Dominique and MJ. OK, I'm reaching. No more basketball analogies.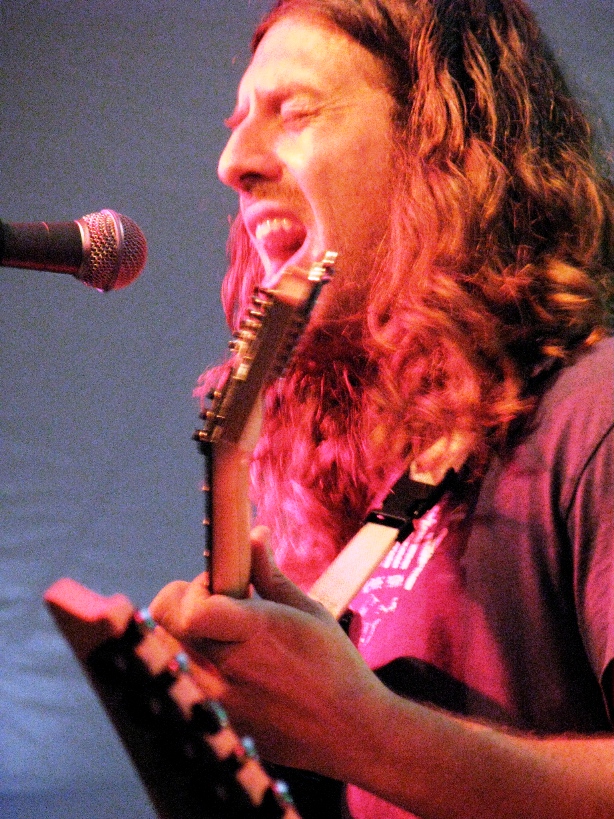 When RAQ took the stage, I was exhausted. My wife had turned in and the dog had been sleeping since before The Breakfast. As I had never seen RAQ, I didn't know what to expect, but I knew it was going to take something epic to keep mentally involved. Just as the first day had a singer-songwriter vibe, today had a theme and that theme was the psychedelic jam, with structured cadences and nuggets of space. RAQ may not be the pioneers of that sound, but on this night, they were certainly its torchbearers. Their jams are jovial. They don't appear to take themselves too seriously, ironically working their asses off to make that apparent to the audience. Michetti and his sharp-as-a-blade guitar chops were in a symbiotic zone. During that set, as the jams built, it seemed as if he was far beyond what we were hearing. The symphony of sound was only being channeled and flowing through his right hand. Truly, Saturday night at Backwoods Pondfest had been the night of the ax, and, as a headliner on such a night should be, RAQ became like Arthur, wielding Excalibur. The audience had been transformed into the peasants of Camelot, subject to their leader's every whim. Yet, just when the show seemed to be reaching dark places and serious music, RAQ switched gears into New England reggae. They were fucking with our minds and I was lapping it up. Next, they had a huge collective run don the scale and landed firmly in funky town. I spied tour vets in the front row, not hardened by the road, but flavored by its experiences. They were dancing, expecting changes, and mouthing words. Although this was only my first RAQ experience, the music was taking me to the same place these road warriors kept coming back to visit. I was far away from my sleeping wife, not to mention our hound. I had forgotten my tired back and my sore feet. RAQ allowed me to transcend these tangible entities and was replacing them with a harmonic dream. Near the end of the set Chris Michetti called Tim Palmieri back to the stage. When he told us Tim was "by far, my favorite guitar player to play with" I expected great things- and I was not disappointed. The game of finger tag was on and the two of them chased each other up and down the treble clef until they inevitably ended up together at its higher reaches and, climbing on together, they truly took me beyond the confines of this campground in Peru, NY. Transcendence.
As RAQ went on to bleed their set dry, temperatures dropped and the wind began gusting. RAQ ushered us into fall and the half-dozen bonfires that had popped up in the campground signaled our compliance.
Fans poured back into the campground, some to layer up, some to lay down, but all were content. Lucid, our endearing host satisfied those insatiable creatures that still craved more after RAQ. I was not among them as the length of the weekend finally brought me back down to earth and I snuggled up next to my wife and dog, ready for the long winter.
Check out photos from the weekend, thanks to Laura McDaniel.