On Monday, June 6, Bernie Sanders reached out to California voters in San Francisco with a message urging action in the California primary election the following day. Supporting this message was a fired-up and artistic mixture of politicians, social activists and the musical guests including Dave Matthews and Oakland, CA based Fantastic Negrito.
Hosted at the expansive Crissy Field, picturesque backdrops of California landmarks and a dense fog provided a memorable portrait-frame of the stage, which was carefully angled parallel to the Golden Gate Bridge. The infamous, former high-security prison Alcatraz dominated stage left, and the view from the stage facing the entire city of San Francisco.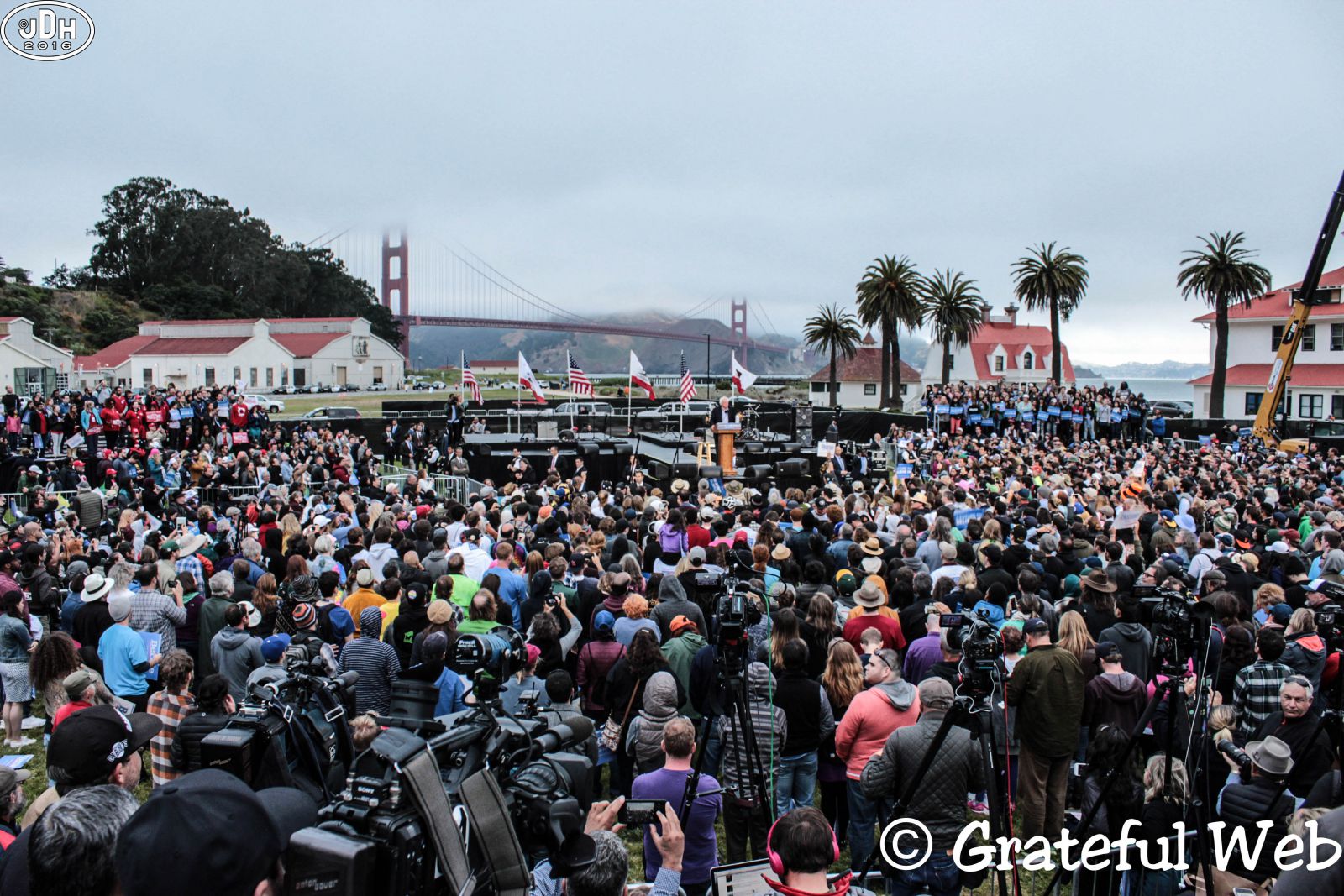 The field was large enough to accommodate the massive crowds Sanders has generated, but after travelling all over the Bay Area, the Monday night Dave crowd brought out a mixture of die-hard Bern'ers and the slackers that haven't made it to a rally in the week leading up to Monday.
That may be why the main message across all speakers was that this is not over, and to bring four, five or more people with you to the polls. On Tuesday, many precincts across the state appeared woefully under-prepared after reporting a shortage of ballots and resources.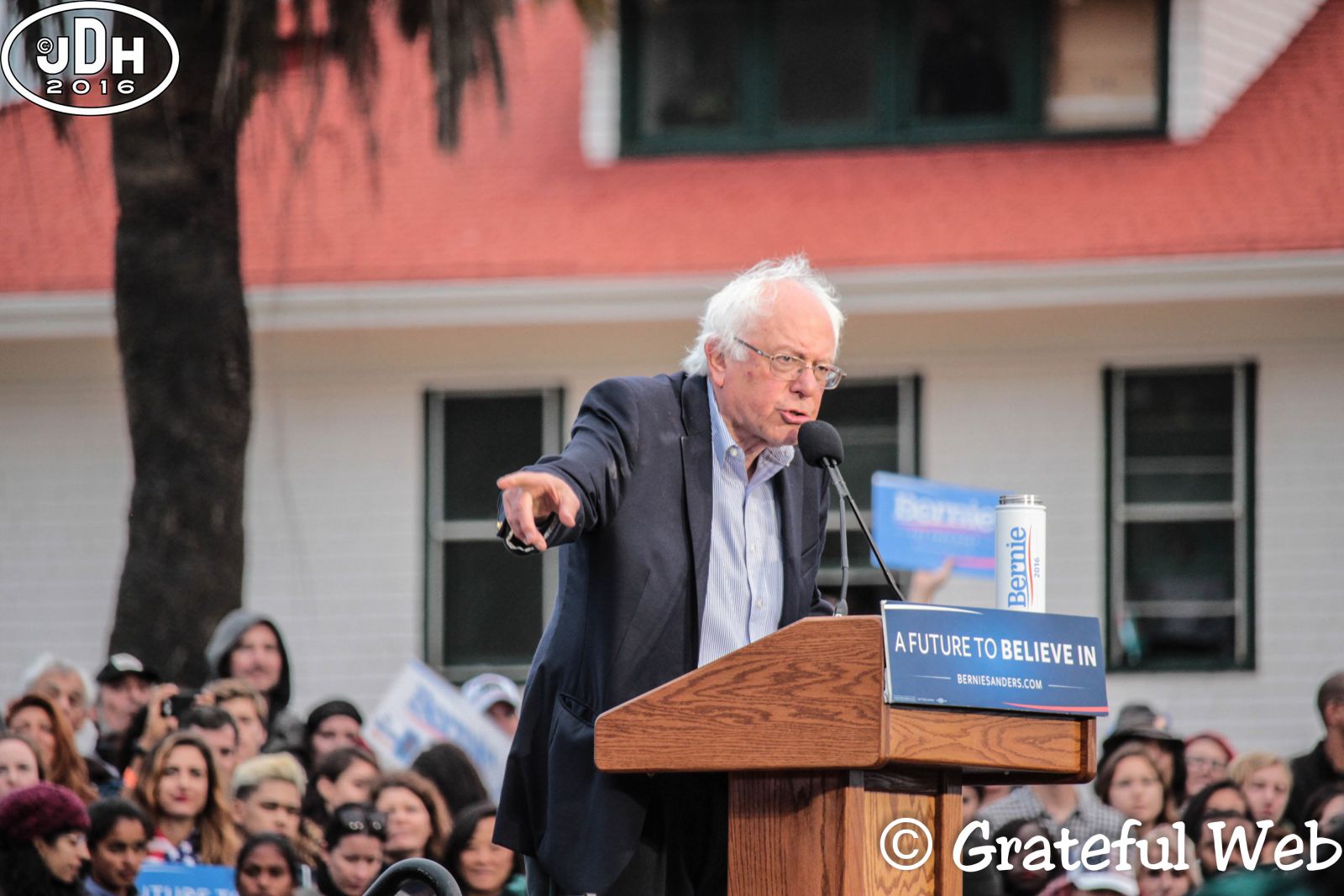 The afternoon was kicked off with Brooklyn, NY based indie-rock quartet Yarn. After a solid four song set that resonated with Bernie's overall campaign, they left the stage and made way for Jim Dean, the chair of Democracy for America, and Ilya Sheyman, the executive director of the political action leg of MoveOn.org.
"Let us also be clear," announced Sheyman, "That because of the work that you have done there has been a 218% increase in voter registration, including a 123% increase among Hispanic populations and a 188% increase among voters aged 25-30 since last year. That is a political revolution."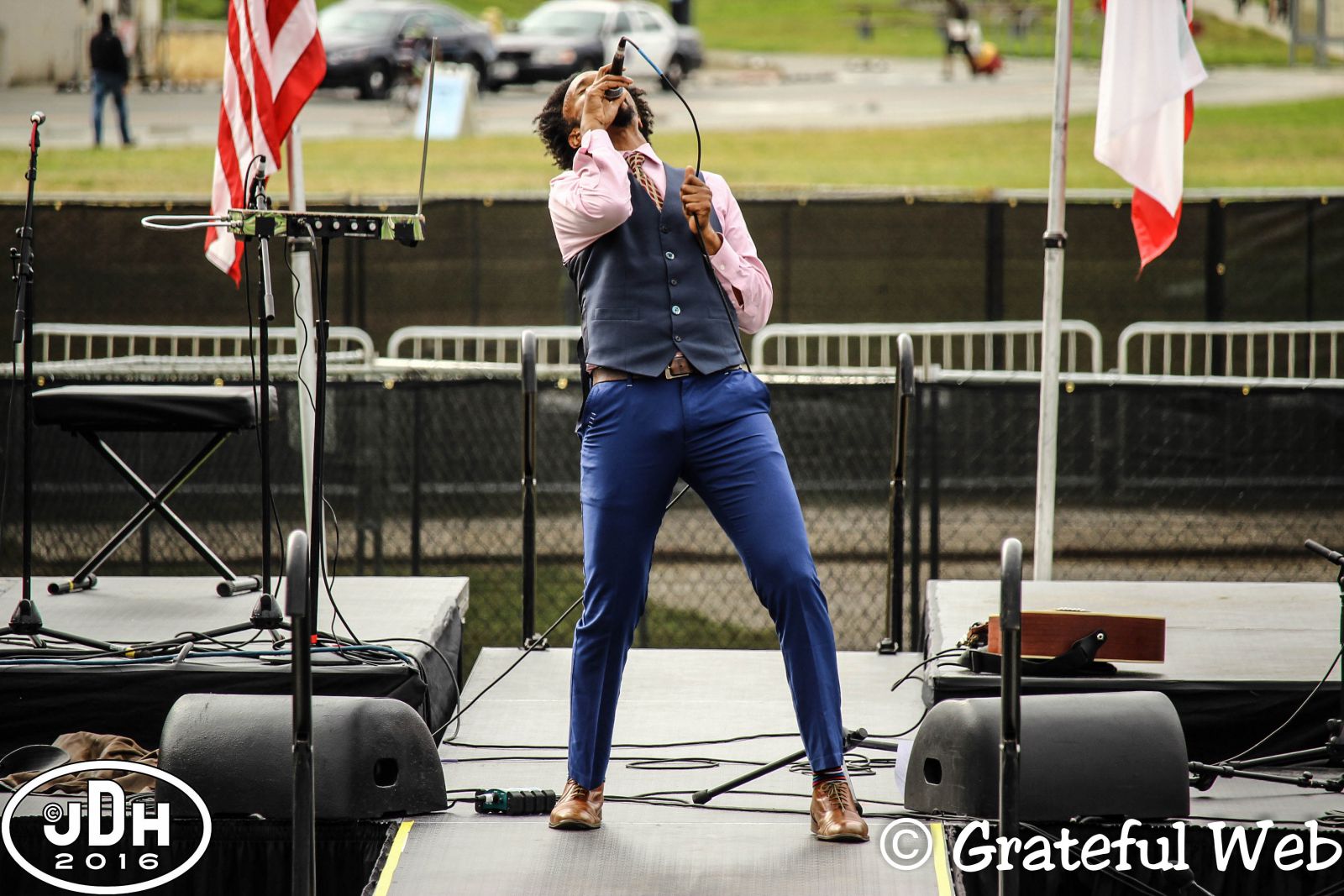 Sheyman went on to introduce Fantastic Negrito, a bright spark of energy originating in Oakland, CA just across the Bay.
"I'm here to announce I'm going to be Bernie's running mate," said Xavier Dphrepaulezz, enigmatic front man of the band. "It's gonna be a party baby."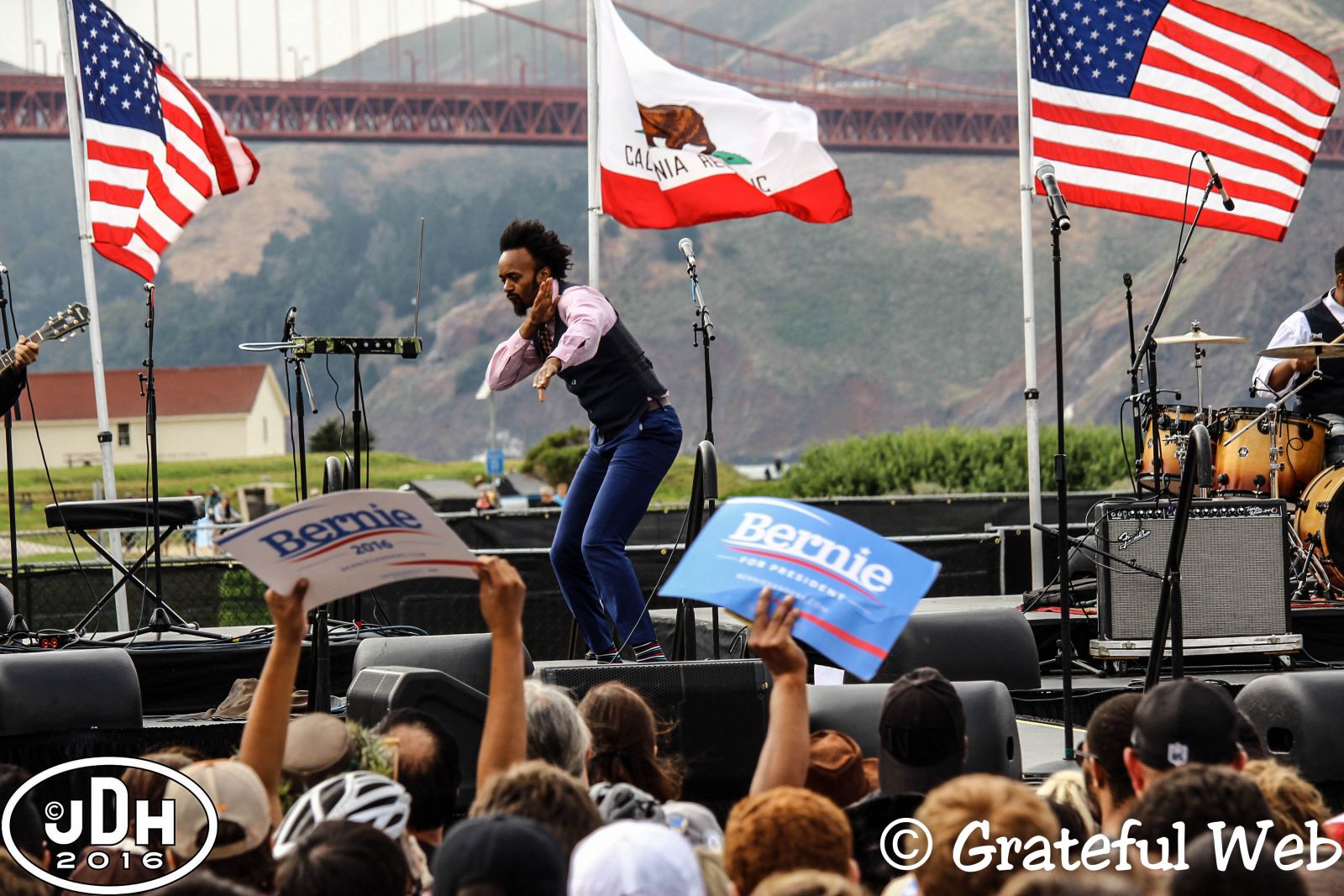 He launched into a shrill vocal trill in the vein of Prince before jumping into some very groovy blues tunes. He ended the four song set with a riveting take on the Appalachian Americana classic "In The Pines," or more commonly known under the Nirvana-favored title, "Where Did You Sleep Last Night?"
Jane Kim, member of the California state senate, spoke between groups and stressed the importance of knowing your polling place and what to expect. Despite many media outlets reporting record numbers of new voters and warnings of high turnout, the uncounted California primary ballots number into the multi-millions as of Friday, June 10.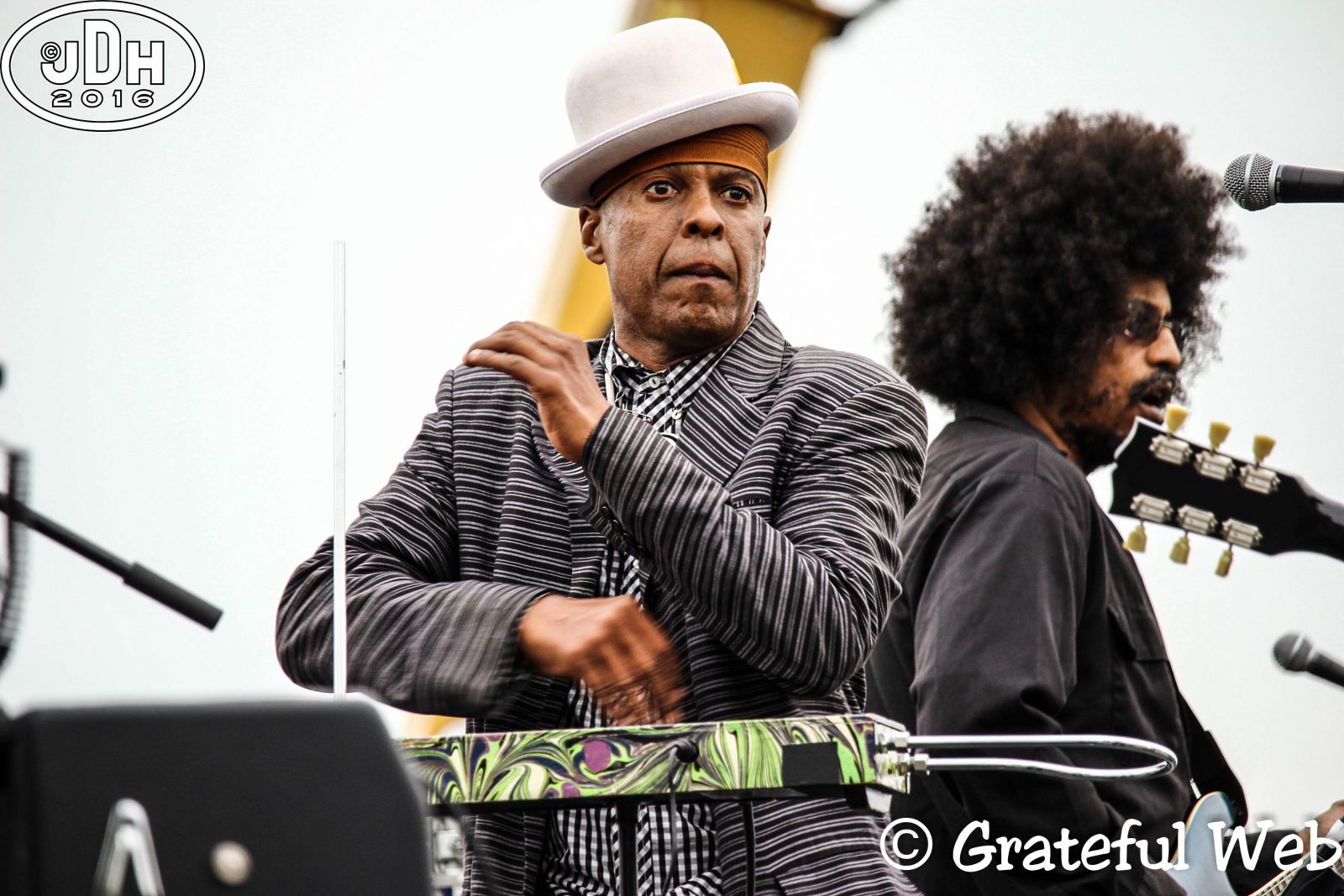 They were followed onstage by Fishbone, a funky ska-oriented troupe from Los Angeles that came into popularity in the late 1980s. Lead vocalist Angelo Moore carries a dynamic stage presence that is exponentially amplified by his use of an esoteric instrument called a Theremin. Hilarity ensued as guitarist Rocky George kept forcing Moore and his Theremin around the stage by his guitar's signal interference with the instrument.
Dr. Cornel West and United States Representative of Hawai'i Tulsi Gabbard spoke at length and each were well-received by the crowd. West, famous for dissecting radical conditiondness of American society paired well with the firey Gabbard, who is one of the youngest active political movers, and she does not seem to be fading into any sort of obscurity soon.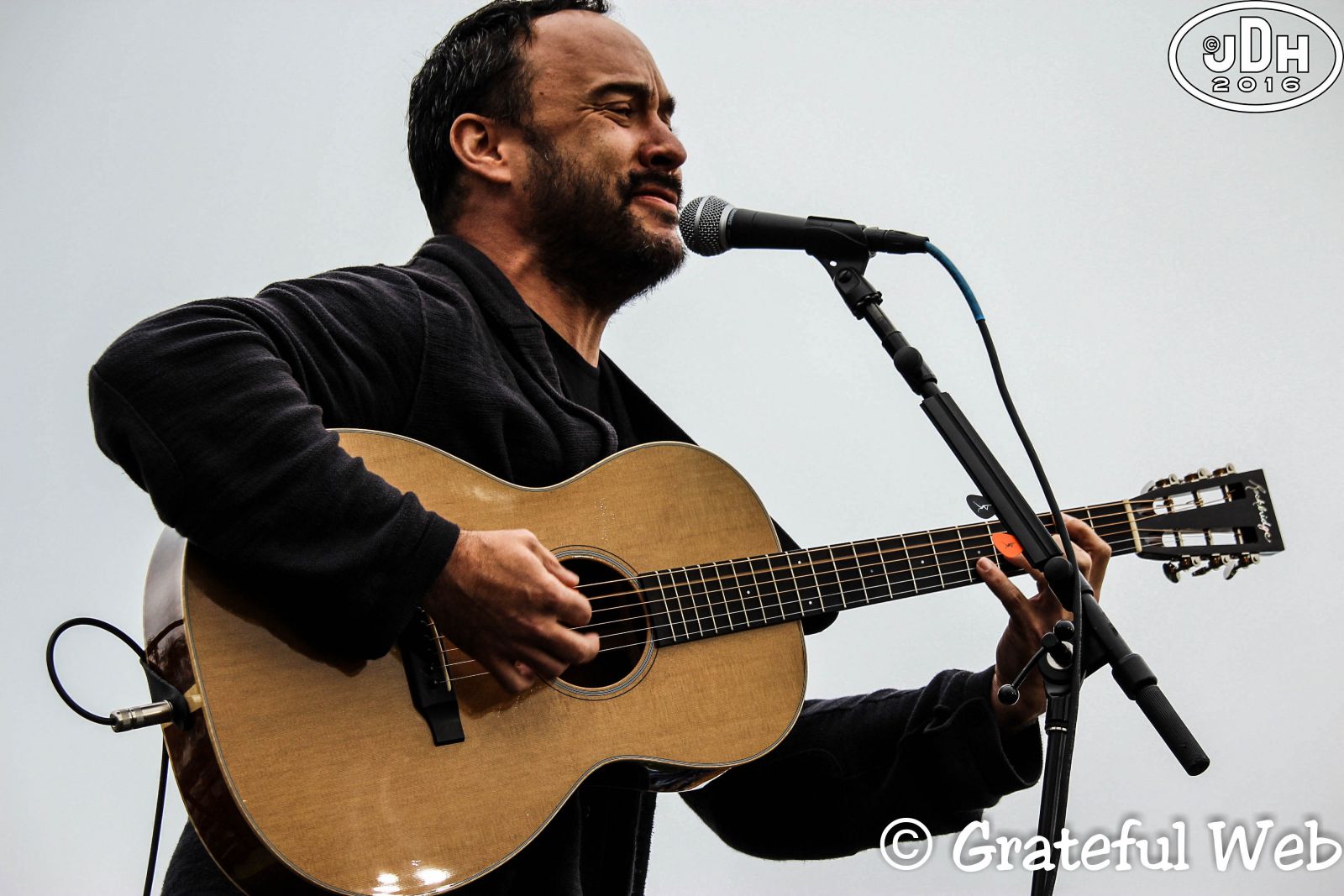 Following Gabbard was the mellow sounds of a lone Dave Matthews, whose touring band rose to monstrous success in the 1990s and beyond. Matthews has never shied away from politics that he believes in. He opened his four song set with "Samurai Cop" for the first time, also playing it solo and on an acoustic for the first time. He followed with the classic "Ants Go Marching" before reminding the crowd "Don't Drink The Water". He closed the set with "Mercy".  Matthews spoke about his mother's affinity for Sanders and at one point exclaimed, "Bernie is bringing frumpy back!"
Following the musical headliner, San Francisco native Danny Glover took to the stage. He was later joined by former Ohio state senator and CNN contributor Nina Turner and her unique brand of intensity. Turner then introduced RoseAnn DeMoro, the executive director of National Nurses United. An entire bleacher full of nurses cheered in support of DeMoro, as she faithfully introduced Senator Sanders and his family to the stage.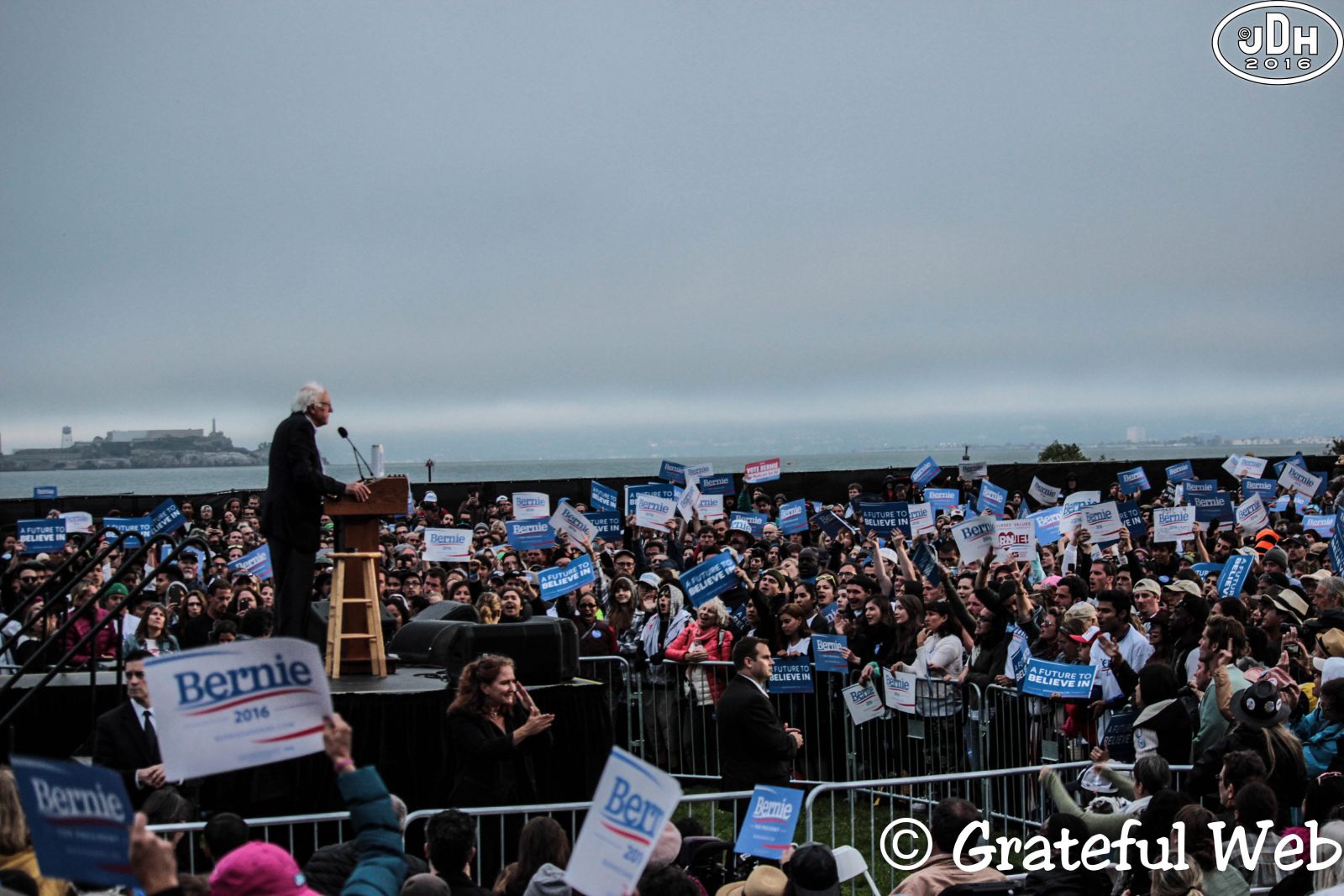 For 50 minutes against the settling fog and the picturesque backdrops of familiar SF landmarks, Senator Sanders elaborated on nearly every point introduced by the speakers ahead of him. His rhetoric had even greater appeal than the musical act as far as crowd response can be judged. The crowd size was smaller than what he has been drawing, numbering around 5,000 people at one end of Crissy Field. It is worth noting that the Copa Americana soccer tournament had a game the same night and time, and traffic surrounding Levi Stadium was at a standstill most of the evening.
It remains to be seen if Sanders' recent push in the Bay Area of California will yield the voter turnout suggested or who will actually be declared victor. The truth is out there.