Chris Porterfield is the guy you bring home to Mom. Earnest, heartfelt, and yes, a little tortured – but not irreparably so.  He's also the front man and lead singer of the band Field Report, who played the Hi-Dive to a mellow but appreciative crowd on November 11th. It was the coldest day in my memory of Denver, so credit is due to the intrepid fans who ventured out. And in fact, Field Report's shimmering melancholy was a lovely complement to the chilly Colorado evening, with Porterfield our unassuming guide.
Field Report is two albums into their most recent iteration as a band, after Porterfield's move from DeYarmond Edison, to Conor Plymouth, to Field Report. Their self-titled debut album was released in 2012, to critical success. It's an album of meandering folk that sounds true to its origin of the snowy, wide open spaces of Wisconsin: acoustic guitars and Porterfield's slight twang weave narratives of loneliness, mostly.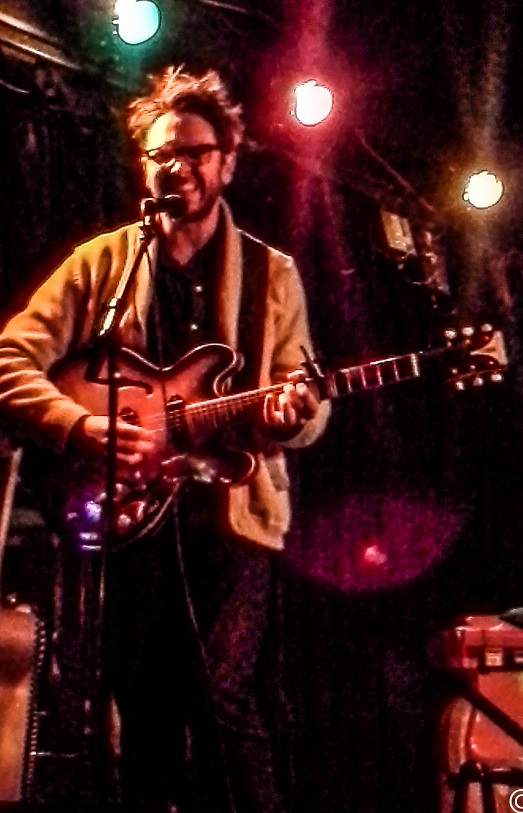 Field Report's second album, Marigolden, just out on October 7th, is ostensibly why they're on tour. Marigolden builds on the spacious yet spare folk of their debut, but with just a little more lush, gray area – the addition of synth and percussion create delicate layers beneath Porterfield's pointed and often desolate songwriting. But Marigolden is definitively more optimistic than Field Report's prior album, and it is a welcome shift.
And this is where Field Report shines. Porterfield's lyrics turn what may initially sound like singer-songwriter-y indie folk of the replicable variety into something more: a confession of sorts, with visible cracks in the armor that you can feel because Porterfield writes them so achingly well. So this show was an affirmation of what I knew it would be going into it – raw but observant, gentle yet slyly heartbreaking.
That said, the night started on an upbeat note. Upon taking the stage, Porterfield looked out at the pleasantly full Hi-Dive, and said, "You're here! This is so unexpected!" with a grin that was self-effacing instead of sarcastic. How refreshing. The room felt instantly warmer.
Fittingly, almost all of the songs came straight off of Marigolden.  "Ambrosia" and "Michelle" were standouts. In "Ambrosia", Porterfield tells the story of his journey to sobriety, and when he sings, "And despite our sins, we would not sink, we were buoyed by our brackish grace," you're not certain how well he's come through until you read an interview with him later.
The night was intimate, with a thoroughly contemplative feel. Porterfield seems to channel Neil Young and early David Gray in equal parts, and his plaintive lyrics tell the story of a struggle, this is certain. Although the highlight of the night – for most of us, I'd gather – was when Porterfield joined his bandmates, Shane Leonard (drums, fiddle, banjo, vocals) and Thomas Winsek (guitar, vocals) in the center of the stage for a bluegrass-y jam session, a joyful interlude that had everyone, band included, smiling broadly and tapping their feet.
In "Decision Day", Porterfield sings, "Now the morning was gilded around the edges," and that is what a Field Report show feels like. It's a slow burn. You have to wait for it, and listen closely. Much of the new album sounds like a journey back from something, or someone. And you have to want to hear it. But in yearning, there is always hope, and that is what Marigolden seems to be about.  And Porterfield's gilded edges were perfect on a freezing Colorado night.