If you haven't heard of Reptar yet, you will. This four-piece band brings together an extremely dance-able, experimental blend of electro-pop that is infectious and unexpected. They've hit the ground running (literally) with recent tours with Foster the People and Cults, but this go-round had Reptar opening for Phantogram in a sold-out show at the Marquis Theater in Denver on October 28th.  And given how packed the room was before they took the stage, I'd venture to say that Reptar was as big of a draw as Phantogram on this pre-Halloween evening.
Reptar's debut EP, titled Oblangle Fizz Y'All,  was released on August 2nd, 2011, and has five tracks. Needless to say, they played them all.  The Marquis pulsated with unified energy for the band's 45 minute set, with the wood floors literally moving a half-beat behind the ruckus on stage. The crowd knew the songs, and it was a delight to see a sweaty, bouncing mass of fans singing along word for word – to a band that is still very much on the way up.
Reptar is composed of lead singer and guitarist Graham Ulicny, drummer Andrew McFarland, bassist Ryan Engleberger and keyboardist William Kennedy. The lead performer in Reptar is, without a doubt, Kennedy on the keyboards, whose bandana just barely contained a wild mass of curly hair flying all over.  It's hard to take your eyes off of him. But this is a talented group of musicians across the board.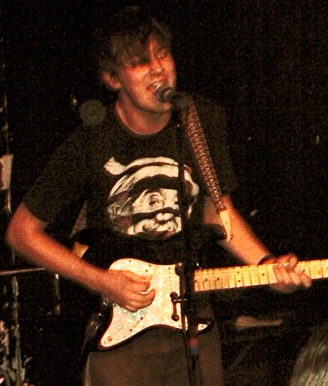 In "Blastoff", lead singer Graham Ulicny is absolutely channeling David Byrne, and – dare I say it – a dash of Yello. (Yes, the Swiss band who created Ferrari lust in Ferris Bueller's Day Off with "Oh, Yeah.") "Stuck in my Id" has the spoken/shouted/sung feel of The Talking Heads along with the distinct, almost choppy electronic beats of your favorite 80's tune. Ulicny's voice alternates between Ezra Koenig-inspired clarity, especially in "Rainbounce", and a dash of the Kooks (is that an English accent?!)
You can see and hear what intrigued Ben Allen (producer of Animal Collective's most recent album Merriweather Post Pavilion, among other big names) when he signed the band on the spot after he apparently wandered into an Atlanta club a couple of years ago. MPP, although polarizing to longtime Animal Collective fans, brought AC's experimental elements into a cohesive and more accessible album.  And perhaps Allen was attracted to Reptar because it represented an opportunity to do the same thing.  The success of Oblangle Fizz Y'All as a unified piece of work is up for debate, simply because there is so much going on. But then again, this is an EP. And the upside of the barely contained chaos is a bouncy, energetic, unpredictable live show. Reptar obviously has a blast on stage, and their cacophony of optimism-infused, electronic Afro-beats is just plain fun. You'll dance to this – you may not know how – but limbs and toes will be bopping. During "Phonetics" the entire room was vibrating, hands clapping in the air, feeding off of the band's improvisational style.
These guys are going to grow their fan base with their live shows for sure.  In fact, this show reminded me of seeing a little band called Local Natives 18 months ago at the Larimer Lounge. And what happened since then? LN played to tens of thousands at Lollapalooza and opened for Arcade Fire on their spring 2011 tour. Judging by the bouncy enthusiasm of the crowd at the Marquis and the talent of these four musicians, I don't think it's a stretch to say that Reptar is headed for a similar trajectory. Did I also mention that these guys are all in college, too? Yeah.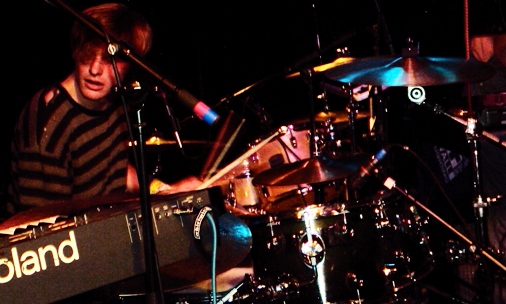 In the end, Reptar's music is a fitting reflection of the title of their EP, Oblangle Fizz Y'All.  You're not quite sure what the combination is but it sounds funky and bubbly and southern, and those things certainly can't be bad, right? I'm pretty sure I'd order that cocktail.