The Hi-Dive is anything but expansive. But when Other Lives played on December 14th, on the last night of their eight month tour, the progressive folk band brought cinematic space and light to the stage with a shimmering performance.  The crowd at the sold out show was clearly enamored with these five, who between them played enough instruments for a small orchestra, and sounded like one, too.
The band members (Jesse Tabish, Josh Onstott, Jenny Hsu, Jonathon Mooney, and Colby Owens) are able to create this sweeping sound because they're all multi-instrumentalists, with everything from a xylophone to a clarinet to a cello to a trumpet making appearances on stage. Most interestingly, Jenny Hsu plays her own homemade instrument, a set of antlers strung with little bells.  Lead singer Tabish is a slight figure, and it's just the glimpses of his face through swaying hair that convince us that yes, this ethereal voice is actually coming from him.  Which is an interesting thing about this band – you don't really notice the lyrics – as Jesse has noted before, the voices are really another instrument playing a part in this cascade of sound.
Which made it all the more surprising that so many in the crowd sang along with several of the tunes – most of which were from the band's most recent album, Tamer Animals. Standouts were "Old Statues", which carries very distinct echoes of Pink Floyd, and "For 12", with a simple, melancholy melody carried by swelling strings and keys – so subtle and fluid that at the end there was a distinct pause in the room as the crowd held their breath waiting for, perhaps, one final note.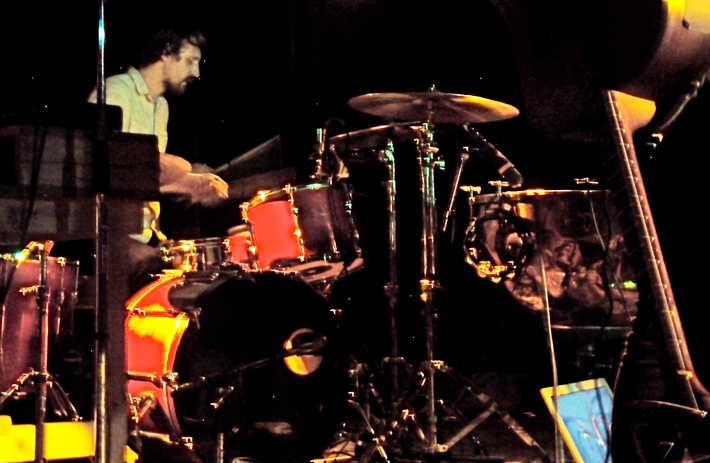 Other Lives hails from Stillwater, Oklahoma, and in "Dust Bowl III", even if you didn't know the song title, you are transported to a glistening, desolate version of the West – when the West was still Oklahoma. Other Lives' music carries a consequential feeling, and the drums in the song conjure up a sense of movement, of migration across wide-open plains and golden-hued horizons. That said, the packed Hi-Dive audience didn't move much; it was apparent that this was not a casual affair for most, and that leaving your spot for a drink or diversion was really not an option once the band took the stage. The crowd was certainly at attention throughout the night, but "Dust Bowl III" elicited the most fervent response – that particular version of indie-style enthusiasm that involves politely appreciative hollers during the opening chords followed by vigorous toe-tapping and head bobs.
Comparisons to Fleet Foxes are inevitable given that Other Lives is classified as a version of folk rock – and although they share a genre, the two are distinctly different live. Fleet Foxes has a slight, yet earnest extroversion on stage. In contrast, watching Other Lives at the Hi-Dive, you get the distinct sense that – though the band is, in fact, performing – this is an internal experience for the band members, and we're simply witnesses.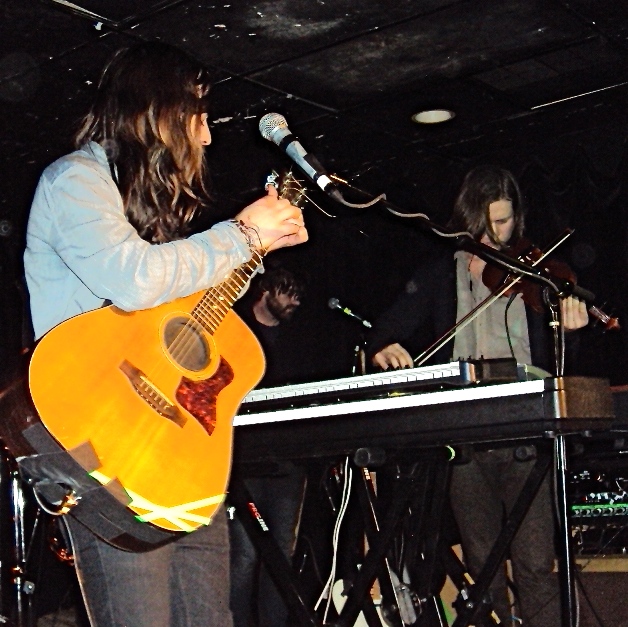 Since this show was the last date of this tour, the sold-out evening had that particularly sweet mix of nostalgia and levity that comes with finishing a grueling and exhilarating experience. In fact, in the last six months alone, Other Lives played the Hi-Dive twice, opening for S. Carey (Bon Iver) on May 16th and playing with the Rosebuds on July 16th.  And there may be rest for the weary, but it's not much – the band will be back on the road again in February, including a stint opening for Radiohead for 12 spring tour dates, including the 1st Bank Center in Broomfield on March 13th.
It's not often that I venture to larger venues. But to be honest, with so many instruments packed onto the Hi-Dive's tiny stage and such an expansive sound, I think it would be perfection to see Other Lives play in a more generously sized room – give the music a chance to move, breathe, curve around the soft and hidden corners of a space. So if you're lucky enough to be holding a ticket to Radiohead in March, plan to get there early to see this little Oklahoma band that sounds anything but little.