Dogs In A Pile (DIAP) is about to embark on a 16-date tour, supporting Pigeons Playing Ping Pong. This opportunity to open for them will be highlighted by a start in New Orleans at the famed Tipitina's, a performance at the beautiful Mission Ballroom in Denver, and a show at the Troubadour in Hollywood—amongst a slew of first-time played venues in what many would consider key cities for any young band on the rise.
The Dogs are coming off one of their most successful weekends in their relatively short but quickly building history. They headlined at the Music Hall of Williamsburg in Brooklyn (NY) and nearly sold out the Brooklyn Bowl Philadelphia in a pair of classic East Coast shows.
Grateful Web was fortunate enough to catch up with the band's bassist/vocalist Sam Lucid during one of his increasingly rare off-days.
Grateful Web (GW): Talk to me about where you're from in New Jersey and how it was growing up there.
Sam Lucid: I grew up in the Jersey Shore area, but as I always tell people, it's really nothing like the TV show. That's just a little pocket of it. Obviously, some of us go to those kinds of clubs a couple of times a summer, but the people there are more like surfer Deadheads. Everyone in my tiny beach town high school was into the Grateful Dead and Twiddle. When I was around 14 or 15, I got super into the Dead with my brother. That's how it all started for me. I liked music before that, but once I heard the Dead and learned a couple of songs—it was all over for me. My brother and I loved it so much. We learned all the Bob Dylan and Dead songs we could, then moved on to Stevie Wonder, Steely Dan, and jazz music. Also, it was a great place to grow up. Bruce Springsteen is from there, so he cultivated this never-dying music scene where you could see live music in my area any season of the year, every single night of the week. Which is pretty special. There's a classic Bruce Springsteen/Dead cover band that I've been seeing since I was a kid that I still catch whenever I can.
GW: Is there a particular show that you saw growing up that sticks out in your mind?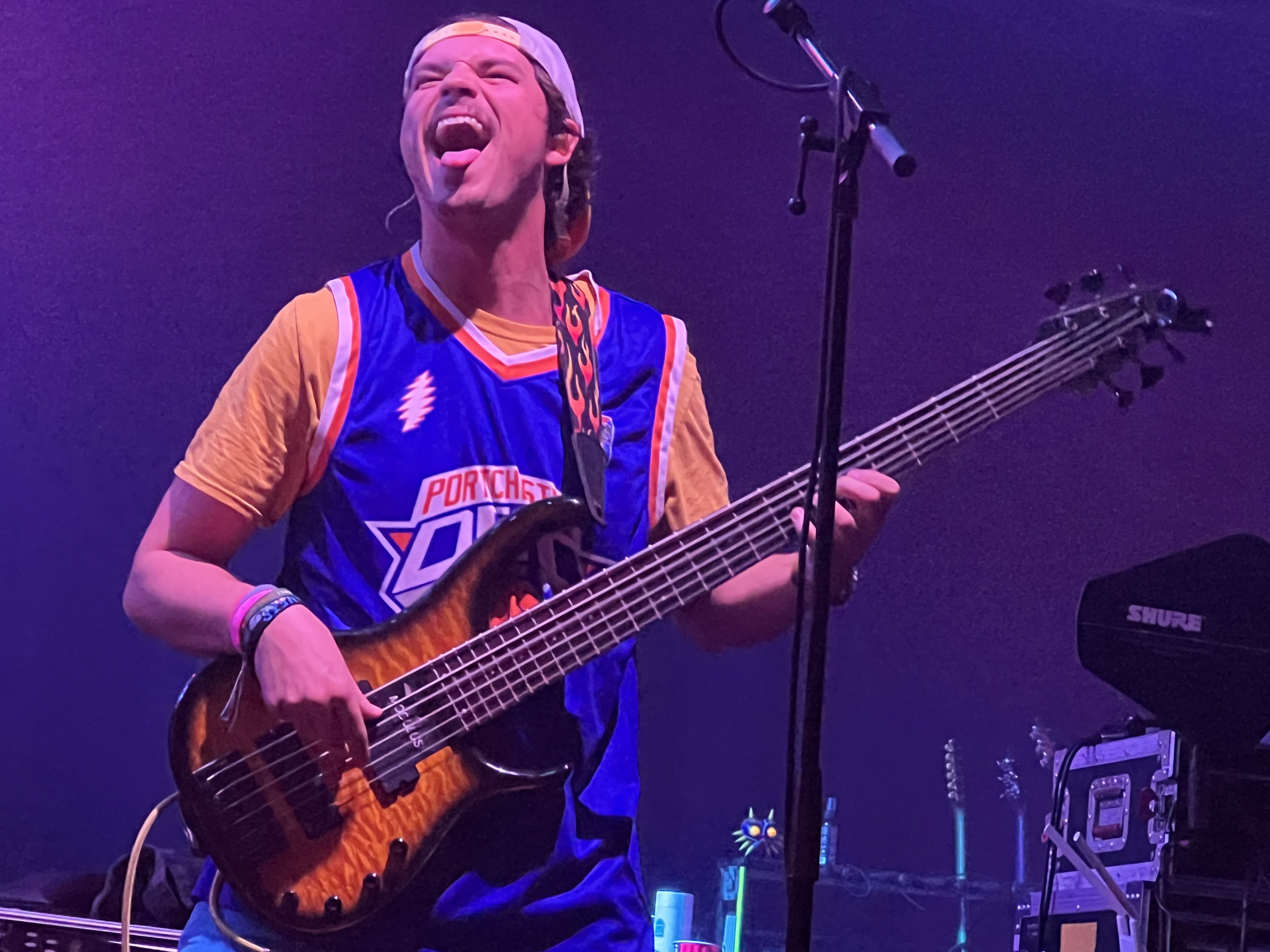 Sam Lucid: There's this Dead cover band called Splintered Sunlight—shoutout to them for being awesome! They're based out of Philly. They're pretty big and have played with original Dead members. They're very talented and have guys who play Jerry's parts and Bobby's singing/chord parts perfectly. My brother and I saw them at The Stone Pony when I was about 15. They were my first local jam band show. Before that, I'd seen Dave Matthews Band a few times. By this point, I had yet to see Dead & Company. I've now been to about 10 D&C shows.
GW: How did Dogs In A Pile form with its current lineup?
Sam Lucid: Joey [drums] and Jimmy's [guitarist] dads are family friends who grew up together in Tom's River, New Jersey. They're both lifelong Deadheads. Jimmy and Joey have been jamming together and have known each other since they were about 11 and seven years old respectively—maybe even younger. Then, when I was in my senior year of high school, I started getting homeschooled and would literally practice 10 hours a day in my room. Which may not sound like a great habit, but that's how I got good, in my opinion. Just six months straight of a routine of 10 hours practicing a day. Playing jazz, learning Grateful Dead/Steely Dan songs, and posting videos on Instagram. Around this time, a friend of a friend of mine hit me up and told me he was starting to get into jazz—he's a guitar player. I think he came over the next day and we just started jamming. I taught him all the fun and simple jazzy-funk standards that you learn when you're first getting into jazz. I wasn't much better than him at this point as I was just starting as well. It was really fun to have someone that was as interested in it as me. His name is Eric and he was an original Dogs guitar player. One day, Eric brings me to a random friend's house who he tells me is a great guitar player (Jimmy) that he jams with often. I go over to what is now our studio—that we still play in as often as we can—and Jimmy and Joey were there. All four of us started jamming. Eventually, after that, I recruited another friend of mine, this guy Alex who was starting to get pretty good at keys. I recruited him to jam with us, but he was never quite an official member and maybe did one or two shows.
At the same time, I was dating my girlfriend from high school and she was moving to Boston to go to art school. We decided at the last minute that we wanted to move together. That's when I chose to audition for Berklee. I met Jeremy [keyboardist] and Brian [guitarist] there. After about a year of Jeremy being in the band, I told him that he should come down to my house for the summer, stay with me for three weeks, and we could set up some local shows for the Dogs where we mostly played Dead covers. Concurrently, we were starting to write original music with Brian at school. Essentially, the two projects meshed together when Brian became a full-time member of the Dogs.
Brian was the one who first encouraged me to want to start writing original music. Before that, I wanted to play in a super fun cover band and sneak some jazz in there. Play Steely, the Dead, and obscure covers that would surprise audiences.
GW: Once the five members that are in the band right now got in a room together, did it all "click" pretty much right away? Or did it take a lot of practice until something special came about?
Sam Lucid: With how much I love everyone's style in the band and how talented and special each of the guys are, I always knew we were going to make great music together. The very first time that Brian played a full show [at the Wonder Bar in Asbury Park on 3/15/19] with us, we were all in agreement that we didn't know if it was going to work out with him. I kind of argued for one more audition for him and the next one was the first time we played in Vermont. The gig was at a larger country-style restaurant. It was magical. It was a magical show [at Martell's at the Red Fox on 5/31/19].
GW: Were there any other names in contention for the band other than Dogs In A Pile?
Sam Lucid: When the band first started, my original suggestion was Steely Dead. Dogs In A Pile was chosen when we were still sort of a Dead cover band, and it obviously stuck. Partly because we could never think or agree on another name to change it to. Funny enough, there's a band in Colorado called Steely Dead. They're really talented. When we played in Colorado Springs in February this year, I started talking to this random guy in town and then, somehow, I realized he was the keyboard player in Steely Dead. He sat in with us later that night, and we played "Green Earrings". Probably the best "Green Earrings" jam ever. He was on clav and Jeremy was on synth. It was off the chain.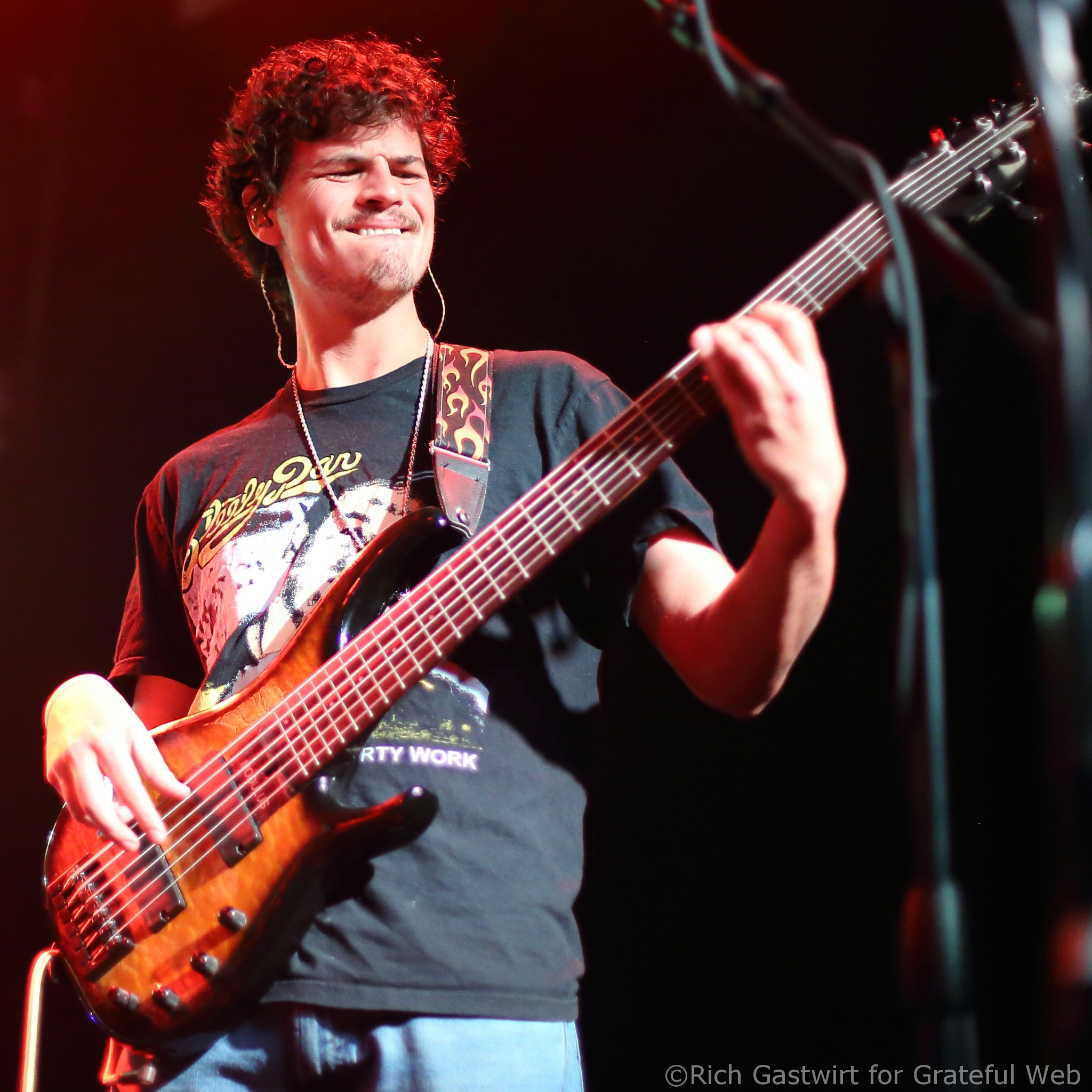 GW: Talk to me about your love for Steely Dan and their influence on the way you play.
Sam Lucid: Steely Dan is another band that, once I got "it", I got "it". Like the Dead. I don't think it took much diving into their music. I remember when I was a kid, my mom had a couple of CDs that she would play in her car and that I would play on CD players. I thought, these guys are cool. At the time, I just thought of them the same as any other classic rock band. Then, in my junior or senior year of high school, I started learning their songs. I noticed how complex the chords were. Some of the craziest structures I had ever seen.
Once I realized how much fun it was to listen, learn, play, and sing their music, I knew I wanted to make music with that influence because I feel like it's a little bit lost these days in our scene. There's almost not enough of that kind of influence. Stevie Wonder, Steely Dan — that jazzy fun funky sound I hear sometimes in bands like Lotus, The Disco Biscuits, or sometimes Phish.
GW: Yacht rock jam, right?
Sam Lucid: Yeah!
GW: What's your favorite instrument to play other than the bass?
Sam Lucid: Piano! Definitely. I also enjoy guitar. Those are the only ones I can play. I've been playing guitar longer than I've been playing bass. And started playing piano around the same time as bass. I taught myself piano at Berklee by observing so many great players and hanging with guys like Jeremy who were able to teach me stuff. A lot of the work I did on my own — learning tunes and trying to sound it out myself on the keys.
GW: I heard your piano skills on "Andy Frasco's World Saving Podcast" when you were talking about the Dogs original tune "Appleseed". How did "Appleseed" come together? I think you and Brian wrote the song, correct?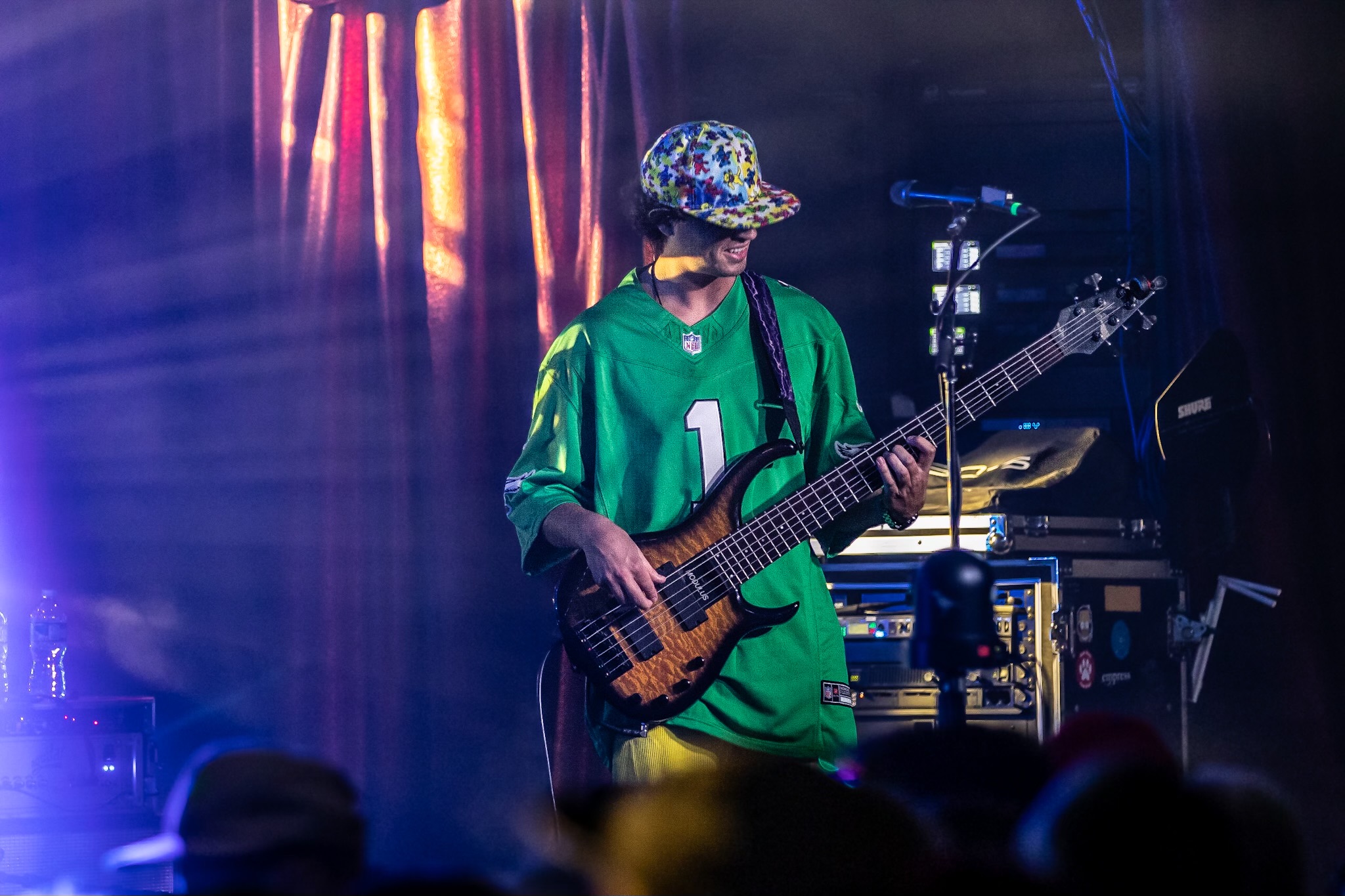 Sam Lucid: Yes. It originally came together on a late night at about 4am. I thought to myself, I want to write a song, but in this cool way that I've never tried before. Which is to literally just think and stew on trying to come up with the most perfect melody possible. In the moment and vibe of that night. I sat there and thought intensely about melodies and music. I'm fooling around on the keyboard, but I'm not just going up and playing a bunch of notes. I was really, really thinking about it. I would go up and calmly play something. As opposed to, a lot of the time, saying: "Oh, let's just jam. Jam jam jam. Oh, that sounds cool". I haven't written another song in that way. I'm excited to try that again. I feel that it's a special way to write, so I don't want to do it that often.
GW: Did "Appleseed" eventually morph into one your newer songs "Applesauce"? Or is that a coincidence, that they share the "Apple" theme?
Sam Lucid: Applesauce was created on the bandwagon during the tour that we opened for Twiddle. I started playing this riff on the bus for no reason on piano. It happened to be in the same key as Appleseed. Then, me and Brian thought that it would be sick to play it once in a while as another "Apple" themed B-part.
GW: Are we done with the "Apples"? Or will we have a trifecta of them?
Sam Lucid: I think there's more "Apple" stuff coming for sure and more "Tooker" stuff [referring to another pair of Dogs original songs, "Mr. Tooker" and "Tookin' Around". "Mr. Tooker" is a nickname for the Dogs Tour Manager and jack-of-all-trades, Kieran Tooker].
GW: Speaking about name-themed songs like "Mr. Tooker". Dogs have a lot of songs named after… names. Who is Craig? Pat? Who is Johnny and Thomas Duncan? Who are all these characters?
Sam Lucid: Thomas Duncan, I'm not totally sure. That's an enigma. Johnny is supposed to be me, a little bit. Brian wrote the "Look Johnny" lyrics. I'd like to think it's him talking to me. That's always been my perception of the song. "Look Johnny II" is completely written by me about myself in a silly situation. It's about someone asking you to do a side gig at a bar that you don't really want to do. You accept this gig reluctantly and end up regretting it because you'd rather be doing something like watching a movie at your house. Then, Craig is the Dogs original manager and Pat is a childhood friend of mine. They look similar. I had this crazy idea to make a song about them meeting. "Craig, Craig, Craig, Craig, Craig". I wrote that completely improvised while trying to entertain Craig. He was sitting on a lawn chair at a festival, I went up to him with an acoustic guitar and played that.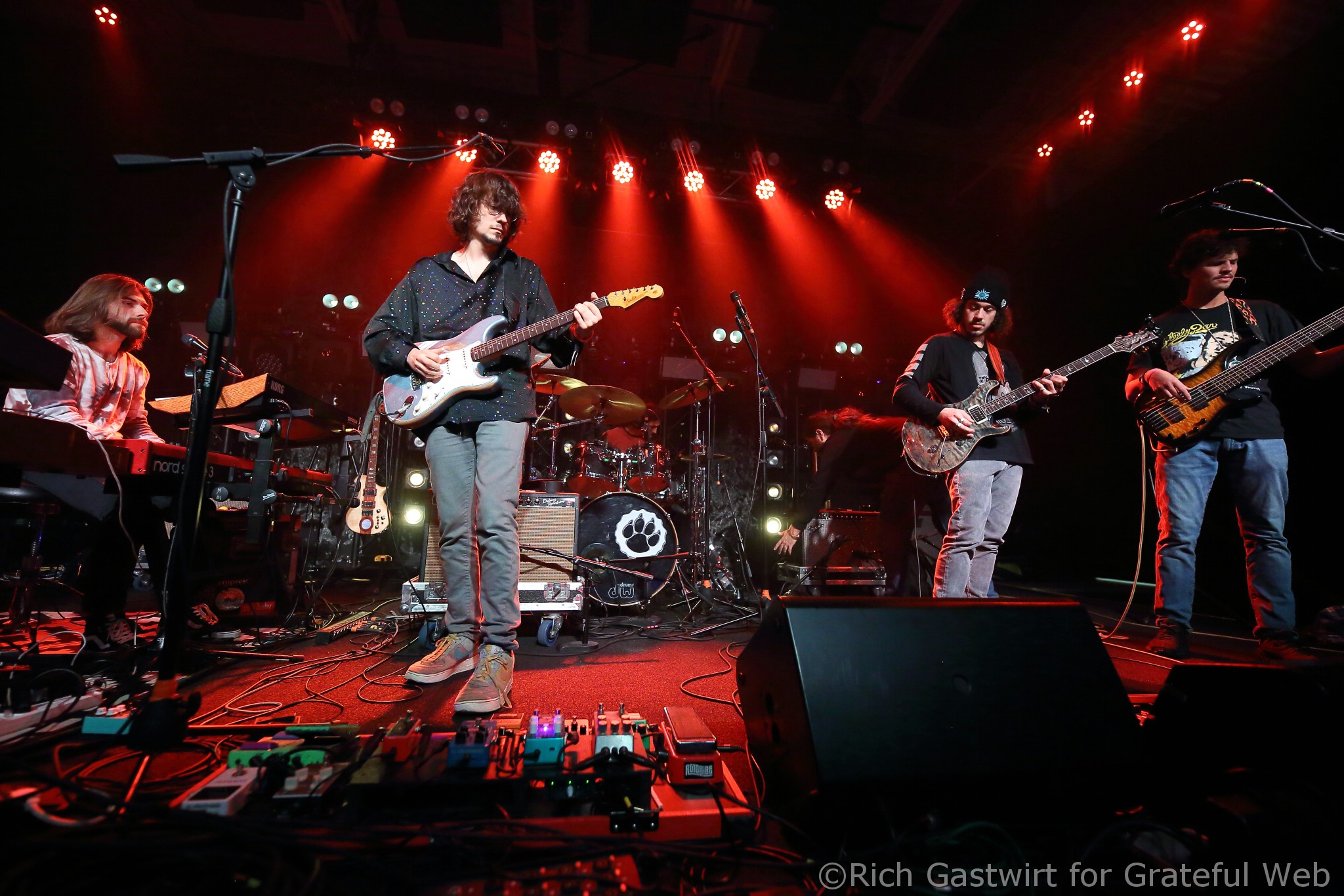 GW: Craig and Pat is an incredible jam vehicle. What's your favorite jam vehicle currently? What do you feel pushes you guys to the "next level"?
Sam Lucid: Recently in Philly [10/21/23], there were a couple of incredible jams. There was a "G Song" jam that was completely different from a normal "G Song" jam. That's definitely cool because I feel it's important that all the songs are able to evolve and don't necessarily have to sound the same every night. Currently, my favorite jams to play are "Jack & Coke" and "Appleseed".
GW: You were talking about taking side gigs and things of that nature. I remember during a previous chat we had, you were planning to go to Mexico in January this year and play some gigs. Did that end up happening?
Sam Lucid: Yes, I did go to Mexico and I brought Mr. Tooker! I ended up doing 13 sets in eight days. I only had one day off and learned about 50 different songs while I was out there. It was fun and the people that run the event are very cool. There were about 50-60 musicians working there, and I made around 20 new friends from Nashville specifically. That was a super fun side gig that I'm happy to have accepted.
GW: What kind of music were you playing down there? Sam Lucid: I played in a "Last Waltz [The Band]" tribute show and with this ultra-talented female vocalist, Courtney Santana. I did a set with her where we performed Whitney Houston songs and some classic wedding band songs led by a female singer. I love playing that kind of stuff. Then, I played a lot of original music from different artists. Playing different styles of music can be really refreshing, even pop music. Back at Berklee, I even played in a friend's country band.
GW: Speaking of exploring foreign seas, tell me about the time you fell into the ocean in Maine.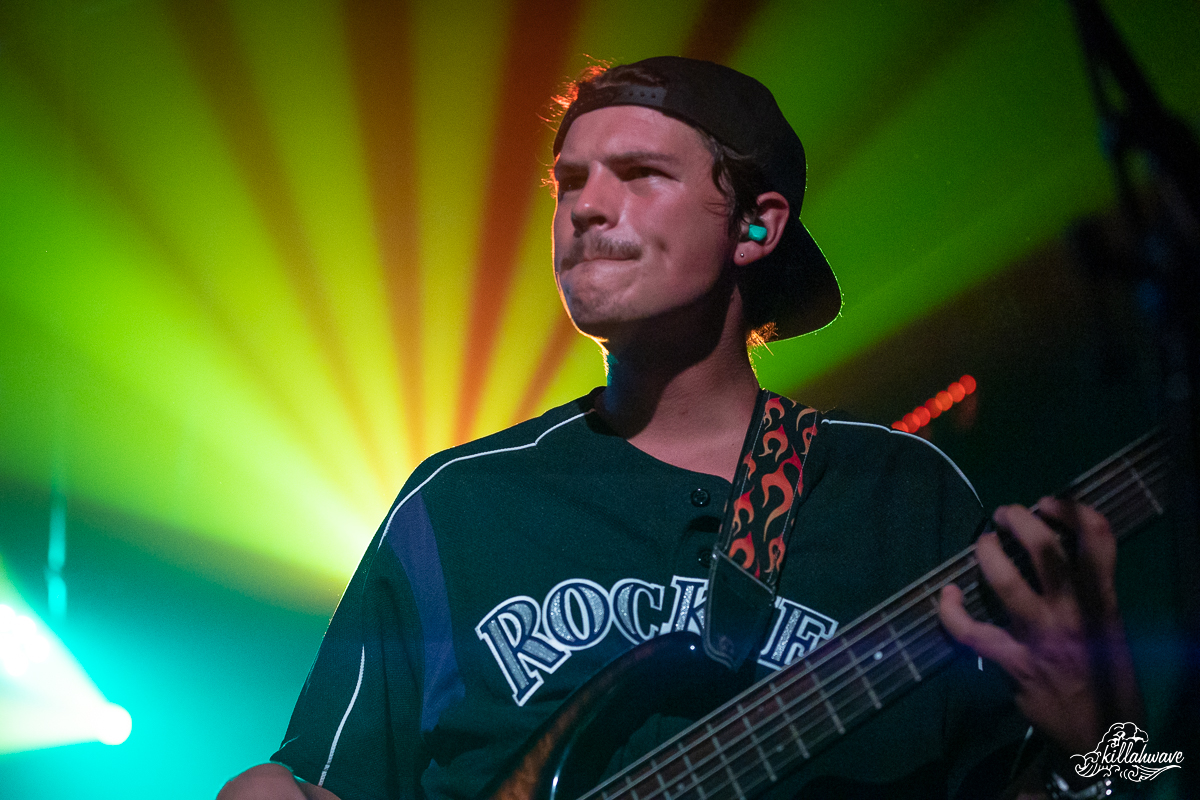 Sam Lucid: [Laughs] It was close to where we were playing that night at The Stone Church in New Hampshire [March 2022]. Our friend Casey suggested, "Oh guys, we have a little bit of time. We should get lunch and check out this cool lighthouse"—you know, like a classic New England beach where it's all rocky. It was me, our manager Ross, Casey, and our friend Kieffer who went up there. I thought it would be perfect to get a promo video for the show that night while we were there. We got the video, and right before we left, I suggested that we should get a funny little clip of me pretending to fall into the ocean at the end. Kieffer told me to be careful, and I assured him I would be. Then, I pretended to fall and actually fell in. Ross came in to save me. Kieffer was wisely advised not to go in after us. Eventually, Ross and I made our way out. There were about two minutes of real scariness.
GW: No more of that!
Sam Lucid: I've gotten a lot of flack for that. I don't think I need to embarrass myself like that again. [Laughs]
GW: Maybe you could blame it on your alter ego "Screwtop"? Let's hear about "Screwtop" and how that came about. ["Screwtop" is featured in the Dogs' cover of Clint Eastwood by the Gorillaz]
Sam Lucid: There's actually a couple of alter egos. "Screwtop" came about when I was hanging out with my high school friends, and this kid was talking about how he's a rapper. I don't know why he was at my house, but he challenged me to a rap battle. I had never done that before, but I engaged in the rap battle and declared that my name was "Screwtop". I was being funny and involving other people in the rap. It wasn't anything that clever, but "Screwtop" destroyed in the rap battle and won unanimously—according to the 12 people that were there. [Laughs]
There's another alter ego named "Mr. Brownstone". He's a wealthy lawyer who talks like this [starts talking in a snobby-type voice], "So I was on my boat the other day…" I made some TikToks with Kieffer and Brian that went viral with that character. They're pretty funny. When I have a little more time on my hands, I'd like to make some TikToks for the Dogs and also some personal ones for fun. It's good for me to have a different creative outlet other than just music. I think different forms of art can inspire your music. If you're doing something like comedy or skits, or drawing or painting, that's going to inspire your music—at least for someone like me. It all wraps together.
GW: Getting away from music for a bit, what do you like to do when you're back in Jersey? On your own time. How do you have fun?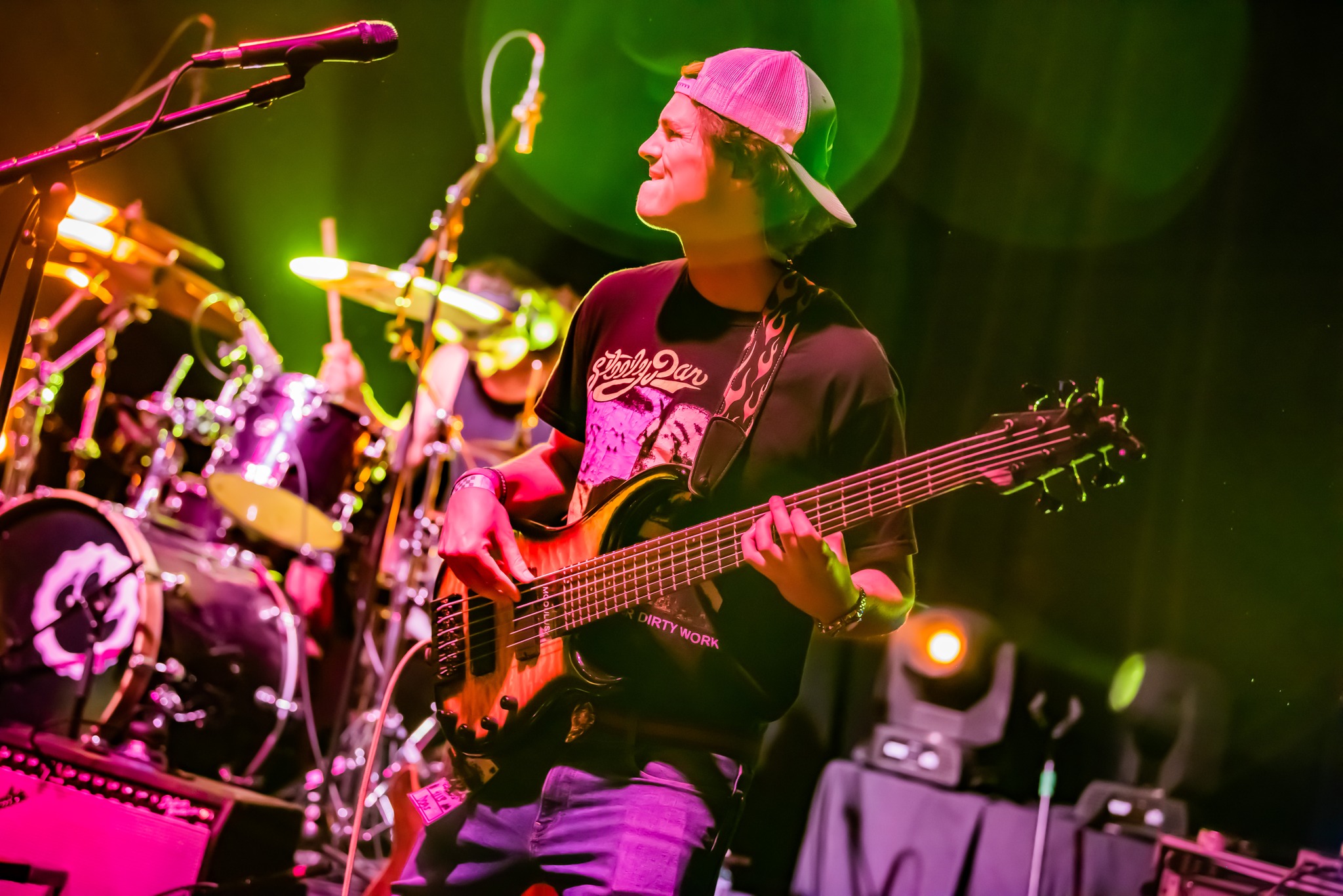 Sam Lucid: I have a lot of very close friends from growing up that make me really happy to see. I go out of my way to see those guys, and unfortunately, a lot of my friends are not into jam bands. Sometimes I bring them to shows. I brought three of them to Phish in Atlantic City, and they had a blast. One of them is a die-hard Led Zeppelin fan, and Phish broke into "No Quarter". They were mind-blown.
I love going to the beach. I love just sitting on the beach. I love playing music outside in the summer. I try to wake up and bring my bass or piano outside, and it makes me so happy to play music in my backyard and then walk down to the beach. Lately, with how extensive the touring has been, I've been getting home and maybe calling a childhood friend to watch a movie and not really talk to anyone. Don't get me wrong, I love talking to people, but I still need my ten percent of "me" time.
GW: Let's get into equipment. How many bass guitars do you have, and is there a personal favorite?
Sam Lucid: I have a four-string jazz bass, a fretless bass that my brother bought me, a Music Man that I've had since I was a little kid, and a red Warwick bass. The main two bass guitars, and the only ones I've played at Dogs shows for the last two years, neither of them belong to me. They are by far the nicest ones that I have access to. The six-string Modulus that I play is Joey's dad's. He let me borrow it before I went to college. It took me a little bit to start playing it all the time, but once I did—it's a phenomenal instrument. I pretty much never went back once I started playing and got comfortable with it. Also, Jimmy owns a five-string jazz bass, which has a great tone. I recently got it set up. That's what I've been practicing on lately. I love that one too, and I think I'm going to use it for a show or two sometime soon. It makes me play in a different way.
The Modulus is what Phil [Lesh], Oteil [Burbridge], Dave Schools, and Mike Gordon play. Gordon plays the five-string, but those other three guys play a six-string Modulus. On Jimmy's bass, I'm not saying you can't play funk on it, but it's not as conducive to the style as other bass guitars that I've played. Which is cool because it makes me go in a little bit of a different direction than I would when I'm playing a bass that is made for that. I don't think it's a bad thing. It's just an interesting thing.
GW: Joey's dad letting you borrow the bass. Such a "Dog Pound" family-type gesture. What does the "Dog Pound" and their support mean to you?
Sam Lucid: It means everything to me. The fact that people are interested in sharing this experience with us is so important to me. The music comes first, but the sense of community and friendship is something I dreamed about when I saw what bands like the Grateful Dead did. Being able to have that connection and start this community where people are coming for the music, but also because their friend from across the country is headed to the show. Guys like our friends John Thomas and Sam Bradley—John's from Philly and Sam's from Virginia, but they get together every couple of weeks. Stuff like that is so cool and if we continue to do this, these are going to be lifelong friendships and a family that we've built. It's pretty insane.
I have a really small family. I have no cousins, one aunt, and one uncle. My grandparents have all passed away. I've always needed a lot of friends to make up for not having any cousins, you know?
GW: What's it like to start seeing some familiar faces in the crowd across the country?
Sam Lucid: It's mind-blowing and so special. What's even crazier is that we'll be in Omaha or Iowa, and I'll see someone I've never met in my life singing the lyrics to 10 of our songs in a row.
GW: Do you have a favorite city or venue outside of New Jersey?
Sam Lucid: I loved Colorado. We all saw The Disco Biscuits at The Mission Ballroom in Denver, which was incredible. The sound there was off the chain, and there were so many kind people. The crowd was chill and super fun. I've always loved Higher Ground in Burlington, Vermont. I also love the whole Upstate New York scene; places like Putnam Place are super cool. There are very few places I've been to that I didn't enjoy. Fayetteville was great, especially when we opened for Twiddle. That was awesome because we were right on a college campus, and a bunch of young people wanted to come and dance.
GW: What's your favorite part of being on tour?
Sam Lucid: My favorite part is seeing new places. I've always enjoyed traveling and making new friends. Every place we go, we leave with at least a couple of good friends. Even if we don't know anybody, it ends up being awesome, whether it's the opening band or a diehard fan that we meet for the first time, or a random dude I meet at a bar who didn't even come to the show. I just love it.
GW: Do you have someone that opened for you that you think stands out?
Sam Lucid: These guys are starting to not be openers anymore. Yam Yam and One Time Weekend are probably my all-time favorite bands that we've ever co-billed with or had open for us. One Time Weekend—they're incredible, doing something different, and writing really catchy music. I've described them as a Twiddle meets Limp Bizkit, which I think is very accurate if you listen to a couple of their songs. The Kind Thieves were an awesome band that opened for us, as well as The Wright Ave. We like them a lot. Then, the band that last opened for us both times in Pawtucket, Guess Method. They're absolutely one of my favorite openers and super cool dudes.
GW: You describe One Time Weekend as a Twiddle and Limp Bizkit mix. How would you describe Dogs In A Pile?
Sam Lucid: Oh man. There's a little bit of everything. That's something that, honestly, I'm not really able to describe. I can say it's always been very important to me and everyone else that we have the freedom to write any kind of song possible, whether it's an emotional ballad or an uplifting tongue-in-cheek song like "Ugly Song" or "Stevie Lew," or a completely absurd song like "Por Que Pedro" or "Jack & Coke." I really love writing music that makes people laugh and turn heads.
GW: Would you say it's similar to Ween?
Sam Lucid: I'm starting to get more into Ween. I'm not too familiar with much of their music, but I love their vibe. It's almost like what I just described. It's important to them that they're able to write a very nice song, then write a crazy jazz song, then write a more absurd song.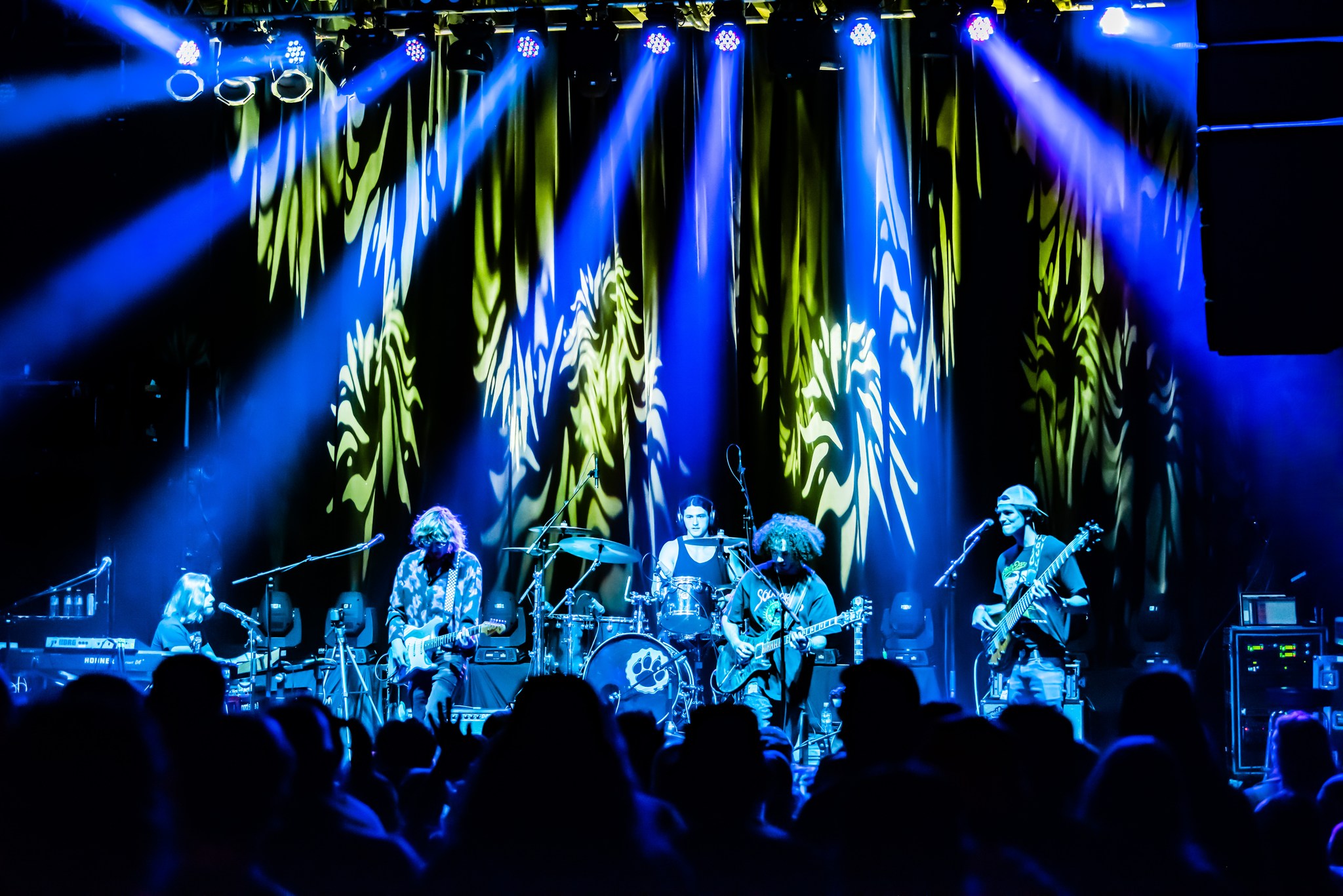 GW: Tangential to bands opening for Dogs In A Pile, is there anything that you've learned from another band you've opened for that had been touring for a long time?
Sam Lucid: With Twiddle, we were definitely the closest. We were hanging out with those guys every single day. They taught us so much, talking about how long they've been doing this, the ups and downs, and the ways to make it fun. The whole Twiddle crew—like Mihali, [Ryan] Dempsey, and Scott the tech, who is a super cool dude—were great. Mihali did give us some advice about changing up the setlist more. This was also when we were doing opening sets and playing in completely different states we'd never been to. You have to make that decision about whether we want to play a couple of our most popular songs or switch it up. Now, we're totally in the vibe of doing completely different stuff every night, and it's keeping everyone more engaged and happy because it gets boring to play the same songs if you like our kind of music.
Following the Pigeons tour, Dogs In A Pile will round out their year by opening for Andy Frasco & The U.N. in Harrisburg, PA; Buffalo, NY; Columbus, OH; and Louisville, KY. After which, they'll host a holiday two-night run at Asbury Park's legendary Stone Pony, play late night at the Sony Hall in NYC after Phish's opening show of their respective NYE run, and finish off 2023 by headlining their very own NYE run – two nights at Putnam Place in Saratoga Springs, NY.
Dogs In A Pile are an eclectic five-piece band hailing from Asbury Park, New Jersey. The members include Jimmy Law (guitarist), Brian Murray (guitarist), Sam Lucid (bass), Jeremy Kaplan (keyboardist), and Joe Babick (drums).
Ready to join The Dog Pound? Head on over to dogsinapileofficial.com for their latest soundboards, future tour dates, official setlists, merch, and much more… and stay tuned for more exclusive interviews with the band on The Grateful Web. WOOF!"