PaviElle French is no stranger to the world of music. Raised in a progressive household in the historic Rondo neighborhood, the singer became well-acquainted with her artistic side at a young age. Though she started touring at just 16 and shared iconic stages with legends like the late Sonny Knight, it took PaviElle a one-way ticket to Hawaii and a five-year hiatus to harness the power of her own sound. Today, her neo-soul vibe is infused with 70's rhythm and blues, Sarah Vaughan-esque scatting, and of course, her roots.
We caught up with PaviElle before her set at "Funk Fest," an event that took place at the Minneapolis Institute of Art (MIA) earlier this month.
GW: Tell me about your background as a musician.
PF: I grew up a musician - I started when I was five. I went to an arts school and was trained in saxophone, voice, dance, and drama. When I was 16, I joined a band called EduPoetic Enterbrainment. They got pretty big and we got a couple of tours under our belt. I went solo when I was 21, and we're here! It all came full circle.
GW: So it sounds like music has always been in your roots. When was the defining moment for you - the moment you decided you wanted to do music for life?
PF: Well, I took a hiatus of 5 years, and moved to Hawaii to find myself. I had to cleanse myself.
GW: Cleanse..tell me more about that.
PF: I always felt like I was an underdog when I was younger. It didn't feel like I had support that I needed. That was always riding on me. It was my own perpetuation of that idea that made me stop doing music.
GW: Why did you end up coming back home to Minneapolis?
PF: I knew I needed to start making music again here.  The music was chasing me, and I couldn't run from it.  There was a thumping on my heart. And when I did, everything blew up. After doing what I needed to do [in Hawaii], it all fell into place. There was a lot of introspection and depth there, and now I'm feeling good and happy about my life. I'm doing something I love all the time. I had to stop thinking about other people and think about myself and the art that I create; ultimately  I create it for myself.
GW: What does your art sound like?
PF: Shoot, a little bit of everything. I'm a soul singer, so anything that falls under Black art - jazz, soul, blues and gospel. Even a little bit of rock. My mom used to listen to a lot of Johnny Winter, Three Dog Night, Fleetwood Mac. All of those things influenced me, but I've got my own style. I shoot from the hip. I get rooted, but also sing songs differently every time.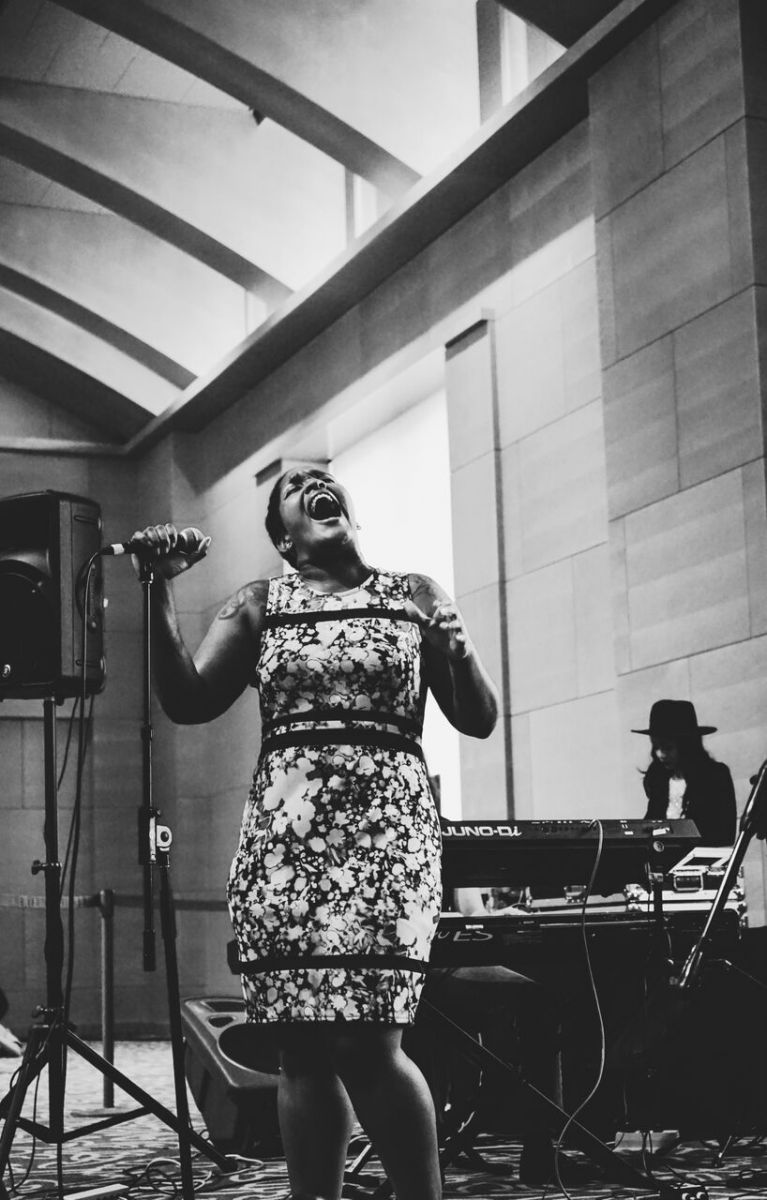 GW: Tell me more about your writing process.
PF: I'll sit down, put something together and will hand it to the band. After that, it becomes all of us. I'm inspired by old 70's soul, Chaka Kan, Stevie Wonder. I like to write stuff that makes you feel spiritual, makes you feel high. My dad and mom used to listen to music like that. Stuff you can listen to from beginning to end and never lift the needle. That's what I take with me into our sets - we just coast.
GW: Speaking of your influences from the 70's, if you could create any supergroup (dead or alive) who would you include?
PF: I would take Parliament Funkadelic, the Ohio Players, Chaka Kahn, Taka Boom, Hubert Laws on flute, Roy Ayers would direct...and I would front that.
GW: YES you would! I can't wait to see you play. What do you hope to put out there today?
PF: I can't wait to get up there. It's needed with what just happened in Charlottesville. I believe in the vibrational tonality of music. You know, how it heals on a metaphysical level. Even if you're not listening to it, it still goes through your body.
GW: Yeah, it's like a universal language.
PF: Exactly. I'm hoping to lift some spirits today.
And she sure did.
Listen to PaviElle's neo-soul prowess here: https://pavielle.bandcamp.com.