Green Tea was formed in the fall of 2000 when a group of local musicians, artists & friends got together to jam. Since the inception Green Tea has been about songwriting, improvisation, musicianship & sharing that energy with a live audience. During the fall of 2005 the band recorded its first studio CD entitled "The Healing". That debut disc along with a slew of Gigs in the Northeast has pushed Green Tea out onto the Jamband scene.
As 2006 rolled along the band picked up momentum and is certain to break out in 2007. Recently Green Tea has been a part of the Annual Music Festival on Block Island, performed for hundreds of new fans in New Hampshire & Vermont & has been invited to perform at the Rocky Road Music Festival in Louden New Hampshire in April 2007. The band is also currently at work on its second studio album being recorded & produced in West Dover, Vermont at Northern Track studio. The songs for the upcoming CD tentatively titled "Steep" are refreshing, high energy pieces that allow the freedom to jam while maintaining a solid sense of melody & harmony.
Like most jam bands today Green Tea thrives on extended improvisation and interplay between the members, but never at the expense of the song itself. Green Tea is fronted by two outstanding vocalists in Toby Kniffin and Jason Jarvis. The band has always been about selling the song and that characteristic is what makes Green Tea stand out among today's top jam bands.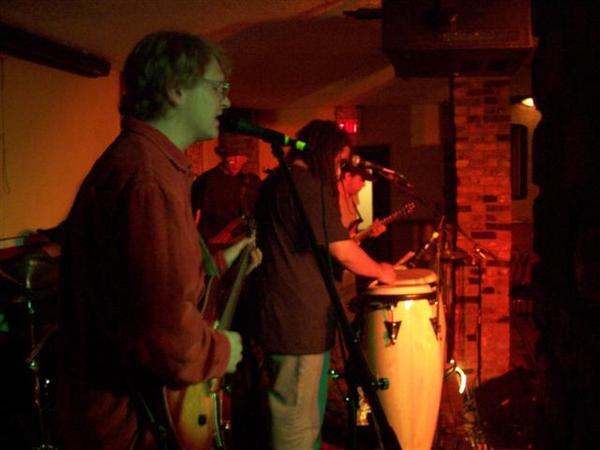 The line-up includes Toby Kniffin on lead vocals and guitar, Jason Jarvis on lead vocals, percussion, harmonica & flute, Jamie Conroy on guitar, John Grady on drums & Joel O'lari on bass. The influences and experience of these five define the sound of Green Tea & the spirit of the music they create. Over the years we have had the good fortune of performing with some very talented and seasoned acts such as Max Creek, Hot Tuna, The Outlaws, Miracle Train, Shockra, Young Neil & The Vipers, Liquid Dead, The Adam Ezra Group, Uncle Billy's Smokehouse, The Casual Fiasco, The Attic, Funk Nugget, Named By Strangers, James Montgomery Band, Physical Graffiti, The Brides of Jesus.
It is always & honor and privilege to share the stage with musicians creating positive energy and vibe while showcasing their talents. Since 2000 Green Tea has performed at a fantastic run of venues & clubs throughout New England that include: The Snow Barn @ Mount Snow, The Island House, The Call, The Century Lounge, Captain Nick's, The Rusty Nail, Killington Base Lodge, The Bon Vue Inn, The Wheel House, Sunday River Brew Pub, The Old Port Tavern, The Matterhorn, Stella Notte, The Perfect Wife, The Barley House, Milly's Tavern, & Shamrocks.
Please contact Jamie Conroy for any info regarding bookings, promotion & CD distribution.