Greensky Bluegrass has been busy winding their way through a huge winter tour and tending to their new baby, studio album All for Money, released on January 18. This tour has featured three different opening acts, a fun treat for fans that will see multiple shows. Some of us in Boston knew we wouldn't want to miss a Wednesday at the House of Blues with Billy Strings warming up and we sure did need warming up, with snow squalls and frigid temperatures sweeping through at show time.
Billy Strings. Musician? Band? Both? Rolling Stone has said "Billy Strings doesn't have any trouble living up to his name. [He is] one of the latest breakneck guitar pickers to emerge in the bluegrass world." Indeed Billy Strings, born William Apostol, is a phenomenal guitar player. As a lead guitarist and vocalist, Billy plays with Jarrod Walker on mandolin, Billy Failing on banjo and Royal Masat on bass.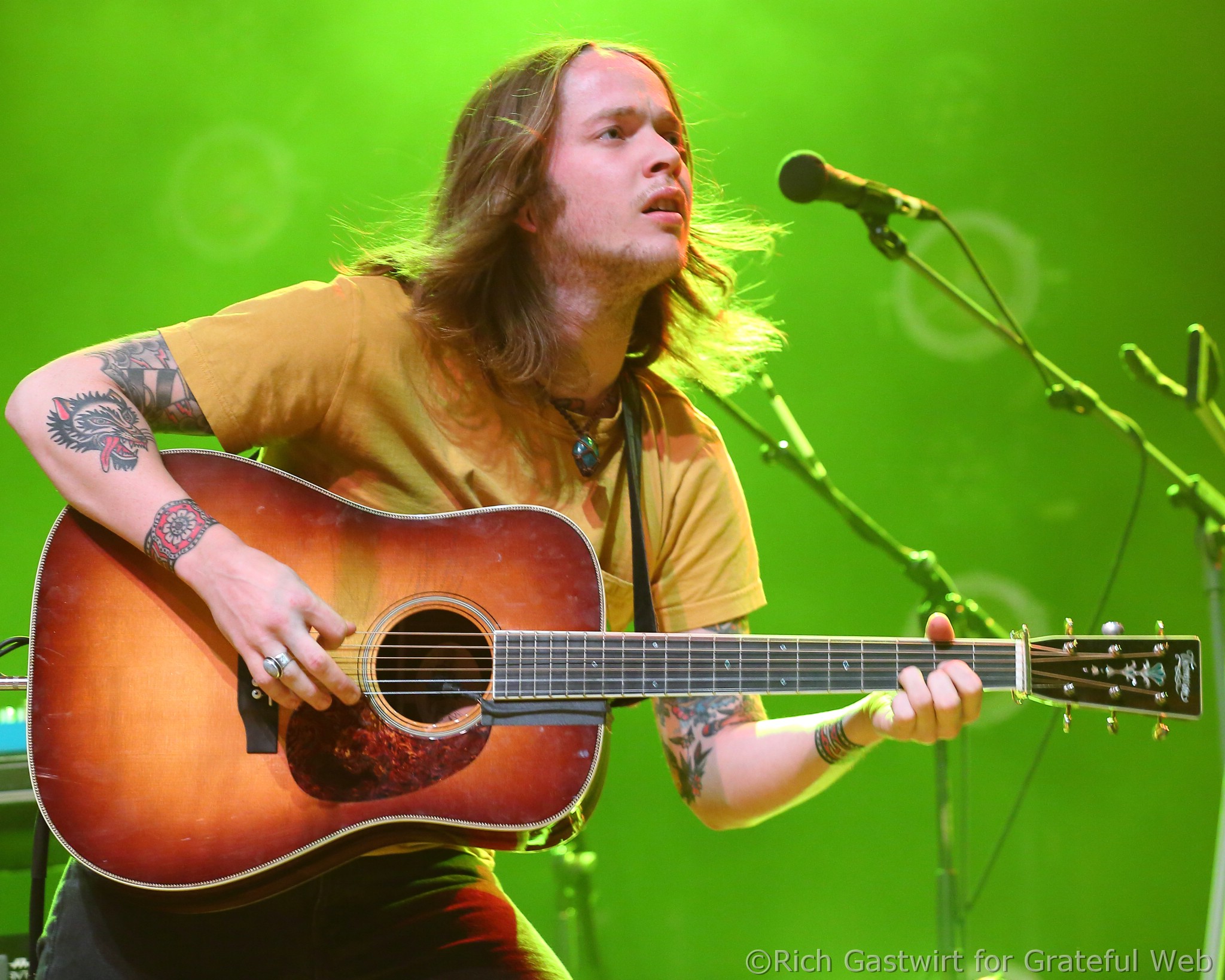 Billy and his band drew the chilly crowd closer, opening with the quick original "Hollow Heart." In his mid-twenties, we see in Billy Strings someone for whom playing music was never separate; his fingers are as if mini acrobats on a fretboard, and while I imagine this is where Billy finds God, I see a spiritual experience in the whole crew he has pulled together. The hopping, instrumental "Thirst Mutilator" was next, played impeccably for those of us with our dancing shoes, followed by a raging "So Many Miles." I felt a little like I was in music appreciation class, or at least that this is what music class should feel like.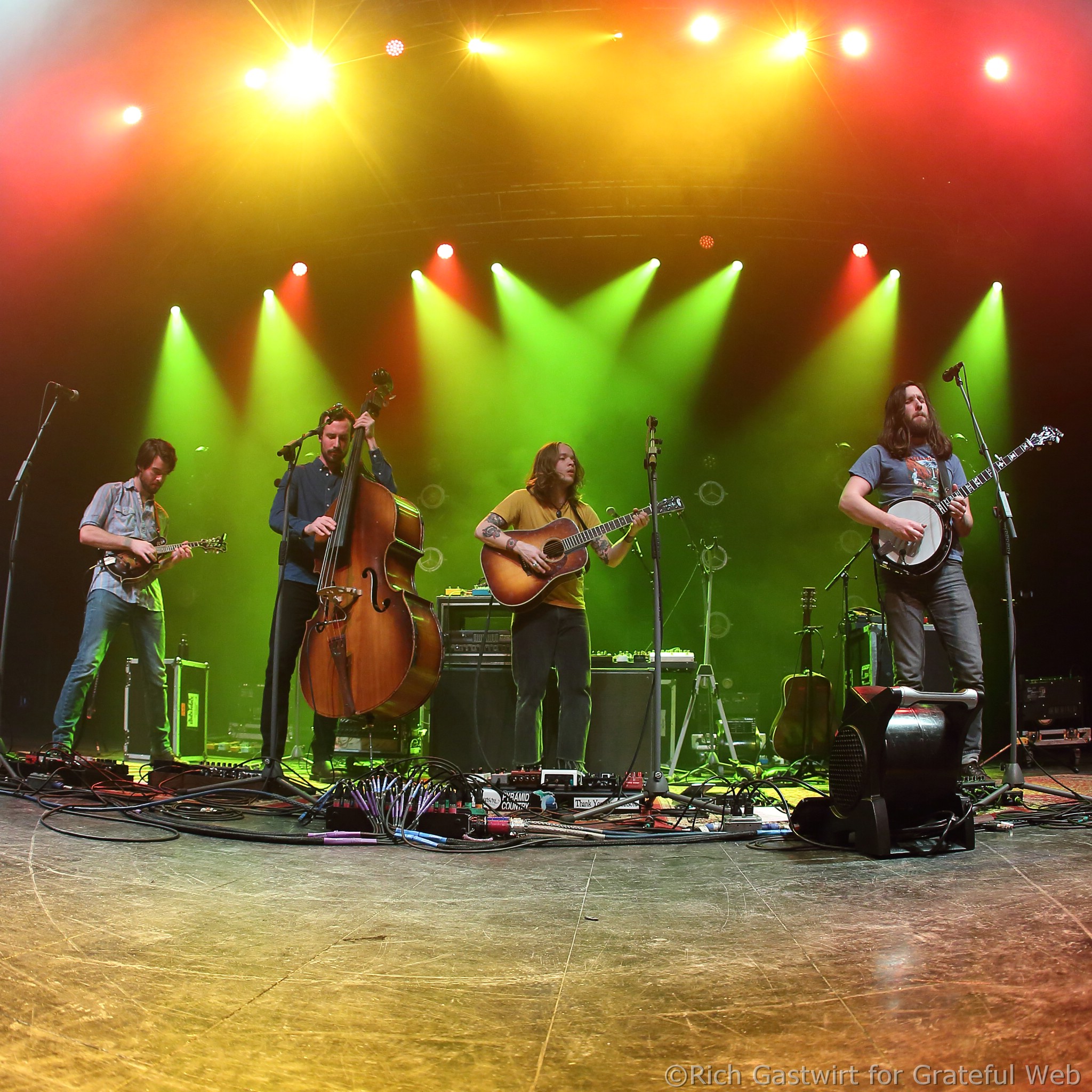 Billy's pedal set up features a sticker that reads "Thank you Doc Watson" and indeed it seems like the ghosts of bluegrass past smile through this group of musicians, their fingers coming together beautifully across the strings. I loved their cover of Little Feat's "Willin," perfect for the evening.  "Dealing Despair" and "Watch it Fall" led us to a jamming "Meet Me at The Creek" which closed out their almost 45-minute set, feeling like it was over in a flash.
As the five members of Greensky Bluegrass – Anders Beck on dobro, Michael Arlen Bont on banjo, Dave Bruzza on guitar, Mike Devol on bass and Paul Hoffman on mandolin – took the stage, a friend whispered to me, "Billy Strings is a hard act to follow." Sure, I thought. But Greensky is up to that, and that's why I am here. Truly, I don't think there's any competition between an opening act and headlining act – and in this case the energy created by a combination of Billy Strings and Greensky Bluegrass is a draw in itself, perfect for a frozen end-of-January evening.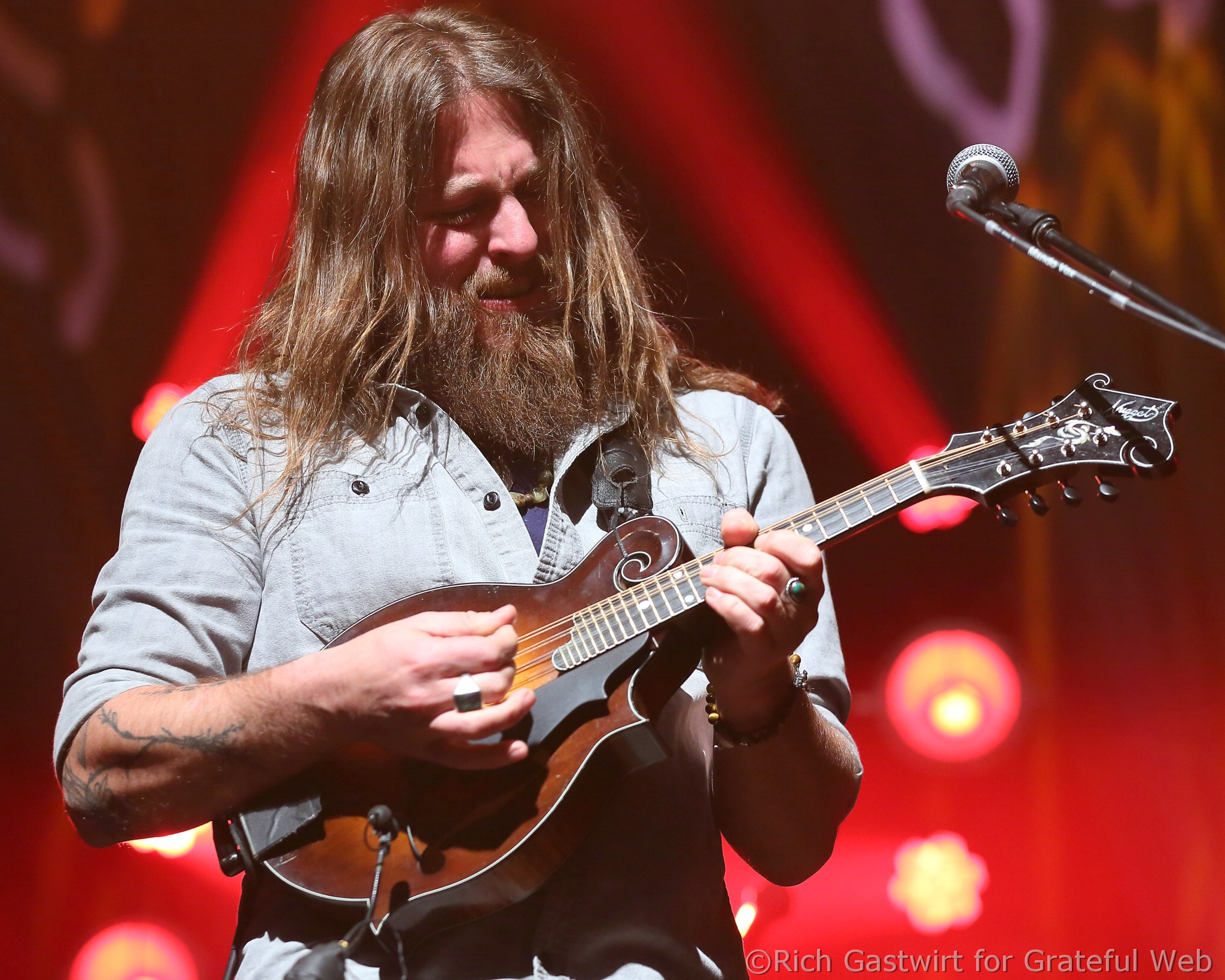 To begin this show on the 50th anniversary of the Beatles final concert, Greensky opened with a cover of "Get Back" proving (for anyone still needing evidence) that they're a certain kind of special. Not to be lost in a debate over whether they are a bluegrass band or a rock band or maybe a jam band, Greensky is a band that's both paying attention and earning attention. They were tentative or maybe just tired to start, but had their signature, confident sound just right in the end.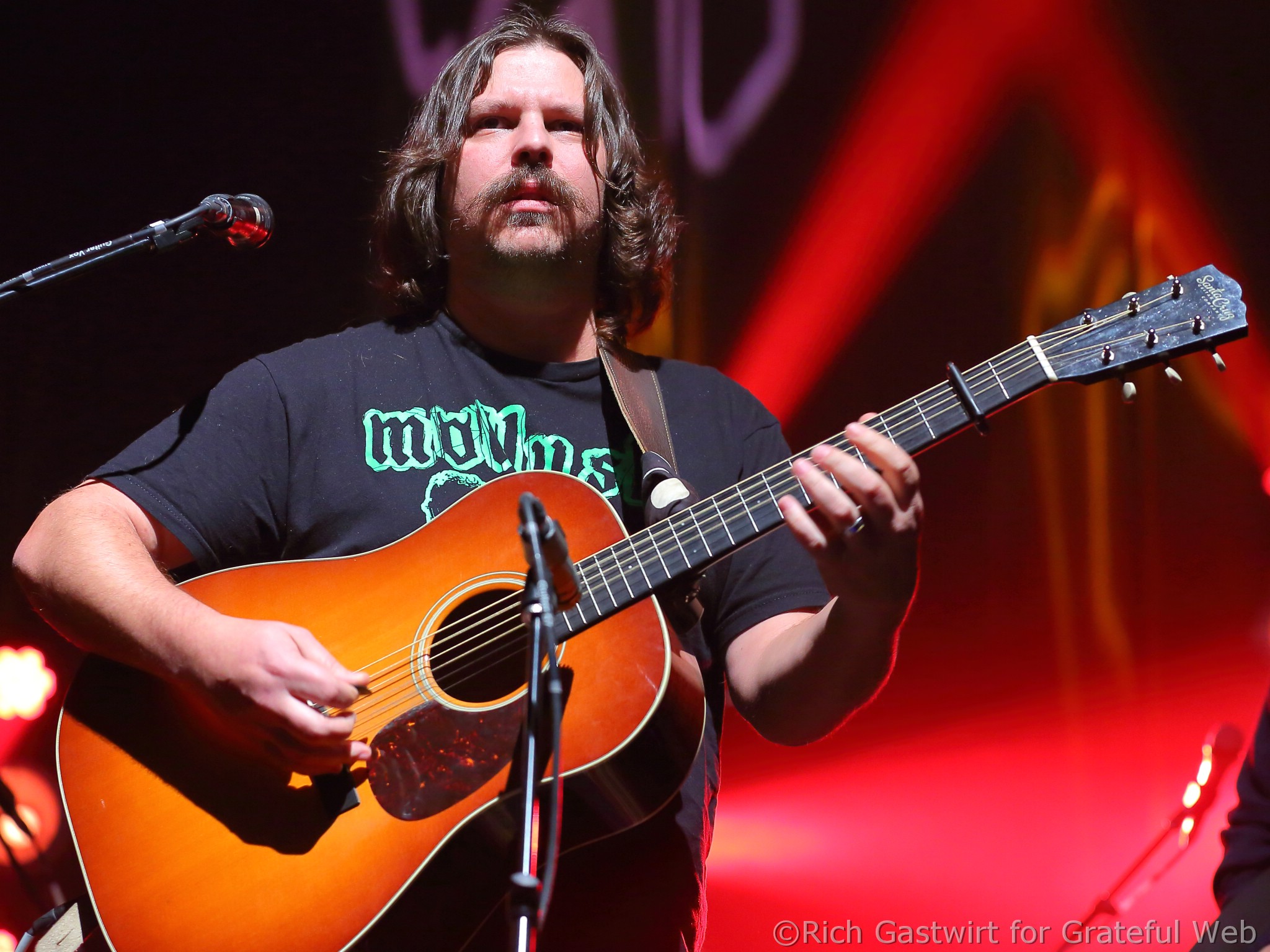 A fiery "Handguns" led to an equally hot cover of Jimmy Martin's "Hit Parade of Love," kicked off with Dave Bruzza singing. Some listening closely could hear howling coming from the crowd. The first notes of "Living Over" are grounding and familiar, and in this song last Wednesday, Greensky delivered a generous serving of what makes them the band they are: talent and love for playing music together, Paul's mandolin and vocals supported by the intense banjo licks of Michael Arlen Bont, beautiful, deep bass of Mike Devol, fierce guitar picking by Dave Bruzza, and Anders Beck's unique sound on dobro.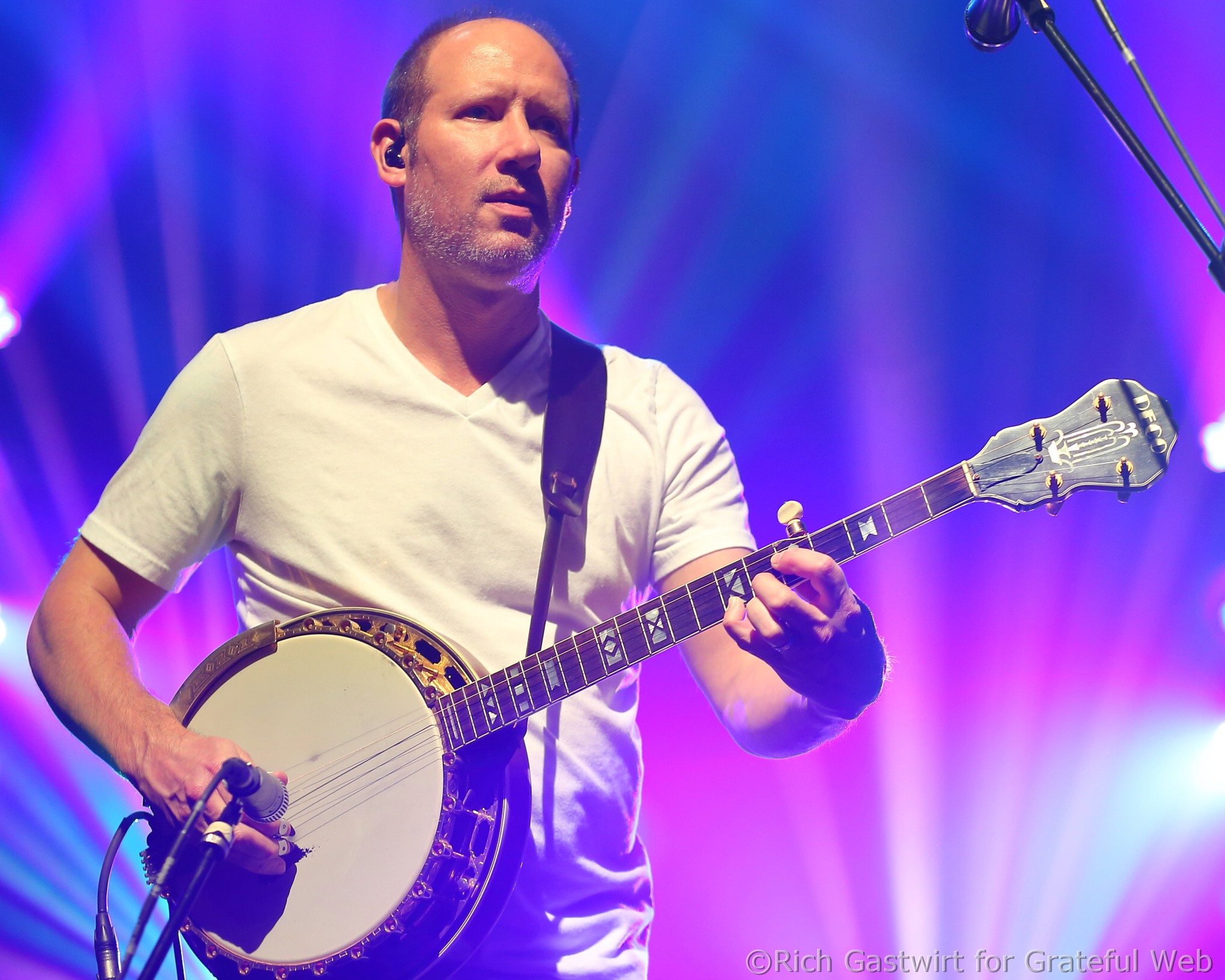 A long pause after this fourth song allowed me to marvel at the hard-working nature of this band, consistently touring, experimenting, and pushing a little further to curate a particular experience for their devoted fans. Vibrating in the stillness, there we were, waiting for what was next. And what that would be was the night's first peek at Greensky's new album, which had landed itself on six Billboard charts in the days before last Wednesday, including number one on the bluegrass chart.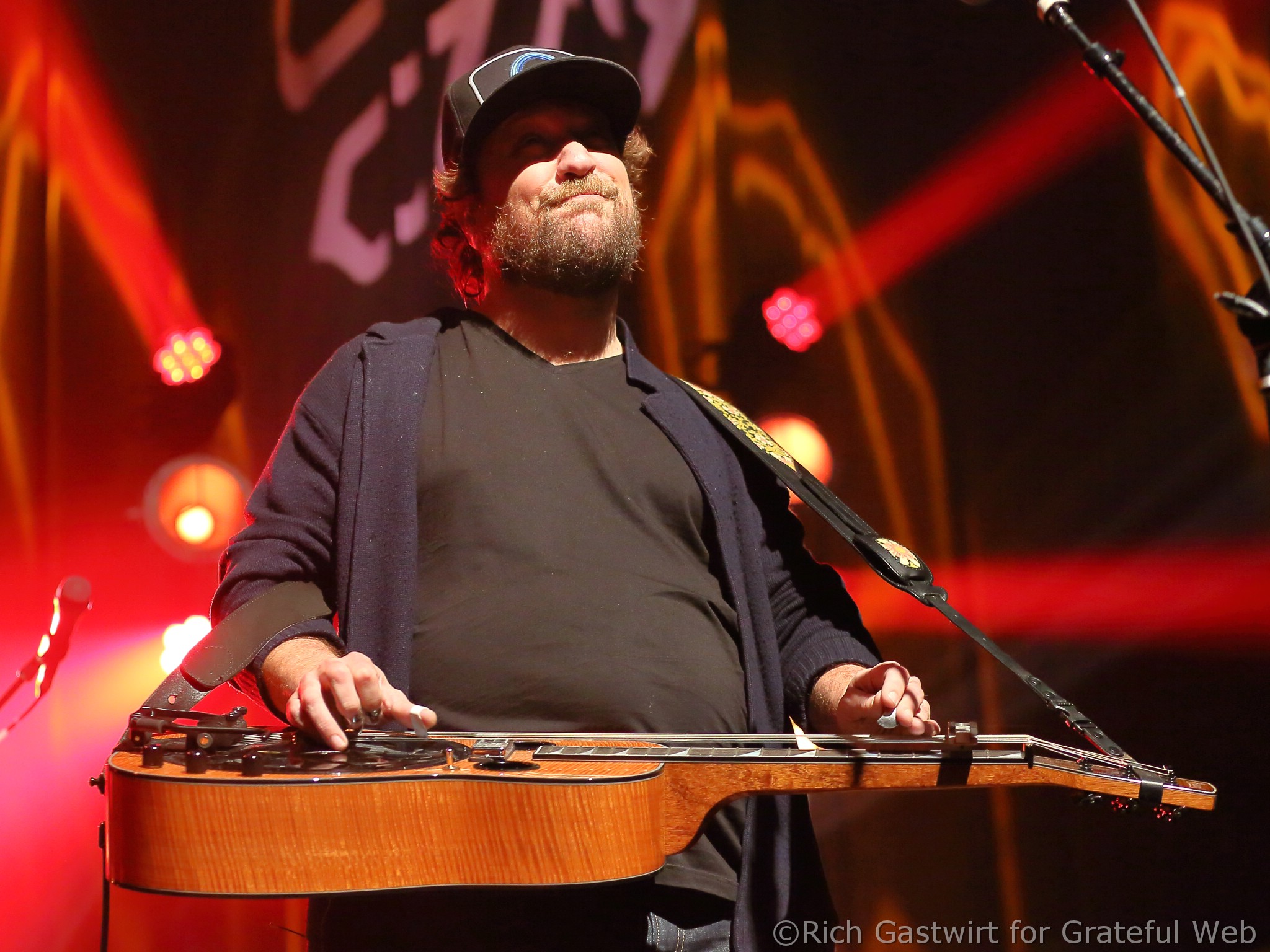 This first taste of the night, "Do Harm," creates a warm swaying with Anders and Paul shining, and then it springs off with an almost surprise ending. Next, Anders had two words for us, and though it seemed early in the night, we were ready for them. Billy Strings. Woot. Billy joined the boys for a smoking "Butcher's Girl" that found Dave Bruzza and Billy picking in a little huddle with Anders. Billy stayed for a "Broke Mountain Breakdown" that journeyed to a funky, spacey jam and into a sweet cover of the Allman Brothers' "One Way Out," and eventually back to itself to complete set one.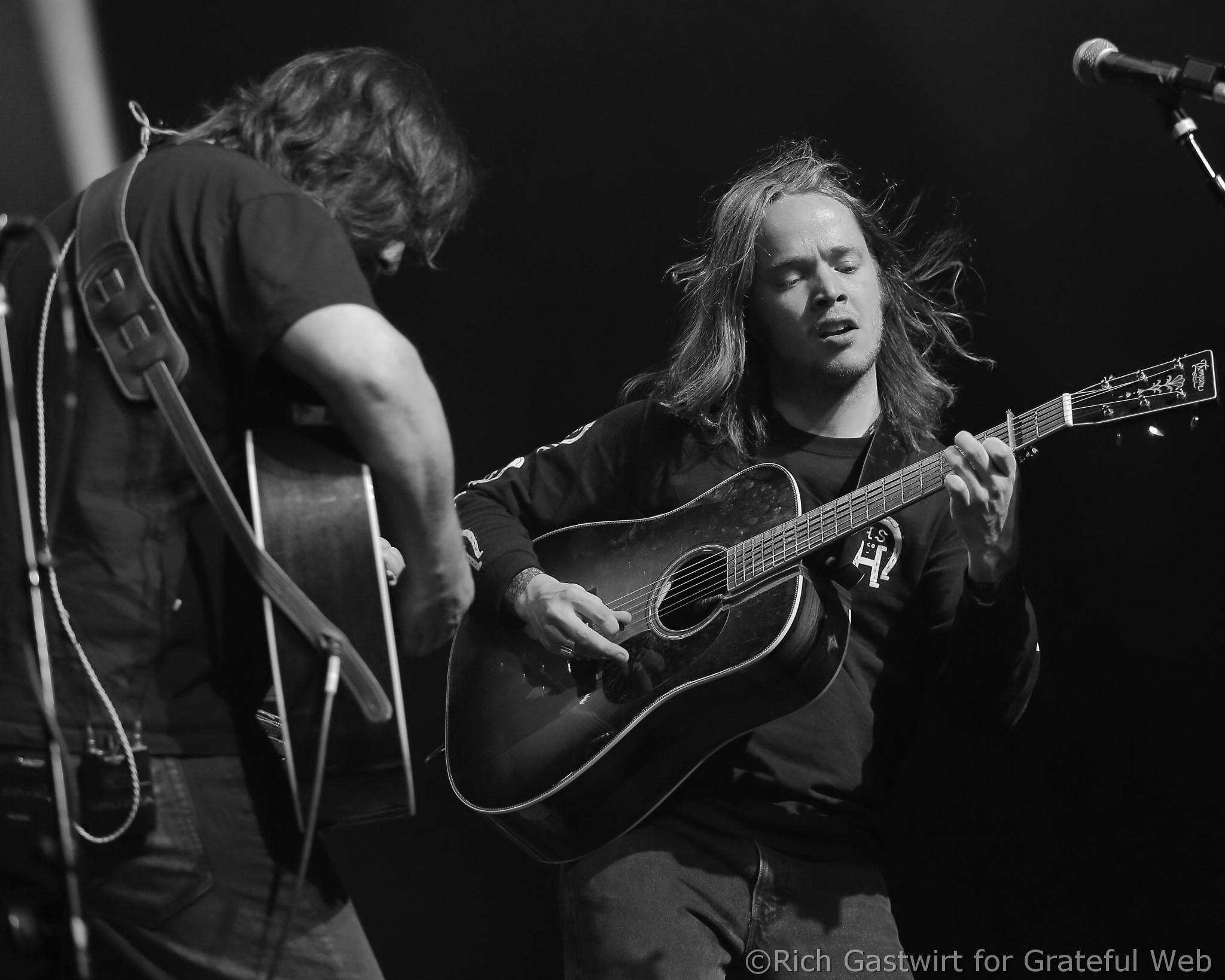 The second set seemed to find the band refreshed and ready to turn up the heat, opening with the lovely "Cathedral Eyes," a new song written by Michael Arlen Bont that beautifully blends Dave and Paul's vocal skills together above the layers created by the bands' instruments. Bont, affectionately known as Bontzilla to Greensky fans, was an MVP of sorts last Wednesday. Sporting his white t-shirt and blue jeans, he was a determined presence on his left side of the stage. The second song of the second set was "All Four," during which I noted someone in the audience nearby yelling, "this is the most sexualized feeling I have ever felt at a concert!" Hmmm. I think I just want you to know that this feeling could be felt last week in Boston during this song that might be about making both a living and a life.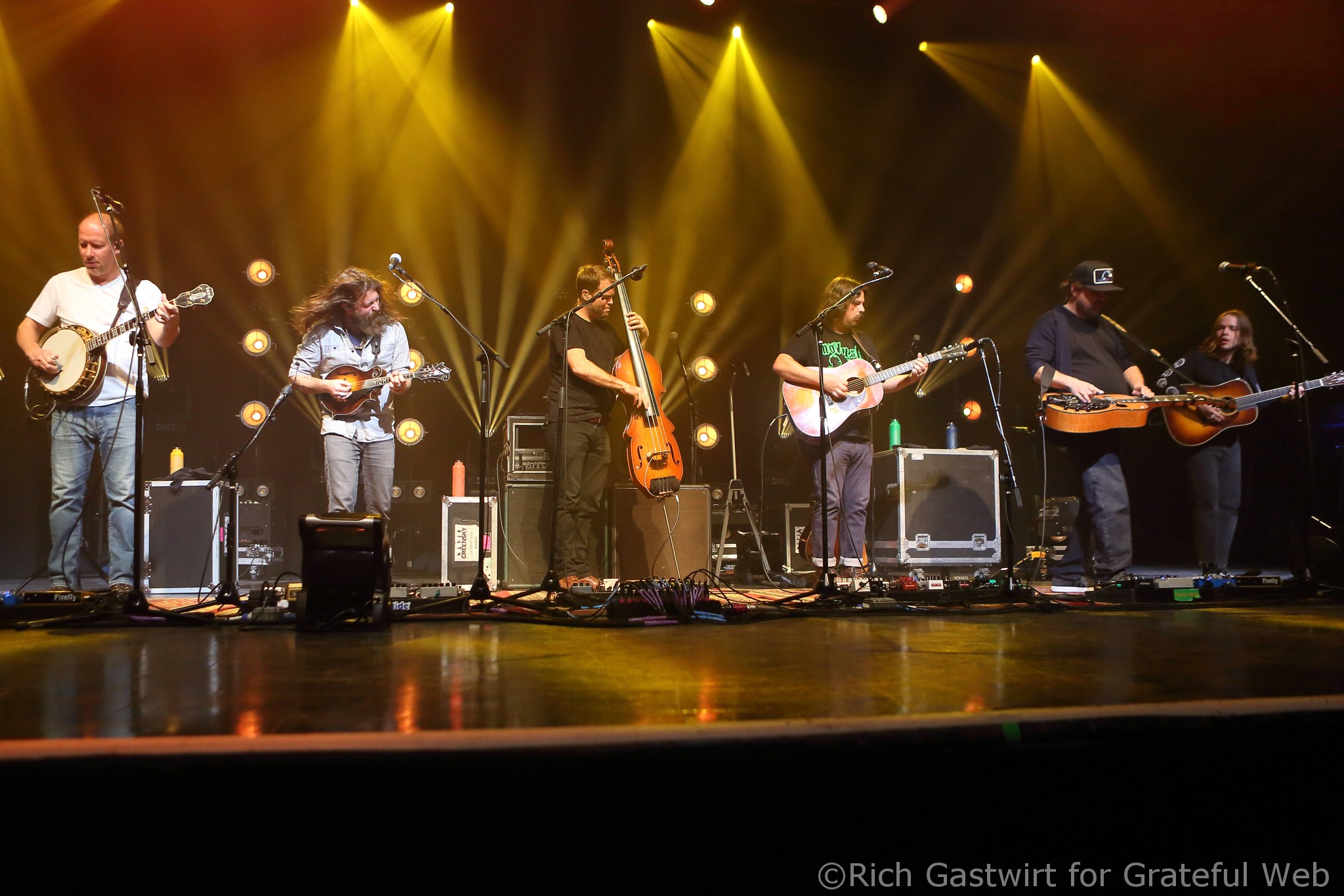 Greensky's new album was the star of the second set, and the band is excited to introduce this new friend. "Murder of Crows," an intriguing new tune by Dave that really meshes each individual's sound nicely, led to "What You Need," featuring Guido Batista, album percussionist extraordinaire (and tour manager), playing the vibraslap. There was also dancing. Dancing on stage, dancing in the crowd, and a dancing light show. Greensky is known for the full show experience that they bring with them, and Andrew Lincoln's lights always activate a sort of magical dimension.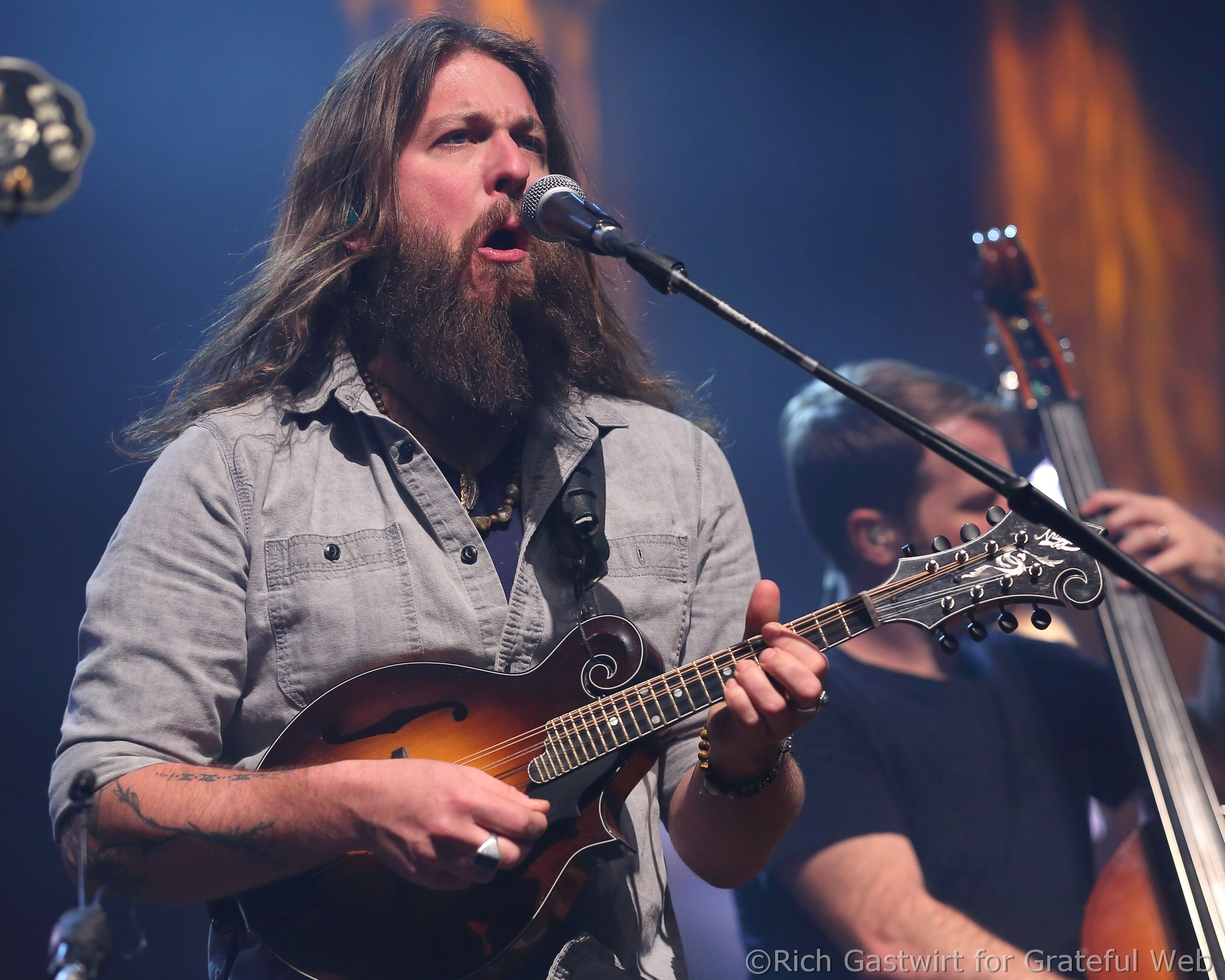 The pairing of classic tunes "Just to Lie" into "Train Junkie" was a personal treat, but to then hear "Like Reflections," one of my favorite songs from the new album, I was almost overwhelmed with delight. Some of the crowd was asking for a "Casual Wednesday" which appears to no longer be, or is maybe on hiatus. I think being casual is wonderful, but I was thrilled for the influx of other music that we got to hear without "Casual Wednesday," with no offense to the whole thing actually. It's just that Greensky has so many original songs as well as great covers to play. Speaking of covers, that's how the show ended (as it had begun), with a cover, actually two -- Bruce Hornsby's "King of the Hill" to close the second set and "White Freight Liner Blues," originally by John Townes Van Zandt as an encore.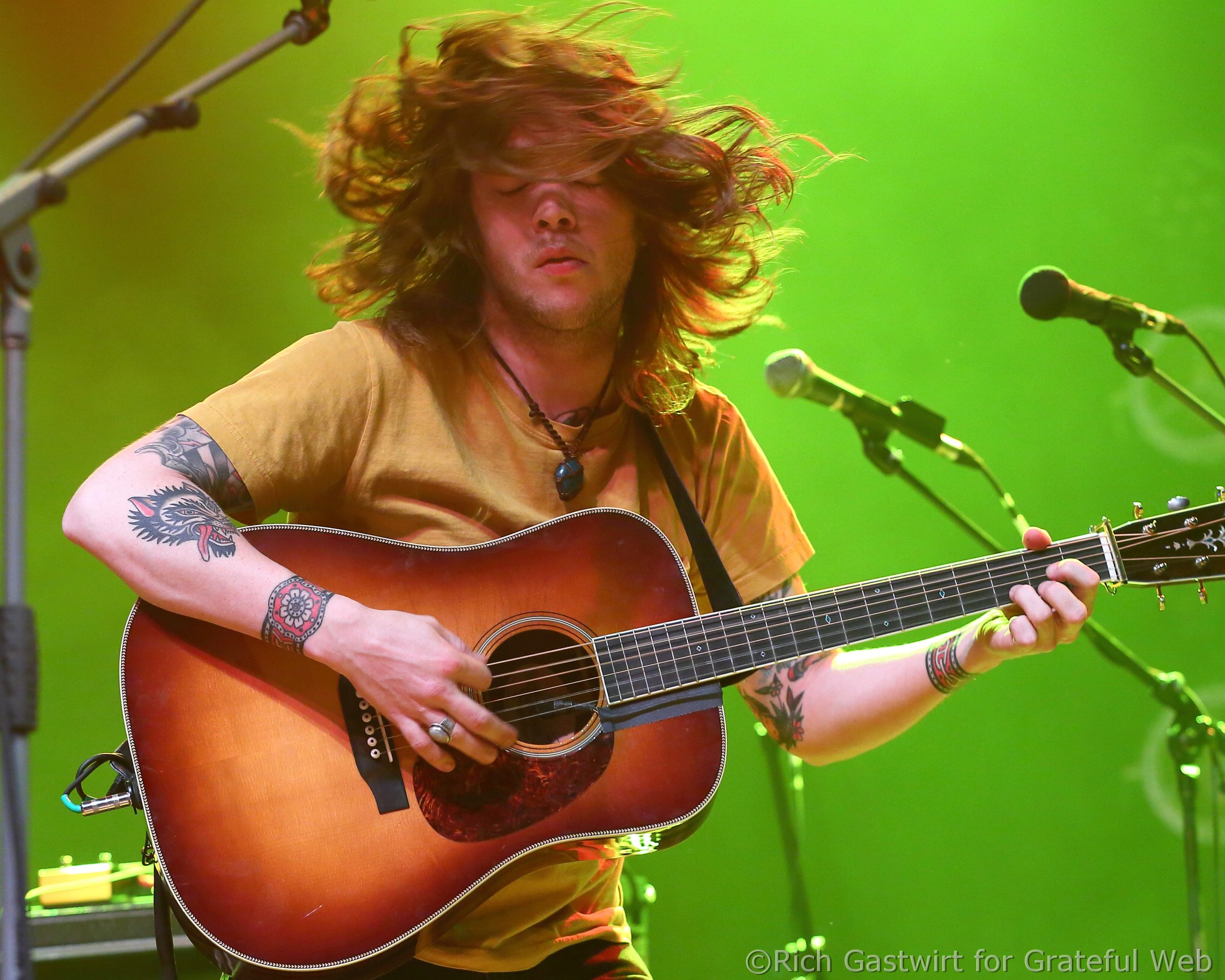 Some folks might have been hoping for another song and yet sadly some had already left, surely missing out. The band departed the stage, and I felt full of music, ready to face the cold wind once again. As we bundled up, my friend and I introduced ourselves to the folks that had been behind us all night, Alan and Ann, and we all agreed that we hope Greensky Bluegrass and Billy Strings come back to Boston again next year. And then we said good-night, grateful for this live music family and the musicians that bring us together.