Greensky Bluegrass! I love their songs and their sound, and I love the people that love the band. Stratton, Vermont is a great place for a music-lover and the venue at Stratton Mountain is cozy and friendly, a perfect venue for Greensky.
The opening band, The Lil Smokies, had already taken the stage when we arrived Saturday – I was reminded of their unique slant on bluegrass right away. I loved hearing them as we settled in after being in the car for a few hours.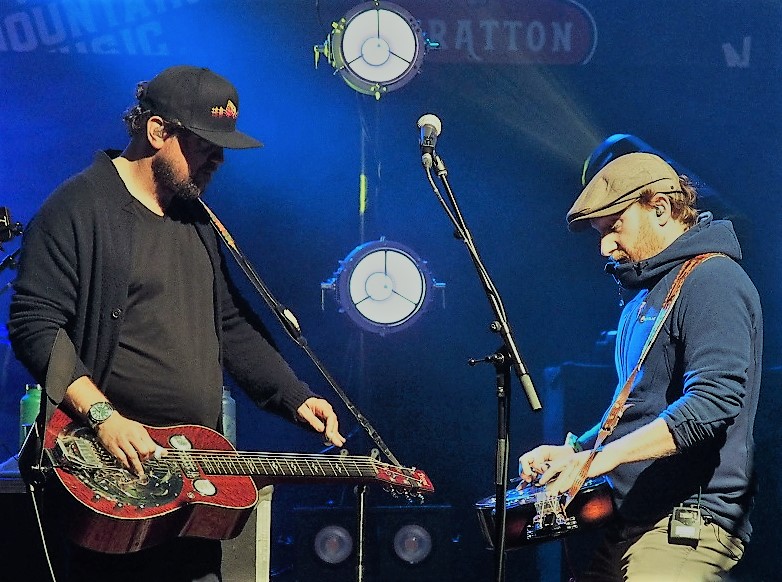 The Lil Smokies -- Scott Parker on bass; Jake Simpson on fiddle; Matt Rieger on guitar; Matt Cornette on banjo, and Andy Dunnigan on dobro – are a tightly gelled and talented band that seem both like they've been together for a while and like they are just getting started. It's curious to see a bluegrass band without a mandolin, but the Lil Smokies are not concerned with appearing as a traditional bluegrass band. A little bit country and a little bit rock and roll, their songs are beautifully written and each member of the band shines. I love the tune "California," which I was excited to hear Sunday night. Their cover of "Rocket Man" was impressive, and really showcased Andy's voice. It seems like The Lil Smokies have a lot more to do together, and that they're maybe on the verge of stepping a little further beyond a sort of comfort zone. I'll be listening for sure. 
As their set wound and turned, slowed down and jumped, the air was heavy even under the tent that protects the stage and dance floor from the rest of the universe.  A fog blanketed the night and as I looked at the faces of others dancing along, I wondered just how much each of us was carrying in our hearts, just how badly each of us needed the musical medicine we'd showed up to soak in.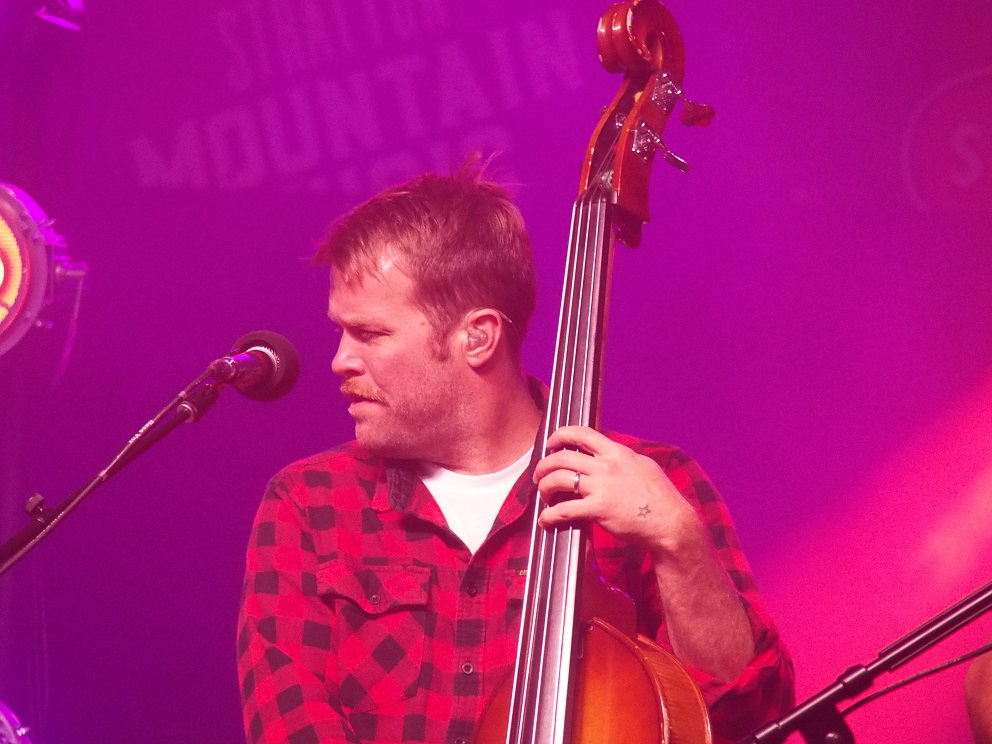 Greensky helped us feel better, literally, opening with Traffic's "Feelin Alright".  Mike Devol's bass. Holy moly. It was loud but in a maybe-good way, versus the chatter of the folks behind us, which was loud in a definitely-not-good way.  Anyhow. I'm reminded here that I love Greensky Bluegrass! I love the way that each individual member – Anders Beck (dobro), Michael Arlen Bont (banjo), Dave Bruzza (guitar), Mike Devol (upright bass) and Paul Hoffman (mandolin) – joins with the others to create the band's amazing sound and spirit.  Greensky is always doing something new it seems, and it's exciting that the collection of cover songs they play is as impressive as their catalogue of original songs. Going to see them is super fun.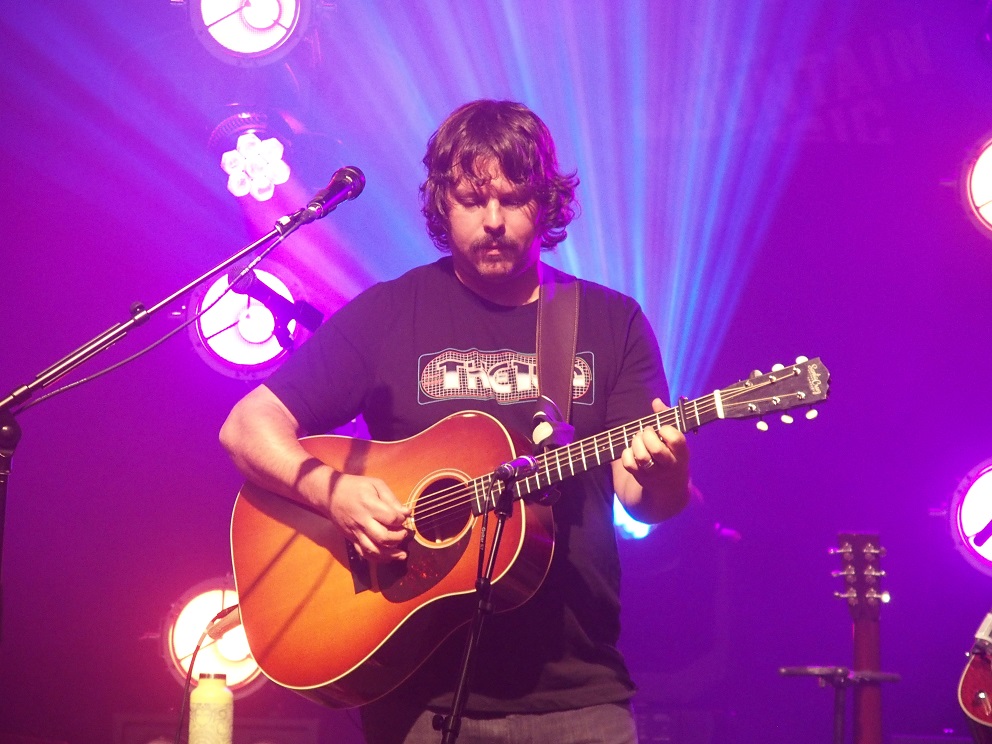 "Past my Prime" got the crowd's hands up in the air and moved in a way that was expected until it was wonderfully unexpected—a dark, windy transition delivering us into the Dave Bruzza song "Bottle Dry," a gritty sort of love-letter to loneliness and the ways we cope with it. Following its moments of introspection, the first notes of "Take Cover" were a welcome lift for my heart and my feet. As Paul acknowledged the fog, I wondered if people who want to talk to each other during shows could maybe make a chat zone that's not within a certain amount of space near the stage. Greensky Bluegrass is five guys, great songwriters and musicians. It's great to get to hear them.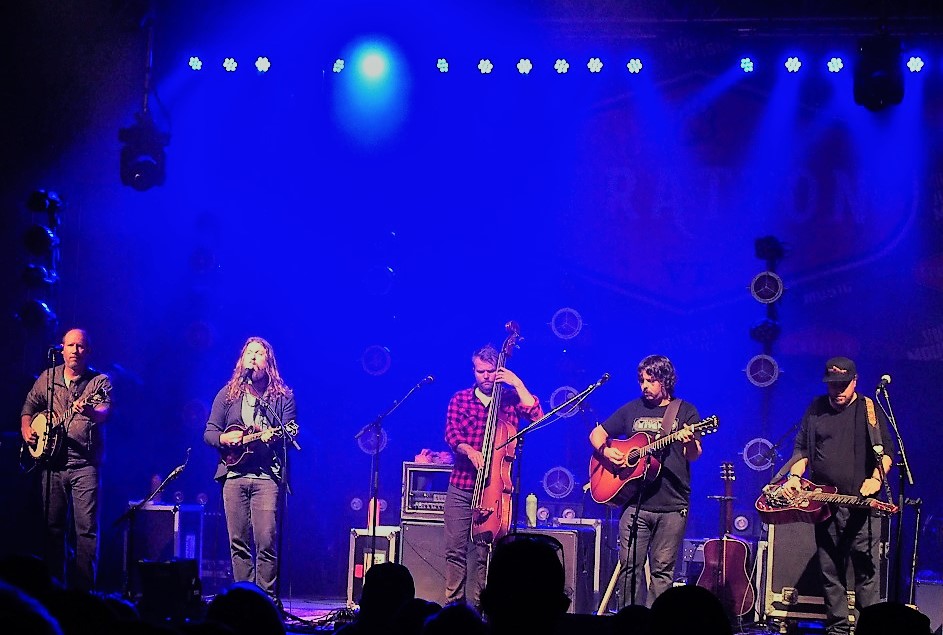 A dobro is not a sideways guitar or maybe it is a kind of sidewise guitar? My research (Wikipedia) tells me it's a resonator guitar, which is "an acoustic guitar that produces sound by conducting string vibrations through the bridge to one or more spun metal cones (resonators) instead of to the guitar's sounding board (top)." Ok. To me, a dobro kind of sounds like a cross between an electric guitar and a steel drum. It does seem to resonate like all of the best things that resonate. For Greensky Bluegrass I think Anders Beck on dobro often means an unexpected shift in vibe just as it's needed. It creates a different feeling, the sound landing in a different way. On Saturday, the dobro in "Take Cover," meant it was a little bit funky a little bit jammy.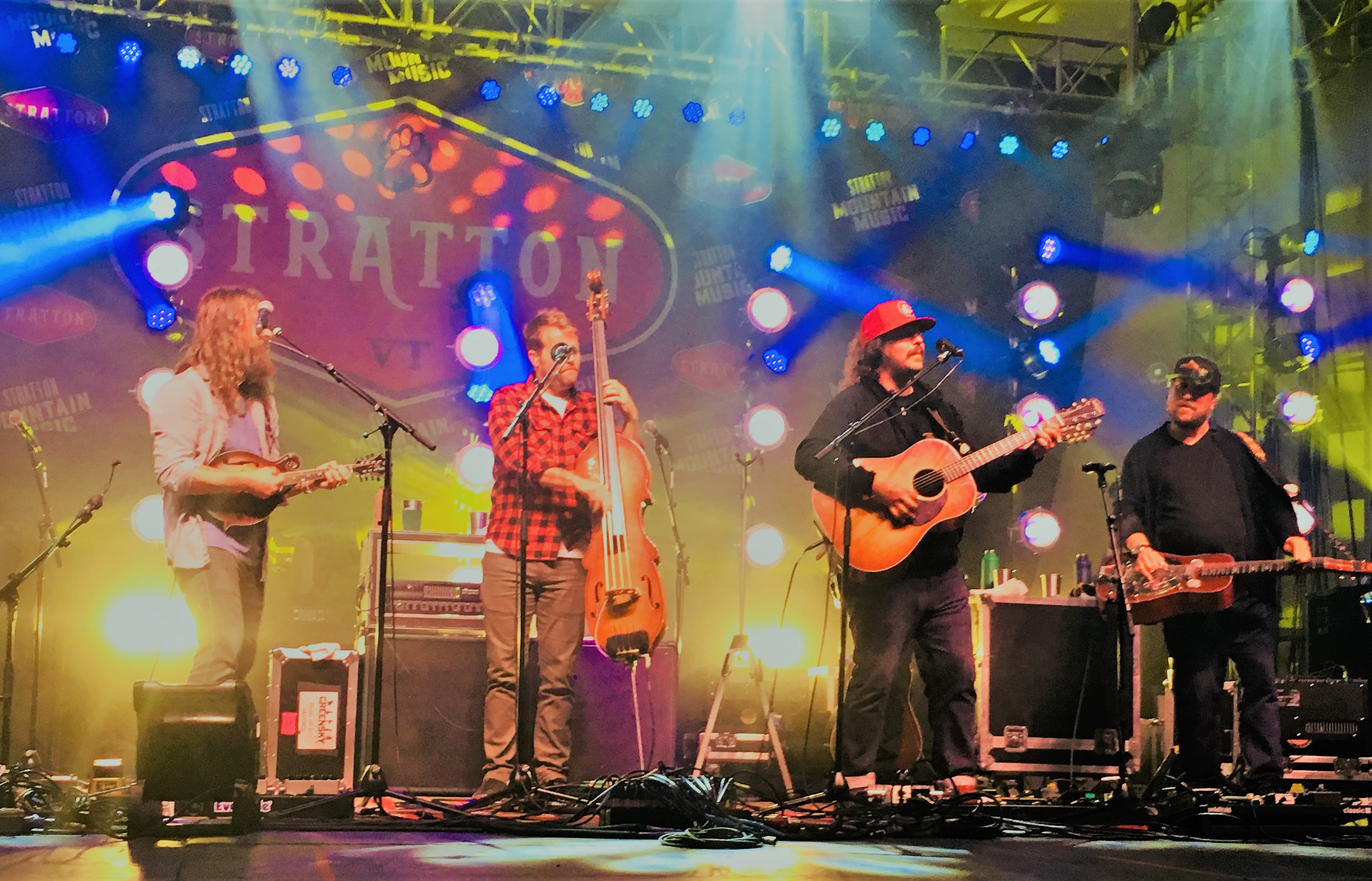 Although Greensky fans might not have expected to hear "Middle Mountain Towns" after it was played a few nights earlier, we were blessed. Stratton is a mountain town built for dancing and Greensky did not disappoint, next playing "Burn Them," which was hot. As the first notes launched, one of the ladies behind me shouted "You are my hero," which was perhaps reflective of the general sense that seemed to emerge among all of us that were lucky enough to be in Stratton for this show last weekend. "Through the Trees" written by Michael Bont and Paul Hoffman is as gorgeously written as it is played.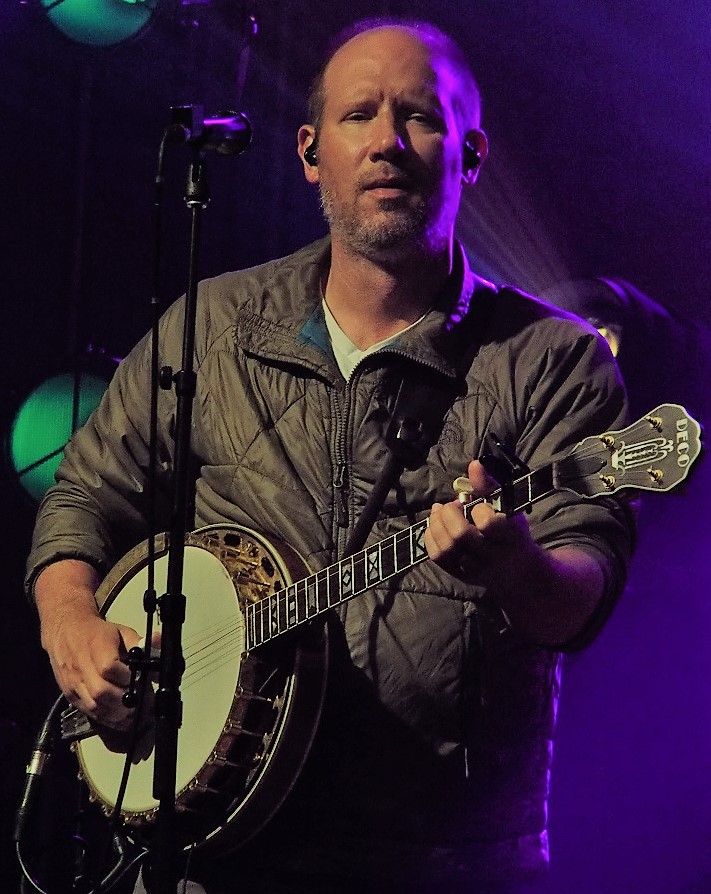 Anders might not always sing, but he gets to introduce the special guests. Jake from the Lil Smokies came out with his fiddle to play the classic tune "Crying Holy Unto the Lord," followed by "I'd Probably Kill You," and we were all stomping our feet thrilled.  "Leap Year" closed the first set, lucky us. Stratton played great set break music and has some chairs and picnic tables for hanging out.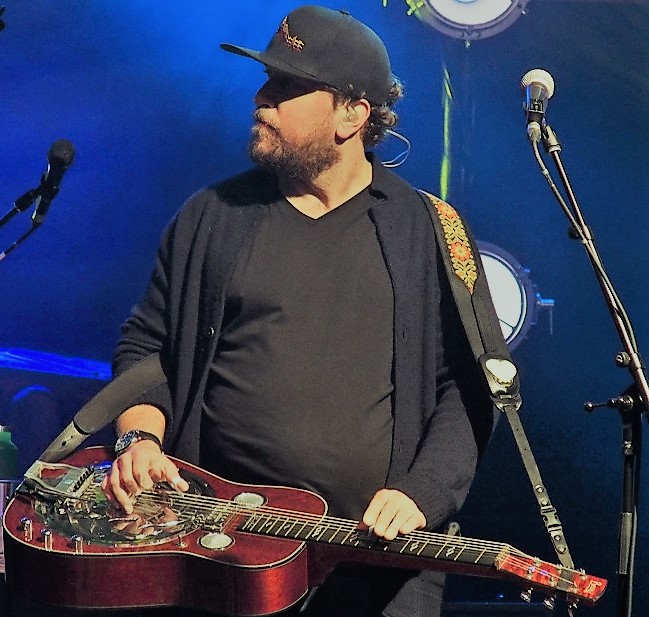 The second set was like treasure, including so many Greensky songs we were grateful to hear --- "No Idea," "Into the Rafters," "Jaywalking," "Run or Die," "Old Barns," and "Tied Down."  Wow. There is something so amazing about hearing these songs live that I listen to in my car and in my kitchen. The songs we are waiting to hear. There is something so great about sharing the songs with other people who love them.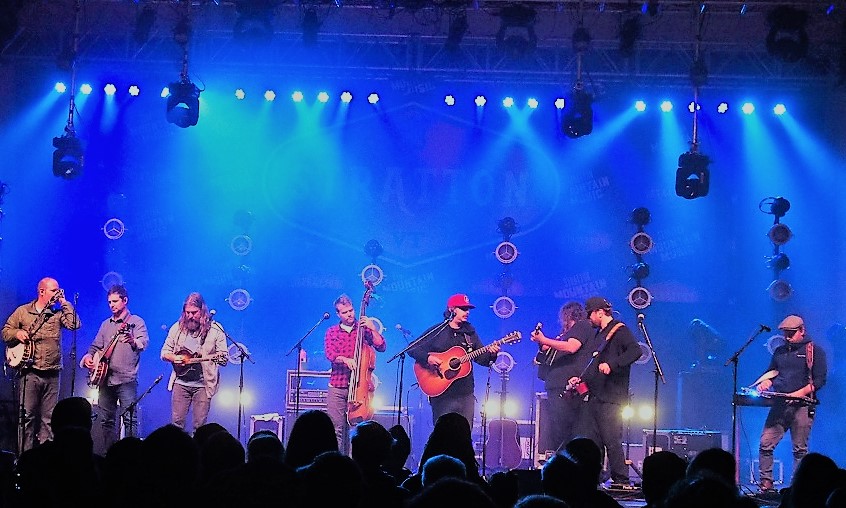 Dueling banjos, dueling dobros, oh my. In the second set was the arrival of The Lil Smokies onstage to play a ruckus cover of The Band's "The Shape I'm In" and a nearly 20 minute "Freeborn Man" that unfolded like a conversation between instruments and within music itself, the musicians of two bands temporarily forming one, referencing others with multiple teases of other songs. The night wrapped up with encore "What You Need," which brought a visit from Guido Batista on vibraslap. This song made me curious about a new album.
Saturday wrapped up the first leg of their fall tour, which will start back up again – with The Lil Smokies – on October 31 at the Roseland Theater in Portland, OR. And, as I have been writing, Greensky has announced their next album All for Money will be out in January and they'll go on a giant winter tour.  Go see them.