There were at least five reasons I almost didn't get to the Levitate Music & Arts Festival this weekend. I'm glad I did get to go, and I can think of probably at least 25 reasons why that's true.
The first is The Suffers. Forever running late, I missed The Elovators and New Kingston (let's check them out together) but the spark of The Suffers reached me as I opened my window while making my way through the festival arrival traffic, and I felt immediately welcomed by the powerful voice I would learn to be that of Kam Franklin. I started dancing as I waited at will call for my wristband. Once inside, I could see that Kam was leading an eight-piece band, and I could hear that the soulful sound and skillful range of the entire band matched the beauty and positivity that Kam radiates. They graciously sailed through sound struggles and exuded a message of loving each other and sharing time (and sandwiches) with people we love. Their cover of "Shout" had me kicking up my heels by the end of their set.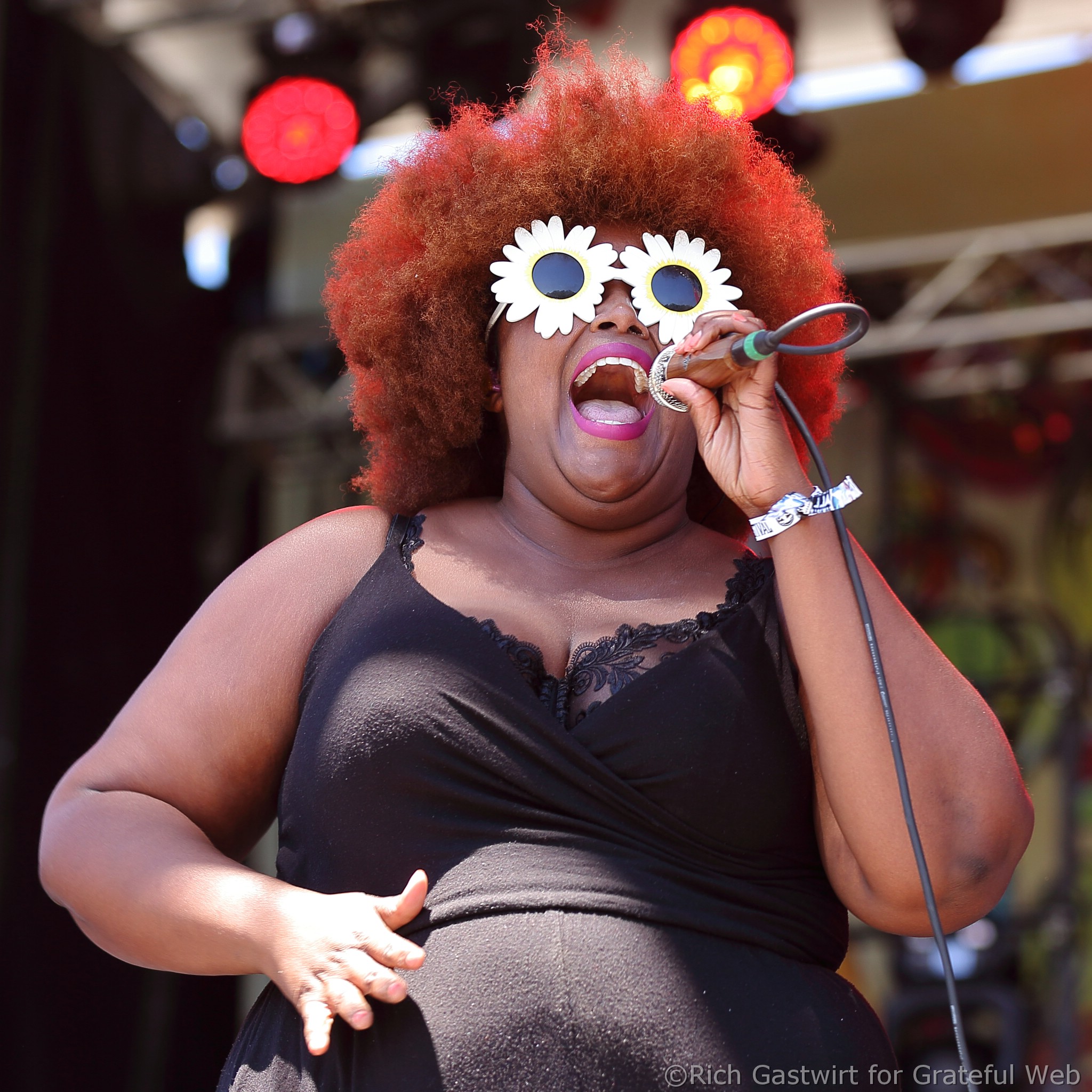 Right after The Suffers, I saw a cute toddler in a t-shirt that read, "Don't kill my vibe." Instantly I was like "omg maybe she's talking to me and omg is my vibe killing her vibe and truly, how can I just walk around all day with the media sticker and no friends??"  Indeed her shirt really had nothing to do with my anxiety but my gosh we sure do talk a lot about vibes these days.
Indeed it seemed like the crowd was in great spirits and taking care of each other all weekend. My vibe was sweaty. Though a heat wave had just broken, the sun was hot and shaded spots were at a premium. Thankfully, sunscreen dispensers set up by the Race Cancer Foundation were a great reminder to reapply. I guess that although it was hot, the vibe was also quite chill. Lines for food, beer and water did not seem to bother people – or if they did, the festival's fantastic line-up made it possible to bear.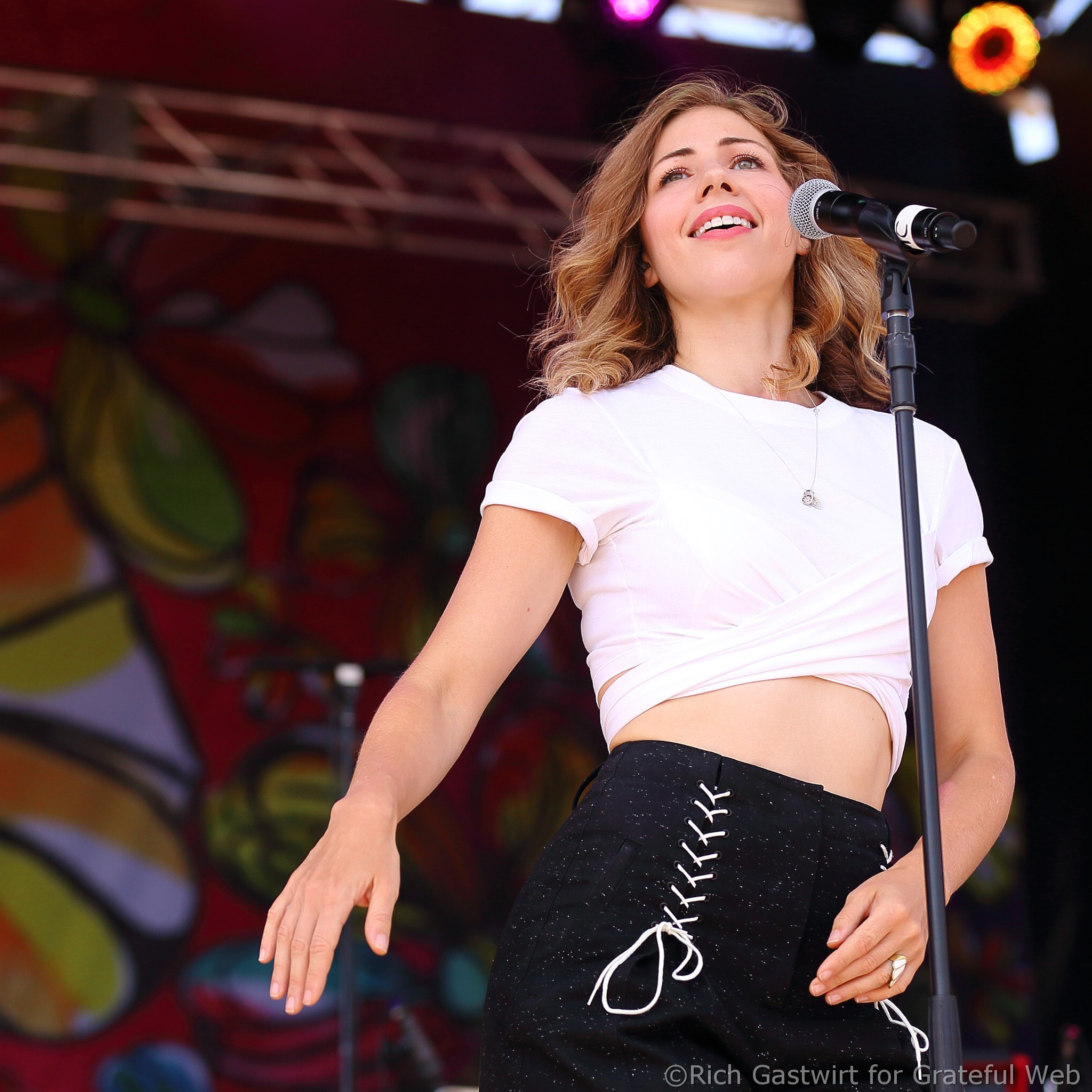 The set up at Levitate is cozy. Three stages are named for what appear to be pillars of the Levitate surf and sun brand, which is well known in Marshfield and neighboring towns. Stoke, Style, and Soul. Hmm… smart. Food trucks, rows of vendors, and kids' activities were always within range of listening and creating a kind of village feel within the festival itself. In fact, I did find a Levitate Village, a little group of huts selling festival merchandise around the brightly colored mini-house meant to be a great spot for a photo opp. The sense of community at Levitate is strong, rooted perhaps in the crew's dedication and the history of the festival's site, the Marshfield Fairgrounds, in operation for more than 150 years.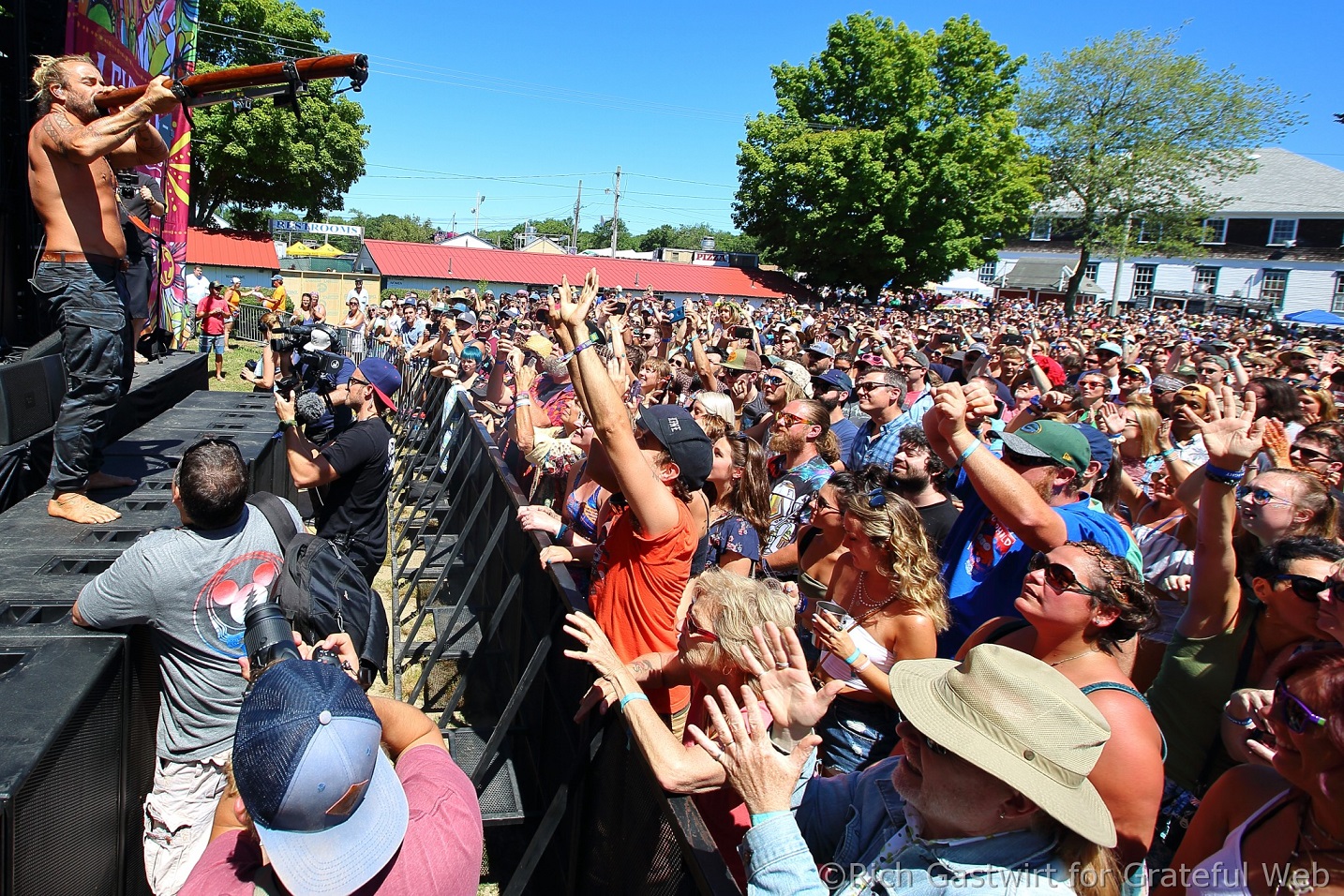 Stoke to Style, I saw Xavier Rudd next, who released a new album, Storm Boy, in May. Levitate was his last American stop on a huge world tour and holy Xavier Rudd, it was special. His sound was new to me as many of the artists at Levitate were, maybe because I am a practically middle-aged lady who just realized there are now like 8 million music festivals with new ones being born every year. From a distance, I could see the crowd pulsating as Xavier asked, "Can you feel it?" They could and soon, I could as I moved closer to the reggae-inspired beats. An Australian Aboriginal Flag danced on the stage as Xavier's beautiful, healing voice gave thanks and praise to the sun as the keyboardist and drummer helped me realize that maybe my heart was beating outside of my body. A gorgeous didgeridoo brought the wind as Xavier had fun with his multi-instrumental capabilities. I floated away from there, promising myself to see them again the next chance I get.
Speaking of hearts beating outside the body, I was missing my kids by now, yet conscious that this time by myself was not only a gift but necessary. Further, I am an anxious mother and like to thoroughly scope out as much as possible before bringing them along. A hot music festival is a hard place to take great care of children, and it's an even harder place to take care of yourself while being with your kids. At Levitate, I saw plenty of parents valiantly parenting, from cutting strawberries with a fork, to dancing with kids dangling from shoulders to one dad flossing with his daughter. My kids would love a misting spot and like maybe a juggler, magician or mime, but don't kids always want too much? Levitate had plenty of fun for the littles with shaded stops like the Chalk World, Germination Station, and Kid's Drum Circle tents. Also, a half-pipe of people skateboarding.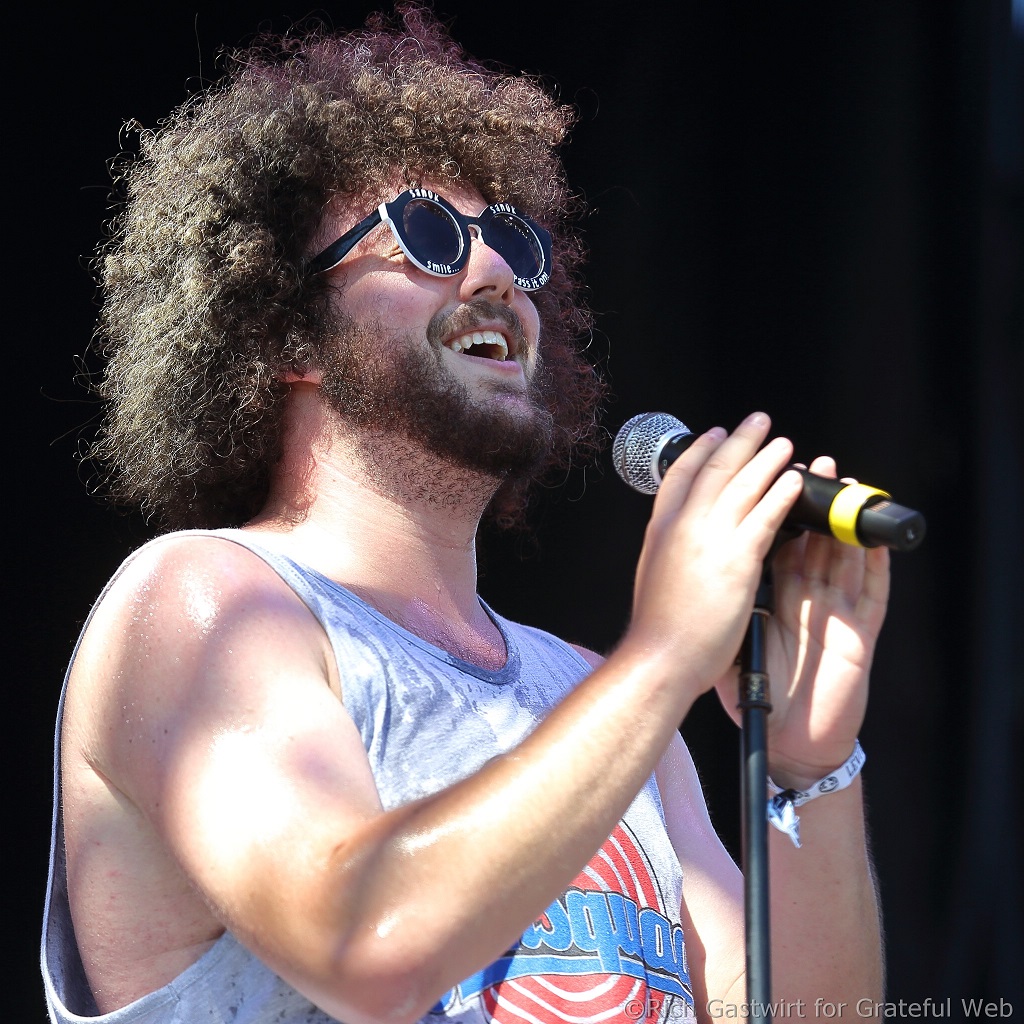 During Ripe's set on the Stoke stage, (this was the biggest, "main" stage as you might guess!) I put my pen away and danced like the regular festival-goer I wanted to be, a lighter version of myself, thinking less about loss and worry. Woot. It worked! There I found myself, for at least a minute. Ripe is so fun to dance to, literally electrifying. I met my first friend of the day in this dancing space, Terrance, who then tried to use my striped shirt as a landmark for someone looking for him in the crowd. Alas, I couldn't carry out this mission as I had to boogie over to Twiddle on the Style Stage. Hope you got found, Terrance!
It was hard, leaving Ripe – like it was hard to leave my family (who would totally love Ripe, btw) to get to Levitate – but so then is life, I guess, choice after choice, some harder than others. I reckon Levitate would have to have less amazing music if they wanted to make it easier for people like me who have a hard time with the torn-in-two feeling. For sure there is something for everyone all the time at Levitate. I was trying to see everything, but it's just not possible given the overlap in the schedule, but if you like floating, then well, of course, that's the way to Levitate. The stages aren't too far from each other, yet each has its own distinct space.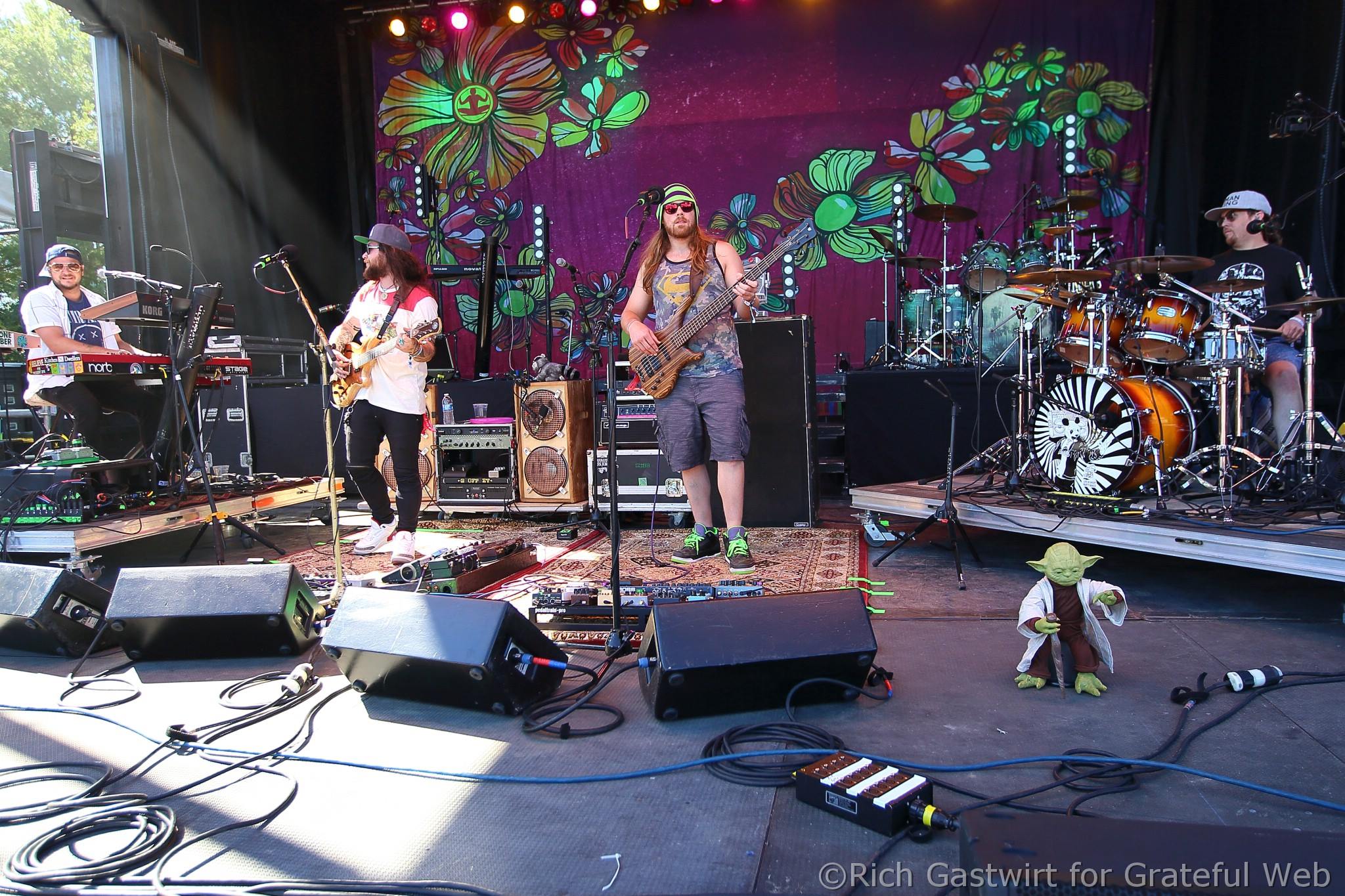 Anyhow, while this was my first live meeting of Twiddle, I know their fans are numerous and loyal, and the crowd was solid when I arrived. Pausing here to catch my breath and ponder, um, Twiddle. It kind of makes me giggle, to be honest. But their sound isn't laughable – broad and big for four guys from Vermont, fun and playful like their name. I found myself grooving into their first song, "Lost in the Cold," which almost grooves into itself, and taking in the excitement of the rail riders and several rows of folks behind them with their hands up in the air. I felt some tension in my shoulders and neck release with a sweet keyboard jam, and the lyrics helped me feel some feelings I needed to have.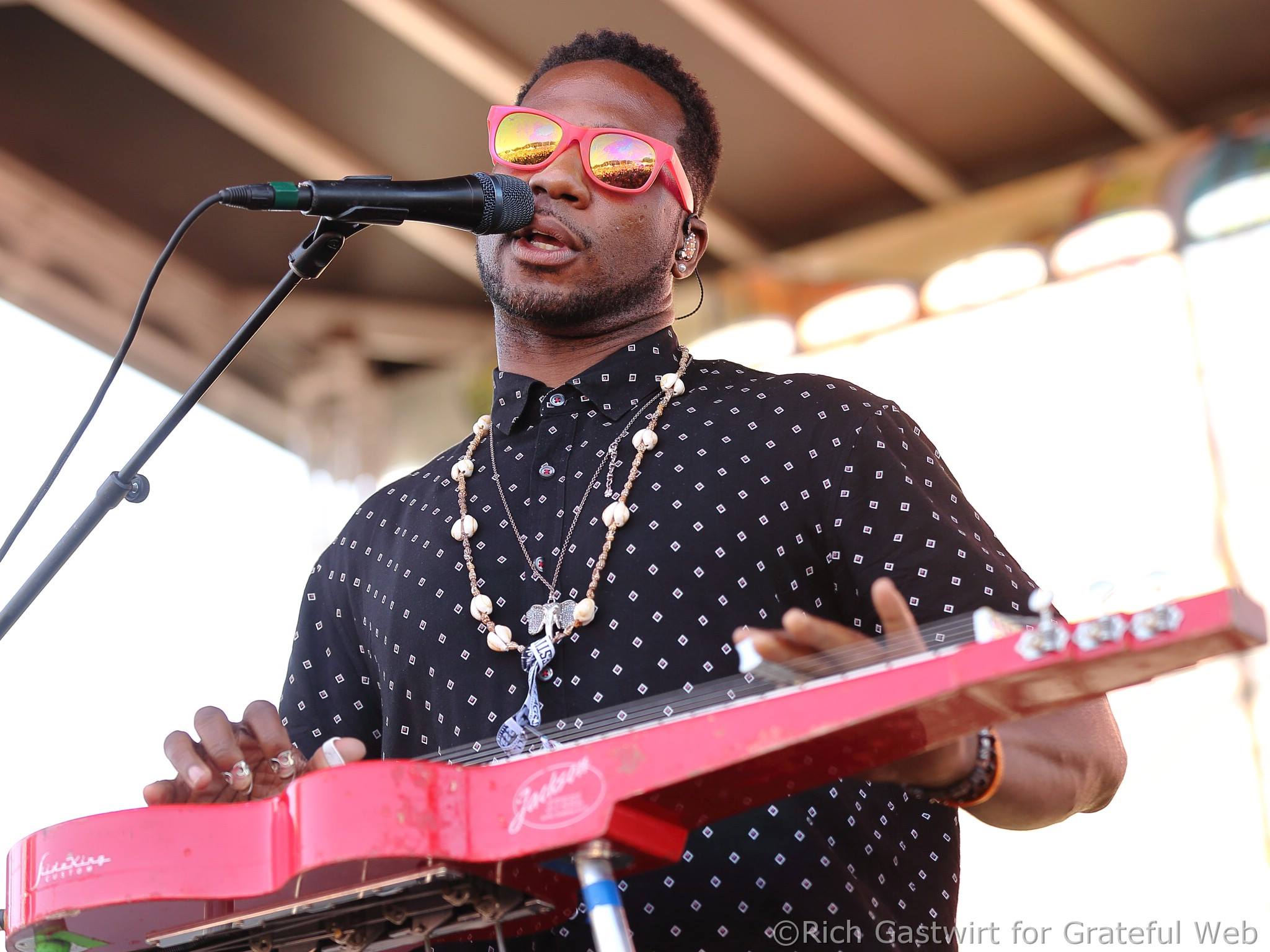 OK, girl by herself at music festival crying a little: Check. But off I went to see Robert Randolph & The Family Band at the Soul stage, where the sun-baked lawn was crowded. I would later learn from another new friend, a Levitate crew member named Shawn, that 17,000 wristbands were sold, as in sold-out. Robert Randolph and his Family Band have soul for sure, and I was able to feel myself wanting to move my feet and hips, but I was conscious also that I needed to move towards water and food. There were regular reminders to hydrate at Levitate, which I really appreciated. Twiddle, and Robert Randolph and the Family Band will be on my list of bands to hear more of after sampling at Levitate.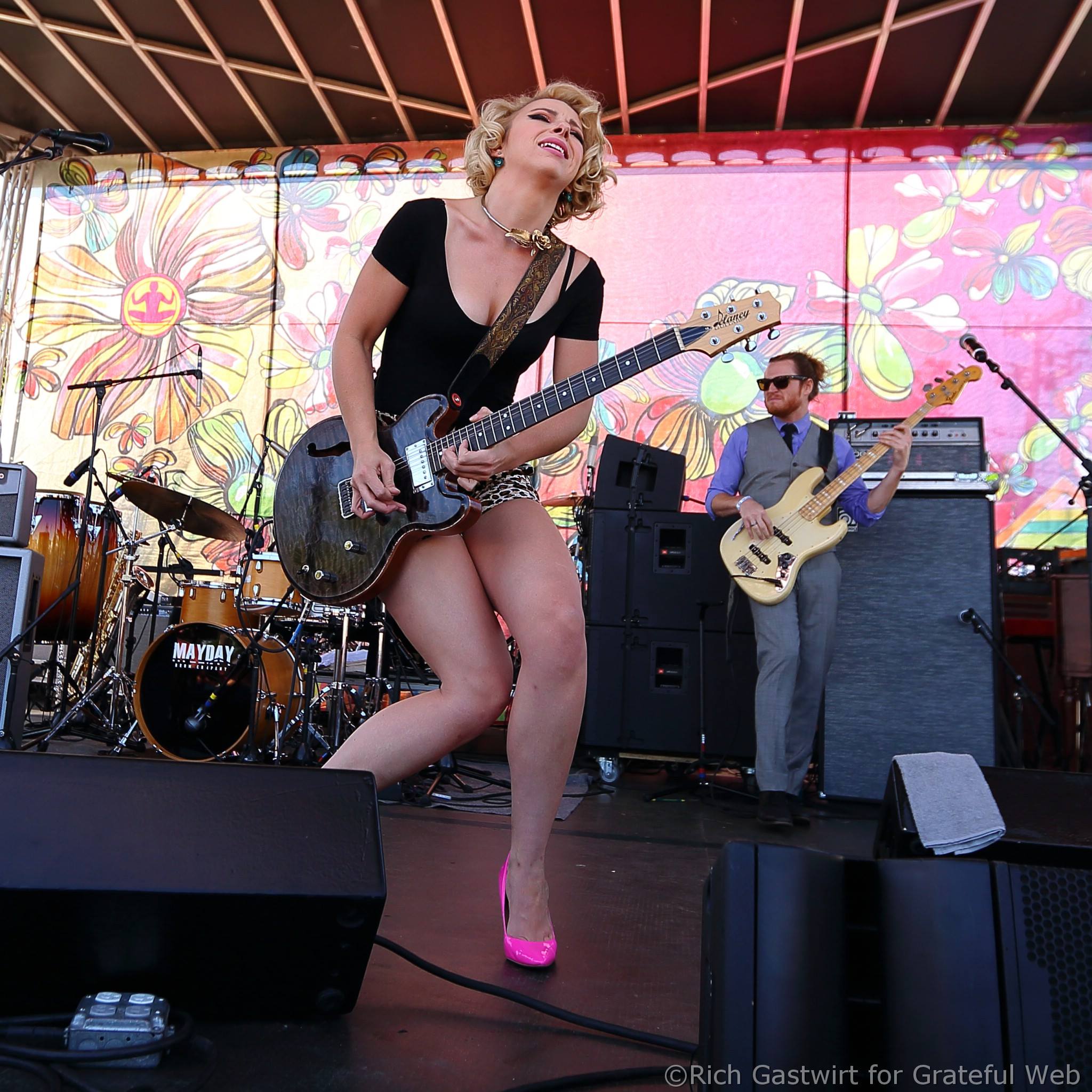 Samantha Fish launched her recording career in 2009. She surely brought her beautiful, bluesy voice to Levitate and she was fabulous as is each member of the band. They were all dressed so nicely; definitely, the first thought I had was that their mamas must be so proud. Samantha's presence is fun but badass and her supporting band, playing instruments ranging from fiddle to flute to saxophone, match her in talent.  I made a note to listen to their recent album, Belle of the West, to hear more.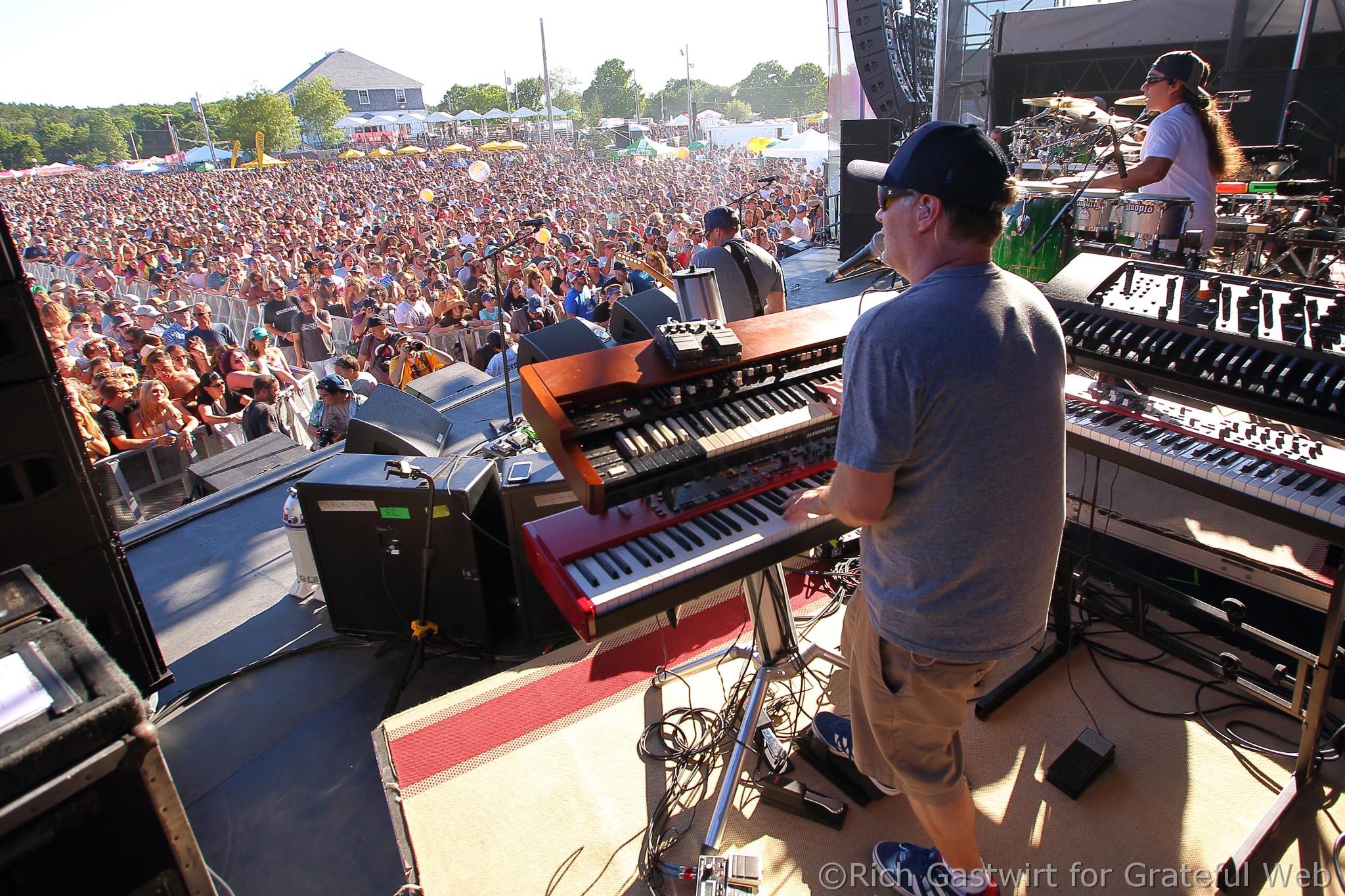 Samantha's set offered a much-needed boost of girl power that propelled me back to the Stoke Stage in time to hear Slightly Stoopid's cover of Franklin's Tower. You would have been proud, Grateful Web fans, of this seemingly reggae band that brought a jazzy layer to this favorite song featuring a Bostonian, Paul Wolstencroft, on keyboard. They also delivered a beautiful cover of Tom Petty's  "You Don't Know How it Feels," with instructions to the crowd to sing loud enough to reach the sky. I'd just listened to this song on my ride down and was, well, stoked to hear it.  I've been processing a lot of loss in my own life lately, and here I realized the importance of music as therapy.
Um. We're still on day one. I've got more notes if you want to grab a snack and come back.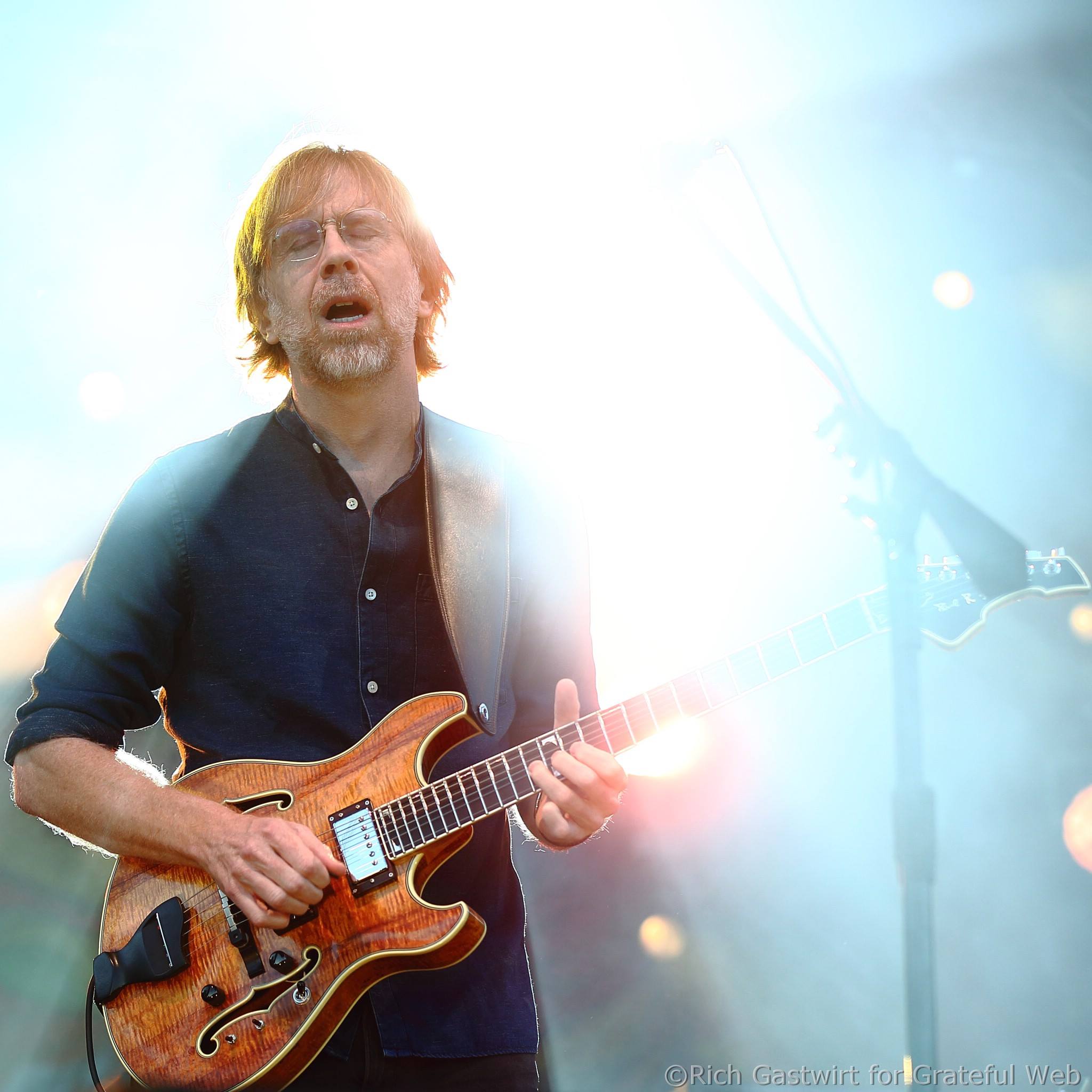 OK. Levitate clearly came to 2018 with intention to get bigger and so a headlining act like Trey Anastasio is certainly one way to manifest that. This was my first time seeing Trey separate from Phish, and hmmmmmm. Certainly, Trey doesn't need me to tell you about his voice or say that he's a great performer and, um, good with his fingers, but these things are still true.
I didn't know the first song because it was apparently born in the last few years and the last new song I really remember hearing is probably Ocelot.  But the second song Saturday night, "Caman Review" did bring me back and I found some version of myself singing along. A little later, "Gotta Jiboo" got a little spacey, giving me the chance to take in the now dusky sky and cooler air bouncing off my skin. The Levitate crowd, fully together for the first time all day with no other band playing on another stage, had a great time, evident in the bouncing culmination of glittery faces, flower crowns and lit up beach balls.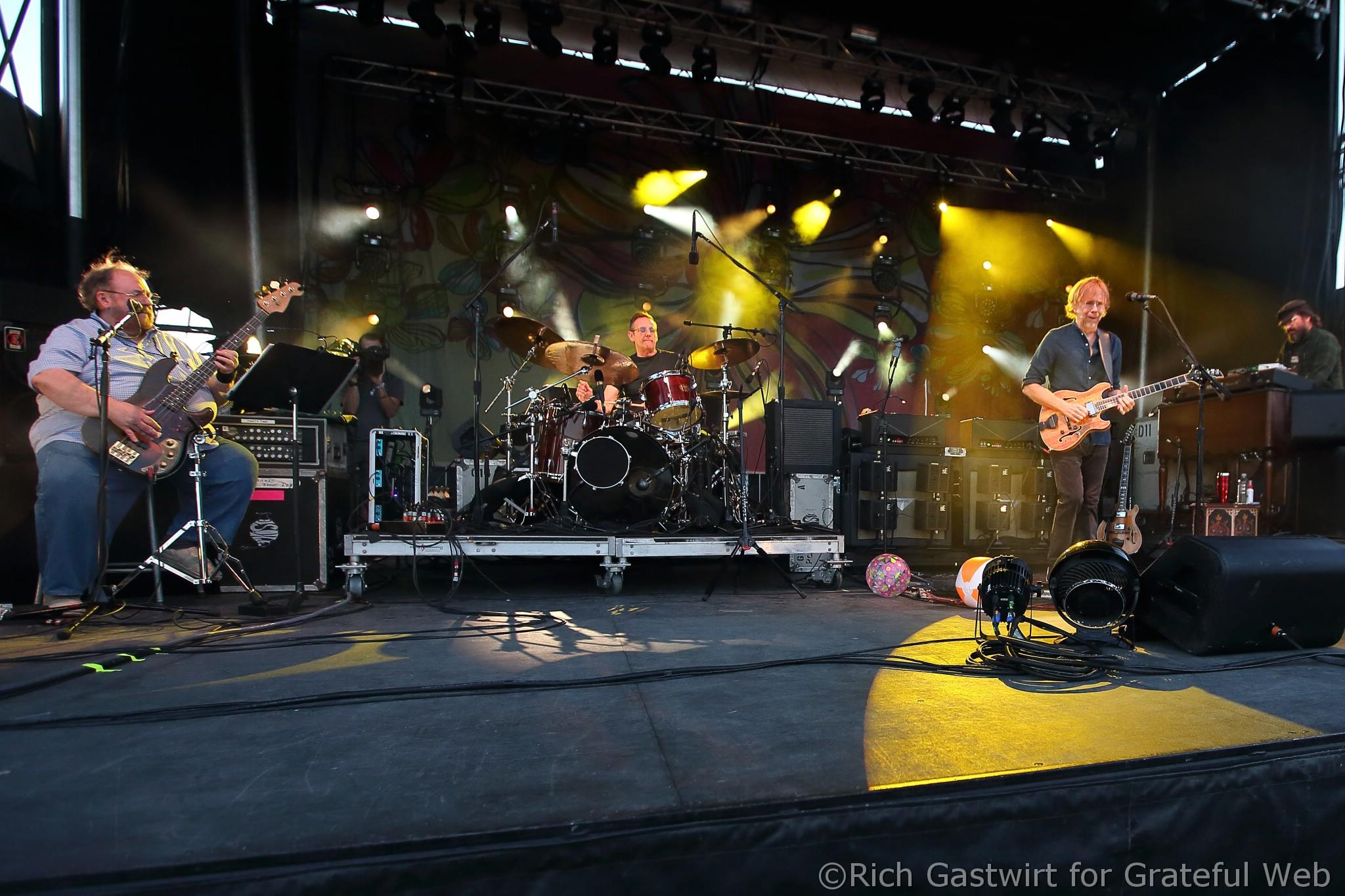 It was great to learn that The Trey Anastasio Trio, as listed on the schedule, was actually playing as a quartet, given that Ray Paczkowski had just returned to his keyboard the night before, after recovering from a health issue. That may have been Trey's first real interaction with the crowd, there before the encore, where he played two solo songs with his acoustic, including a lovely "Waste," before bringing his bandmates back for a third together. I did love how he phrased it, the news about Ray being better, genuinely thrilled to share "some good news in what seems like a world of bad news."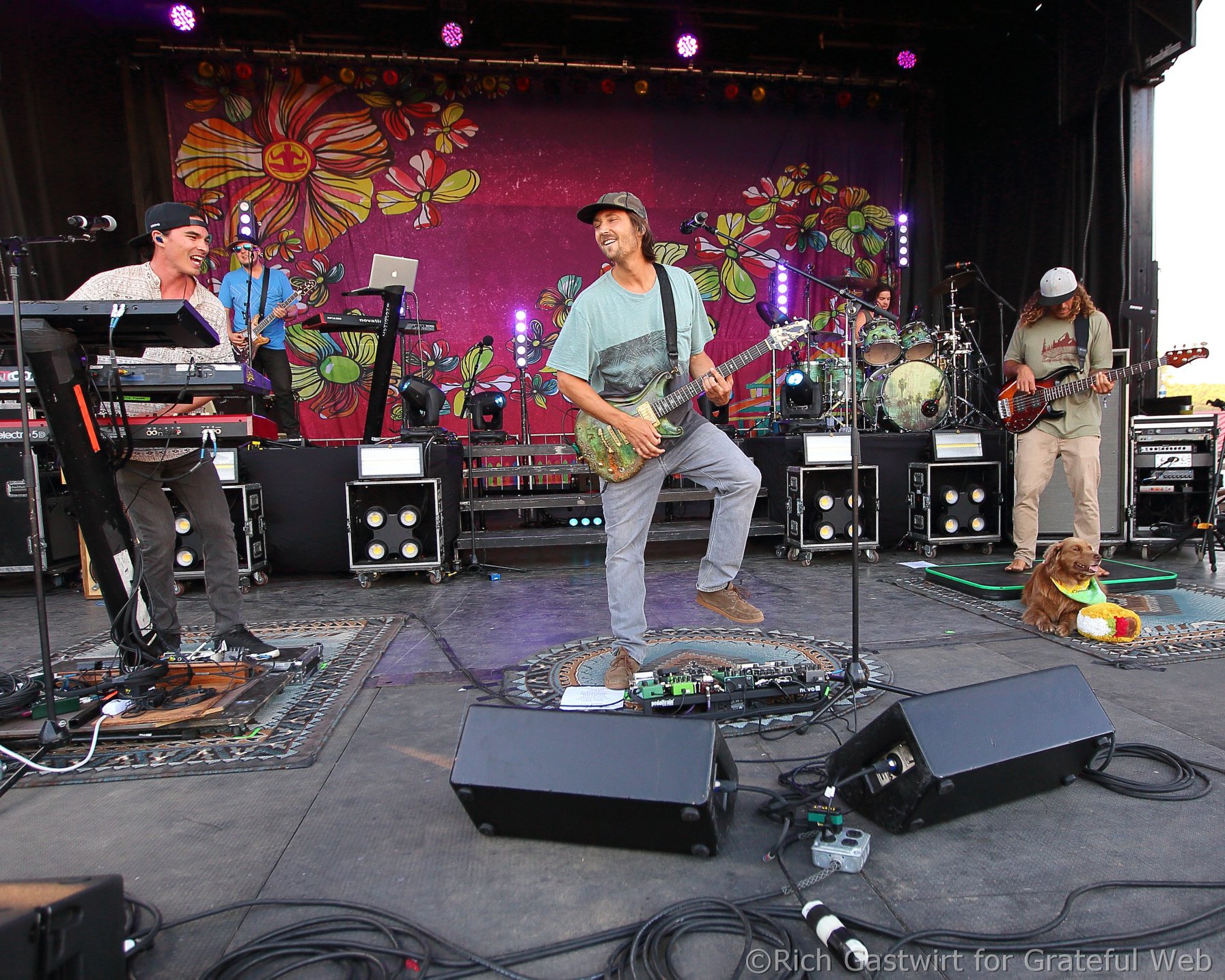 This good news thing brings me to the best vibe I found at Levitate, a sort of mission to do good for the local community and beyond while caring for the earth that we're all just borrowing. Rather than simply striving to be an escape from the real world, Levitate offered a connection between loving music and loving our world. Recycle/compost/trash stations provided helpful instruction on what to put where. Many folks purchased cute reusable cups, which got them a small discount on beer and must have significantly reduced the number of plastic cups. Festival staff was frequently sorting through to remove pieces that didn't belong, and I did hope my fellow festival goers could appreciate the work that goes into a production of this size. Reverb brought filtered water, and there was, of course, a water bottle for sale if you didn't bring your own.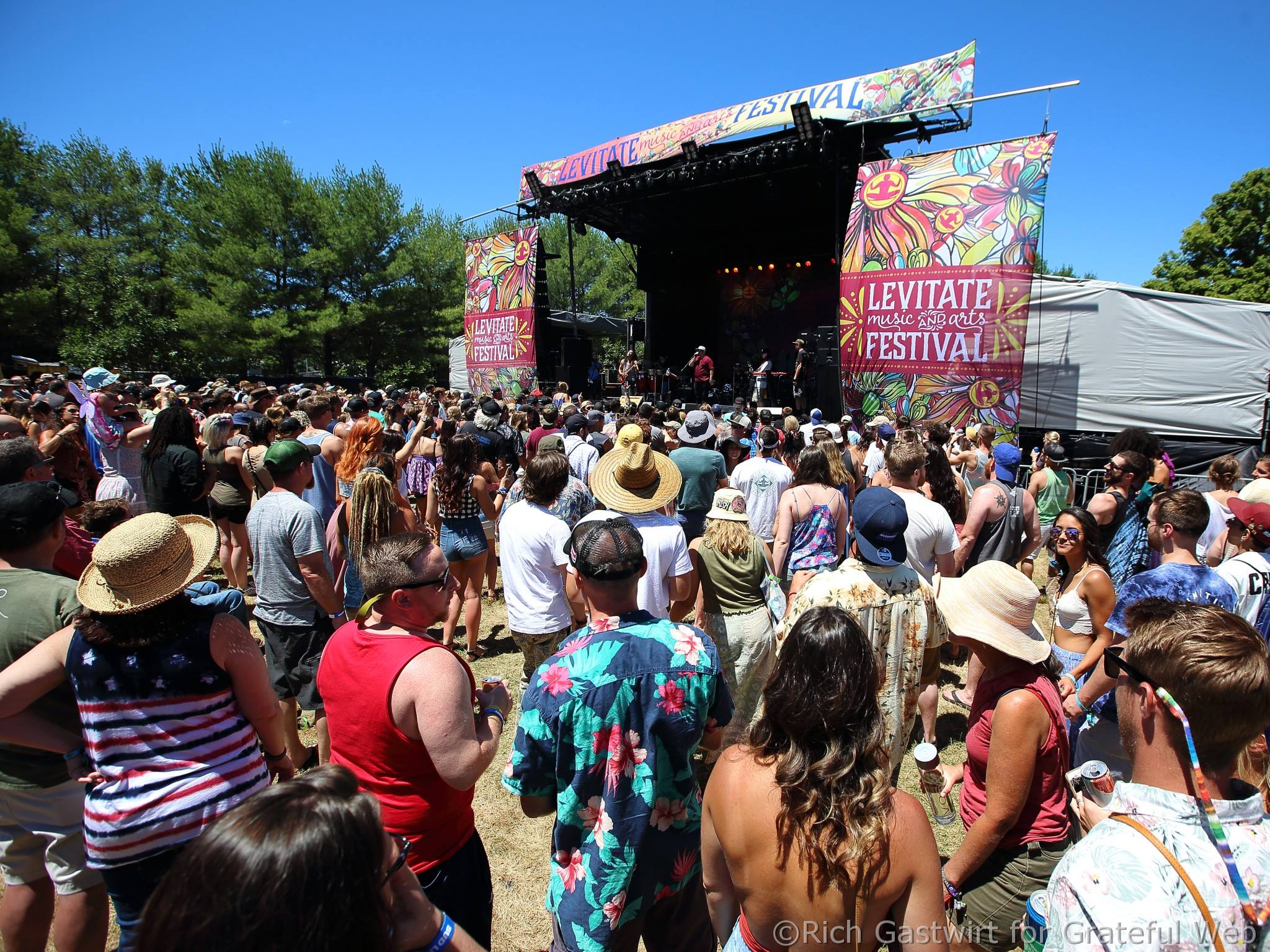 I had a chance to talk with Joanna at the Boys and Girls Club booth, who explained that while their partnership with Levitate is year round, a dollar from the sale of each festival wristband, in addition to funds collected for parking, support their community-based organization. I also loved that they were selling t-shirts on which the organization's logo appears at the heart of the festival logo.
The Beau Hawks Foundation sponsored the live stream from Levitate, which made it possible for anyone on the internet to be able to enjoy the music. I was grateful to get to meet Alben Belliveau, who founded Beau Hawks to raise money and awareness about research in a particular gene therapy that has the potential to save his sons' lives; tragically, both have been diagnosed with Duchenne Muscular Dystrophy, a progressive, fatal muscle disease. I've included the link for this one so that you can donate from the couch.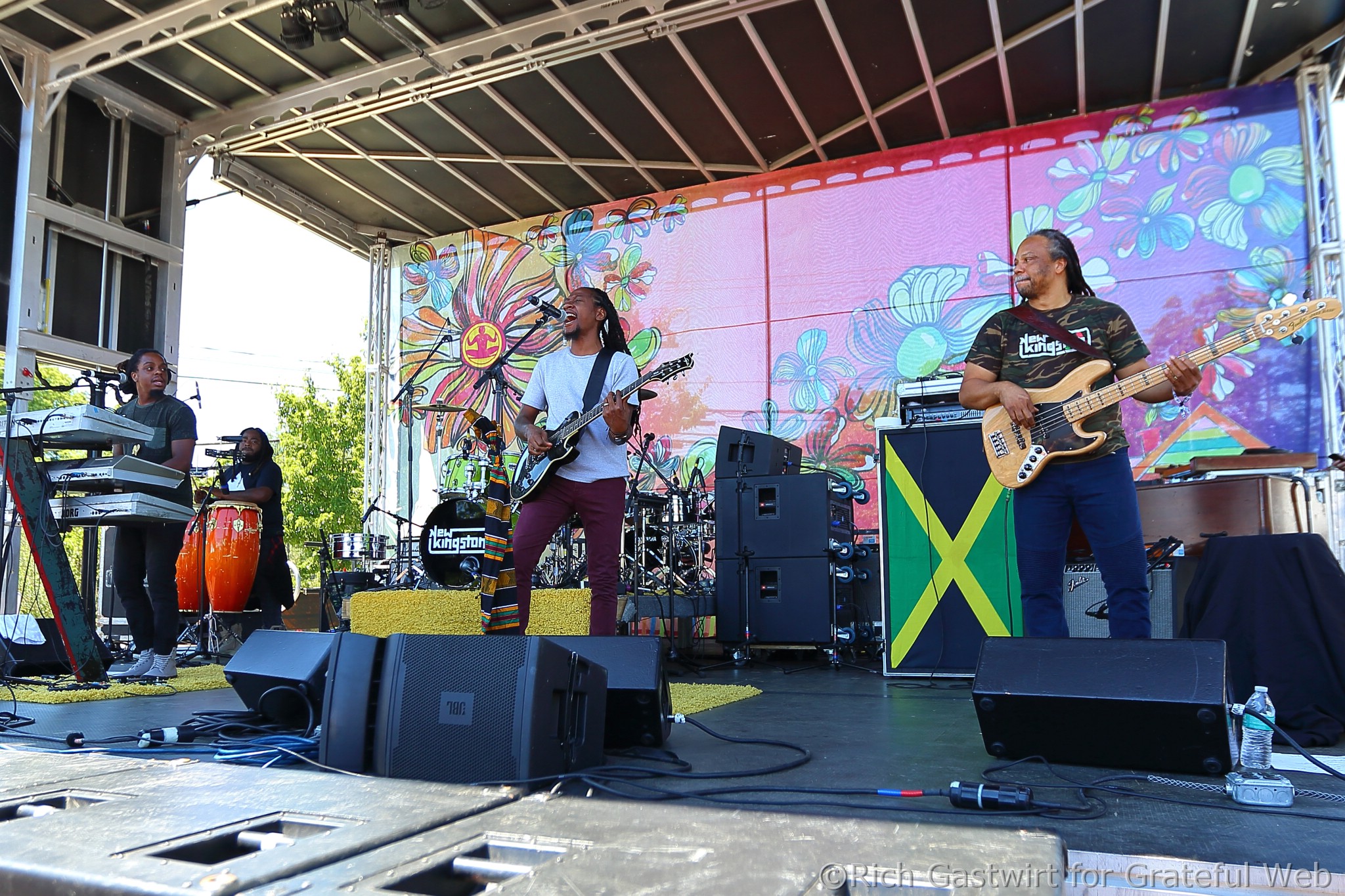 Importantly, I saw more ADA accommodations at Levitate than I have at other music festivals, shows, and venues. Further, I felt like Levitate's line-up displayed a commitment to inclusion of women and people of color in a way that made me feel hopeful. But to truly build the bridge that it feels like Boston and the rest of Massachusetts needs, amazing next steps could be to make this festival more accessible to low-income folks and people who rely on public transportation. I noted a bus option from Boston, but it wasn't clear how much it would cost. I understand that's one way for ride sharing to work – that the cost depends on how many people buy in – but it doesn't work for someone who does need to pay attention to what they're spending. Allowing folks to bring in picnic food would also make Levitate more do-able for peeps on a budget.
Sunday I arrived with a new level of excitement for day two and also acceptance that there is no way to fully take in every band in a way that would allow me adequately me to tell you about them. But yes, Sunday at Levitate brought so much great music, and I did try to check out every band.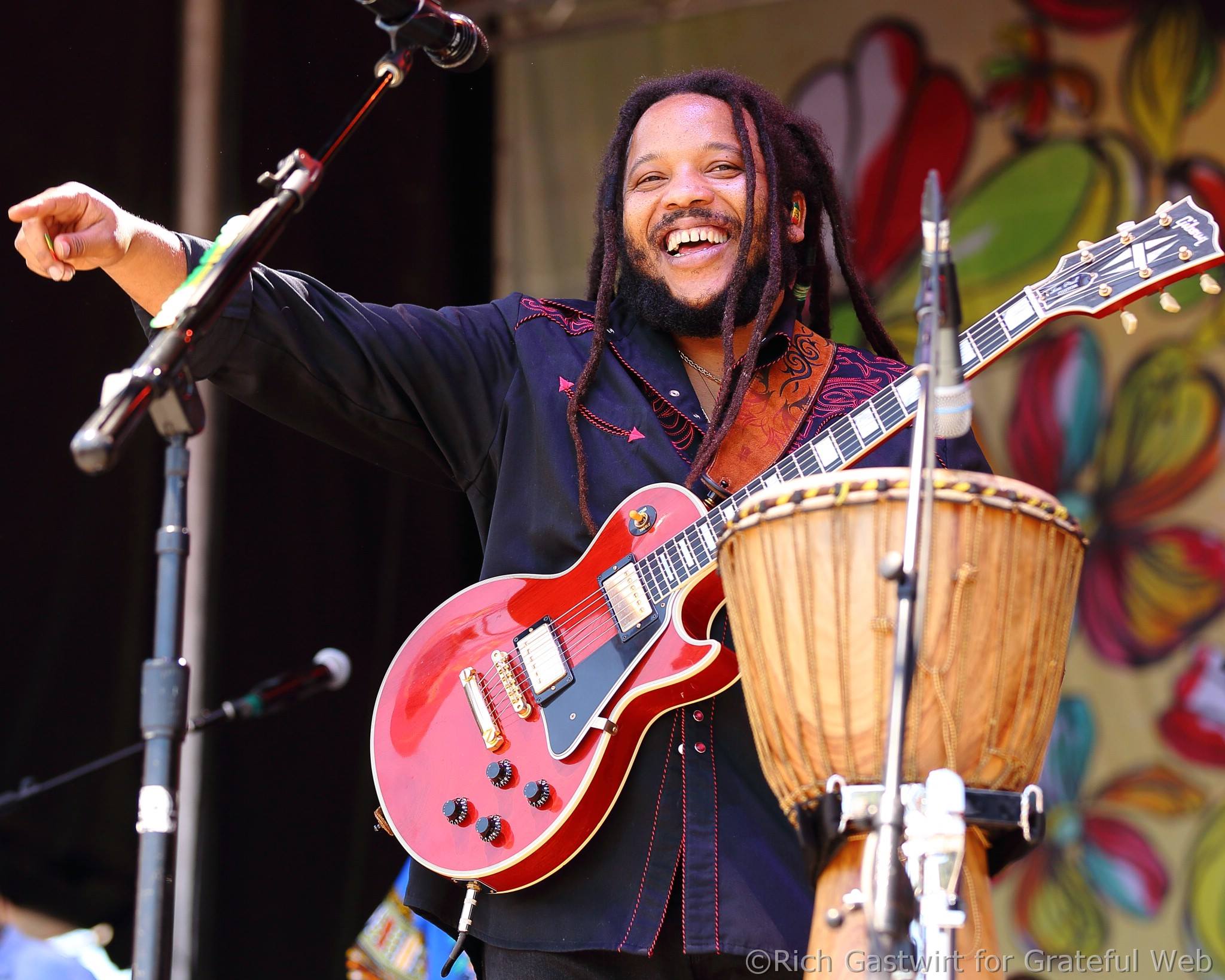 I will love to have more Quadrafunk in my life after Levitate and was thrilled to make it on time to feel the arrival of their funk on the Style stage, along with their version of "Shakedown Street". Stephen Marley and his band took the Stoke stage at 1:30 and they are most definitely making dad - Bob Marley- proud, playing tunes like "Stir it Up" and "I Shot the Sherriff," with their own, powerful and very present style that delighted this festival in Massachusetts.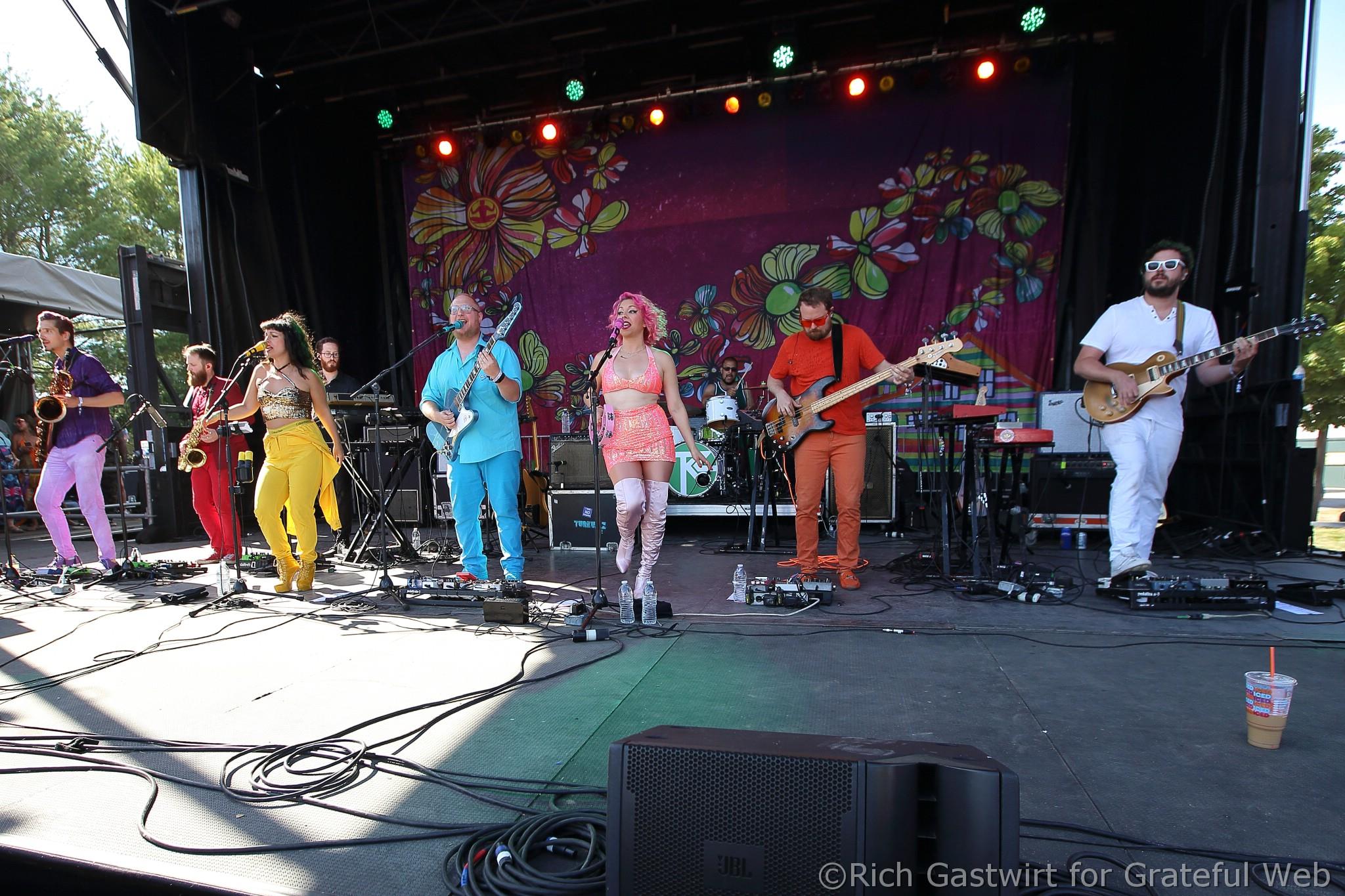 Two bands I would never have known about if I weren't at Levitate on Sunday were impressive – a local band, The Quins, and West End Blend, from Hartford, CT. Though they are quite different from each other, I enjoyed them both a lot. Spafford fans line up early, and I had the chance to see why. This band, hailing from Arizona, is danceable, a little funky, and a lot of fun. Some of my moments with them there on the Style stage felt reminiscent of some of my favorite moments from Phish shows years back. Jon and Roy have a fascinating ska-ish sound that moved me and made me wish for more time to enjoy all the things we want to enjoy. Lake Street Dive was amazing, which I confirmed with the crowd watching them on the Stoke stage as I headed to see Turkuaz. Their horns have a warm and familiar sound that feels a little like a cozy blanket.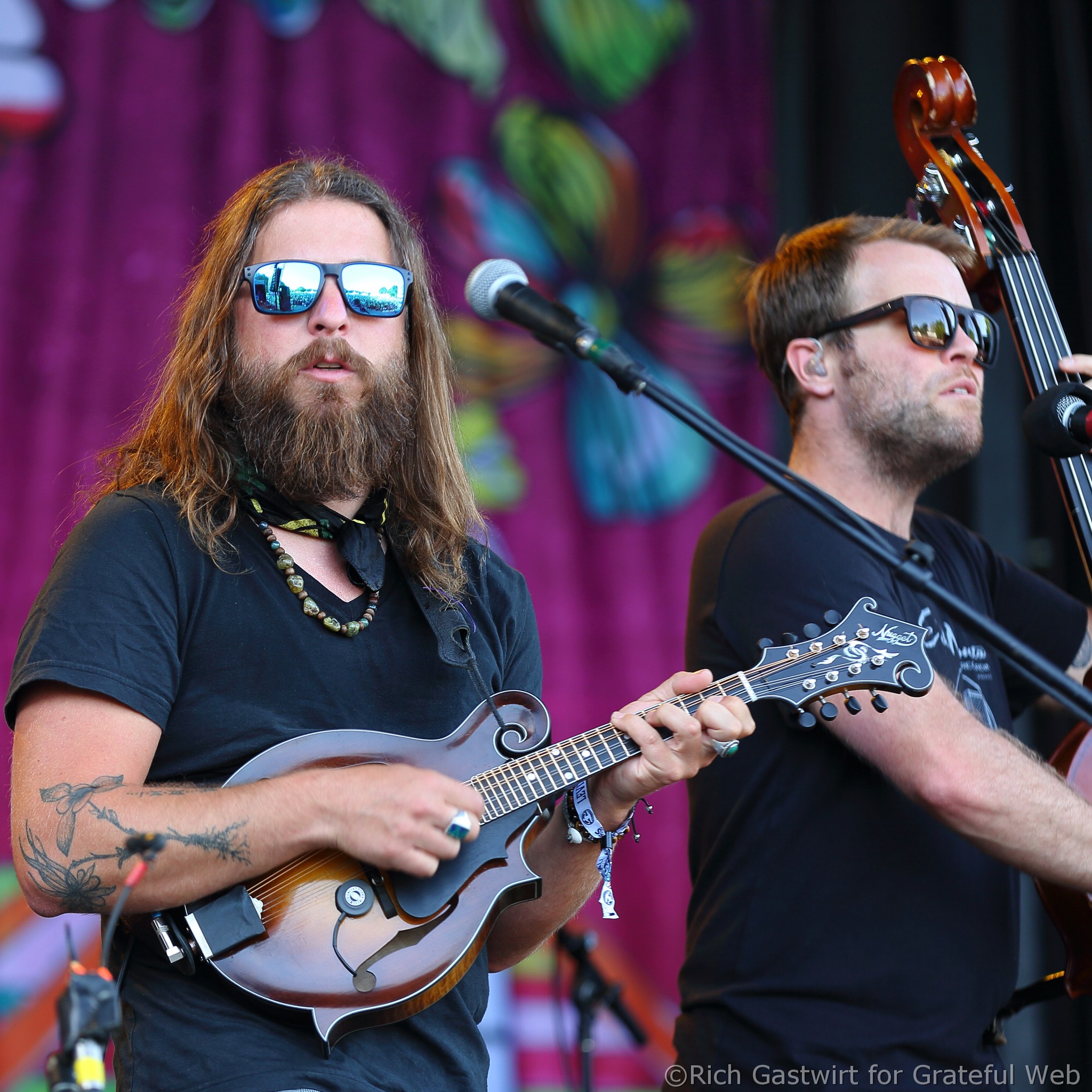 I gotta tell you, as the 6:15 Greensky Bluegrass start time moved closer, the excitement kicked up in the air. I grabbed a grilled cheese from the Mom on the Go truck, enjoying the shade created by the truck and other people as I waited. I chatted with more new friends at a picnic table – one who had come to Levitate for Lake Street Dive was going to see Greensky for the first time. If Saturday was the first time for lots of Levitate-goers, then I imagine there are more than a few that are going to be finding their way to a next Greensky Bluegrass show as soon as possible. I swore off being addicted to any one band a while ago, but it's true that I need two hands to count the number of times I've seen Greensky since their music found me a couple of Septembers ago. I barely have the words to tell you why, actually, except to say I'm amazed at the sounds they accomplish with only stringed instruments, combined with lyrics that have heart and a sense of real life, and a fan-base (Campers!) that seem to be mostly good, fun, and kind people. I get to have all my feelings with Greensky, and the dancing is good medicine.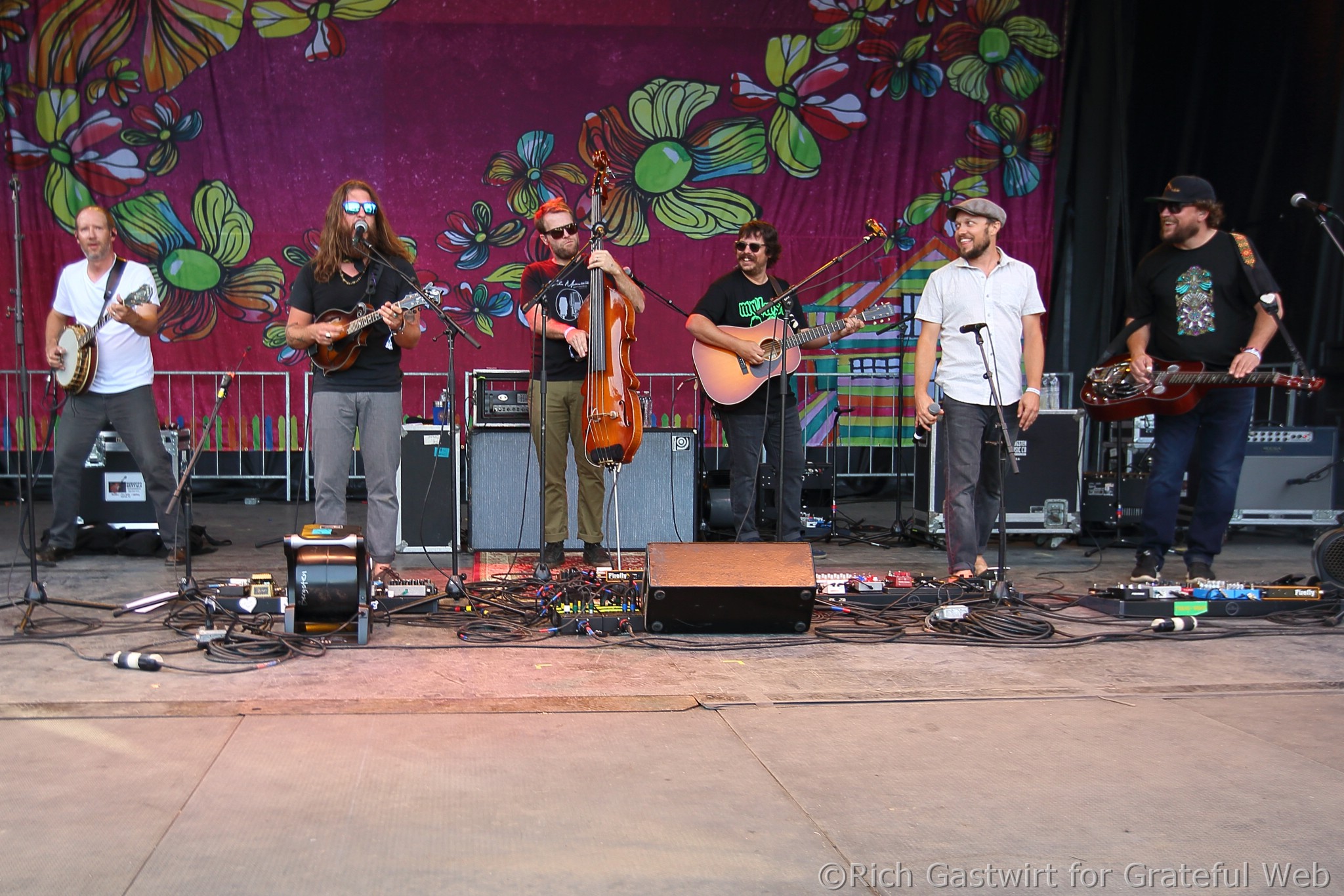 After they opened with "The Four," we got swept up in "Run or Die" during which Anders Beck called up Ryan Montbleau who lent his beautiful and local voice to Paul Hoffman's for a lifting of Coolio's "Gangster's Paradise," unexpected and fabulous in the way certain bits of spoken word, or a mandolin player rapping, are unexpected and fabulous. It also gave this crowd a chance to catch our breath, slow a teensy bit down, and acknowledge an almost overwhelming feeling of being connected by music. Back to "Run or Die" and then "Reflections," a pretty new ballad written by guitar player Dave Bruzza. After that, it was really a huge dance party showcasing a the bluegrass favorite, "Hit Parade of Love" and closing with a powerful Greensky favorite, "Kerosene," for which the band was joined by Brian Moss of Spafford. I left the set the way I leave every Greensky show, ready for more.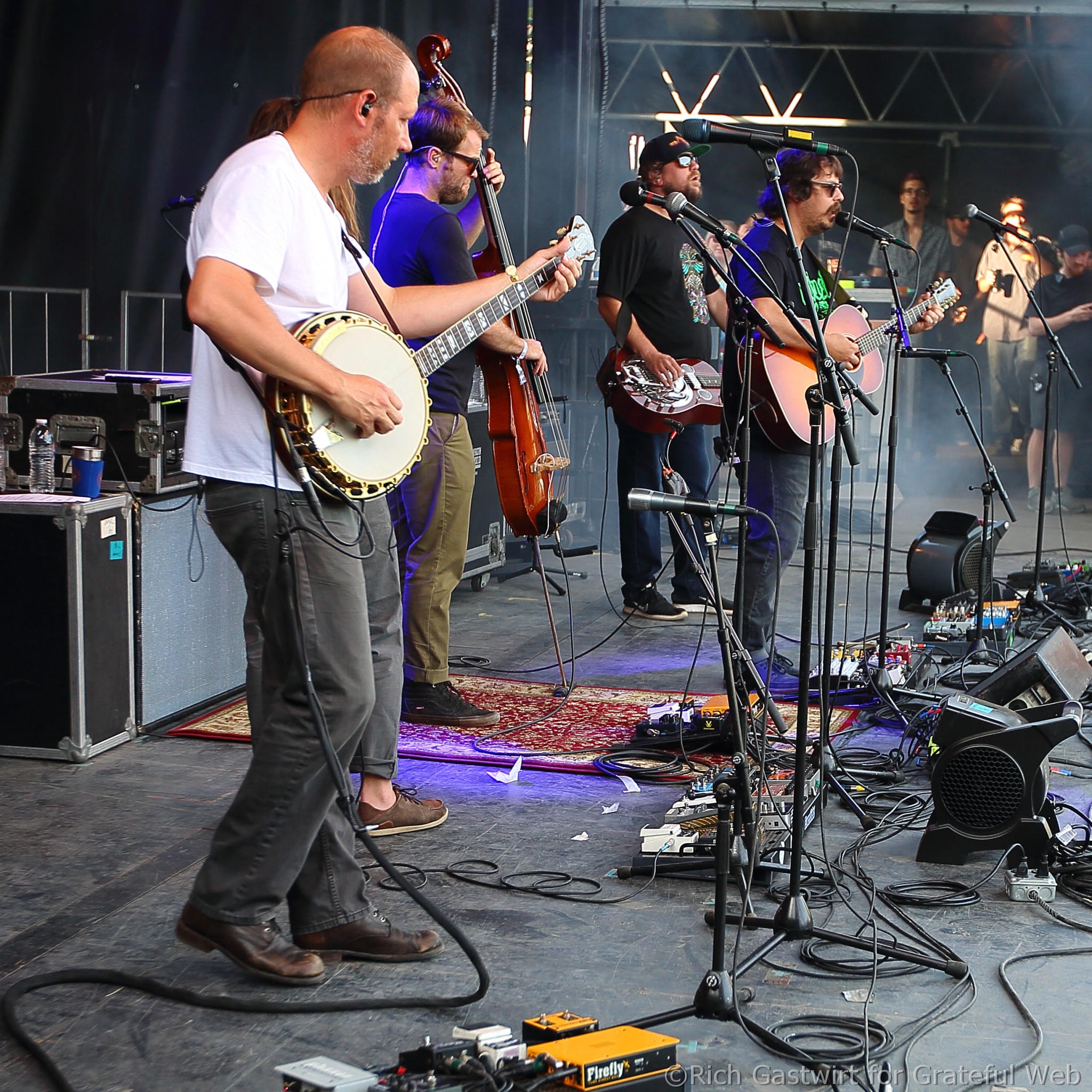 Are you still reading? OMG. It's almost done. What else to tell you… The Soul Stage was my favorite because of Katie who introduced the acts there with amazing enthusiasm and brought the bubbles. Samples of Hippeas, Yasso, and Unreal chocolates were yummy. (And still available when I got to them!) I do still love meeting new people who love music. One person did call me fake news.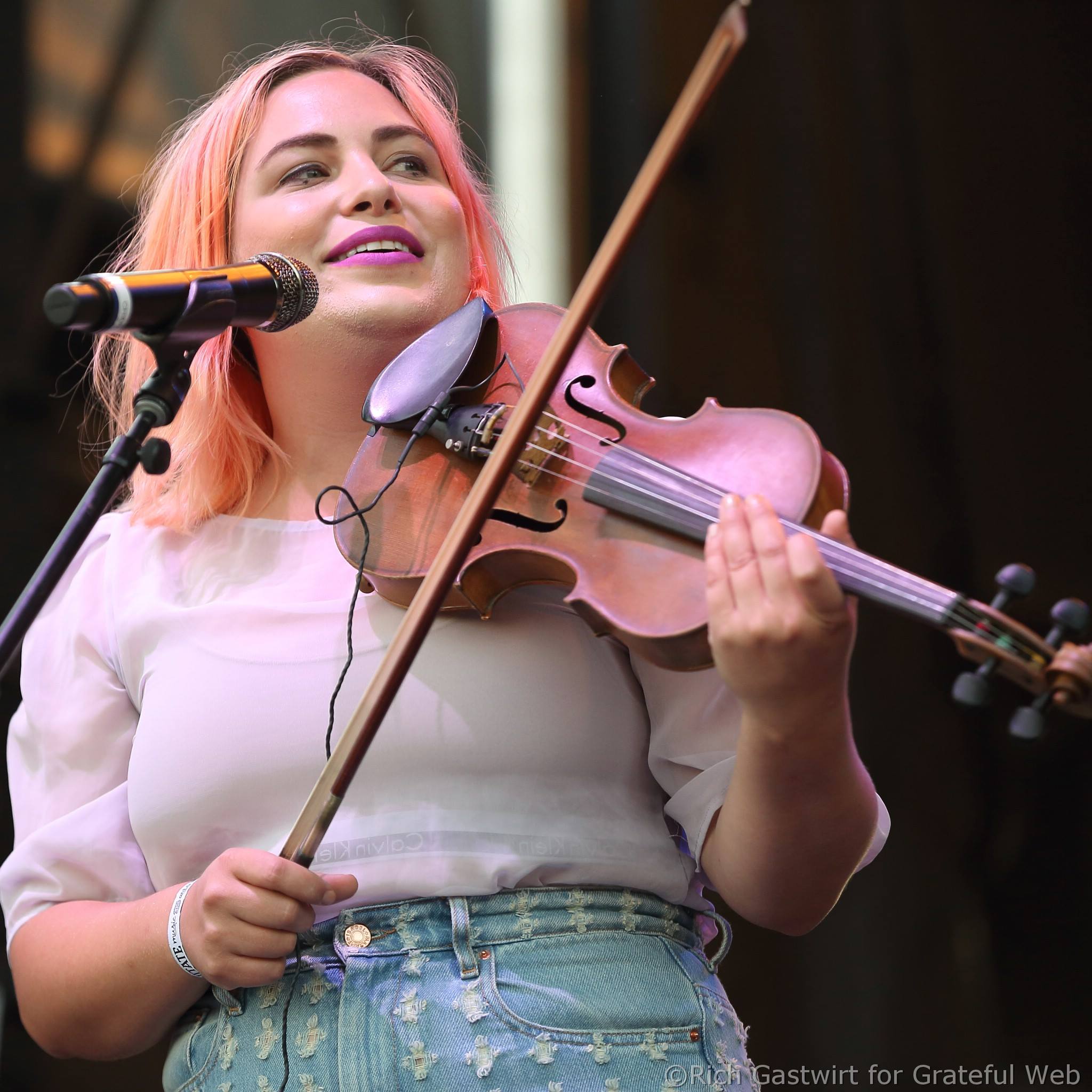 I split myself between the last two acts of the festival and was rewarded for this feat. I caught the first two and last few songs performed by The Head and the Heart on the Stoke stage, who opened with their well-known tune "All We Ever Knew." (Don't tell my kids.) In between, the Mihali and Friends jam on the Soul stage drew a crowd there that kept growing. Indeed, Mihali Savoulidis from Twiddle brought up friend after friend, and the crowd was thrilled to welcome each. Highlights for me included "No Woman No Cry" followed by Phish's "Farmhouse," which echoed Trey's set the night before, and made me appreciate the thought that went into curating the festival and the deep influences that artists have on other artists. Paul Hoffman made his way over for a couple of tunes including a rocking cover of Alanis Morrisette's "You Oughta Know," which undoubtedly surprised us, thrilled us, and perhaps even brought out some necessary rage. We all wanted more of this crew, but Katie thanked us and assured us there would sadly be no more Mihali and friends this time.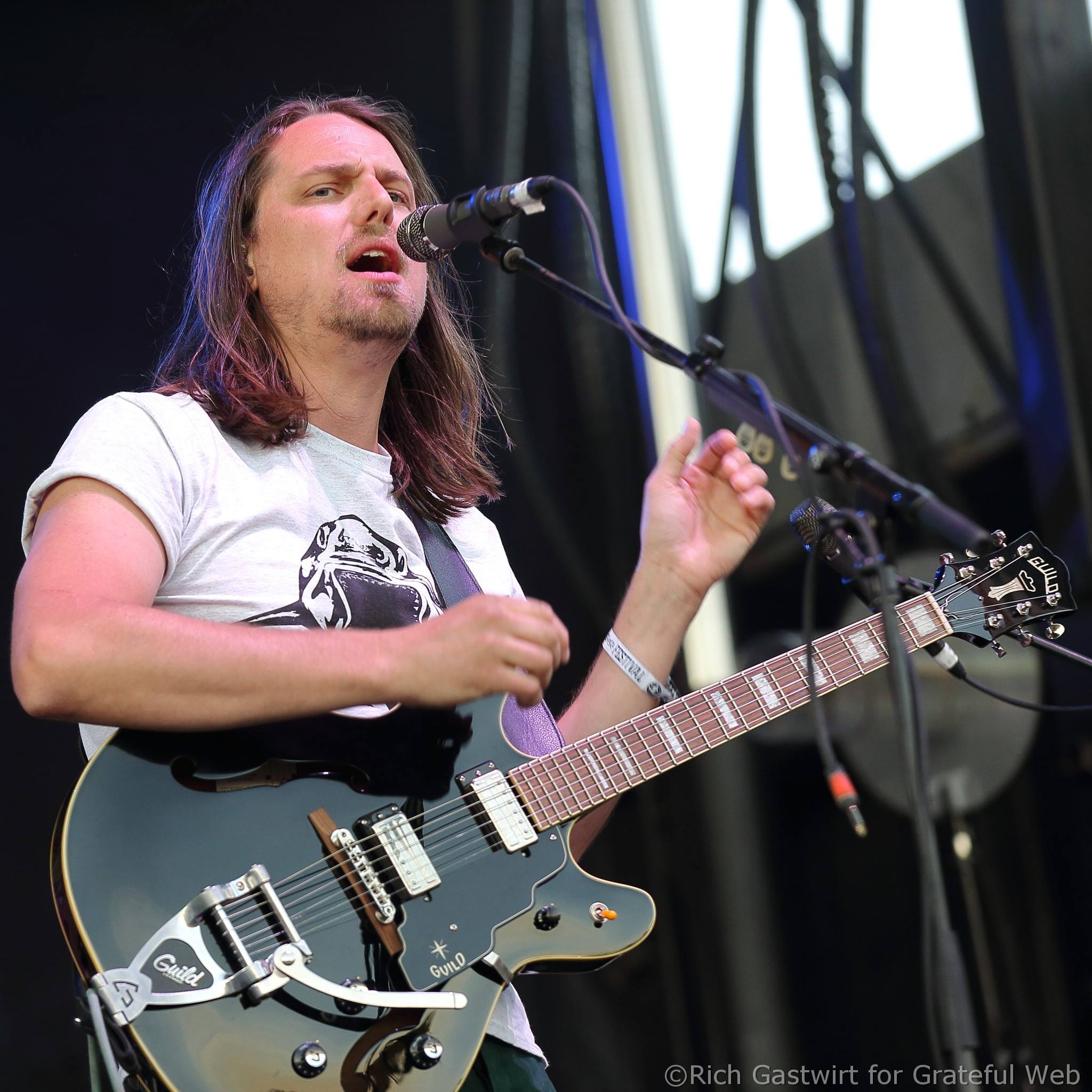 The Style and Stoke stages were swiftly being taken down as The Head and the Heart finished their set. With the energy streaming fingers to toes, I felt the levity and didn't want to leave without knowing all of the music had stopped. Once it did, I was ready to get back to my family and perhaps even reality itself, and I moved to the exit and out into the traffic, grateful for all of it.