To return to a point in your life that you have already lived is metaphysical. Déjà vu, as most of us call it, feels mystical, even if it has a chemical explanation. Scientific evidence aside, to relive something that you have lived before is an experience that seems to connect us with something beyond ourselves. We can both be in the moment and be able to predict (or at least have the feeling that we are predicting) what is coming around the next corner. But to experience déjà vu and to be able to improve upon the actions that once were? Now that is something different altogether. And this was my (re) experience at the Grey Fox Bluegrass Festival in July.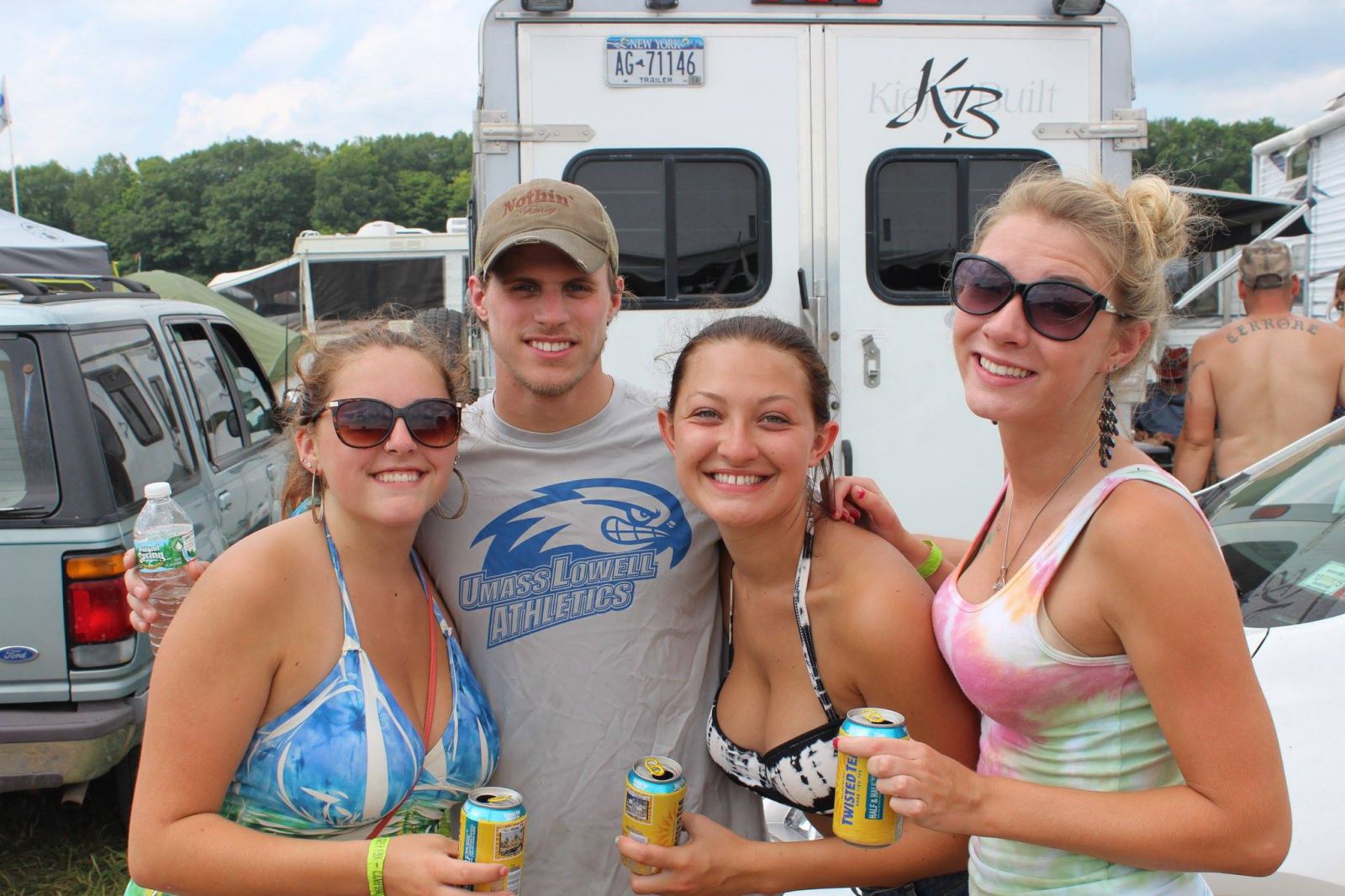 If you have read my previous reviews of this one-of-a-kind musical experience held annually in the foothills west of Albany, NY, you too may have an experience much like that which I described above. There are certain consistencies that you can come to expect when you turn off the country roads onto the grass paths of Walsh Farm in Oak Hill. Folks who work at Grey Fox are happy to be there, and they are happy that you are there. Audiophiles in attendance always have music as their primary reason for taking this path that is far from beaten. Still, every year, you can expect it to sell out. Barring an act of God, or simply unbearable heat or 3 days of rain, it will be the year's highlight for most in attendance. Fortunately, no enduring stretch of weather tainted this year's festival, so you can imagine my final takeaway.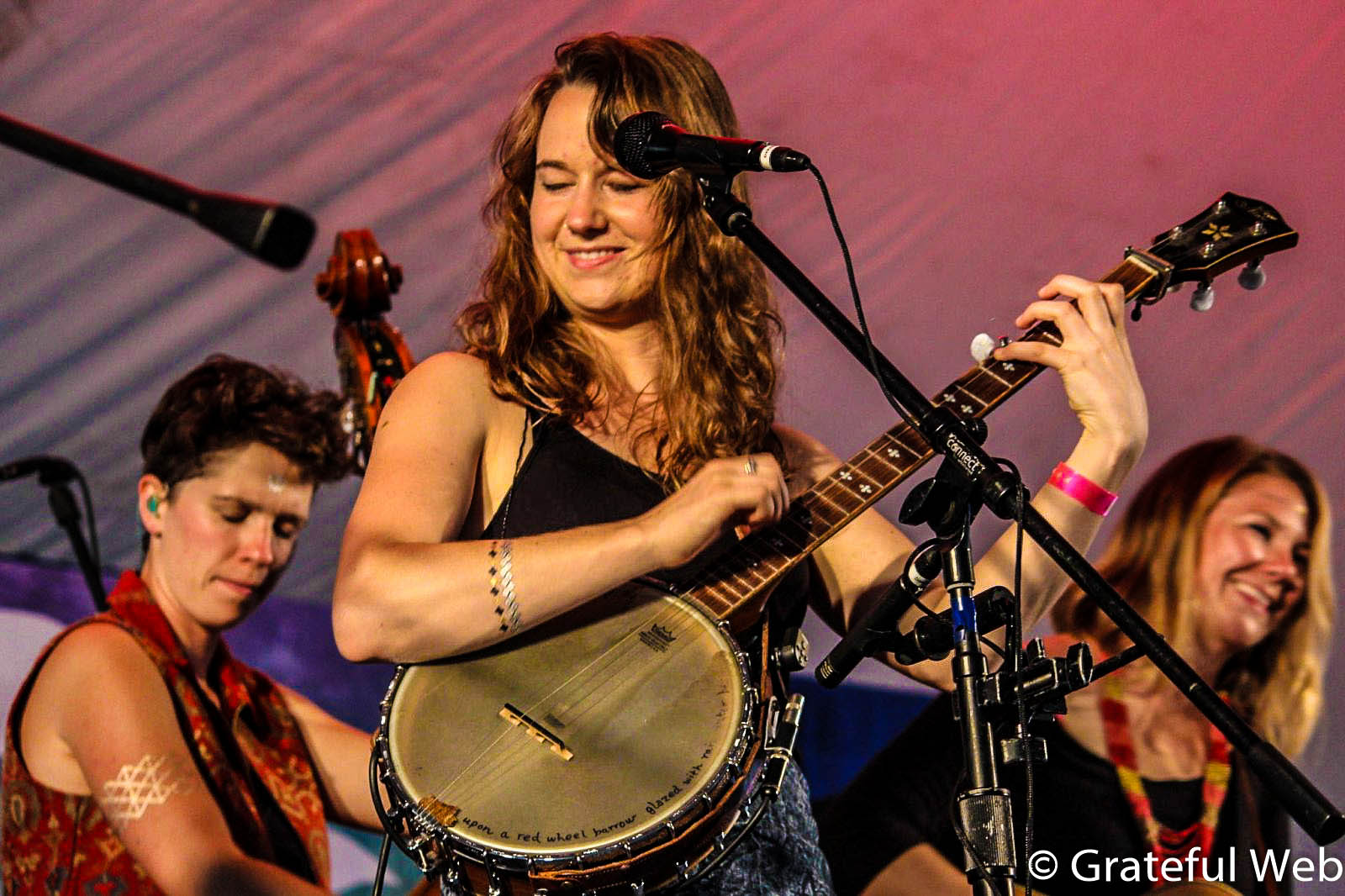 Historically, arriving at a festival is a high blood pressure event for me. If this had been a typical year, the explosion in early attendance would have caused an explosion in my left ventricle, but I kept it together. With a little foresight, I saw this coming and had adopted the mantra that I would hear whatever music I was going to hear. Fretting was for the musicians this year. When the schedule was announced, the stacked line up on Thursday was not just something that caught my eye. Plenty of working stiffs took the extra day off to get out, set up camp and see The Gibson Brothers, The Del McCoury Band, Della Mae, Peter Rowan and the Infamous Stringdusters; all before the clock struck midnight.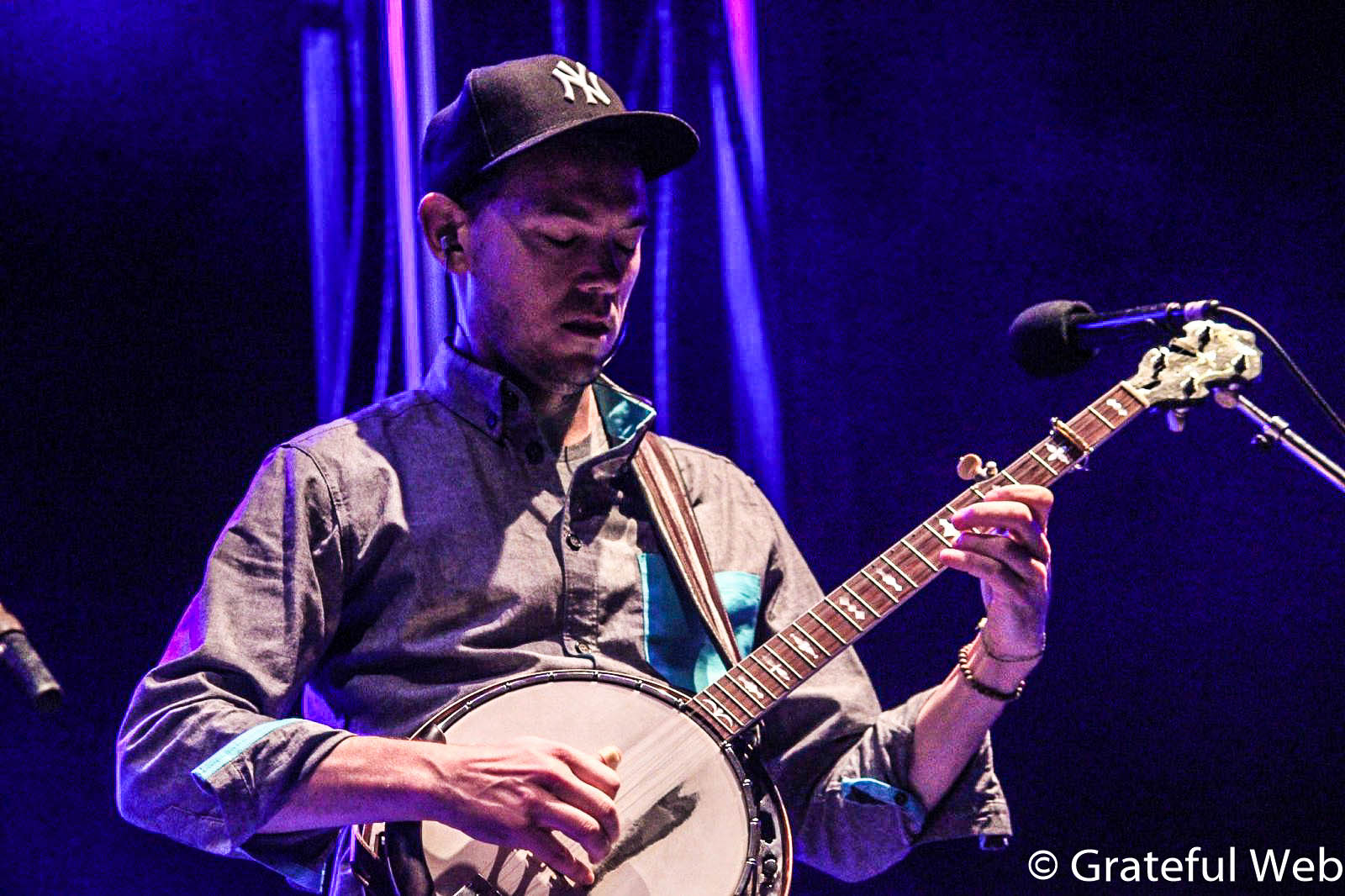 In the planning for this year's Grey Fox, we were excited to have a couple other families with wee ones decide to come along. But as so often happens in the planning stages, their enthusiasm waned and when the festival sold out, their decision as to whether or not to come was made for them. Luckily, as we slowly cruised the green grass streets of Grey Fox, bearing the names of bluegrass legends from past and present, we found our ever more familiar Grey Fox tribe between Carter Court and Watson Street, Actually they found us. I assume that a pop-up like ours stands out and, when Lancy saw us wilting in the afternoon heat, as the prospects in Quiet Camping were looking less and less realistic, I'm not sure if she recognized the 75 Apache or me. She jumped up from her site, ran over to the car and immediately figured a way that we could cram our car, pop up and everything that would spill out, within the confines of her already staked out super-site.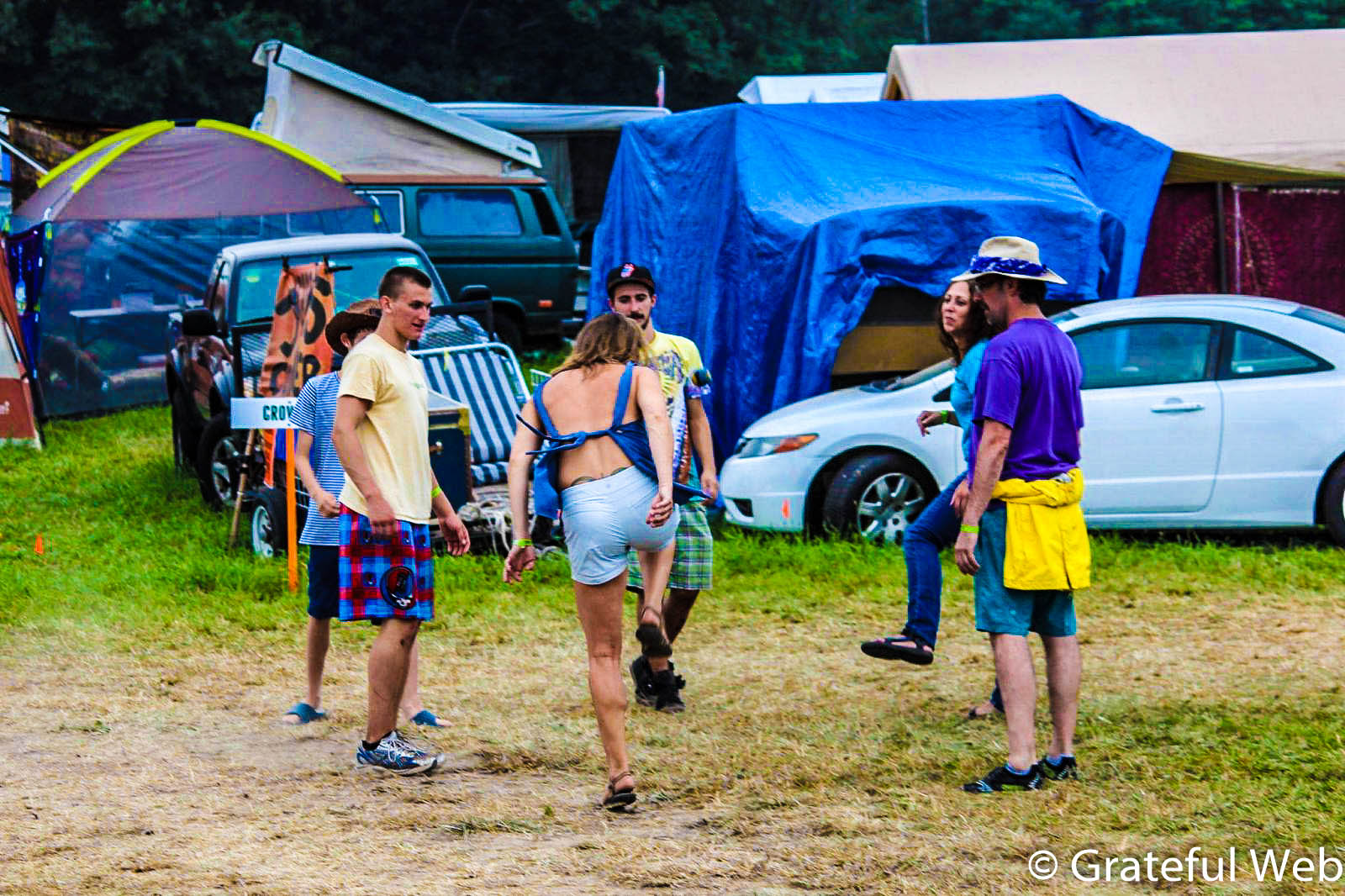 Lancy and Ryan were the first couple we met at our first Grey Fox. Since that date, both of our families have grown, other friends have come and gone form this festival family, but Ryan and Lancy have always been at Grey Fox. They are genuine, great parents, music lovers and as generous as anyone I've had the good fortune to meet. Even if Ryan would rather be at a heavy metal festival, I can always count on seeing him at the main stage for most of the day and night, as long as he is not on kid duty.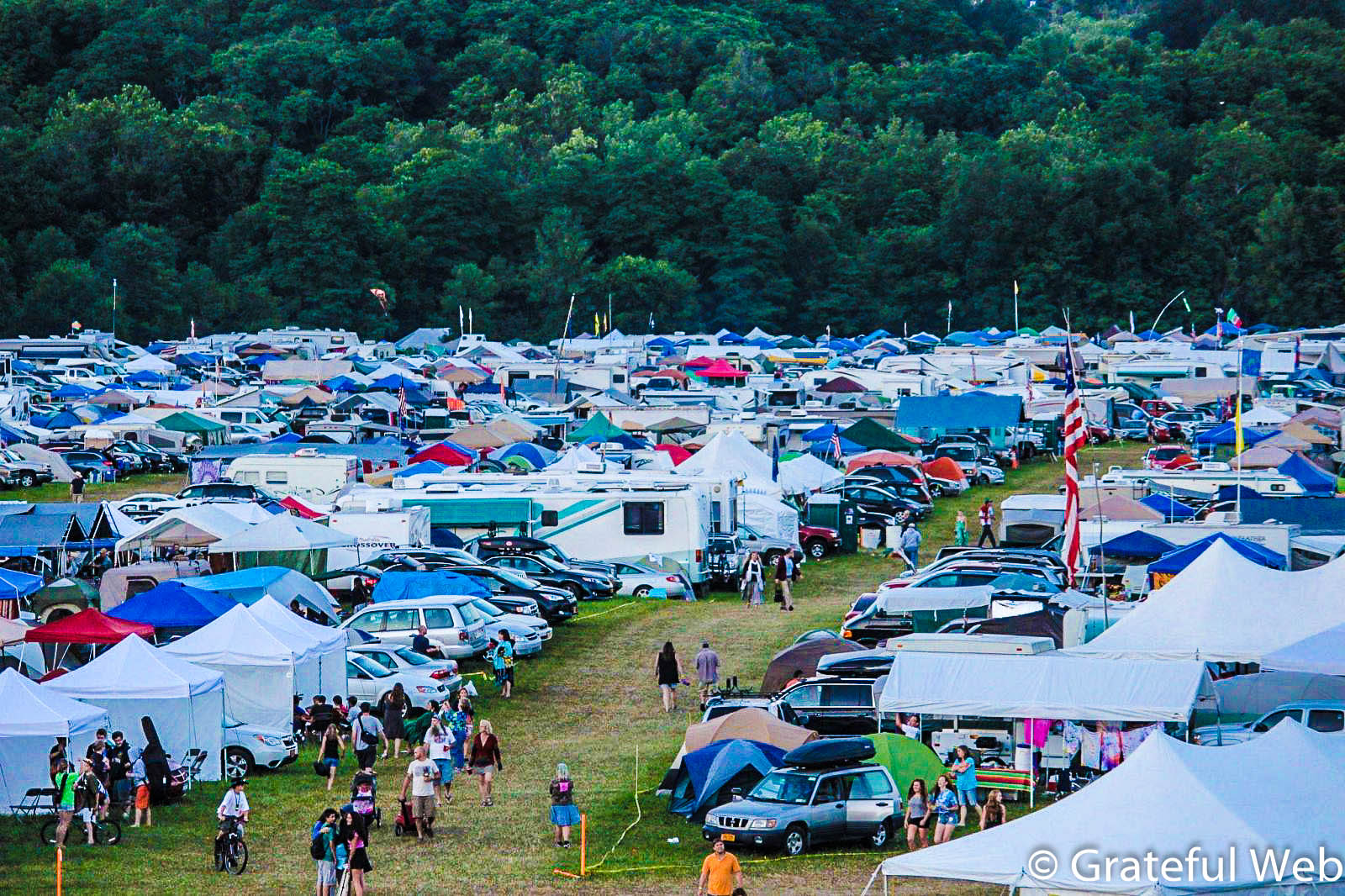 Once we were set up and got the annual obligatory compliment on the hard sided Apache Mesa pop-up, (This year it was from a fellow Apache owner. She had a 67 that was basically just a tent on top of a trailer. She said we should stop by as they were near the bend in Osborne Avenue, but we could never find them.) I wanted to get up to the main stage to see the Gibson Brothers' set. And here, fair reader, I may lose a few of you, for it won't be the music form Grey Fox 2015 that will receive my first attention outside of the camping section. Instead it was the family/ kid's tent and the opportunity to tie-dye. Every year we always miss the chance to tie-dye with the kids and spend the rest of the weekend secretly wishing a bad washing experience on all the beautiful festival-made shirts adorned by the youngest festival attendees. This year? Ill will be damned. We made it in time to tie-dye and the kids are still proudly wearing the fruits of our labor; shirts twisted with vigor, rubber banded to suffocating tightness and dunked, dunked, dunked in the colors of choice. The folks who oversaw the family tent arranged all of the tie dying. It was all done with the right amount of professionalism mixed with the right amount of improvisation, a telltale characteristic of good music and a good music festival.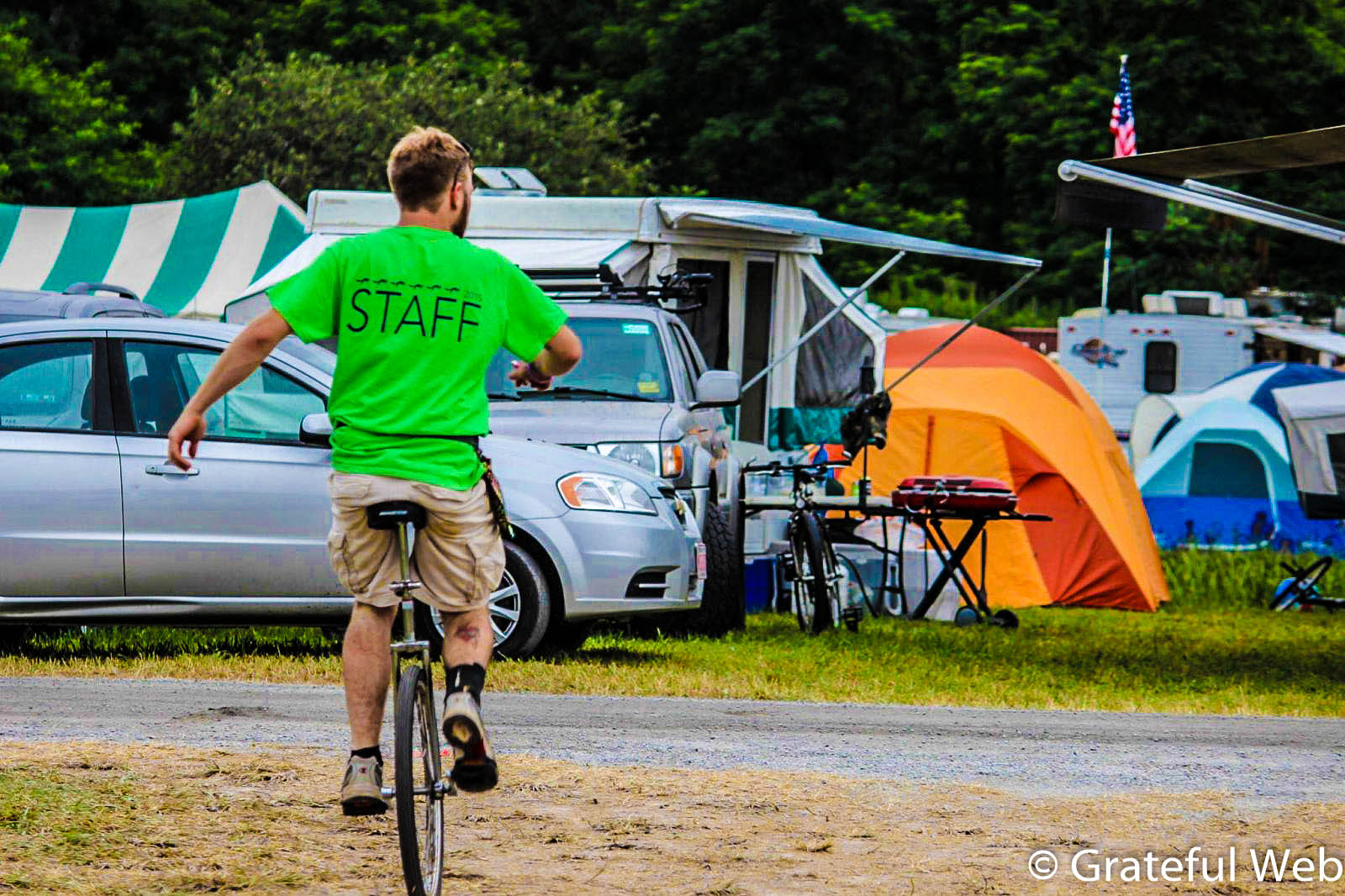 Once our freak flags were drying, we finally got to hear the Gibson Brothers. I was surprised to see them in such an early slot, since they have climbed both the Grey Fox line-up and bluegrass community at large over the past several years. Their list of accolades seems to be getting longer and longer, but they have not abandon the signature "aw-shucks" attitude that is a must for a true bluegrass performer. There sound continues to lean towards the slower, progressive ballad side of bluegrass, but this does not mean that their songwriting or finger picking is anything less than their fast playing contemporaries. Instead, it has becomes their trademark sound and is what distinguishes them in a crowded scene with many younger bands nipping at the heels of their elders for fans, stage recognition and the ever cherished evening slots at Grey Fox.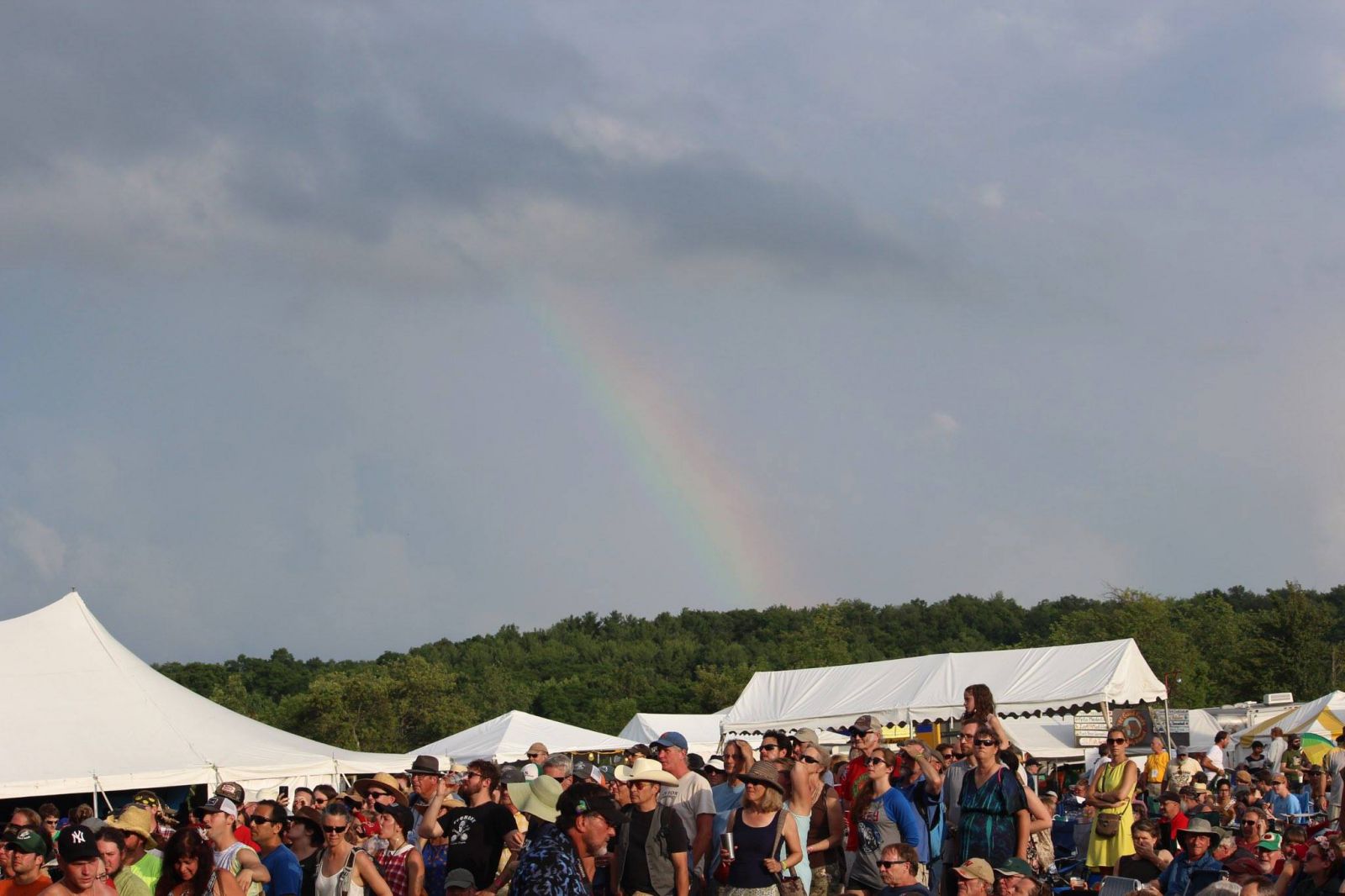 On Thursday one of the traditions of Grey Fox, the dinner break on the main stage, is omitted. So after a country take on The Band's 'Ophelia', we made our way to vendor's row to find grub. Non-regulated vending, AKA shakedown, is frowned upon greatly at Grey Fox, but the free enterprise that usually provides the variability in edibles is not missed at this festival. Each year, they bring in a varied list of food types; crepes, Indian, Italian, American grill, and Mexican just to name a few. The hard goods sold at this festival are just as diverse and just as appropriate. A multitude of instrument tents are set up for those just getting started, as well as being able to meet the musical needs of the highest level players from the main stage. It makes for good browsing. This year we bought Natalie a mid-level pink ukulele. Running into Mike Gordon with his daughter, enjoying the fruits of the vendors was a testament to the quality of what was being offered at the festival, both on and offstage.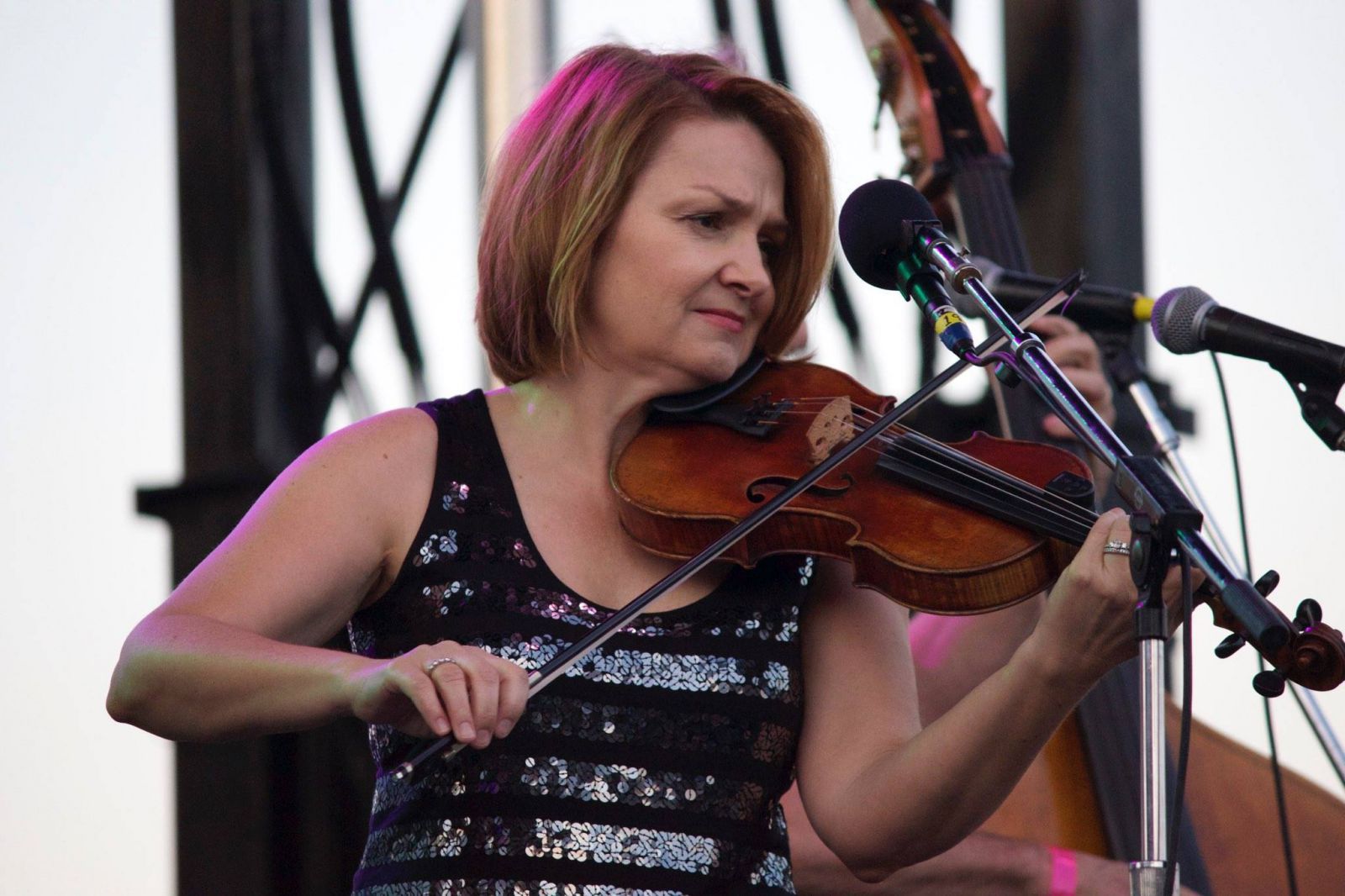 We, along with the bulk of the evening's main stage attendees, returned up the hill to the hard driving, locomotive bluegrass of The Steeldrivers. In years past, their sound has too closely resembled country to perk up my ears. But this year they seemed to stay a little closer to the pure bluegrass sound. The ever-present country-rock sound from the guitar player balanced out nicely with the remaining traditional bluegrass instrumentation and playing.
The crowds that came during this set were treated to what The Steeldrivers offered, but we were all anticipating the rest of the night's festivities. Up next, the Del McCoury Band took the stage for their only set of the weekend. In years past the McCoury family seems to get a few sets in over the course of the first 3 days of the festival, so this year everyone wanted to be sure to see this singular performance. Obviously, the patriarch of the true bluegrass genre did not disappoint. Still playing around a single mic, still impeccably dressed and styled so as the dark suits and dark hair of the band offset the silver suit and white wave of hair that is Del's trademark.  Still the tightest, fastest, most harmonious band to take the stage, Del and the boys ripped through originals, covers, requests, new and old material to the delight of all of the fans captivated in front of the main stage. The day's light was totally extinguished and the stage lights told us where to look. The sounds of a time gone by, yet frozen in the now, told us what to hear. When Del left the stage after his encore of 'Cold Rain and Snow' I was backstage and asked him if he played that with any inkling of the Grateful Dead's 50th anniversary. While the standard was not a song written by the Dead, it was a song they had made their own. Upon reflection, I realize that it was a question with an angle and agenda that may not have been appropriate in the moment. Del's initial quick "no" response showed me that I should be more prepared when chatting up the big boys. But then he turned; he walked back to me and the man that I have seen on the stage all of those times was the man standing next to me. He was real and he told me about when he met Jerry Garcia. He told me about Jerry's desire to be a better banjo player and how he reached out to Del, in his days playing with Bill Monroe, in order to solidify his chops. He told me about how funny it was because Jerry had long hair and the mutual friend that had introduced them, David Grisman, was the only other man that Del had really ever known with long hair at the time. All of these memories came pouring out of him and he was happy to relate them. It was an honor to stand with him and soak up just some of the things that he has seen, some of the places he has been, and some of the sounds that he has been a part of.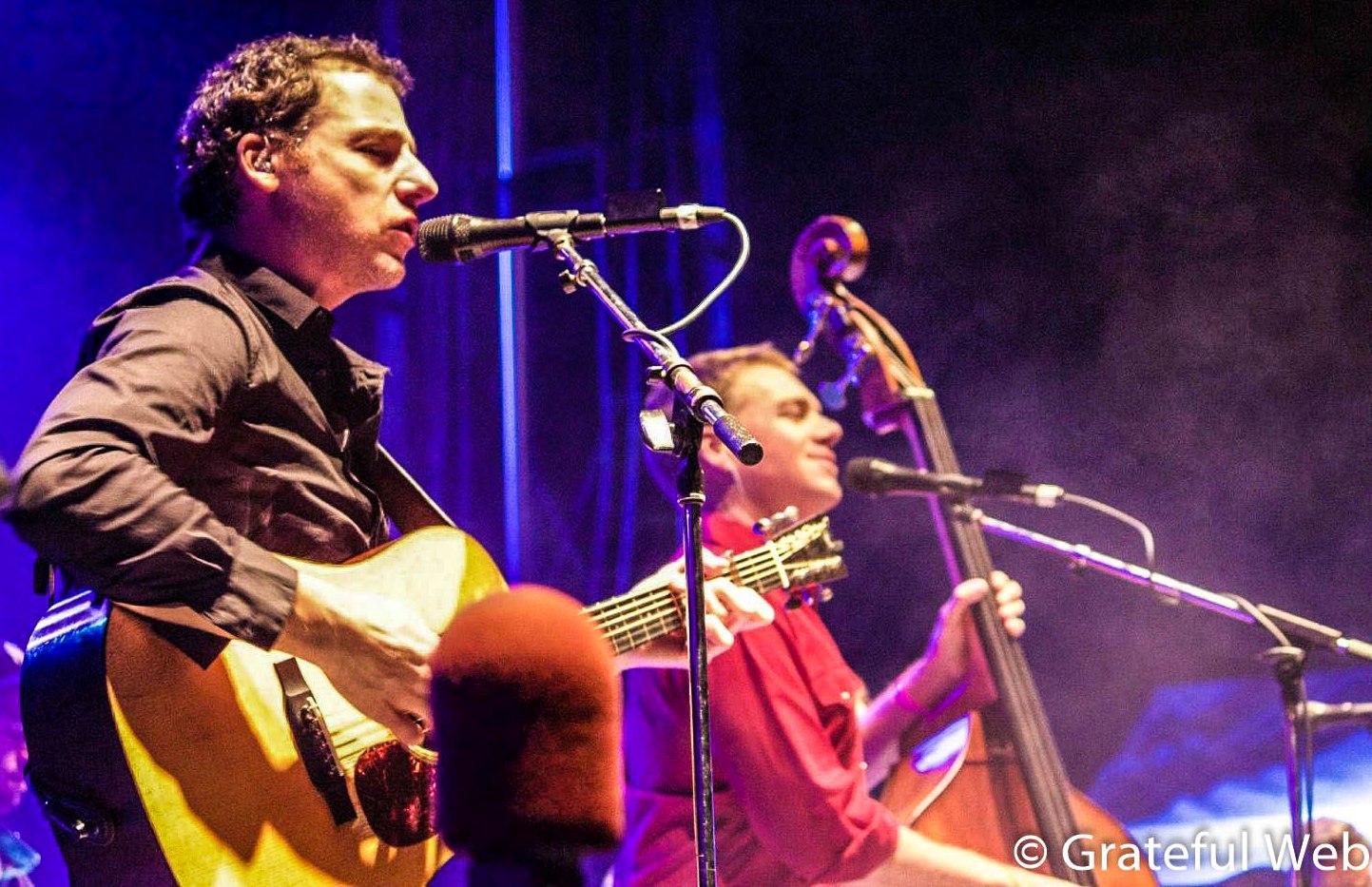 The evening's last band on the main stage, what is seen as a late night set at Grey Fox, was the Infamous Stringdusters. I have seen this band climb the pantheon at Grey Fox as well, and can remember when they played a set in the late afternoon on a Thursday a few years back, and saw them as bridging the gap between traditional bluegrass and the jam-grass sound of Yonder Mountain String Band and Leftover Salmon. However, closing out the festival's main stage on this first night of Grey Fox 2015, they recognized that what has put them in this slot is their ability to give a fresh look at a traditional sound. They stayed close to the true bluegrass sound of their forefathers. I went home to the Stringduster's take on the Old and In the Way classic 'Hobo Song', only to have that beautiful melody washed form my brain as I passed the Catskill Stage where Love Canon was treating the capacity crowd to bluegrass-styled covers of 80's staples. No longer singing about a gambling man, just like me, I put my head to my pillow singing Don Henley, Bruce Hornsby and wondering about the girl who worked in a cocktail bar. I knew that much was true.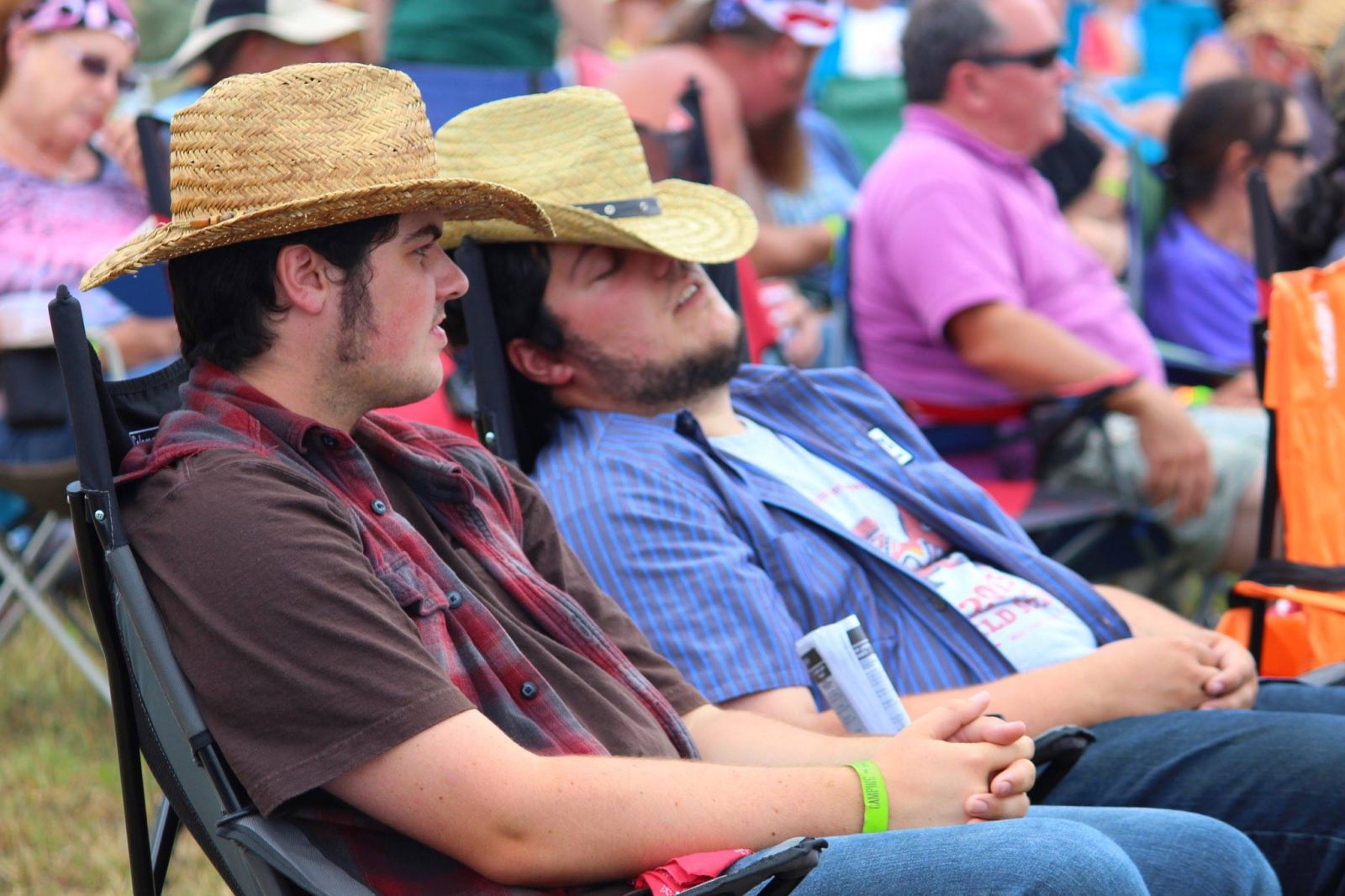 Cooler temperatures gripped the campground overnight, as the mercury dipped just below 60. Perhaps it was the air, or perhaps it was just another testament to the family friendly feel of this festival, but when I awoke at 3:30 AM and poked my head out of the camper, you could hear a pin drop. It was as if the entire festival was frozen in sound and the farm was simply a hay farm, as it was days ago and would be after we departed.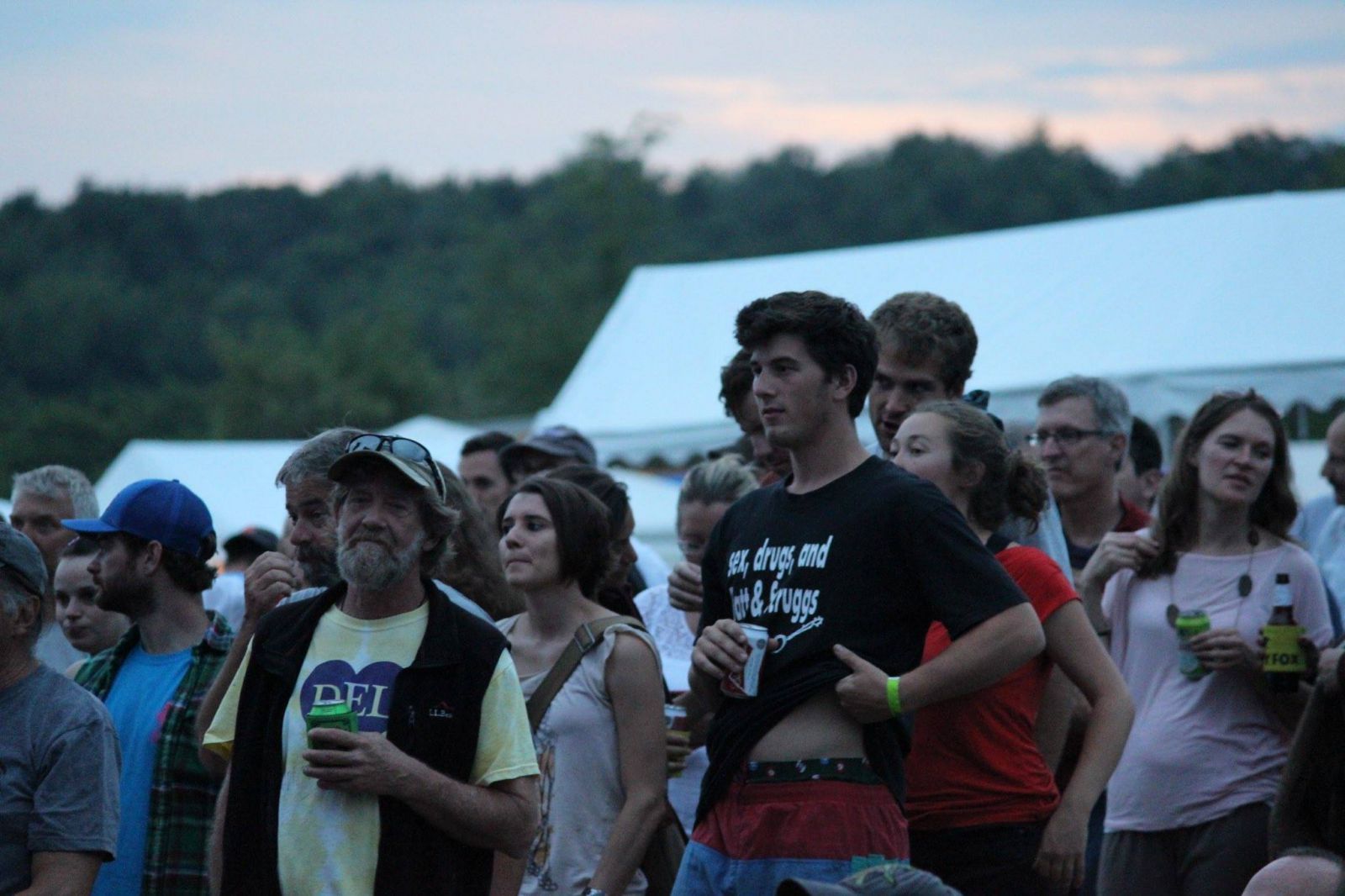 I keep getting older, but I do feel that the crowd is getting younger every year at Grey Fox. This of course is a necessity for the festival as well as the scene, but seeing flat brims, tattoo sleeves and lumber sexuals mixing in with a near geriatric crowd makes me shake my head.
On this first true morning of the festival, all ages were up and out early. Nearby our campsite we heard the deliberate picking of a banjo. It was the sound of a civil war encampment coming alive in the morning after a well-earned rest after a hard fought battle. We were all camping close together and, albeit unspoken, we all knew that we shared the same fate that glorious day. As the morning wore on, the banjo picking increased to include an array of bluegrass instruments, until a full campground jam had been achieved. This is a regular occurrence as you make your way through the campground at Grey Fox. Jam sessions pop up all around, although this was the first year I have ever seen a tuba join the fray. If you are not hearing one of these organic bands, you hear the radio simulcast of the main stage's current performer blaring from the instrument free pockets of the campground. It is a testimony to the power of live music.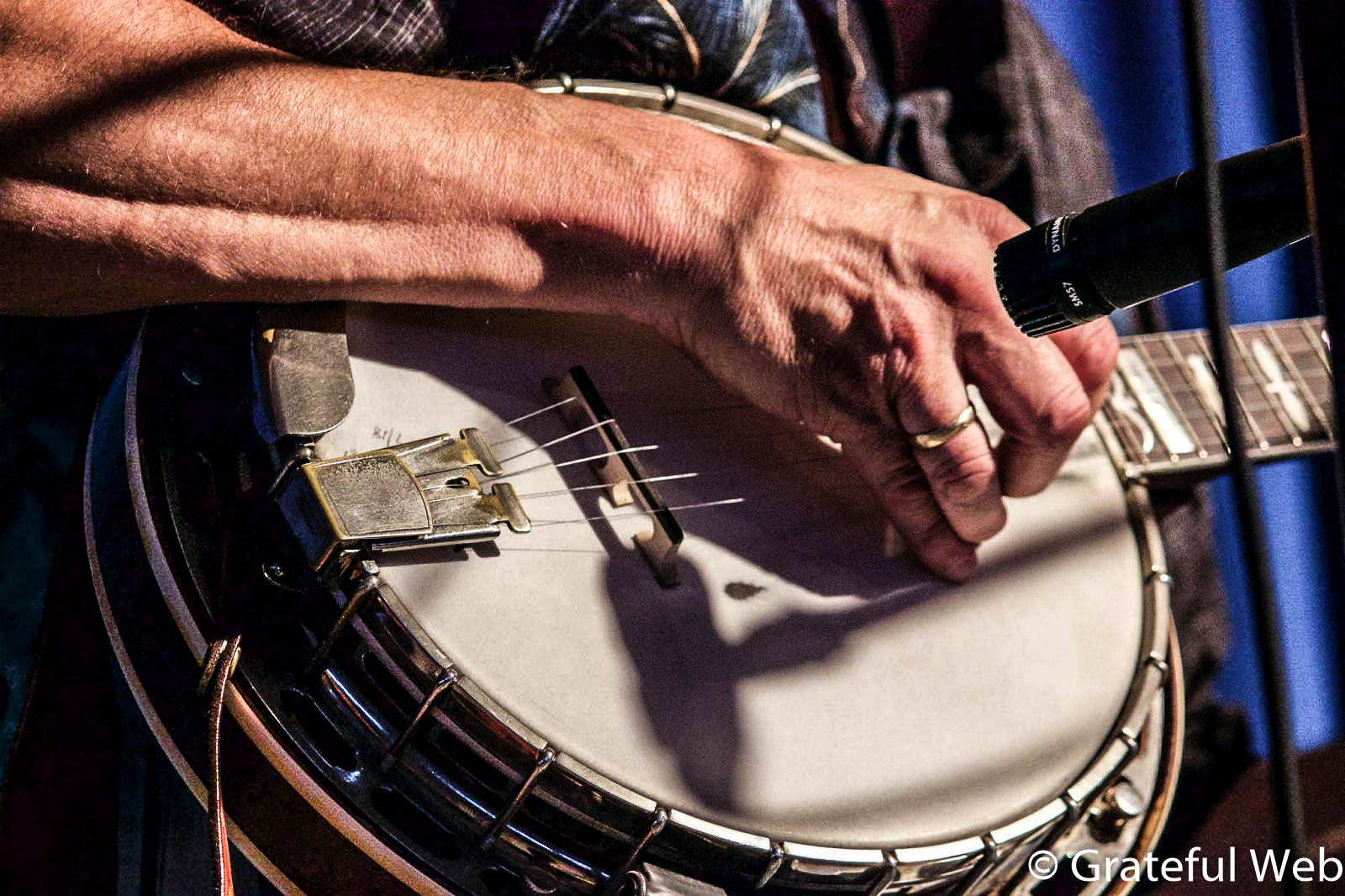 As the rest of the tents and campers around us began to overflow with their occupants, we finished breakfast and, once again, went to the family tent. Some of the acts are there every year and, thankfully, some were new this year. But by mid-afternoon is was time for music and the soothing banjo of Bela Fleck was my reward for being Daddy of the day, even if the kids were heartbroken to leave the kids tent. Tough. Bela is a genius and everyone, including my kids, needs to recognize. Gentle clouds gathered over the main stage and even though the hour was the hottest of the day, our bodies were not fending off the sun's rays. We were able to open ourselves up as vessels, waiting to be filled with beauty, precision and the fullest banjo playing at the festival. The term 'picking' is normally appropriate for banjo. After all, it is a hollow instrument with a metallic sound each time the string is plucked. It is a beautiful instrument, both as a compliment to others and solo. Few can create such a full, robust sound with it like Bela does. He is playing a grand piano, a guitar, assorted percussion and singing; all the while with only a handful of strings at his disposal. His current project is a simple duo. But since his partner on stage, Abigail Washburn, is also his partner in life, it makes for telepathic complimentary playing, as well as some cheeky stage banter.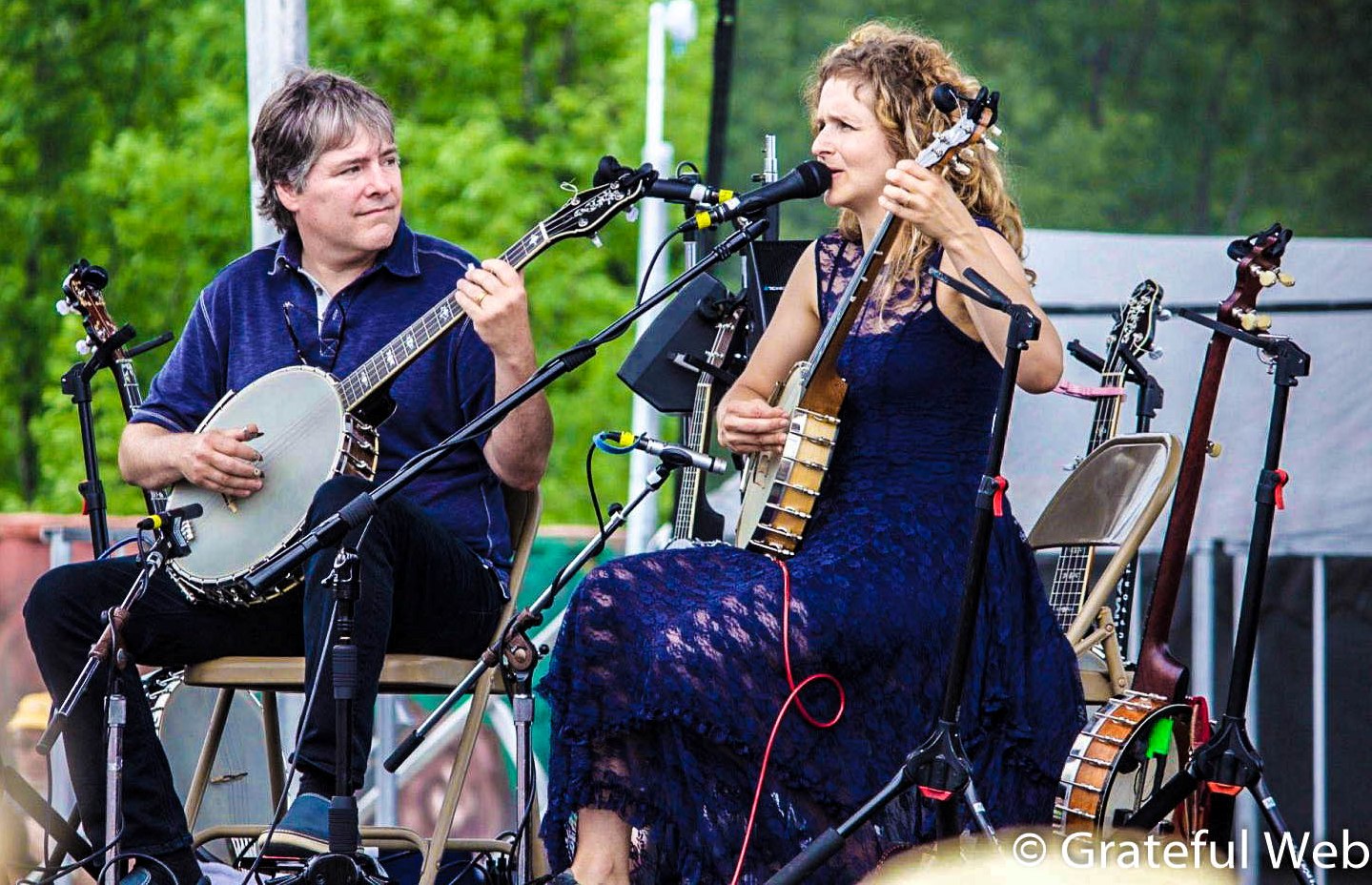 During this set that I had a moment of clarity that may rub the jamband fan the wrong way. I realized that nearly every bluegrass musician has better technical skills then their jamband counterpart. There is no fudging your technical ability in the bluegrass scene. As nice as everyone is on stage, bluegrass musicians do not identify with inadequate mastery of your instrument. All of the young folks that work all day playing at the Grey Fox Academy be forewarned; grab an electric guitar if you need to make up for slow fingers.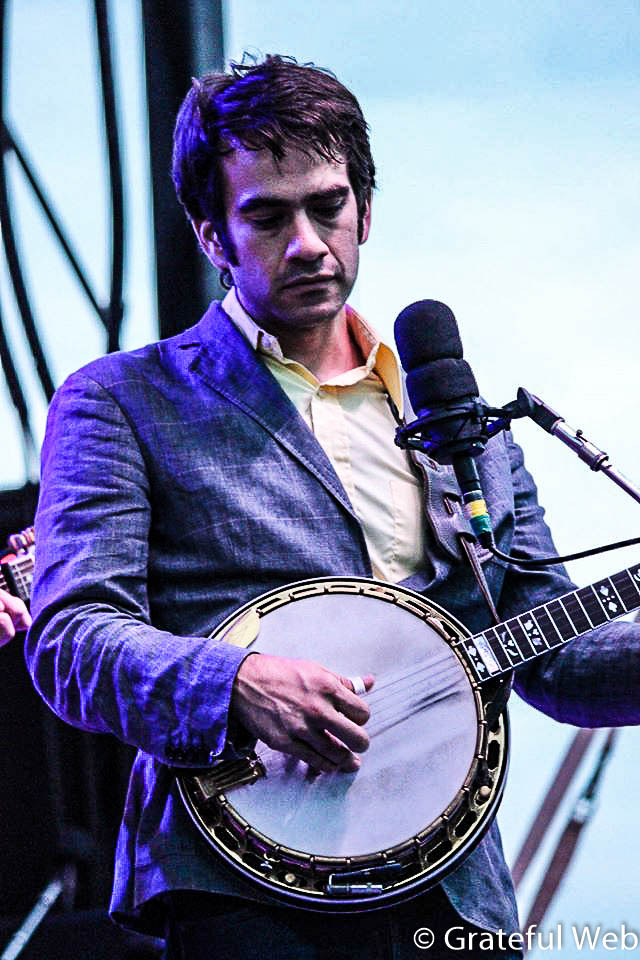 We made a quick trip down to the Creekside Stage to hear the likes of Bela, Tony Trischka, Noam Pikelny and Mike Munford wax poetic about the influence that Bill Keith has had upon every generation of banjo player since he revolutionized banjo playing over a half century ago. Mr. Keith himself sat onstage fighting back tears. Then, I spent the rest of the evening wandering the side stages, through the campground to see how the jam sessions had grown. I watched the kids from the Bluegrass Academy play for tips on walkways through the vending. I soaked in the entirety of the event that has come to be part of the musical fabric being woven.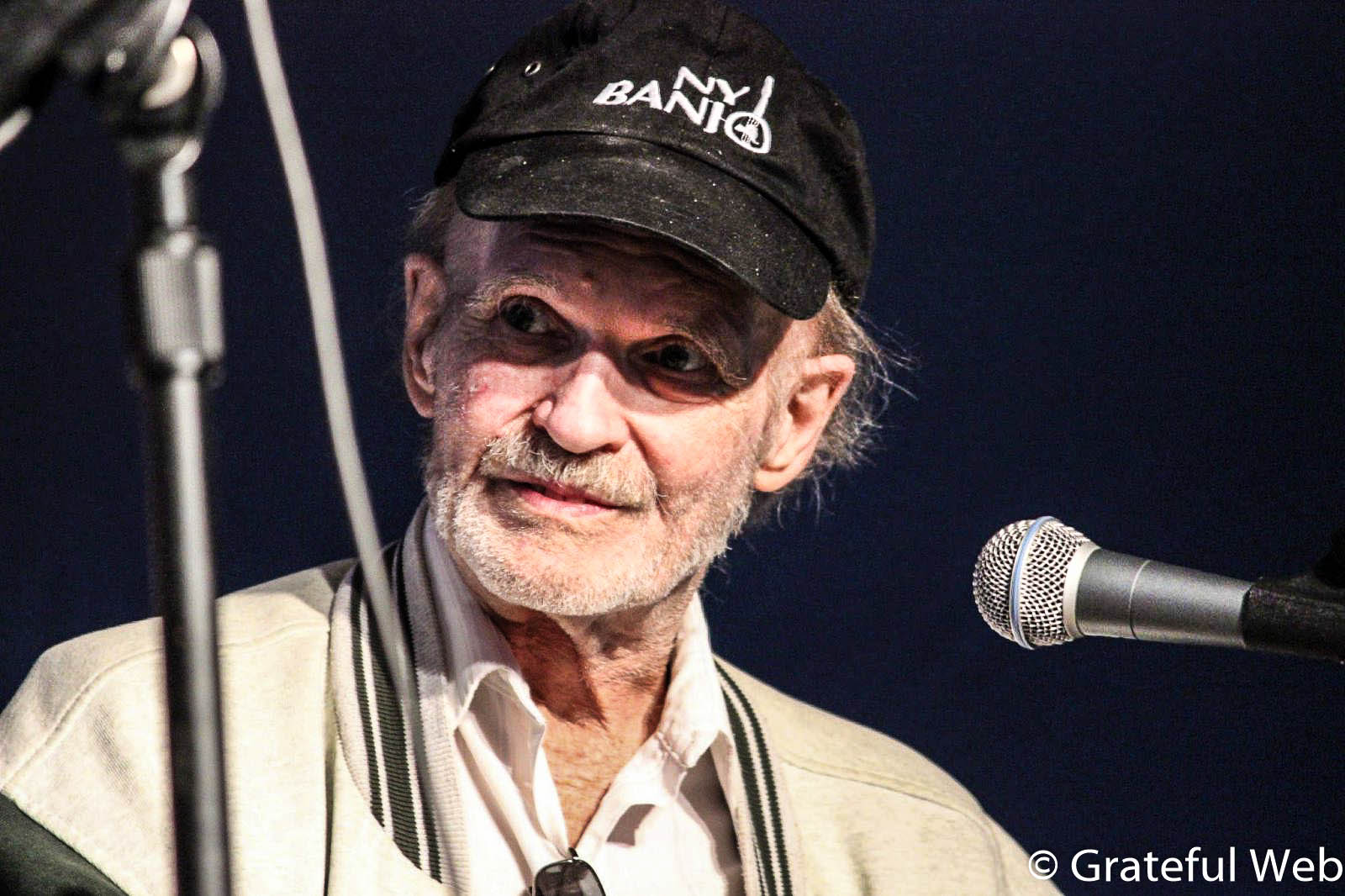 It is against the rules to swim in the Creek at Grey Fox. That's the rule. But if I were able to soak in the slow moving water, cold against my skin, refreshing in a simple and natural way on a hot summer's day, I would be appreciative. I would be appreciative that I could walk to and from the swimming hole, splash with the kids after a lazy morning at the campsite, before making the slow stroll to the other side of the festival. The roads were getting dustier, with the morning dew giving way to the strength of the day's sun by noon.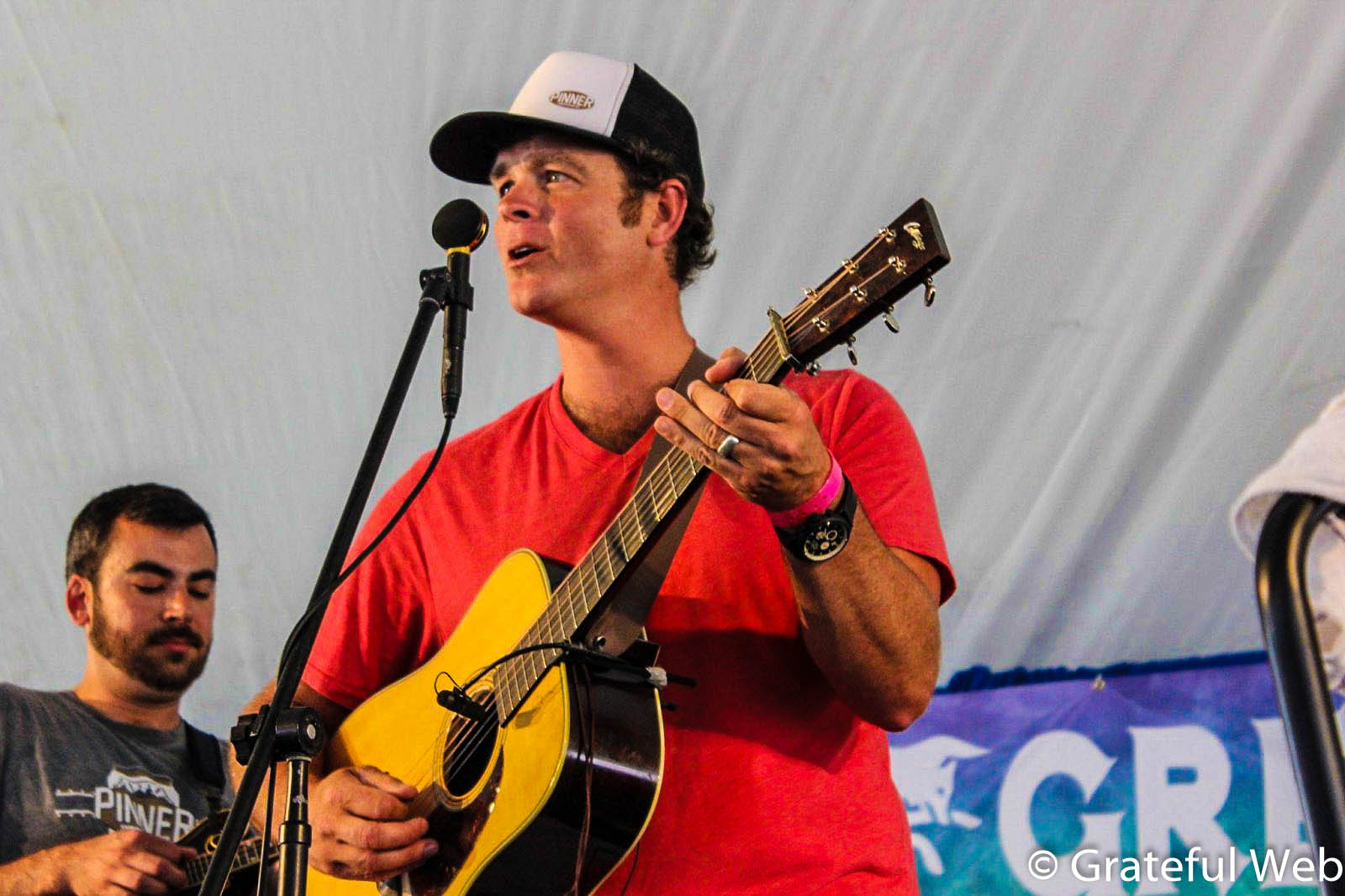 Steep Canyon Rangers were scheduled to play the first of their two sets that afternoon on the smaller Catskill Stage. I saw this as an opportunity to see these talented musicians with their hair down. What I did not expect was to see all of these sound tacticians gathered around a single mic. As was seen the night before with the Del McCoury Band, even the strongest players on the scene still play in this traditional way. But the amplification, with the younger bands preferring individual amplification as opposed to the traditional way of playing around a single mic, is a generational difference and is only more and more noticeable with bands as well-known as Steep Canyon Rangers. Seeing them adapt on the fly was beautiful with fits and laughter.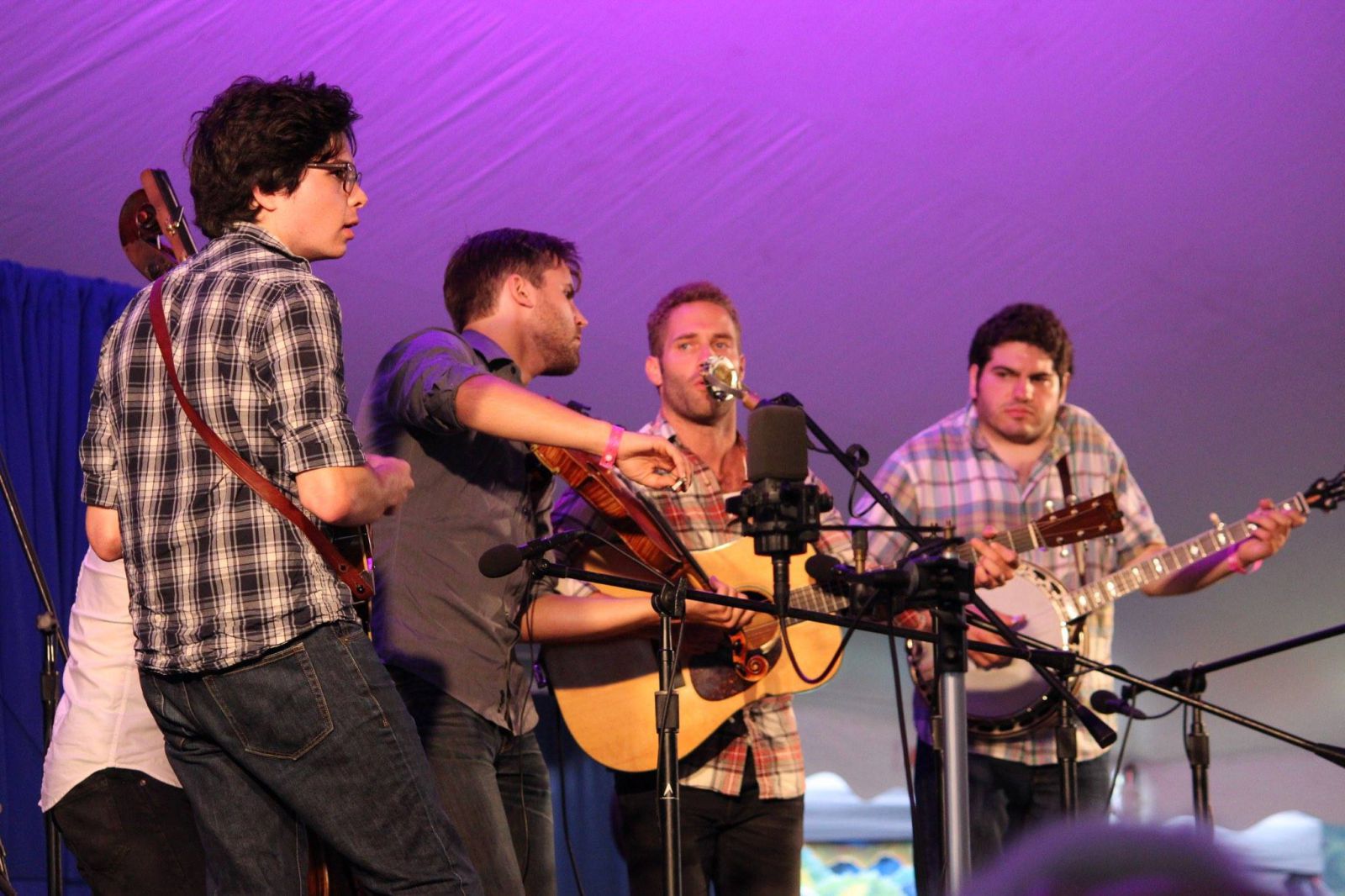 Afterward, we quickly made it to the main stage in time to see all of the Hillbenders set. Actually it wasn't so quick. I walked. An out of shape dad pushing two kids in a stroller up a hill countless times in one day made for a hot sweaty mess. What I didn't realize was how quickly I would be relieved of these worries.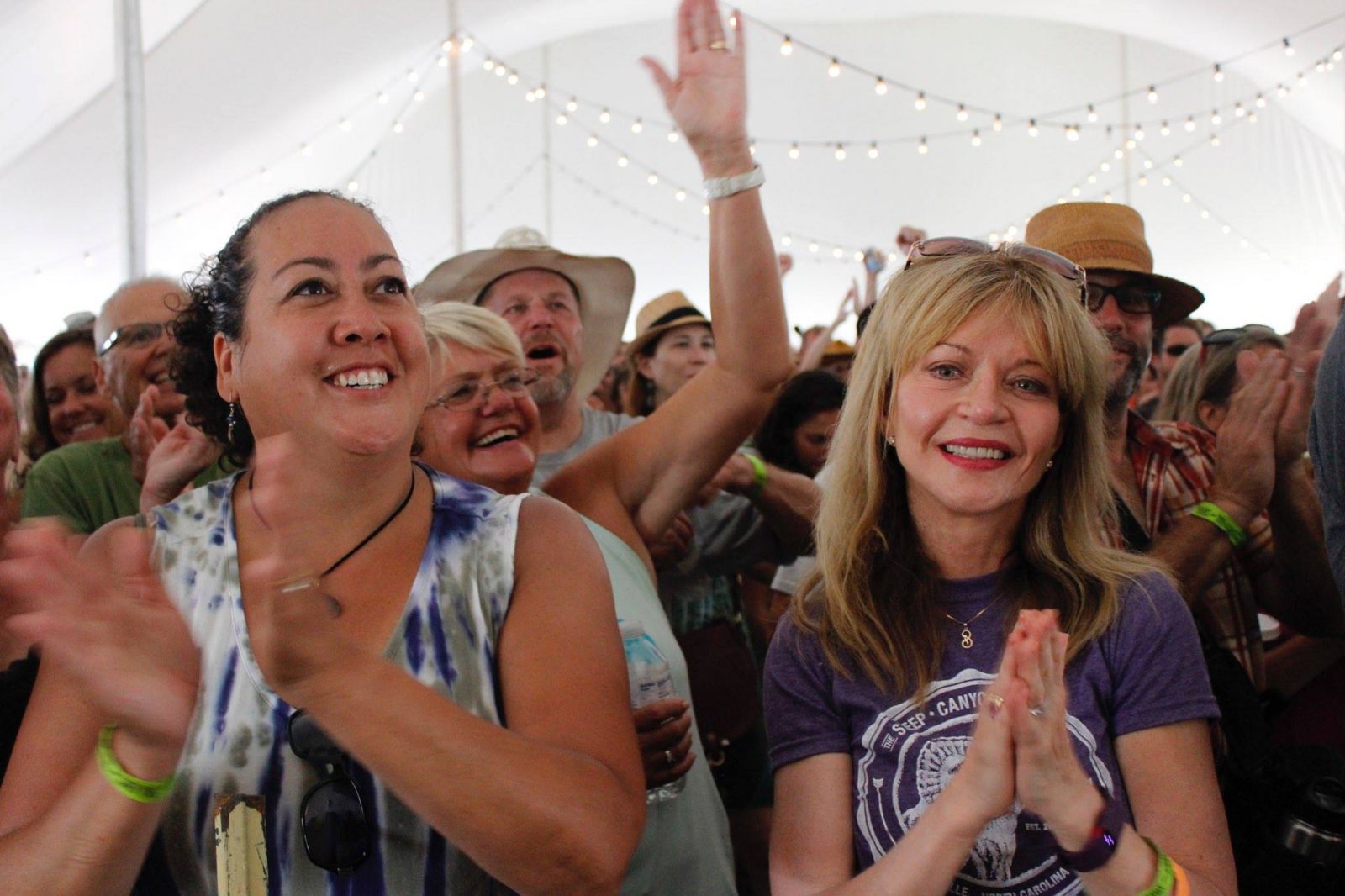 Many of you may have a smirk firmly planted on the side of your face as you read this article. Paragraph after paragraph paints a picture of a type of music that has few, if any, boundaries. All the while, you are thinking to yourself that bluegrass is bluegrass. Usually, by Sunday morning at Grey Fox, I may tend to agree with you, and that is why the Hillbenders set was so exciting to me ever since their intent was announced back in the spring. It was their hope to take the rock opera 'Tommy' and turn it into a bluegrass opry. And they almost did it, too. If Mother Nature hadn't decided to rain down on not just me, but all of us, with only a few tunes left in the set. The intensity of the short lived storm blew over chairs, left several inches of rain in certain depressions, forced all of the audience under the cover of the shade tents and all of the players off of the stage. An extended dinner break precluded the headliners of the night, but the show going on in the sky was enough for the crowd. Rainbows formed, disappeared and reformed as the storm broke up over the sprawling farmland heading east.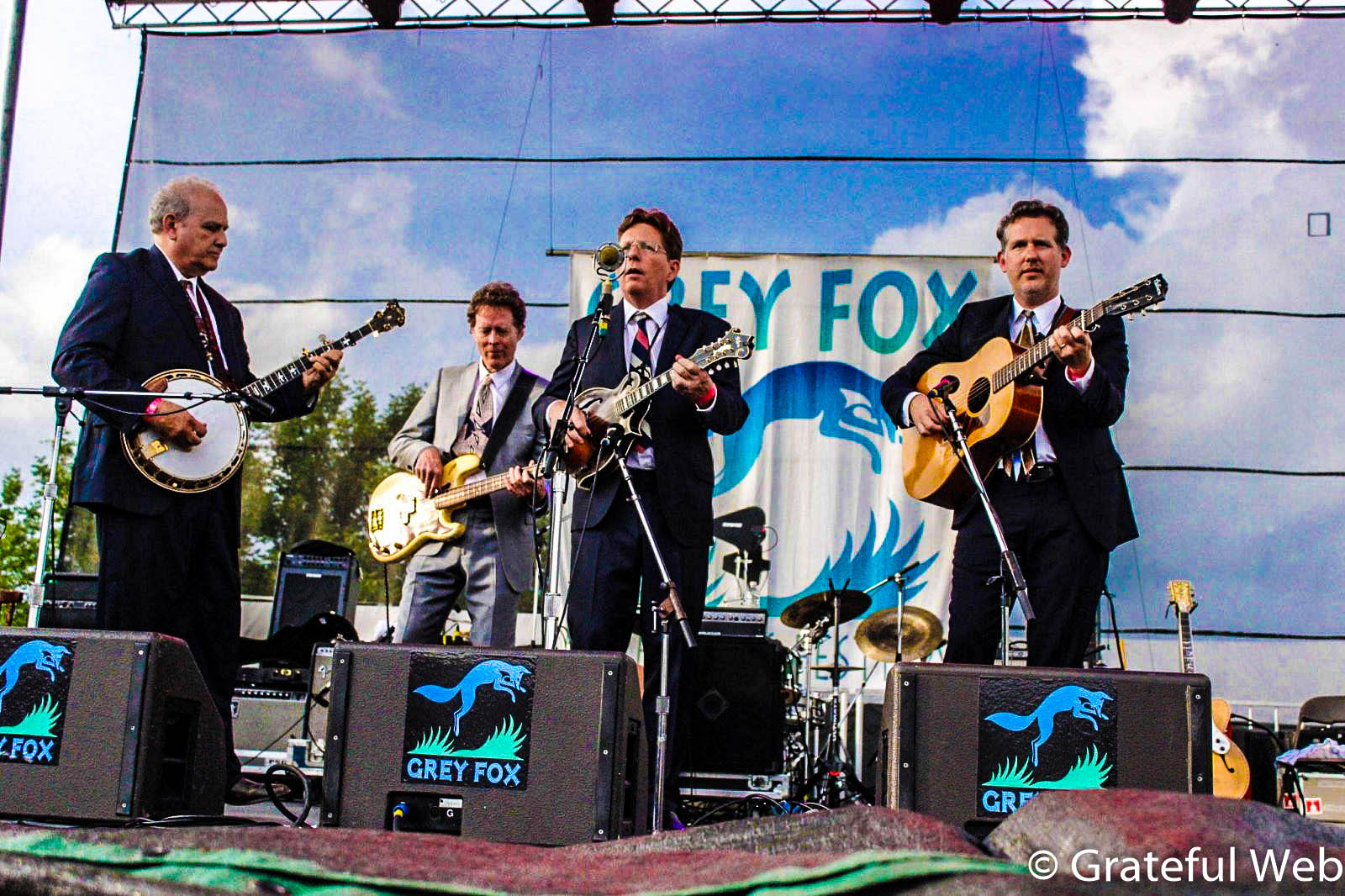 In 1999, through the music influences of and guests playing with The String Cheese Incident, I first heard of Hot Rize, who restarted the main stage's music on Saturday night. Years ago after hearing an SCI recording with lots of people sitting in, Tim O'Brien was one of the first people I was left wanting to know more about and that lead me to the post-modern bluegrass of Hot Rize. There is something that is distinctively 80's about their sound. This night, when they left and came back on stage as Red Knuckle, the sound changed to Pedal Steel country.  Both versions of this quartet show the strength and sprawling list of influences that they have assimilated, shining a light on how diverse the music can be that plays a part in the development of new bluegrass over the past 30 years.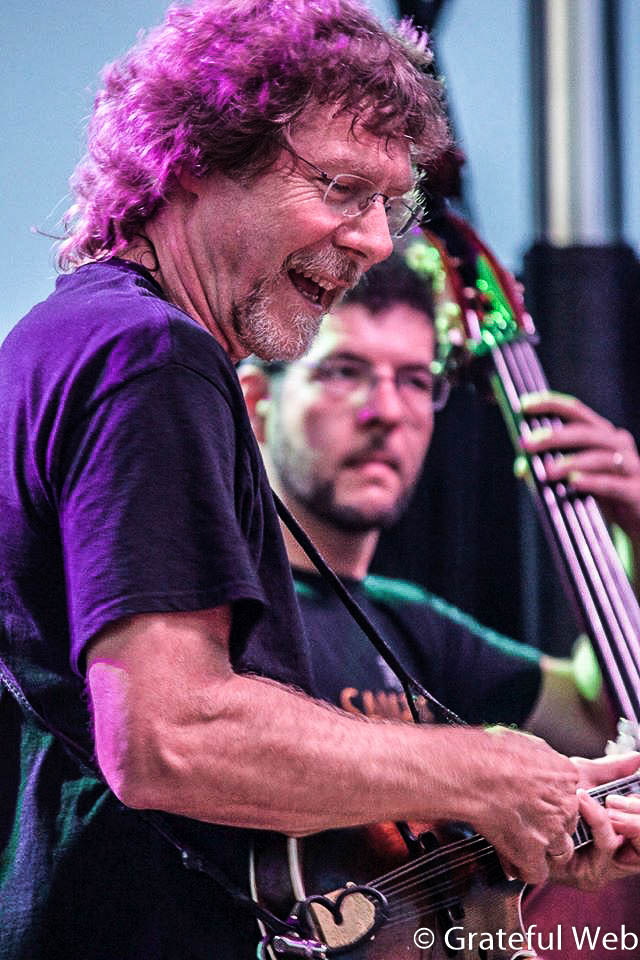 When Sam Bush took the stage next, I knew that the majority of the audience's energy was about to be given to this performance. Sam Bush draws the crowd in with his undying stage vigor. It is all too common to see him doubled over in laughter, or even just in awe of what he is a part of, with his wide grin and reggae banjo strumming keeping us all light and joyous. The presence of a drummer always catches my eye and did once again during Sam's set, simply because there are so few drummers on the main stage. Still like so many before him and so many to come, Sam paid homage to true bluegrass throughout his set. It is the reverence of Grey Fox.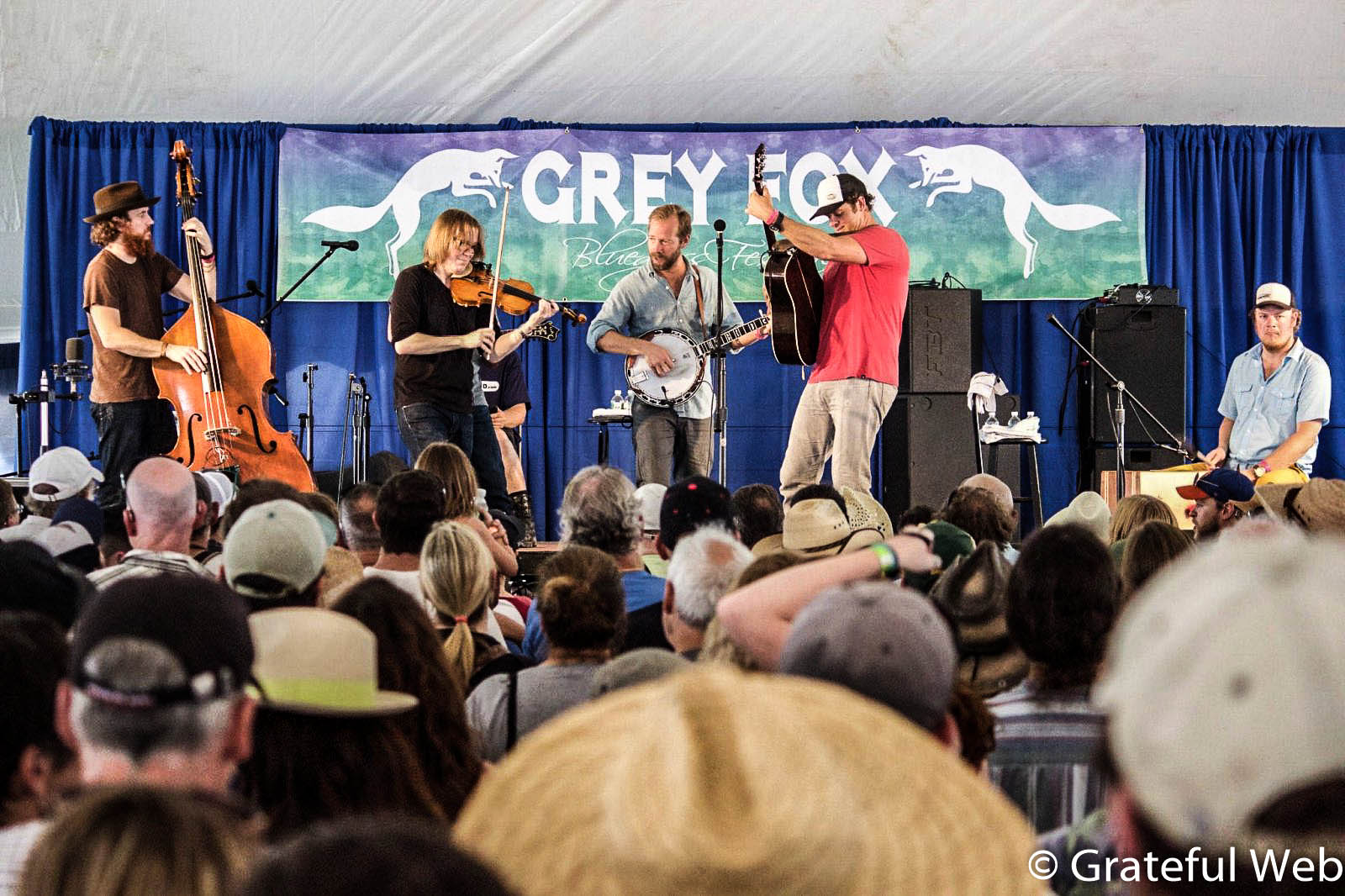 Steep Canyon Rangers came on after Sam Bush and were no longer the same band I had seen in trucker hats and jeans, gathered around a single mic earlier in the afternoon. Their dapper dress, their individual amplification and their light show gave a whole different level of professionalism to the entire band, with the violin player getting to truly show off his abilities as a soloist and in creating beautiful segues from one song to the next, another atypical experience at Grey Fox. Sam Bush came out to jam with Steep Canyon Rangers and a long and twisting psychedelic solo made me realize what a long day it had been. I began to hear changes in tempo.  I began to hear solos that covered the whole band, not just 12 bars. I began to feel like I was going away from bluegrass. So are the Steep Canyon Rangers.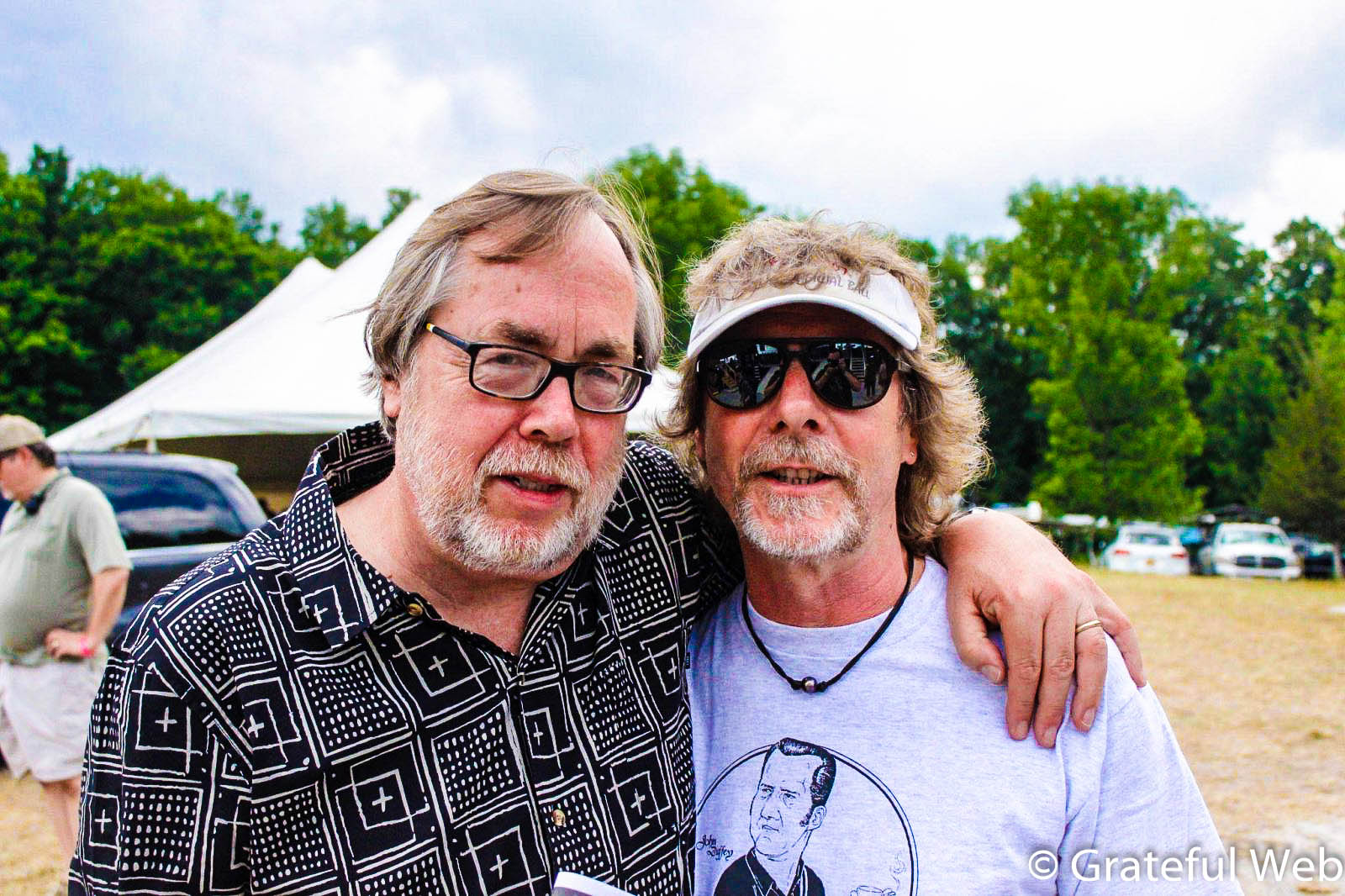 A trip like that into the rabbit hole forced me to bed early, and I would be lying if I told you that Greensky Bluegrass was anything more that the background noise as I took stock of two camping chairs, two festival blankets covered in wet grass, a bag of wet clothes and discarded rain coats, a stroller and two sleeping toddlers. I remembered how I had started the festival. I was calm. I had seen the music that I had seen. Another day, Greensky.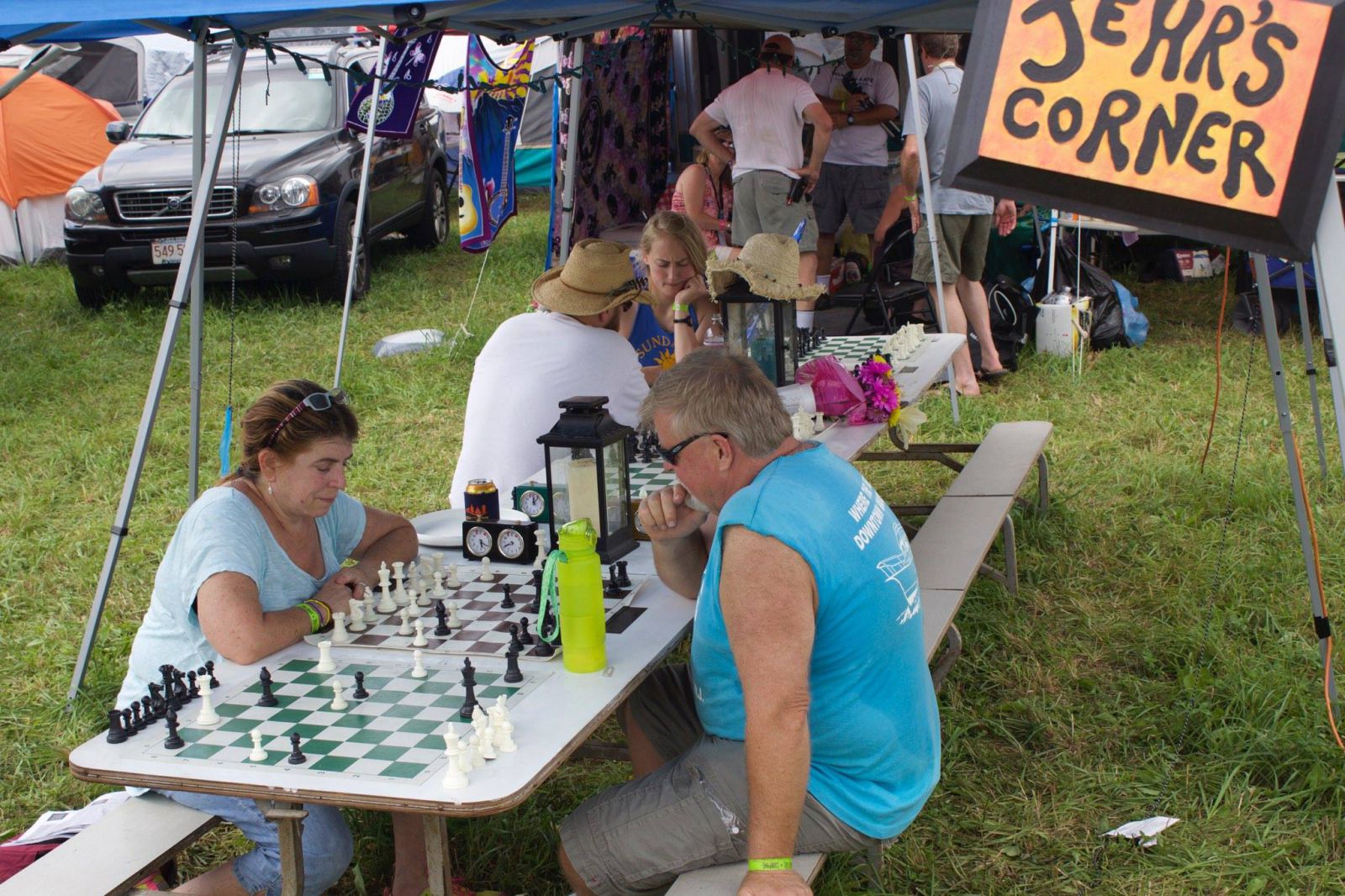 While we are being honest, I love the intent of the music on Sunday at Grey Fox. There is a gospel, the kids from the bluegrass academy play, the raffle winners are announced and we never hear any of it. We are in a crowd that sleeps late, our children are not old enough to study at the academy and, without any players, and we aren't trying to win raffled mandolins. Sunday is packing day. We may or may not have said goodbye to our festival family. I can't remember. When it's time to go, it's time to go. That becomes my focus. The process of packing up is a blur for me because I fill every moment with it until it is done; the trailer is hooked up, the car is running and the kids are patiently (ha!) strapped into car seats. Breakfast? Woops. We'll get it down the road at the local greasy spoon. There, in the cool air conditioning, we will break into a full family smile. Tanned shoulders, elbows slung on the table and the occasional melt down tell the story of the weekend. It was draining, but so is anything that is worth doing. It was warm, but we appreciated the slow hum of the restaurant's AC that much more. All in all, it was an experience like none other we are still a part of and I can't wait to see who will be playing Grey Fox in 2016.