As Dead & Company prepare to embark on their annual Summer Tour starting on June 11th at Dodger Stadium in Los Angeles, the non-profit organization HeadCount unveiled a new set of customized guitars that will be auctioned for charity at each concert. AJ Masthay, a contemporary artist who is extremely popular with Grateful Dead poster collectors, designed artwork on D'Angelico guitars that will be auctioned on the tour this summer, raising money for Dead Family Charities. Bids will be accepted on the guitars throughout the tour, in both the Participation Row activism village and the Loose Lucy's VIP lounge. Remote bids can also be accepted. Participation Row travels to every tour stop and is organized by HeadCount, a non-profit organization that promotes voter registration and civic participation, along with REVERB, which promotes environmental responsibility. Anyone seeking more information can contact HeadCount's Major Gifts Director, Kristina Raines at [email protected].
The guitars feature commemorative, one-of-a-kind art by AJ Masthay. Masthay's guitar art is derived from his "Ripple" series of original works, as well as another called "Seasons," which was featured in the "Neither Here Nor There" solo exhibition at Spoke Art Gallery in San Francisco in May 2019. Limited Edition prints for this series sold out immediately. The art is featured on the pickguards, along with illustrations directly drawn on the guitars. One guitar, a D'Angelico Premier SS in Ocean Turquoise color will commemorate the entire tour and others commemorate specific two-night stops on the tour: San Francisco, Chicago, New York City and Boulder.  The city-specific guitars come from a run of limited-edition custom guitars made just for HeadCount, with "VOTE" on the fretboard, HeadCount's logo on the headstock, and an American Flag overlay. Masthay's art will also appear on REMO Drumheads, also up for auction.
Since 2015, the Participation Row auctions have raised 1.1 million dollars for HeadCount, REVERB, and over a dozen other "Dead Family" charities selected by the band. Bob Weir of Dead & Company is a board member of HeadCount and an artist endorser for D'Angelico Guitars.  Fans who can't bid on a guitar can have the chance to win one for free by taking actions with the non-profits on Participation Row.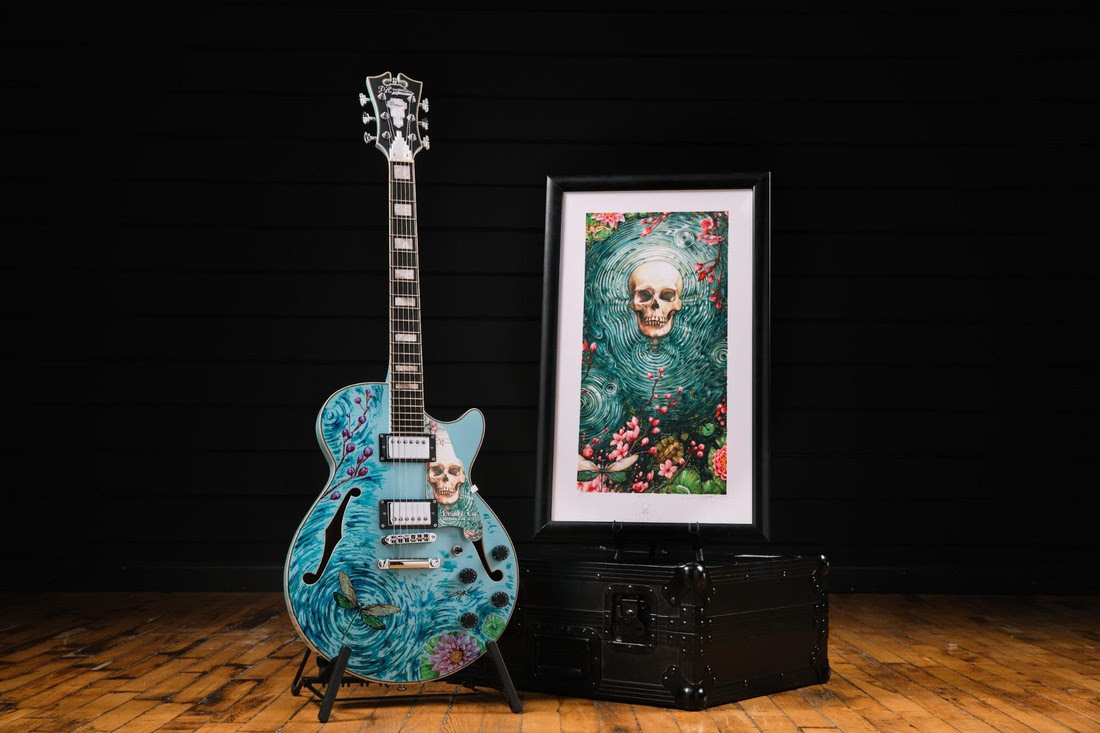 AJ Masthay is most well known for his unique style of reduction block printing in the concert art arena. His blend of traditional techniques and love of live music has made him one of the most prominent figures in the rock art industry. Born in 1975, AJ is a lifetime resident of Connecticut. He earned a Bachelor of Fine Arts in 1997 from the Hartford Art School, majoring in printmaking, with an art history minor. Masthay established his own letterpress studio in 2001 and is currently based out of Hartford, CT. Clients include: Grateful Dead, Dead and Company, The Jerry Garcia Estate, Black Sabbath, Foo Fighters, South Park, Queens of the Stone Age, Widespread Panic, Umphrey's McGee and many more.
This year, HeadCount are giving away a sold out print of Masthay's inspiration, "Ripple," in companion to the Tour Guitar. The below video shows the process of Mashtay creating the original artwork in 2020.
In discussing the partnership, AJ Masthay said, "I'm a firm believer that if our democracy is going to function as intended, we all as citizens have an obligation to be informed and participate in said democracy, that's why I am and will continue to be a supporter of HeadCount and their mission. My relationship with Headcount started over a decade ago and out of our partnership has come some of the most cherished pieces in my portfolio including the Bridge Session edition for Bob Weir and the "US Blues" piece from a few years ago, and of course this year's guitar series."
Dead & Company Summer '22 Tour Dates:
JUN 11, 2022 @ Dodger Stadium in Los Angeles, CA
JUN 13, 2022 @ Shoreline Amphitheatre in Mountain View, CA
JUN 14, 2022 @ Shoreline Amphitheatre in Mountain View, CA
JUN 17, 2022 @ Folsom Field in Boulder, CO
JUN 18, 2022 @ Folsom Field in Boulder, CO
JUN 21, 2022 @ Hollywood Casino Amphitheatre in St. Louis Maryland Heights, MO
JUN 22, 2022 @ Riverbend Music Center in Cincinnati, OH
JUN 24, 2022 @ Wrigley Field in Chicago, IL
JUN 25, 2022 @ Wrigley Field in Chicago, IL
JUN 28, 2022 @ Ruoff Music Center in Noblesville, IN
JUN 29, 2022 @ Pine Knob Music Theatre in Clarkston, MI
JUL 1, 2022 @ Bethel Woods Center For the Arts in Bethel, NY
JUL 2, 2022 @ Gillette Stadium in Foxborough, MA
JUL 5, 2022 @ XFINITY Theatre in Hartford, CT
JUL 6, 2022 @ Saratoga Performing Arts Center in Saratoga Springs, NY
JUL 8, 2022 @ Jiffy Lube Live in Bristow, VA
JUL 10, 2022 @ Citizens Bank Park in Philadelphia, PA
JUL 12, 2022 @ The Pavilion at Star Lake in Burgettstown, PA
JUL 15, 2022 @ Citi Field in New York, NY
JUL 16, 2022 @ Citi Field in New York, NY