Looking back on last month's High Vibe Fest, we can't help feeling the ripples of inspiration and awe. The festival took place from May 4th-8th 2023 and featured an incredible lineup of conscious musicians, inspiring workshop presenters and stellar performance acts. A main philosophy of the gathering is that High Vibe is a sober festival, and with no alcohol sales or consumption on site, the sacred space was truly held in deeper presence and cocreation. This year's High Vibe Fest was one to remember with their new location at Mandala Springs in Cobb, California. The festival's main stage, nestled under the canopy of an elder oak tree, provided the perfect nest for musicians and attendees to embody their full authentic expression. Throughout the weekend, Main Stage performances were heart opening with prayer and celebration, expanding the energy to truly hit that high vibe.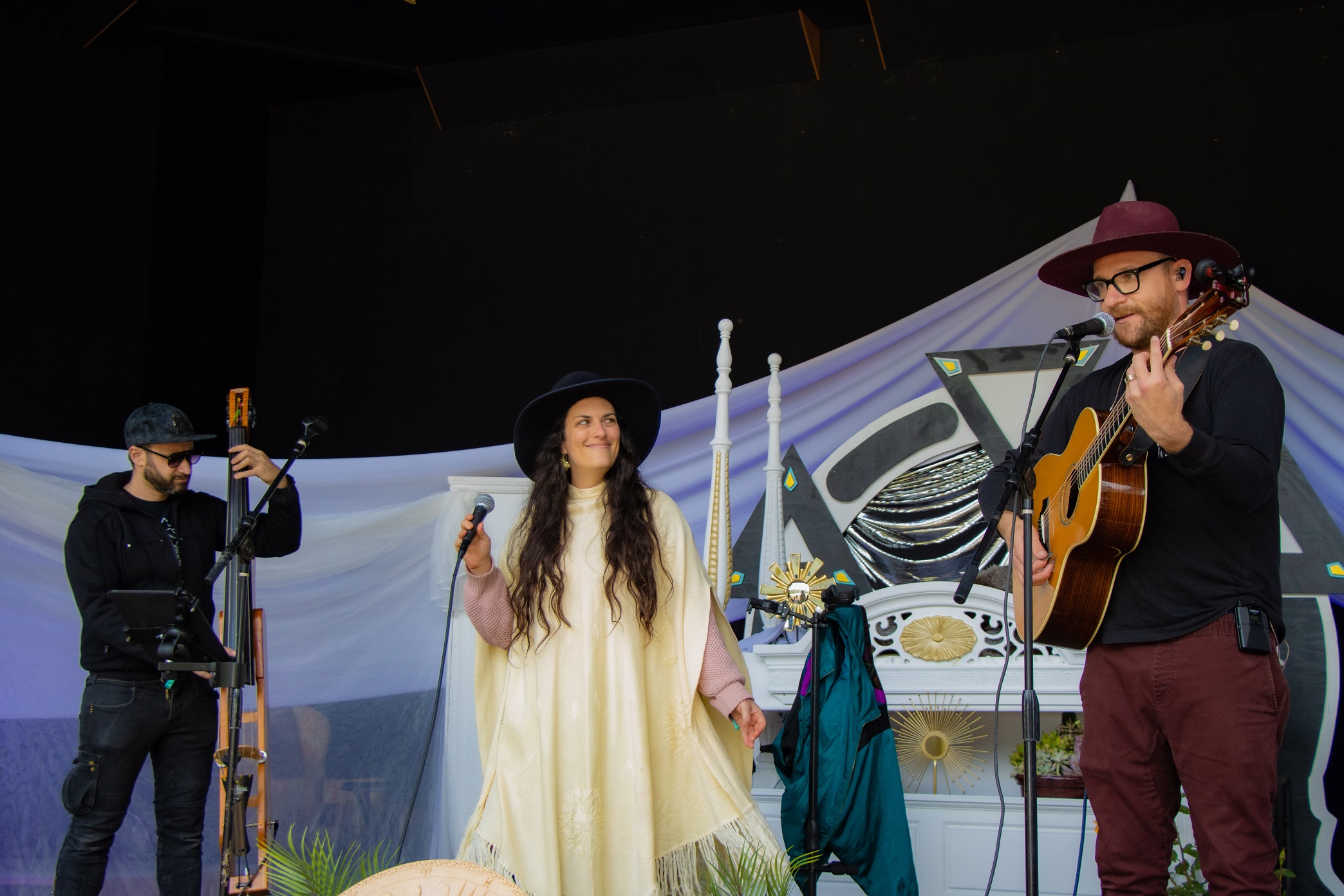 The lineup at High Vibe Fest was filled with so many powerful artists, including Mikey Pauker, known for his devotional songs inspired by his life experience and Jewish faith. The energy he brought to the stage was filled with prayer and raw emotion, creating a ripple of depth felt by attendees. During his performance, he invited Marya Stark to the stage to perform together in a weaving of soul and sound. With the depth of presence that he brought to the stage, Mikey Pauker truly embodied the energy of a sacred space holder.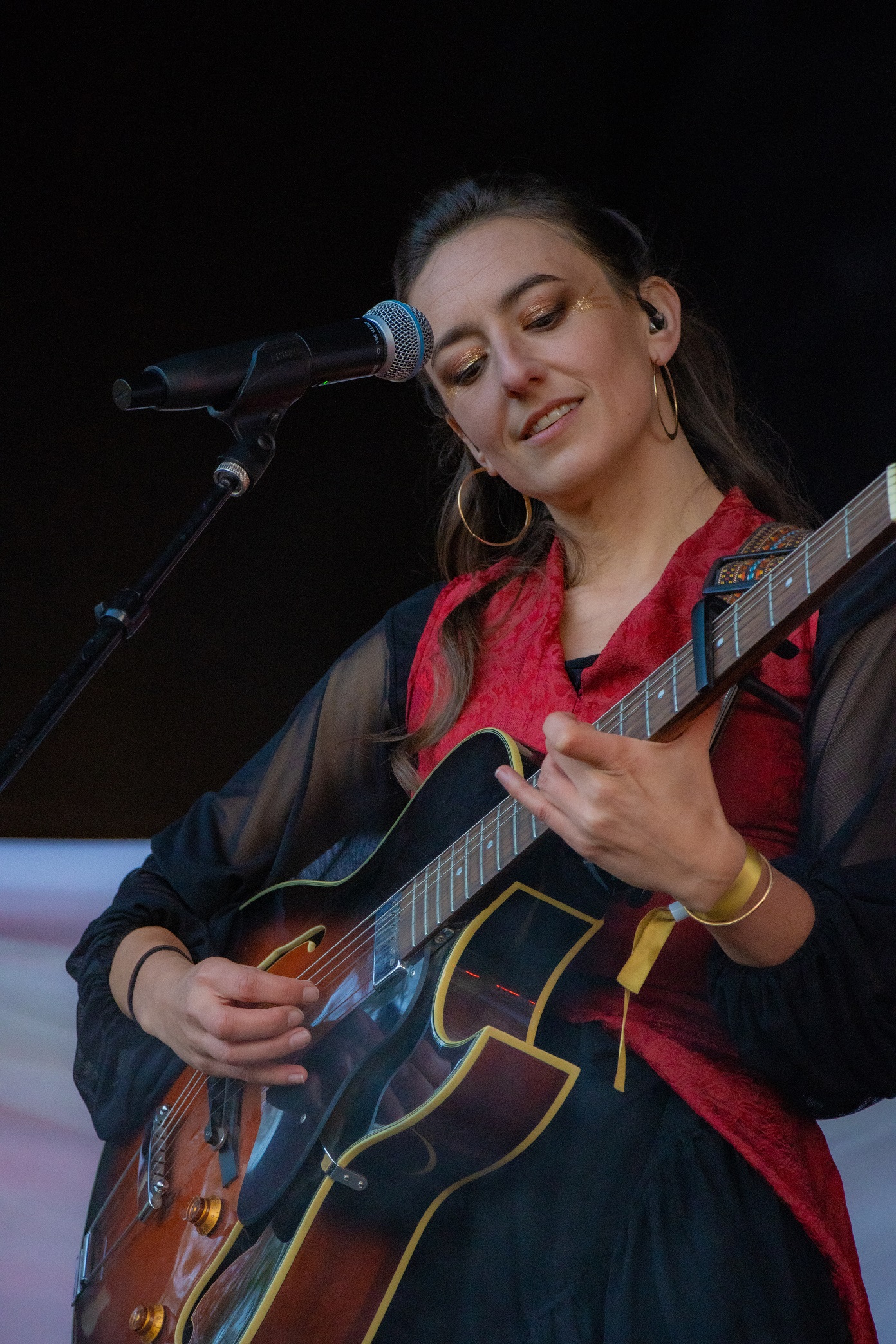 Ayla Nereo was the headliner at High Vibe Fest, delivering a performance that stirred the hearts and souls of the audience. Her songs, reminiscent of heartfelt prayers to the Earth, carried a potent message of reverence and unity. Blending the raw power of bass music with her enchanting vocals, she skillfully wove a tapestry of sound that captivated the crowd. Ayla Nereo's headlining set at High Vibe Fest was a testament to her unique artistry and divine feminine presence.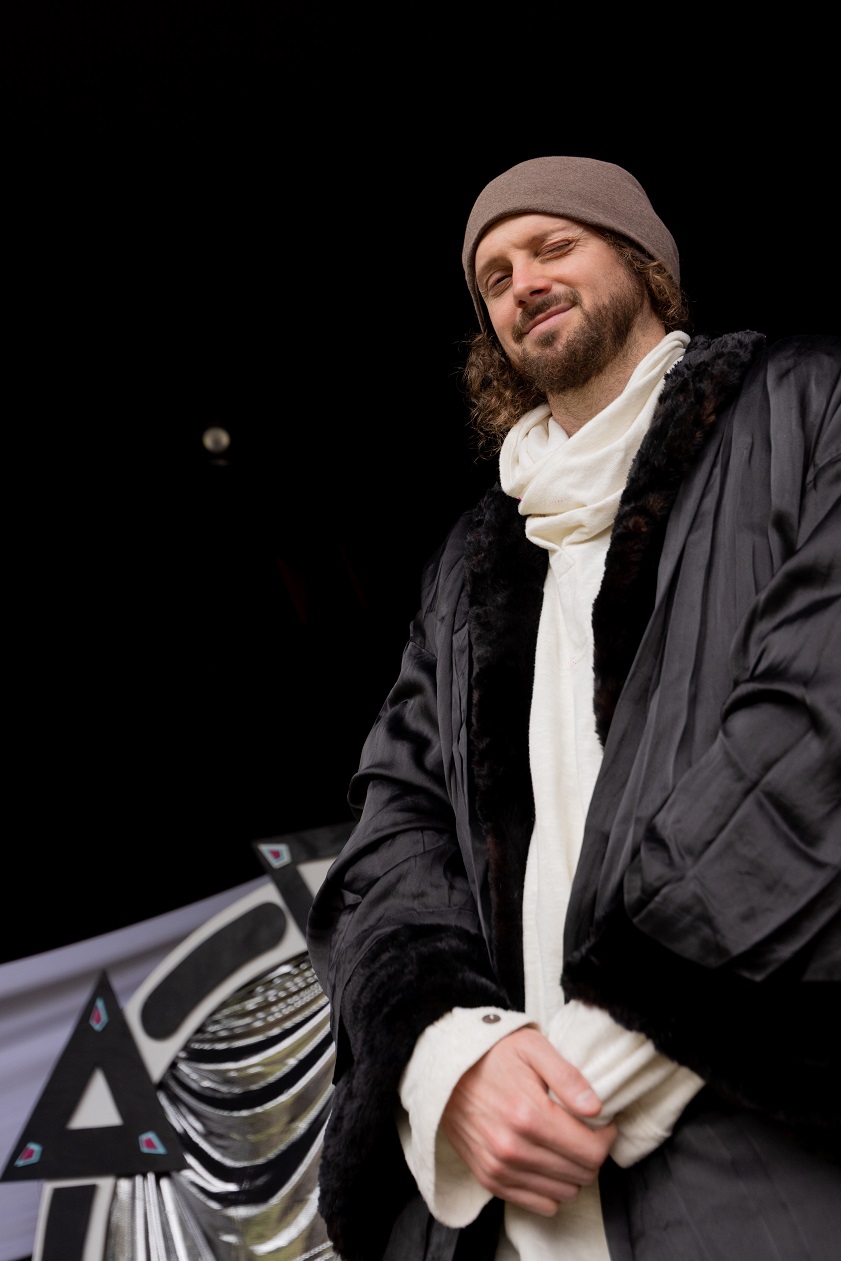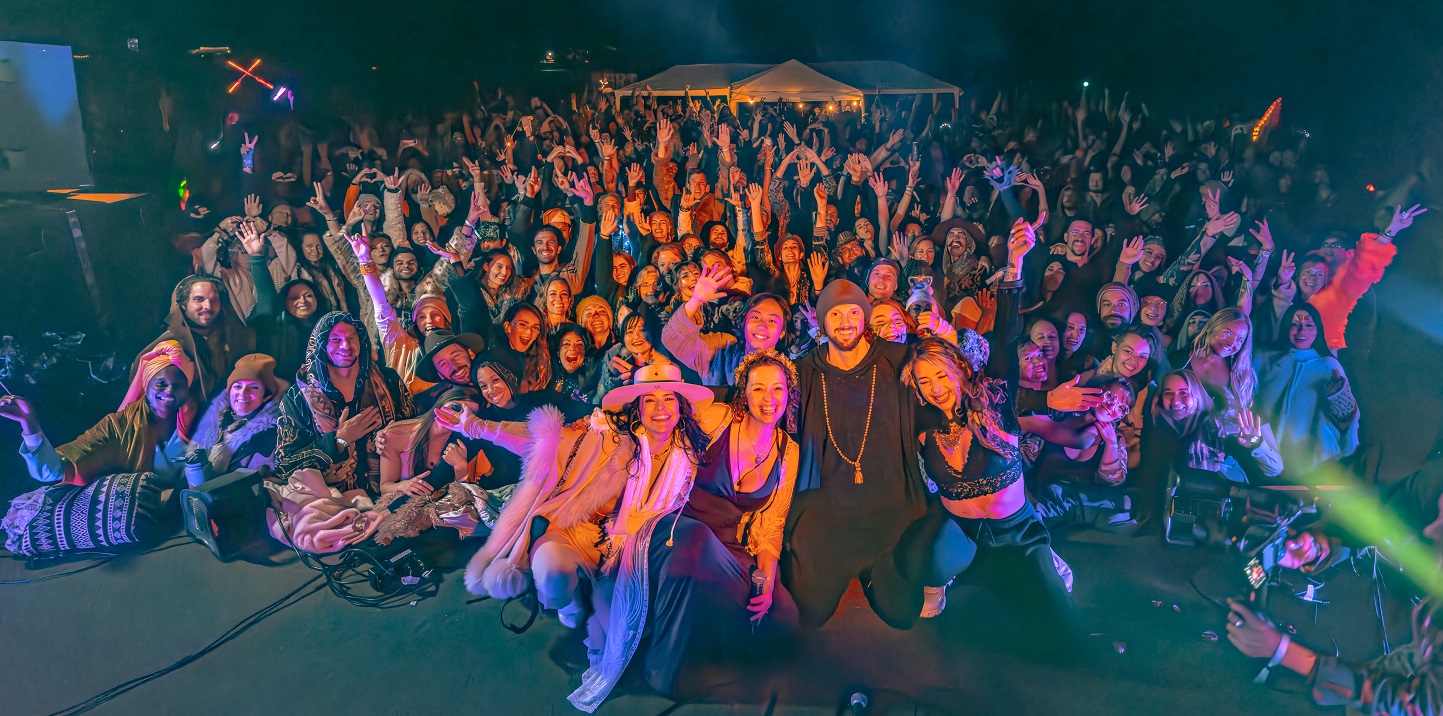 As the main stage closed on Saturday night, Equanimous took the stage and delivered a performance that brought the energy to a pinnacle of celebration. With his signature style, he elevated the electronic music experience to new heights, captivating listeners with his deep basslines, beautiful melodies, and innovative rhythmic beats. Festival-goers were transported into a state of euphoric dancing and heart-centered bliss as Equanimous effortlessly created a musical journey that resonated with the depths of our souls. Later in the weekend, Equanimous brought the festival into a deeper magic with a sunrise set through the final sunrise of the gathering. Both his sets were, as always, aligned with the sacred artistry, celebration and devotion of conscious music.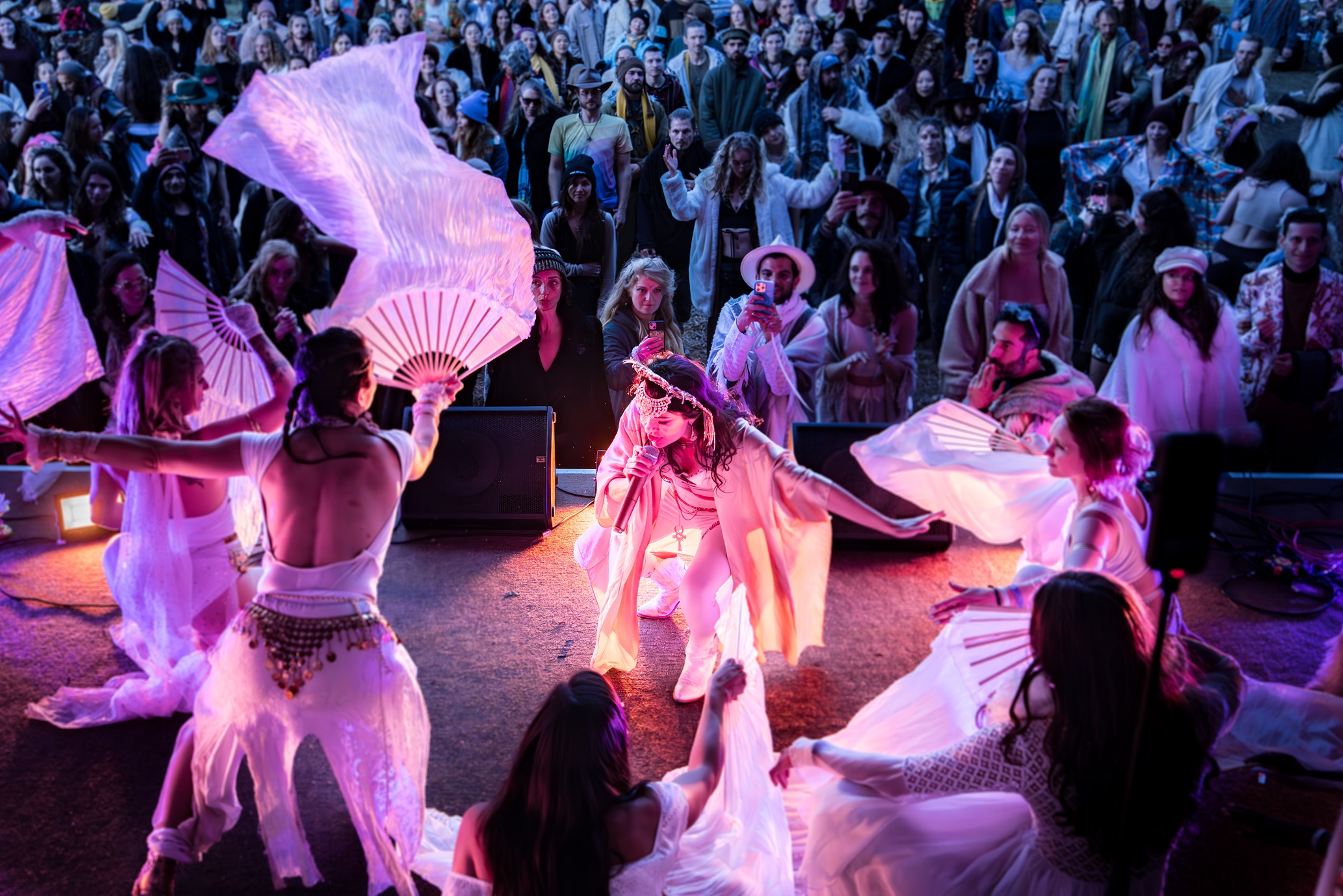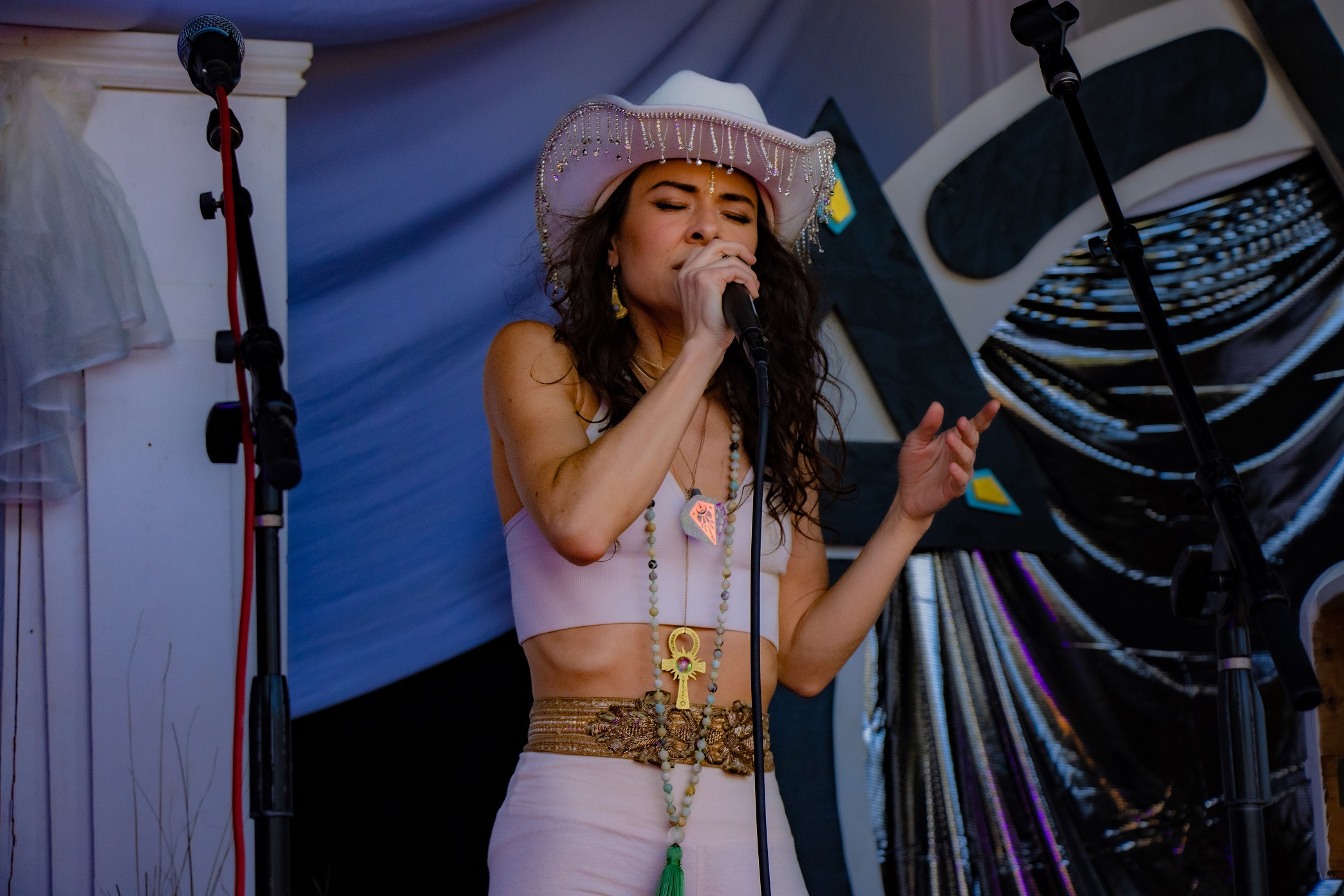 Ruby Chase is an artist who consistently shows up with a vision that mesmerizes audiences with her ritual-based performances. Sunday night's performance was a testament to her ability to create a transcendent experience through music. With her unique blend of genres, ethereal vocals, and interactive elements, Ruby transformed the stage into a temple of the beauty way, guiding the audience on a profound journey of self-discovery and connection. Her performance left a lasting impression, reminding everyone of the transformative power of music and the sacredness of shared rituals.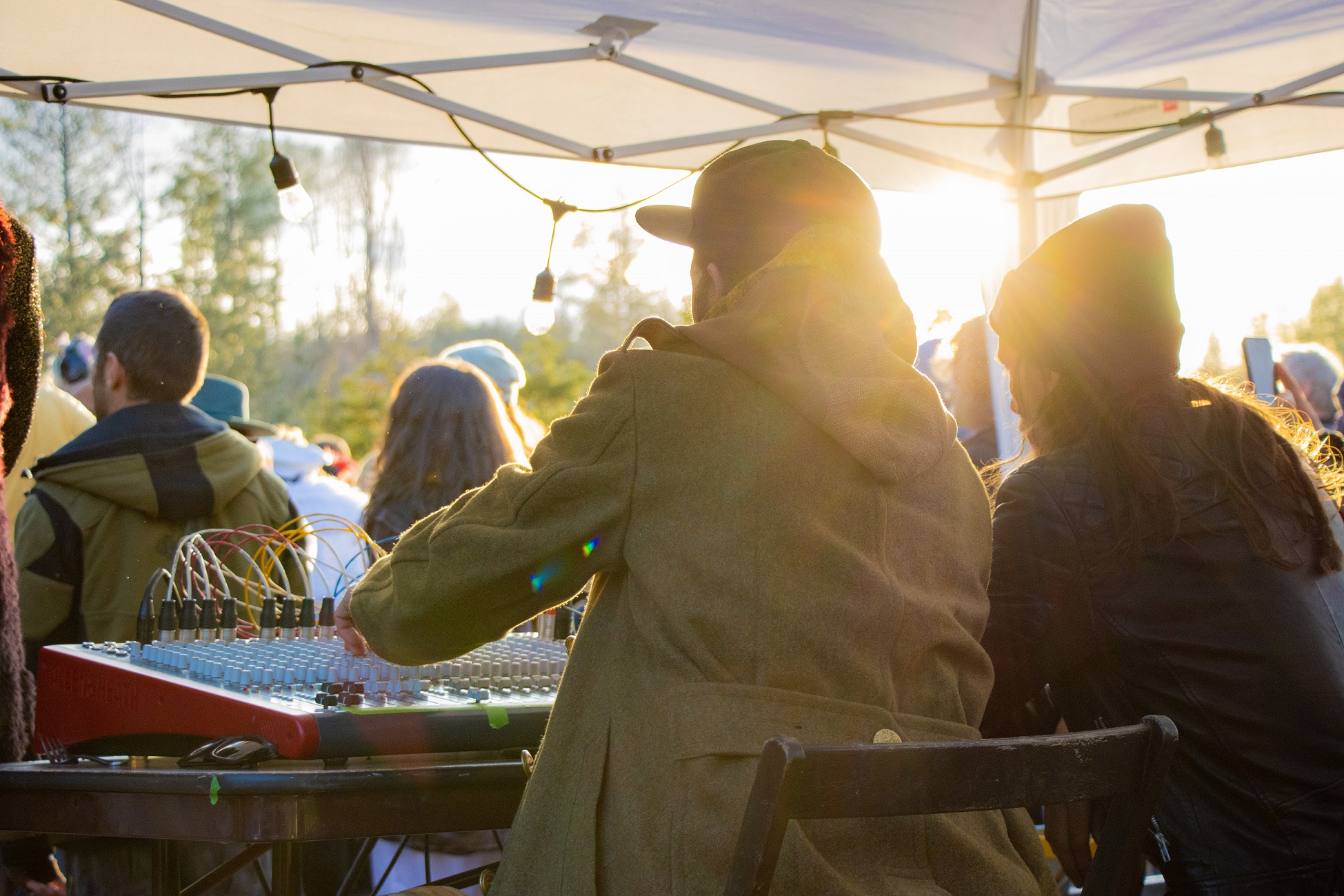 As a grounding and facilitating support to the main stage performances, the Immanent Sound sound system at High Vibe Fest was top-notch, delivering crystal-clear sound quality and creating a truly immersive experience for festival-goers. The organizers cultivated a soundscape that ensured every note, beat, and lyric resonated through the hearts and souls of those in attendance.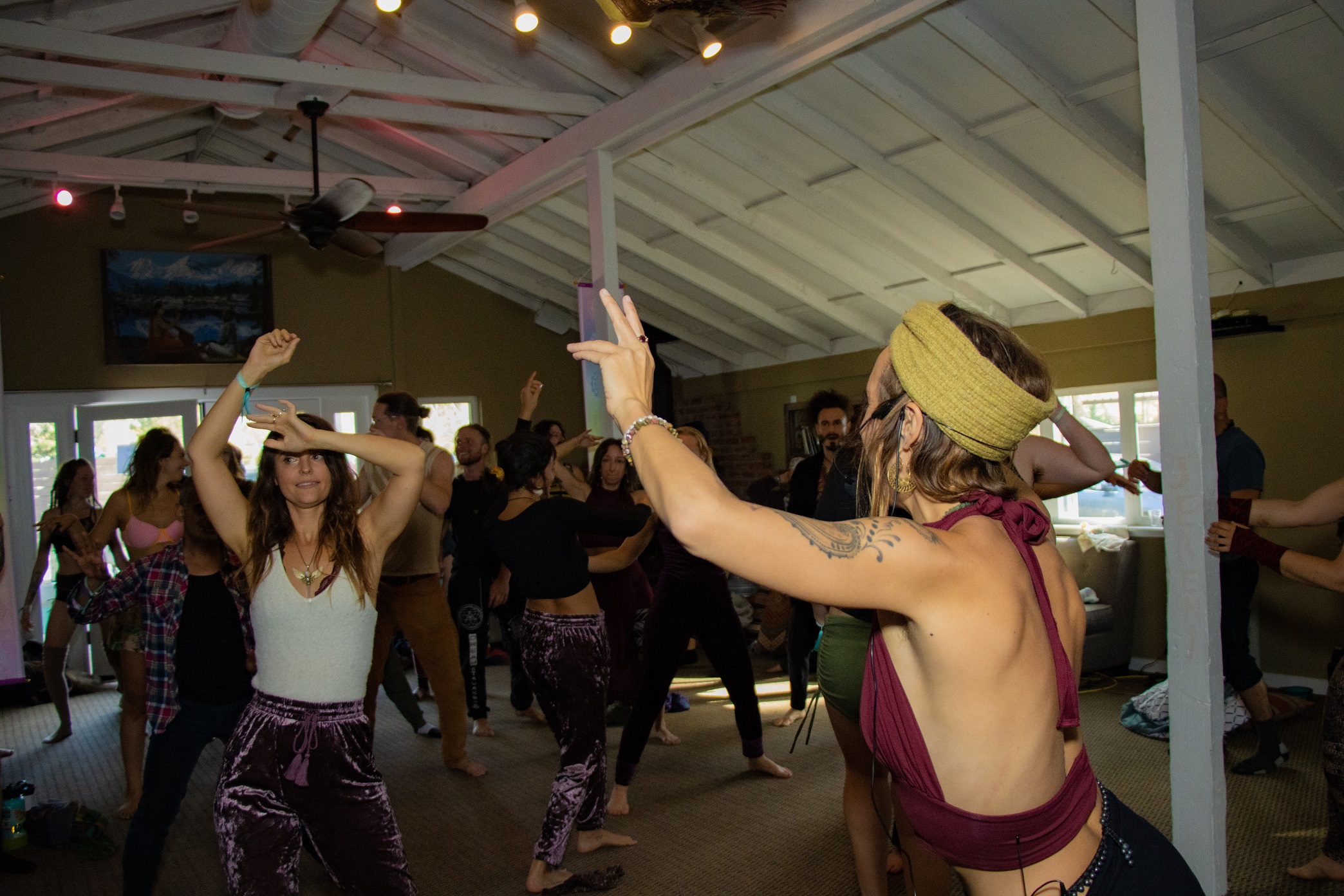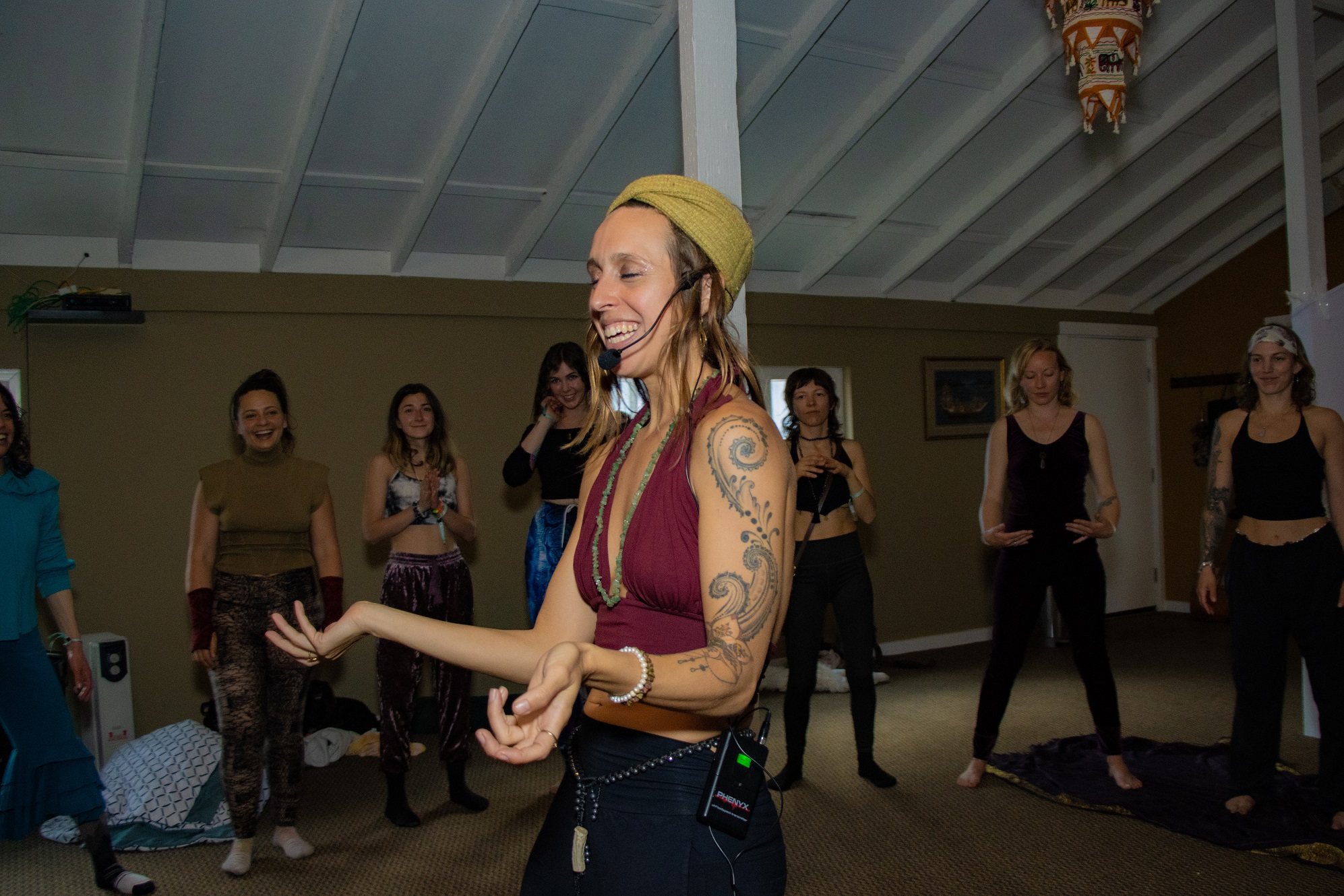 High Vibe Fest also offered a diverse range of workshops, catering to the holistic well-being of the participants. From tantra to cacao, the workshops provided an opportunity for personal growth, exploration, and connection. Sacred Sensuality workshops, such as Shakti Twerk with Sahara Rose, and Tantric Twerkshop with Katie Scott, allowed attendees to tap into their sensual energy and embrace their divine femininity.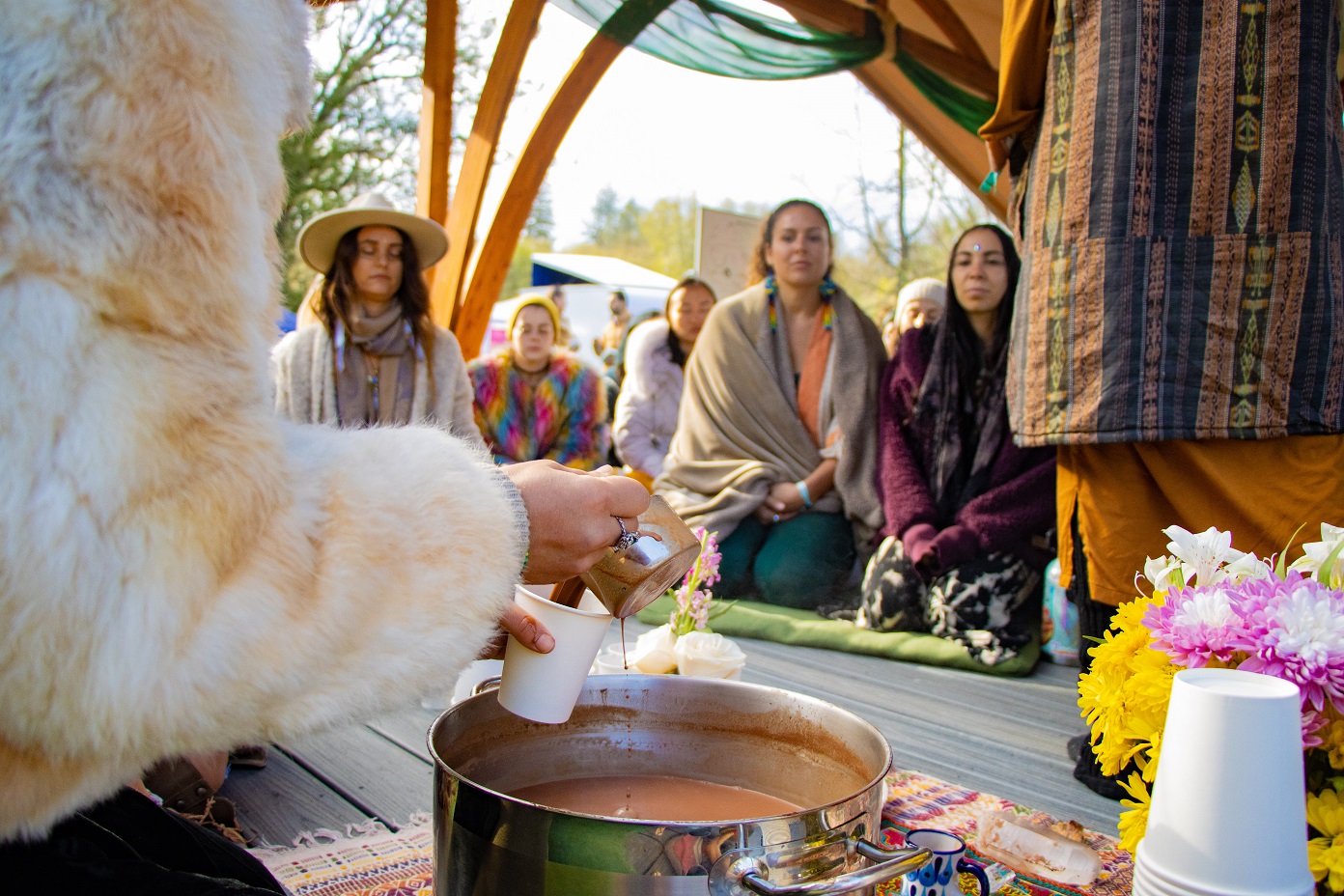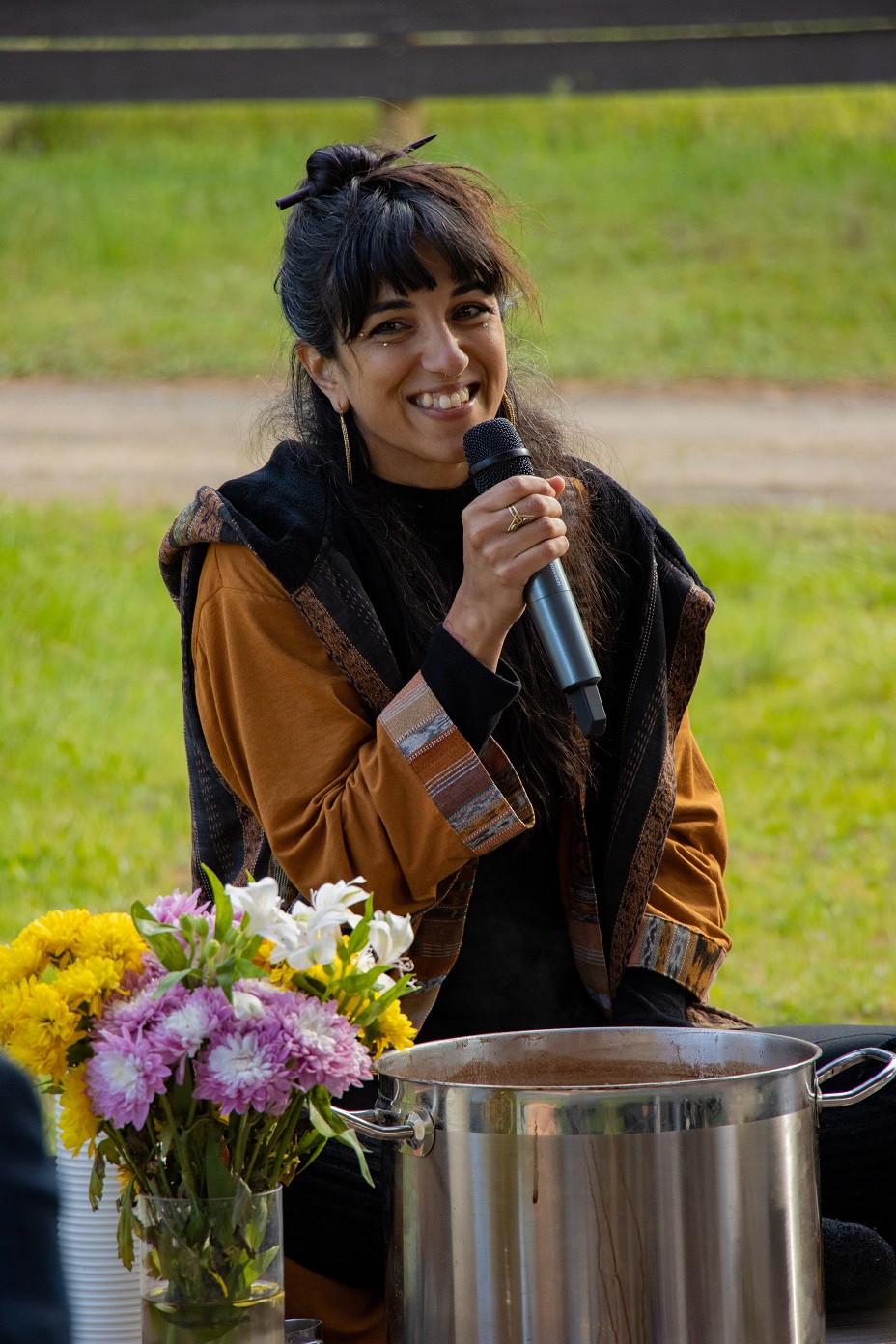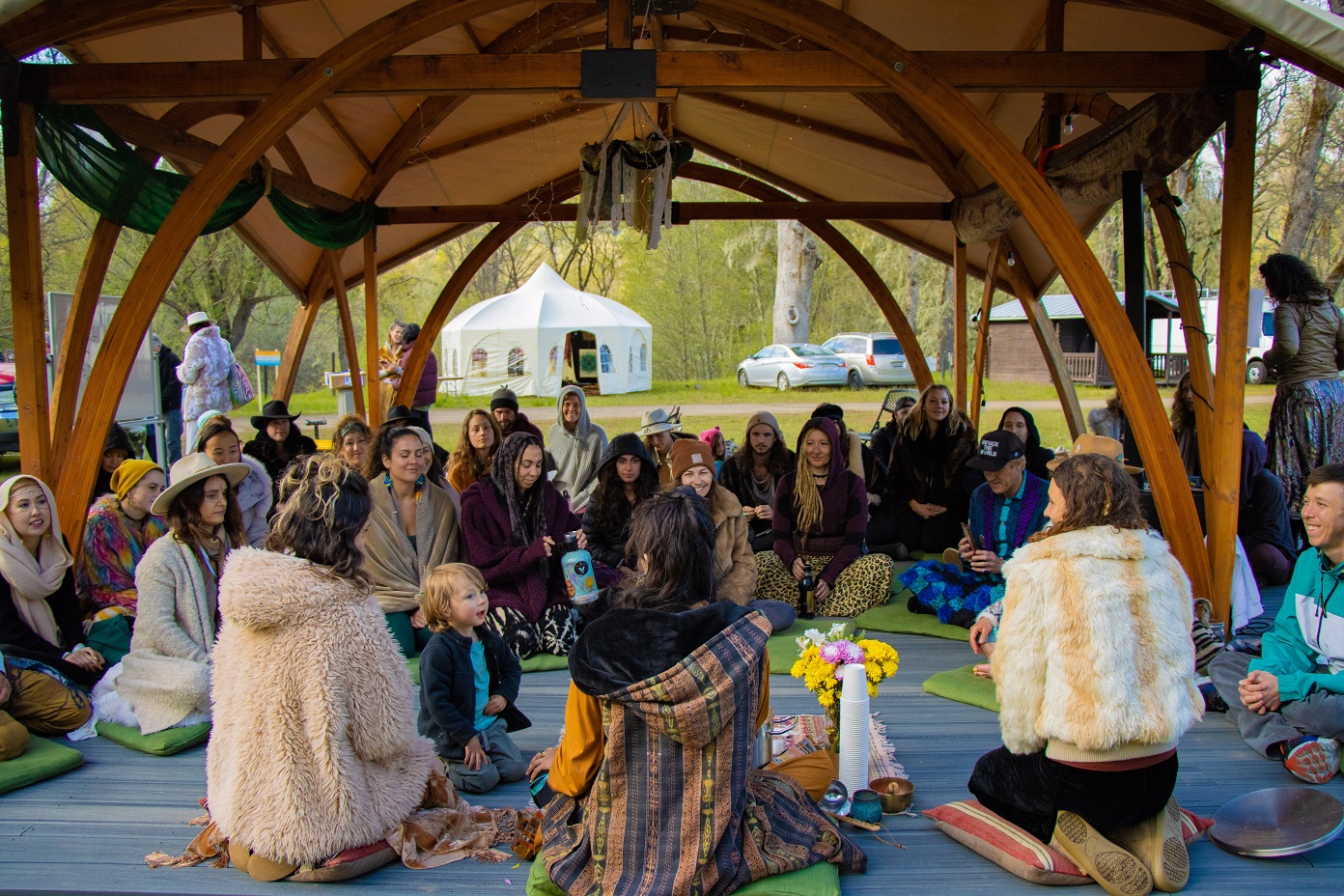 The Cacao Ceremonies and Workshops led by Madaly Love (Friday), Neema Star (Saturday), and Dorothy Morgana of Cacao Source (Sunday) provided a sacred space for participants to connect with the heart-opening magic of cacao.
As the sun set over the festival grounds each night, DJs and Producers took stage and the indoor pavilions, creating an atmosphere for embodied movement and self-expression. Ezekial Zion, Sheena Medicina, and Twerkaba were just a few of the talented musicians who delivered pulsating beats that carried the crowd into states of pure bliss through the night.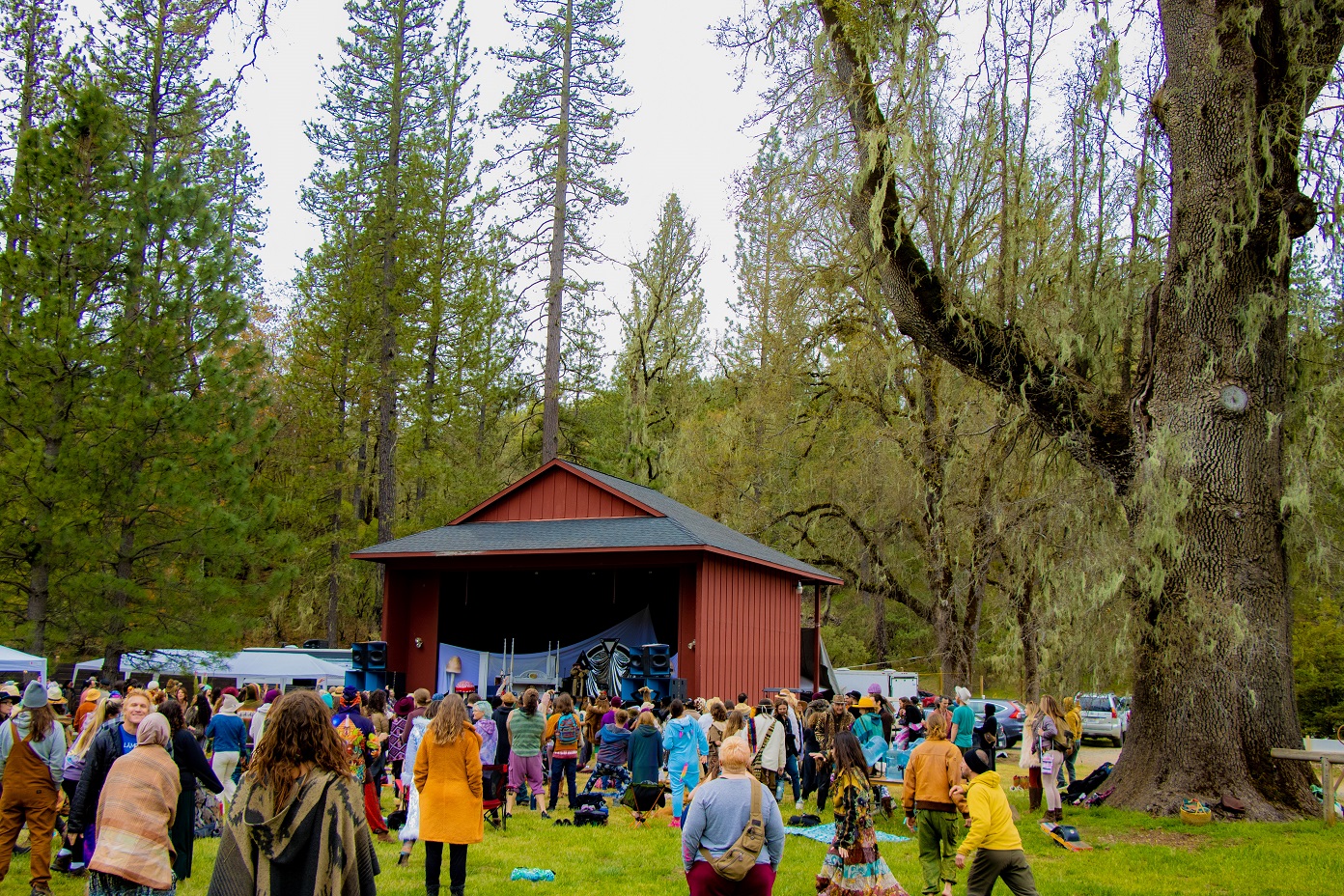 Looking back on the magic of High Vibe Fest 2023, it's clear that the festival succeeded in its mission to provide a space for self-discovery, connection, and inspiration. With its breathtaking location, diverse lineup, and immersive workshops, High Vibe Fest proved once again to be a haven for those seeking to elevate their spirits and embrace the power of music and community. As we eagerly await next year's edition, the echoes of this year's festival will continue to reverberate in our hearts, reminding us of the transformative power of high-vibe experiences.
Exclusive Interviews with Equanimous, Ruby Chase and Mikey Pauker:
Equanimous:
What was a highlight for you of your festival experience?
"I think the highlight would probably be singing Cellular Upgrade - the We Saw Lions remix - at the very end of my set, especially because it was the first time that We Saw Lions and Activation had met and we all got to sing it together for the first time on stage and that was just super special, with everyone singing with us too."
Of all the other performers and workshop presenters that were booked, which were you most excited about?
"I was most excited about Chris Barry's set honestly, and he crushed it. I mean, he improvised a whole amazing live set. It was super good. I love Brent Pell's comedy set too, that was great."
Can you tell me about the choice of moving the fest to Mandala Springs this year? What is the vision for High Vibe Fest in the future?
"We wanted a place where you could go all night, where people were camping, it was more intimate, the space was nicer. And they had interest in us, so we just kind of partnered and teamed up and made it work – and I do believe we're gonna do it there next year as well. Vision for the future is to just expand it and grow in this venue and grow the community and really just have beautiful high vibe experiences."
What other personal musician projects do you have that you're working on that we have to look forward to?
"Really just diving in more with Equanimous. I'm working on kind of an orchestral album right now, as well as some other fun party singles. So yeah, lots of fun stuff in the works I'm excited about."
High Vibe Fest organized and hosted a pre-festival High Vibe Music Retreat as a music education immersion, can you tell me more about that?
"The retreat was great, yeah, you know, it was intimate, probably 30 of us. People got to really learn and dive in and create together. There was a lot of free time also for the people at the retreat to really collaborate with each other, so that was super cool. We definitely plan on doing that next year."
As a musician, what is your greatest vision for your impact on festival goers?
"I just want them to leave with a new beautiful path, a life changing, happy, satisfying feeling of love and bliss and an excitement for life. Our aim is to really have people celebrate and heal through joy. I feel like people had a beautiful experience here and we look forward to creating more."
Ruby Chase:
How'd it feel to balance organizing the festival while also participating as a performer?
"Wow. It was full on, but I feel like with, with things like this, when the energy is coming from a really inspired place, it's almost like there's an infinite energy to work with, and that's how you can really tell when something is coming from passion rather than coming from expectation or coming from some other place. When energy is derived from passion, it's infinite and it's really magical what we can get done."
What was the highlight for you of your festival experience?
"The highlight for me was feeling the impact it had on all the people. Hearing the feedback, hearing the stories of transformation, seeing the smiles, seeing the new relationships build. That is why we do this, at the end of the day. It's to bring community together and to make magic. And I feel like it really did that."
Of all the other performers and workshop presenters that were booked which were you most excited about?
"This was so fun cause I got to bring in people that I really look up to. I was really, really stoked to have Jade Michelle there. She's incredible. She's one of my oldest friends. She was my little sister's best friend in elementary school all through high school until now. So having her there and getting to have her present, she just got her master's degree in psychology and mindfulness and that was really, really special to get to share her wealth of knowledge with the community. It also was really special to bridge different communities that had never woven into this scene before. Roxanne Ruby, my dearest best friend, got to share a workshop. Um, and then people like Rachel Bell, Sky Life, Activation, Sahara Rose and these queens that are really leading so much of the consciousness scene, especially as empowered women, getting to share their voice here was just so, so, so special. It was so fun to get to be an audience member for these things."
Can you tell me more about the music retreat that happened before the festival?
"This was really special because at the core, High Vibe Fest is an offering of High Vibe Records and the music is something that is behind everything we do. And so many people that participate and come as guests to the festival, deep down, they want to make music themselves. And so having this offering of the music retreat beforehand was such a gift to be able to bring that education forward and that empowerment so that next year we could be highlighting some of those artists. And I've met some of my most favorite collaborators and many of the artists that we highlighted even at the festival were people that we met at music retreat experiences similar to this one. And it's a great way to weave community and find your collaborators and to also shine light on where are the next steps for people that do wanna make music their thing and make music their livelihood and what the next steps are there. So it was very great for that empowerment."
What is your greatest vision for your impact on festival goers?
"My prayer is that people utilize this time to step out of their day to day and, and practice living as their highest self. And when we say high vibe, it really is about that. It's like, what vibration are you emitting? And at a festival it's so obvious because if you're feeling down it's, or if you're feeling up, it's amplified. It's all right there in front of you. You can't push it aside, you can't pretend it's very much the internal is shown external in this very real way. And so, my prayer is that these can be spaces where people get to explore who they wish to be in the world and practice and try it on and, and have a time out of reality almost, to really drop into the versions of themselves that they are manifesting themselves into."
What is your intention behind creating a performance that integrates a ritual into the offering?
"I feel that any performer on stage, you know, there is an element to being on stage where there's a big energy exchange and we are being looked up to, and there's an opening of energy that happens when so many people are synchronized with the music that we're playing. And it's a ritual no matter whether or not we recognize it, there is an element of ritual at play. Any of the greats know this. And for me it's really important to direct this energy. I spent a long time in the rave world and in the festival scene and getting to see rapid transformation taking place without direction. And I believe that it's a big reason why you have those big comedowns after the festival and why there's kind of this lack of direction in our world, is because all the energy is created, but it's not being put anywhere that gives us purpose. So I really am inspired to direct the energy that is cultivated at these types of events, at these types of performances, into something that can be lasting impact. For instance, praying to the water and bringing awareness to the world that I wish to see and bringing awareness to our ability to create our universes and bringing our awareness to the versions that we wish to become. And then we can utilize that energy that's created to really amplify it and direct it into who we wish to be and the type of world that we wish to see."
Mikey Pauker:
What was a highlight for you of your festival experience?
"Highlight of the festival for me was connecting with so many other great artists. It felt like a family gathering. Getting to spend time with Equanimous, Ruby and getting to invite up Marya Stark to come and sing with me during my set. (Marya is) someone who I love dearly and has released a few songs on my label, Beautiful Way Records, which is also an imprint of High Vibe. And for me, just connecting with the artists who I love, doing things that I love, and vendors that I love - all in the same place. It felt like a great family gathering."
How do you integrate your relationship with spirit into your offerings with music?
"For me, it's one in the same. My music is ceremony. It is spirituality. I write my music based on spiritual experiences and also spiritual text, specifically for me I'm Jewish, so a lot of my songs are based on Kabbalistic text or the Old Testament and also Jewish experiences that I've transmuted into these songs. These songs are prayers and what I like to do is weave a field where everybody feels the presence of spirit moving through the community. And I like to pray with the community through song, through story and intention. My music is prayerformance. It's not just an offering of music. It is deeply woven with prayer."
What are some upcoming music projects we can look forward to?
"Playing at PlayThink Festival (June 14-18 in Harrodsburg, KY) coming up with Equanimous and Ruby Chase, and others. I think Savej as well. I had a new single come out May 26th through Beautiful Way Records. I have other shows as well, make sure to go to MikeyPauker.com and sign up for my email list to stay up to date, go to my Instagram and add me there. I'm also offering a prayer practice container coming up in the next month or so, where people can learn how to pray and how to create a morning practice, and if you have interest in that you can find me through my website or Instagram."