We are now just a couple weeks away from the 2023 Gem and Jam Festival! Held annually during Tucson Arizona's Gem, Mineral and Fossil Show, Gem and Jam will take place February 3rd - 5th at Pima County Fairgrounds. This year, the festival is celebrating its 15th year of Music, Arts and Community with a lineup of diverse artists that will open your heart and expand your soul.
Gem and Jam is widely known for its integration of music, minerals and magic and while there is sure to be an endless array of experiences to explore, we wanted to highlight a few mindful musicians you definitely won't want to miss. With electronic music equipment, unique instrumentation, and inspiring lyrics, these musicians are stepping forward with offerings that integrate ritual, honoring of the land, and sets that flow through reflections of whatever is present within the space. As we vision into making our way through the dancefloor in the desert sun, we are so excited to see these artists perform…
Dirtwire
Dirtwire is currently made up of the duo Evan Fraser and Mark Reveley, two multi-instrument musicians who met while studying music in the Southern California desert. The multicultural sounds these two cocreate celebrate roots from all over the world. The band has also created a song collaboration with Native American musicians, titled "Intertribal" and released in July of 2022. The song is a collaboration with the Black Lodge Singers of the Blackfoot Nation from Yakima Washington and Larry Yazzie of the Meskwaki Nation in Iowa. Evan Fraser shared, "We hope to do more collaborations like that. Through this track, we've opened the door to meeting more people from native tribes who have been reaching out. Who knows what else will be in store."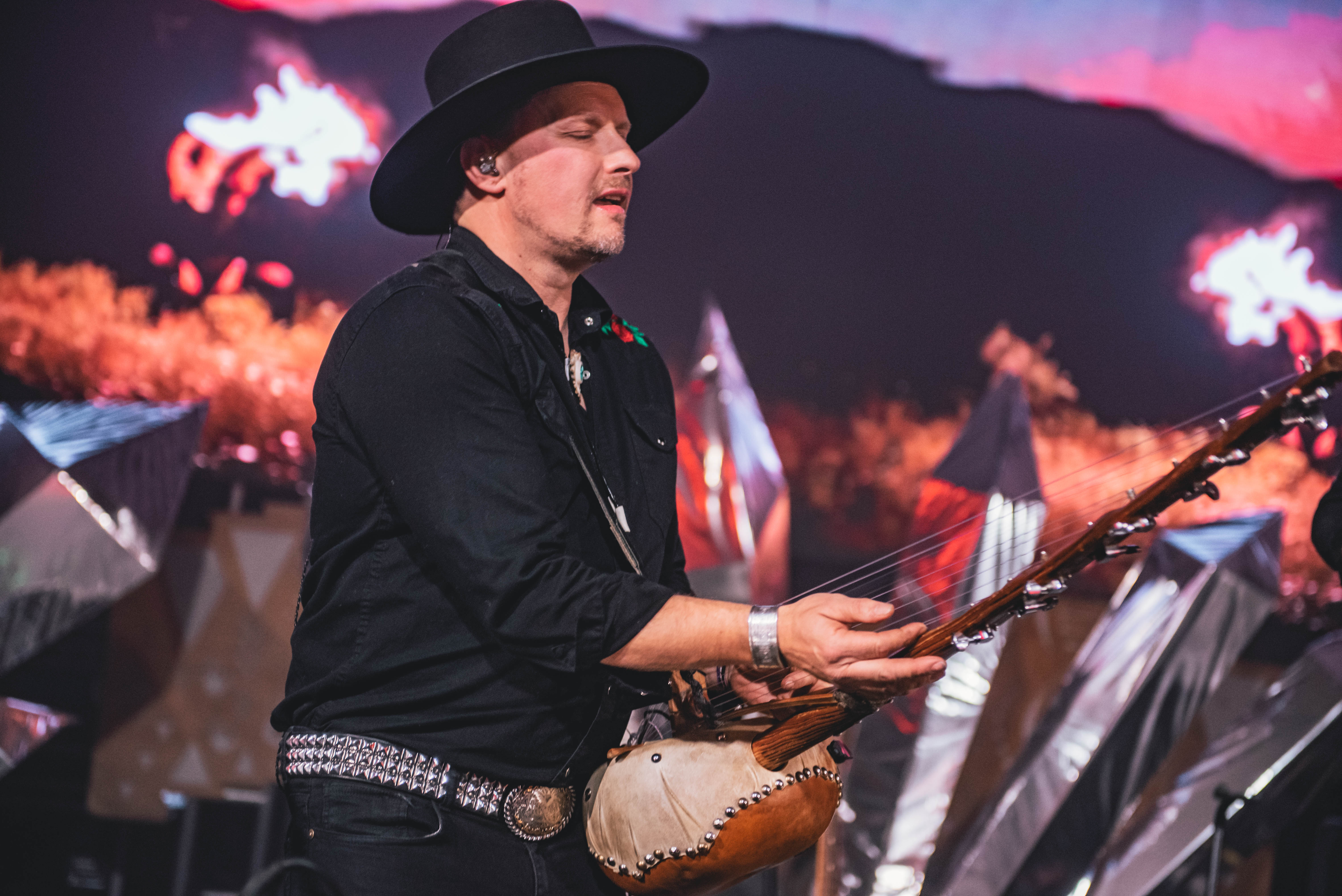 The band also works to honor Native Lands by inviting Indigenous Speakers to give Land Acknowledgments when the opportunity is available. For the next section of their tour, Dirtwire will be joined by Adam Shield, who runs Tree of Light, an Indigenous-led nonprofit.
With their band's roots originating in the desert energies and mythology, the duo is excited to be stepping back into the expansive desert during Gem and Jam next month. The band's last performance at Gem and Jam was in 2020 - one of the last festivals before the pandemic lockdown.
Mark Reveley shares on his inspiration, "The Southwest is almost mythic, in a way. We like to tap into the idea of expansiveness, opportunity and potential. As well as the realities of what the west has seen and what it has been, and the culture and history we are a part of. It's a way of understanding the American experience by inhabiting that by moving into it. The Southwest is the heart of that… We love Gem and Jam and we love Tucson. The community, the land, the place. It draws a really eclectic and interesting energy."
"The whole idea of the transformational music festival is a good one - especially sharing inspiration, it's kind of a culture unto itself. It shares diverse creativity. The most exciting thing for me is when I see that the festival really cares for the planet. It's not ever perfect, but I do love to see when people are encouraging each other to show up sustainably - BYO plates, cups, that kind of thing. That spreads that consciousness" Evan Fraser
Through soundscapes inspired by land and culture, Dirtwire's music inspires deep inner reflection. When I asked about the greatest inspiration for making music, Mark shared, "Making music is a beautiful way to express things and explore parts of yourself that you can't tap into any other way. I think feelings we might not want to look at or don't know we have come out through music. It's like when you have a dream, and you just know there's this association but you don't know why. It evokes a feeling that relates to something in yourself, and you don't know why it happened or why it's there but you know it's there and it can be really cathartic."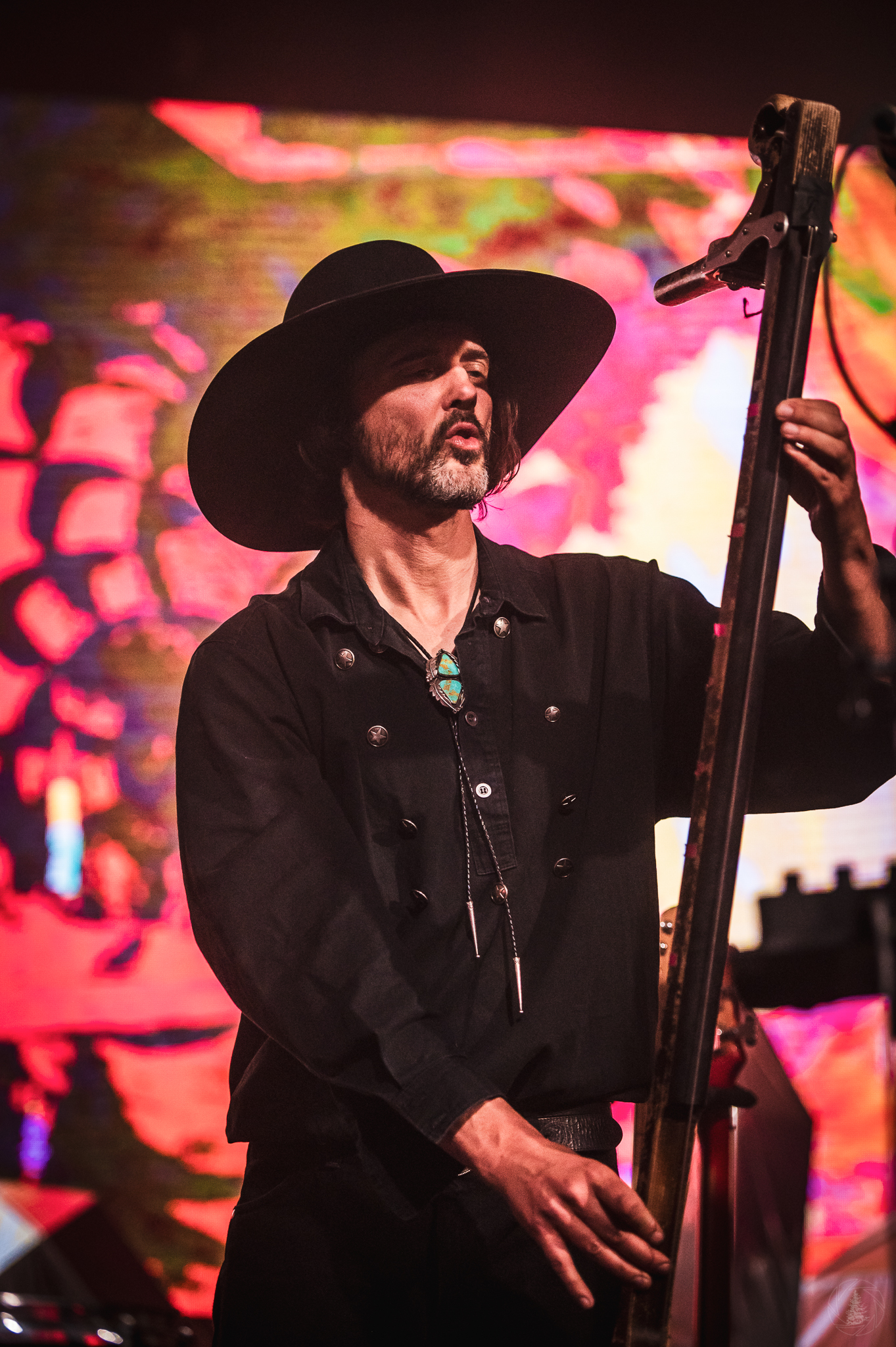 Dirtwire has been making music for over a decade and released their newest album, "Ghostcatcher," in October of 2022. The band toured with their new album in the fall and over the holidays wrote some new songs to incorporate into the winter tour – so keep an open ear to hear some new tracks at their set. Evan and Mark also shared that Gem and Jam attendees can expect to see a special instrumental guest, Briana Dimara, who has toured with Dirtwire in the past.
Ayla Nereo
Ayla Nereo is a singer-songwriter who loops beats and vocals in a weaving of poetry and sound. Music made by prayer and presence; these sacred songs are crafted to call you into reverence with Mother Earth Herself.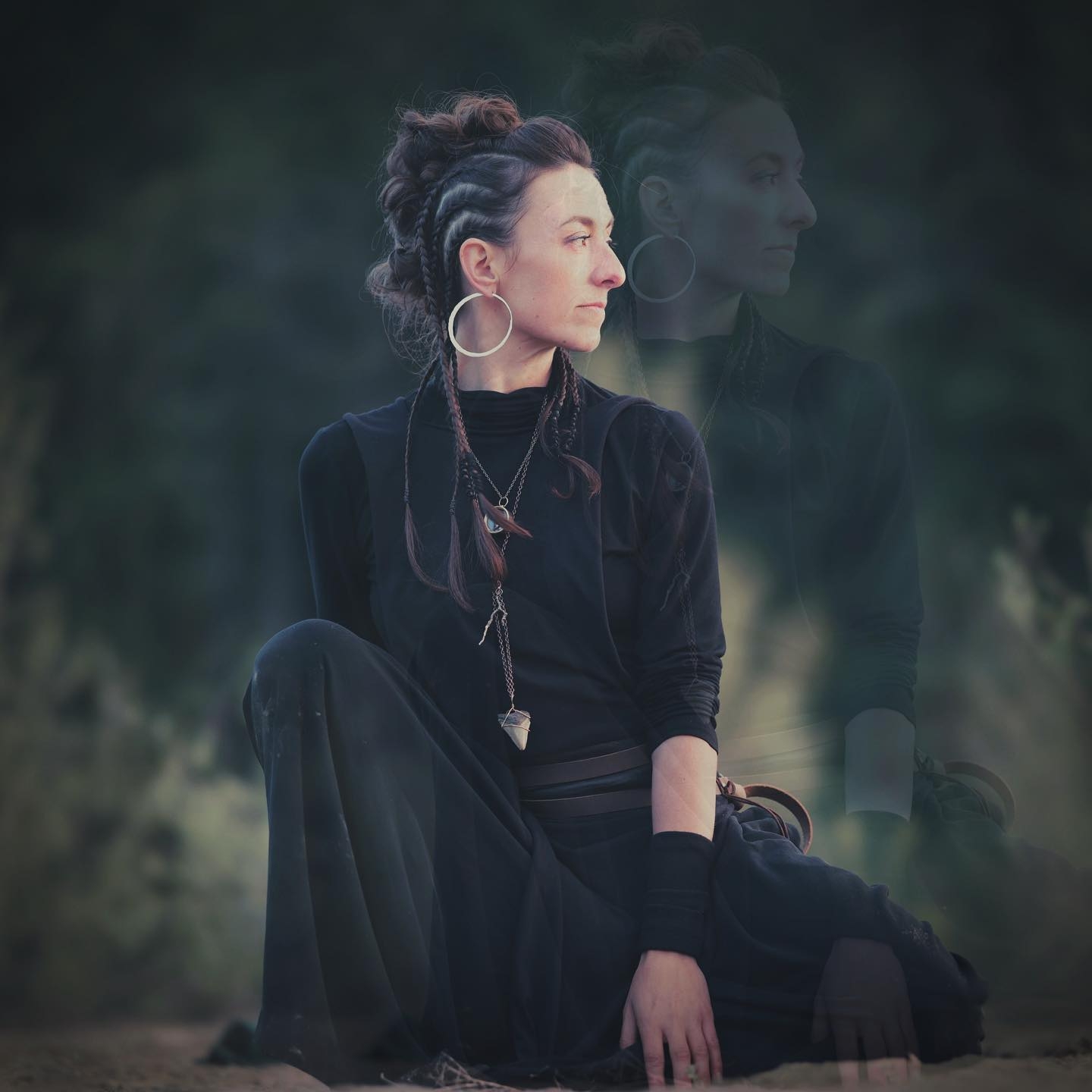 While Ayla is often found doing full-band sets or group shows, she is currently stepping into a solo set with bigger energy and bigger production that mashes up her acoustics with DJing. She shared her inspiration for this set design falling into alignment with a new album project she's been working on, Sovereign Kin.
The project is a four-part album story guided by the elements–the first of which being Fire. She shared,"It's not that every song is specifically about fire, but it's more about the transformational energy that fire holds, the passion, the many aspects of fire, the, you know. My song Fire (that is already released) that I will be performing at Gem and Jam is on this new album. It's about the Phoenix energy. It's about letting life, challenge, passion, whatever it is, burn us so that actually we then have an opportunity to let burn whatever is not serving us, so that our own Phoenix can come forth and fly from the ashes and rise. And that's in that song. It's also a very big theme for the album, and it's a big theme for my life."
Outside this solo album project, Ayla has also been a part of the recently founded music ensemble, Starling Arrow, alongside Leah Song & Chloe Smith of RIsing Appalachia, as well as Tina Malia and Marya Stark. While the group won't be performing at Gem and Jam, they've begun to release some songs and several members of the girl-band have been touring across the states. You can catch Ayla Nereo, Tina Malia and Marya Stark touring Southern California just before Gem and Jam.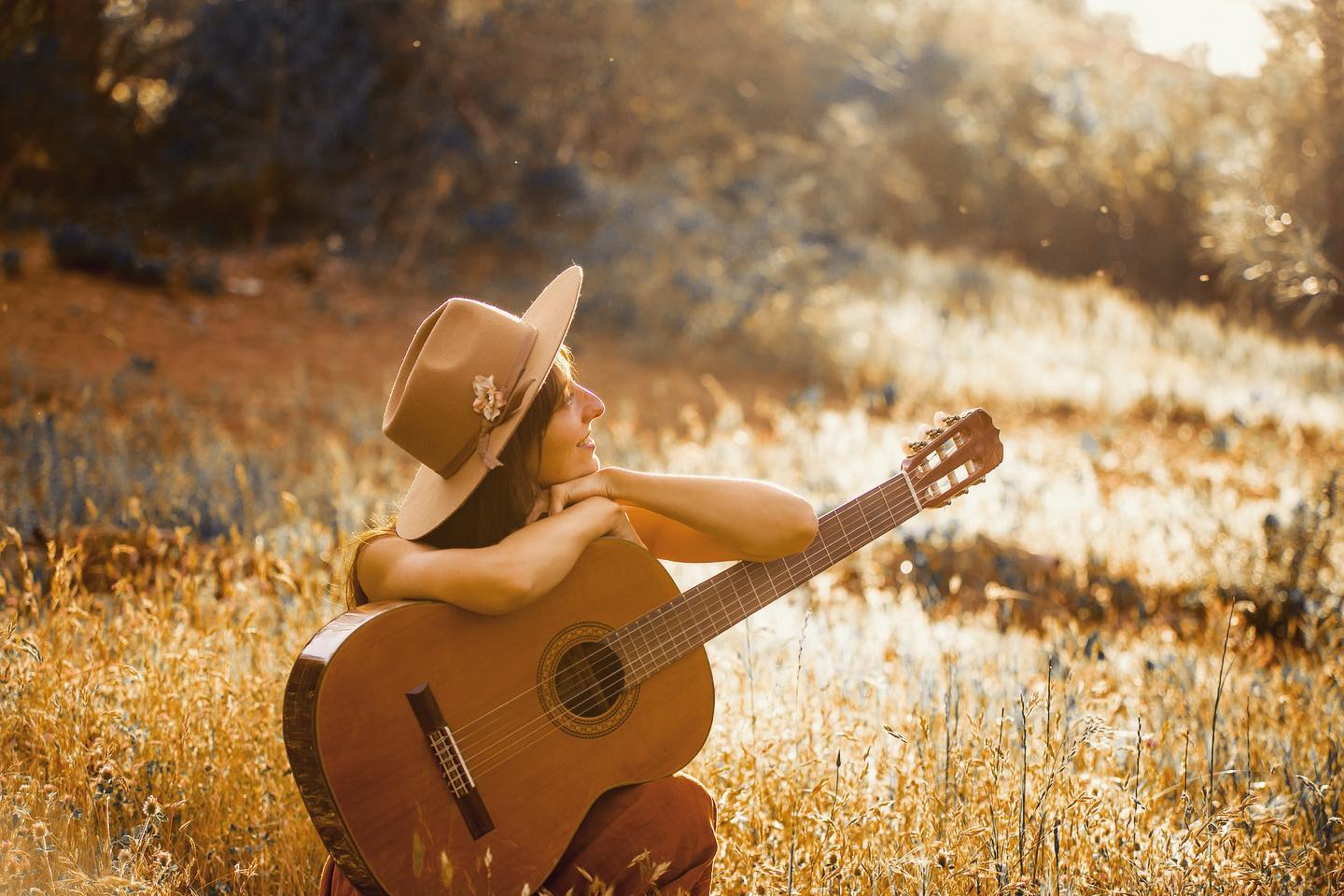 Ayla shared that whether she's performing in a small venue or a large festival, she works to create intention and prayer, "dedicating each set, each performance to the Earth, to the remembering of us humans, to love each other, to love ourselves, to love the planet, and really offering it." This year will be Ayla Nereo's Gem and Jam debut and she shares, "I've just heard such great things about Gem and Jam, so I'm excited to play there for the first time. I love playing festivals like Gem and Jam that have a bit more of an electronic edge or that have a whole array of artists performing. I love the diversity of genre and sound and I think I have a particular joy with the music I make being put in a context where maybe I'm the only one doing it. I've been one of the only female vocalist artists at a festival before, when they're more electronic, and it's fun! …and there's a few friends on the lineup, so that'll be nice to see them and just take in. I get really inspired just hearing music in general, so it'll be fun to wander about."
Poranguí
Within his live sets and music releases, Poranguí illustrates his multi-cultural background, drawing inspiration from his roots across the US, Brazil and Mexico. He holds space as a facilitator more than an entertainer, with a background in healing arts that influences his music in both sound and movement. Every performance, then, becomes a place of ritual and healing.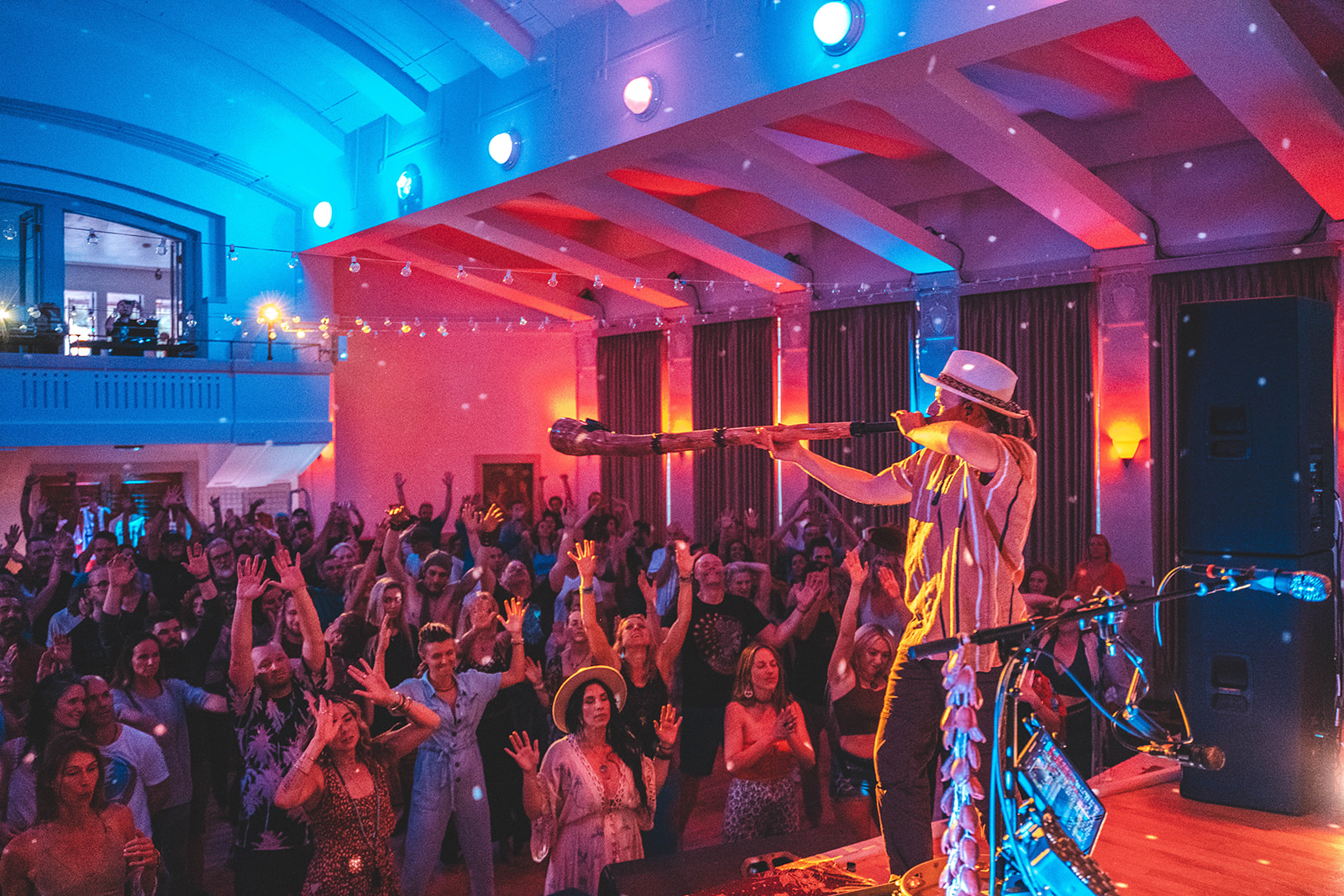 "We always make a prayer before we go out there, to really set the intention, to be able to bring through the most beautiful offering we can to meet the need of the moment, to rise to the occasion, to create a beautiful and sacred space and safe space, and container for healing, for all those who are in attendance, seen and unseen."
Poranguí
Poranguí will be taking the stage at Gem and Jam with his partner, Ashley Klein. Every set performed by Poranguí is done as an improvisational live jam, so each performance is a journey inspired by whatever forms in the presence of the space. Poranguí shares, "My greatest inspiration when creating music, I would have to say, really comes from the moment, from Mother Nature, Mother Earth. She's always present in everything that I create. And for me, when I'm with an audience, everything I do is improvised and in the moment. So I'm very much listening from a very deep place within myself, within the collective and the audience, within the space wherever I am, the land, the air, literally both in the scene realms and the unseen realms. And so all of that information is coming through and literally like sonar, you know, I pulse out a sound and that bounces back. And it's that what I receive in that moment, that inspiration, that reciprocity between me and the co-regulation of the nervous systems of the audience and myself then tells me where and what note to play next and how to play it and with what energy, with what intention."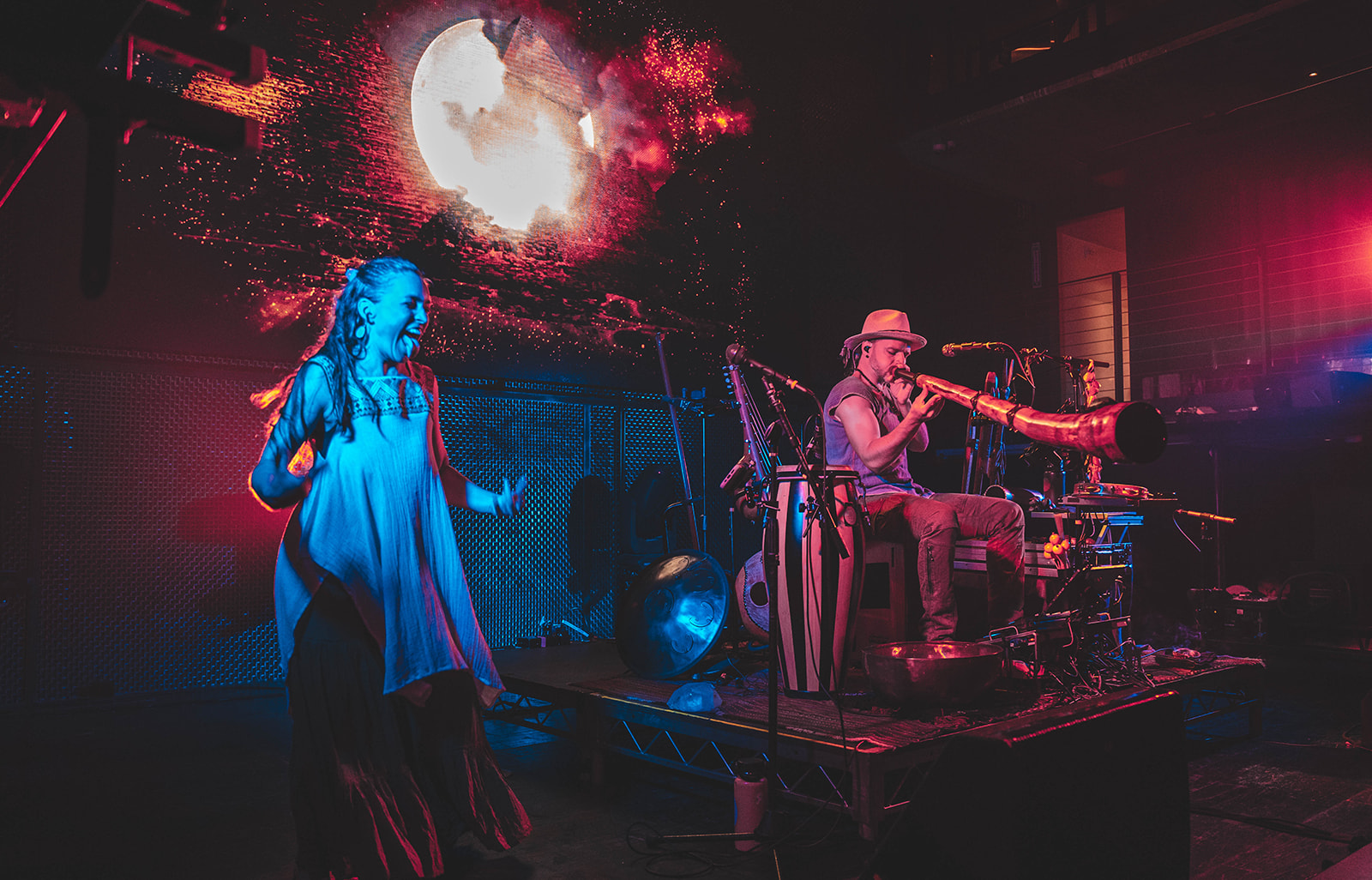 If you're keen to get a taste of some of Poranguí's music, you can check out his newest release, Madre de la Sierra, before you head to the festival. This song, "is an invitation to remember the interconnectedness of humankind with Mother Earth. Every part of our body can be found in every part of hers. When we desecrate the earth, we desecrate ourselves. When we desecrate ourselves and each other, we desecrate the earth."
Poranguí has performed annually at the Tucson Gem Show, but this will be his first time at the Gem and Jam. He shared that he place at this festival in "weaving prayers and into the collective at this time and in this place in Tucson, when all of these minerals, all of the mineral kingdom, much of it has been brought to this one location on our Mother Earth." As Gem and Jam is known for its wide collection of gem excavators, salespeople and collectors, Poranguí seeks to offer perspective, presence and prayer for these crystal beings and those present within the energy there.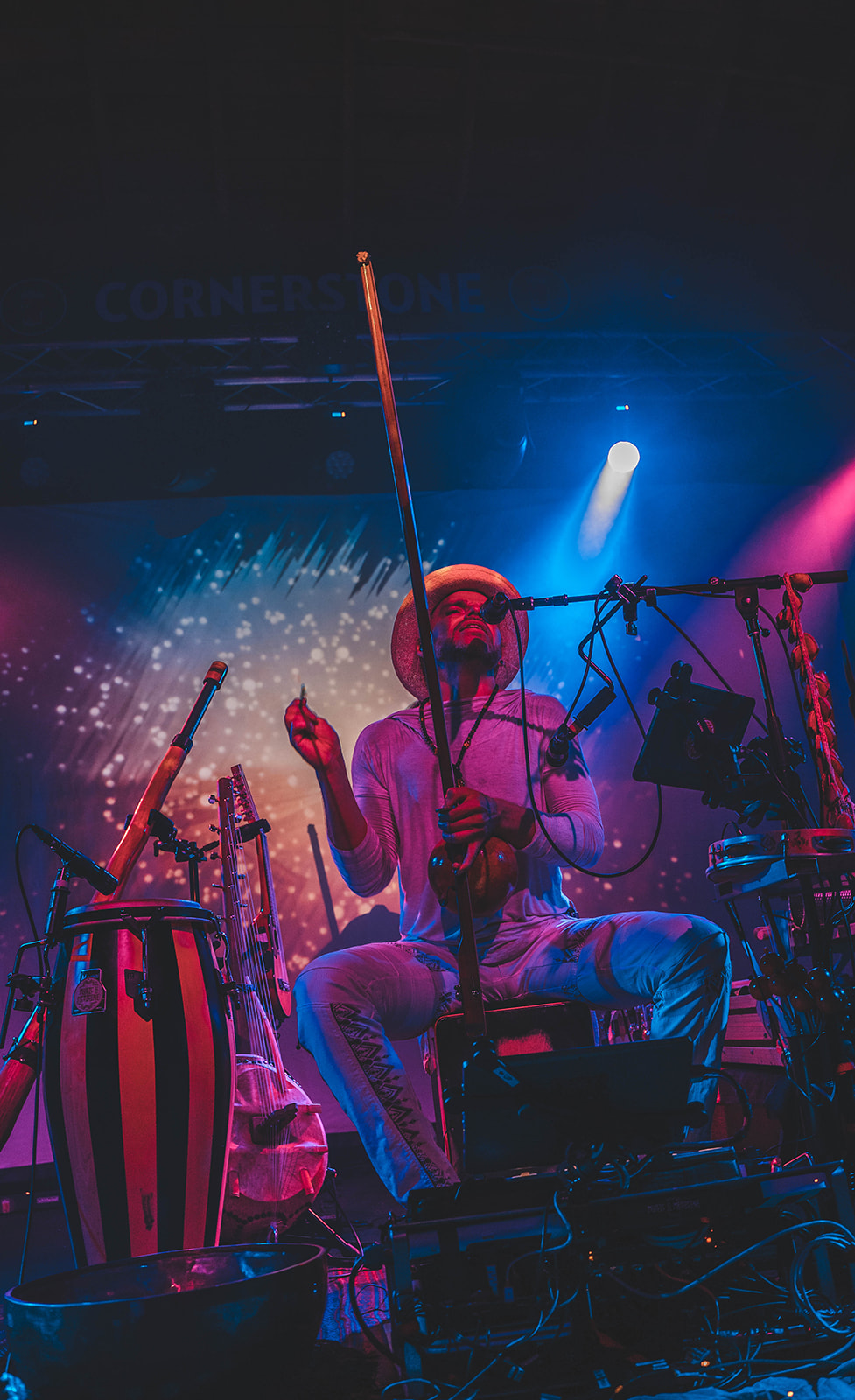 "It's really important to be there and to be able to create prayers and to be restoring relationship with the mineral kingdom, which is a consciousness – these are the treasures of our Mother Earth. And they, our elders, teach us that they have a sacred function where they came from… I think it is important to be present and to be able to weave in those prayers into the collective and to bring that consciousness and that awareness so that as people are there and they are interacting with this, the mineral kingdoms of our mother earth, they're able to do so maybe with a little bit more awareness and presence and consciousness, of our sacred responsibility of, 'How do we do that in a good way?'"
Bloomurian
Bloomurian is the electronic-music sound project by Robin Liepman, a musician, singer-songwriter and permaculture educator. Robin is currently on tour with Dirtwire and was recently selected to join Gem and Jam after entering and winning the DJ-contest run by Dancing Astronaut.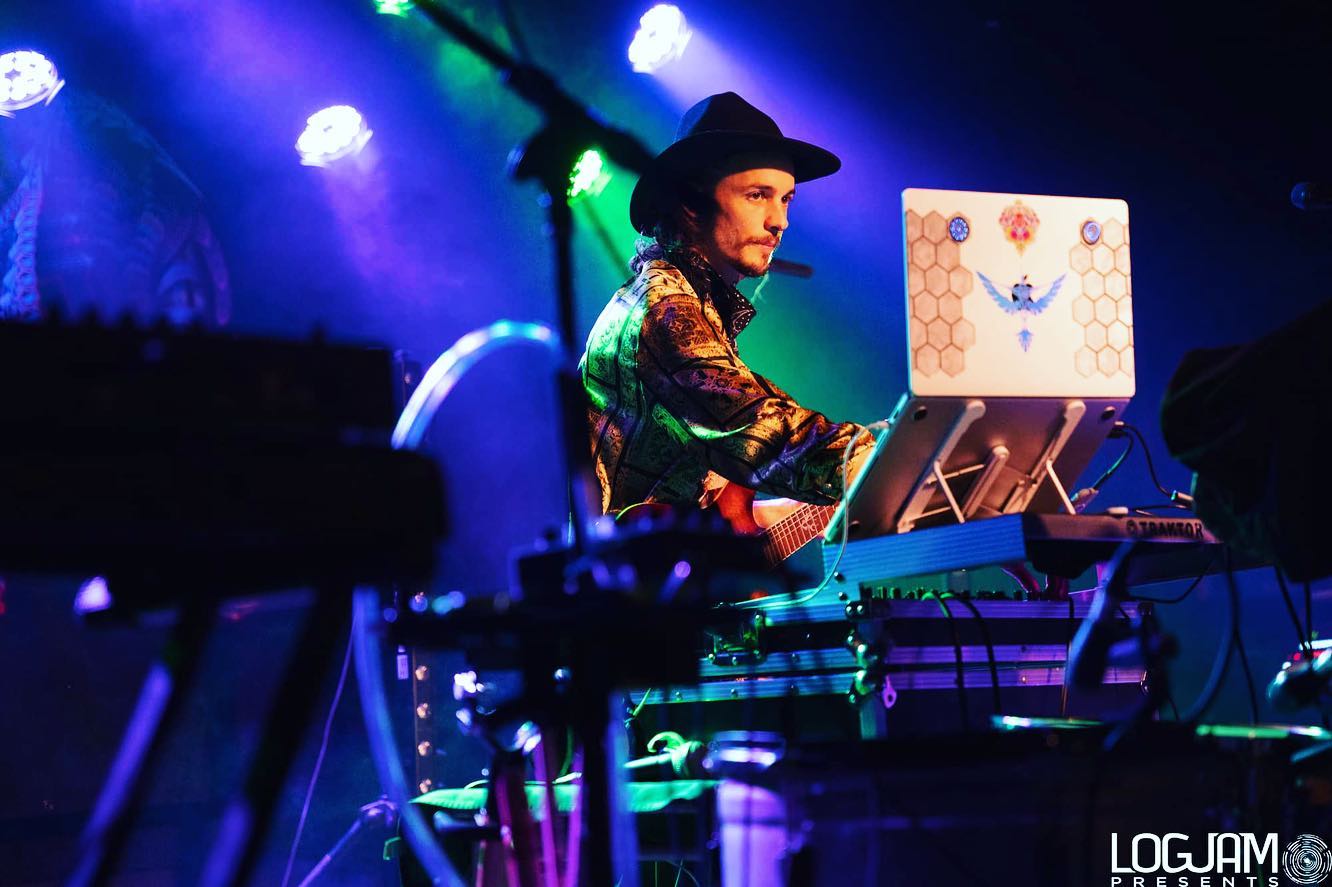 Robin Liepman has roots as a permaculture teacher and has taught these ethics and practices across the world by working with local land projects to support permaculture action days. You'll see a spark of this philosophy & practice in his performances wielding an upcycled shovel-guitar made by Justin Johnson. He shares about his current and past teachings, "I've actually been lately giving workshops and slideshow presentations on the intersection of music and regenerative action. In 2014, I co-organized a permaculture tour called Blooming Biodiversity. We did this whole tour down the west coast, where essentially we would have dance parties and concerts, live music, yoga, workshops, all the things that inspired us about music festivals we would bring to a farm and that would attract more people there. And then we'd put shovels in people's hands and do all sorts of projects that were needed on the land…  I'm really into that integration of music and permaculture and regenerative action."
Robin started his journey in music as a singer/songwriter with songs about the earth or holding earth symbolism, and you can feel the integration of this earth energy in his electronic productions.
"Even though the electronic music can get pretty cosmic and psychedelic and sound like outer space, just galactic kinds of sounds, I mean that's all still connected to the earth and the earth is part of the whole ecosystem of the cosmos. So, it's almost like bringing these cosmic frequencies into the earth realm, which is something that I like about electronic music. And, those kinds of wavelengths and frequencies and the wobble effects can just open up these things within us that nothing else really can… Something I like about DJing is you get to take people on a journey. You're not just keeping it the same one steady frequency and BPM the whole time. You're actually taking people on a journey that can be really transformational."
If you're interested in learning with Robin Liepman outside of Gem and Jam, he'll be teaching permaculture at Heartland Village (near Nevada City, CA) in an intensive course this spring and he teaches music production in one-on-one and small group settings online through his project, Full Bloom Music.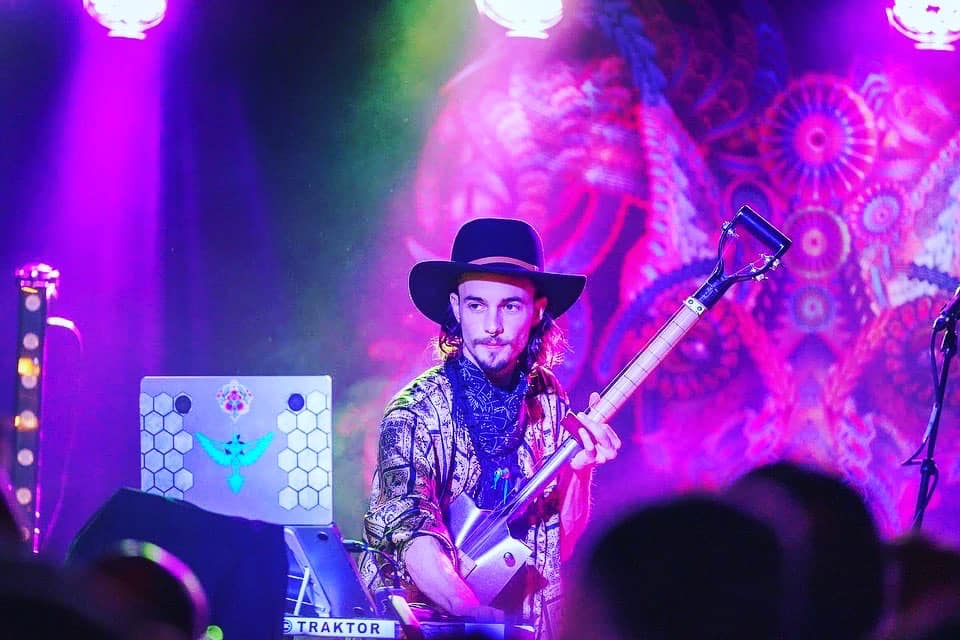 Bloomurian will be performing Sunday night at Gem and Jam, and celebrates the alignment of the festival with the holistic sustainability vision of the world we are stepping into. "I think festivals are almost like incubators and launch pads for transformation and creativity. I almost see the festival culture as training wheels for this place that we're trying to get to… Festival culture is a place for us to have these big awakenings of consciousness and big ideas and transformation and the experimentation with psychedelics where we get all these visions and ideas. And then we can put that into action by having these visions of a different way of living and then actually going to implement it, which a lot of people are doing."
Each of these artists are set to take stage at Gem and Jam with a presence and musical devotion that honors the land and the festival community. Through prayer, energy integration, deep listening and sounds to set your soul on fire, these mindful musicians will be cultivating some powerful sets come the first weekend of February.