Seeing Interpol live has long since been at the top of my bucket list.  It's not that I would ever claim to be among the longest or greatest fans, it's just that they've been around forever (to someone born in 1989, being a band since 1997 IS forever!) and I've built such a huge reverence for the collection of music, and very specific sound, they've cultivated and stayed true to.
Yours truly managed with a little skill and an enormous amount of luck to get her hands on a guest wristband for Saturday.  Because of my affiliation with Grateful Web, I had already acquired a media access which earned me access to the media tent, easily the most access I've ever had, and then I slip onto my wrist an unused Guest Pass and BOOM—I'm watching Interpol from the sound stage.  The 4:30 slot and weather conformed accordingly to what I consider ideal Interpol show weather:  it was cloudy and cool, a sharp contrast to Friday's steamroom and much drier than the rest of the day proved to be.  Infinite musicians with sculpted hair and wayfarers surrounded me and spoke only minimally to one another.  This was not the event you came to in order to socialize with decent background music, this was the event you came to.
Everyone was impressively decked in black leather in some version: Paul Banks (vocal/guitar) Daniel Kessler (guitar) and Sam Fogarino (drums) were buttoned up in black with a cool, New York indifference.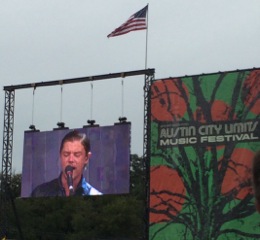 This was the second day in a row that I aspired to arrive to the festival before noon but my dreams were slashed as the realities of parking and temptations of luxurious brunches beckoned me to roll in around 4.  That didn't faze me, I walked right to the Honda stage to the sounds of the opening song: "Say Hello to the Angels."  The backdrop to their stage was the elegant and elusive artwork from their latest album cover El Pintor (rearranged letters of Interpol, for anyone who's not super-quick like me.)
They played an impressive amount from this latest album, cramming in "All The Rage Back Home," "Anywhere," "Breaker 1," but balanced well with tracks off their 2002 and 2004 albums, rounding out the show and making it impossible for someone to accuse them of favoring.  Even without Carlos Dengler (not a member since 2010) the songs sounded exactly as they were meant to sound.  And the late afternoon slot, although strangely early for a band of this calibur and magnitude, left the best taste in my mouth that I savored throughout the rest of the bands that evening.