This is hands down one of the cleanest, best sounding soundboards I've ever heard of a Jerry Garcia Band show. As you may know, Jerry never authorized recording of any incarnation of the Jerry Garcia Band, so most recordings in circulation are stealth audience recordings. Soundboard patches were few and far between, so everyone in current circulation is like gold to me. This one is absolutely perfect, with a pristine mix and gorgeous tone all the way through.

This show is a fantastic representation of the kinds of shows Jerry was playing during his run with the Jerry Garcia Acoustic Band, as well as this final lineup of the Jerry Garcia electric band. This particular show is unique in several ways. First, it is the premiere performance of the Jerry Garcia Acoustic Band. Second, it is the only time that Jerry played an acoustic set with JGAB as well as two full electric sets with his regular band. At all the shows after this one there was only one electric set following the acoustic set. Finally, the acoustic set contained the only known performance by this band of Friend of the Devil, and one of only two versions of Little Sadie.

A little about the site itself: French's Camp at Eel River is a gorgeous site in Humboldt County, in Northern California. Now you probably are aware, Humboldt County is known for more than its gorgeous scenery. You have to imagine that this beautiful outdoor venue in the heart of the summer had some splendid aromas wafting through the air, and I'm not talking about the scent of fresh pine.
Nice place to see a show, huh?
On to the review:
The Jerry Garcia Acoustic Band featured JGB regulars John Kahn on bass and David Kemper on drums. Rounding out the group were Jerry's old friends David Nelson on rhythm guitar and Sandy Rothman on mandolin and dobro. Both Nelson and Rothman were longtime associates of Garcia, from as far back as one of Garcia's earliest live bluegrass bands, the Black Mountain Boys. Several recordings of the Black Mountain Boys are known to circulate amongst traders from various dates around early 1964. David Nelson later helped form the New Riders of the Purple Sage, who frequently toured with the Grateful Dead in the early 1970's and for a time featured Garcia sitting in on pedal steel guitar and banjo. Garcia also appears on three of the New Riders early studio albums. There's a lot of history in the Jerry Garcia Acoustic Band, and you can tell by how tight this band played on their very first live performance.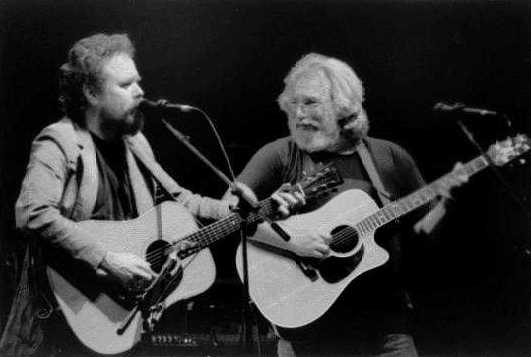 The acoustic set starts off with a peppy, rousing version of Deep Elem Blues. This song was probably made most famous by its version on the GD album Reckoning, but one of the earliest incarnations I've heard is from as far back as 1965, and this version is reminiscent of those early days. Upbeat soloing from Garcia and Rothman, and clear, crisp vocals mark the beginning of this great set. Next is the traditional classic, I've Been All Around This World, another highlight of the early 80's acoustic Dead sets. Jerry's picking here somehow seems both melancholy and upbeat, no mean feat, but perfectly suited to the themes of loss and redemption inherent in this song. From here we hear the only known performance of Friend of the Devil by this incarnation of the JGB. It's fairly similar to many of the slower, more sedate versions of this song we've all heard the Dead, JGB, and Garcia/Grisman perform. Nelson's backup guitar is a real nice addition though, he's more studied in the bluegrass style than Bobby Weir ever was, and you can really hear the difference here if you listen. A superior, melodic Jerry guitar solo helps this version stand out from many of the others. Next, Trouble In Mind showcases Jerry's bluesy chops, and features some great singing by Garcia. Little Sadie marks another return to an old classic of Garcia's, played only four times by the Dead but a number of times during his solo acoustic shows in the early and mid 80's and his duets with John Kahn from the same era. This version is solid and enjoyable, with some nice backup jamming from Sandy Rothman on the mandolin. David Nelson takes over on vocals for an upbeat version of Tex Logan's Diamond Joe. Tex Logan was an accomplished fiddle player and played in a number of bands throughout the 1970's, notably the New Lost City Ramblers. Next Jerry takes back vocal duties for a bluesy jam of Mississippi John Hurt's delta blues classic Spike Driver Blues. Up next is a really nice version of Elizabeth Cotton's Oh Babe it Ain't No Lie, featuring some really interesting guitar work by David Nelson here. There's a cool story about the origins of this song at the following site:

The band picks things up again and features some unique vocal harmonies in this version of I'm Troubled. The set closes with a nice version of Ripple. Any time Jerry sings this song you can't help but feel good and sway back and forth in time to the simple, hypnotic melody. Nelson and Rothman's backup guitar and mandolin add a lot to this sweet version. This fantastic acoustic set is a true precursor to the classic performances this band will go on to display at the famous series of Lunt-Fontanne shows on Broadway in New York City later in 1987. This set in itself stands on its own as a classic.

Next the Jerry Garcia Band takes the stage for two full electric sets. This version of the JGB is the same band he would continue to play with until his death, consisting of John Kahn on bass, David Kemper on Drums, Melvin Seals on electric organ, and Gloria Jones and Jackie LaBranch on backing vocals. The sound quality on the recording I have takes a small hit during the electric set, I don't know if it's the mix or what, it just seemed to me the acoustic set sounded a lot crisper and clearer. The quality is still A+, just not the A+++ of the first set.

How Sweet It Is was always a great, rousing opener to any JGB show, and this one is peppy and full of energy. Great solos and flawless vocals help this version stand out from the many others. Jerry's fine vocals throughout this show are one of the prime reasons this show is so good. Bob Dylan's Forever Young is next, and is of anthemic proportions. Jerry's solo work is heartbreakingly beautiful here. Things pick right up again with a one-two punch of Get Out Of My Life Woman, and Run For the Roses. Roses is notable again for the fine vocal work and none of the lyrical flubs that were somewhat common due to the difficult pacing of this song. Van Morrison's And It Stoned Me comes next, and it's another great version. When Jerry didn't sound good, this tune could really drag a set down, but not this time. Here he sings with real emotion and you can feel it in his unique guitar work as well. An average Sisters & Brothers comes next, which segues right in to a rousing, smoking Deal to end the second set.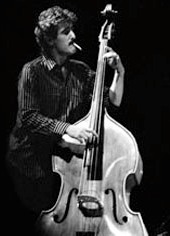 Set three opens up on a high, energetic note with an eleven minute Harder They Come. Melvin always came alive during this tune, and this version is no exception. I Shall Be Released is next in the set, and with all the power and pathos that comes with this version of the song, it would have been better suited to closer to the end of the set. The soloing is just gorgeous here, and you can feel the resignation tinged with hope come out of every note played. Jerry had such an incredible instinct for how long to hang on to a note, and it really show during this song. A nice bluesy jam comes next with Think and the energy of the set picks up again during Evangeline. Next comes one of my favorite JGB tunes, Gomorrah. I do prefer the Keith and Donna versions of this tune, however, even though this one is really, really nice. Another of my favorites comes next, Let It Rock, but unfortunately Jerry starts to sound a bit tired here. His guitar certainly didn't suffer any, but his voice starts to waver a bit, and he starts to have some of the first problems of the day remembering lyrics here. Hey, I'll cut him some slack; it's been a monster, epic day of music. Lucky Old Sun showcases Melvin Seals' fine organ work, but the set really drags to a halt here. Not one of my favorites. Things pick right back up again, however, with a fantastic version of Bob Dylan's Tangled Up In Blue. What a pleasure it always is to hear Jerry sing Tangled. You can tell in every line and every jam how much he loves this song.
All in all this is a classic show. The acoustic set alone makes it a sure-fire download, and followed by two solid electric sets, this one is definitely a keeper in my book.