Dressed in black, like his collaborator Carlene Carter's famous dad, Johnny Cash, John Mellencamp wasted no time getting in tune for his second Ravinia performance, surrounded by a smoke machine and a background of scrawled graffiti.
The legendary Ravinia may be one of Chicagoland's most expansive venues, but the 2008 Rock and Roll Hall of Famer quickly created a "Small Town" atmosphere. And it was that very song that signaled the moment Mellencamp chose to face the crowd to say: "Good evening. I'm John Mellencamp. We're going to do some songs you know and songs you don't know…"  and the man kept his word.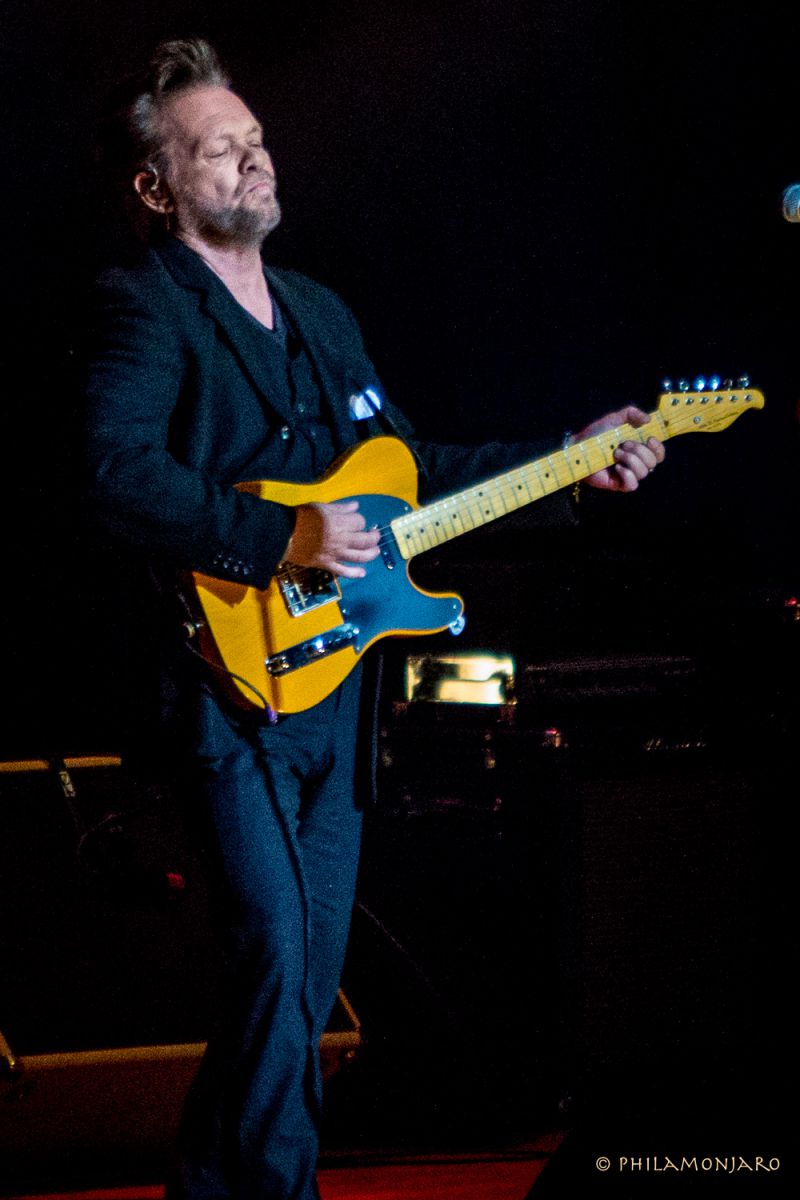 The set, which included some fantastic riffing, riveting guitar solos replete with slide, and delightful standup bass, offered something for everyone. That said, the singer clearly had his own favorites, which mostly included the new stuff. In fact, he made an aside about 1982's 'Jack & Diane', attributing it to his younger self.
To honor the quintessential "Cougar" era, his accordionist and violinist, pulled out all the stops to play an unforgettable medley. If you'd forgotten how rhythmic and haunting those early melodies were, this pair made sure you'd recollect.
Carlene Carter had warmed up the house with a supreme set of originals on guitar and piano, but returned during the middle of Mellencamp's set. She was especially vibrant on the poetic 'Soul's Got Wings'' and 'Grandview'. Their voices blended like honey and they looked like they were having a fabulous time.
But other moments bled dark. The cryptic 'Easy Target' sent shivers with the sentiment: "Crosses burning and we still don't let it go." The lyrics of 'Lawless Times' struck many as eerily relevant, too, and Mellencamp's unabashed sincerity shone through.  Another series of powerful lyrics were heard on 'Rain on The Scarecrow'; dynamically portrayed against a backdrop of shimmering lights.
Fans, ecstatic over the six-piece band's high-octane rendering of 'Crumblin' Down', which included a dynamic drum solo, paid it forward by crooning 'The Land of 1000 Dances'. This audience didn't stand on ceremony either when the front man requested they raise their voices for 'Pop Singer', featuring raw blues harp and 'Check It Out', enhanced by fearless violin and sonorant backing vocals.
Mellencamp proved that he is still one of the Heartland's most resilient troubadours and an undisputed inspiration to songwriters all over.
Set List
LAWLESS TIMES
JOHN COKERS
MINUTES TO MEMORIES
SMALL TOWN
STONES IN MY PASSWAY
POP SINGER
CHECK IT OUT
JACK & DIANE (JM SOLO)
GRANDVIEW (CC)
SOUL'S GOT WINGS (CC)
EASY TARGET
OVERTURE
RAIN ON THE SCARECROW
PAPER IN FIRE
CRUMBLIN DOWN
AUTHORITY SONG
PINK HOUSES (CC)
ENCORE:
CHERRY BOMB
worldwide.