KEEN, Inc. (KEEN), today announces a partnership with the Jerry Garcia Family, a new limited edition collection combining Jerry Garcia's artwork with KEEN's iconic Newport sandal and UNEEK sneaker sandal with a portion of sales going to HeadCount, a non-profit that uses the power of music to register voters and participate in democracy. In an environment increasingly dominated by hate, KEEN and the Jerry Garcia Family want to encourage fans to participate in positive change and vote for love in their everyday choices and with their ballots.
"Jerry Garcia's music helped define a generation's values of togetherness and community. KEEN was founded with similar values of bringing people together and doing the right thing," said Erik Burbank, KEEN Chief Brand Officer. "It's hard to imagine a better fitting or more exciting partnership. We're on a mission to encourage people to take action and foster more love in the world. We see this as an alliance of two originals coming together with shared values to make a difference. We want fans to Vote Love in their everyday actions."
The collection features two pieces of Jerry Garcia's art- New York at Night and Banyan Tree. Initial release includes the iconic KEEN Newport sandal, the original hybrid sandal with protective toe. With over 10m sold, it is loved by outdoor enthusiasts, computer programmers, musicians and other humans. The initial drop also includes KEEN's UNEEK sneaker sandal, a radical hybrid of sneaker and sandal.
"At times like these it's important to speak up for what you believe in!," said Trixie Garcia. "We, the Jerry Garcia Family, have banded together with KEEN Footwear because we, like you, value being socially responsible and eco-conscious! One way to help make a better world is to vote!! We are thrilled to kick things off with KEEN, by supporting HeadCount through the Vote Love campaign. Vote Love!!"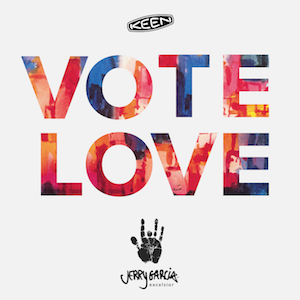 "HeadCount was started back in 2004 with the goal of getting every Deadhead and music fan registered to vote. So the spirit of Jerry Garcia is literally in our souls. Now, he will be under our soles too. We are very grateful to KEEN and the Jerry Garcia Family for supporting our work," said Andy Bernstein, HeadCount Executive Director.
The #VoteLove campaign, featuring Jerry's iconic artwork, will create the visual identity and fan call to action for the KEEN and Jerry Garcia Family partnership.
Jerry's influence is also visible in the packaging, which includes his art of Fish" on the cover, and the inlay of "Tiger", one of Jerrys' favorite guitars.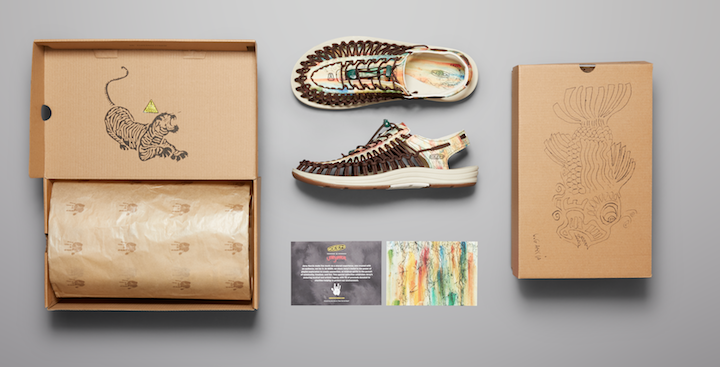 The new KEEN x Garcia product line includes KEEN UNEEK sneaker sandal ($150), KEEN Newport water sandal ($150), KEEN Together Masks ($20) and three different bag models (ranging from $80-$180), launching on www.keenfootwear.com/garcia starting Aug 1, 2020. A portion of proceeds will be donated to HeadCount, a registered 501 (3) (c) non-profit, non-partisan organization that uses the power of music to register voters and promote participation in democracy.