When Grateful Web's Aaron Dietrich asked me to see Colorado's best known polyethnic Cajun slamgrass band, Leftover Salmon at the Hult Center, I was thrilled.
The Leftover Salmon show was called 'Stories from the Living Room' There is also a new book about the band called '30 years of Festivals' by acclaimed author Tim Newby.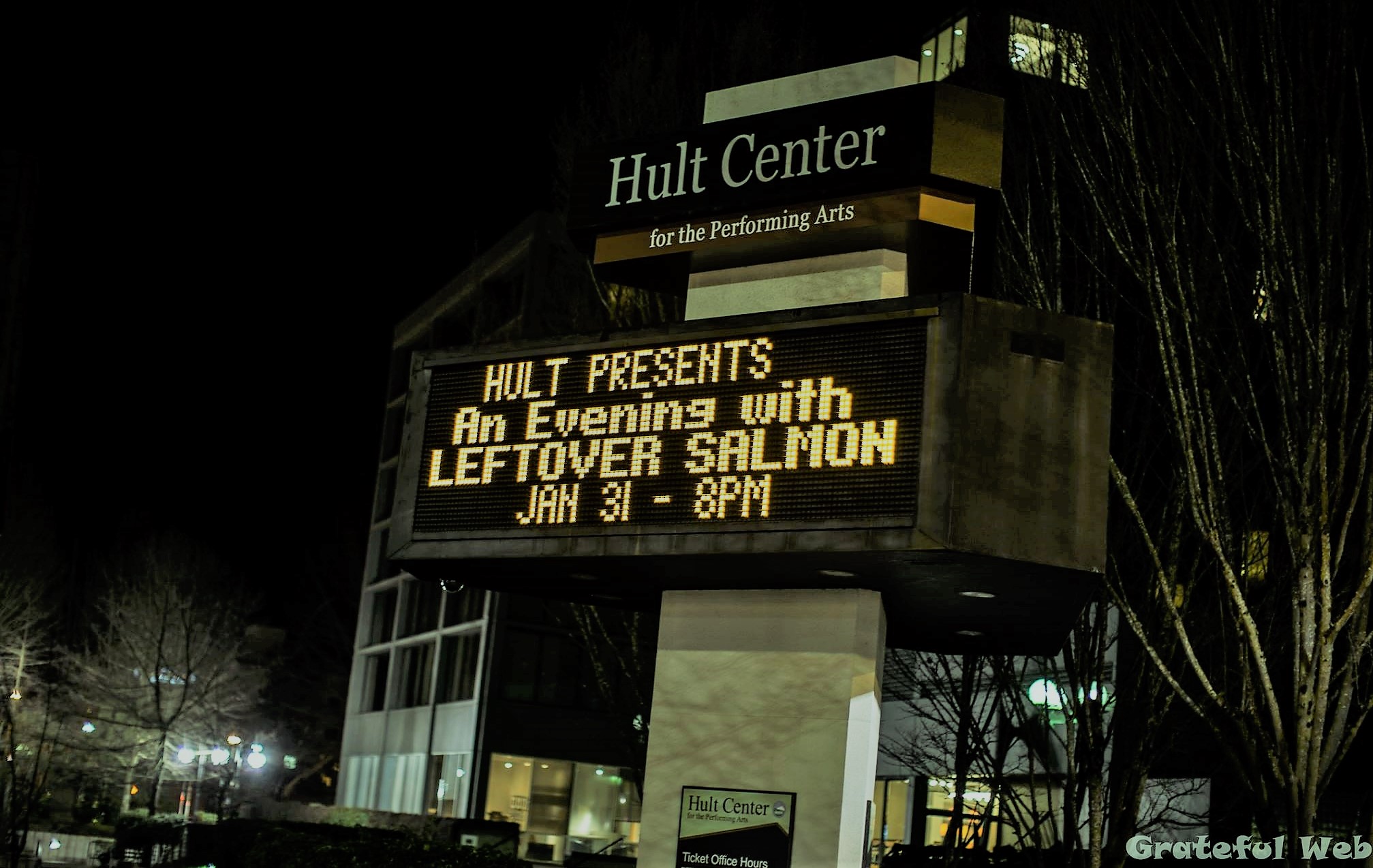 As I walked in the Soreng Theater, a cozy room inside the historic Hult Center known for its fine acoustics, I felt immediately at home.
One of the first things I noticed was how much grey hair sat happily around me. It was amazing to think how many of us had once been shaking our bones barefoot and wild-eyed before the years helped our bodies change.   And yet decades later, we are still here as a family with a collective thread of Salmon songs that helped provide some of the soundtracks of our lives.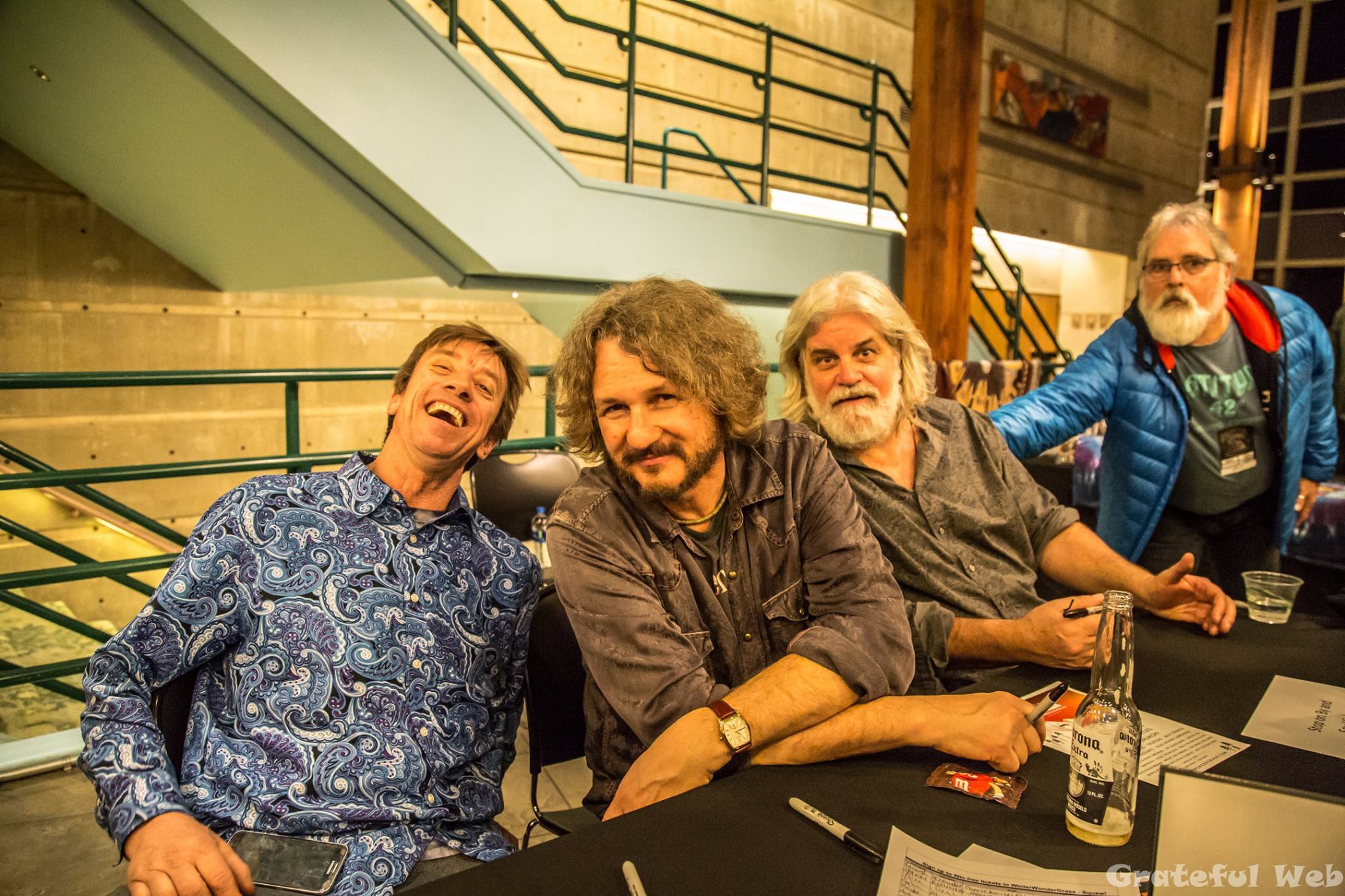 The beginning of the evening started with a short documentary with various members talking and reflecting in between flashes of an American music adventure.
The band came out as the film ended treating us to a rare intimate acoustic evening.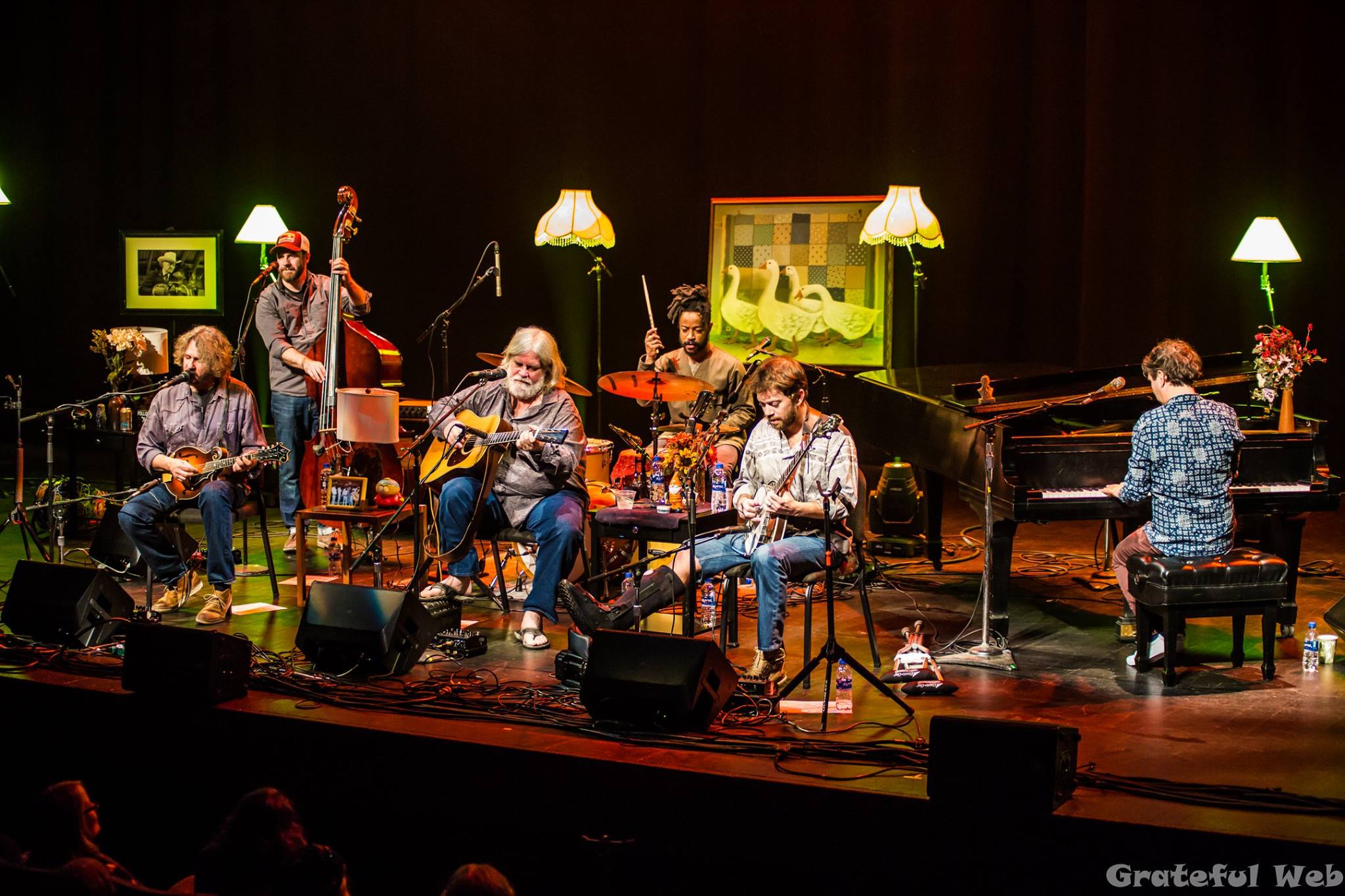 The lineup is currently Greg Garrison on bass & guitar, Andy Thorn-Banjo, Alwyn Robinson-drums, Eric Deutsch-keyboards, and founders Vince Herman-guitar, vocals and Drew Emmitt-guitar, mandolin, vocals, and fiddle.
The show opened with a spirited song called 'Gold Hill Line.'  I was immediately reminded how great these players were with their finger picking and solid vocals.  The energy kept growing as the band smiled at each other and continued with 'New Lee Hwy Blues' and '99 years.'  These songs gave no doubt that Leftover Salmon is the purveyors of Bluegrass Americana that is distinctly their own.  Tonight, was a celebration and Vince wasted no time to let us know. He told a hilarious story of their first Oregon Country Faire and what happens when you hit the outer regions of reality there. 'Liza' was a natural song after the Faire story. This one had a Reggae Caribbean feel with playfully silly lyrics and some brilliant solos. One could see how nicely a guitar, banjo, and mandolin fit together.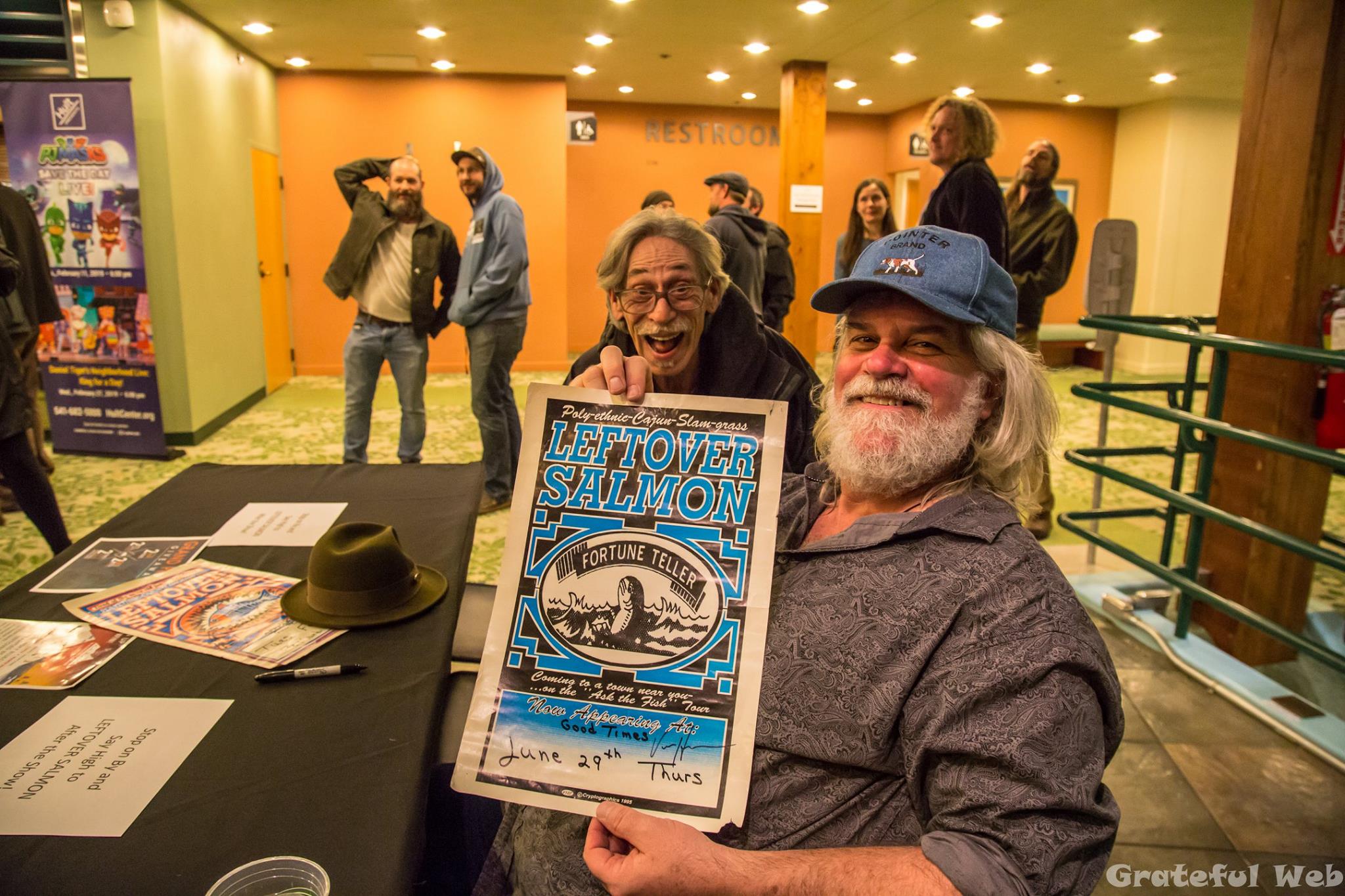 Like many bands steeped in folk tradition, the stories kept flowing. Vince gave another entertaining story of how he worked at a fish market and would bring Salmon fish heads home to eat the meat that was attached. He had a music group called the Salmon Heads which played a lot of Cajun, Zydeco and Old Timey songs. I think I heard him tell graphically about having Salmon heads on sticks in across his front yard. Drew Emmitt was in a group called 'The Left Hand String Band who played a lot of Bluegrass. The two groups combined, and the rest is history. The original group also featured powerhouse banjo player Mark Vann. I was a huge fan of his playing and was saddened when he lost his fight with melanoma cancer in 2002.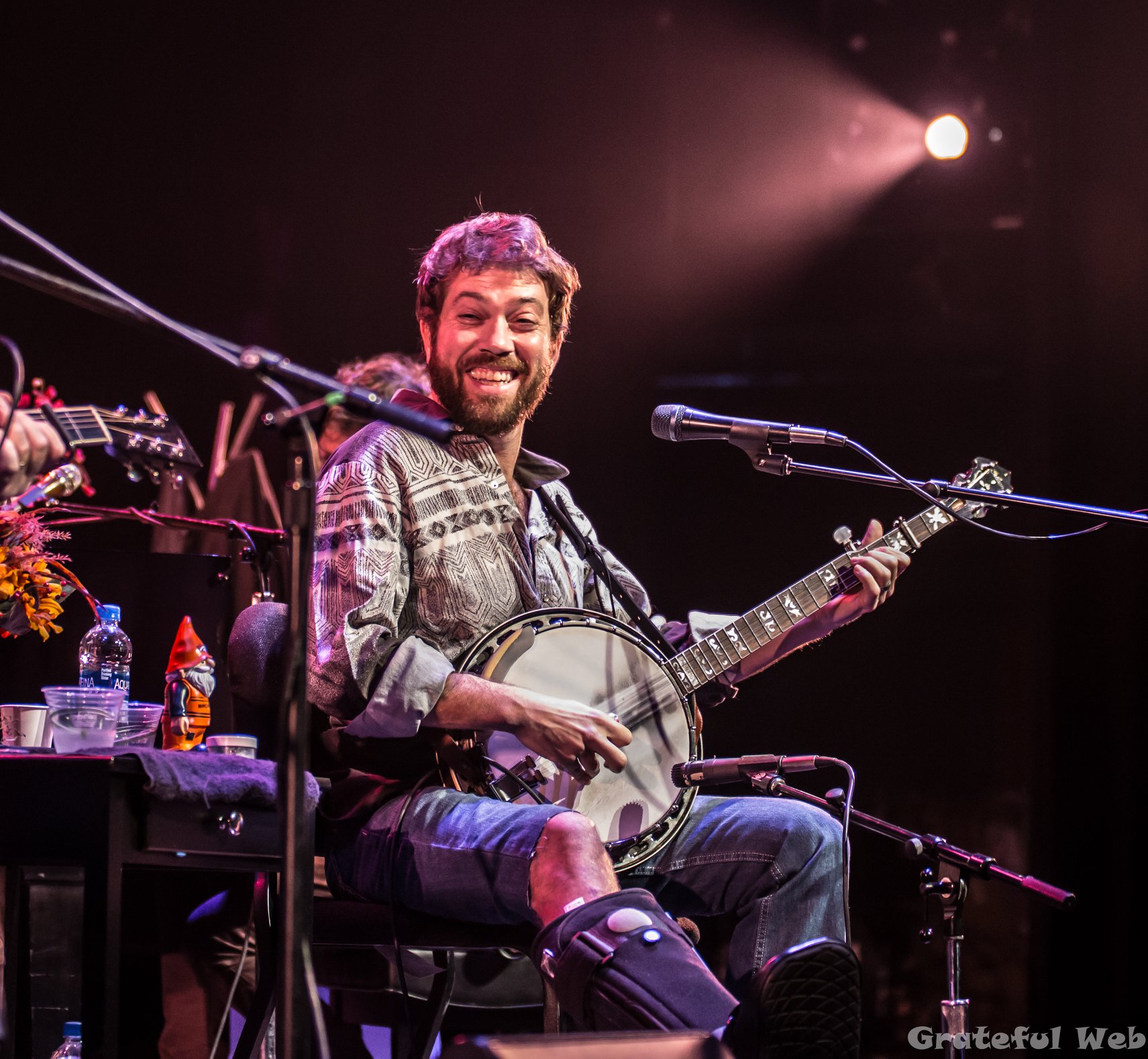 I must admit Vann's shoes would be difficult shoes to fit. I was very skeptical of Andy Thorn the first time I saw him.  I was enjoying the show but was feeling a little nostalgia for the original band. That is when they broke into 'Thorn Pipe" Andy blew me away with his finger picking energetic playing leaving me realizing without a doubt that he is bad ass!    As the show continued, Aaron and I were absorbing the energy of the band and the responsiveness of the crowd; we started to yell out old school requests like "Pasta on the Mountain" and "Rise Up." The band smiled as they realized they were amongst friends. The magic of Leftover Salmon is they do play a lot of favorites, but they are not stuck in the past. They have a brilliant new album out called 'Something Higher' This new album is a record that only a musically proficient group can pull off.  It's diverse, new sounding, deep in a higher purpose way, and groovy with that unmistakable sound we all know and love.  We were treated to two new songs from that album," Evermore' a highly danceable love song dedicated to the beautiful Colorado mountains.  It was filled with many solid grooving solos.  The other song was 'Southern Belle.'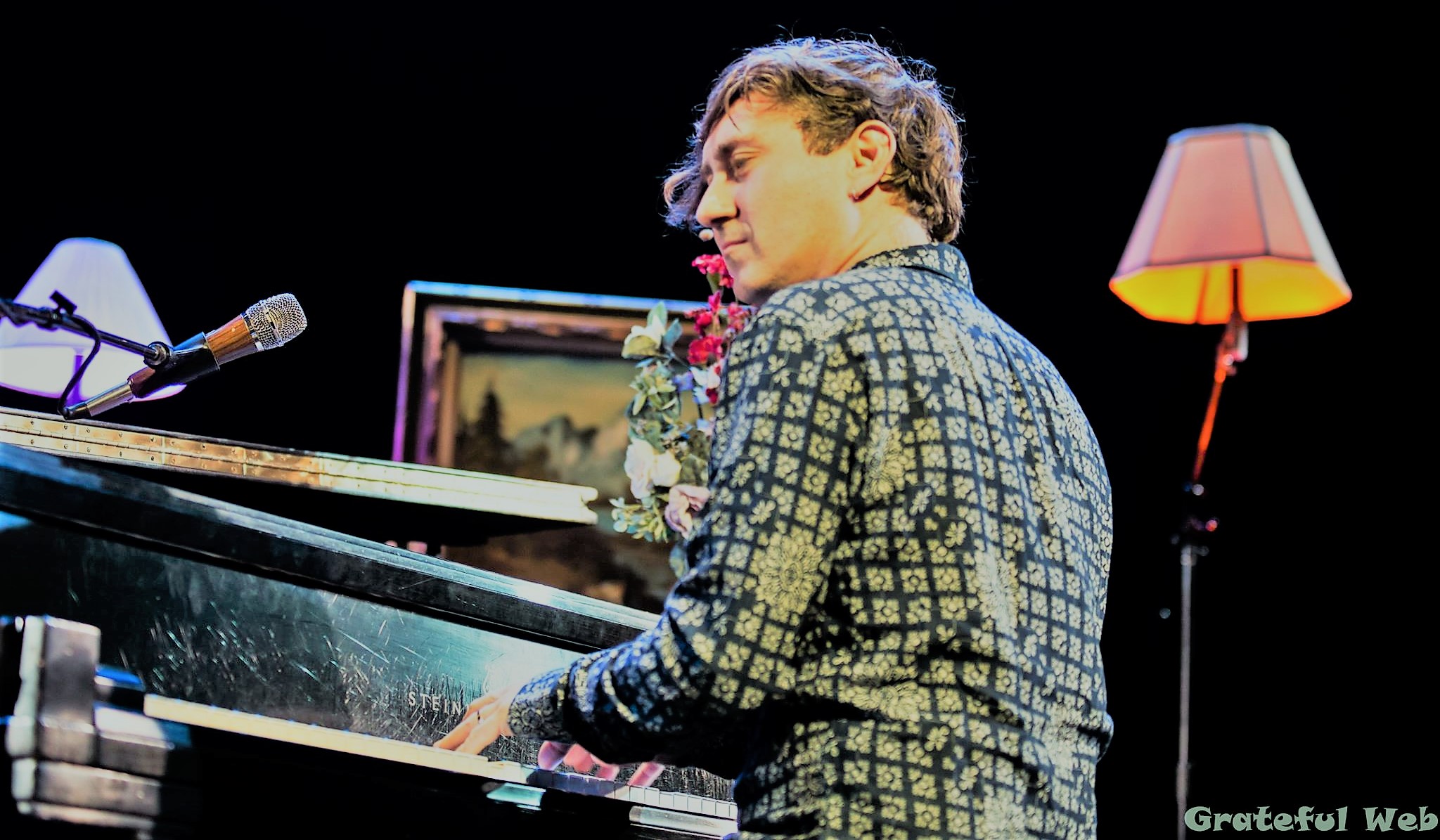 As a Georgia boy, I really appreciated this tune. I dug the sweet piano playing by Eric Deutch, and the country rock feel combined with a classic southern story line., Good stuff!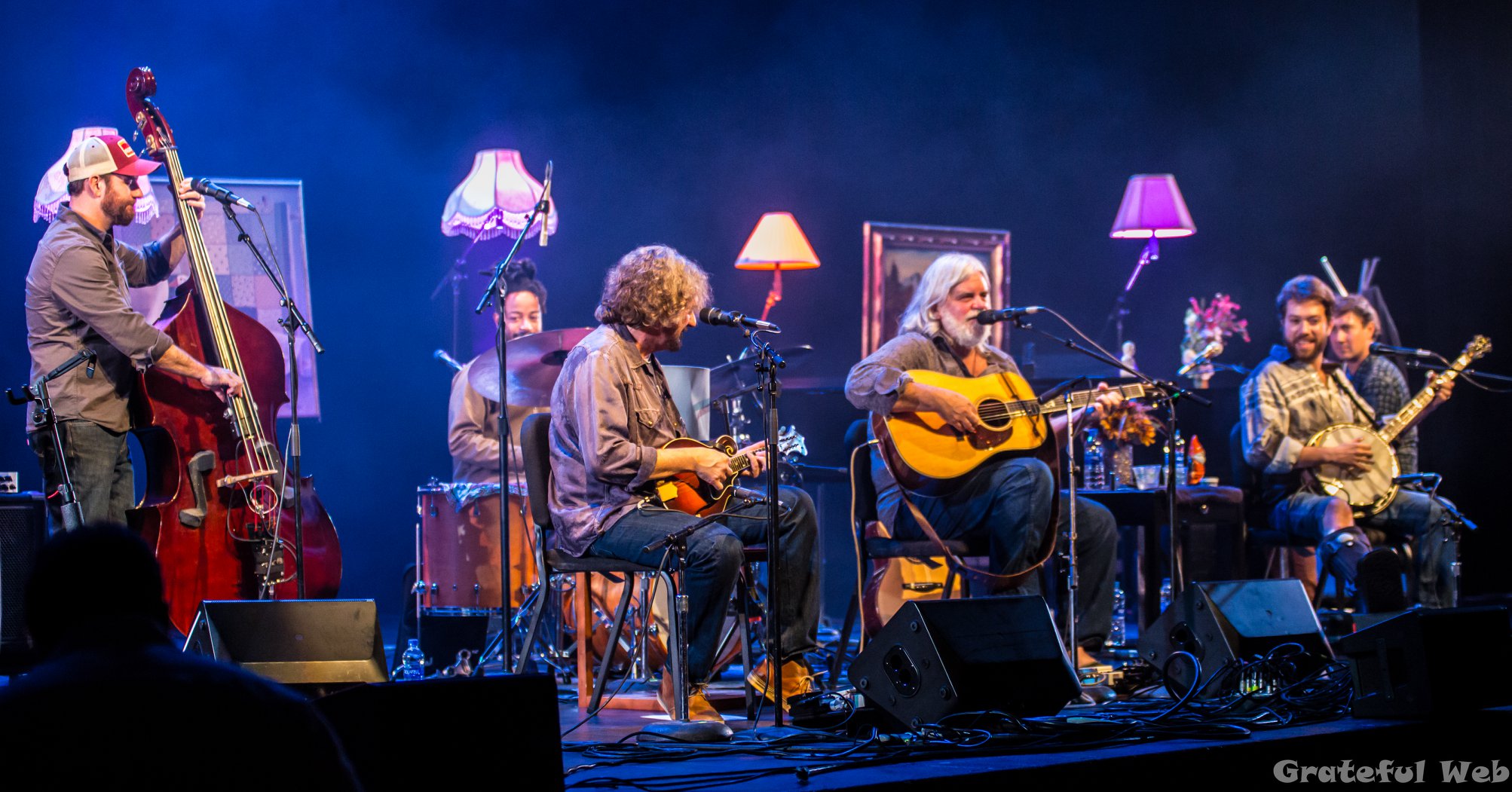 Leftover Salmon has that signature sound that works well when they do any number of covers. They have a gift that makes covers sounds like an original. So, no surprise when they went into a crowd favorite. The version of Bob Dylan's 'Tangled Up In Blue' elevated the audience to their feet. We started to boogie down in the way seasoned salmon heads do best. I was already impressed at how Greg Garrisons' bass and Alwyn's drumming had kept that solid infectious rhythm throughout the night and this song was no exception. The house was singing, and the floor was bouncing.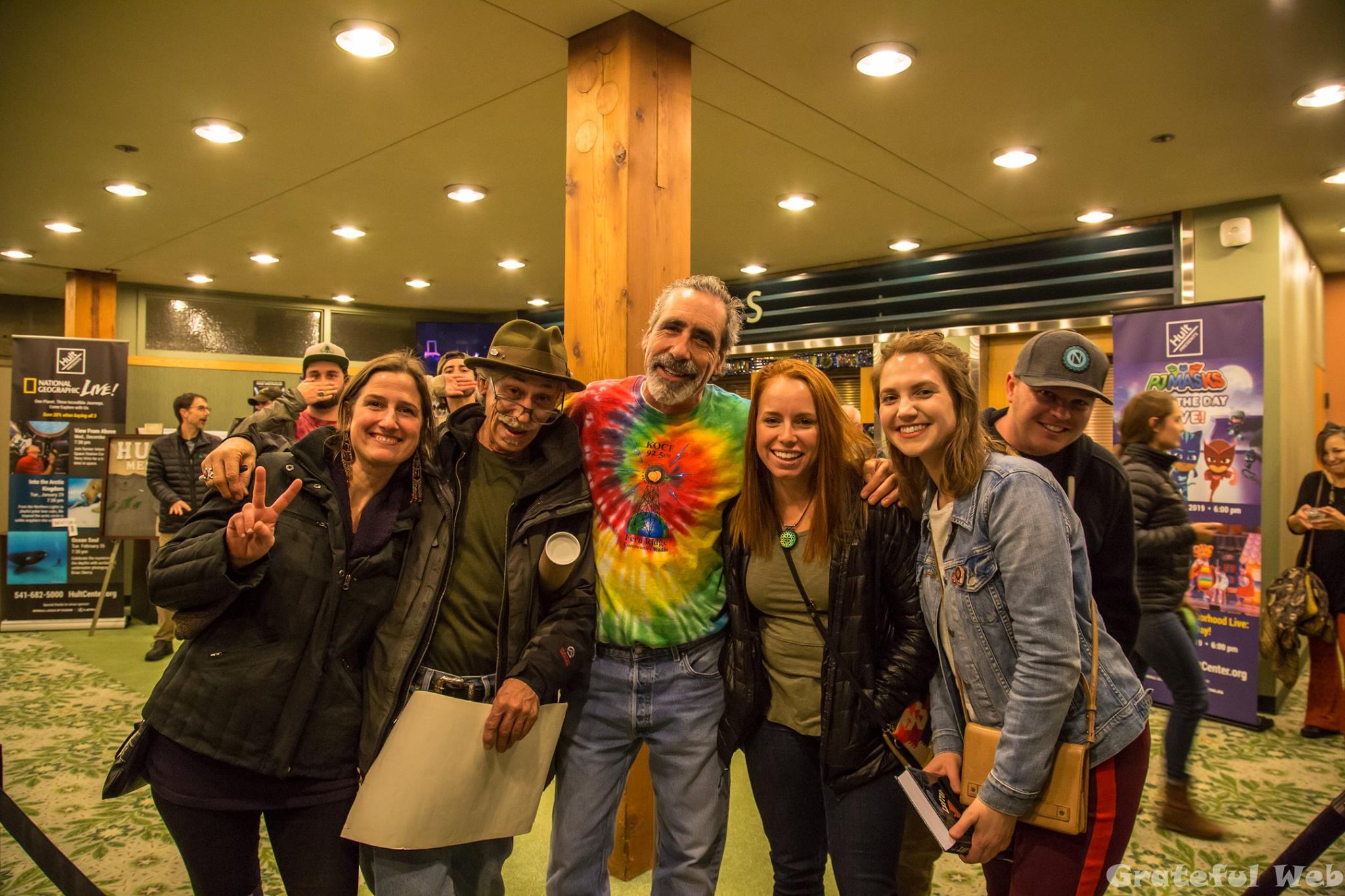 Chey Ray was a beloved hippie icon in these parts. His passing had laid heavy on the hearts of our tribe and the Faire family at large, Vince who has his finger on the pulse on our scene talked about Ray and gave a nice story about him that brought his memory front and center. That is just the way Ray would have wanted it. Our hearts swelled with love and sorrow. Ray was a close friend, and I was very touched to listen. 'Love In My Baby's Eyes' from the band's Nashville Session album was next.  On that album, Taj Mahal is the lead vocalist.  The version they played kept with that rockin blues and deep-rooted and timeless feel. The crowd was back on its feet connecting with the musical vibes of a shared experience.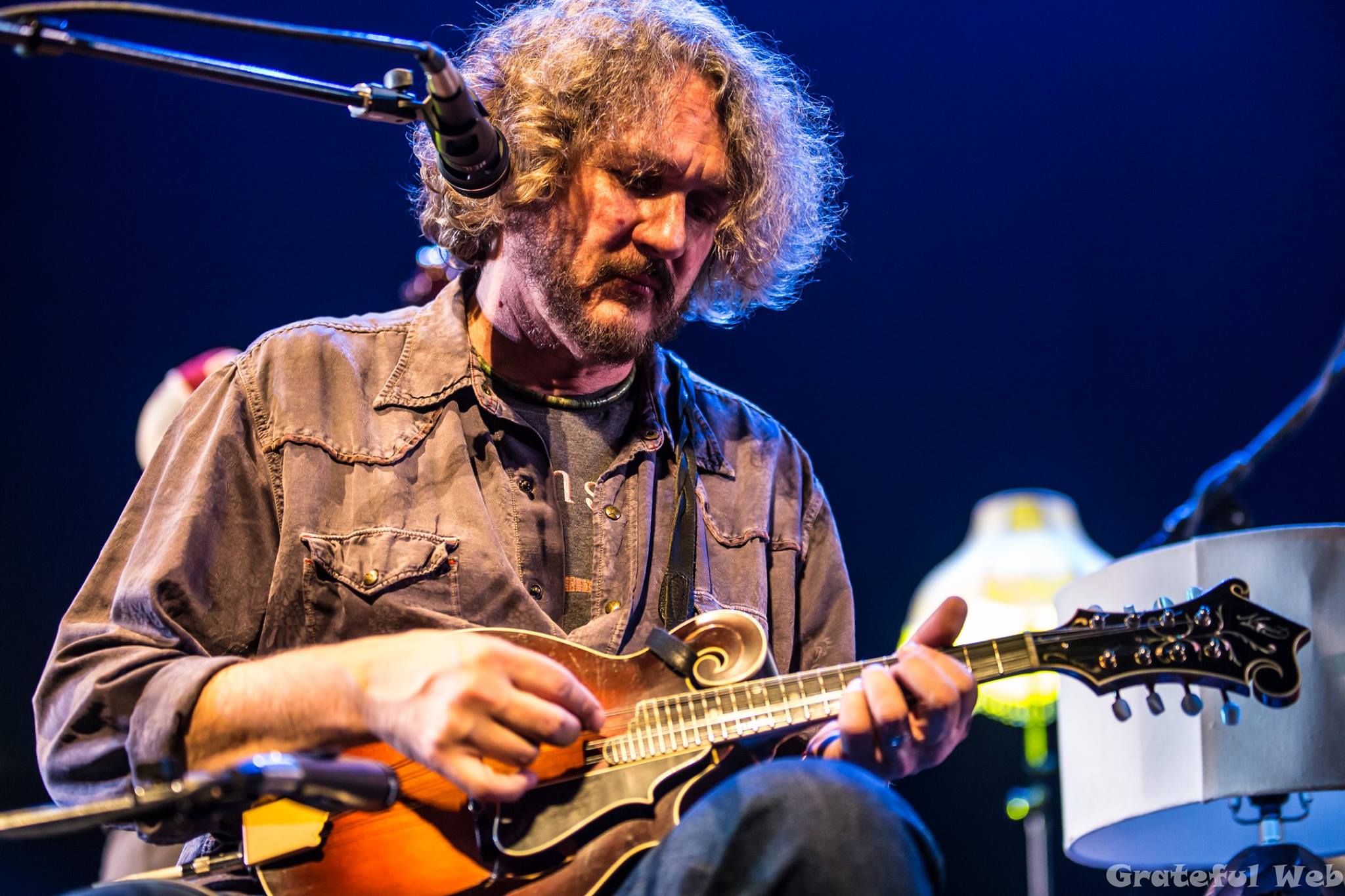 As the one long set ended, the exuberance of a well-played show was evident. We all stomped our feet and clapped loudly waiting for the band to treat us with an encore.  A large roar charged my senses to giddiness. The band walked out and sang the final encore with the highly harmonious,' Gonna Rise Up Wake N Bake' Ahhhh, They heard our request after all. ;-)  The call and response aspect of this song left the crowd singing all the way out to the lobby where the band members were waiting to meet with fans, sign autographs and pose for selfies.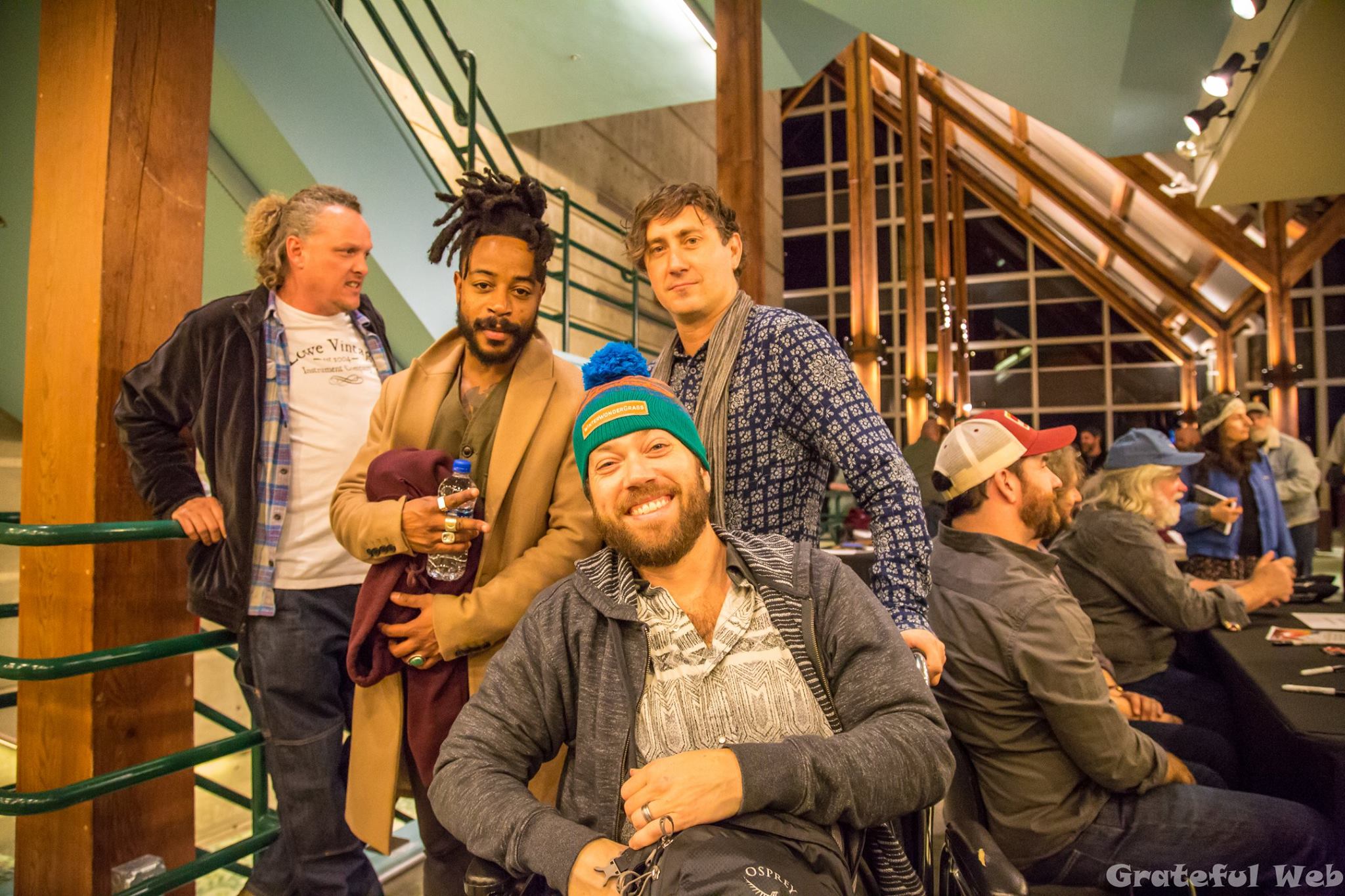 Well done guys!