What an amazing night of light, love, and Zero at the WOW Hall in Eugene OR. Zero is an accomplished band from the Bay Area, yet our tribe considers them to be one of our own, considering them our local family band.  
Zero has played in our town multiple times with multiple players since at least 1986, and they never disappoint. Perhaps, they always give us their best here because of all the hippies, Deadheads, and Country Fair folks who show up to dance. Our counter culture tribe is skilled at listening close to each musical note while the emotions of the songs fill our souls. Whatever the reason we all have a collective groove that shines when the band begins to play.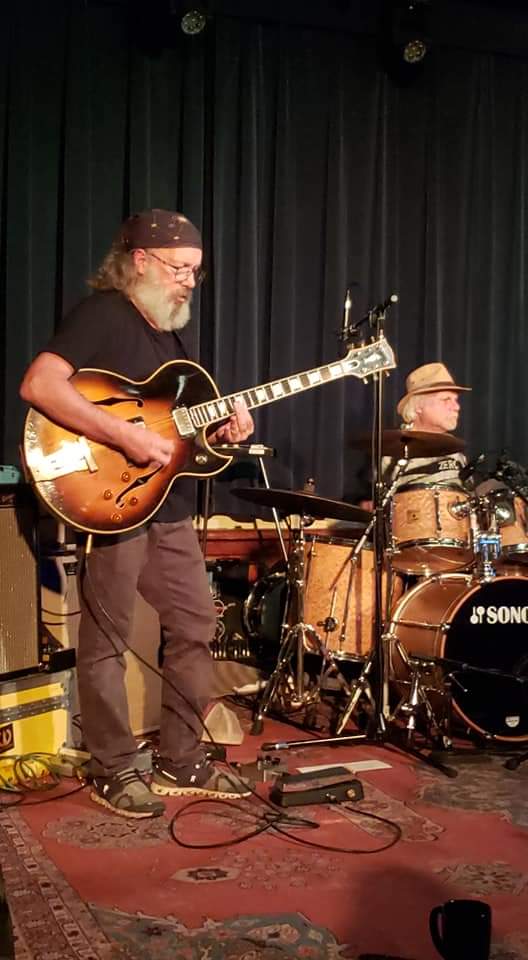 I have personally been blessed to see these guys for more the 30 years starting back when John Cipollina, a founding member of Quicksilver Messenger Service, added his vigorous vibrato to Steve Kimock's psychedelic jazzy leads. Back then, they also had Martin Fierro, the wild Saxophonist, from the Legion of Mary, who always took it to the next level with his soaring improvisational playing and in your face humor. "Chut Up!" In fact, this group has had an amazing amount of my favorite musicians play with them over the years. For example, Judge Murphy, the go for it vocalist, and interpreter of Robert Hunter songs, Merl Saunders, Melvin Seals, Chip Roland, Banana, and Bobby Vega.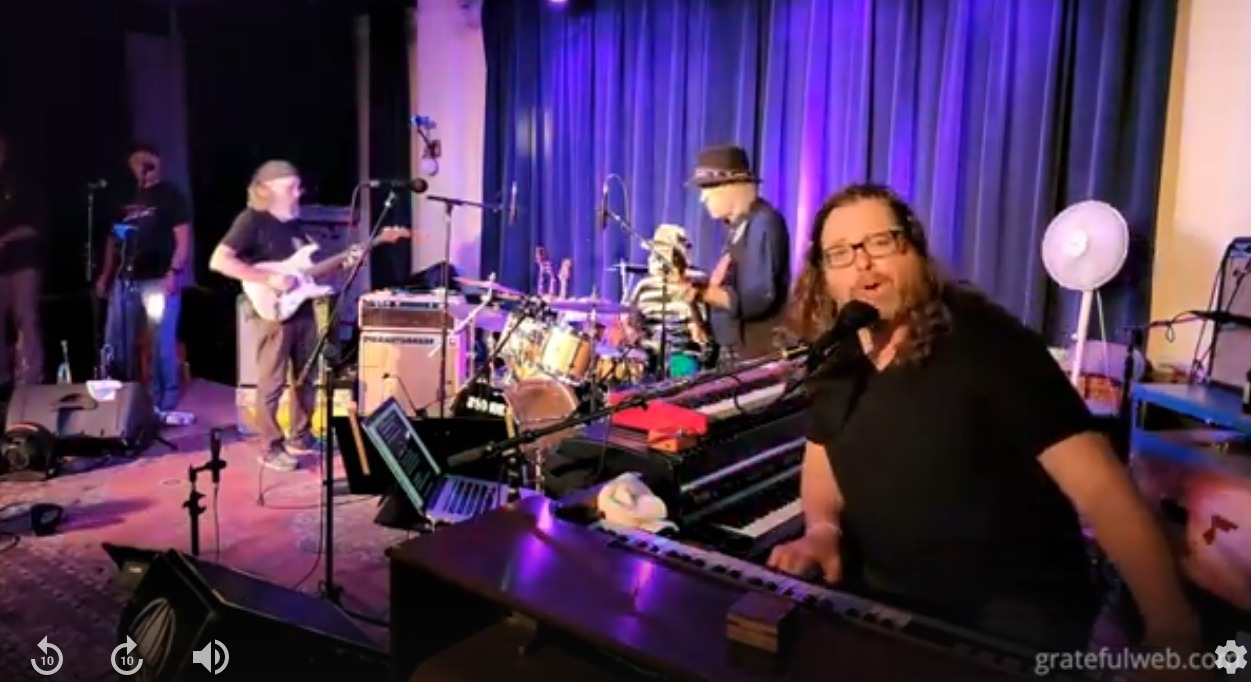 The founders of Zero are drummer and composer Greg Anton and guitarist Steve Kimock. They came back to Eugene in support of their latest release 'Naught Again'. A live album recorded at the Great American Music Hall way back in October 1992. This release is classic Zero with a healthy dose of Psychedelic jams, Jazz, blues and exploratory solos. The music on this record is so fun and danceable, I was curious if they could still pull it off at the WOW Hall. They did.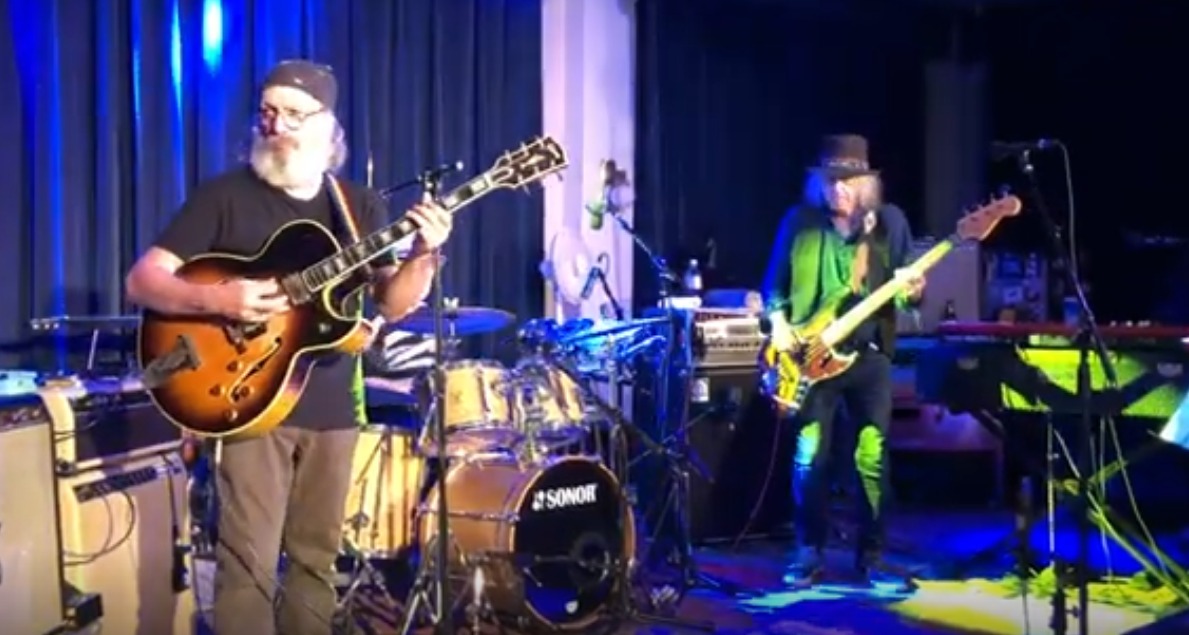 The concert started with Steve Kimock introducing the band with a wide smile. He was at home with us. The first song was sweet and mellow in spite of the name 'Severe Tire Damage'. We lent our ears to hear the complexities of the band's tight rhythm and jazzy leads. This led in to a crowd favorite, 'Tangled Hangers' a song that appears on their new Live album. The interplay by Bassist virtuoso Pete Sears, Greg and Steve was right and tight. The crowd was on their feet dancing hard to this trippy jazz instrumental. The next song caught me by surprise. It was "Chance in a Million'. A song penned by Grateful Dead lyricist, Robert Hunter. Judge Murphy could always deliver this song with such power and grace. So admittedly, I was skeptical when the new keyboardist, Spencer Burrows, began to sing. I stopped dancing and tuned in, waiting to see if he could pull it off. I was relieved to hear him doing a fine job. I was impressed with his control of the song while actively engaging with the crowd.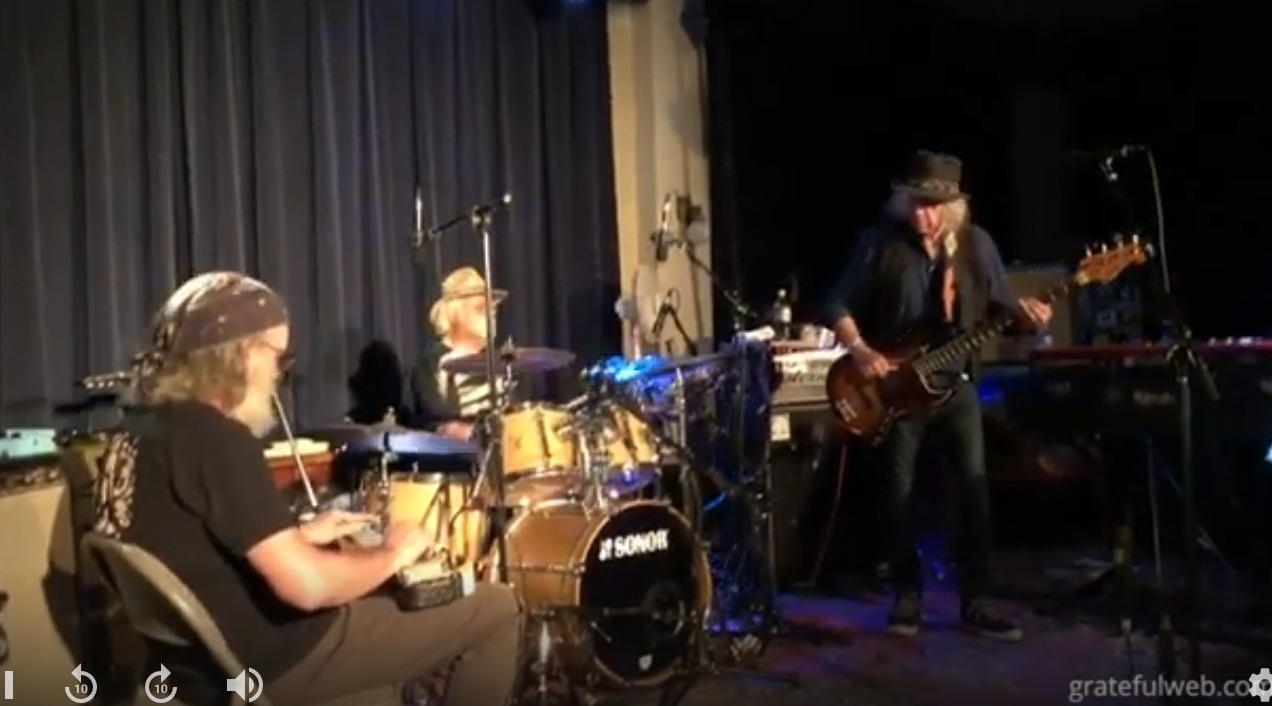 "Forever is Nowhere" Featured Kimock on a Lap Pedal Steel guitar. The sound of the lap pedal gave this tune stretched out notes like a strange Hawaiian country song. It worked nicely and I enjoyed seeing Steve switch up instruments. The set ended with the classic 'Golden Road', another crowd pleaser. This old school instrumental featured some really nice playing with the new horn players, Hadi Al-Sassoon and Duke Davis. No-one should fill Martin Fierro's shoes and that's o.k. These fella's had their own thing going and played really well. Their addition helped make the set beautiful and groovy. Golden Road was the second song they played from the new record 'Naught Again'
Set break was filled with smiles. We all had that happy flash that we had been here before and we are here now with our tribe.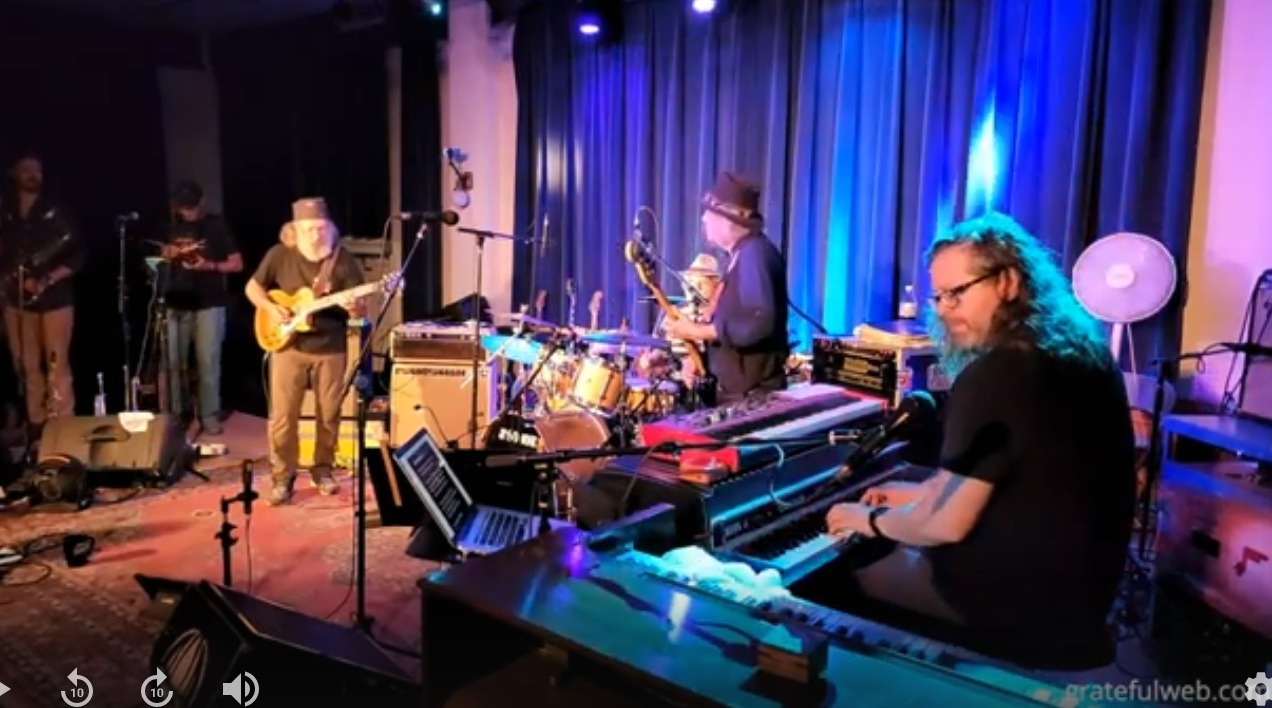 Zero opened the second set with Anorexia (Is not for everyone). The audience rushed back in from the warm evening air to the sweetly air-conditioned dance floor. The funk Jam along with Spencer's tasty keyboard jams had everyone shaking their bones, wiggling their bellies, and scooting their walkers. The horn solo's fell perfectly into the jam and were met with cheers and applause. 'The next tune had the mighty Pete Sears funkin it up on bass. Steve and Greg kept the beat, the sax soloed and once again Spencer nailed the vocals. We found ourselves "looking for love in the 'Pits of Thunder."
Young children ran around playing tag as folks with long grey beards jumped out of their way. I think some of those grey beards were even men. Our tribe is all ages and Zero has been around long enough to attract multiple generations. There is a timelessness to the music.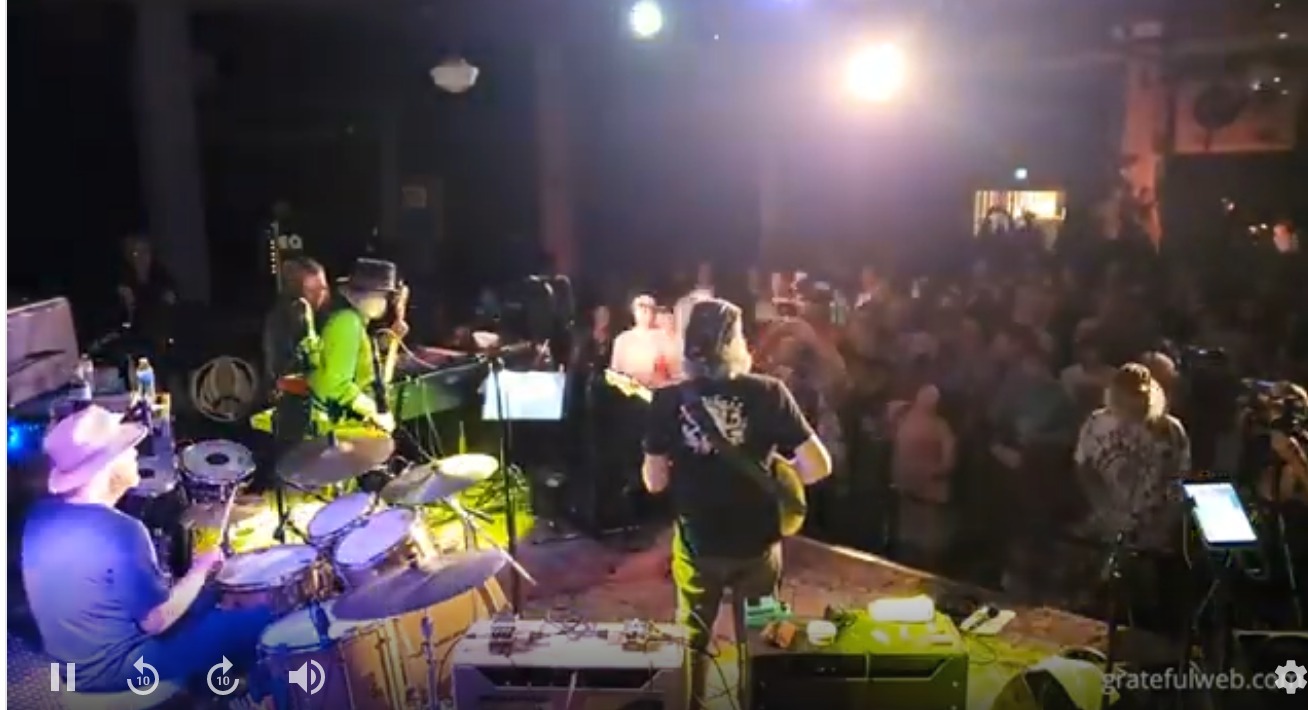 The band treated us next to two songs in a row that are also part of their new release 'Naught Again.' The first was the heady heavy 'End of the World Blues' which I felt was an appropriate song for our times. This was followed by my favorite song of the evening. 'Greg's Eggs'. I have been digging that instrumental going all the way back to the 80's when I first saw the band. It's a traveling song that gets delightfully weird in the middle. This night would be no different. The band went into a playful deep space before bringing us back down to earth with that contagious groove which always makes me smile. The band left the stage to a roar of applause and appreciation. All of us in the audience clapped our hands and stomped our feet until they returned for their encore. Mischievously, Zero went in to 'Straight Jacket' keeping it weird with powerful chords going unusual places.
The whole experience reminds me why Zero feels like our local family band regardless where they originate.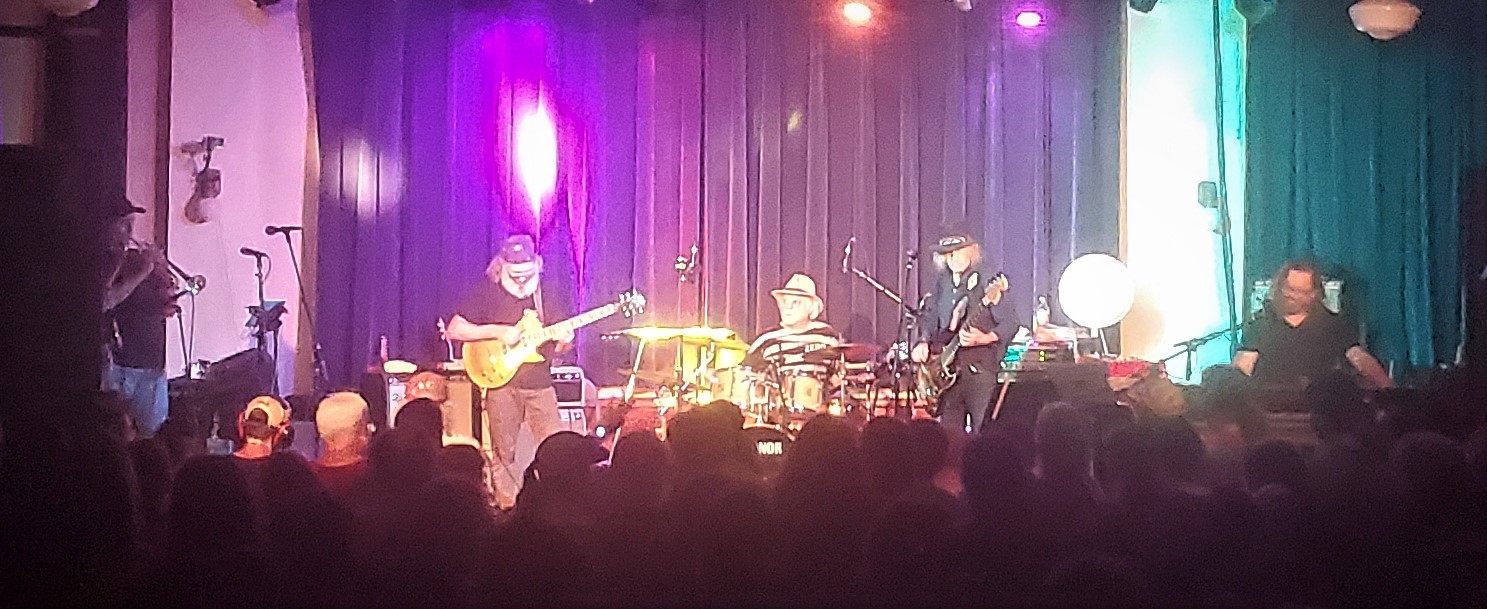 After completing this Pacific Northwest summer tour, the band will next play in their hometown San Francisco at The Fillmore on October 15th. Zero will then head to the East Coast, starting in New York City at the Brooklyn Bowl on October 27th.  The full East Coast tour is as follows:
10.27.22 Brooklyn Bowl – Brooklyn, NY
10.28.22 Ardmore Music Hall – Ardmore, PA
10.29.22 Sherman Theater – Stroudsburg, PA
10.30.22 Baltimore Soundstage – Baltimore, MD
11.02.22 Bearsville Theater – Woodstock, NY
11.03.22 Infinity Music Hall and Bistro (Hartford, CT)
11.04.22 The Cabot – Beverly, MA
11.05.22 The Flying Monkey Grill Bar – Plymouth, NH
11.06.22 The Double E – Essex Junction, VT
Dec 2,3 & 4 George's Majestic Lounge – Fayetteville, AR
~ Shaggy RollingStone