Ascending rock ensemble Marble Eyes is thrilled to unveil their highly anticipated sophomore album, Hunting with Comets. Rooted in the heart of the Northeast, the quartet, known for their signature "Rock & Roll for the Soul," continues to push the envelope with their unique blend of soulful harmonies, infectious energy, and complex musical narratives.
Born amidst the global standstill of the pandemic, Marble Eyes has emerged as a powerhouse, demonstrating the resilience of music and its unyielding power to connect souls, no matter the distance. The band's lineup is composed of seasoned touring professionals, hailing from acclaimed touring acts such as Pink Talking Fish, Twiddle, Kung Fu, Particle, and The Indobox. Together, they have come together to create an album that encapsulates their collective creativity and individual prowess.
LISTEN | MARBLE EYES - HUNTING WITH COMETS
Hunting with Comets is more than just a collection of songs; it's a succinct snapshot of the group's collective creativity. The nine-track project was carefully curated from a massive catalog of 70+ tunes.  Every song chosen from the album was written during their groundbreaking "Marble Eyes Mondays" virtual pandemic livestream residency.  The album showcases their masterful songcraft, intricate narratives, and signature melodies.
Bassist Eric Gould shares, "During the first 4 months of 2021, the world was still shut down due to COVID.  We created an opportunity to present a bi-weekly livestream concert through Nugs.net and set up shop at The Press Room in Portsmouth NH.  We took this as a challenge to write and debut new material for every concert.  The catalog of songs that is "Hunting With Comets" presents this chapter of our story in a beautiful way.
The leading singles, "Truth" and "It's Your World (We're Just Livin' In It),'' have already amassed thousands of plays across streaming platforms, offering a glimpse into the album's vibrant energy and the band's uncanny ability to seamlessly traverse genre.
"Truth" is an explosive affirmation of the band's journey, featuring arena rock guitars and blistering instrumentation that are sure to set any stage ablaze. On the other hand, "It's Your World" is a buoyant track that blends harmonic interplay and sprightly bass riffs, underpinned by a calypso drum beat that invites listeners onto the dance floor.
Bassist Eric Gould, once again, shares, "We tracked the entire album at a Summer Camp in New Hampshire. We turned one of the cabins into a recording studio.  It was an incredible experience!  We would spend all  day recording these tracks while also playing around the camp and having a blast.  For "It's Your World" in particular, Adrian's inspiration led him to find a whole bunch of unique percussive ideas and he laid down a bunch of awesome layers."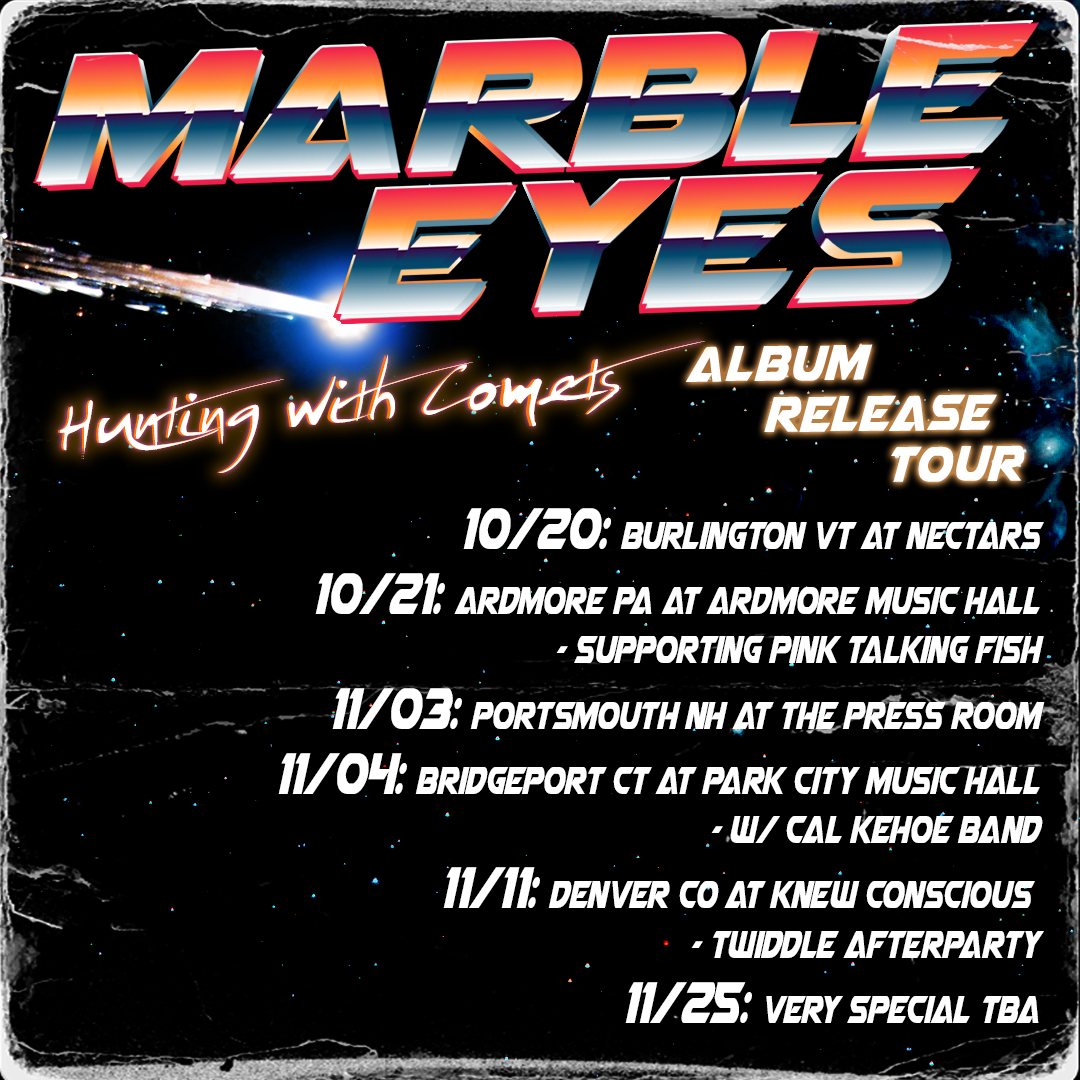 As Marble Eyes embarks on their fall tour this October and November, fans can look forward to experiencing the new album live. The tour starts tonight, on the day of the album release in Burlington VT.  The band will also visit Ardmore PA, Portsmouth NH, Bridgeport CT, Denver CO, and more cities yet to be announced. Tickets for all shows are on sale now.