Every good student knows oil doesn't mix with water, the greater density of the water pushing it to the bottom as the oils rises and floats to the top. Los Angeles band RACES displayed such a dynamic on stage at Boulder's Fox Theatre, one half of the band rooting the music down with a heavy rhythm section, the other floating just above that with glossy harmonies and melodies. Yet unlike this classic science experiment, RACES comes together perfectly blending the two polarities into a tight unit of indie pop and rock, creating a dense yet lifted sound that is anything but classic.
In their unfortunately short, densely cadenced set, RACES gave a performance that has solidified them as a cohesive band that came together by way of their own impromptu experiment. Originally performing under the name Black Jesus, the six piece band formed in the fall of 2009 after what was incipiently to be a single engagement. A mere two and half years later, RACES has formed itself into a successfully growing band that has beautifully married pounding drums and catchy, thumbing bass lines to soft yet powerful male/female vocals and pop melodies.
Playing their first video single "Big Broom" as their second song, RACES plunged in with an unbounded energy and force that not only carried on but escalated through the entirety of their set. Vocalist Devon Lee let her hands and body shake as she put forth a strong vocal power, in part lending to the group's ethereal, atmospheric sound quality. Shimmering tambourine claps and rhythmic use of maracas from Lee further built up this glossy surface texture, supported and coupled alongside Breanna Wood on keys and front man Wade Ryff on guitar and lead vocals. Clasping the band down and putting forth a distinctive heavy and dense timbre on the other side were Garth Herberg on lead guitar, Oliver Hild on bass and Moog synthesizer, and Lucas Ventura on drums. While Herberg's speed and solos led to a more rock quality, Hild's bass lines and Ventura's increasingly rapid and impressive drum work were at the heart of the wall of sound that holds RACES down.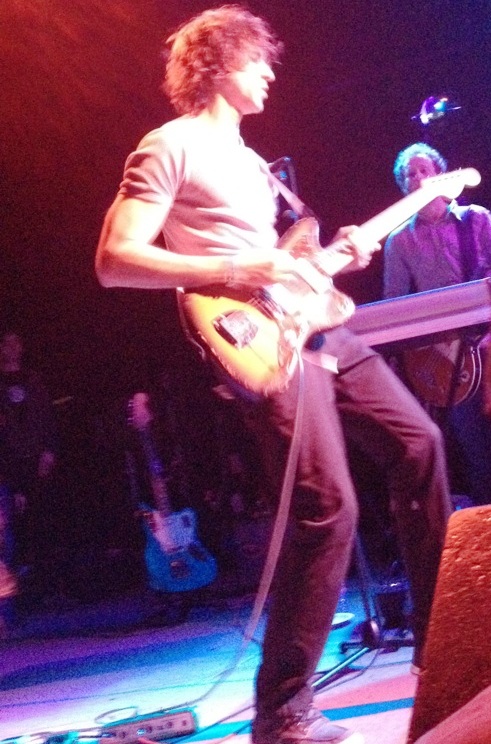 Functioning as the binding agent between these to sides that allows them mingle was Ryff, whose female-tinged vocals and rhythm guitar seamlessly mixed the halves together. Though Ryff may be the original creator behind RACES--their first record coming from Ryff's solo material and finally allowing him to take on a forefront position as vocalist--the rest of the band should lest not be forgotten. Each member turned in towards each other and folded into itself, bringing their vivacious indie pop to a more rock plateau, only to pull out with the utmost ease and slip again back into that weighted yet lilting timbre.
For a band that came together so casually and unexpected, after two years and their first full length record dropping in the following month, RACES already has created a tight adherence among all six members. Filling the air with their impenetrable, driving rhythms and slick, potent vocals and harmonies, RACES is no doubt to make a growing presence in the indie pop/rock scene.
RACES's self-recored and produced debut LP, Year of the Witch, will be released March 27th under New York's Frenchkiss Records.