Albuquerque all-girl band Floozy knocked one way out of the park Friday night, the first day of the fourth annual Meadow City Music Festival in Las Vegas, New Mexico. This historic town hosts this festival every year to benefit the restoration projects of MainStreet de Las Vegas. Situated across from the restored Plaza Hotel, Plaza Park offered festivalgoers a glimpse of yesteryear in a long tradition of outdoor music events on a green space, marked by a gazebo. This year, the band was set up in a mobile trailer beside that gazebo and the shelter was a designated dance space. Festivalgoers, however, danced in front of both structures on the uneven bricks of the old park.
A free event at Plaza Park, Floozy gave us all a glimpse of what was to come in the next three days. These very talented women from Albuquerque, NM, offered up a wild mix of genres, sometimes with multiple genres within a single song. It was amazing! Bass, drums, and guitar, Floozy sizzled, seduced, and sent us into snorts of laughter.
They produced a mix of originals and unexpected covers. After hearing some originals written in tango form, they launched into hot two-stepping versions of "Ring of Fire," "Jolene," "On the Road Again," and "Act Naturally"—something quite unexpected.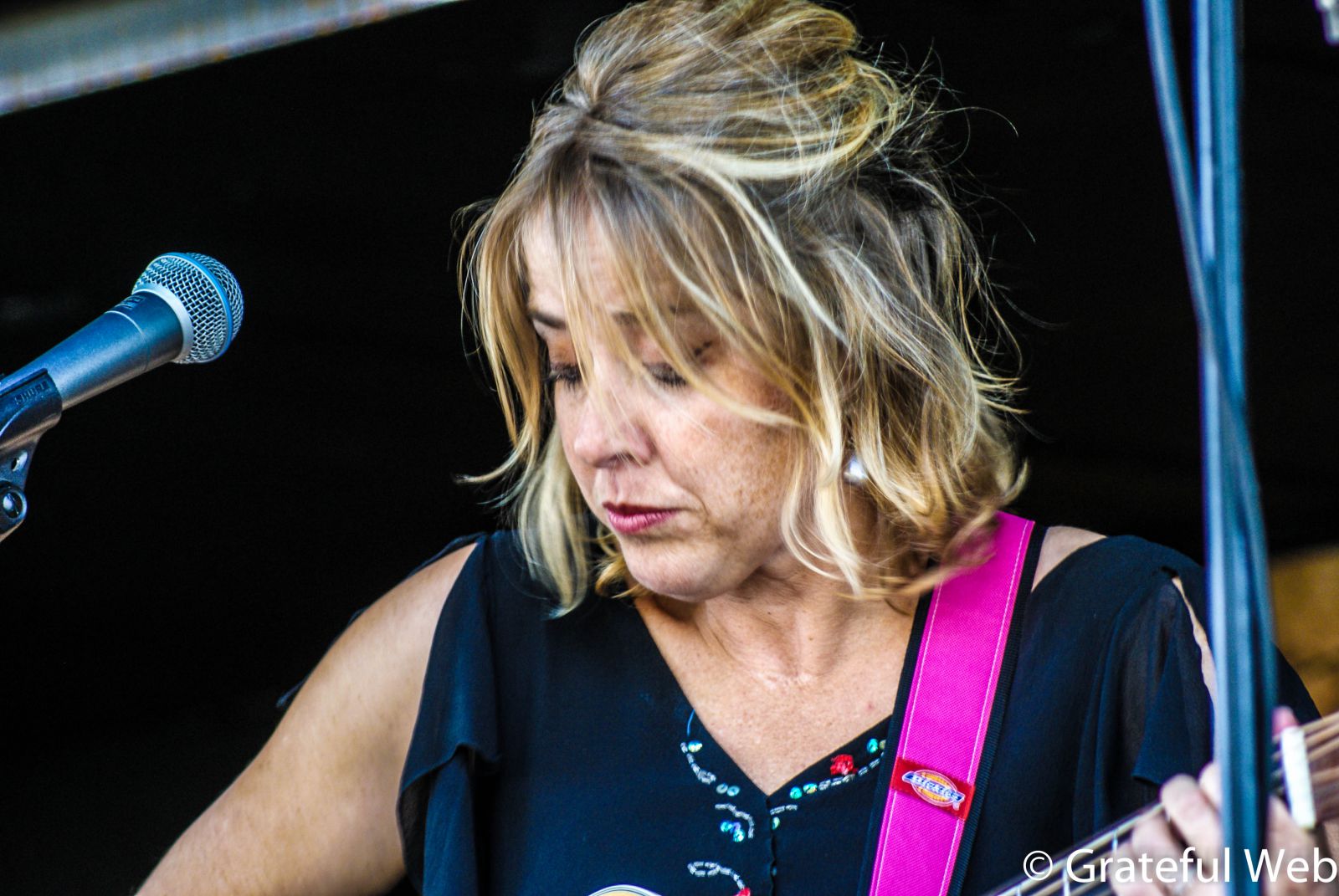 Singer/songwriter/guitarist Bronson Elliott sang lead on most of the songs with upright bassist Tanya Nunez doing backup harmonies. Nunez showed off her own vocal chops on the covers.
Elliott had us hooked by the plaintive "A Cowgirl's Work in Never Done" and the waltzing "Bird on a Wire," not the Leonard Cohen's song but an original about love, complete with bird noises. We all be came intrigued and laughing at "Goat Man" with the line "taking your love of nature to a whole new realm" and another original talking about meeting loved ones in Heaven, except for one because, she croons, "My brother is going to hell," and goes into detail to explain why. And then there was "Marry Me, Terry," a song about love with a twist.
While songwriting is most definitely a strength with this band, it was their gypsy jazz pieces that were awe-inspiring. Even an original Spanish song came out like a tango, due to their musicianship with it. "Hernando's Hideaway," a traditional tango, had tasty bass riffs that played off the diverse chops of drummer Lauren Addario. "Kiss of Fire," another tango, showed off Elliott's vocal skill in her sultry delivery while Nunez bowed the bass and Addario set a sensuous beat.
Nunez's bass solo on "Bello Caio" was intricate and varied, making me perk up my ears to catch every nuance. But it was "Mate for Life," another song about birds, that impressed me. A bluesey tune with gypsy jazz and rock thrown in, this song showcased Nunez's innovative skill with a bowed bass, bumping it along the strings to this thumping rock beat and then switching to fingers and hands to play around the melody and support Elliott's voice and Addario's rock beat.
If you ever get a chance to hear Floozy play live, you won't regret it. Until then, enjoy their new album, His Name is Fabio, due out in mid-September.
Floozy's hour and a half set left us wanting more music. Immediately following them, folks gathered for an indoor concert with three groups at the historic Serf Theatre. A former movie theater where locals say they got their first kiss decades ago, the facility was recently remodeled into a concert space, but still retaining some of the original murals on the walls, depicting local history. The evening concerts Friday night were sold out with a few SRO tickets sold at the last minute.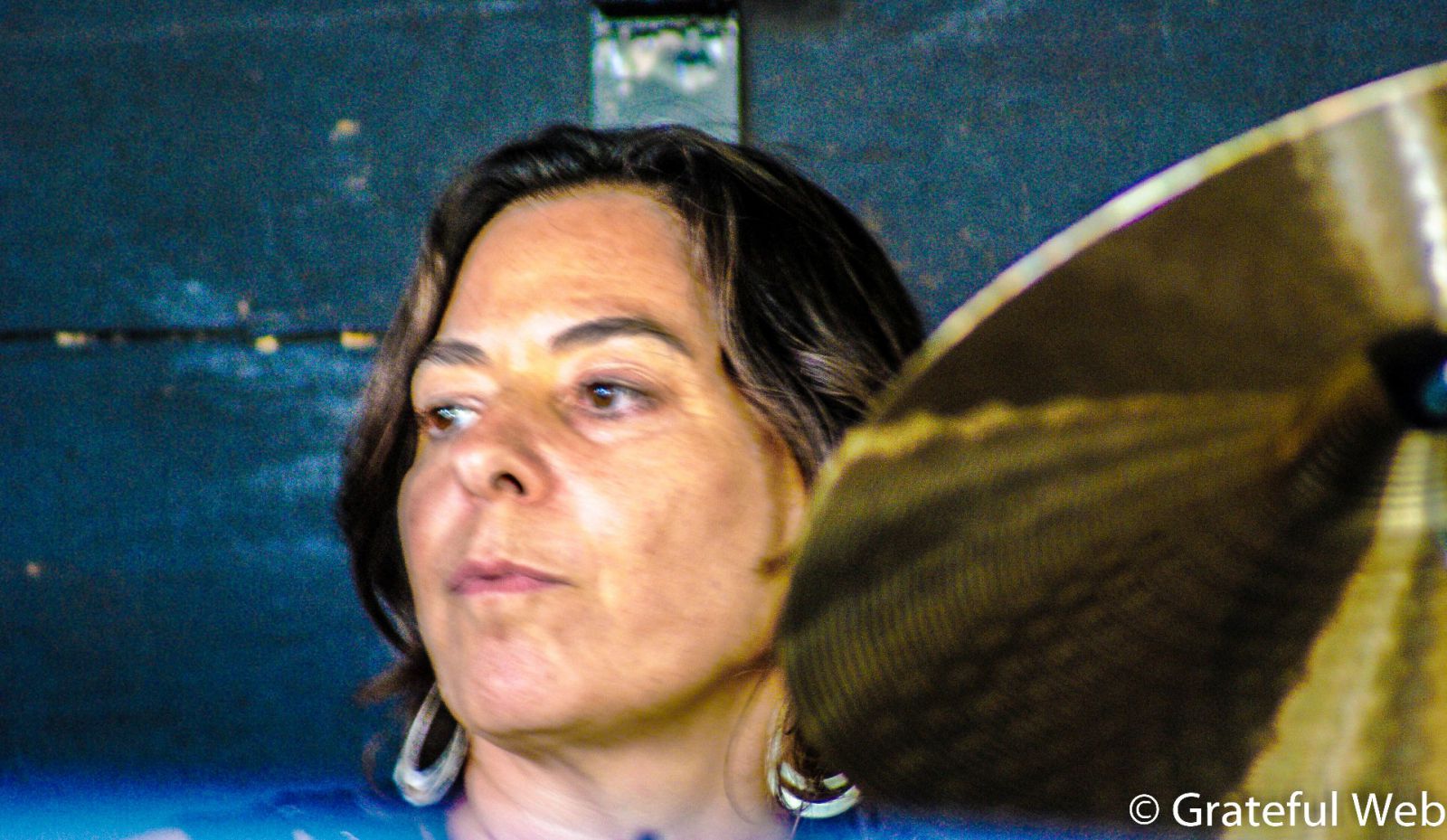 Starting off the evening's entertainment was Jazzology, a ten-person choral group, backed by a four-piece jazz combo called the Smooth Riders. The community tipped its hat to these performers, many of whom are associated with Highlands University, which has had a strong influence on the musical life of Las Vegas. Jazzology mushroomed out of a vocal jazz ensemble class at the university fifteen years ago and became a joint university and community entity.
The Smooth Riders Jazz Quartet started playing seven years ago. Alto Sax player, Bruce Holmes, is the only one of the players who isn't associated with Highlands University. He's a physical therapist. But his love for jazz began thirty years ago in New Orleans when he played with The Temptations, The Four Tops, The Supremes, The Coasters, and The Drifters. Pretty impressive. Key's player, Kevin Zoernig, had performed or recorded with Nat Adderley, Eddie Harris, and members of the Miles Davis and Sting bands. Zoernig teaches at Highlands as does bassist Edward Harrington and drummer Ralph Marquez. With that much talent, I was ready to be impressed and I wasn't disappointed, especially by Bruce Homes' sweet sax.
Unfortunately, the band was placed at the far back of the deep stage, while all of the singers from Jazzology were up front. The musicians in the audience (and folks like me) couldn't see what was happening behind the singers, though we heard them very well. I would have liked to see what they were doing.
Jazzology did a long set of 50s top 40 tunes. From the age of the majority of the audience members who came to the evening shows and the members of Jazzology, those songs were part of their youth as it was mine. I was impressed with one song, "Come Go With Me," when the deeper voices jumped in. It was very powerful.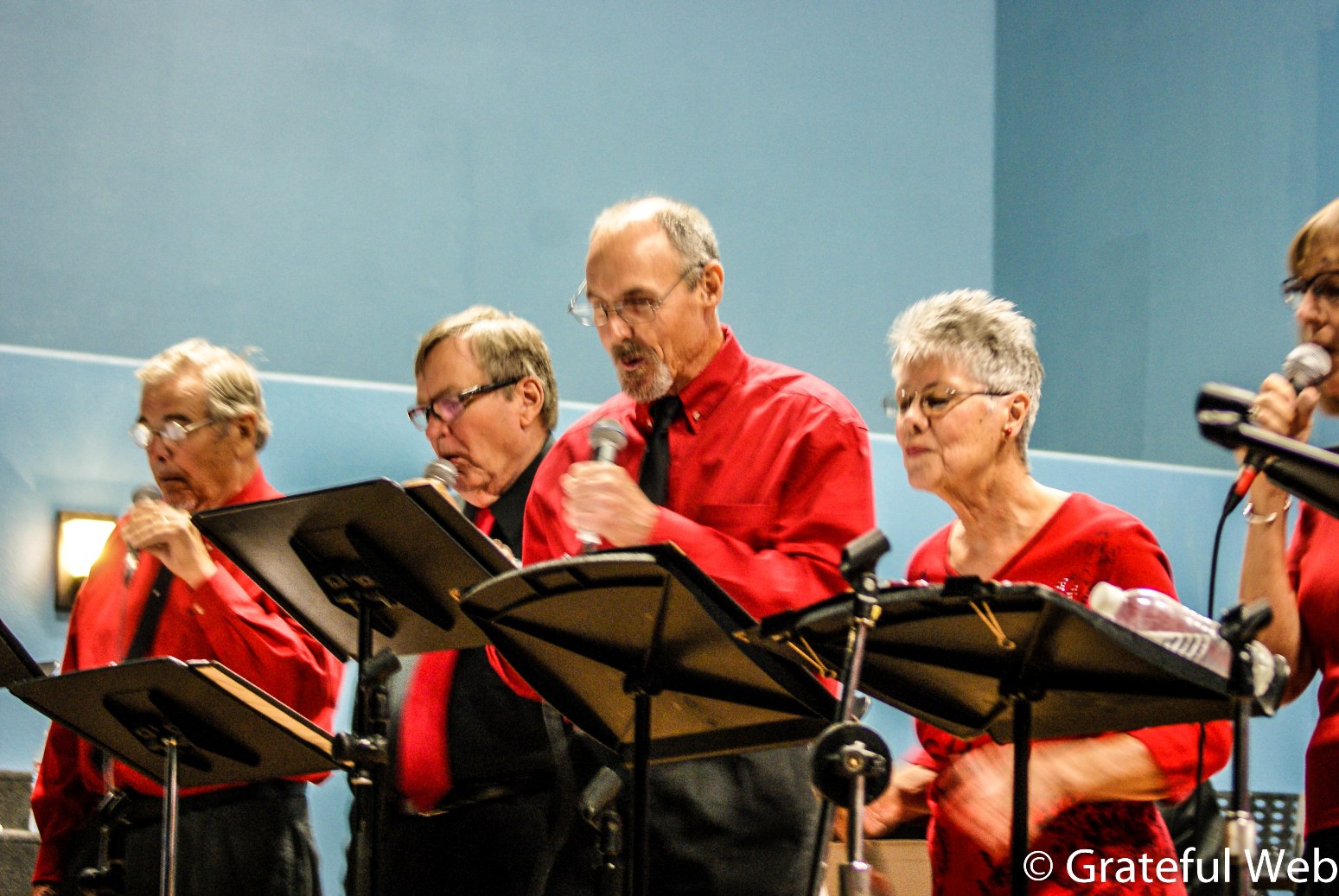 I was disappointed, though, in their treatment of my favorite song in the entire world, "Stand By Me." I think it was the arrangement that they used. You have to forgive me if I'm being critical, but I spent over thirty years in North Dakota in what has been called the Choral Capital of America among high school and college competitions. It comes from a strong tradition of music education in elementary schools throughout the state. The voices may not be church gospel powerful individually, but they are something to reckon with joined together. However, they could be motivated to become strong. Singer/educator Jane Sapp came to the two Grand Forks high schools back in the early 90s and created two very powerful gospel choirs by her two-week residency there.
Speaking of powerful voices, the next band up was Hello Dollface from Durango, CO. Fronted by Ashley Edwards, this band kicked R&B and jazz butt! Edwards' voice is a hurricane. Sound check was an aural delight as Edwards showed off her chops in a vocal warm-up as the sound techs tweaked the band's monitors. Edwards and her bandmates were precise and particular, probably taking a tad longer than I've seen bands do, but it was the right call. It was light a woman putting on a tight short dress and checking it front and back in the mirror and then dancing all over to see what did or didn't show. When that woman got out on dance floor, she was confident and could enjoy herself. That's what Hello Dollface did. They just pulled out every stop and just let loose and had fun.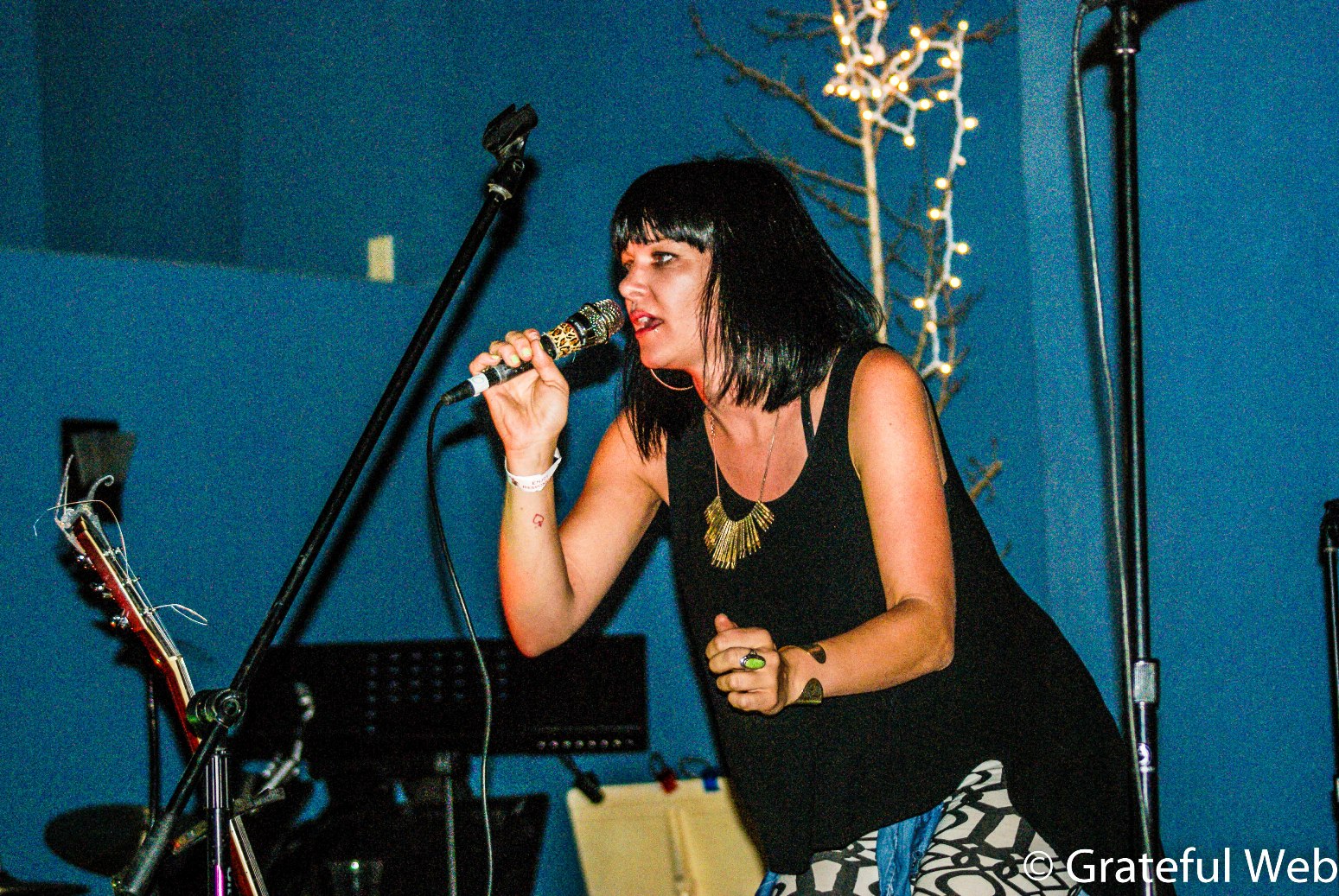 And, boy, did the audience respond. For the first time that night, dancers came out onto the floor and suddenly the ballroom was full. Though this band was unknown to this crowd, by the end of their set, the audience loved them.
Edwards' voice can ooze like liquid velvet. At other times it's bold and powerful without being shrill or over the top. Still other times, it seems like the magic of quicksilver, moving, changing, dangerous. Edwards also plays a mean electric guitar and keys.
And then there's the band. Wow! Bassist Jesse Ogle lays down solid work on electric bass but can also play all over it, making it sound like a totally different instrument. Alex Morrow's drum work is also exceptional, very diverse, showing he isn't just driving this musical train but improvising here and there, creating something fuller. And then there is Dr. Easton Stuard, who switched from keys to flute and still did backup vocals. I was blown away by his flute work, which reminded me of Ian Anderson's style but not his signature trilling. It was both solid and ethereal.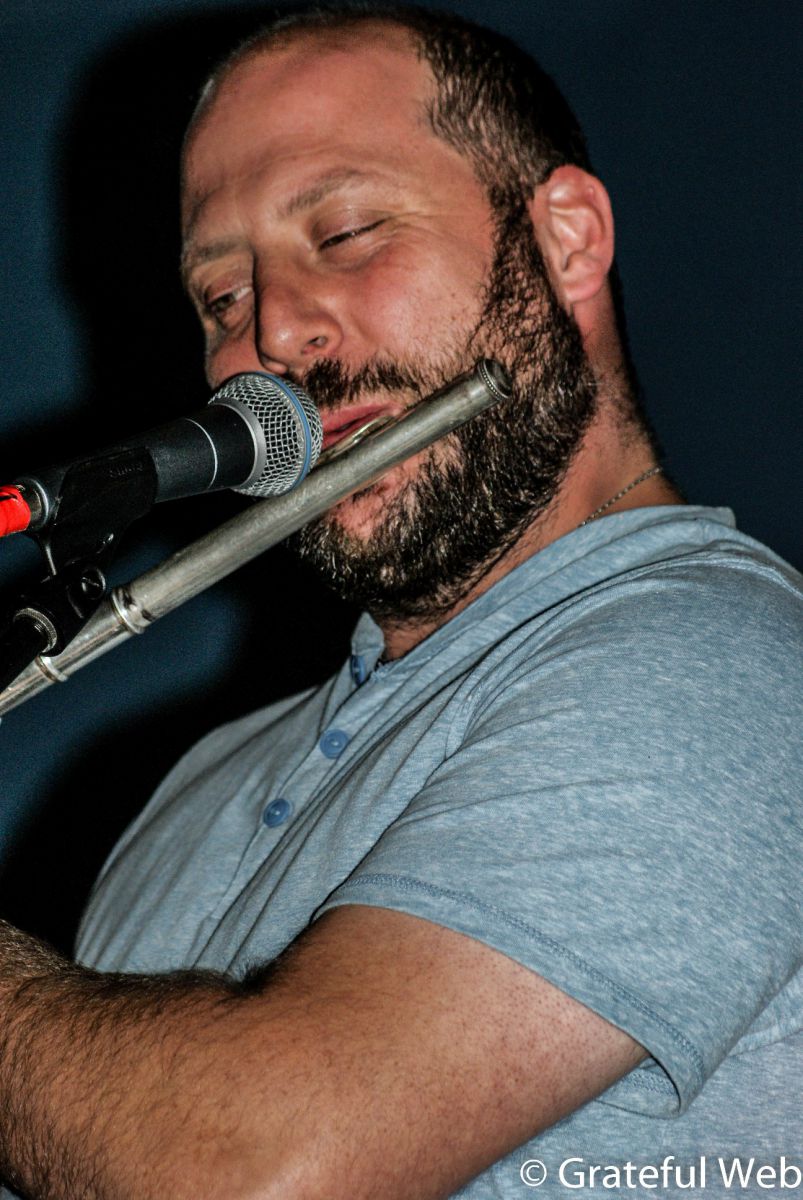 Hello Dollface will be releasing their fifth album out in September. Look for big things from this band.
Ending the evening was the band I'd been hearing about since I first found out about the Meadow City Music Festival. I must confess I had only heard what the locals were raving about and what one band member kept telling me—and I was skeptical. This band was coming back for a band reunion. They'd had one in 2013. The band was extremely popular in Northern New Mexico in the 70s and 80s—and they disbanded. I couldn't find any of their music anywhere. Even when I did a search of the band's name, I found another band of older players, but they were a hardcore metal band; those guys were all over YouTube.
So let me tell you a little about this band. Cascabel began in 1973 in Las Vegas, NM, with original band members Ben Encinias, Diego Sanchez, Louie Maestas, Leo Maes and Ben Sena. Steve Leger joined a year later. They originally pulled together popular songs they liked to build their cover repertorie as they played local venues and then eventually moved to Albuquerque. In the 80s they moved to Denver, and the 90s found them in the other Las Vegas (NV). Like many bands, they changed members often and finally disbanded. In 2013, they did a band reunion and this year they came together for yet another one at the Meadow City Music Festival.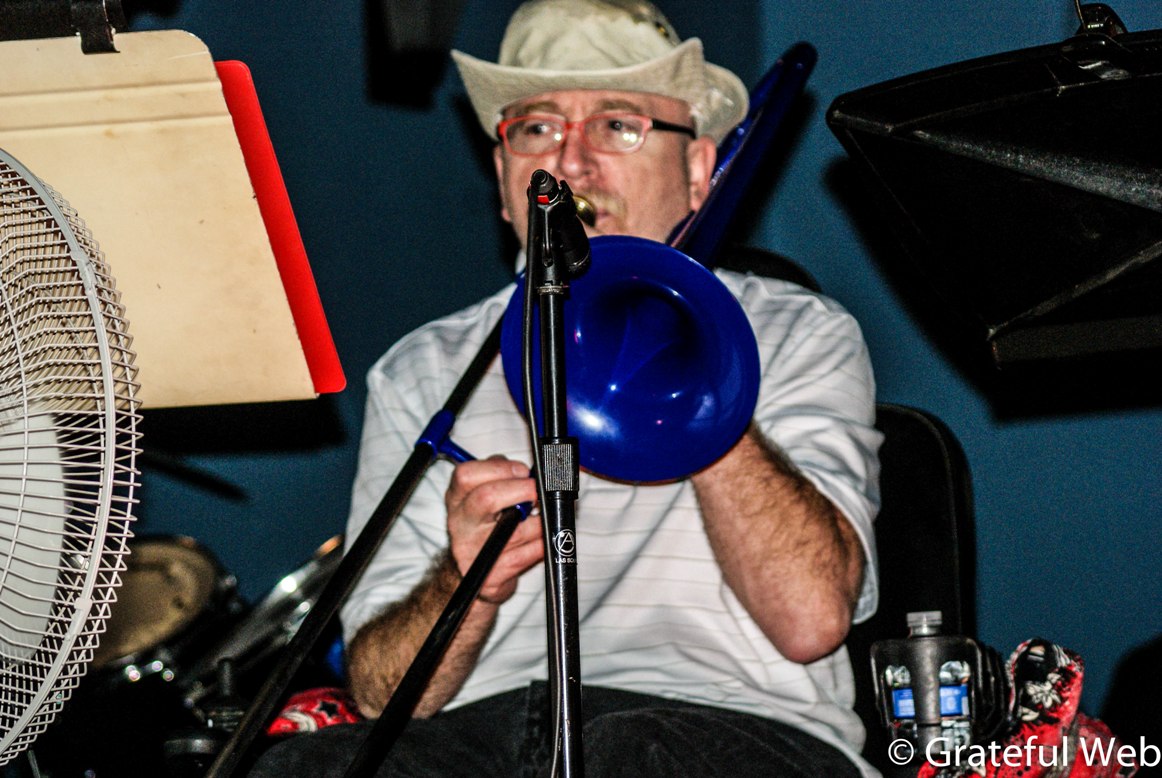 When Cascabel took the stage at the Serf Theatre, I was impressed by the sheer size of the band, a huge ten-piece band, heavy on brass, with a young woman singer who also did some auxiliary percussion. From the first notes, my jaw dropped. These guys have a big sound, a lot like Chicago only bigger. Vocals are good, but they are strong on instrumentation with a disco sound most of the time, except when they drop into songs of their roots. This was where I found their huge appeal came from. Not only could they deliver these great songs from the 70s and 80s but they offered their audiences the tunes they loved to dance to. So there were lots of cumbias and rancheras thrown in. There was strong but versatile percussion from a full drumkit and congas and other percussion. The horns are amazing, strong, precise and very good.
Cascabel knew how to mix up a set and not tire a dancing audience (and believe me almost the entire house was on the dance floor during their set). They paced the fast songs with slower ones. Era favorites flew out off the stage: "Proud Mary" (led aptly by the female singer), "God Bless the Child," the funk tune "Pick Up the Pieces," and "Save the Last Dance for Me."
I was very impressed and looked forward to hearing more from this band. So the first day of the Meadow City Music Festival ended on a high brass note. Tomorrow is a full day of music starting at 10 am. I look forward to it.