Anybody hoping for last year's incredible lineup that featured Tom Petty and Steve Winwood playing on the same day and also sharing the stage for a few tunes was bound to be disappointed with this year's lineup. Day 1 of the Outside Lands seemed a little small for a festival, but that may have been because there were so many stages with up to five bands performing at once, sometimes in different areas of Golden Gate Park. Then again when Pearl Jam began its final set of the night. the whole Polo Fields were flooding with fans and it was tough to navigate anywhere close to the stage.
Day 2 of the three-day festival was different, as there were a lot more people throughout the whole day, probably because it was Saturday, enhanced by the presence of Dave Matthews Band, who attracts a ton of yuppie stockbroker-types from all over the region. Nevertheless, when I bumped into my buddy Elliot halfway through the day, he also commented on how Outside Lands did not at all feel like your normal festival crowd, and that San Francisco was truly lacking something with this festival. Although I agreed with him, I wondered if it was truly San Francisco's fault. The lineup could have been better, but are there really that many talented great bands left ready to play the festival circuit? There are a few I can think of who might have been on the bill: Kings Of Leon, Jane's Addiction, Nine Inch Nails, Queens Of The Stone Age, and Phish (who headlined Bonnaroo 2009 this year). The problem is most of those bands I just mentioned would all want a headlining slot on the bill, and it's impossible to make that many bands the headliner when you only have three days.
I got to Outside Lands Saturday in time to see Jason Mraz's set at the Polo Fields (main stage), which made me fall asleep even in the hot sun. The music was extremely stale! Mraz was trying to mix horns with rock, folk, and possibly reggae, but it just came out sounding very boring to me and probably to others since almost everyone was sitting on blankets. After Mraz, I headed to the oyster tent to load up on some of the best raw oysters I have ever eaten, washed down with some delectable Champagne. The one thing I can't complain about this festival was all the gourmet food they had to offer! Most festivals I grew up while living in D.C. served corn dogs as their specialty, but here in Frisco food capital, you had samosas, BBQ chicken, authentic soft-shell Mexican tacos, and swordfish. On the way back to the main stage I met up with Elliot, who convinced me to turn back towards Twin Peaks for TV On The Radio's set. TV On The Radio was slightly more interesting then Mraz's set but still not quite my taste or standards.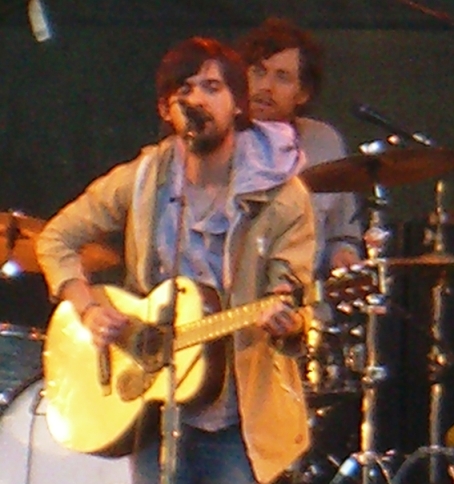 I next headed over to Lindsey Meadow Sutro and caught Conor Oberst & The Mystic Valley Band. It was by far the most intimate set I witnessed of the day since the grounds were hardly populated, as most fans were either seeing the end of The Black Eyed Peas set or Deer Hunter.  Oberst--the leader of the successful band Bright Eyes-- has started a solo project with his musician friends from Nebraska, which he's dubbed Mystic Valley. This band was nothing short of incredible surpassing the sounds of Bright Eyes! Mystic Valley is more "pure country folk" and less of the drunk, or hangover, whiny texture that used to make me get sick of listening to Bright Eyes before an album even finished. Of course, some Oberst fans would argue that the real pain and emotion Oberst captured in Bright Eyes was a rare achievement. Conor Oberst is a creative musician with a lot of potentials to lead his musical explorations into new territory. He could be the next Elliot Smith as he has amazing talent but also that same onstage agitation Smith had. You can perceive Oberst is that somewhat fragile person with deep inner thoughts and feelings but as the set wore on to its climax Oberst wasn't afraid to run his mouth out to the crowd "That's Jenny fucking Lewis from L.A.. Holly fucking shit she looks mighty sexy!" Oberst exclaimed as his gorgeous collaborator came onstage and performed the final two songs of the set with Oberst and The Mystic Valley Band. It reminded me a bit of how Johnny Cash would supposedly flaunt over June Carter before they were married on stage. Overall it was a great performance by Oberst and I hope to catch more of his shows in the future be it with The Mystic Valley Band or a return of Bright Eyes, or even another solo endeavor.
After Conor Oberst's set was over I realized Dave Matthews Band had already begun on the main Polo Field so I hurried over there on the field's uneven surface, where too many horses have played rough games over the years. On stage Dave was playing a lot of his newer material that I am not too familiar with so I wasn't that upset I had missed the beginning. It was sad to see the band perform without their saxophone player LeRoi Moore, who died last year after he suffered serious injuries in an RV accident outside his home in Charlottesville, Virginia. Tim Reynolds had joined the band to play lead guitar on this particular night in Frisco.
Reynolds formerly played acoustic guitar with Matthews on the Live at Luther City College album released back in the late 90s. This was a far different Reynolds from then, as he now had long gray hair, large dark sunglasses, and a black leather jacket made him look like a true rock star. Reynolds' solos permeated Matthews set throughout the night, just as they had when I saw him play with Matthews and Trey Anastasio from Phish, as part of Some Devil, Dave Mathews' solo album band back at Bonnaroo in 2004.
Early in the set Matthews focused on many of his newer tunes from the 2009 album Big Whiskey and the Gro Grux King, which is dedicated in memory of LeRoi Moore. The band then played one of my favorite tunes of theirs "Don't Drink The Water" from their platinum-plus Grammy smash Before These Crowded Streets. The song starts out in a beautiful majestic jazz style, but with Dave's deep, sincere lyrics it becomes clear it is far deeper than a lot of other tunes the band has recorded. "Don't Drink the Water" is one of Dave's angrier songs where he rasps in a savage tone, "I'll build heaven and call it home, 'cause, you're all dead now. And I'm gonna live with my justice. And I'm gonna live with my greedy need. I want to live with no mercy. And I'm gonna live with my frenzied feeding. And I live with my hatred. And I live with my jealousy. I want to live with the notion that I don't need anyone but me. Don't drink the water…There's blood in the water." The song sounded so vicious yet it flowed so well and you could tell it really impacted the crowd that was witnessing it who cheered and whistled loudly when the song was over. Hearing "Don't Drink The Water," made me also want to hear Matthews play "Crush," another classic cut off Before These Crowded Streets.
After the song, Matthews told the crowd. "You look beautiful this evening, San Francisco. What's that scent you're wearing? Smells like the weed!" The group also played "Tripping Billies" from their phenomenal second studio record Crash, which launched them into superstardom beyond their wildest dreams. Dave has made "Tripping Billies" a live standard in his sets and this night was no exception. The whole revved crowd sang along with him, "Tequila drinking oh our minds will wander to wondrous places. So why would you care to get out of this place? You and me, and all our friends, such a happy human race." The song features a great drum beat by Carter Beauford, and also exceptional violin soloing by Boyd Tinsley. Beauford and Tinsley are both original members of the Dave Mathews Band along with bassist Stefan Lessard, who joined the band before the age of 20.
"Tripping Billies" continues with the famous lines Dave took straight out of the Bible, "Eat drink and be merry for tomorrow we die." Dave was in a crazy, hilarious mood on this particular night, and he made it a point to freak out the crowd with his antics. His strange southern accent was one thing that cracked everyone up, but it was also the way he seemed to flutter with his sentences and also sort of bark like a seal into the microphone in between songs. He also appeared to enjoy being odd at times and totally in his own Daveland. Unfortunately, Dave Matthews did complain about having slight laryngitis that night although it was far less obvious then the vocal troubles Eddie Vedder had suffered the night before.
It was incredible to hear the magnificent "Jimi Thing," a song I had also heard the band perform in Seattle back in 2006 when they opened for The Rolling Stones at Quest Field. "Jimi Thing" moved the crowd beyond belief, as Dave sang in an extremely high voice:
"Lately I've been feeling low." The song builds up slowly with a catchy acoustic guitar, then Dave begins singing the main verse into the mic, "The day is gone I'm on my back staring up at the ceiling. I take a drink, sit back and relax. Smoke my mind, make me feel better for a short time. What I want is what I've not got, and what I need is all around me. Reaching, searching never stop, And I'll say…If you can keep me floating just for awhile 'til I get to the end of this tunnel oh-ho, Julie. If you could keep me floating just for a while I'll get back to you."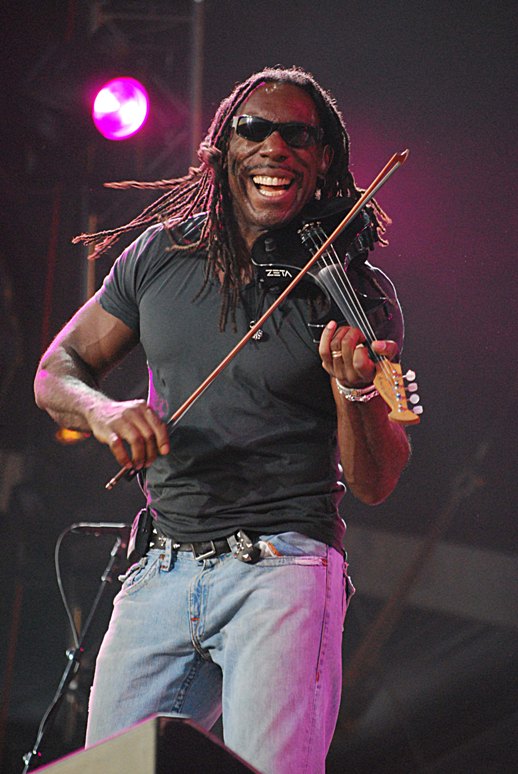 "Jimi Thing" includes Boyd Tinsley's fantastic violin in the background, but the most impressive sound coming out of "Jimi Thing" is the closing saxophone solo of Leroi Moore, who unfortunately was no longer alive to provide it on this night. As Dave Matthews stated while attending Moore's funeral in Charlottesville, VA  "Leroi will forever be known as an incredibly talented musician who was blessed with the ability to fluidly traverse jazz, rock, funk, and classical music styles. He would put that horn in his mouth and make the most astonishingly honest music that could knock you over, and it would sink right to the middle of you."
The current DMB touring saxophonist is Jeff Coffin is not considered an official member of the band, as he is actually a member of The Flecktones, a band featuring bass wizard Victor Wooten, who are often compared to Dave for their jazz influence. Coffin played the tenor saxophone way too fast on the "Jimi Thing," and didn't have the slow tempo Leroi could hold, which really made you feel the jazz and tender blues in the music.
Dave Matthews also did "Ants Marching," the big single from their incredible debut album Under The Table and Dreaming. The song got the crowd going into high gear, as everybody knew the words and sang along with Matthews:
"He wakes up in the morning, does his teeth, bite to eat and is rolling. Never changes a thing. The week ends, the week begins. She thinks we look at each other wondering what the other is thinking, but we never see a thing and these crimes within us grow deeper. Goes to visit his mommy, she feeds him well, has concerns, he forgets them, and remembers being small, playing under the table and dreaming."
The song builds to a crescendo as Beauford's drums and Coffin's saxophone control the beat, "Take these chances. Place them in a box until a quieter time lights down you up and die."
The highlight and the closing of the first set was the inimitable "Two Step," which has always sounded incredible live with its mystical intro. Before even going into the intro Dave went into a short guitar and lyrical improv in a similar key singing in a low voice, where it was difficult to decipher his words. Finally, this sequence reached a peak and Dave had visible tears in his eyes. He even began weeping a second into the mic, before screaming between fits of tears, "Let me the fuck out. Let me the motherfucker out." The intensity experienced in the crowd was at a culminating point. Nobody really knew what Dave meant or what he was talking about. But maybe deep down we all knew he was speaking to those inner demons that constantly haunt and torment his soul, and at the same time spur him to create some of the most beautiful music. "Two Step" is a prime example. "Two Step" was driven by Dave's fabulous guitar picking and built up to the chorus where Matthews sang with a similar pathos to earlier in the night during "Tripping Billies," "Celebrate we will, for life is short but sweet for certain. Climb on two by two to. Be sure these days continue. Things we can not change."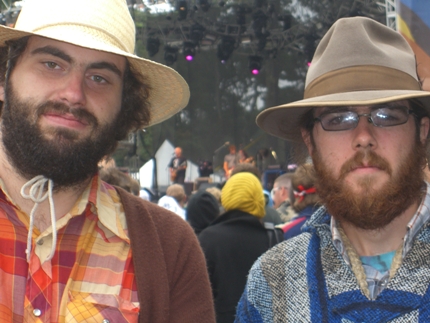 The fans sang along with him and it was an emotional moment that towards the end also featured some cool soloing by Tim Reynolds. After the song, Matthews asked if everyone in the crowd was having a good time. When gleeful cheers responded, Matthews, did his strange barking into the mic.
The encores began with a Dylan song which is possibly one of the most famous songs to cover by numerous bands over the years from The Jimi Hendrix Experience to Dave Mason. Matthews has often closed his sets with "All Along the Watchtower." Robert Randolph came out from backstage with his classic pedal steel guitar to aid the band. "All Along the Watchtower" starts out annoyingly slow until the line "Let us not start off falsely now the hour is getting late." From there Dave bursts into a satanic voice howling into the night "yeah, yeah, yeah." Tim Reynolds lit up his best guitar solo of the night playing harshly back and forth and really putting on a show. Several times during his performance that night he reminded me of Eric Clapton by the way he stood there with the guitar towards the back of the stage when he was in full control of the song and the solo, a typical Clapton move back in his peak days. DMB went into "Stairway to Heaven" in the middle of "Watchtower," and the soloing of Reynolds sounded immaculately like Jimmy Page: unfortunately Dave's voice was a far cry from Robert Plant's. Still, it was cool to see DMB do their own interpretation of "Stairway" and then revert back into "All Along The Watchtower," driving the crowd into a frenzy near the front of the stage.
Dave Matthews Band went into one final cover to close the night, Sly & The Family Stone's "Thank You Falettinme Be Mice Elf Agin." The song was a terrible way to end the night! Dave barely even picked up a guitar and was dancing around the stage in clown-like fashion half the time, letting the crowd and Robert Randolph sing most of the lyrics.
All in all, though it was one of the best Dave Matthews Band concerts I had ever attended proving why they belonged at the top of Day 2's billing. Dave could have done something more creative with the final encore, especially with Robert Randolph joining in, but I was glad Tim Reynolds was on electric guitar, as I have mainly seen him on acoustic in the past. It had been a mistake earlier in the set for Dave to bring onstage two members of The Black Eyed Peas, especially Fergie, who tried to get the crowd to chant "San Francisco" along with her. The crowd practically booed her off the stage. She was obviously bummed but deserved such disgrace for trying to share the same stage as Dave Matthews.
Sunday, Day 3 of the festival was looming on the horizon, and even though I despised the headliners Tenacious D, I was excited by the prospect of Ween, Modest Mouse, Calexico, and Robert Randolph and The Family Band.
Dave Matthews Band Setlist
1. Why I Am
2. You Might Die Trying
3. Don't Drink The Water
4. Stay or Leave
5. Spaceman
6. Cornbread
7. Lie In Our Graves
8. Alligator Pie
9. Shake Me Like a Monkey
10. Gravedigger
11. Jimi Thing
12. You & Me
13. Ants Marching
14. Two Step
Encore:
15. All Along The Watchtower into "Stairway to Heaven" back into "All Along The Watchtower (with Robert Randolph on pedal steel guitar)
17. Thank You (Falettinme Be Mice Elf Agin. Sly & The Family Stone cover, with Robert Randolph on pedal steel guitar)
Outside Lands Day 3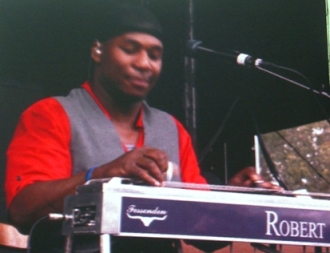 Day three at The Outside Lands Festival began much better than the first two days because I actually got a ride from Berkeley into the city instead of having to Bart into Frisco, and then take a bus to the park, followed by a long walk to the fields, all in all about 2.5 hours one way! It was a smooth ride into the city in Elliot's truck despite being packed in the front like sardines with his buddy Dave riding shotgun and me squished in the middle! It was a real San Francisco day—cool--unlike the festival's first two days of the festival which had been abnormally hot for Fog City. The brisk weather meant nobody was getting dehydrated and thus drunk from beer too early in the day. We arrived just in time for Robert Randolph & The Family Bands set at The Polo Field (main stage). Randolph--the pedal steel master of today's era--played a fantastic set highlighted by a ravishing cover of Jimi Hendrix's "Purple Haze." Dressed wearing a black doo-rag over his head with and red button-down shirt, black vest and black pants, Randolph played the pedal steel to create all sorts of crazy scraping sounds; he was the main stages' best act that day, easily topping the sets of Modest Mouse and obviously Tenacious D.
After Randolph's show, I ventured over to Lindsey Meadow Presidio to see Calexico, a very unique group from Tuscon, Arizona, led by vocalist/guitarist Joey Burns and drummer John Convertino. The set featured plenty of sweeping songs about the band's hometown and chants in Spanish by a backing vocalist--Latin jazz rhythms, mariachi trumpets, and pedal steel guitars. Overall it was a solid set and for me the biggest surprise of the day as I had never heard of Calexico before.
Next up was a bit of Modest Mouse on the Polo Fields, but I couldn't have been there for more than ten minutes before Elliot dragged me off to Twin Peaks to catch Ween, who were playing from 5:35 to 7:34 PM the longest set by any side-stage band at the festival. Ween was up for the task, as there seemed to have be more Ween heads than any other kinds of fanbody else around on Day 3; overall fewer people turned up on Sunday then had come the previous two days to see sets by the likes of, Pearl Jam, Incubus, Mars Volta, and Dave Matthews. The mere fact that Tenacious D were the headliners of Sunday was beyond even a joke! Whose idea to replace The Beastie Boys--originally slated to headline the bill--with Jack Black's Tenacious D? This decision was a mockery to rock n' roll. Ween may also be considered the ultimate cosmic goof of the rock n' roll era with the way their songs sound with a sardonic fervor. Somehow though, Ween pulled it off a lot better than Tenacious D, because as Allmusic.com has commented, "Ween is a prodigiously talented and deliriously odd duo whose work traveled far beyond the constraints of parody and novelty into the heart of surrealist ecstasy. Despite a mastery for seemingly every mutation of the musical spectrum, the group refused to play it straight; in essence, Ween was bratty deconstructionists, kicking dirt on the pop world around them with demented glee."
The best thing about Ween is their versatility as a band, they are so talented they never sound the same in any of their songs; they can play everything from heavy metal to Irish folk music with lyrics. There were times in the set where I wondered if it was the same band playing the beautifully textured "Roses Are Free," to the light jazzy bop "Your Party." Quoting Allmusic again, "Despite the group's "occasional frat-boy lapses into misogyny, racism, and homophobia, the band's razor-sharp satire cuts to the inherently silly heart of rock & roll." Their songs range from titles like the fantastic "Bananas and Blow" to "Baby, Baby, Bitch." Ween played Bananas and Blow," on Sunday. The song is about lead vocalist Mickey Melchiondo (aka Dean Ween) being holed up in a Mexican cabana for a week with nothing to eat but bananas and nothing to do but snort copious amounts of cocaine. The fans sang along with Dean Ween, "Now the rainy season reminds me of Maria. The way she danced, the color of her hair. Now I'm locked inside a stall at the cantina. Eating the bananas and the cocaine off the mirror. Looking for a ticket to take me away from here. Bananas and blow (oh-oh), bananas and blow. Stuck in my cabana, living on bananas and blow." If listeners found that a hard song to swallow, just imagine a song like "Spinal Meningitis" being played live by Ween while a few male fans lifted a young woman up and spun her around in circles while simultaneously slapping her ass. Ween's show was a spectacle—unlike anything else I have witnessed at a live show. They held the crowd of dedicated Ween-Heads in the palm of their hand. Even the cops couldn't turn away from the show, as I noted three of them perched on their horses on top of the hill talking over the set and probably thinking "who are these sick and demented people who enjoy listening to a guy talk about having warts on his asshole (in the Irish folk parody "Blarney Song") or singing, "Realize that the sky's not made of gold. Don't disguise the nature of your soul. Gimme that z, o-l-o-f-t. No longer pissed and you don't bother me. I'm makin' it through, I'm givin' my all," as they did in "Zoloft."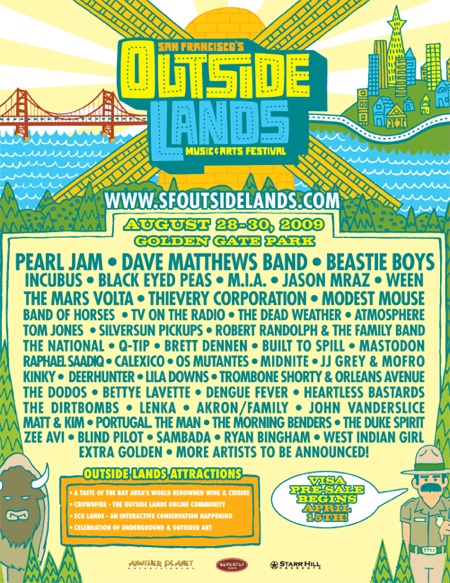 Overall it was a solid set by Ween and I give them credit for the vast variety of music they cover, but as far as their lyrics go, I find them often perverse and even childish. Maybe they are trying to make fun of rock n' roll and all its bravado, but they themselves would be a lot more enjoyable to watch if they weren't talking about jerking off their own dicks and itching their balls in too many of their songs. I will give them credit though for the songs such as, "Bananas and Blow," which really was a funny yet depraved song about drug addiction, and also "Your Party," and "Roses Are Free," both sounded brilliant with the way they were crafted but songs like the last two they played, "You Fucked Up," and "The Blarney Song" was not at all my forte.
The sad, sinking feeling after Ween's set began to set in just as it does when every three-day festival you attend is about to end. Nobody wants the fun to stop. While thousands gathered for the festival's final set of the festival with Tenacious D performing on the Polo Fields, Elliot and I sat at the oyster tent drinking Champagne and munching on two dozen raw oysters on the half shell.  It was great to close the fun-filled festival with one final splurge before heading home.