Cozy would be an understatement. The air was stifling on Saturday night in Eugene, OR's Jaqua Concert Hall at The John G. Shedd Institute for the Arts. But the music was cool and refreshing.
From the opening song, Panama Red, to the set closer, Midnight Moonlight, the Peter Rowan and Tony Rice Quartet played inspiring melodies with a smooth swagger. Though their names were not in the headline, Sharon Gilchrist (mandolin, vocals) and Bryn Davies (bass, vocals), took center stage with beautiful vocal harmony and stupefying instrumentalism.
The Hobo Song and Free Mexican Air force satisfied those old Peter Rowan (guitar, mandolin, vocals) fans, while The Land of the Navajo featured "Red's" own signature yipping and ululating, interspersed with Tony Rice's (guitar) ethereal lightning-fast leads into which he carved extra time with jazzy chords and eerie harmonics. The traditional Cold Rain and Snow was particularly haunting, reminiscent of renditions by The Be Good Tanyas.
Of course a recounting of the song's origin introduced the epic, The Walls of Time, which Rowan co-wrote with bluegrass's founding father, Bill Monroe. A song about the loss of green pastureland during the Dust Bowl, a Tony Rice instrumental (which some in the audience could be forgiven for mistaking at times as the traditional, Shady Grove), a Townes van Zandt cover, and a couple of sweet and poignant tracks from the band's up-coming album, provided some pacing to balance the show's big crowd-pleasers.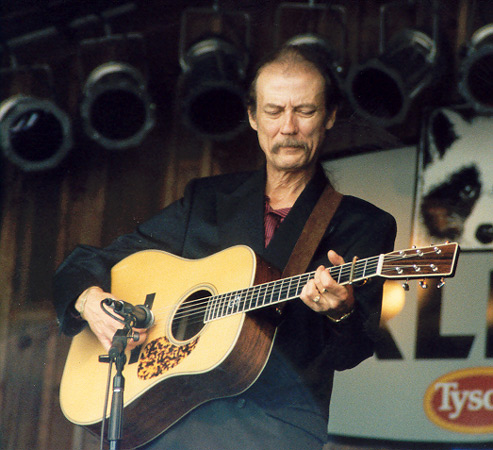 Almost every song followed a predictable format, with verses, refrains and breaks, then a long Tony Rice lead followed by some resolution, usually another verse or just one final chorus. This traditional style offered a familiar compliment to the innovative sensibilities expressed through brilliant solos and sentimental, harmonious outpourings, both during songs and during banter between songs. The single set lasted little more than 70 minutes, and the encore barely extended the total show time past 90 minutes.
A comfortable entertainer who knows his audience, the old master Rowan took the opportunity to make several references to consciousness-expansion, including, after an aborted attempt to begin one song, a quick anecdote: he recalled the words a bright-eyed Jerry Garcia had uttered to him while exiting the stage in Medford, OR in 1971: "No thoughts." The Quartet's performance on Saturday night left this audience member with "no thoughts," except for gratitude for a show well done, and hopes that next time they'll stay and play a little longer.