Renowned Baltimore jam-funk quartet Pigeons Playing Ping Pong has announced plans for an extensive Spring Tour spanning both coasts and bringing along up-and-coming bands across numerous genres.
Kicking off with a two-night extravaganza at the 9:30 Club in Washington, DC (2/3-4), the tour will traverse westward to Colorado for a four-show mountain run. Following an intimate performance at Aspen CO's Belly Up, PPPP will make their way to Frisco CO's 10 Mile Music Hall (3/16). After a doubleheader at Boulder Theater (3/17-18), the tour will touch down in the Midwest for five shows in six nights (Des Moines 3/21, St. Louis: 3/23, Milwaukee: 3/24, Grand Rapids: 3/25, and Indianapolis 3/26).
The quartet will make a triumphant return to Buffalo's Town Ballroom (3/30-31) and will grace Portland, ME with a performance at the State Theatre (4/1) as well as the Portland House of Music (4/2). The tour will conclude with three nights at Brooklyn Bowl in New York City (4/13-15).
Joining the band on select dates are reggae rock outfit Dale & The Zdubs (2/3), Joe Hertler and The Rainbow Seekers (2/4), Tenth Mountain Division (3/15-17), and The Jauntee (3/18). P4 will be joined by Yam Yam across the Midwest, and Melt in Buffalo, NY and Portland, ME (4/1 only). Three nights at NYC's Brooklyn Bowl will close the tour, during which the band will be joined by Yam Yam (4/13), Kendall St Company (4/14), and One Time Weekend (4/15).
Tickets for the Spring Tour will be available through a presale starting on Wednesday, December 14th at 10am local time, followed by a public on-sale beginning Friday, December 16th at 10am local time. For more information and to purchase tickets, visit pigeonsplayingpingpong.com/tour.
Don't miss out on this remarkable chance to see Pigeons Playing Ping Pong bring their eclectic, high-energy jam fusion to the stage. Get your tickets today and experience the funk in all its glory!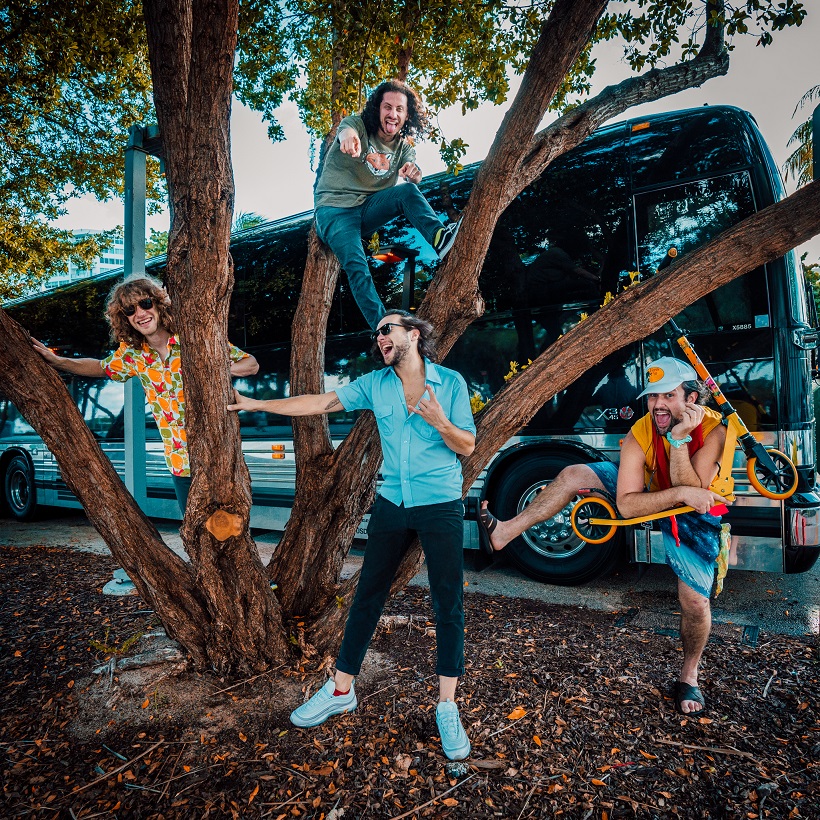 Pigeons Playing Ping Pong - Spring Tour 2023 + Remaining 2022 Dates
12/16/22 - Harrisburg, PA - XL Live (Festival of Melting Lights w/ Dogs In A Pile)
12/17/22 - Harrisburg, PA - XL Live (w/ LITZ)
12/30/22 - Pittsburgh, PA - Stage AE (w/ Magic Beans)
12/31/22 - Pittsburgh, PA - Stage AE (w/ Magic Beans)
—
2/3/23 - Washington, DC - 9:30 Club (w/ Dale & The Zdubs)
2/4/23 - Washington, DC - 9:30 Club (w/ Joe Hertler & The Rainbow Seekers)
3/15/23 - Aspen, CO - Belly Up (w/ Tenth Mountain Division)
3/16/23 - Frisco, CO - 10 Mile Music Hall (w/ Tenth Mountain Division)
3/17/23 - Boulder, CO - Boulder Theater (w/ Tenth Mountain Division)
3/18/23 - Boulder, CO - Boulder Theater (w/ The Jauntee)    
3/21/23 - Des Moines, IA - Wooly's (w/ Yam Yam)
3/23/23 - St. Louis, MO - Delmar Hall (w/ Yam Yam)
3/24/23 - Milwaukee, WI - Turner Hall Ballroom (w/ Yam Yam)
3/25/23 - Grand Rapids, MI - The Intersection (w/ Yam Yam)
3/26/23 - Indianapolis, IN - Vogue (w/ Yam Yam)
3/30/23 - Buffalo, NY - Town Ballroom (w/ Melt)
3/31/23 - Buffalo, NY - Town Ballroom (w/ Melt)
4/1/23 - Portland, ME - State Theatre (w/ Melt)
4/2/23 - Portland, ME - Portland House of Music
4/13/23 - Brooklyn, NY - Brooklyn Bowl (w/ Yam Yam)
4/14/23 - Brooklyn, NY - Brooklyn Bowl (w/ Kendall St Company)
4/15/23 - Brooklyn, NY - Brooklyn Bowl (w/ One Time Weekend)