Acclaimed Baltimore funk quartet Pigeons Playing Ping Pong has announced the release of their eagerly awaited new studio album. Perspective arrives on Friday, April 8; pre-orders are available now.
Perspective seamlessly blends effervescent lyricism with groovy instrumentation, confidently creating P4's most ambitious studio work to date. The Maryland-based group —Greg Ormont [vocals, guitar], Jeremy Schon [guitar, vocals], Ben Carrey [bass, vocals], and Alex "Gator" Petropulos [drums, vocals]— will celebrate their sixth studio LP and first full-length project in more than two years with a massive nationwide tour, and an impressive string of festival appearances. The project is yet another milestone in the band's storied history, having played countless sold out shows, garnered millions of streams, and developed a rabid fan base affectionately known as "The Flock." Despite the seemingly endless accolades and busy touring schedule, Perspective is a necessary cogitation for the indefatigable musicians.
"When touring shut down in 2020, we gained immense perspective," admits Ormont. "The album title speaks to the perspective of the pandemic as well as our growth over the years. During this turbulent time, everyone in the world has been forced to look in the mirror and ask what's truly important. If there's anything we've all gained from this, it's perspective, and a recurring theme from our band is to not waste time. Now more than ever, we recognize that you only get one life, so you might as well live it to the fullest and lift people up in the process."
PRE-ORDER/PRE-SAVE PERSPECTIVE
LIMITED EDITION PERSPECTIVE MERCH
Perspective Tour 2022,  named after the eponymous studio album, will see the band visit more than thirty cities nationwide. Following an extended run of shows through the Midwest, Southwest, and the West Coast, the funky foursome will migrate down the Eastern Seaboard. After a pair of performances at House of Blues in Boston (4/1-2), PPPP will return to New York City for an inaugural performance at Terminal 5 (4/9). Tour continues with a highly anticipated return to The National in Richmond, VA (4/20). The band will deliver a string of concerts throughout the Southeast, highlighted by a debut doubleheader at Brooklyn Bowl Nashville (4/23-24), and a visit to Lincoln Theatre Outdoor in Raleigh, NC (4/30).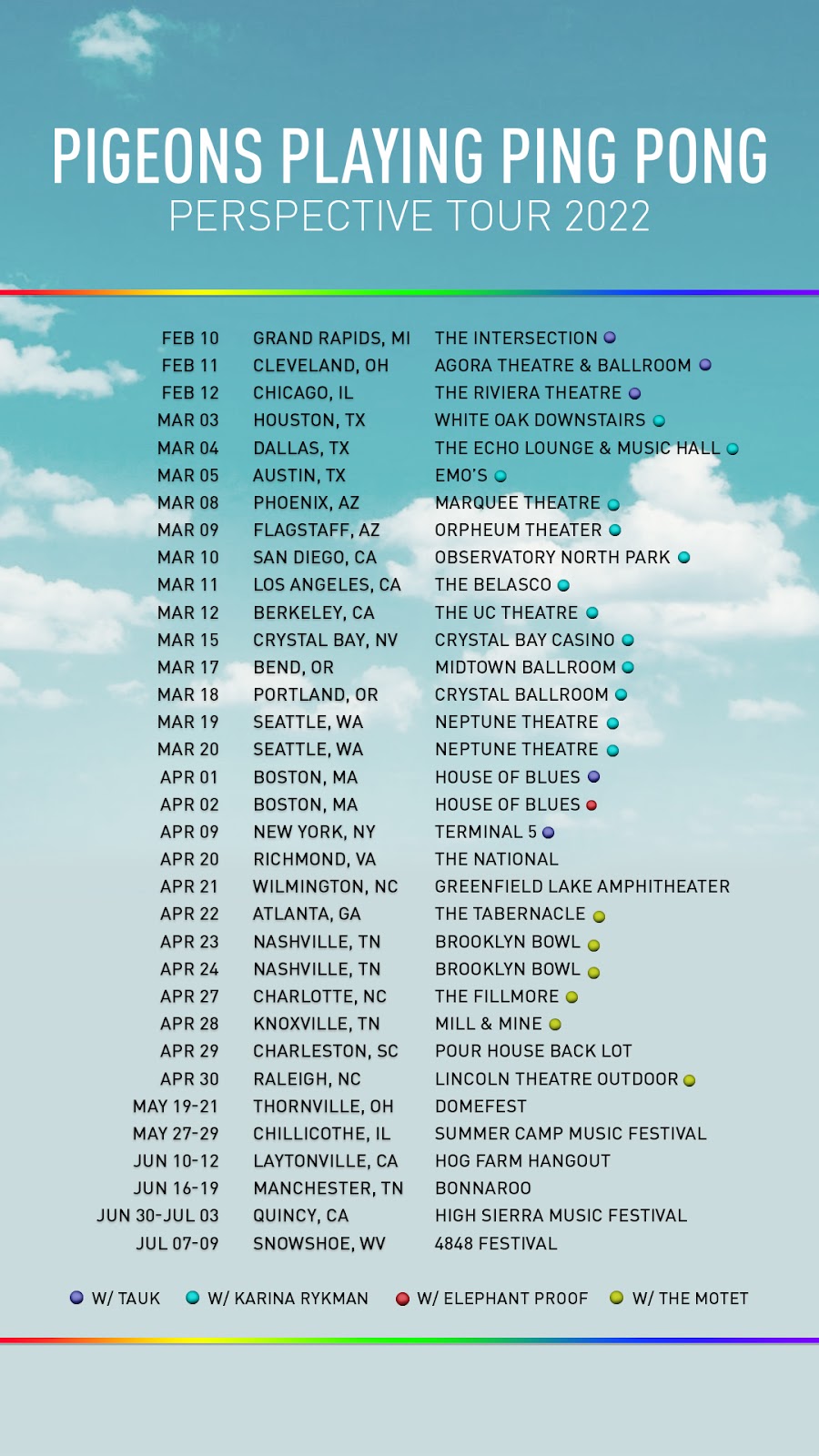 P4 will embark on yet another jam-packed voyage through festival season with the eleventh annual iteration of Domefest, their self-produced music and camping festival (5/19-21). Subsequent dates include an appearance at Summer Camp Music Festival (5/27-29), Bonnaroo (6/16-19), and High Sierra Music Festival (6/30-7/3), among others.
Tickets for all newly announced tour dates will be available through the band's website. An artist presale runs from Wednesday, January 26th at 10 AM ET through Thursday, January 27th at 5 PM ET. Public onsale begins on Friday, January 28th at 10 AM ET.