Santa Cruz Music Festival 2017's 2nd wave line-up shook the Central-Bay Area but the 3rd and final announcement is here and you might want to sit down for this one. Along with the hard-hitting acts of the first two waves, such as Troyboi, Louis the Child, The Brothers Comatose, The Coffis Brothers, and many more, we have carefully added more toe-tapping, exhilarating acts. Among the new wave is Zion-I, Monolink, Scarub, Charlesthefirst, Ancestree, Dreaming Ghosts and many more.
Not only are we proud to bring these excellent acts to the stages of Santa Cruz, but SCMF is offering even more stages (17+ stages) this year. SCMF is proud to include San Lorenzo Park to our list of venues. San Lorenzo Park will be the staple of community for SCMF, helping to express how much we would like to give back to the community as an event. Booths will be set up for Nonprofits and NGOs to spread awareness for their local companies. Other fun-for-all-ages events will be included at the park such as yoga, hula-hooping, face-painting, and other community, fair activities. Throughout the past years we have established ourselves as fantastic entertainment providers, but this year we want to make sure that the whole family has a chance to participate and enjoy the incredible city of Santa Cruz.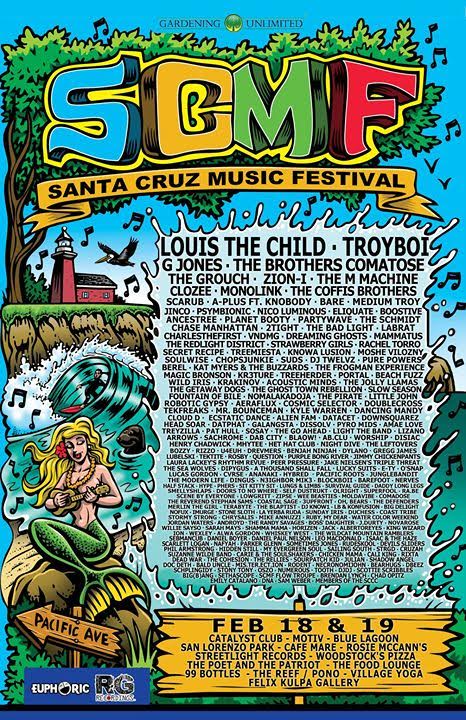 Being Santa Cruz is a town that is heavily endorsed in community, we are excited to announce that we are continuing the Santa Cruz Speaks portion of Santa Cruz Music Festival for this year's event. Santa Cruz Speaks is a lectures series featuring local speakers covering a topics such as The Community of Santa Cruz, The Music Industry, Sustainability and Cannabis Science. The lecture series will also include music and poetry from participating SCMF artists. Come relax & learn at The Food Lounge while enjoying local beer and cocktails and the delicious food of Kickin Chicken.
SCMF will also be hosting a few other special events. The SCMF17 Bike Party, a 2-hour pirate themed bike extravaganza throughout Downtown and the festival. For those coming to SCMF for the laughs, SCMF will be hosting a Comedy Tour. Hosted by Santa Cruz Comedy Coalition, the tour will take over three venues for 1-hour, each day. SCMF will be giving back to mother nature on Sunday morning with a Beach Cleanup. SCMF will be hitting Cowell's Beach to ride the area of trash before returning Downtown for day two of SCMF.
SCMF Features:
A two-day, multi-venue festival located in Historic Downtown Santa Cruz.
Both Paid (Wristband) & Free to Public Events.
12:00pm - 1:00am on Saturday and Sunday , February 18th and 19th 2017
Over 150+ hours of entertainment packed into two days
13+ venues, 16+ stages of music and entertainment, all within walking distance.
250+ bands, DJ's and artists.
Interactive art walks brought to you by Made Fresh Collective
Located 1 mile away from the Historic Santa Cruz Beach Boardwalk
Genres range from Rock, Indie, Reggae, Electronic, Hip-Hop, Metal and every sound in between.
Venues include The Catalyst Club , Motiv, The Blue Lagoon, San Lorenzo Park, Cafe Mare Woodstock's Pizza, Streetlight Records, The Reef / Pono, The Poet & The Patriot, Rosie McCann's, 99 Bottles, The Food Lounge, Felix Kulpa Gallery, Village Yoga
SCMF Panel Discussion - Topics: City of Santa Cruz, Sustainability, Music Industry, Cannabis
Stay tuned for further artist and feature announcements, as well as ticket giveaway and videos.