Today, Seth Walker shares "Remember Me," the second single from his forthcoming album, 'I Hope I Know,' out May 20 on Royal Potato Family. In its premiere at WMOT Roots Radio, they proclaim the song "scratches a particular nostalgic itch, bringing with it the feeling of a hot and sticky summer night in the south, a bar full of only people who are in the know, no invitations given, just word of mouth and the ability to suss out who is worth listening to." Co-written with Walker's longtime, Grammy Award-winning collaborator Gary Nicholson and featuring haunting horn parts by Matt Glassmeyer, "Remember Me" is imbued by a ghostly, 'round midnight aura in which the protagonist laments: "So much more than memory, the words we never said still won't let me be. And all the love we made will never end and if you want to feel that way again remember me."
"The song came to me while staring at a bookshelf, lost in thought, comparing the memory of a relationship to how lines of prose and poetry leave imprints and recollections on a page," explains Walker. "The moment caught me wrapped in a feeling of how I hoped to remember and be remembered as life rolls, tumble and fades. Amidst those thoughts, up jumped this melody and song seedling. Musically it pulls from some of my earliest influences of old jazz and blues, with a few turns and twists woven through there."
Not surprisingly, Walker wrote the majority of the new album in the middle of a seven year r relationship coming to an end and the subsequent move from his home in Nashville to Asheville not far from where he was born and raised in North Carolina. Produced by Jano Rix of The Wood Brothers and featuring three songs co-written with Oliver Wood, one with Jarrod Dickenson and two more with the aforementioned Nicholson, as well as, renditions of songs by Bob Dylan, Van Morrison and Bobby Charles, 'I Hope I Know' is a beautiful reckoning with heartbreak, moving across states and coming to terms with the uncertainty of the future. Ultimately revealing itself as a beacon of light for the listener, each of its ten songs shining forth with what so many have come to love about Walker and his soulful Americana: diverse influences, contemplative lyrics, his signature blue tone on the guitar, and movement both geographic and spiritual.
Seth Walker will be on tour supporting the album for the next year with the first shows this May in Texas. June will be spent performing shows on the East Coast before heading to Europe for an extensive run of shows.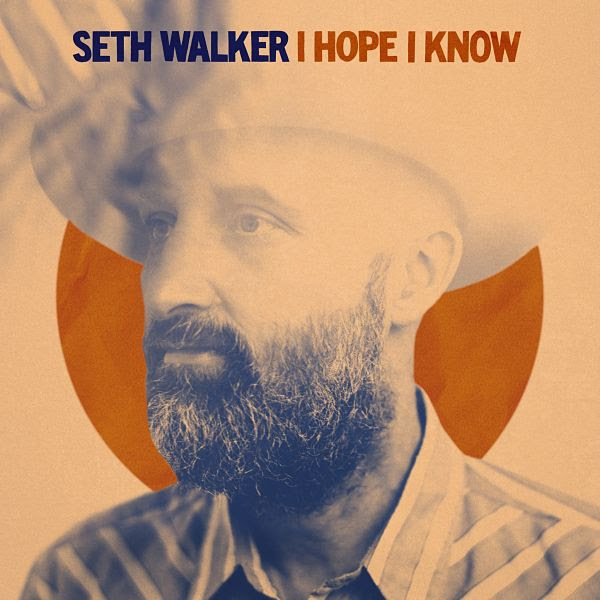 SETH WALKER - I HOPE I KNOW
Track Listing
1. The Future Ain't What It Used To Be (listen / watch)
2. Why Do I Cry Anymore
3. Hope I Know
4. Remember Me
5. Satisfy My Mind
6. Tennessee Blues
7. Warm Love
8. River
9. Buckets Of Rain
10. Peace In The Valley
Available May 20 on Limited Edition 180-Gram Orange Vinyl, CD & Digital Formats
Pre-Order Available HERE
SETH WALKER
Tour Dates:
5/14 - San Angelo, TX - Simply Texas Blues Festival
5/19 - Dallas, TX - The Kessler *
5/20 - Austin, TX - 04 Center *
5/21 - Houston, TX - The Heights *
6/3 - Easton, MD - Stolz Listening Room
6/4 - Wayne, PA - 118 North
6/5 - Putney, VT - Next Stage Bandwagon Summer Series
6/7 - New York, NY - Rockwood Music Hall
6/9 - Albany, NY - The Linda
6/10 - Exeter, NH - Word Barn
6/11 - Plymouth, MA - Spire Center for the Performing Arts
6/14 - Lancaster, PA - Tellus 360 **
6/15 - Baltimore, MD - The 8x10 **
6/16 - Washington, DC - The Hamilton **
6/17 - Greensboro, NC - Flat Iron
6/18 - Asheville, NC - The Grey Eagle
6/28 - Seclin, France - La Scene
6/30 - Madrid, Spain - Cafe Berlin
7/1 - Aviles, Spain - Centro Niemeyer
7/2 - Valles, Spain - Bocanegra
7/3 - Sabinanigo, Spain - Sala Corleone
7/5 - Grenoble, France - Gresiblues
7/8 - Asendorf, Germany - Break Out
7/9 - Joldelund, Germany - Gerds Juke Joint
7/11 - Malmo, Sweden - Medley
7/15 - Norderstedt, Germany - Musicstar
7/17 - Oostende, Belgium - Manuscript
7/29 - Tryon, NC - Summer Tracks
7/30 - Elkin, NC - Reeves Theater
8/4 - Berwyn, IL - Fitzgerald's
8/5-7 - Appleton, WI - Mile of Music Festival
8/9 - Des Moines, WI - The Flying Mango
8/12 - Ann Arbor, MI - The Ark
8/16 - Pittsburgh, PA - Club Cafe
9/1 - Ridgeway, CO - Sherbino Theater
9/2 - Glenwood Springs, CO - Four Mile Creek
9/4 - Pagosa Springs, CO - Four Corners Folk Festival
9/28 - Prosser, WA - Brewminatti
9/29 - Portland, OR - Jack London Revue
9/30-10/2 - Sisters, OR - Sisters Folk Festival
10/13-16 - Live Oak, FL - Suwannee Roots
* w/ Bonnie Bishop
** w/ Pressing Strings