The heavy NYC dirty funk 4-piece TAUK is hitting the festival scene hard this summer with their unique blend of experimental melodic prog rock and sexy grooves. The band's Spring and Summer lineup includes sets at 16 festivals including The Hudson Music Project, Floyd Fest, Blackstock Music Festival, Camp Barefoot, Mad Tea Party Jam, Rock N Roll Resort, Some Kind Of Jam 9, Blossoms Blooming Festival, Domefest, The Big What?, Under The Stars, Pasture Palooza, Pink Moon Festival, All Go West and more to be announced soon. For tickets and more information, visit: http://www.taukband.com.
TAUK is Matt Jalbert (Guitar), Charlie Dolan (Bass), Alric "A.C." Carter (Keyboard-Organ), and Isaac Teel (Drums). The quartet is currently in the studio with legendary Grammy-Winning Producer Robert Carranza (Mars Volta, Jack Johnson) crafting their sophomore full-length album - due out Summer 2014. Carranza explains, "what's compelling is the raw power of the band, from their light moments to full-out jamming. Music is a language that some feel and others speak - and TAUK do both very well."
TAUK's latest album will be a triumphant follow-up to their 2013 first completely instrumental full-length album, Homunculus - a record that received widespread acclaim including an "On The Verge" feature in Relix Magazine, frequent rotation for the single "Dead Signal" on Sirius XM Jam On, and helped garner a growing fanbase of music lovers spanning all ages and musical genre preference.
TAUK manages to create a live show experience to match their masterfully produced recordings.  The unique chemistry and relaxed-focus of TAUK's performance is undeniable, but their ability to create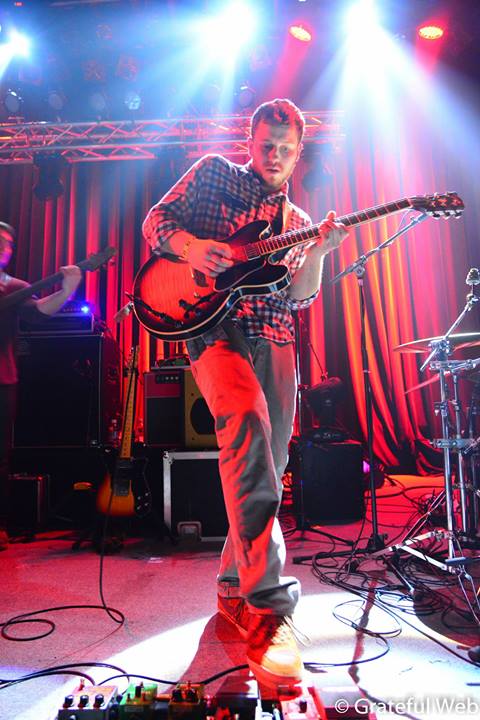 immensely melodic and emotional music without a vocal lead is what continues to captivate and impress music lovers across all genres. TAUK has landed spots on the biggest festivals such as Bonnaroo, The Hangout Music Festival, Summer Camp, and The Allman Brothers' Peach Fest and played in direct support for some of the most respected names in music including moe., Robert Randolph & the Family Band, The Funky Meters, Karl Denson's Tiny Universe, Lettuce, Dopapod, Tim Reynolds & TR3, Perpetual Groove, Tea Leaf Green, Toubab Krewe, The Mantras, The Revivalists and more.
TAUK's chemistry can be attributed to their history. Forming in middle school, a majority of TAUK's members have been playing together for over a decade. The group experimented with their sound over the years both individually while studying at top music universities and conservatories, and together as a band - always working to find their ideal sound. It wasn't until 2012 with the addition of drummer, Isaac Teel, and the realization the band could build a fan base around a completely instrumental act, that the pieces fell into place. Since then the band has continued to push the envelope of their musical vision, creating instant fans across the country on a nightly basis.
Upcoming Tour Dates:
Apr 3 - Worchester, MA @ Electric Haze
Apr 4 - Kerkhonkson, NY @ Rock N Roll Resort
Apr 8 - Asbury Park, NJ @ The Saint w/ Karmic Juggernaut & Jordan Family Band
Apr 9 - Frederick, MD @ Café 611 w/Moogatu & DeltaNINE
Apr 10 - Philadelphia, PA @ XO Lounge w/AlyCat
Apr 11 - Albany, NY @ Red Square w/ Mister F
Apr 12 - Providence, RI @ The Spot w/ Mr. Breakdown and Slice
Apr 16 - Winchester, VA @ Blue Fox Billiards
Apr 17 - Virginia Beach, VA @ Doc Taylors Seaside Market Lounge
Apr 18 - Charlotte, NC @ The Chop Shop w/ Yo Mama Big Fat Booty Band & Dopapod
Apr 19 - Atlanta, GA @ Terminal West w/ Motet & Consider The Source
Apr 26 - Schuylkill Haven, PA @ Some Kind Of Jam 9
May 3 - Boston, MA @ The Church w/ Consider The Source
May 4 - Pomfret, CT @ Tyrone Farm w/ Aqueous
May 7 - Brooklyn, NY @ Brooklyn Bowl co-headlining w/Fikus
May 10 - Sharpsburg, MD @ Blossoms Blooming Festival
May 14 - Pittsburgh, PA @ Thunderbird Café w/ Aqueous
May 16 - Covington, KY @ Cosmo's Grille Pub w/ Aqueous
May 17 - Indianapolis, IN @ The Mousetrap w/ Aqueous
May 21 - Charlottesville, VA @ The Southern w/ DJ Williams Projekt
May 22 - Richmond, VA @ The Camel w/ DJ Williams Projekt
May 23 - High Point, NC @ Blue Burbon Jacks w/ ESP
May 24 - Asheville, NC @ Asheville Music Hall w/ Nomadic
May 25 - Knoxville, TN @ The Bowery
May 30 - Terra Alta, WV @ Domefest
May 31 - Blackstock, SC @ Blackstock Music Festival
June 7 - Asheville, NC @ All Go West Music Festival
Jun 19-20 - Hedgesville, WV @ Mad Tea Party Jam Festival
Jun 27 - Prospect Hill, SC @ The Big What? Music Festival
Jul 5 - Terra Alta, WV @ Under The Stars Festival
Jul 11 - Saugerties, New York @ Hudson Music Project
Jul 12 - Berryville, VA @ Pasture Palooza Music & Arts Festival
Jul 24 - Charlotte, NC @ White Water Center
Jul 25 - 26 - Floyd, VA @ Floyd Fest
Aug 14 - Abingdon, VA @ Abingdon Music Experience
Aug 21 - Bartow, WV @ Camp Barefoot
Sept 12 - Rock Camp, WV @ Pink Moon Festival