Tony Furtado's new album, Thirteen, streets January 23 and features Jim Dickinson (Big Star, Replacements ), Dusty Wakeman (Anne McCue, Lucinda Williams, Dwight Yoakam ) and producer Craig Schumacher (Neko Case, Calexico, Iron & Wine ). Tony is presently conducting phone interviews from his home base of Portland, Oregon.
With Thirteen, Tony Furtado fulfills the immense promise of his 2004 breakthrough These Chains, his initial foray into songwriting and singing. Theretofore, Furtado had been known primarily for his prodigious instrumental recordings. But listeners will have no doubt when they hear the opening strains of "Used," the new album's lead track, that Furtado is a man on a mission. The bracing rocker, with its galloping ZZ Top groove and restless Tom Petty vibe, establishes the album's interlocked themes of "good luck/bad luck/no luck" (as Furtado puts it) on both professional and personal levels. All the while his phalanx of fretted instruments provides a thrilling visceral reminder of Furtado's prowess as an ax wielder of the highest order.
Thirteen, set for January 23, 2007 release on Funzalo Records, reveals Furtado as an artist with a great deal on his mind and a full arsenal of skills with which to express his thoughts and feelings. "These Chains was my first serious attempt at songwriting," he says, "So it was a trial by fire, with a bit of experimentation. This time I had the chance to go deeper."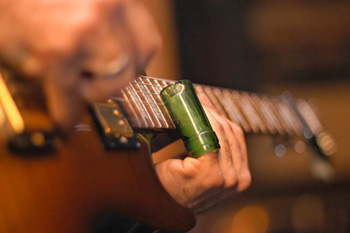 Recorded to 16-track, two-inch analog tape during the summer of 2005 at Tucson's Wavelab Studios (a favorite venue for Calexico, Neko Case, M. Ward, Iron & Wine and other cult heroes), the album features an all-star cast including keyboardists Sean Slade (whose production credits include Uncle Tupelo and Radiohead) and Jim Dickinson (producer of the seminal Ry Cooder albums that inspired Furtado to take up the slide guitar, plus Big Star and the Replacements), bassist Dusty Wakeman (whose resume includes three previous Furtado LPs, Dwight Yoakam, Lucinda Williams and Anne McCue), drummer Winston Watson (who has played with Dylan and Giant Sand) and Wavelab's own Craig Schumacher (Calexico, Case, Iron & Wine), who produced and engineered.
"At first I was worried that it might be a clash of the titans," he admits. "But after we got together and started talking about the material, hanging out and playing, my fears quickly dissipated. Plus, that studio is packed with old instruments, and all the guitars hanging on the walls create a sonic aura. There are some bizarre instruments there that I threw on the tracks."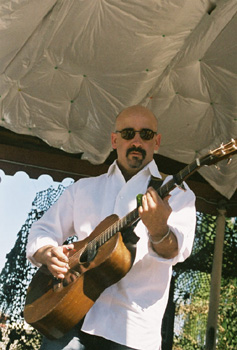 In addition to ten first-rate originals, Furtado recorded three cover songs for the album. The Who's "Won't Get Fooled Again" and Creedence Clearwater Revival's "Fortunate Son" extend the political and personal luck theme of Thirteen; and a whimsical take on Elton John's "Take Me to the Pilot" allows this musically and conceptually dense song cycle to catch its breath before soldiering on.
Furtado, who recently returned to live in his beloved Portland, Ore. after several years in Los Angeles, grew up in Pleasanton, Calif., in the East Bay, took up the banjo at 12 and was hailed as a prodigy at age 19. As he was cementing his reputation as a banjoist extraordinaire, Furtado was also developing himself into an equally virtuosic slide guitarist.
Critics had high praise for These Chains. "This time Tony takes his deeply rootsy voice to the mic to sing as well as play his own music. The transformation is extraordinary," wrote About.com Country Music. "The perfect soundtrack for a late-summer road trip. Pop it in the deck and feed your own nomadic muse," added Northern California's North Bay Bohemian . "Make way for a talented practitioner of the Americana-meets-pop-rock genre," Denver's Westword implored. "The album marks Furtado's emergence as a full-blown singer-songwriter. It's a winning start," summed up the Philadelphia Inquirer.
And now, with Thirteen, this restless artist makes an exponential leap into the wide-open spaces of mythopoetic America, a terrain inhabited by such personal heroes as Cooder, the Band, Creedence, Petty and Waits. No two ways about it — this heartfelt, multileveled work completes Tony Furtado's ascent from the folk circuit to the big leagues.