Manifestivus will celebrate their 10th anniversary this year in Cabot, VT. Curated by Toubab Krewe, Manifestivus is a "local festival with a global vibe" featuring an eclectic lineup of international musicians in a Vermont country setting. The festival takes place August 17th & 18th and will feature headlining sets by Toubab Krewe each night. Toubab Krewe bassist and Cabot native David Pransky founded Manifestivus in 2002.

The festival, which "manages to punch above its weight by attracting top international talent," (National Geographic.com) takes place on the 93-acre Pransky family farm in a town just shy of 250 residents. Just six hours north of New York City, and three hours from Boston or Montreal, the site boasts hiking trails, swimming ponds and woodland forest. Manifestivus offers on-site camping, yoga, West African dancing and drumming, community art projects and local crafts, healthy living seminars, workshops, costume theme nights, various culinary vendors, and cross-cultural immersion.

Within Manifestivus is the Mini-festivus catering to the 200+ children that attend the festival each year. The family friendly environment introduces younger generations to music and different cultures from all around the world. The Mini-festivus features arts and crafts, puppets, storytelling, a bouncy house, an instrument-making workshop, roaming performers and of course live music performances. Kids 13 and younger are free when accompanied by a paid adult.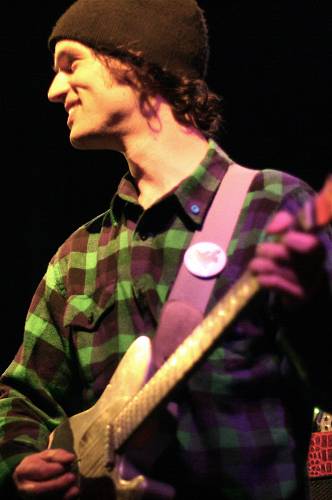 Manifestivus attendees are "young, old, local, and international; the perfect mix of generations and personalities" says Performer Magazine. "[It's] the most no drama, upbeat and down-to-earth backyard party… with tons of world music and interesting international and local acts."

Performers at this year's Manifestivus include Jamaican reggae artists Rootz Underground, Congolese soukous musician Diblo Dibala (who is also known as "Machine Gun" for his speed and skill on the guitar), vocalist Awa Sangho from Mali, Brooklyn Afrobeat collective Zongo Junction, and more! A lineup of currently confirmed artists is below and more artists will be announced.

Advanced price tickets go on sale today at noon ET. General admission advanced price two-day passes are $55. Tickets will then move to the regular price of $65 on June 15th, and can be purchased for $80 at the gate. Manifestivus will donate a portion of the proceeds from ticket sales to Toubab Krewe's School House Krewe Project, which is raising funds for the construction of a music school in Bamako, Mali. More information can be found at www.instruments4africa.org

For information on Manifestivus, visit: www.manifestivus.com



WHAT: MANIFESTIVUS X
WHEN: FRIDAY, AUGUST 17 – SUNDAY, AUGUST 19, 2012

WHERE: 234 PRANSKY RD., CABOT, VT, 05647
TICKETS: $55 2-DAY GA PASS (until June 15th)

FAMILY TICKETS: KIDS 13 & UNDER FREE WITH PAID ADULT
TICKETS AVAILABLE AT: http://manifestivus10.eventbrite.com
FESTIVAL WEBSITE: http://www.manifestivus.com

CONFIRMED ARTISTS INCLUDE:
Toubab Krewe
Diblo Dibala (Senegal)
Rootz Underground (Jamaica)
Elastic Bond (Miami, FL)
Awa Sangho (Mali)
Zongo Junction (Brooklyn, NY)
Barika (Burlington, VT)
Fear Nuttin Band (Springfield, MA)
Ila Mawana (Boston, MA)
Voodoo Fix (Los Angeles, CA)
Benyoro (New York, NY)
Kat Wright and the Indomidable Soul Band (Burlington, VT)
Afinque (Burlington, VT)