Commemorating the 15th anniversary of the fan favorite Anchor Drops, Umphrey's McGee is proud to announce Anchor Drops Redux, an expanded edition of the album and first ever vinyl pressing. The pending release, announced this morning during an interview with Ari Fink on SiriusXM's Jam On, features two distinct versions of the record, a remastered edition of the original mix and a remixed version from the original master tapes. The 2004 Anchor Drops was the first album recorded with drummer Kris Myers, marking a sonic transformation for Umphrey's McGee that continues to this day.
PRESS HERE to pre-order the album. Vinyl and CD pre-orders will include a free exclusive 15th anniversary commemorative pin.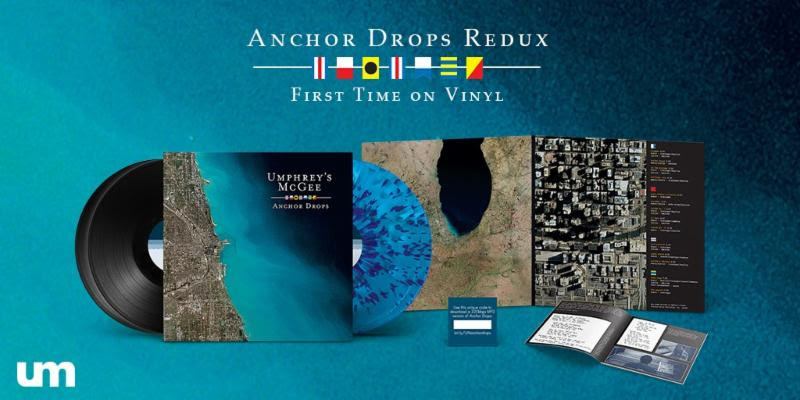 As every studio album following Anchor Drops has made its way to vinyl, this first edition pressing is a must for any Umphrey's McGee fan's record collection. The vinyl edition features four LPs containing both mixes, with the 'OG' LPs in classic black and the remixed version pressed to custom Lake Effect blue vinyl, plus MP3 downloads of both albums. The CD set contains two discs and both packages also include a 16-page booklet featuring handwritten lyrics, stunning NASA imagery, and a slew of studio & band photos. All pre-orders (physical or digital) include instant downloads of two remixed tracks so you can check out the fresh coat of paint. To check out more information about pre-order options, head to merch.umphreys.com or umlive.net.
The Anchor Drops again.
UMPHREY'S MCGEE TOUR DATES:
May 22-25 Chillicothe, IL @ Summer Camp Music Festival
May 30 Birmingham, AL @ Avondale Brewing Company
May 31 Ozark, AR @ Backwoods Music Festival
June 1 Jackson, MS @ Cathead Jam
June 21-23 Morrison, CO @ Red Rocks Amphitheatre
July 3 Anaheim, CA @ House of Blues
July 5 Jacksonville, OR @ Britt Pavillion
July 6 Quincy, CA @ High Sierra Music Festival
July 13 Snowshoe, WV @ 4848 Festival
July 18 Raleigh, NC @ The Ritz
July 19 Richmond, VA @ Virginia Credit Union LIVE!
July 20 Scranton, PA @ Camp Bisco
August 2 Darrington, WA @ Summer Meltdown
August 3 Missoula, MT @ KettleHouse Amphitheater
August 15 St. Petersburg, FL @ Jannus Live
August 16 Miami Beach, FL @ The Fillmore
August 17 St. Augustine, FL @ St. Augustine Amphitheatre
August 18 Wilmington, NC @ Greenfield Lake Amphitheater
August 22 Chattanooga, TN @ The Signal
August 23 Louisville, KY @ Iroquois Amphitheater
August 24 Indianapolis, IN @ The Lawn at White River
August 25 Kettering, OH @ Fraze Pavilion
August 29 Hampton Beach, NH @ Hampton Beach Casino Ballroom
August 30 Asbury Park @ Stone Pony Summer Stage
August 31 Huntington, NY @ The Paramount
September 1 Utica, NY @ Saranac Brewery
Umphrey's McGee will bring their acclaimed live show to major cities across the country on their upcoming summer tour. This will include festival stops at Summer Camp Music Festival, Backwoods Music Festival, High Sierra Music Festival, 4848 Festival, and more. Full routing below. For ticket info please visit http://www.umphreys.com/.